Road Trip from Miami to Los Angeles
The journey from Miami to Los Angeles really is an ultimate all-American road trip adventure, taking you from the blue waters of the East Coast to the breezy beaches of the West Coast through some of the country's most fascinating landscapes and vibrant cities.
The 3,350-mile road trip from Miami to Los Angeles takes you past Orlando, Savannah, Memphis, the Grand Canyon, Las Vegas and Death Valley National Park, or strike out along the Gulf coast to visit Destin, New Orleans, Austin, Tucson and San Diego.
This is the kind of road trip you've probably seen in the movies, packed with interesting sights, desert drives and stunning coasts. Read on to get a step closer to bringing this unforgettable adventure to life.
How far is Los Angeles from Miami, and how long will the road trip take?
Comparison of road trip routes between Miami and Los Angeles

| Route | Distance | Driving Time |
| --- | --- | --- |
| The Northern Route | 3,350 miles | 52 hours |
| The Southern Route | 3,130 miles | 48 hours |
Whichever route you take between Miami and Los Angeles, there's no avoiding the fact that you'll be covering a lot of miles and spending many hours on the road.
If you want to take your time and cram in as many cities and sights as possible, then the longer Northern Route is a great option. You'll clock up a massive 3,350 miles if you take this route across the country and should expect to spend at least 52 hours on the road.
The more direct Southern Route takes around 48 hours of driving and is slightly shorter, at 3,130 miles. It's pretty simple to navigate, following interstates almost the entire way through, making this a straightforward driving experience.
Best road trip route from Miami to Los Angeles
With so much to see along the way, there's no 'best' route to take on this road trip. You'll have an unforgettable adventure whichever route you take.
That said, we've come up with two fantastic route options for you that will show you some of the highlights, leaving plenty of time to explore the small towns and stunning landscapes you'll pass by in between.
The Northern Route swings out along the Georgia Coast, taking you as far as Savannah before you turn inland to begin the great east-to-west drive through Orlando, Atlanta, Memphis and Albuquerque as well as the Grand Canyon and Death Valley.
This route offers you a great combination of Southern hospitality and natural monuments, plus plenty of iconic cross-country driving.
The highlight of the more direct Southern Route is that the route follows close to the Gulf Coast. You'll enjoy ocean views, time in New Orleans, and have the chance to make beach detours as you travel west through the iconic cities of the southern border.
Don't worry about missing out on some of those epic desert drives though. As this route heads up across New Mexico and Arizona you'll enjoy mile after mile of wide-open landscapes and rugged scenery before hitting the sparkling California coast.
The Northern Route
After starting off on Interstate 95 heading north from Miami, you'll soon merge onto Florida's Turnpike, which you'll follow all the way to Orlando.
At Exit 259 turn onto Interstate 4 which takes you into Orlando. When you're ready to continue on your journey, rejoin the I-4 which will take you back onto the I-95, still heading north.
You'll follow the I-95 through Florida and into Georgia. Along the way, you have the option to spend some time in Daytona Beach and Jacksonville.
As you approach Savannah, turn onto Interstate 16 to visit the city. Leave the city along the same route, sticking to the I-16 as far as Macon, where it merges with Interstate 75. Follow I-75 north towards Atlanta.
As you approach Atlanta, I-75 merges with Interstate 85 to head into the heart of the city. You'll continue your journey west on Interstate 20, crossing the Coosa River before reaching Birmingham, Alabama.
Join Interstate 65 to head out of Birmingham, before turning onto Interstate 22 at Exit 265A. I-22 takes you across the state of Mississippi, passing through Holly Springs National Forest as you head towards Memphis.
On the outskirts of Memphis, take Interstate 269 and then Interstate 55 before switching to Interstate 69 at Exit 6B. This takes you right into Memphis, where you can't miss a live show or two before you continue your journey by crossing the mighty Mississippi River on Interstate 40.
From here, the I-40 could take you almost all the way to Los Angeles, but there are still plenty of fascinating landmarks, buzzing cities, and iconic detours to enjoy along the way.
After passing through Little Rock, Arkansas, the road swings to the north, taking you close to Ozark St. Francis National Forest. Next, you'll travel all the way across Oklahoma, passing through Oklahoma City along the way, and the northern part of Texas.
Entering New Mexico, follow the I-40 past Santa Rosa then head into Albuquerque, before continuing west towards Arizona.
As you make your way across Arizona, Petrified Forest National Park and Coconino National Forest are both close to the route - hit the hiking trails to stretch your legs after all the hours of driving.
Approaching Flagstaff, you'll leave the I-40 at Exit 211 to join US Route 89 heading north. Where the road divides, follow Route 89 A which takes you past Vermilion Cliffs National Monument.
Turn south again onto AZ-67, which leads to the North Rim of the Grand Canyon. You won't find as many tourist facilities here compared to the more visited South Rim, but that doesn't make the views and trails any less stunning.
Return via the same road to rejoin Route 89A heading west, turning onto Route 389 at Fredonia. This road becomes Route 59 as it enters Utah - follow it as far as Hurricane, where you'll turn onto Route 9 which leads you to Interstate 15.
If you have the appetite to add even more miles to your trip, you can take a short detour north along I-15 to visit Zion National Park, Cedar Breaks National Monument and Dixie National Forest. If not, simply follow I-15 south towards Las Vegas.
When you've had your fill of Vegas, leave town on Route 95 heading north, then take a left turn onto Route 373.
When you cross the state line into California - the last state on your epic drive - the road becomes CA-127, which you'll only follow for a short distance before turning right onto CA-190 at Death Valley Junction.
Follow CA-190 right through the National Park until you join up with US Route 395 heading south.
Turn onto CA-14 at Indian Wells, which takes you past Lancaster and Angeles National Forest before joining up with Interstate 5, which takes you right into the heart of Los Angeles.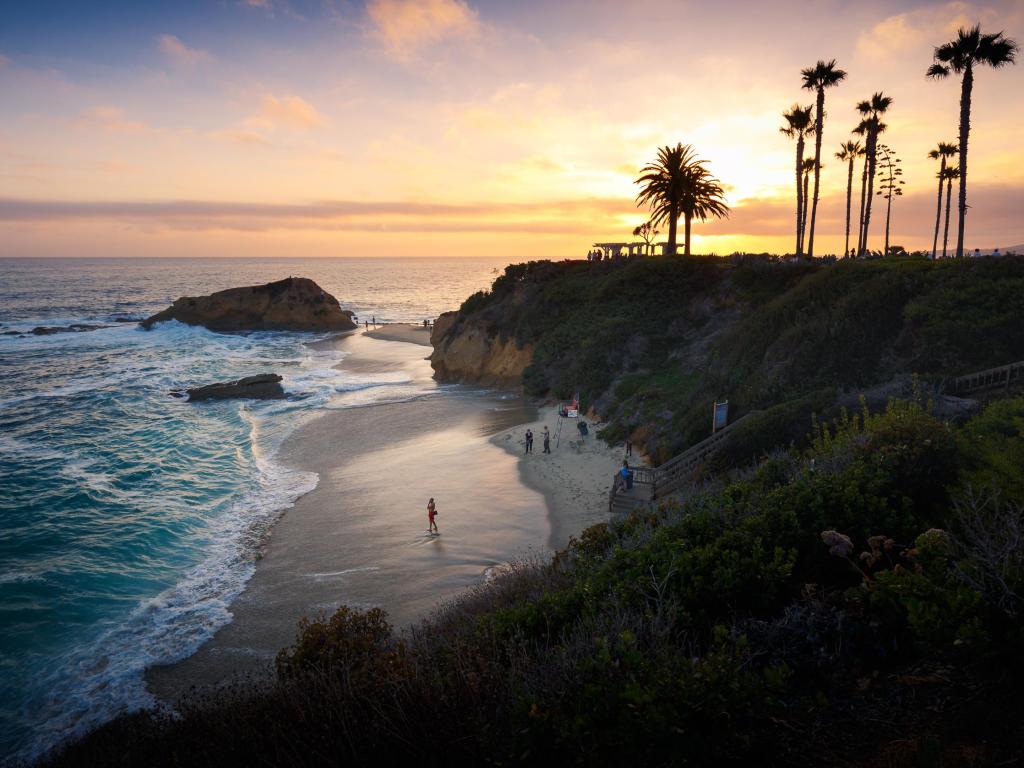 The Southern Route
As with the Northern Route, you'll start out on I-95 then pick up Florida's Turnpike at Exit 12A. Then, as you make your way out of Miami, join Interstate 595 to connect with Interstate 75 heading north.
After crossing the southern tip of Florida via the Everglades Parkway, I-75 swings north and follows Florida's Gulf coast past Fort Myers and Tampa. If you're visiting Tampa, the I-295 takes you into the city before rejoining the I-75 to continue north.
After skirting around Gainesville, take Exit 435 to join Interstate 10 heading west, passing Tallahassee as the first major city along this stretch of the trip.
At Exit 85, join US Route 331 heading south, before turning right onto FL-20 which runs along Choctawhatchee Bay. Next, join FL-293 to cross the Mid-Bay Toll Bridge.
After passing Henderson Beach State Park on US Route 98, you'll arrive in Destin, where you can enjoy the fabulous beaches at this popular destination.
Past Destin, continue along US-98 then pick up FL-281 to rejoin I-10 and continue west out of Florida.
You'll pass through Mobile as you cross Alabama, and then I-10 continues through Mississippi. Right on the ocean, Biloxi is just a short detour from the route and also worth a visit as you make your way west.
Next, the I-10 swings south around Lake Pontchartrain to take you into the heart of New Orleans.
When you're ready to move on, simply continue along I-10, passing Baton Rouge and Lafayette before crossing the state line into Texas.
After Houston, take Exit 695 to follow TX-71 towards Austin, then pick up Interstate 35 to head south again into San Antonio. Here, you'll get back onto I-10, following it across Texas as far as Fort Stockton.
From Fort Stockton, you'll take a break from I-10, turning onto US-285 which you'll follow as far as Orla. Then, turn onto TX-652 and follow it until it meets US-62, right by the border with New Mexico.
Turn left here, following the road through Guadalupe Mountains National Park, where you can stop to hike a trail or two, or just to enjoy the views.
US-62 continues as far as El Paso, which is another city worth a visit. When you're ready to move on, pick up US-54 as far as Alamogordo, then take US-70 to cross White Sands National Park.
At Las Cruces you'll get back onto I-10, following it right across New Mexico and into Arizona. As you travel through Arizona, you'll pass Coronado National Forest before reaching Tucson.
Saguaro National Park, Mount Lemmon and Mica Mountain are all nearby if you want to spend some more time exploring Arizona's stunning arid landscapes. After Tucson, follow I-10 to Phoenix.
After so many miles of following the same road, you'll finally leave Interstate 10 after Phoenix. Join AZ-85 south until you reach Interstate 8, which you'll follow west.
You'll now cross into California, and from here I-8 follows the US-Mexico border right the way across the southernmost part of the state. Before reaching San Diego, you might like to take a detour north of I-8 to visit Cuyamaca Rancho State Park.
Otherwise, continue along I-8 as far as Exit 14B. You'll briefly follow CA-125 before joining CA-94 which takes you right into San Diego. After your visit, pick up Interstate 5 to leave the city.
You'll follow I-5 for the rest of your cross-continental road trip. It runs close to the Pacific, and a stop at San Onofre State Beach gives you another chance to dip your toes into the ocean before you finally reach your destination, Los Angeles.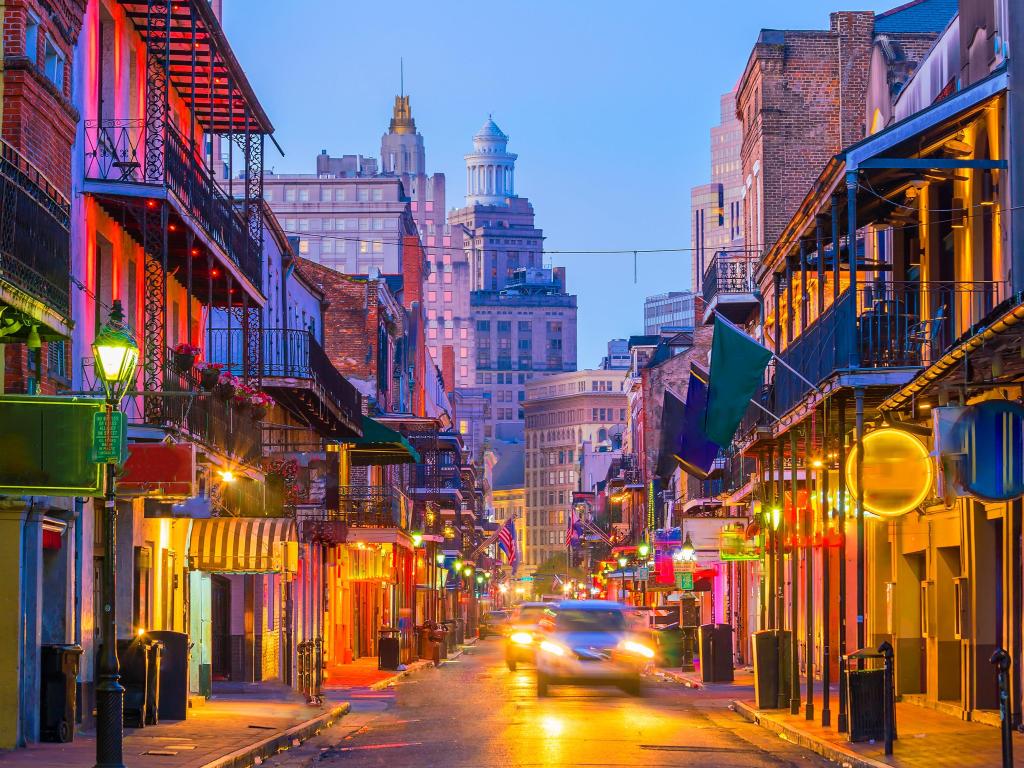 Best places to stop between Miami and Los Angeles
Given the miles you'll be covering along this monumental road trip, you'll need to make several overnight stops as you travel between Miami and Los Angeles.
The possibilities are endless, but here are some of our recommendations to get you started planning your trip:
Marvel at the nation's rich history in Atlanta
You're definitely going to want to take a break from the road by the time you reach Atlanta, which is a quarter of the way into your trip and less than 10 hours from Miami via the Northern Route.
The city is known for its rich history relating to the Civil Rights Movement, and Martin Luther King Jr National Historic Park is a must-visit. The childhood home of the civil rights leader and activist is in the 35-acre park, along with several other sites related to his life and work.
Also worth a visit is the Georgia Aquarium, which holds over 100,000 marine creatures. You can easily spend a day here, as it's one of the largest aquariums in the world.
With so many miles under your belt already and so many more still to travel, you'll be ready for a break by now. Located near the city center, the Glenn Hotel - Autograph Collection is the perfect place to stay.
This 4-star hotel is within walking distance of CNN Studio Center, State Farm Arena and Georgia Aquarium, so after a busy day exploring the city, you can head back and chill out with a cocktail at the Rooftop Sky Lounge, with spectacular views of the city skyline.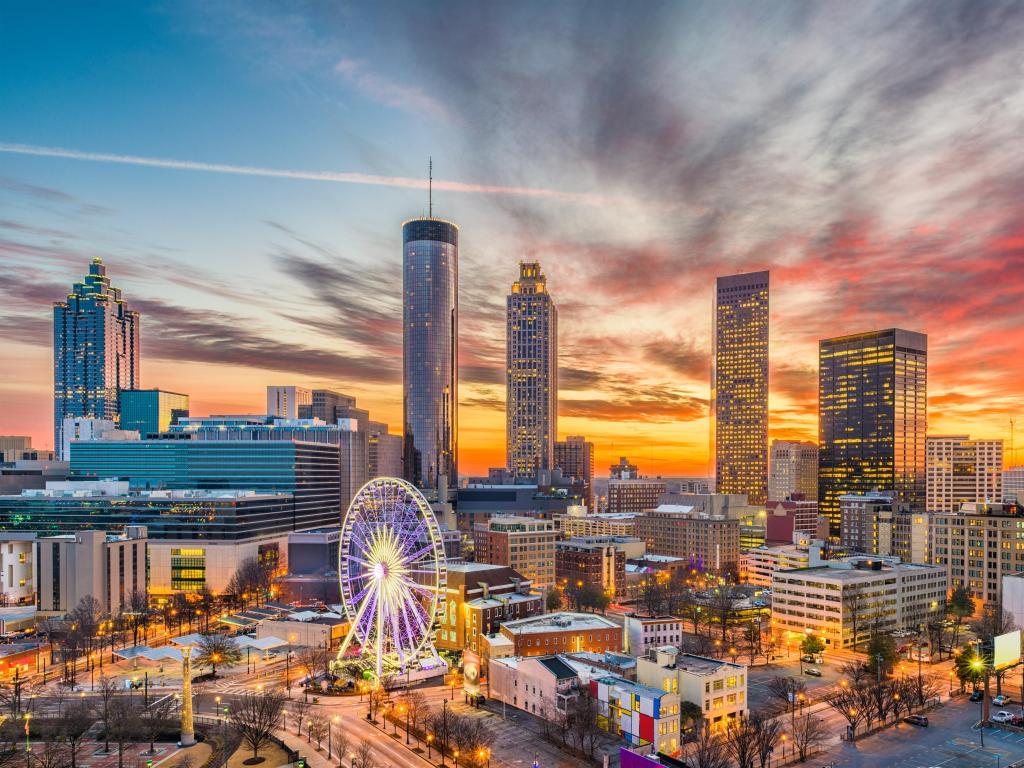 Admire the scenic beauty in Flagstaff
Located about 7 hours from Los Angeles on the Northern Route, Flagstaff is known as the perfect gateway to the Grand Canyon, as well as a great stopover for any long-distance traveler with its access to many other natural wonders.
While visiting Flagstaff and the stunning natural beauty that surrounds this city, the Little America Hotel Flagstaff is a charming accommodation option, located on 500 acres of Ponderosa Pine Forest.
With an outdoor pool and a restaurant and bar that offers breakfast, lunch, and dinner daily, tired road trippers will be well looked after during their stay before venturing out to discover the nearby Grand Canyon.
Just north of the city, you'll also find Sunset Crater a short drive away. This impressive cinder cone is the youngest of the volcanoes related to the nearby San Francisco Peaks.
Alternatively, head out to Coconino National Forest to hike, cycle or drive the trails and scenic byways. This park is massive, at almost two million acres, with diverse landscapes such as deserts, flatlands, alpine tundra, and ancient volcanic peaks.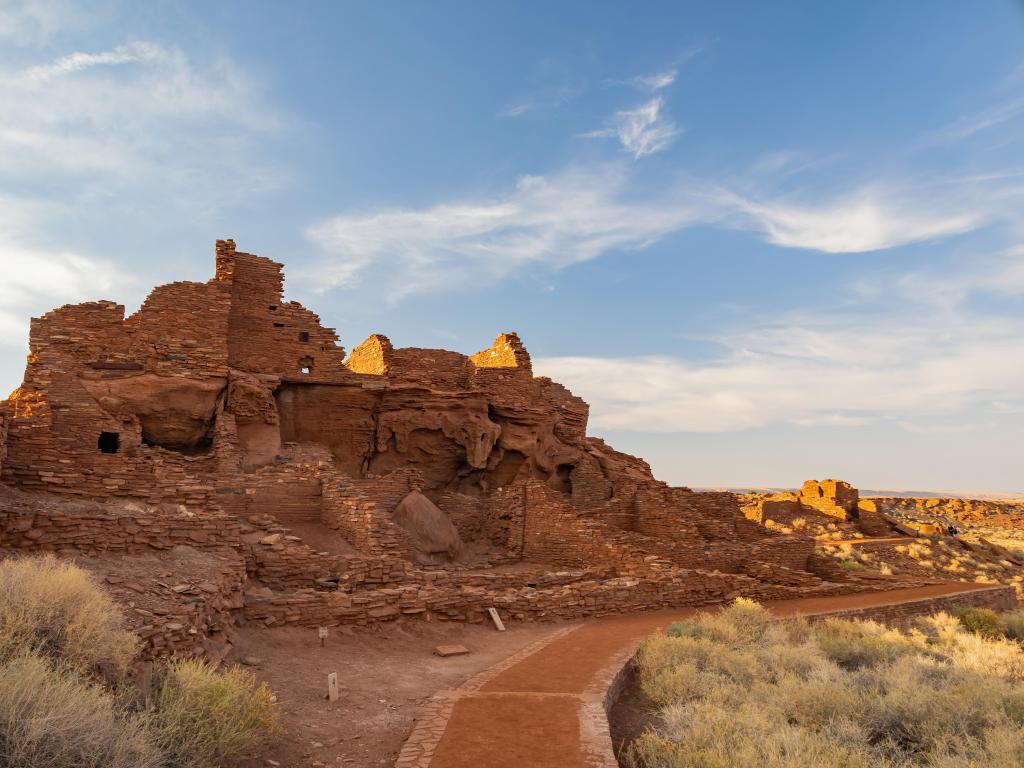 Relax on the stunning beaches of Destin
Destin has arguably some of the prettiest beaches in Florida and it's conveniently located around a quarter of the way along the Southern Route about 11 hours from Miami.
With rooms that feel more like homes than hotel rooms, Henderson Beach Resort is a superb place to stay in Destin. The soft blues tie in with the blue tones of the ocean just outside - and every room has a balcony overlooking either the ocean, one of the two pools, or the courtyard.
When you arrive in town, get your bearings with a stroll along Destin Harbor Boardwalk. This pathway along the beach is full of restaurants and shops so it's perfect for an evening stroll at sunset.
With so many beautiful beaches to choose from, we can't pick just one to recommend to you. Get down to the water and take your time exploring, to see for yourself why this is such a popular destination in Florida.
If you prefer to enjoy the sun and the ocean in privacy, the 5-star resort offers private beach access. After getting your tan on, you can head to the hotel's full-service spa to further pamper yourself before heading to one of the restaurants onsite for a delicious meal.
Explore the Sonoran Desert around Tucson
The end of your road trip is almost in sight when you reach Tucson, situated a little over 7 hours from Los Angeles on the Southern Route, which makes it a perfect option for an overnight stay. This city is known for its stunning views of the Sonoran Desert.
As you make your way through Arizona, JW Marriott Tucson Starr Pass Resort is a fantastic place to break your drive up. With three golf courses, four dining options, three outdoor swimming pools, and multiple hot tubs, you'll be able to cool down and relax before hitting the road again.
Just a short drive away from central Tucson, this hotel is located in a saguaro cactus forest, so you can really soak in the Arizona vibe. It also has an onsite spa offering body scrubs, body wraps, facial treatments, and massages.
The nearby desert landscapes, fauna and flora in nearby Saguaro National Park make for a stunning spectacle. With iconic giant saguaro cactus and volcanic rocks, you'll see great diversity in the landscapes as you cross the park.
You might opt to spend your day in the luxury of your hotel, but if you are up for a 20-minute drive, San Xavier del Bac Mission, sits on the Tohono O'odham Nation San Xavier Indian Reservation. This historic Catholic mission is the oldest European structure in Arizona.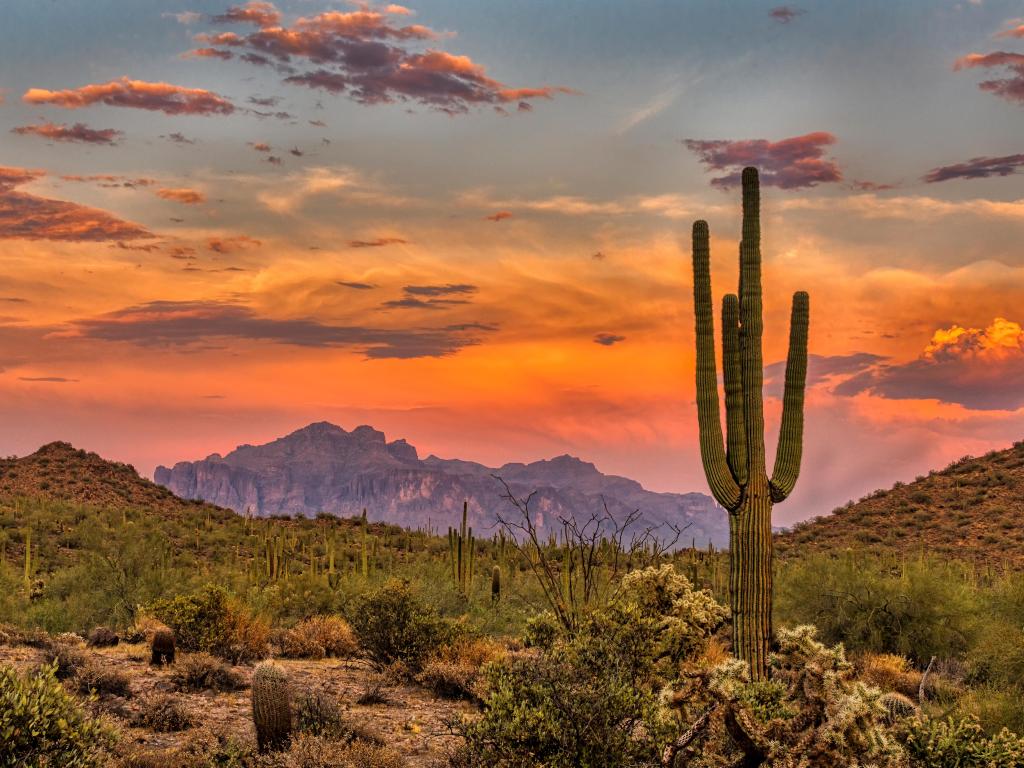 Things to see on a road trip from Miami and Los Angeles
The drive from Miami to Los Angeles is packed with buzzing cities and stunning natural landscapes.
We've selected a few highlights to get you started with your planning, but don't forget to work in some time to pull over and admire the many spectacular views, beaches and small towns that are just waiting to be discovered along the way.
Northern Route
Orlando, Florida - Home to more than a dozen theme parks, including Disney World, this city in central Florida also has more than 100 lakes. Before it was named Orlando, it was called Jernigan, after the first permanent settler in the area.
Jacksonville, Florida - The most populous city in Florida is known for its bridges and beaches, as well as the fact that many famous artists call Jacksonville home. If classical music is more to your taste, check out the fabulous Jacksonville Symphony Orchestra.
Savannah, Georgia - This coastal city is separated from South Carolina only by the Savannah River. It's known for its southern charm - horse-drawn carriages, cobblestone squares, and antebellum architecture.
Atlanta, Georgia - The capital of Georgia played an important role in both the Civil Rights movement and the Civil War. The world's most famous soda, Coca-Cola, was also invented and founded here.
Birmingham, Alabama - This city was founded after the Civil War after it was discovered to contain all the ingredients necessary to make iron and steel - limestone, coal, and iron ore. It's the only place in the world where all three can be found within a 10-mile radius.
Memphis, Tennessee - Memphis is famous for the blues, country music, soul, and rock n' roll that originated here. Famous artists who produced music here include Johnny Cash and the King himself, Elvis Presley, whose Graceland mansion is a popular attraction here.
Oklahoma City, Oklahoma - The capital of Oklahoma is known for its cowboy culture. In addition, Oklahoma City has the only Capitol in the country with a working oil well on its grounds.
Albuquerque, New Mexico - New Mexico's largest city sits in a desert. The Old Town is full of adobe buildings dating back to 1706. The International Balloon Fiesta occurs in October with hundreds of hot air balloons taking to the skies.
Petrified Forest National Park - Off the famous Route 66 in northeastern Arizona is a national park definitely worth seeing. Don't miss the Painted Desert, Puerco Pueblo, or hiking on the Blue Mesa.
Grand Canyon National Park - Everyone knows this huge national park. We've all seen the gorgeous photos of Horseshoe Bend. Well, now you can see it in person! The layered bands of red rock reveal millions of years of history and it's quite a sight to behold.
Las Vegas, Nevada - A city that needs to introduction. In fact, more than 41 million people visit each year to drink and party and gamble. Las Vegas also has the tallest observation tower in the US: the Stratosphere, coming in at over 1,100 feet.
Death Valley National Park - The largest national park south of Alaska is known for extremes, being North America's hottest and driest spot. It receives less than two inches of rainfall every year and has reached up to 134 degrees Fahrenheit!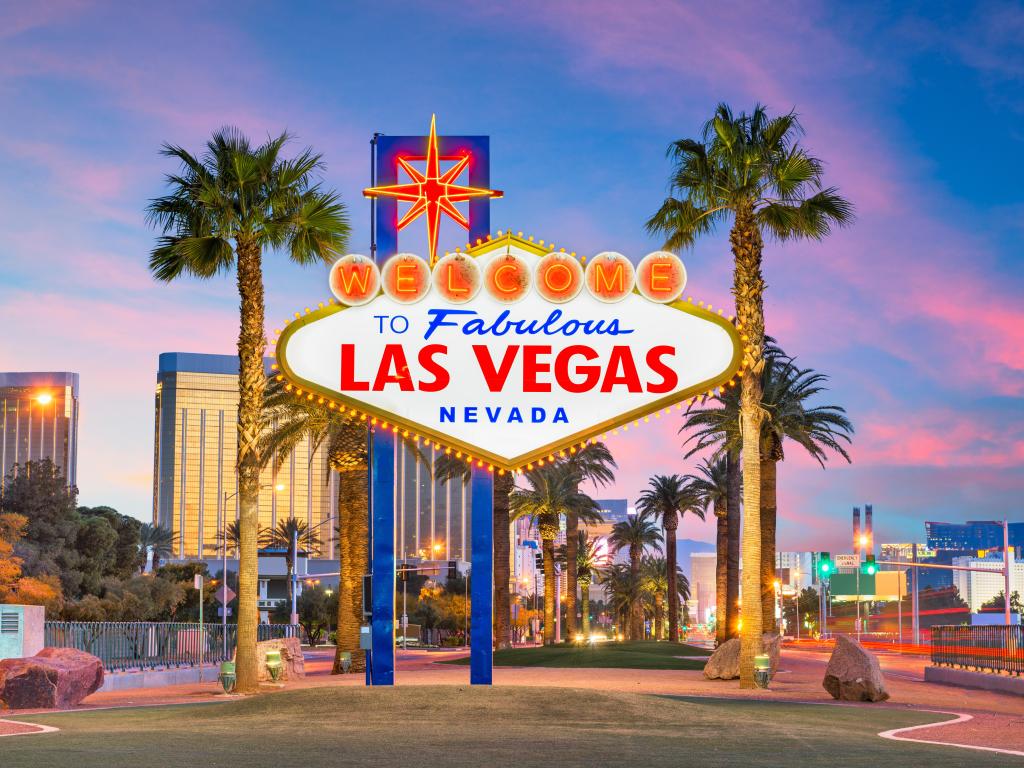 Southern Route
Tampa, Florida - Tampa sits on Florida's Gulf Coast and, although not as popular as Miami or Orlando, it receives millions of visitors each year. Ybor City, a historic neighborhood in downtown Tampa, is considered one of the most haunted cities in the US.
Destin, Florida - Destin sits in the Florida Panhandle and is known for its beautiful blue water and powdery white sand beaches. That's because the sand is mostly white quartz crystal.
New Orleans, Louisiana - This melting pot of French, African, and American cultures is one of the most unique and interesting cities in the US, known for Mardi Gras, nightlife, and beignets at Café Du Monde. From the above-ground cemeteries to the haunted ghost tours and voodoo shops, there is something different on every corner.
Houston, Texas - This huge, almost-coastal city in Texas is known for its relation to NASA's Space Center. Just an hour to the south of Houston, still within the metroplex, is Galveston Island. This was one of the places severely impacted by Hurricane Ike in 2008.
Austin, Texas - The capital of Texas is located in the center of the state and known for its university culture. The University of Texas is located here. The live music and a plethora of lakes and parks are sure to keep you occupied.
San Antonio, Texas - Right here in San Antonio, the Alamo commemorates a battle in 1836 for Texan independence from Mexico. The River Walk is another popular site here; it follows the San Antonio River for miles, and it's lined with restaurants and shops.
Guadalupe Mountains National Park - Located in the Chihuahuan Desert, this national park is located in West Texas, close to Carlsbad Caverns. It's known for its fossilized reef mountains, hiking trails, and desert habitat.
White Sands National Park - This national park in southern New Mexico is famous for its white sand dunes made of extremely rare gypsum crystals. There is nothing else like it in the world, and it is a popular place for photos for special occasions.
Tucson, Arizona - The second-largest city in Arizona is also the sunniest city in the US, with 350 days of sunshine a year. It's one of the best spots in the US for stargazing as it has far less light pollution than most cities, allowing the stars and planets to be observed,
Phoenix, Arizona - Also known for its year-round sun and warm weather, Phoenix is the capital of Arizona. It's the sixth-largest city in the US (by population) and receives over sixteen million visitors each year.
San Diego, California - San Diego sits on the Pacific coast of SoCal and is known for its beaches and moderate climate. Did you know San Diego processes the most avocados in the US? It has the largest number of farms in the country, approximately 7,000.
Best time to go on a road trip from Miami and Los Angeles
LA is definitely a year-round destination as it's sunny most days of the year, rainfall is rare, and the average temperature is a comfortable 70 degrees Fahrenheit.
Summer is the most popular time to visit LA, so it's when you'll see the highest number of tourists. The temperature during the summer usually averages in the low 80s so it's perfect for a day at the beach, going to the pier, or roller skating along the esplanade.
Even in winter, LA is still a great place in the winter because the weather isn't harsh. During the day it averages temperatures of high 60s to low 70 degrees Fahrenheit, while at night it does drop to the high 40s and low 50s. There is also an increase in rainfall during the winter.
You might also like to experience Los Angeles during the awards season - both the Oscars and the Grammys take place in the city in February.
Although we think you'll avoid beach swimming during spring or fall, there are still plenty of activities around the city to enjoy. These are the cheapest seasons to visit LA because the city is full of tourists in the summer.
Whether you take the Northern or Southern Route, the drive across Texas, New Mexico and Arizona can be sweltering in summer, with temperatures of over 100 degrees Fahrenheit possible from June to August.
If you take the trip in the summer, make sure you're prepared for the heat, and take advantage of opportunities to top up your water supplies between long, quiet stretches of road.
Surprisingly, even the desert landscape of the southwest can be cool in the winter, with temperatures sometimes dropping below freezing and a possibility of snow.