Road Trip from Miami to New York
Planning a road trip from Miami To New York? Then strap in for an awesome adventure! You'll travel through 8 states, plus the nation's capital, as well as numerous national and state parks and get to visit some of the country's most historic and culturally significant landmarks along the way.
The 1,380-mile road trip from Miami To New York takes 22 hours of driving. Visit Walt Disney World, Daytona Beach, Savannah, Charleston, Myrtle Beach, Washington, Baltimore, Atlantic City and Philadelphia, or drive a section of the Blue Ridge Parkway.
These are just a handful of the many fantastic destinations you can go to on this epic journey, so keep on reading till the very end to find out all about the rest of them - plus our tips on where to stay and the best time of year to travel.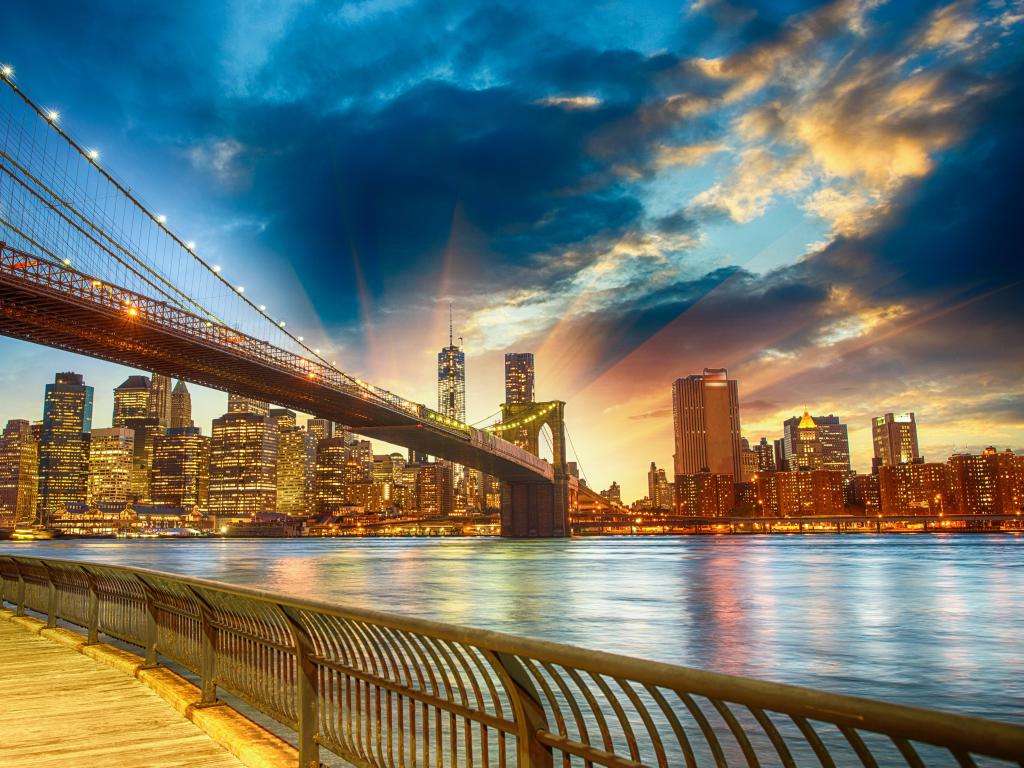 How far is New York from Miami and how long will the road trip take?
Comparison of road trip routes between Miami and New York
Route
Distance
Driving Time
Charleston Route
1,380 miles
22 hours
Blue Ridge Parkway Detour


Total route length

1,460 miles
24 hours
Miami and New York are about 1,300 miles apart from each other. If you drove uninterrupted between the two places the journey would take you around 19 hours to complete.
But with so many things to see and do along the way, you really should look at incorporating at least two - if not three - overnight stops into the drive, or more if have the time. The routes we've recommended include some of the real highlights of the region and it would be a shame to miss out on them.
If you choose to take the Charleston Route, this will take around 22 hours of driving and cover 1,380 miles. This route visits some of the cities that I-95 bypasses if you just drive from Miami to New York direct.
Alternatively, the 1,460-mile Blue Ridge Parkway Detour that you'll read about below takes slightly longer, around 24 hours of solid driving.
In addition, throughout the journey there will be plenty of opportunities to stop for a restroom break, to stretch your legs, refuel or to have something to eat.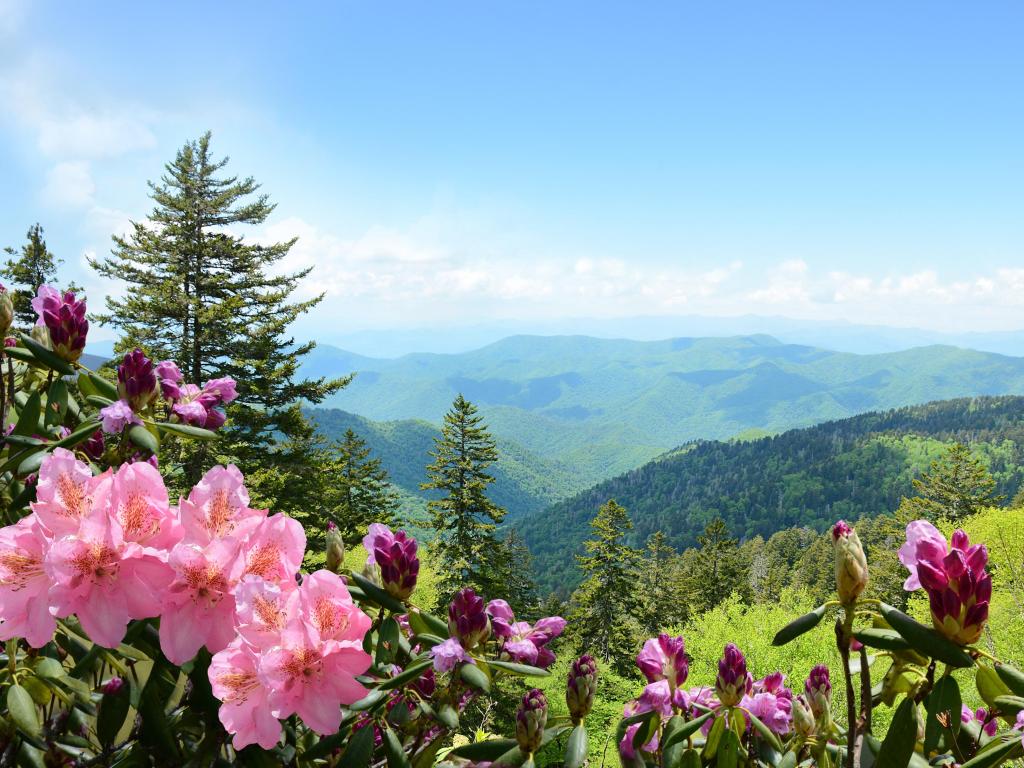 Best road trip route from Miami To New York
While you could simply follow the Interstate all the way up the east coast, we'd definitely recommend taking a route that includes stops in more of the fabulous cities and natural wonders along the route.
You have a great choice of options - explore the cities and coast of the Carolinas and Virginia via the Charleston Route, or swinging inland to experience the spectacular views of the Blue Ridge Parkway Detour.
Both routes will take you through Washington DC, Baltimore and Philadelphia too, so you can catch more of the nation's great monuments and museums as you travel the northern part of your trip.
These routes are really different and both make for a once-in-a-lifetime trip, so read on for more information to help you decide which one to take.
How to drive from Miami to New York
The map above shows our suggestions for the best road trip routes between Miami and New York. Keep reading for detailed descriptions of both routes, where to stay on either, and the best things to do on the way.
The Charleston Route
Leaving Miami, you will begin a steady course north, all the way up the east coast on the Interstate-95.
One of the first stops you might want to make is at Walt Disney World, or the Kennedy Space Center, both of which offer all kinds of fun, wonder and exhilaration.
If you would rather something a bit more relaxing then why not stop off at the beautiful beaches of Daytona or Jacksonville to soak up some of that beautiful Florida sun for a while?
Once you've left the Sunshine State you could make a stop at Savannah in Georgia, then follow Route 17 to find yourself in Charleston, South Carolina. These two charming southern cities are well worth visiting for their rich history, stately architecture and notable sites of civil war significance.
Out of Charleston, continue along Route 17 to reach Myrtle Beach - another destination in South Carolina you might want to head to for its fabulous sands and celebrity designed golf courses.
To return to the Interstate, leave Myrtle Beach on Route 501, then continue north along I-95 until you reach Exit 80. From here, follow I-40 into Raleigh, famous for its museums and its gorgeous oak trees.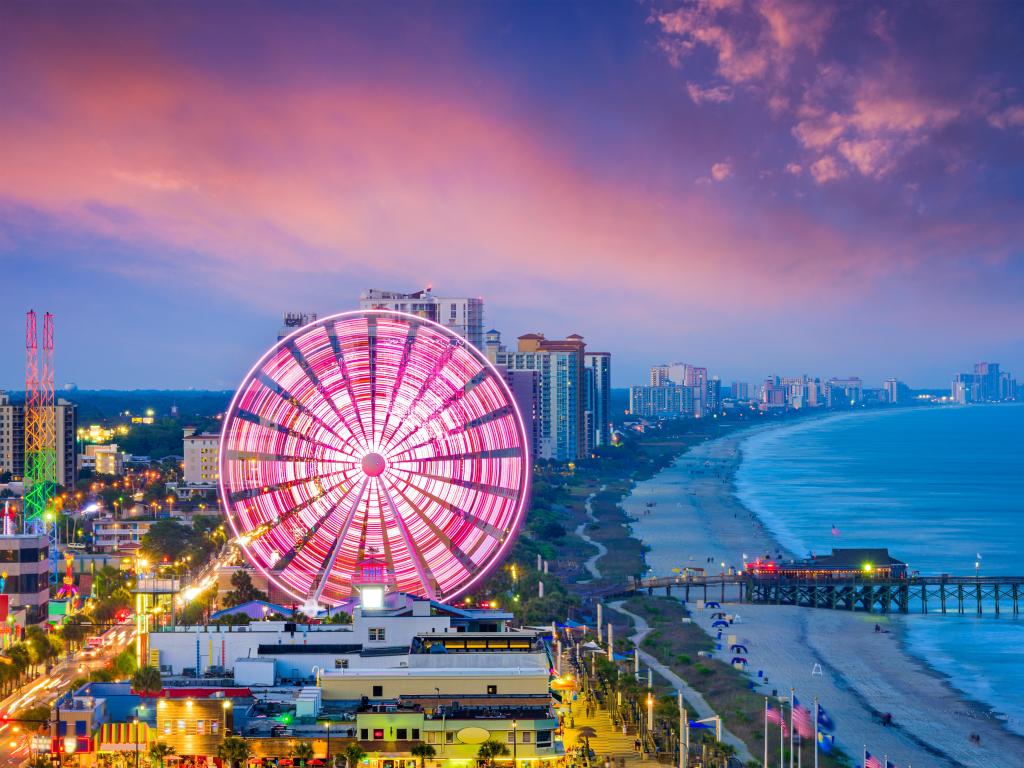 To continue on your journey north, take I-87 out of Raleigh then Route 264 and Route 64 will take you back to I-95. You'll follow I-95 all the way to Washington DC now, though you might want to consider a detour to the pleasant waterfront city of Norfolk in Virginia, home to the splendid Virginia Zoo.
The nation's capital is somewhere you're likely to want to spend a couple of days, checking out the iconic landmarks and monuments of this fabulous city. Nearby Gettysburgh, with its historically significant civil war sites, is somewhere else you might want to visit while you're in town.
Take Route 295 out of Washington, following it to the outskirts of Baltimore, another city you could visit for its hipster vibe and cultural attractions. Chocolate lovers could also detour to Hershey Chocolate World in Pennsylvania, to get your sweet fix.
Leave Baltimore along I-95 again, heading in the direction of Philadelphia. If you're planning on stopping in the city, stay on I-95, but if you're bypassing it, hop onto I-295 at Wilmington which takes you out across the Delaware River before linking you back up with I-95 via the New Jersey Turnpike.
Another option at this stage in your journey is to follow Route 40 from Wilmington out to Atlantic City - a great opportunity as you near the end of your trip to blow off some steam at the flashy casinos or soak in some vitamin D at the beach.
To complete your epic road trip, simply follow I-95 as far as Exit 13, then follow I-278 across Staten Island and towards Brooklyn, before entering Manhattan in style across the Brooklyn Bridge.
The Blue Ridge Parkway Route
The Blue Ridge Parkway Detour starts and finishes along the main route, but we've included a map with all its twists and turns to help guide you along the way.
Take the Charleston Route out of Miami, staying on I-95 for around 100 miles after you pass Savannah. Then take Exit 86B onto I-26 W in the direction of Columbia.
As you get near Columbia, switch to I-77 and follow it until you reach Exit 1A-B. Here, take I-485 towards Pineville, before merging onto I-85 S at Exit 10.
Leave the Interstate at Exit 17B to join US-321 and follow this northwards to reach Blowing Rock, where you can pick up the famed Blue Ridge Parkway. Follow signs to the Parkway from the town, then turn left to follow it toward the North.
Once you've made it to the Parkway, simply let it guide you through the mountains, making sure to stop regularly to take in the stunning views.
You'll follow the Parkway from North Carolina all the way into Virginia. You could carry on further along the Pathway if you have extra time, but we'd suggest turning left when you meet the clear sign that directs you left towards Route 221.
Turn right on Route 221 through Bent Mountain, continuing past Poages Mill then turn right onto Route 419 on the edge of Roanoke. After only a few hundred meters, turn onto US Route 220 North, which leads you to I-81.
Once you're back on the Interstate you can pick up pace. Follow I-81 as far as Exit 300, where you should join I-66 heading towards Washington DC, marking the end of your detour. From here simply follow the Charleston Route the rest of the way to New York.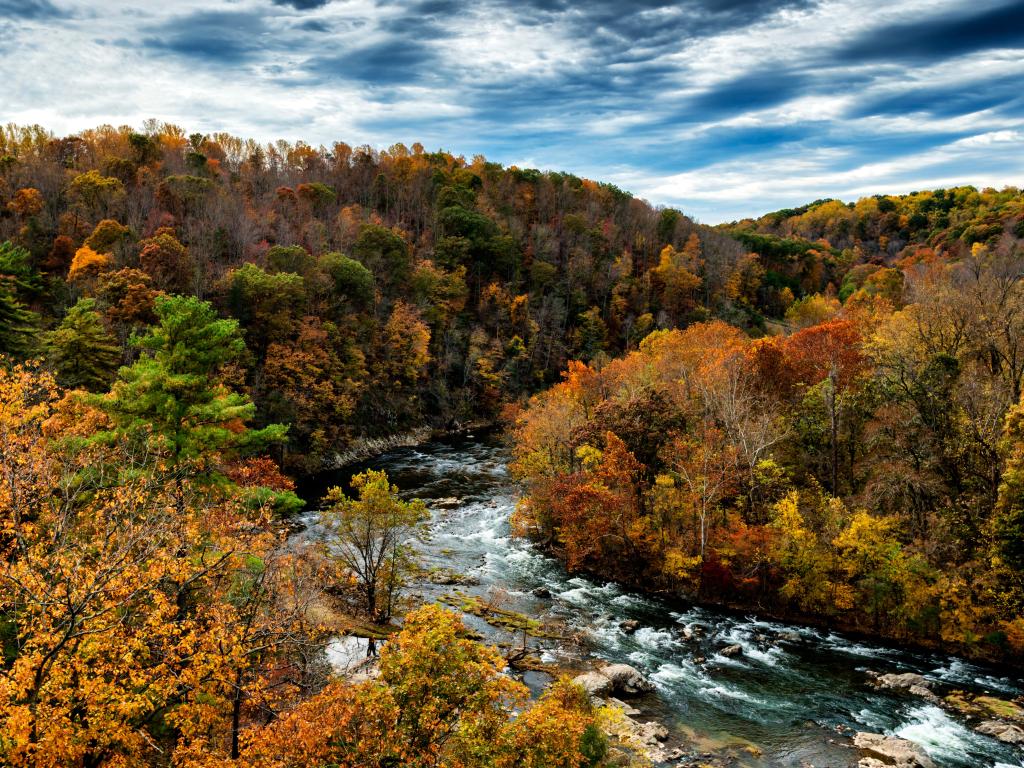 Best places to stop between Miami and New York
To give yourself enough time to see the sights, if you decide to stretch out your road trip from Miami to New York, then you will need to select at least a couple of destinations to stay for a night or two.
There are many terrific places you can choose to layover. But the ones we recommend are as follows:
Enjoy the delights of Charleston
The delightful city of Charleston is renowned for its charm and southern hospitality, and unsurprisingly, it's the perfect place to spend a night on the Charleston Route.
Charleston, with its picturesque cobblestone streets, plenty of historic sites and a terrific restaurant and bar scene, is around 9 hours from Miami, so it's possible to make this the first stop on your route if you need to.
While you're in town, Fort Sumter, Charleston Harbor and the South Carolina Aquarium are all well worth a visit.
Or if you're interested in finding out more about the plantations that originally brought wealth to the south - and the enslaved laborers who worked on them - Middleton Place and Magnolia Plantation are both a short drive out of the city.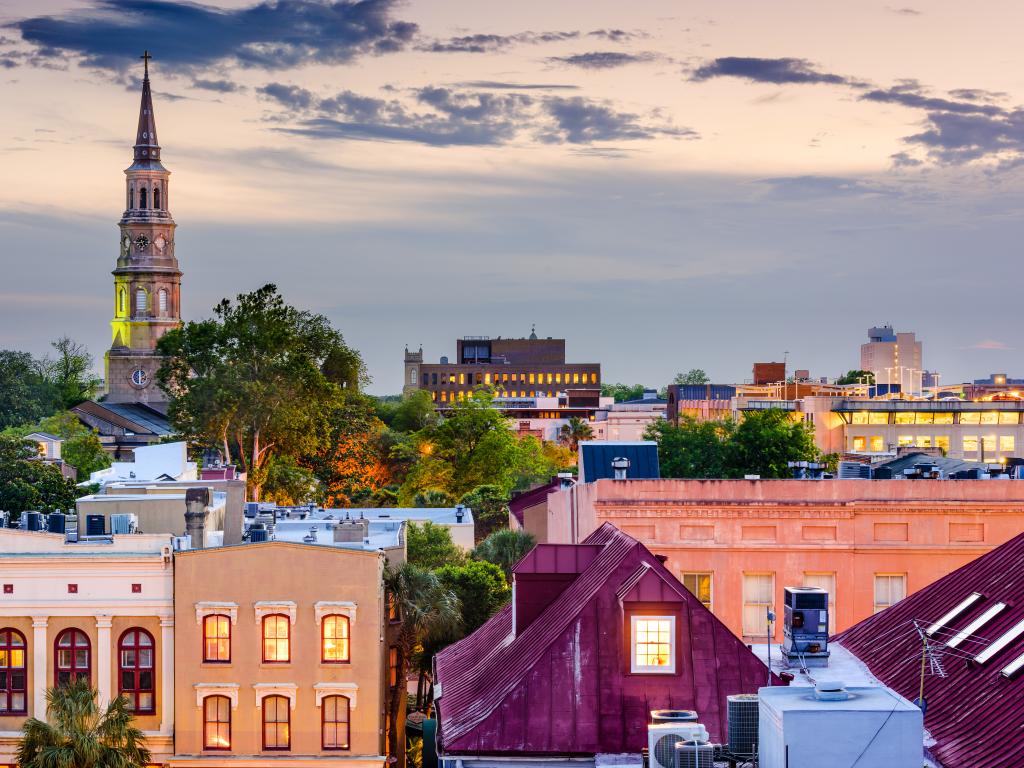 If you're looking for a hotel that's full of character and close to the city's main attractions, The Indigo Inn would make a great choice. This place has both style and charm - make sure to check out its lovely courtyard - and you'll be able to relax after a long day on the road by the outdoor pool.
Alternatively, if you're looking for a touch of luxury during your stay here, Hotel Bennett Charleston is a splendid choice. Situated right in the heart of the downtown area, this deluxe 5-star rated property will base you close to Charleston Harbour and Fort Sumter.
Some of its rooms come with patios, or magnificent views of the city, and there's also a lovely outdoor swimming pool should you fancy a dip. It also has parking on site.
Explore the Blue Ridge Parkway
With so many hiking trails and stunning viewpoints to take in, travelers on the Blue Ridge Parkway Detour should definitely factor in staying a night or two in the area.
On this route you'll drive around 12 hours from Miami before joining the Parkway, so you might want to add another stop earlier in the route if you have time to stretch your trip out over more days.
It goes without saying that, while you're staying in Blowing Rock, many fantastic forest trails, beautiful waterfalls and mountain views are in reach.
The town of Blowing Rock itself is also a lovely place to explore - before setting out on your drive along the Parkway you could visit Blowing Rock Art and History Museum to find out more about the Southern Appalachians that you'll be traveling through.
If you'll be staying in the town then Chetola Resort at Blowing Rock is a perfect place to base yourself. You'll enjoy stunning views and spacious rooms and you can relax by the indoor pool if you need to unwind after a day's driving or hiking.
While you're here you can even schedule horse riding or cycling with the hotel if you want to explore the mountains from a different perspective.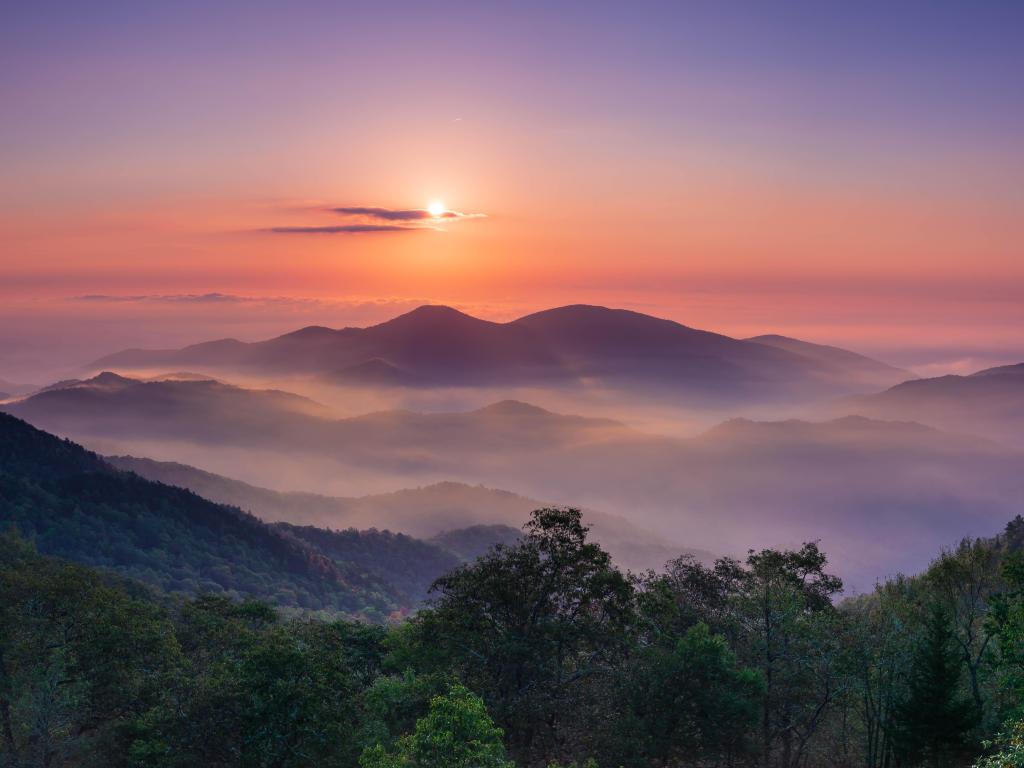 Check out Washington DC
Washington DC is full of must see, world class tourist attractions and landmarks - that's why both the Charleston Route and the Blue Ridge Parkway Detour pass through the city.
Given that it is just 225 miles from New York, it makes an excellent stop off option for your last night before reaching the Big Apple.
There's so much to see in DC that you'll be spoilt for choice. Visit the world class Smithsonian Museums - take your pick from art, history or the natural world - or head out to the Air and Space Museum on the outskirts of the city.
You should also make sure to tour the city's many impressive monuments - if you're here in early spring when the cherry blossom is out, the walk around the tidal basin to the Lincoln Memorial is a real treat.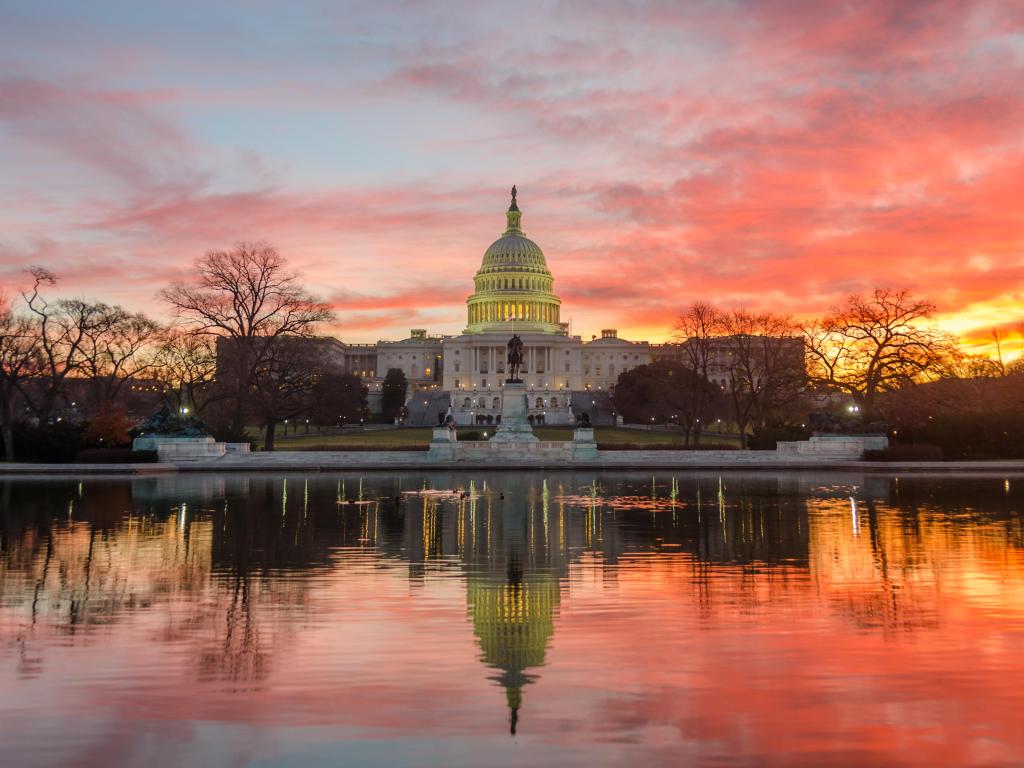 Should you decide to tour around the city, the CitizenM Washington DC Capitol is a great place to base yourself. As it's right in the heart of the city, you will easily be able to walk to the likes of the White House, Lincoln Memorial, Washington Monument and Capitol Hill.
Featuring vibrant, contemporary design, the property has a 24-hour front desk so you won't have to worry about checking in late. And though it's in easy reach of the capital's many food and drink highlights, don't forget to check out the hotel's rooftop bar during your stay too.
Things to see on a road trip from Miami To New York
As there are so many wonderful places to visit, and world class tourist attractions to see, during you road trip from Miami to New York, deciding upon an itinerary of where to go can seem a little daunting at first.
So if you are struggling to come up with a schedule here are some suggestions of where you should pencil in.
Both Routes:
Disney World - Visit any of the four great theme parks and two water parks that make up this fantastic entertainment resort complex.
Kennedy Space Center - Check out all things space at NASA's incredible Kennedy Space Center.
Daytona Beach - Chill out on the hard, flat sands of this famous Florida beach. Also check out the magnificent Ponce de Leon Inlet Lighthouse too.
Jacksonville - Visit 850+ square miles of exquisite beaches, as well as the wonderful Jacksonville Zoo.
Savannah - Fall in love with the stunning coastal landscape and incredible architecture of this gorgeous city.
Washington D.C. - Boasting so many world class neoclassical monuments and buildings like The White House, Capitol Hill, the Lincoln Memorial and The Washington Monument, the nation's capital is a must visit destination.
Gettysburg - Hugely significant area for Civil War buffs. You can get to see the antiquities at the Museum of Civil War and the site of Abraham Lincoln's famous 1863 Gettysburg Address.
Baltimore - Bustling city well known for being the birthplace of 'The Star-Spangled Banner'. Also known for its hipster culture, great museums and the iconic National Aquarium.
HersheyChocolate World - A must visit place for all lovers of America's number one selling chocolate bar.
Atlantic City - Fantastic resort city located on New Jersey's Atlantic Coastline. Boasts a popular boardwalk, as well as a number flashy casinos, beautiful beaches and hip nightlife.
Philadelphia - Renowned for being the 'City of Brotherly Love', check out the city's star attractions of Independence Hall (where both the declaration of Independence and the Constitution was famously signed) and the Liberty Bell. Be sure to order a Philly Cheesesteak whilst you are here too!
Princeton - One of America's oldest schools, this famous Ivy League university, which was established in 1746, is well worth a visit.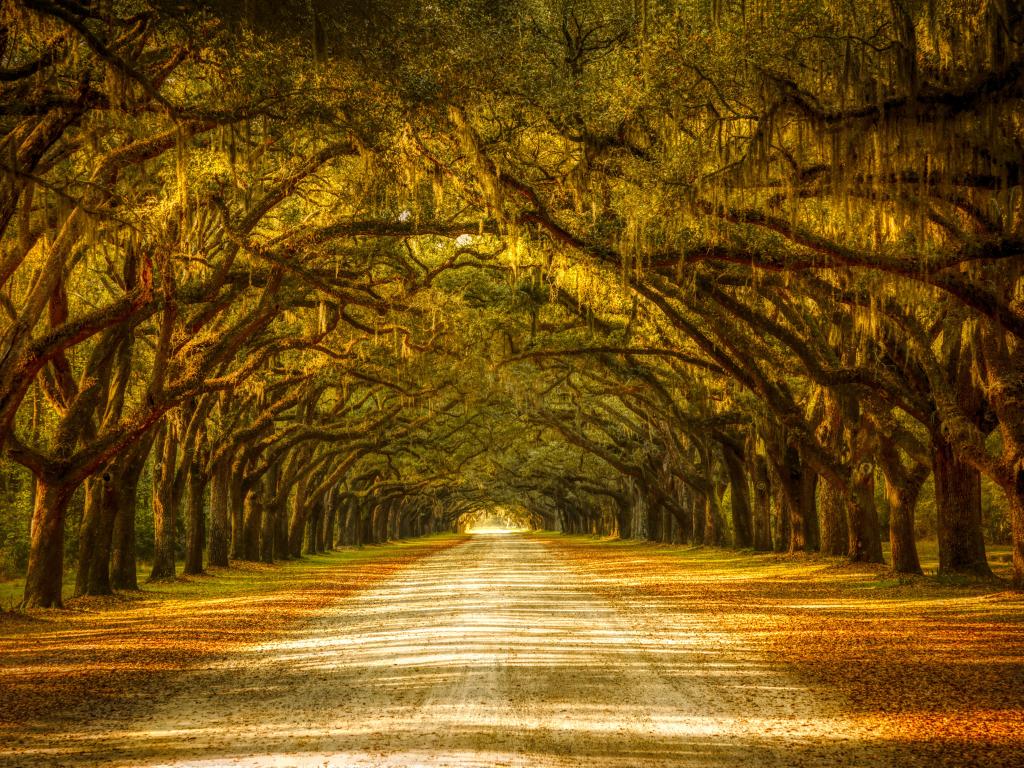 Charleston Route only:
Beaufort -A beautiful small waterfront town, not far out of Savannah.
Charleston - Immerse yourself in one of America's most historically and culturally significant cities.
Myrtle Beach - Stunning vacation resort and beachside city that incorporates over 60 miles of pristine white sandy beaches. Also home to a collection of outstanding celebrity-designed golf courses.
Raleigh - Explore the stately oak trees that given this quaint North Carolinian city the nickname of the 'City of Oaks'.
Wilmington - This lovely port city combines island beaches, historic streets, and a vibrant Riverwalk.
Norfolk – Pleasant waterfront city in southeastern Virginia which accommodates the fabulous riverside Virginia Zoo.
Monticello - Take a tour of President Jefferson's private estate to learn about this famous US President and his life and times.
Fredericksburg - Visit this city on the Rappahannock River to discover its colonial and Civil War history, or to see the Fredericksburg National Cemetery.
Blue Ridge Parkway Detour only:
Along the Parkway you'll find numerous overlooks and trailheads that you can take your time to explore. Here are just some of the highlights:
Nascar Hall of Fame - On your way up to the Parkway, stop by the Nascar Hall of Fame in Charlotte to see this celebration of America's favourite motorsport.
Cone Manor, Blowing Rock - The Moses Cone estate is a great place for hiking and horseback riding.
Linn Cove Viaduct, Boone - This engineering masterpiece takes the Parkway right around Grandfather Mountain in style.
Stone Mountain State Park, Roaring Gap - Enjoy outdoor activities like hiking, climbing, fishing or horse riding here, or camp out for a night or two if you want to get closer to nature while you travel the Parkway.
Mabry Mill, Meadows of Dan - This historic watermill is just one of the scenic sights along the Parkway.
Rocky Knob Recreation Area, Floyd - This would be a great place to stop for a picnic with a view as you approach the end of this stretch of the Parkway.
Best time to go on a road trip from Miami To New York
A road trip from Miami To New York is one you can do throughout the year, but there are a few things to bear in mind while planning your trip.
If you go during the summer months, the weather in the southern part of the route can get oppressively hot, with temperatures sitting uncomfortably in the 90s from June through August.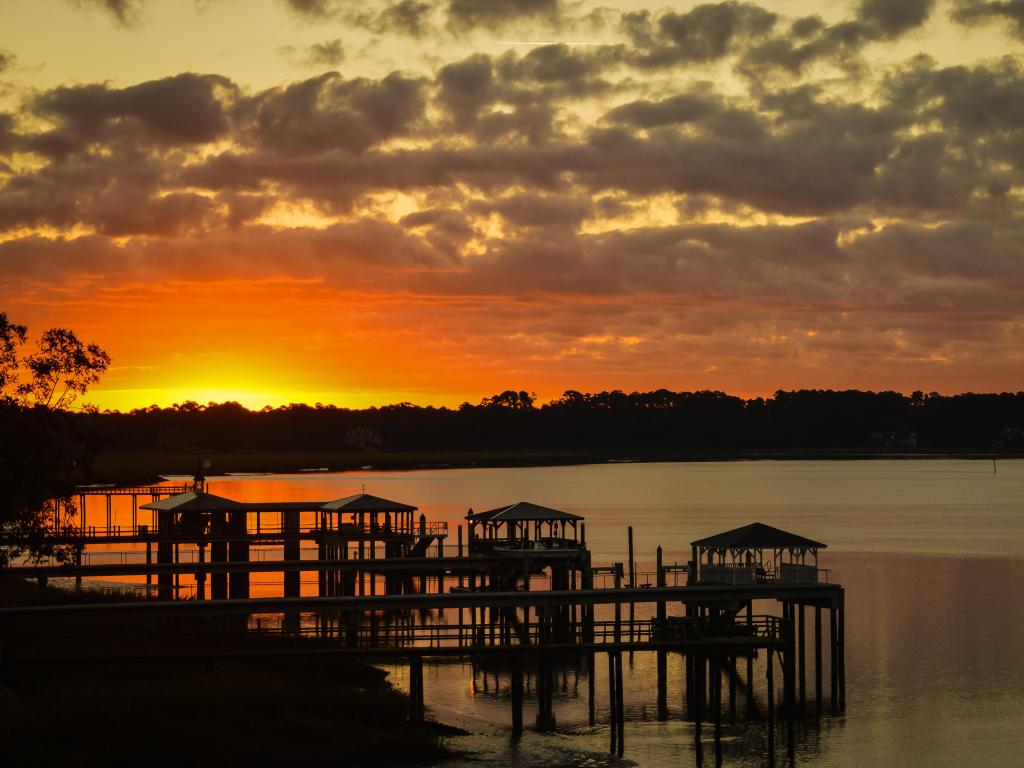 On the other hand, stretches of the Blue Ridge Parkway can close in winter due to snow or icy conditions.
Spring is a great time to take this trip, though factor in cooler temperatures the further north you head - late April or May is likely to be the sweet spot for great weather all the way along the route.
If you'd prefer to travel in October or November you might catch the stunning fall colors, especially along the Parkway or on the northern part of the route.
Aside from that, you can set off on your adventure whenever you like. Though you might be best advised to have your vehicle given the once over by a mechanic prior to heading off.