Road Trip from Montreal to Acadia National Park
If you are looking to escape the city and enjoy stunning views, incredible mountains and lakes, as well as beautiful coasts and interesting towns, then the road trip from Montreal to Acadia National Park is the real getting back to nature adventure for you.
The 540 km road trip from Montreal to Acadia National Park will take under 7 hours to drive. The routes pass through Sherbrooke, Newport, Newbury and New Harbor as well as Bigelow Preserve, Missisquoi National Refuge and Mont Mégantic National Park.
To help you get the most from your adventure, we've set out the best routes to take, the places to stop overnight, our favorite things to do and the best time of year to make this trip from Montreal to Acadia National Park.
How far is Acadia National Park from Montreal, and how long will the road trip take?
Comparison of road trip routes between Montreal and Acadia National Park

| Route | Distance | Driving Time |
| --- | --- | --- |
| The Direct Route | 540 km | 7 hours |
| The New England Route | 840 km | 11 hours |
The most direct route from Montreal to Acadia National Park spans a distance of 540 km and can be completed in about 7 hours if you were to drive without stopping or making detours.
An alternative and scenic coastal route, passing through New England, will take longer to drive. Covering a distance of 840 km, this option will take almost twice as long to drive at 11 hours.
While you could complete the Direct Route in a single day, you wouldn't get many opportunities to stop and view the incredible attractions it passes. Instead, we would recommend a minimum of four days and a couple of overnight stops along the way.
As both routes begin in the wonderful Montreal in Canada and finish at the amazing Acadia National Park in the US, you will need to cross the border. It's important to check before driving that you have the relevant paperwork and proof of identity to ensure a smooth crossing.
Best road trip route from Montreal to Acadia National Park
There is no definitive best route from Montreal to Acadia National Park as this will depend on your preferences as to what to see and your time constraints. If you are stretched on time, then the Direct Route is a solid option and could be achieved on a weekend.
That said, it still takes you past a variety of great sights along the way, including rivers, lakes and mountains of Montérégie and Estie in southern Quebec. If you enjoy the outdoors, this is a great route for you as it favours scenic walks over big cities.
The longer New England Route makes the best of the coast and offers fantastic views via Burlington and Portland, as well as the rugged shoreline of Maine. If you prefer water to mountains, this is a great option for you, though you'll still get plenty of forests and great cities.
As both routes are manageable lengths, you could always travel on one to Acadia National Park and then follow the reverse of the other route on the return leg. That way you'll get to see everything this trip has to offer.
If you are visiting Acadia National Park and plan to drive on the Cadillac Summit Road, keep in mind that vehicle reservations might be required. Please check the national park's website to avoid any disappointment.
The Direct Route
The quickest route will see you leave Montreal on Autoroute 10 heading east past Brossard and Eastman. Stop here for an explore of Mont-Orford National Park, which is directly beside you and offers beautiful views.
Continue back on the same road until you reach Exit 58 for Autoroute 55 north, follow this a short distance before taking QC-222 east to Sherbrooke, a beautiful riverside city that's worth a longer stop to explore.
When leaving, follow QC-108 east and at Cookshire-Eaton take QC-212, passing Island Brook and La Patrie. You could take a detour here to visit another beautiful Canadian park, the Frontenac National Park, or simply follow QC-212 south to the border where it'll merge into ME-27.
Once you cross the border into the US, you only have a short drive south before you arrive alongside Bigelow Preserve, offering incredible mountain scenery. Continue down and make another stop at Sugarloaf Mountain.
Follow ME-27 until Kingfield where you'll take ME-16 east and then US-201 south at Solon in Maine. Next turn left onto ME-43 east, then ME-150, ME-151 and finally ME-152. At Newport, merge onto Interstate 95 north.
Follow I-95 as far as exit 182A, making a quick detour to visit Sunkhaze Meadows National Wildlife Refuge before following I-395 and US-1A at exit 6A. Follow this road past Ellsworth, changing past Trenton to ME-3 which you'll follow to Acadian National Park.
The New England Route
The more scenic route to Acadia National Park will take you on Autoroute 10 east from Montreal before taking the exit to follow A-35 south through Saint-Jean-sur-Richelieu. Turn left onto QC-133 until you cross the border at Saint-Armand where it'll become Interstate 89.
Follow I-89 south until you reach Missisquoi National Wildlife Refuge, a great early stop for this outdoors road trip. Next continue south as far as exit 14W where you make a stop at Burlington, a large town in Maine and a great place for its historic districts and famous ice cream.
Continue on I-89 heading south after leaving, driving alongside the amazing Camel's Hump State Park, Mount Mansfield State Forest and CC Putnam State Forest.
You'll leave the interstate at Exit 7 where you'll take US-302 east, driving alongside Groton State Forest. Continue east as you pass into New Hampshire and join NH-112. This next stretch enjoys stunning views as you drive alongside the amazing mountains of Moosilauke and Mount Lafayette.
Continue on NH-112, making a stop to visit White Mountain National Forest, before arriving at Conway and changing to NH-113 east and crossing into Maine. At Standish, take ME-25 east, ME-112 north, I-295 and then US-1 to the wonderful coastal city of Portland.
After you are done exploring, take I-295 as you follow the coast through several interesting towns before following ME-123 and ME-24 south to make a stop at Harpswell.
Continue on US-1 North and drive through Bath before arriving at Wiscasset. Another short but worthwhile detour is to New Harbor, by taking MR-129 and ME-130 south. From New Harbor you can then follow ME-32 north as far as Waldoboro before rejoining US-1 to Rockland.
Continue heading north on US-1 and then east on US-1A to Bangor, before following US-1A to ME-3 which will take you the rest of the way to your final destination, Acadia National Park.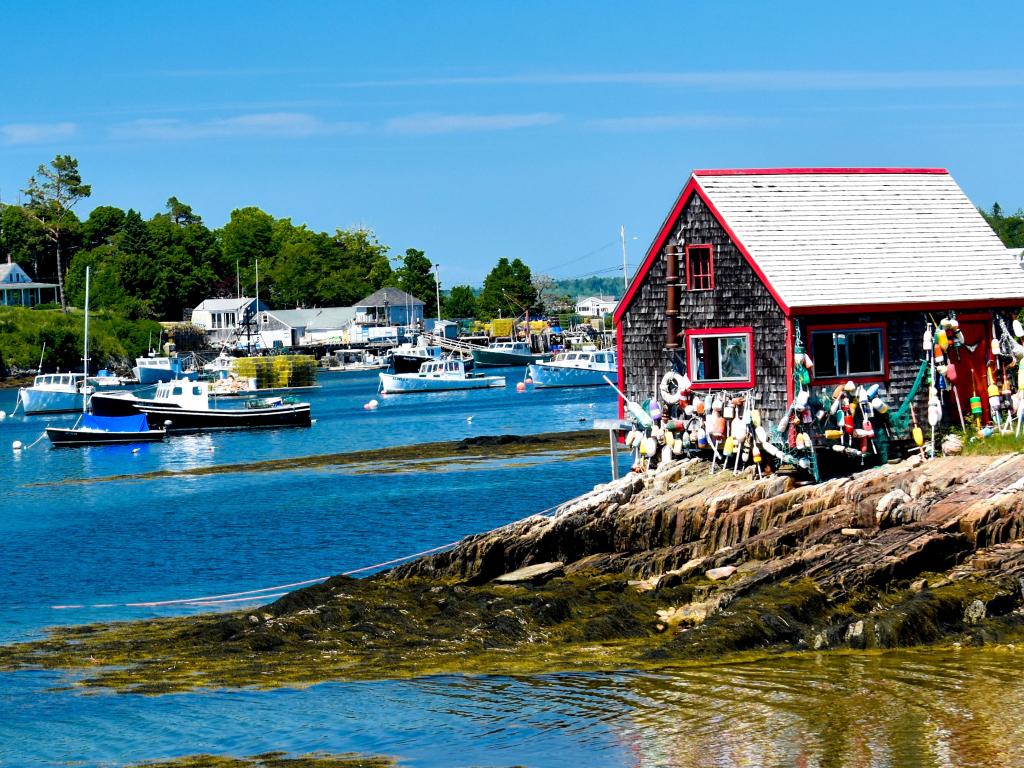 Best places to stop between Montreal and Acadia National Park
This exciting road trip from Montreal to Acadia National Park is definitely one that benefits from a couple of overnight stops, to really help make the most of the beautiful scenery.
There's some great places you can stop at along the way, but here are just a few of our favorites:
A mountain retreat at Carrabassett Valley
If you've opted to follow the Direct Route to Acadia National Park, then a great halfway point is Carrabassett Valley, a beautiful town located less than 4 hours from Montreal, perfectly situated near the scenic Sugarloaf Mountain in Maine.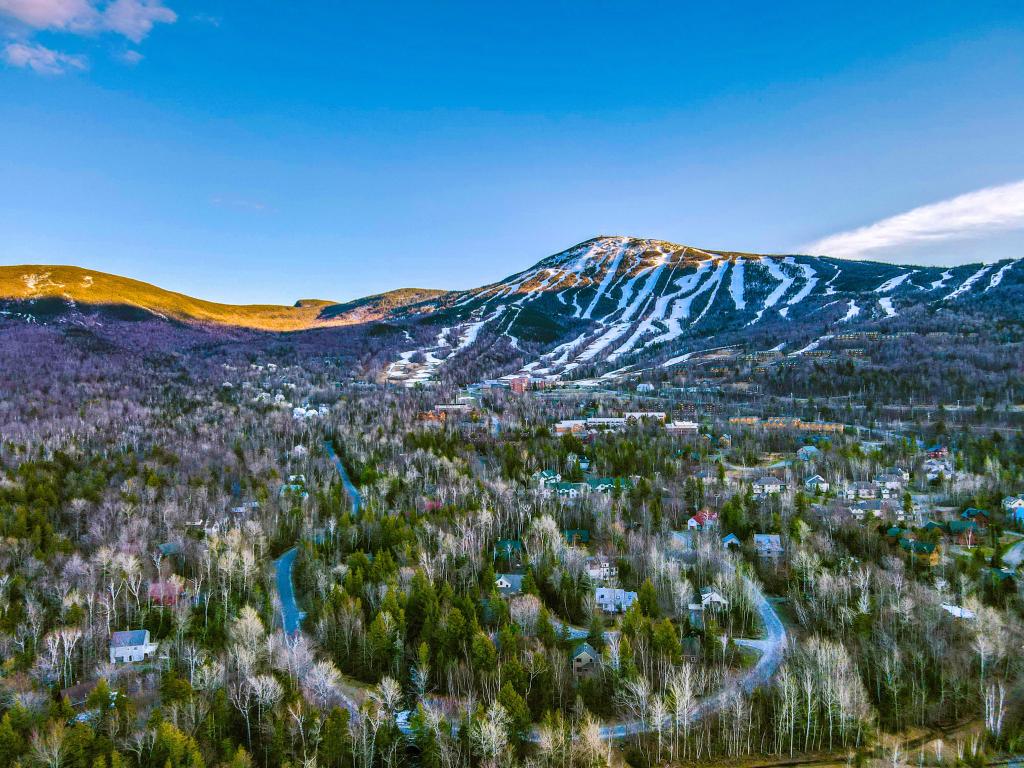 This incredible part of the US is simply beautiful, with plenty of attractions surrounding you. Known for its skiing, snowmobiling as well as great hiking trails and local wildlife, here you will enjoy not only the natural scenery but also the zip lines and water rafting at nearby West Forks.
After exploring the amazing Sugarloaf Mountains, you can enjoy exploring the town of Carrabassett Valley, where you can enjoy a plethora of outdoors sports here during your stay.
For a great resort that caters to tourists all year round, it has to be Sugarloaf, Carrabassett. This perfectly located hotel is near to ski runs that suit all ages and abilities, as well as great hiking trails in summer which are revealed once the snow melts.
The accommodation itself offers a hot tub, ideal if you are travelling during winter, as well as ski hire equipment and free parking. Plus you're only a short drive away from the restaurants nearby.
Sea views at Portland
An ideal stopover on the New England Route has got to be the beautiful coastal city of Portland in Maine. Just 6 hours from Montreal and 5 hours to Acadia National Park, it's perfectly placed to enjoy a rest before embarking on the rest of your journey.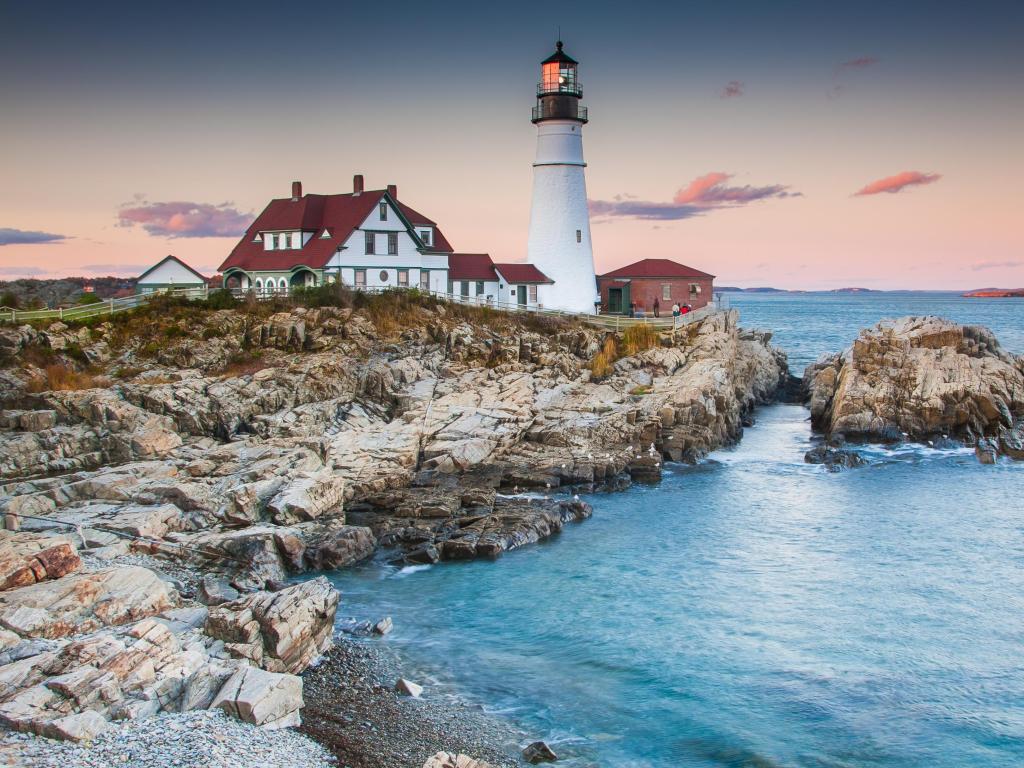 Located right on the Atlantic, Portland has incredible sea views and maritime history that makes it a real contrast to inland Montreal. This coastal city, rich in history, still has a busy port and a thriving fishing industry. Though most tourists come to appreciate the nearby scenery.
For a great base to explore this stunning location, a great option is Portland Harbor Hotel. Located close to that amazing waterfront, rooms here are spacious and stylishly decorated - and there's even private parking.
The hotel is within easy walking distance of Portland's historic district, Casco Bay and Observatory, while the Museum of Art is just slightly further. Make sure you also stop by to visit the Portland Museum of Art and Tate House Museum.
Having explored Portland, you'll certainly enjoy the grandeur and elegance of this 4-star hotel, providing the perfect opportunity to rest before continuing on your trip.
A nature retreat at Bar Harbor
Acadia National Park is a stunning 47,000-acre park covering woodland, granite peaks and rocky shores. Offering opportunities for camping and hiking, Acadia is famous for its stunning fall foliage while equally beautiful covered in snow in the winter.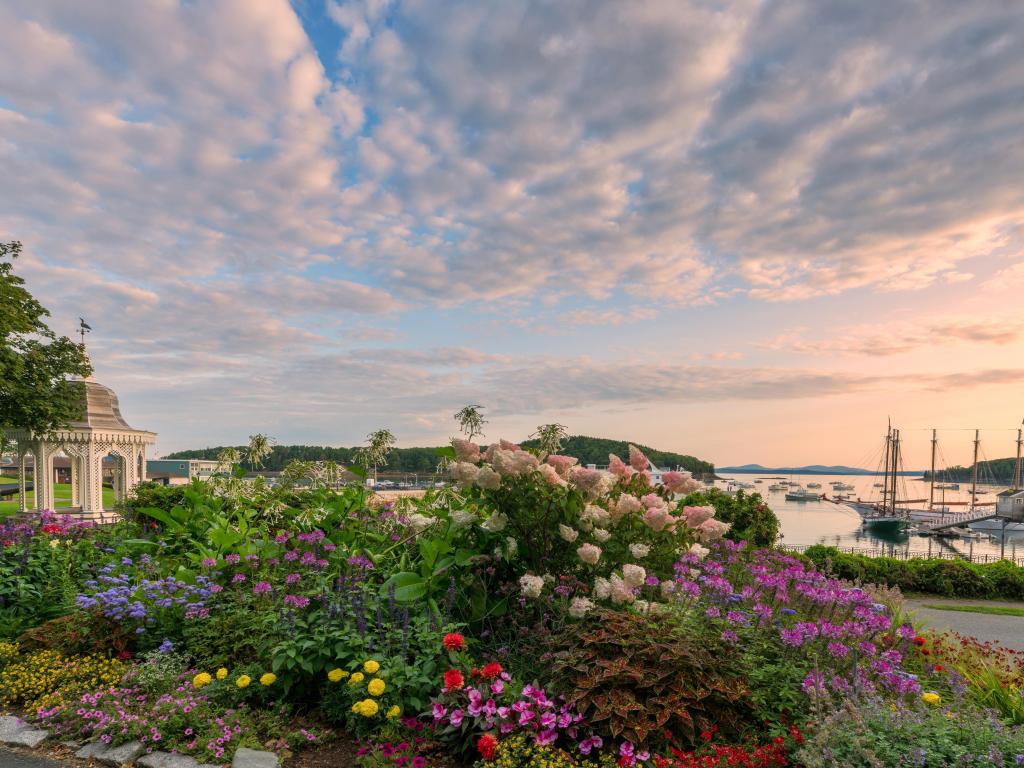 In order to really explore this great natural landscape, it's best to spend several days in the park which will give you enough time to enjoy a few hikes, maybe watch a sunrise from Cadillac Mountain or just explore this vast area.
Located just outside Acadia National Park, staying in Bar Harbor means you'll have urban amenities on tap and can easily head out to one of the town's bars or restaurants to refresh yourself after a day exploring the park.
Queen Anne's Revenge is an exceptionally stylish hotel perfect for this trip. Located close to West Street Historic District and the Abbe Museum, and the College of the Atlantic Natural History Museum, there's also free parking, a stylish lounge and beautiful gardens to explore.
Rooms at this beautiful resort are elegant and modern, while the balconies and stunning views will ensure that the end of your road trip finishes on a high.
Things to see on a road trip from Montreal to Acadia National Park
Despite being a relatively short drive, the trip from Montreal to Acadia National Park passes some incredible parks, mountains, lakes and great cities.
Of all the fantastic places to stop at, here's some of our favorite places: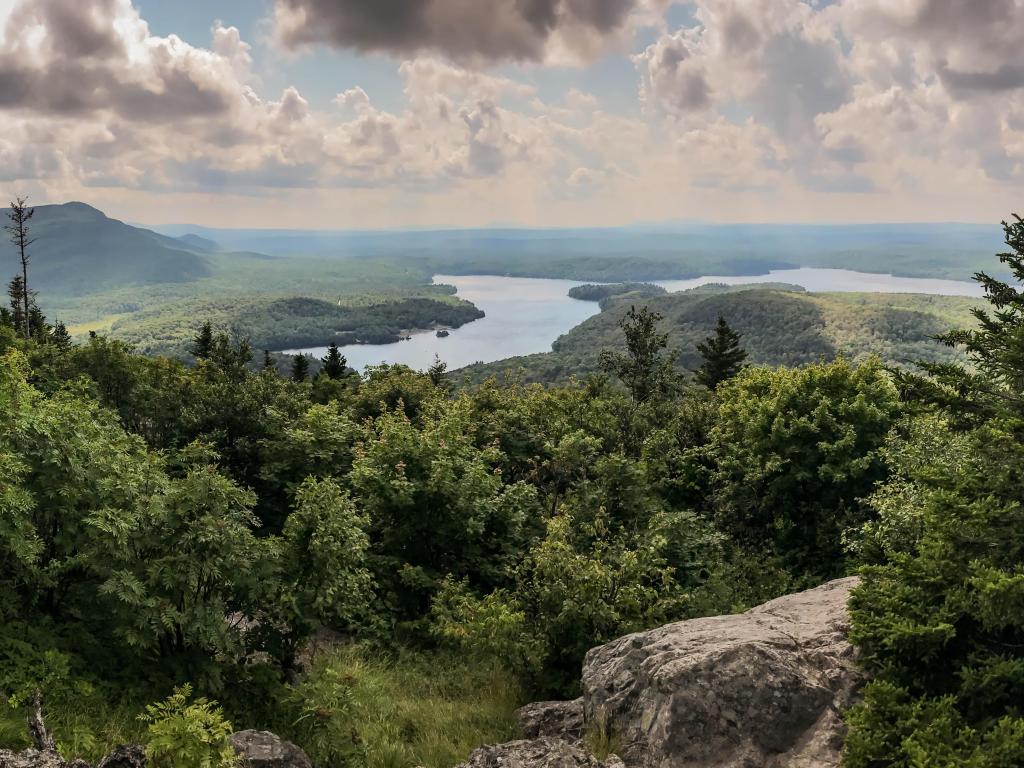 The Direct Route
Fort Chambly National Historic Site - The French originally established this fort on the Richelieu River back in 1665 but the building you'll see dates from 1711. Learn about the history of French settlers and their lives in this area over many decades.
Zoo de Granby - This popular attraction includes a zoo, waterpark and amusement park – take a look at the evening events if you fancy a visit without the daytime crowds.
Mont Sutton - Ski resort by winter, mountain getaway by summer – come here to enjoy a fantastic ski experience, thrilling zipline, hiking and mountain biking.
Mont-Orford National Park - There's something for everyone at this park, with family-friendly boating, lake swimming, walking and cycling trails and some challenging climbs. There are routes and advice for winter visitors too, with snowshoeing and winter hiking trails.
Sherbrooke - This riverside city is known for its great food, vineyards, and art and natural history museums. You can explore by canoe or bike too.
Marais de la Riviere aux Cerises - A marshland not far from the town of Magog is a great place to come to watch for wildlife, take a gentle hike, or, in July and August, explore the waterways on a guided kayak tour.
Gorge Park - The Coaticook River makes its way through a stunning gorge, where you can walk, camp and horse ride, or snowshoe if you're here in winter. The impressive suspension bridge is a popular attraction.
Lac des Nations - This man-made lake near to Sherbrooke includes a path right the way around the lake which you can walk in a couple of hours before enjoying a picnic by the water.
Bigelow Preserve and Flagstaff Lake - Follow the Appalachian Trail through largely undeveloped mountain scenery – the preserve was established in the 1970s to prevent a massive ski resort being built here – to enjoy far-reaching views.
Rafting at West Forks - Take a slight detour from the route to enjoy a few hours on the rapids of the Kennebec and Dead Rivers, then head to a riverside restaurant once you've dried off.
Colby College Museum of Arts - Situated in Waterville, make a stop at Colby College Museum of Arts to see a fantastic range of American art.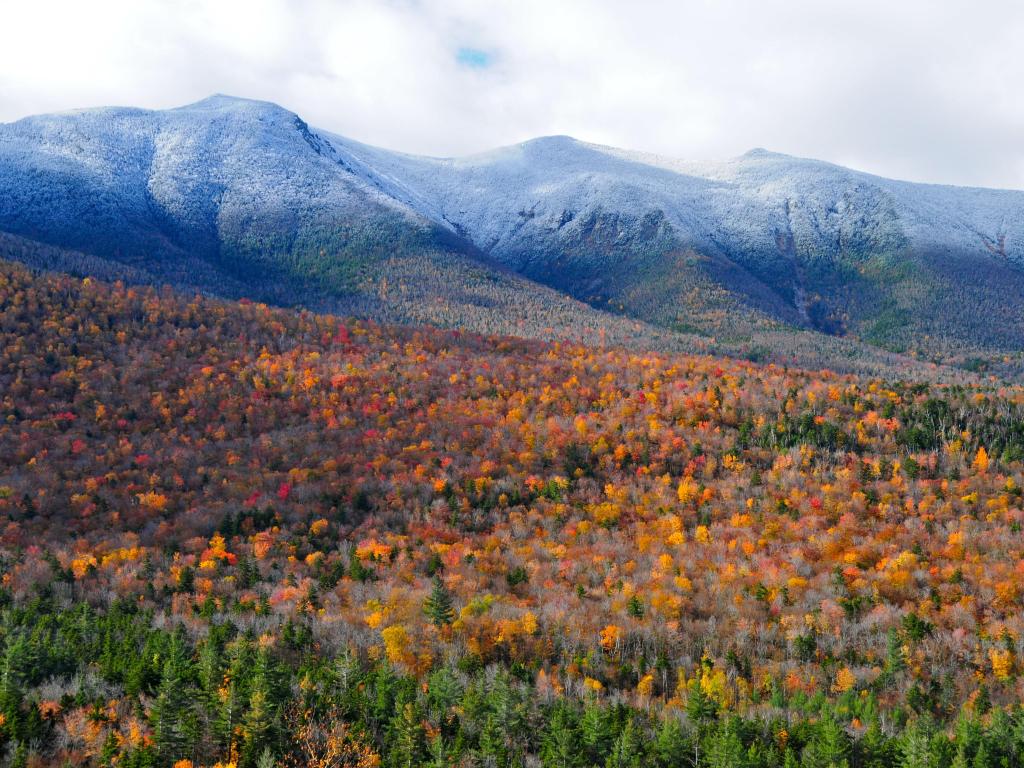 The New England Route
Missisquoi National Wildlife Refuge - This wildlife area on the shores of Lake Champlain is a fantastic wetland and woodland habitat, and a haven for migratory birds.
Lake Champlain - Take a day or two to explore this quiet part of Vermont, visiting the lakeside towns of Essex and Westport, among others.
Star Trek Original Series Set Tour - For something completely different, detour a short distance south of the route to Ticonderoga where you'll find a lavish reconstruction of the original 1960s Star Trek sets. Be sure to check opening times in advance if you plan to visit.
Burlington, Maine - The largest town (by population) in Maine has a beautiful location on the shore of Lake Champlain. It's known for its historic districts and being home of Ben & Jerry's – while their very first store is no longer standing, you can still enjoy a scoop while you're in town.
Waterbury Village Historic District - Some 200 historic buildings (which are mostly private residences) mirror two centuries of change in this peaceful part of Vermont.
White Mountain National Forest - Enjoy stunning views across forested mountain slopes, or seek out fast-flowing mountain streams and waterfalls.
Portland, Maine - The largest city in Maine has plenty going on: hit the beach, eat lobster, take to the waves to look for whales, stroll through the botanical gardens or visit historic Victoria Mansion.
Giant's Stairs, Harpswell - Hike the short trail out to this striking natural rock formation that sits perched on the Atlantic Ocean.
Wiscasset, Maine - Situated on the Black River, you can visit historic houses here, including the Nickels-Sortwell House and Castle Tucker, or take a tour around Lincoln Old Jail.
New Harbor, Maine - From this picturesque village by the sea you can enjoy a hearty seafood meal or take a boat trip out into Muscongus Bay and enjoy the views.
Rockland, Maine - Known as the jumping-off point for ferries out to Penobscot Bay's many islands, Rockland also hosts the Maine Lobster Festival.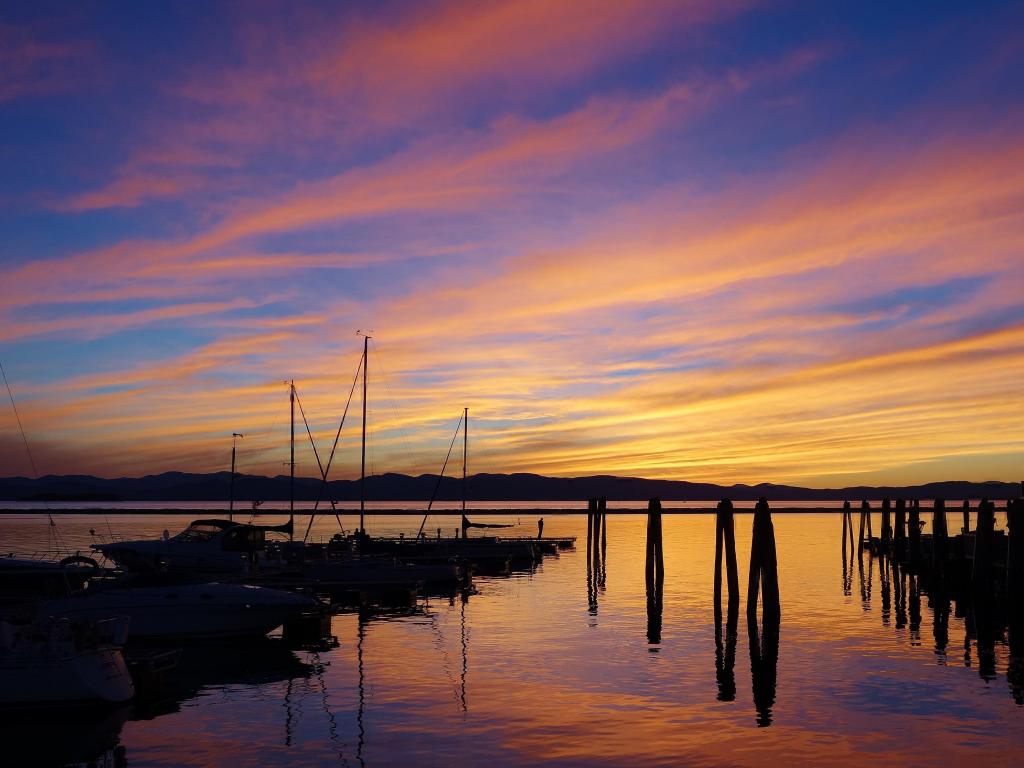 Best time to go on a road trip from Montreal to Acadia National Park
The best time to embark on the road trip from Montreal to Acadia National Park really will really depend on what you'd like to see and do along the way.
While a lot of this trip is cold in the winter months, with average temperatures around 30 degrees Fahrenheit, it's a region that's used to dealing with snow. For that reason, it has a thriving winter sports scene is popular with skiing and offers snow-capped mountain views.
That said, you might find that some of the attractions listed are shut during the winter, so check ahead before visiting if you have a particular place in mind.
If skiing and winter sports aren't your thing, you might instead prefer to opt for the warmer months. This region has warm but short summers, with average high temperatures between 75-80 degrees Fahrenheit. Given its maritime location, you can still expect some rainy days.
Another option, offering pleasant weather and fewer crowds would be spring or fall. While in spring you're likely to see wildflowers blooming if you hike through the parks and forests, the popular time to visit is fall, when the foliage famously paints this area in vibrant red and gold.
Finally, if you're looking to combine your trip with a festival or two, how about planning your visit with the August Dragon boat races on Lake Champlain near Burlington, which draw large crowds. Alternatively, you can enjoy the Maine Lobster Festival in Rockland, also held in August.