Road Trip from Montreal to Boston
If you'd like to see some of the best things Vermont and New Hampshire have to offer, including stunning lakes, winding mountain roads and mile after mile of relaxing coast, then the road trip from Montreal to Boston is the one for you.
The 495-km road trip from Montreal to Boston takes 5 hours to drive. Key stops include Albany, Burlington, Vermont, Waterbury, Portland and Salem, as well as Lake Champlain, Lake Placid, White Mountain National Forest and Black River Wild Forest.
There's lots to discover on this epic road trip. Read on for some great ideas on where to stop and what to do on your way.
How far is Montreal from Boston and how long will the road trip take?
Comparison of road trip routes between Montreal and Boston

| Route | Distance | Driving Time |
| --- | --- | --- |
| The Coastal Route | 673km (418 miles) | 8 hours 14 minutes |
| The Inland Route | 643km (400 miles) | 6 hours 29 minutes |
The most direct route from Montreal to Boston is along Interstate 89 and takes 495 km and just over 5 hours to drive. Without stopping, this route shouldn't take more than a day to complete if you are limited by time.
That said, the we are going to recommend two slightly longer routes, the first of which takes you through Vermont and along the coast at Portland. At 673 km and taking just over 8 hours to drive, the extra distance will give you a lot more attractions to see en route.
However, if seeing more cities is your priority, then you could opt for our Inland Route, taking you via Albany before arriving in Boston. At 643 km and taking only 6 hours and 29 minutes to drive, this option also has plenty of great places to visit on the way.
While you could complete either of these routes in a single day, the road trip is best enjoyed over two to three days to allow you time for a couple of overnight stops and a more leisurely and scenic drive.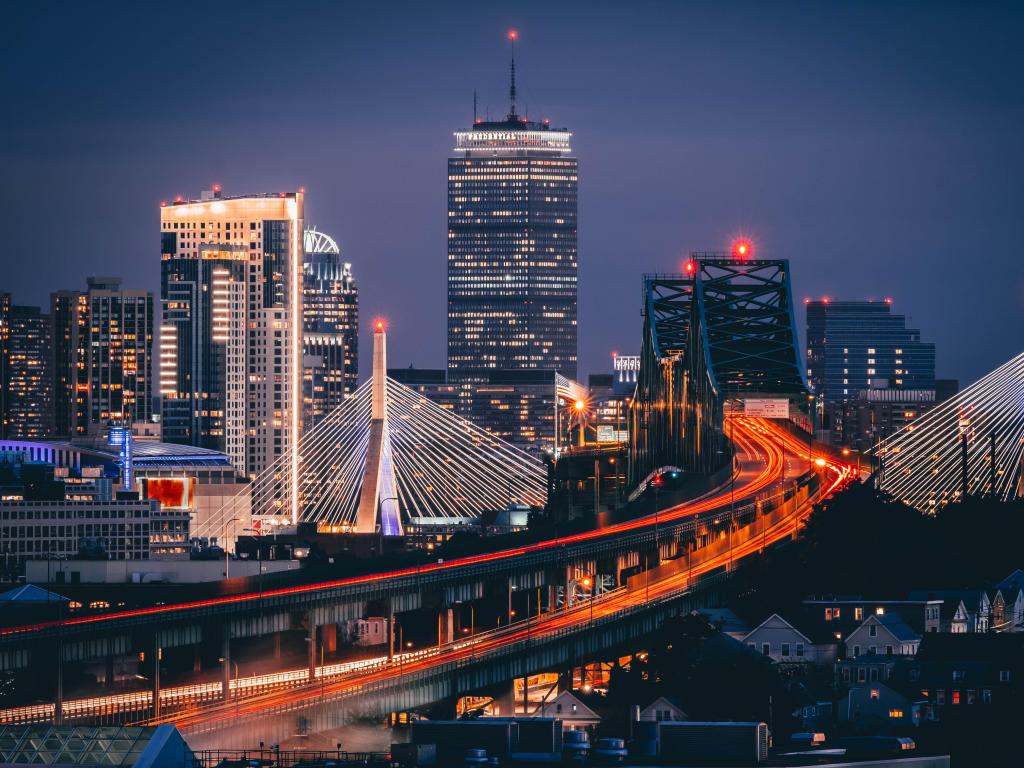 Best road trip route from Montreal to Boston
There are two best options for the road trip from Montreal to Boston. Both involve crossing the Canada border into the US, and will therefore require carrying the correct documentation and proof of identification.
With not a huge difference in either distance or time, the route you decide to pick will mainly be based upon your preference of things to see along the way. While the Coastal Route offers ocean views, our Inland Route offers more US cities to visit, as well as stunning landscapes.
If you really can't decide between the two, why not take one route to Boston and follow the other back to Montreal? Either way, you'll be guaranteed of a great road trip.
How to drive from Montreal to Boston
The map above shows our suggestions for the best road trip routes between Montreal and Boston. Keep reading for detailed descriptions of both routes, where to stay on either, and the best things to do on the way.
The Coastal Route
From Montreal, take Autoroute 10 east through Brossard and Chambly, before taking Autoroute 35 and head south. Pass Bedford, a city which offers fantastic views of the Halifax Harbor before crossing the border into the US.
From here the road merges into Interstate 89 as you arrive at Highgate in Vermont. You can stop and visit Missisquoi National Wildlife Refuge, a habit created for migratory birds, or continue south to Burlington, passing several towns along the way.
Stay on the I-89 until Waterbury — a popular stop, thanks to Ben & Jerry's — and consider visiting Mt Mansfield State Forest, Camel's Hump State Park. Next take the scenic Route 100 past Stowe to Vermont where you could take an overnight rest.
Next take VT-15 east, before changing to I-93 through Waterford and crossing into New Hampshire. Switch to Route 302 east, through the White Mountain National Forest.
Once you've entered Maine, you'll mostly be on the ME-113 and ME-114 southeast to Portland. While a bit of a detour, Portland is a great city to visit and offers some stunning views along its waterfront, as well as restaurants and shops.
From here you can take the I-95 to Boston, detouring off the main Interstate if you want to explore more of the coast, including Salem.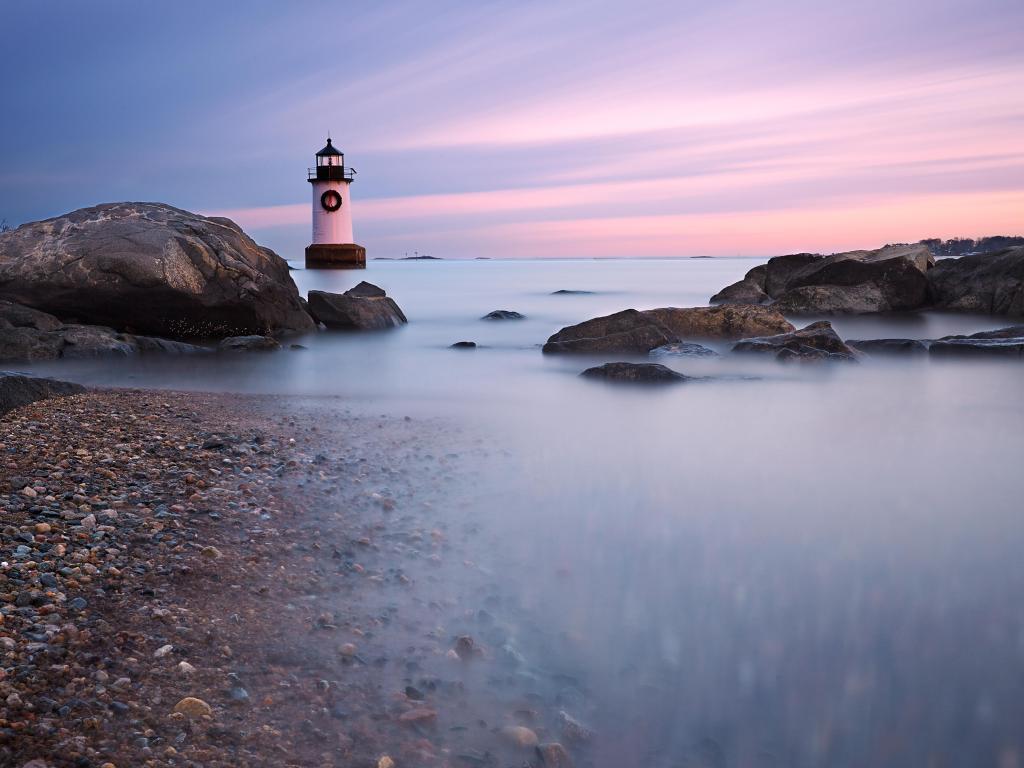 The Inland Route
Our Inland Route takes you on the west side of Lake Champlain. Leave Montreal, heading southeast on A-15 and past Brossard and Napierville before arriving at Champlain on the US border.
The road merges to become Interstate 87 which you will continue on, heading south for the first large section of your trip. Key places of interest along this first stretch is Lake Champlain, High Peaks Wilderness, and Pharaoh Lake Wilderness Area just outside of Pottersville.
Continue south, past Lake George and Glens Falls before following the signs to Albany.
Spend some time exploring this great New York city, before taking I-90 heading east. From here you could take a stop at Springfield or Worcester in Massachusetts, more great cities with fantastic attractions, or continue on I-90 all the way to Boston.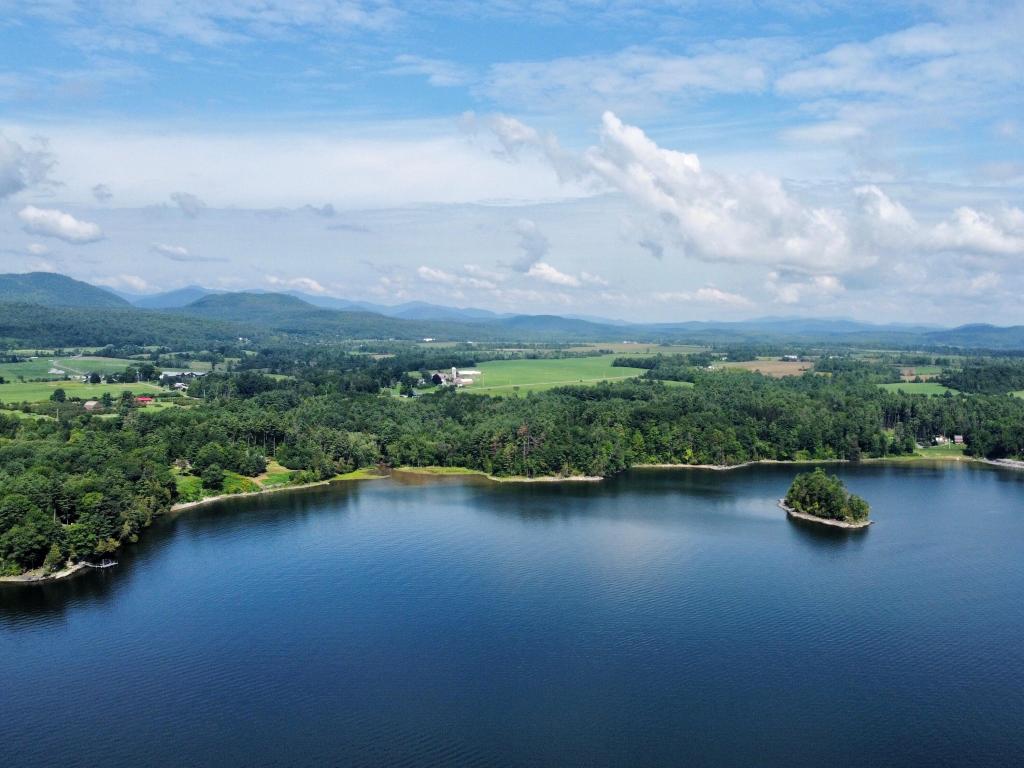 Best places to stop between Boston and Montreal
While the road trip between Montreal and Boston is not particularly a long one, there are plenty of great attractions to visit along the way and a couple of overnight stops are great opportunities to explore more. Here are some of our recommendations for great places to stay:
A room with a view at Burlington - Coastal Route
A short drive from Montreal, Burlington is an unbelievably picturesque city in northwestern Vermont. With a view of the green mountains on one side and the beautiful Lake Champlain on the other, it's an ideal location if you have chosen the Coastal Route for an overnight stop.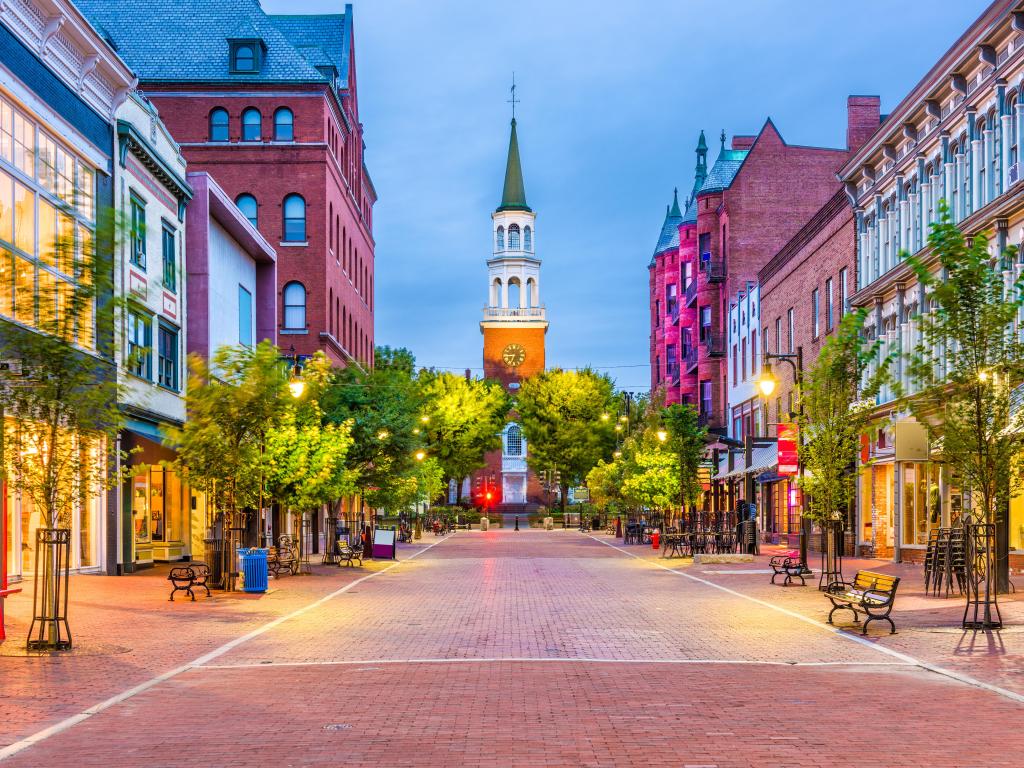 Iconic Burlington has something to offer everyone. Food fans can hit the farmer's market while those who enjoy an escape to nature, there's Lake Champlain to explore and Mount Mansfield and its nearby state forest to visit. The city also has plenty of museums and shops to keep you entertained.
If you're looking for somewhere to stay for the night, Hilton Burlington Lake Champlain is a great option. With stunning views of Lake Champlain, this stylish, modern hotel has comfortable rooms, plus an outdoor pool.
From the Hilton Burlington, you're only a few minutes away from the bustling downtown with its shops, cafes and restaurants in the historic Church Street Marketplace, as well as Echo Lake Aquarium. If you'd rather stay in, the hotel also offers dining and an outdoor terrace, an ideal spot for stargazing.
A historic stay at Albany - Inland Route
At 358km and around halfway to your destination, a stop at Albany is the perfect place if you chose the Inland Route to Boston. The capital city of New York State, Albany is a fantastic US city to visit.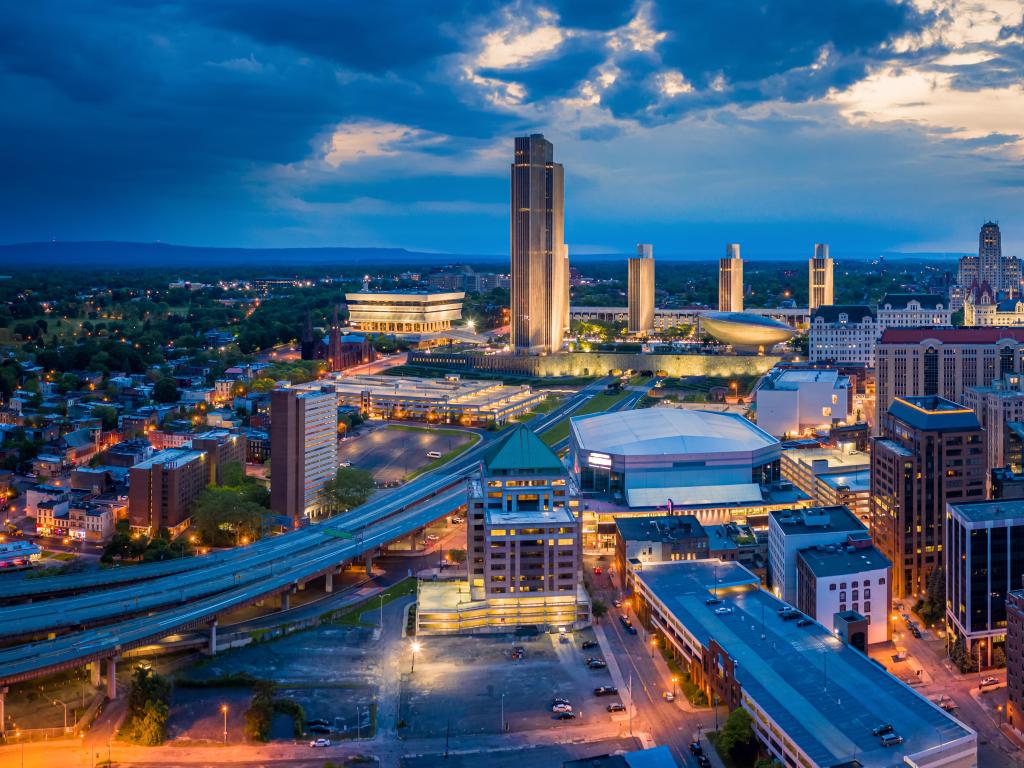 Take a walk to the huge Empire State Plaza, which has reflecting pools, an art-filled underground shopping concourse and The Egg, a striking performing arts center. Visit the 1800s New York State Capitol or the New York State Museum, before taking a stroll at Thacher Park.
This historic city is a great place to visit with so many amazing museums, historical attractions and restaurants, you'd be pressed to fit them all into an afternoon. For a memorable experience, we recommend a stay at the Renaissance Albany, just steps away from the Egg Center for the Performing Arts, plus many other top attractions.
Once you've had your fill of the great outdoors, the Renaissance Albany boasts an onsite restaurant and a top-notch cocktail list at the bar - perfect after a long day of sightseeing.
Explore one of the cities in the US - Boston
The road trip isn't complete without spending a bit of time in Boston, after all you did drive all this way! Boston is the capital and most populous city in Massachusetts. Known for its famous baked beans and The Boston Marathon, there's so much to discover about this city.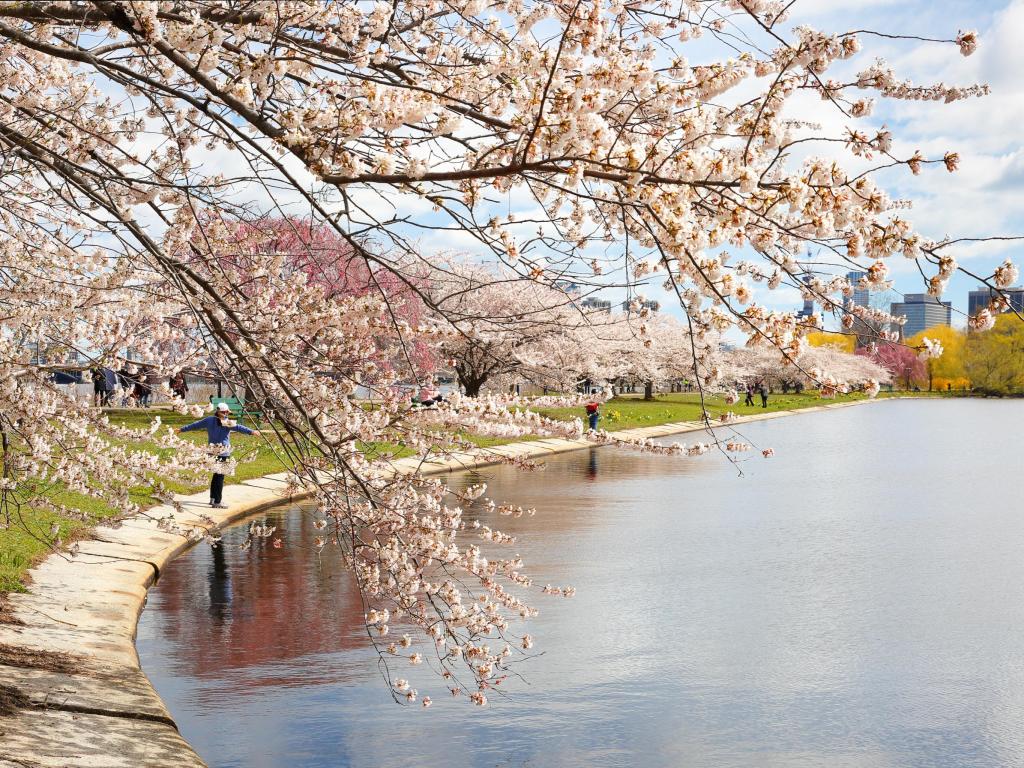 Ranked as one of the best cities in America, Boston was the first place to construct a public park, the Boston Common in 1634. Nowadays it has plenty of green spaces, from the Esplanade to the Black Bay Fens. There's also tons of cultural attractions, like the Boston Museum of Fine Arts.
After a long day sight-seeing this popular city, a stay at the Seaport Hotel® Boston is a must. This 4-star hotel set on Boston's historic waterfront is a luxurious and modern hotel. Wake up to rooms that overlook either the city or the water, or indulge in a swim on the indoor pool.
Top off your stay with a meal or drinks at the hotel's own restaurant, or rent a bicycle from the convince of the hotel and set about exploring more of Boston. For fantastic views, a great location, parking and a luxury hotel, you can't go wrong with a stay at Seaport Hotel® Boston.
Things to see on a road trip from Montreal to Boston
The road trip from Montreal to Boston is dotted with great things to see and do along the way. From the outdoor activities to cultural and historical places to visit, here are some of the best things to see along the way:
Both routes
Lake Champlain - This natural freshwater lake borders the US and Canada. Its known as being home to some of the oldest fossil reef in the world. There's also 587 miles of shoreline and 54 public beaches on the lake, making it a popular destination in the summer months.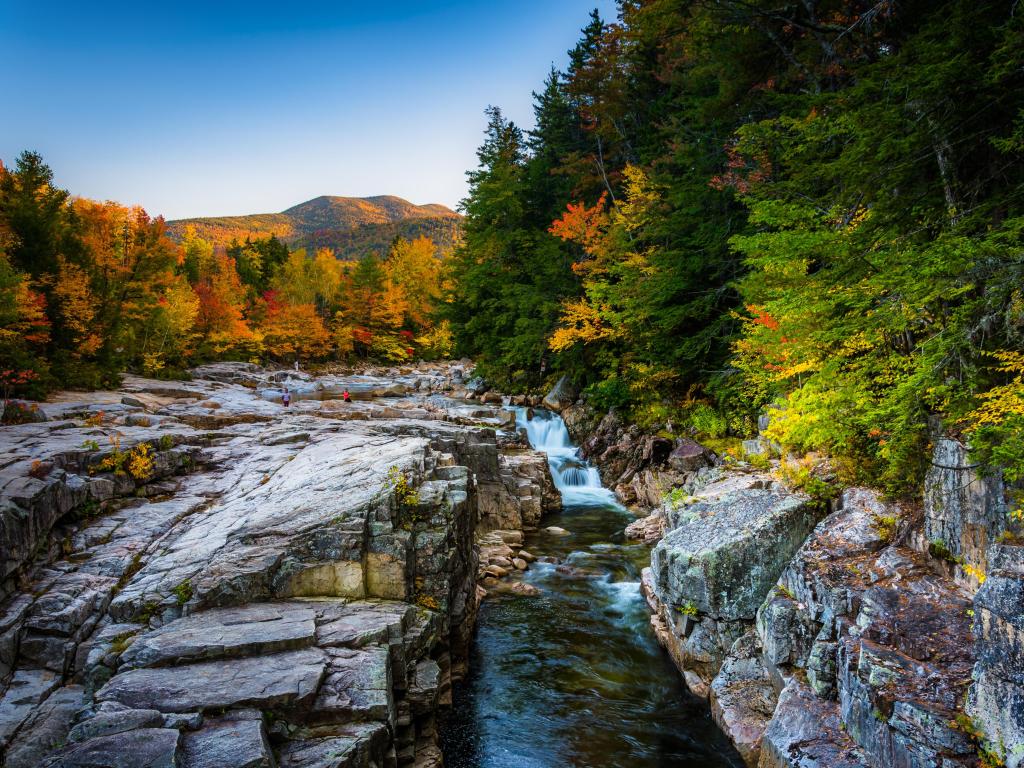 Coastal Route
Waterbury, VT – Ben & Jerry's is the ultimate draw of why Waterbury is an absolute must for your road trip, but if you're not into ice cream, there's also breweries and cider mills here you can come up to and visit.
Portland, Maine – This city offers kayaking, walking tours, museums, art galleries, and lots of great food and shopping at downtown Old Port district.
Missisquoi National Wildlife Refuge - This wildlife refuge was established in 1943 to provide habitat for migratory birds. Today it has 5 public use trails plus boat ramps to explore the Missisquoi River and Lake Champlain.
Mt Mansfield State Forest - Discover fantastic hiking scenery around Mount Mansfield. The state forest covers 44,444 acres and is the largest contiguous landholding owned by the Vermont Department of Forests, Parks and Recreation, and is one of its most diverse.
Camel's Hump State Park - Camel's Hump is the third highest mountain in Vermont. The state park has plenty of trails and for the more adventurous, there's even a hike up the mountain itself.
Franconia, White Mountains – visit the Flume Gorge at the Franconia Notch State Park, or take a tram up Cannon Mountain.
Bartlett, White Mountains – Visit the Story Land amusement park, or go skiing or touring at the Attitash or the Bear Notch. Train enthusiasts can also visit the Hartmann Model Railroad and Toy Museum.
Bretton Woods, White Mountains – There's fun canopy tours, snowmobile rides, ATV tours and even golf at Bretton woods. You can even ride the cog railway up Mount Washington.
Salem, NH – Visit the house of the Seven Gables, the Peabody Essex Museum or learn about the witch trials at any of the spooky historical guided tours.
White Mountain National Forest - From mountainous hardwood forests to majestic alpine peaks, explore the beautiful scanery, clear mountain lake sand wildlife at this national forest in New Hampshire.
Mount Washington - The highest peak in the northeast of America, this stunning mountain can be seen from so far away that on a clear day, at the summit you can see as far as Canada.
Portsmouth, NH – Travel back into the 17th century at the Strawbery Banke Museum, shop 'til you drop at Market Square or see the locals put on a show at the Music Hall or the Seacoast Repertory Theatre.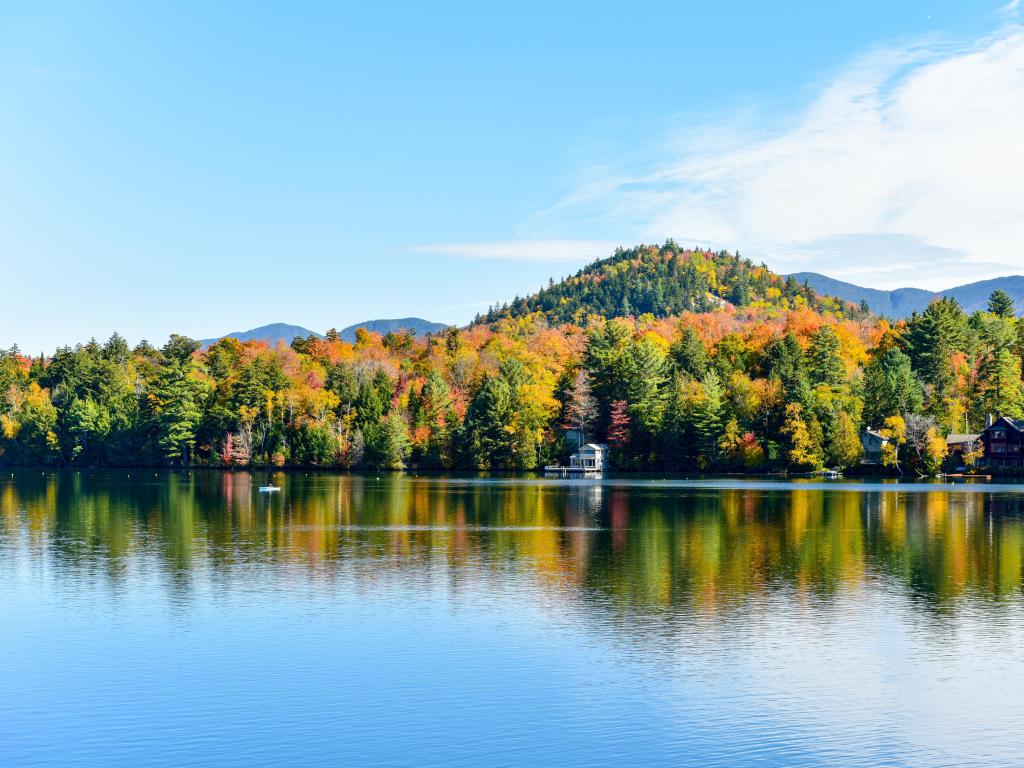 Inland Route
Lake Placid, New York - Lake Placid is both a village and a lake, known as a Winter Olympics venue and hub for snow sports, there's also a trail you can take around the shoreline and a fantastic Olympic Museum to visit.
High Peaks Wilderness Area - The largest forest preserve in the US state of New York, High Peaks Wilderness is known as the premiere hiking destination. While challenging, its trails offer fantastic views and stunning lakes.
Pharaoh Lake Wilderness Area - This tucked-away lake with mountain and forest views, is great for boating, fishing or just relaxing along its pretty shore.
Albany – The New York capital is a historic and cultural place of interest. Visit the Empire State Plaza or the New York State Museum, there's so much to see at this fantastic city.
Mount Washington State Forest - Explore 30 miles of hiking trails across 4,000 acres, with views from the summit of Alander Mountain.
Springfield, Massachusetts - Beside the Connecticut River, this city has plenty to offer including the collections at the Springfield Museum, as well as The Amazing World of Dr. Seuss which celebrates the beloved children's author.
Worcester, Massachusetts - Stop at Worcester to discover The EcoTarium, a science and nature museum, the Worcester Art Museum or the Salisbury Mansion, an 18th-century Georgian-style building, restored to its 1830s appearance.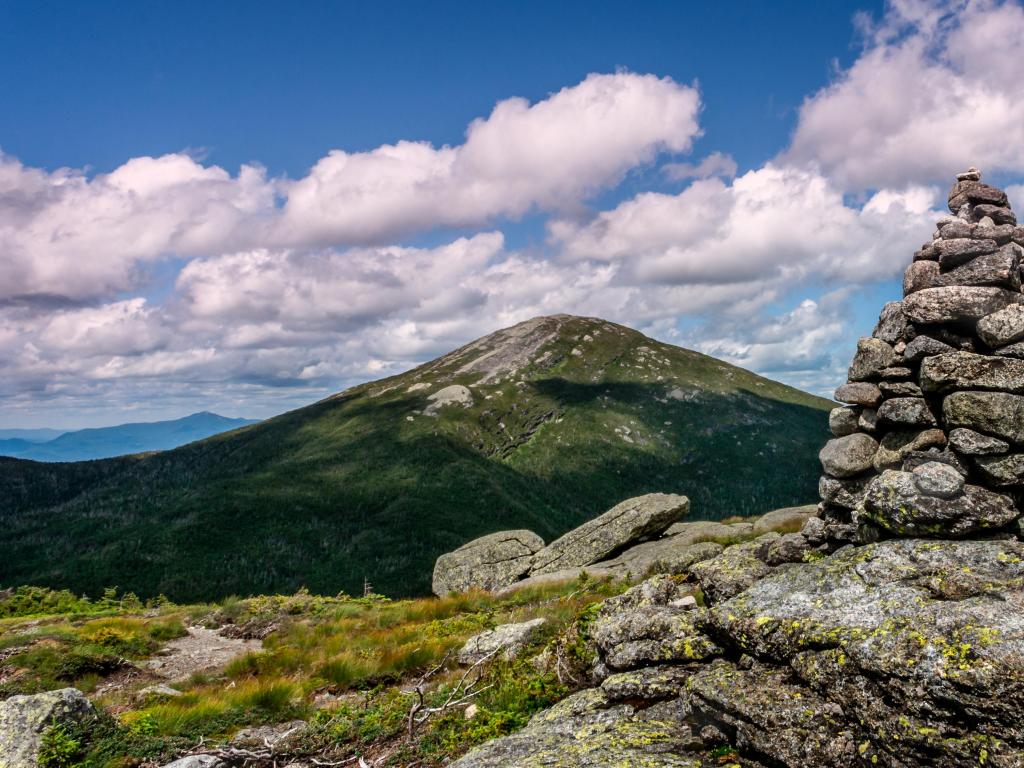 Best time to go on a road trip from Boston to Montreal
The busiest season in Boston runs from June to August — think baseball, festivals, and the droves of summer vacationers and tourists you'll be contending with for hotel rates and parking spaces.
Listen to the locals instead and get the quintessential Boston experience in the fall (between September and October) for warm breezy weather and temperatures in the upper 60 degrees Fahrenheit - perfect for sightseeing, concerts and dining al fresco.
Another plus for visiting in the fall means a chance to catch the ski season in Vermont, which runs from around November to April. Just remember to plan ahead and pack those extra layers if you're hoping to catch some snow.
You could make the trip during the spring, but be warned, you'll also likely experience a lot of rain which may affect some of the outdoor attractions you will want to visit.
If you want to avoid crowds, planning your visit outside of April would be preferable. The incredible Boston Marathon is usually held this month and attracts huge numbers of people from all over the world. You'll also find hotels difficult to book unless you've planned ahead.