Road Trip from Montreal to Niagara Falls
The incredible road trip from Montreal to Niagara Falls takes you from one of the most famous cities in Canada, past stunning lakes and capital cities - new and old - to one of the most popular natural attractions in the world.
The 670km road trip from Montreal to Niagara Falls takes 6 hours and 30 minutes to drive. Key stops include Toronto, Burlington, Kingston, Huff's Corners, Hamilton and Mississauga, as well as Lake Ontario, Ganaraska Forest and Prince Edward County.
This epic road trip has so many great places to visit on the way to the continent's most powerful waterfalls. Be sure to read on to find out more about the best route you can take, perfect places to stop along the way, our top picks for things to do and see, as well as the best times to travel.
How far is Niagara Falls from Montreal and how long will the road trip take?
A road trip from Montreal to Niagara Falls takes a minimum of 6 hours and 30 minutes, covering at least 670km (415 miles). While you might be travelling along a straightforward route on this trip, it is nonetheless an incredibly scenic part of the country.
There are plenty of optional detours you could potentially take en route, although they certainly aren't required if you don't want to, as most of the premier attractions in the area are already on the most direct route.
You could complete this trip in a single day if you drove non-stop, however in order to fully appreciate the views and epic scenery along the way, we would recommend taking two to three days and include at least one overnight stop.
Best road trip route from Montreal to Niagara Falls
While the road trip from Montreal to Niagara Falls could be completed in under 7 hours, the route we recommend will actually take 706km (439 miles) and take 7 hours and 46 minutes. The extra distance allows for a couple of additional detours which will maximise your enjoyment.
For a longer trip, you could cross the border into the US and visit some of America's great cities before arriving at Niagara Falls. However, with a border crossing involved, we're going to recommend this Canadian journey instead and make the most of the fantastic provinces it passes.
Road trip route from Montreal to Niagara Falls
Begin by heading west on Quebec Autoroute 720 and follow it to where it merges with Autoroute 20. Remain on this until you pass into Ontario, where it will again change name, this time to Highway 401, and continue following it west.
Take the first detour at Butternut Bay where you'll join one of the most scenic roads in the country - Thousand Islands Parkway. Follow this road along the banks of the St Lawrence River, giving you amazing views of its collection of beautiful islands.
After taking in the nearby views, you will re-join Highway 401 near Legge and continue heading west. You could take a small detour to visit Kingston, or continue west and pass the town of Napanee.
Exit onto Ontario Highway 49 and follow it for 5.8 km (3.6 miles), to where it becomes Prince Edward County Road 49. The spectacular views make the detour worth it.
The road will change name a further two times, first to Ontario Highway 33 and then to Ontario Highway 62, but proceed to keep following it.
When you arrive at Huff's Corners, switch to Prince Edward County Road 1. Follow it to Consecon and go north on Prince Edward County Road 33, before taking County Road 40 back to Highway 401.
Continue on Highway 401 heading west, driving alongside Lake Ontario and past Oshawa. You could stop at Toronto at this point and explore the stunning lake, or merge onto Highway 403 through Mississauga.
The next section takes you on Highway 407 through Burlington and alongside Hamilton. Exit onto Queen Elizabeth Way before following a short stint on Highway 420 to Niagara Falls themselves.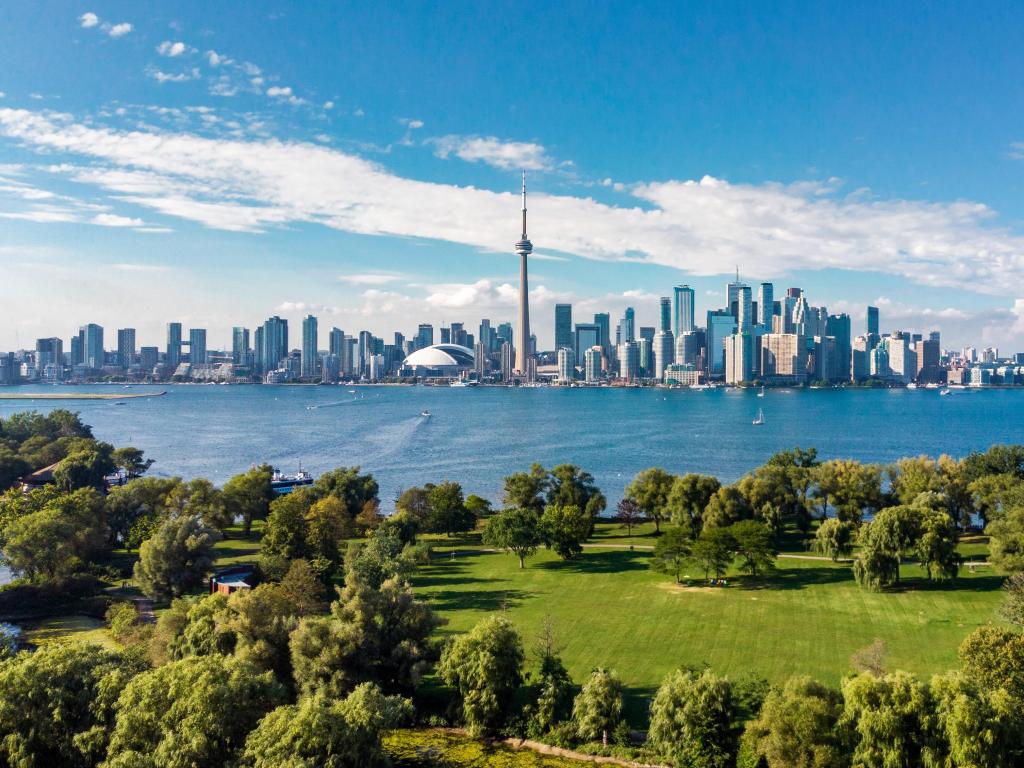 Best places to stop between Montreal and Niagara Falls
At between 6 and 8 hours, depending on the route you choose, a road trip from Montreal to Niagara Falls is best enjoyed over one or two days.
There are lots of great options for overnight stops on this road trip, but these are the ones you'll want to keep an eye out for:
Canada's queen city, Toronto
The largest, most populous city in all of Canada, Toronto is a world-famous city and the capital of Ontario. First settled in 1793 (under the name of York), the city has continued to grow and evolve over the years, always remaining at the forefront of Canadian advancement.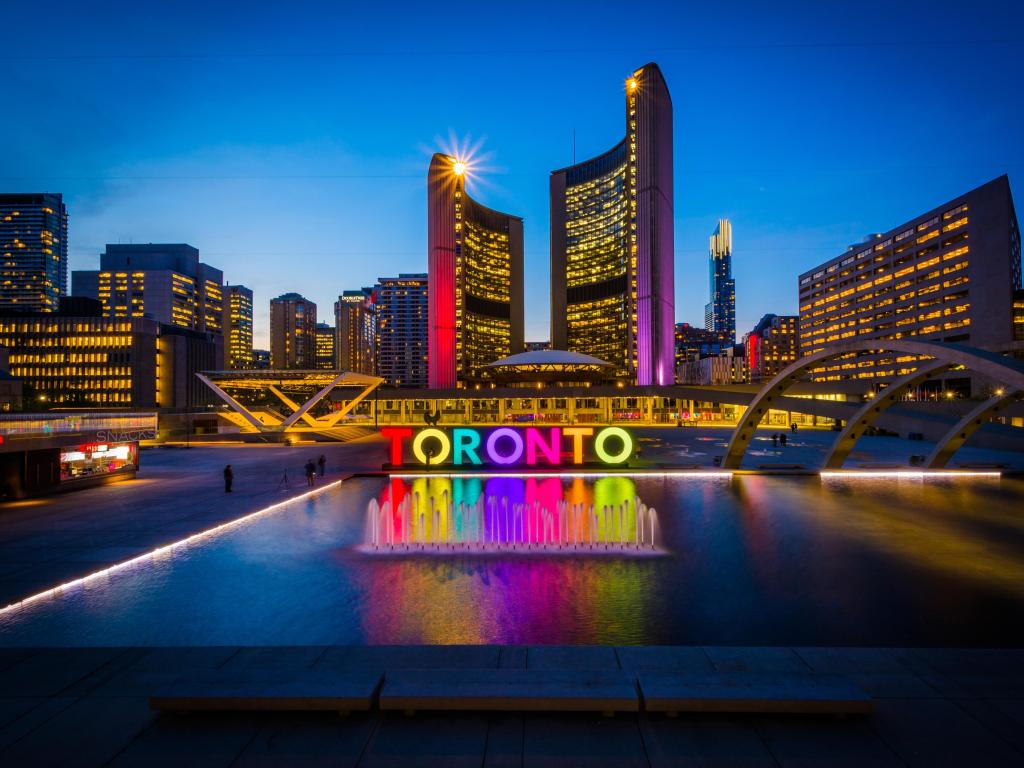 Located on the shore of Lake Ontario, around 90 minutes from Niagara Falls, a stop at Toronto makes a great overnight rest to recharge before embarking on the final leg of your epic road trip. After all, you'll want to be fully rested to enjoy Niagara Falls at its fullest.
Toronto is visited by more than 43 million tourists each year. With attractions including numerous museums and galleries, the largest collection of professional sports teams in Canada and the iconic CN Tower, this is a city that truly offers something for everyone.
There's an incredible amount of stunning hotels at Toronto, but one of our favourites has to be Bisha Hotel, set only 550 yards from the CN Tower.
Location aside, this incredible 5-star hotel is as luxurious as it comes. You can relax in the rooftop pool while enjoying panoramic views of Toronto, or dine at one of three onsite restaurants. Each room is uniquely designed and offers picture-perfect views from its balcony.
This stylish and modern hotel, surrounded by some of the most popular tourist attractions in the city, is a hotel that truly provides the best experiences of everything that this fantastic city has to offer. You just might not want to ever leave!
America's waterside city, Buffalo
Should you have an extra day or two at your disposal, then you could consider an overnight stop at Buffalo, the second largest city in New York state. Perfectly placed just a short drive from Niagara Falls, this city stop is a great location to take in some extra attractions on this trip.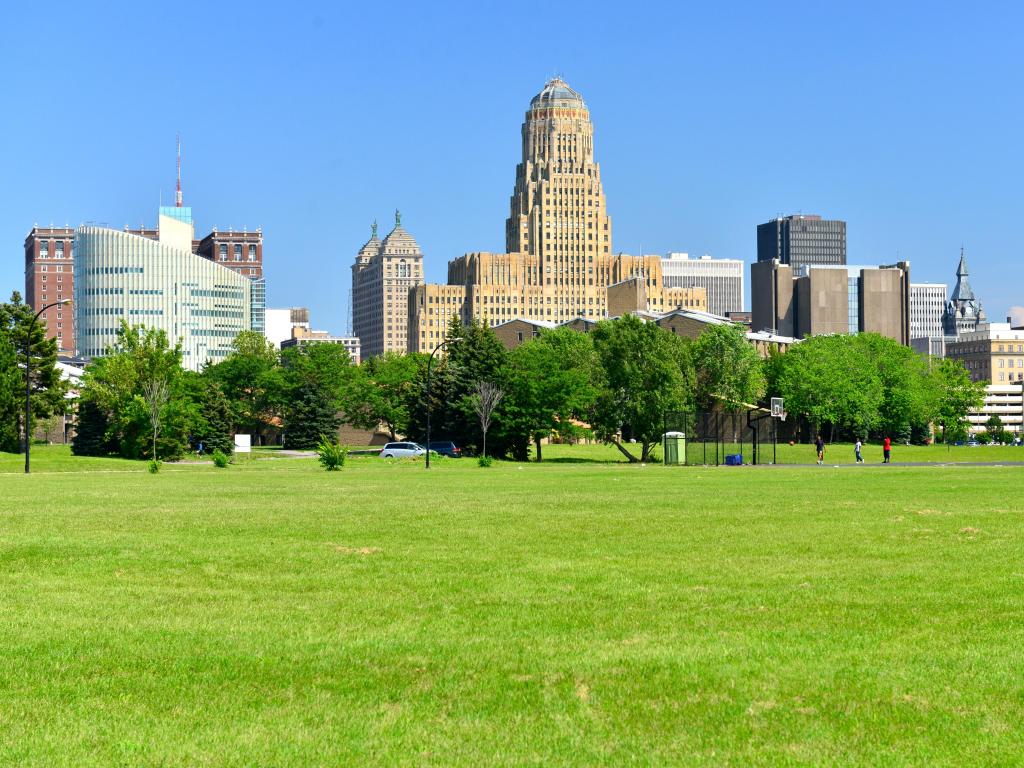 While crossing into the US will involve a border cross and the usual paperwork that's required with it, you will gain the opportunity to explore Buffalo itself, including its amazing architecture, art scene and beautiful walks along its canals.
From Buffalo, you can also explore its nearby stunning parks including Tifft Nature Preserve and Penn Dixie Fossil Park and Nature Reserve, and of course Lake Erie.
To get the very most from your visit to Buffalo, consider a stay at the Hampton Inn & Suites, located near some of the city's most popular attractions. This imposing and beautiful hotel offers a welcome indoor swimming pool, comfortable and stylish rooms and great views.
Things to see on a road trip from Montreal to Niagara Falls
There are lots to see and visit on this epic road trip across Canada's popular provinces from Montreal to Niagara Falls.
If you are pressed for time, the following list includes some of the best attractions en route that you should visit if you can: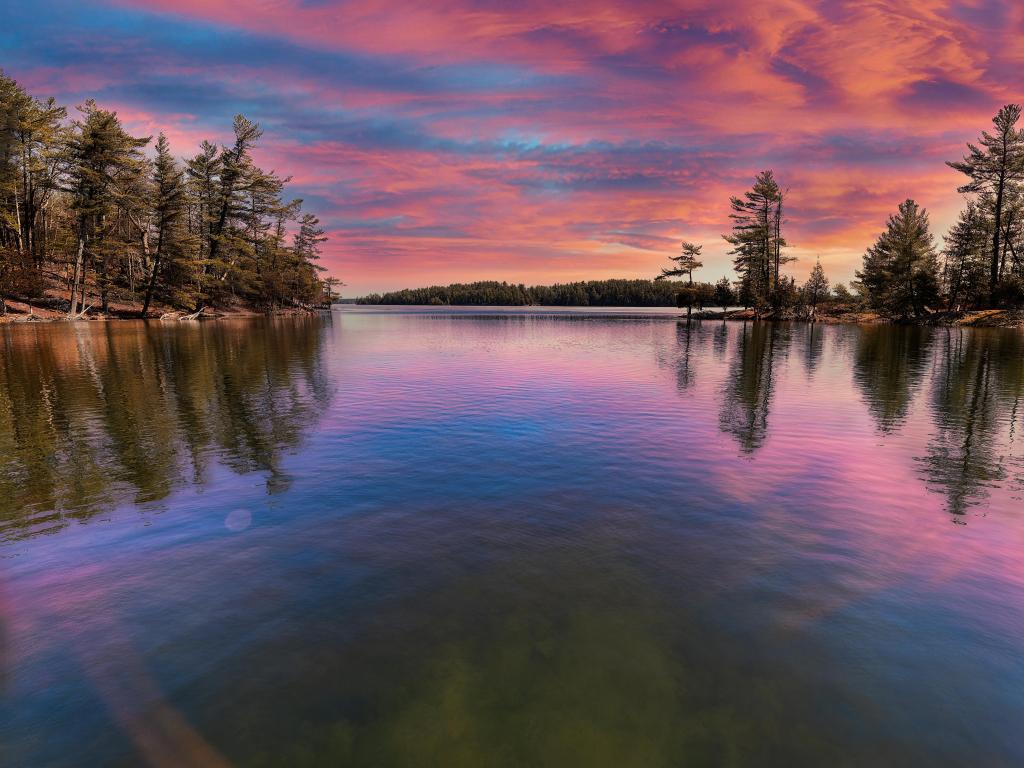 Brockville Railway Tunnel - If you're looking for a location that combines history and art, Brockville Railway Tunnel is a perfect stop for you. Take a stroll through this popular attraction and get the chance to appreciate the styles of the area, both new and old.
Thousand Islands Parkway and Howe Island - Thousand Islands Parkway and Howe Island are considered to provide some of the most beautiful views in the region, featuring coastal roads and the second tallest lighthouse in Ontario.
Charleston Lake Provincial Park - This part is located near Athens in Ontario and offers camping, swimming, boating, fishing and wildlife viewing.
Kingston, Ontario - With an incredible amount of heritage sites, Kingston provides more for those interested in the nation's history than perhaps anywhere else in the country.
Prince Edward County - Another beautiful location, Prince Edward County is an island right on the coast, connected to the mainland at a number of points. With a huge number of popular attractions, it's most famous for its great number of vineyards.
Sandbanks Provincial Park - Set within Prince Edward County, this park is home to three expansive sandy beaches and is a great spot for some sunbathing or relaxing.
National Air Force Museum Of Canada - An incredible aviation museum, home to aircraft from every era of the Canadian air force, as well as exhibits about the service's history and memorials to those lost while serving throughout the years.
Ganaraska Forest - Two forests, one big and one small, which, while beautiful in their own right, offer an incredibly unique way of experiencing forest life. Discover a maze of zip-lines and aerial pathways high up in the tree-tops.
Jungle Cat World Wildlife Park - A safari park filled with all manner of big cats, such as tigers, leopards and cougars. Beyond that it also offers the unique opportunity to get up close and personal with a variety of other animals, which are allowed to roam freely.
Lake Ontario - The 13th largest lake on the planet, it is famed for its stunning views, yet is still the smallest by area of North America's 5 "Great Lakes".
McLaughlin Bay Wildlife Reserve -This nature reserve set in Oshawa is home to around 400 different types of plants and wildlife. Enjoy its many walking trails and viewing platforms with give fantastic views.
Toronto, Ontario - The capital city of Ontario and most populous in all of Canada, located on the shore of Lake Ontario, discover great architecture, museums and galleries.
Burlington, Ontario - Discover Burlington's fascinating culture or visit its Botanical gardens, featuring over 1,500 plant types. The Art Gallery of Burlington is also a great attraction.
Hamilton, Ontario - The Canadian port city of Hamilton is surrounded with conservation areas and waterfalls. Located between Lake Ontario and the Niagara Escarpment, its an industrial city mixed with fantastic nature walks.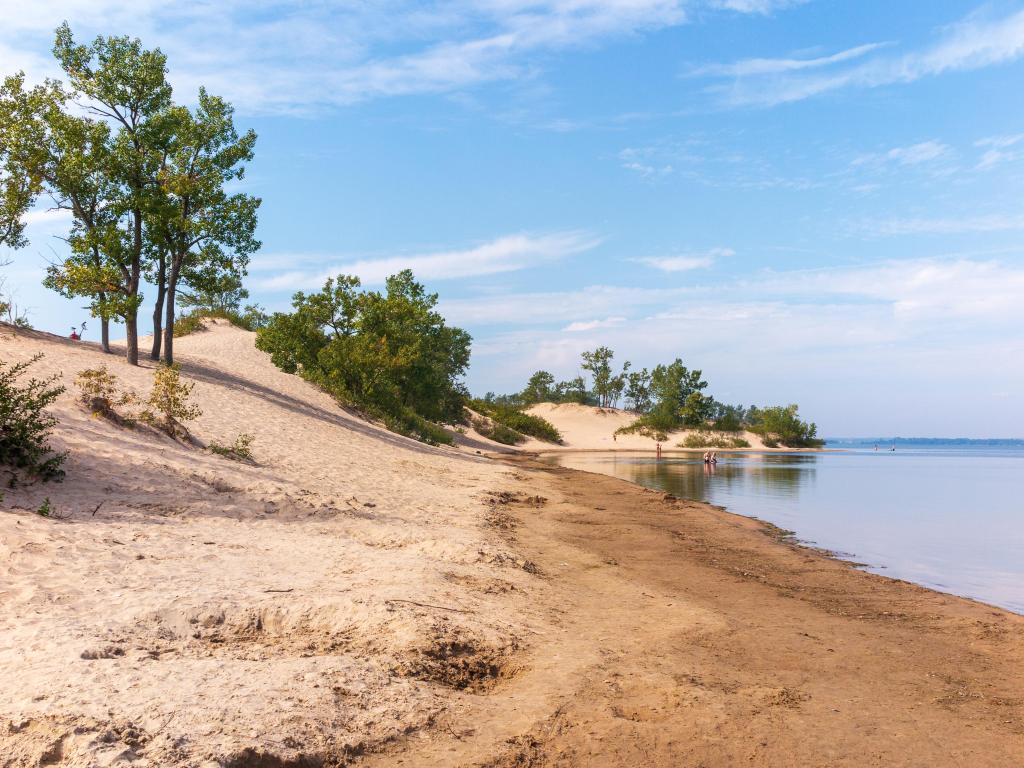 Best time to go on a road trip from Montreal to Niagara Falls
Considering the purpose of a road trip from Montreal to Niagara Falls is to take you to one of the most stunning natural attractions on the planet, getting the timing right, to ensure you see it in the best possible conditions, is essential to ensure your trip is a success.
That's especially true in locations such as Canada, which are known for harsh and snowy winters. Average temperatures in winter at Niagara Falls are between 28 and 14 degrees Fahrenheit. This means you're likely to see a partially frozen waterfall - that's quite an epic sight!
While seeing the falls iced over is impressive, the colder temperatures will make the road trip less pleasant if you are hoping to enjoy some of the outdoor attractions en route. Moreover, you will find that some of the attractions at Niagara Falls State Park close after November.
The most popular time to visit is summer. The warm season lasts from May to September, with an average daily high of over 70 degrees. While the warm weather makes for pleasant conditions, you will find the cities en route and in particular, Niagara Falls, very crowded.
Therefore, the best time to complete the trip from Montreal to Niagara Falls is in spring or fall, when you won't discover the extreme cold or the busy crowds in July or August.
That said, if you don't mind crowds and wanted to time your trip with a fun festival, Toronto has a calendar full of year-round events, including Toronto Pride and its own Caribbean Carnival. There's also daily fireworks held at Niagara Falls between May and October.