Road Trip from Mount Rushmore to Yellowstone National Park
Get ready to experience the rugged beauty of Wyoming with a road trip from Mount Rushmore to Yellowstone National Park. From wild grassy plains to majestic mountain ranges and alpine lakes, there's a huge amount of natural beauty waiting around every corner on this classic trip. Revel in the history of America's Old Western era in the towns along the way.
The 450-mile road trip from Mount Rushmore to Yellowstone takes at least 8 and a half hours to drive. Key stops on the way can include Grand Teton National Park, Bighorn National Forest, Casper, Devil's Kitchen, Driggs and Black Hills National Forest.
You can either take the direct route and experience the old Wild West or head through the Grand Tetons and experience the natural beauty Wyoming has to offer. Read on to discover more about each route, plus where to stay, things to see and the best time of year to visit.
How far is Yellowstone National Park from Mount Rushmore, and how long will the road trip take?
Comparison of road trip routes between Mount Rushmore and Yellowstone

| Route | Distance | Driving Time |
| --- | --- | --- |
| Direct Route | 446 miles | 8 hours 15 minutes |
| Grand Teton Route | 676 miles | 12 hours |
The Direct Route spans 446 miles and will take you around 8 hours and 15 minutes without any stops. This route will mainly take you through the historic Old West towns in Wyoming.
The longer Grand Teton Route spans 676 miles and will take you around 12 hours without any stops. This route includes an even greater range of natural beauty and you can enjoy many gorgeous hikes along the way.
While you could drive both of these routes pretty quickly, we recommend taking at least 2-3 days to complete the road trip to make sure that you get enough time to experience everything that these routes have to offer.
Best road trip route from Mount Rushmore to Yellowstone National Park
Each route has much to offer and they both offer very different experiences. If you love learning about the culture of the Wild West and want to learn more about its history then we'd recommend that you take the Direct Route. If hiking and relaxing in natural beauty is more for you, then the Grand Teton route is the way to go.
The Direct Route allows you to explore the wild Old West as you venture across the state of Wyoming, hiking through vast grassy plains, up majestic mountain ranges and across unique geological formations.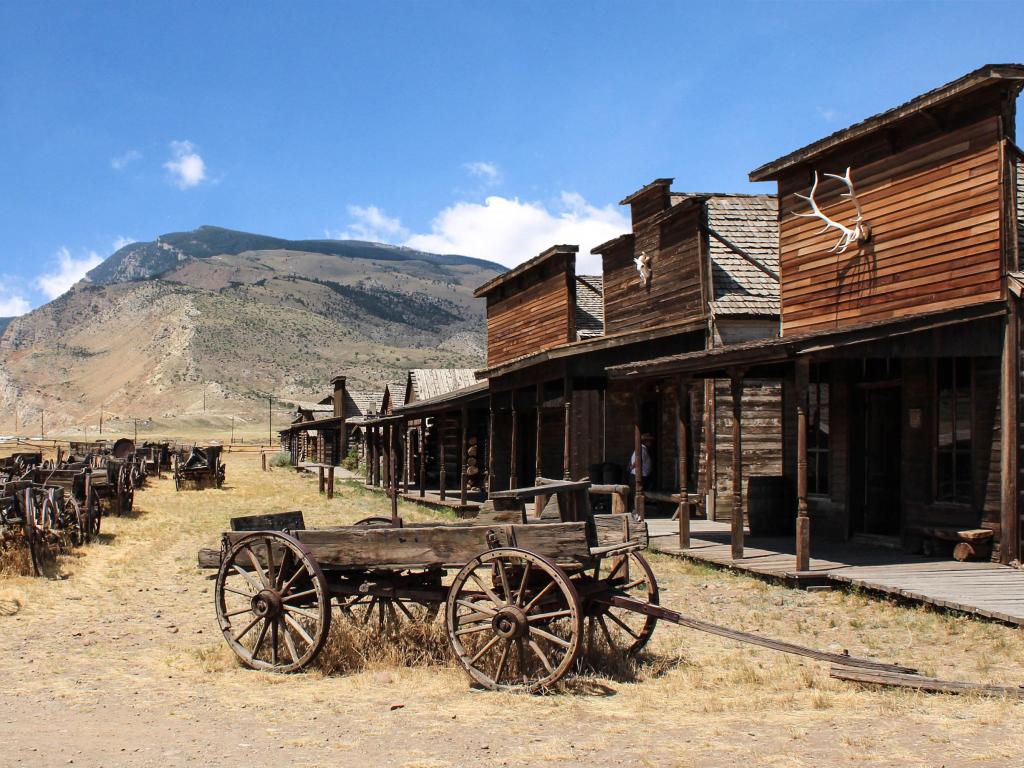 The small towns on the Direct Route reveal the fascinating history of the Old West era that shaped this part of the country.
On the other hand, the Grand Teton Route is packed with a diverse array of outstanding scenery, with hikes through resplendent alpine forests and popular ski resorts.
This more rugged adventure route will suit those looking for a more hands-on discovery of Wyoming: learning through hiking rather than museums.
The Direct Route
To begin with, follow SD-244 heading west, until it merges onto US Highway 16 in the direction of Custer State Park.
From here, you will follow the same road for around four and a half hours while it changes from US-16 to the I-90 and then turns into the US-14 West. Enjoy the beautiful sights of the Thunder Basin National Grassland while you drive.
Around an hour and a half after you leave I-90, you'll have the chance to stop off at Bighorn National Forest (via Forest Rd 17 and then Battle Creek Road). Enjoy the forest air and stretch your legs here before returning to the road.
Afterwards, take Forest Rd 17 back to US-14. Then, take the US-14, heading west, for around two and a half hours until you reach Yellowstone.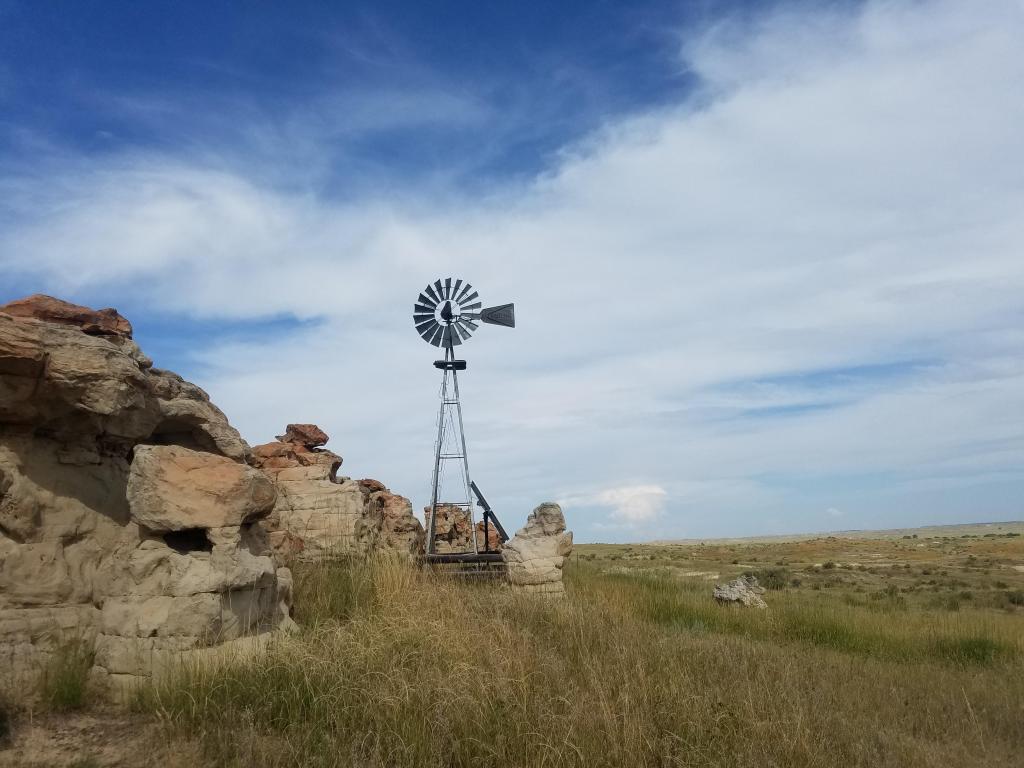 The Grand Teton Route
As with the Direct Route, follow SD-244 until you merge onto the US-16 in West Pennington. You will take this until you reach Wyoming, where you will hop onto the WY-450 in Weston County.
Follow this road for around an hour until you reach Wright and take WY-59 heading north. From here, you will take the I-25 S in Natrona County and follow this road for around an hour until you reach US Highway 26 at Casper.
Follow this highway for around two hours until you hit WY-134, passing through Wind River Reservation. You will continue on this road for thirty minutes until you reach Highway 26 again.
You'll want to head south after you reach the town of Moran, taking Highway 89 past Moose, all the way to Jackson and the famous Jackson Hole Mountain Resort. You'll pass some spectacular viewing spots on this section of the drive, including Snake River Overlook and Albright View.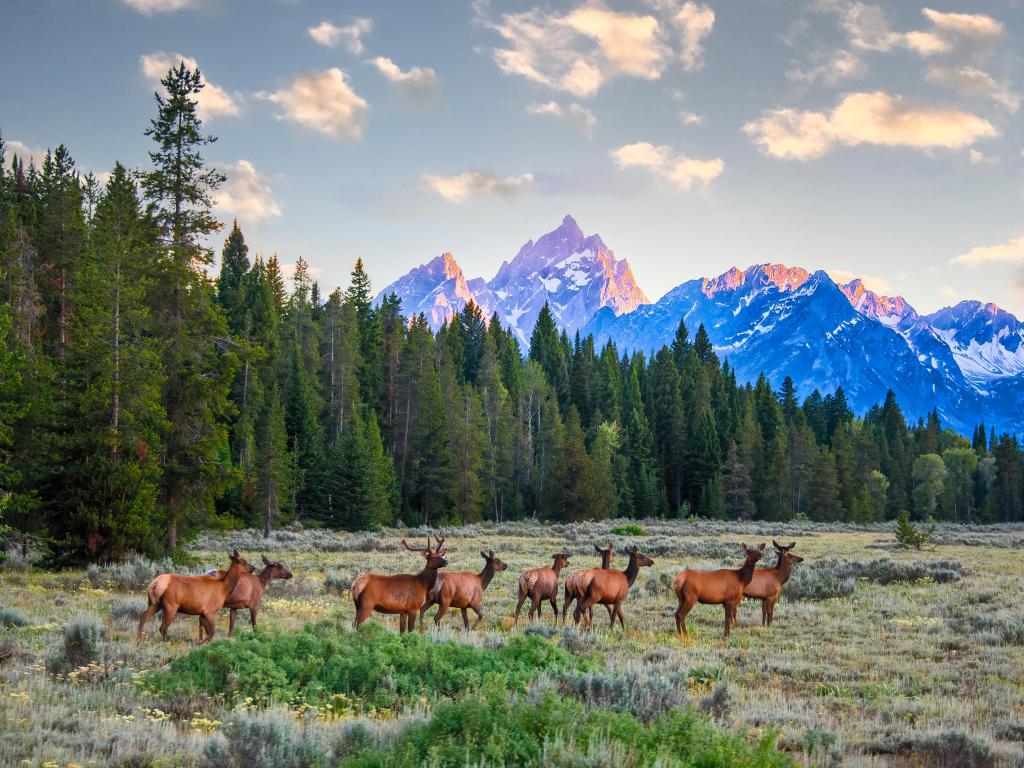 Take some time to enjoy Teton County and the fabulous amenities on offer here. Make sure to get some hikes in and take some time in picturesque Jackson town.
Leaving Teton County, you will return to WY-22 until you reach Idaho. From here you will take ID-33, where you'll pass through Driggs and Tetonia before switching to ID-32.
Follow this road for thirty minutes until you reach US-20, which takes you through Harriman State Park and to your gateway to the National Park, West Yellowstone.
Best places to stop between Mount Rushmore and Yellowstone National Park
Along your trip, you will pass through many small Old West towns filled with tons of culture and natural beauty. We have picked out some of our favorite places to stop to make the most of the scenery and give you plenty of opportunities to explore.
Learn about the Old West in Buffalo
Located around halfway through the Direct Route, stopping in Buffalo offers road trippers the chance to make the most out of this beautiful Western town.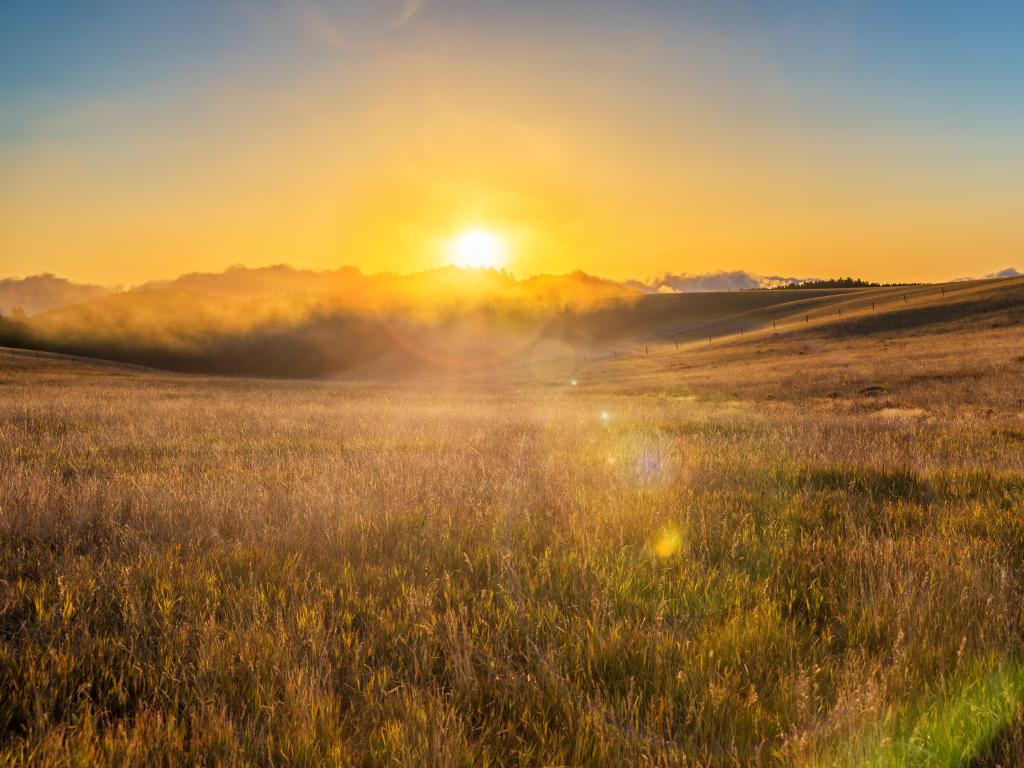 Buffalo is best known for its beautiful natural surroundings and the oldest operating hotel in Wyoming, which has had famous guests such as Butch Cassidy and the Sundance Kid, 'Buffalo Bill' Cody, and Teddy Roosevelt.
You will want to stay somewhere close to the town, so we recommend the Hampton Inn and Suites Buffalo. This hotel is situated just outside of the town center in a peaceful area that is close to many main attractions.
The Jim Gatchell Memorial Museum are both a half an hour's walk from this hotel, and the Clear Creek Trailhead is also just a ten-minute drive from the hotel.
This hotel is stylish and comfortable and is a great place for relaxing after a long day on the road. After your busy day, you can unwind in the hotel swimming pool or relax in the jacuzzi.
Bask in the Beauty of Teton Village
Located about two-thirds of the way through the Grand Teton Route, Teton Village is a beautiful place to stop and take in the breathtaking mountainous scenery.
Teton Village is known for its proximity to the Grand Teton National Park and Jackson Hole Ski Resort. While here, also make sure to visit the Jackson Hole Aerial Tram, here you can fly above the stunning landscape enclosed in an iconic red cable car.
There are also beautiful hikes at Teton Pass where you can scale Glory Mountain and be rewarded with breathtaking views at the top. Of course, you also should make sure to see the star attraction, Grand Teton National Park, which is teeming with wildlife and majestic mountains.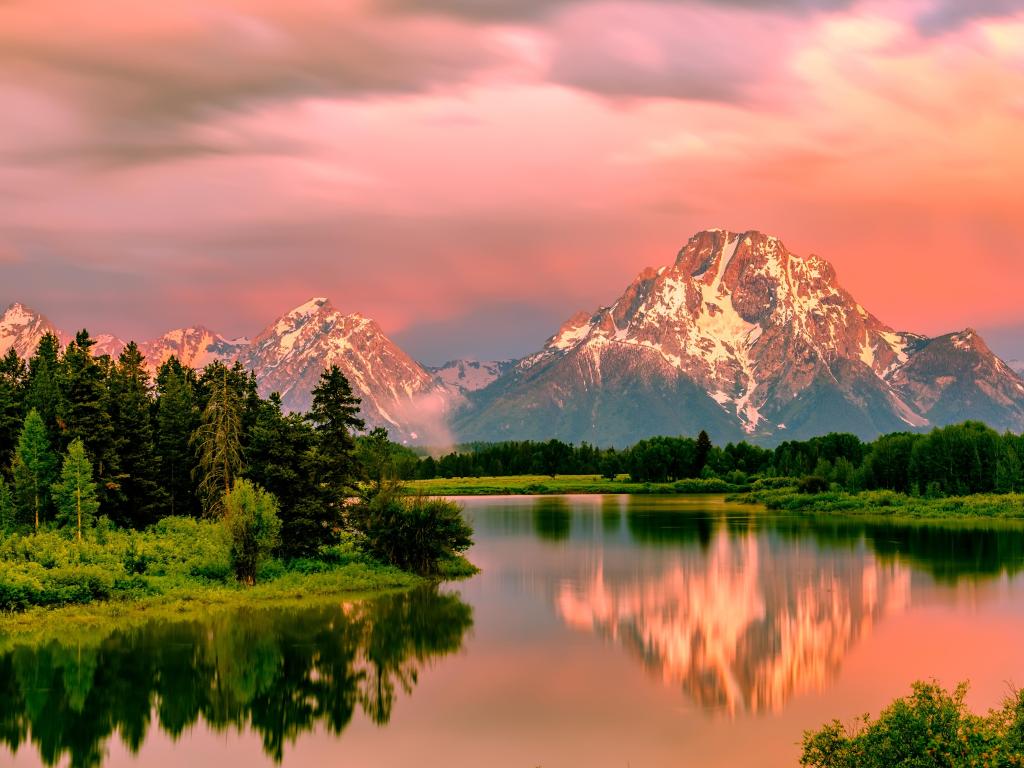 Our top choice to stay during your visit is Teton Mountain Lodge and Spa. This hotel is only one mile from the Grand Teton National Park, which offers easy access to the majestic national park.
Jackson Hole is also less than a five-minute walk from the hotel, allowing for some great access to everything they have to offer there. Finally, Teton Pass is only a 20-minute drive from the hotel.
You can enjoy a luxury stay in this stylish and relaxing hotel, complete with state-of-the-art spa facilities, choose from the two hotel pools, including a stunning outdoor pool, for a refreshing swim to revitalize after a busy day of sightseeing, and unwind further with a relaxing massage.
Where to stay when you reach Yellowstone
Once you reach Yellowstone, there is so much to see and do in the park that you are going to want to stay a few days to soak in all the natural beauty of the park.
Located only a three-minute drive away from the entrance to Yellowstone Park, the Kelly Inn West Yellowstone is perfectly situated to make the most out of your time at the park.
With cozy and spacious rooms alongside a heated indoor pool and spa facilities, this hotel has everything you need to be able to recuperate after long days of travel and sightseeing.
This hotel is also only a three-minute walk away from the Grizzly and Wolves Discovery Center, which will allow you to learn more about the park once you arrive.
Things to see on a road trip from Mount Rushmore to Yellowstone
This magnificent drive passes through some beautiful stops in the historic Wild West and magnificent views throughout the entire drive. Over the 500 miles or so trip, we have picked some wonderful stops that are well worth taking your time to stop and enjoy.
The Direct Route
Buffalo - Equidistant between Mount Rushmore and Yellowstone, this friendly city is nestled in the foothills of the majestic Big Horn Mountains. Explore the interesting history of one of the most historic towns in the American West.
Bighorn National Forest - Stretching over one million acres, this national forest encompasses majestic mountains, cavernous valleys and canyons, and of course alpine tree forests. Take the Cloud Peak Skyway Scenic Byway when you're tired of hiking for magnificent views of this area of outstanding natural beauty.
Red Gulch Dinosaur Tracksite - Explore the incredible collection of fossilized dinosaur footprints, and bring the extinct past back to life. Discover the history of the site and the research geologists that discovered them.
Devil's Kitchen - Imagine you're trapped across the surface of the moon in this incredible geological feature lying just outside of Greybull. Mind-boggling scenery characterizes this park, famed for its unusual geological properties.
Cody - Welcome to the center of the Wild West! Famed for the Buffalo Bill Museum which traces the life of William F. Cody, the founder of the town. A recreated frontier town lies outside of Cody, complete with 1800s log cabins and a saloon.

West Yellowstone - Drive around Yellowstone National Park to reach West Yellowstone, the town known as the gateway to Yellowstone, and the closest town to the incredible national park.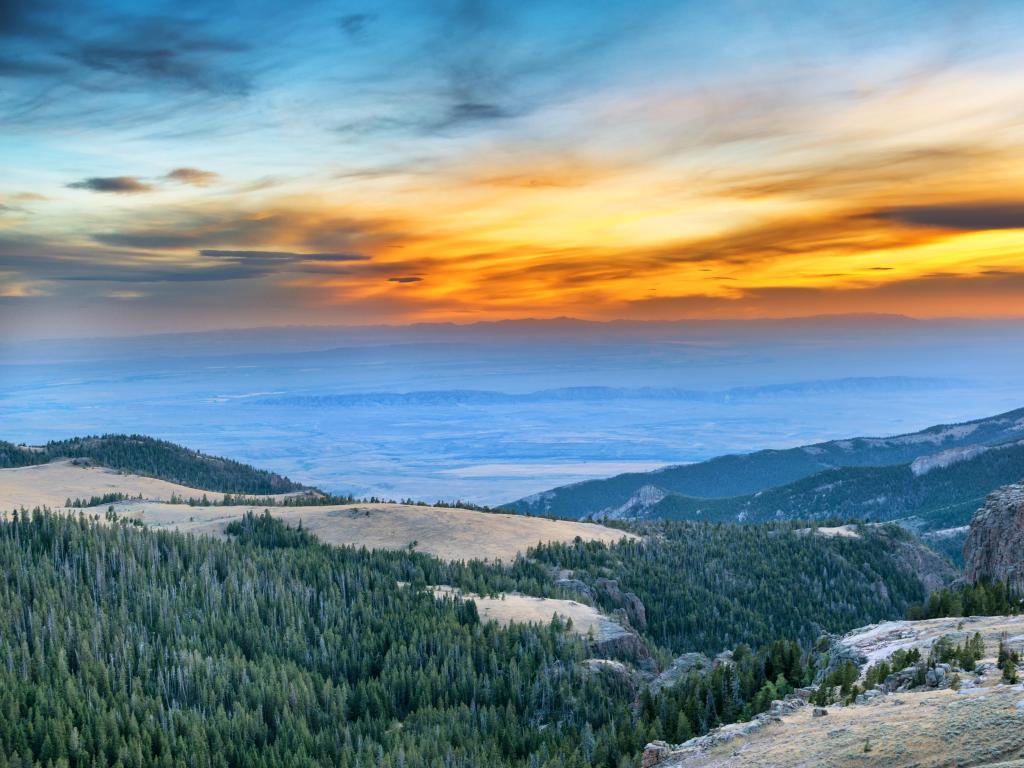 The Grand Teton Route
Casper - Known for its world-class fly-fishing, Casper is a fantastic mountain town with museums about the local landscapes and nature, contemporary art, and nearby Casper Mountain boasts a waterfall and ski slopes in the winter.
Boysen State Park - On the banks of the Boysen reservoir, this park offers visitors fantastic fishing opportunities and challenging hikes at the southern end of the Owl Creek Mountains and the Wind River Canyon.
Crowheart Butte - The site of an 1866 battle between Shoshone and Crow tribes, this geological formation is a dramatic figure looming above the surroundings, emerging from the Wind River Valley. Hike to the top to see for miles around.
Bridger-Teton National Forest - This forest contains stunning vistas of wild forest, vast rock formations, and beautiful rivers. This is the third largest national forest outside of the US and is a completely different experience than what you will find in Yellowstone.
Grand Teton National Park - Famed for majestic mountain scenery and wildlife, this immense park stretches across 310,000 acres. Offering over 200 miles of hiking trails, there are plenty of opportunities to get lost in the magnificent mountain ranges, alpine terrain, and pristine lakes.
Teton Village - Boasting the best views of mountains, this village is located in the popular ski resort of Jackson Hole Mountain Resort, and is situated on the base of the mountain.
Driggs - Sitting at over 6000 feet, Driggs is a hub for outdoor adventure and natural beauty. Hiking, biking, and cross country skiing are all on offer here, surrounded by a rugged and dramatic natural skyline.
Caribou-Targhee National Forest - Hike through this expansive national forest to explore fantastic valleys teeming with life and scenic rivers.
Red Rock Lakes National Wildlife Refuge - A remote part of the Yellowstone ecosystem, this is the largest wetland system in the area. Come here for a totally unique Yellowstone experience, a far cry from the steaming geyser.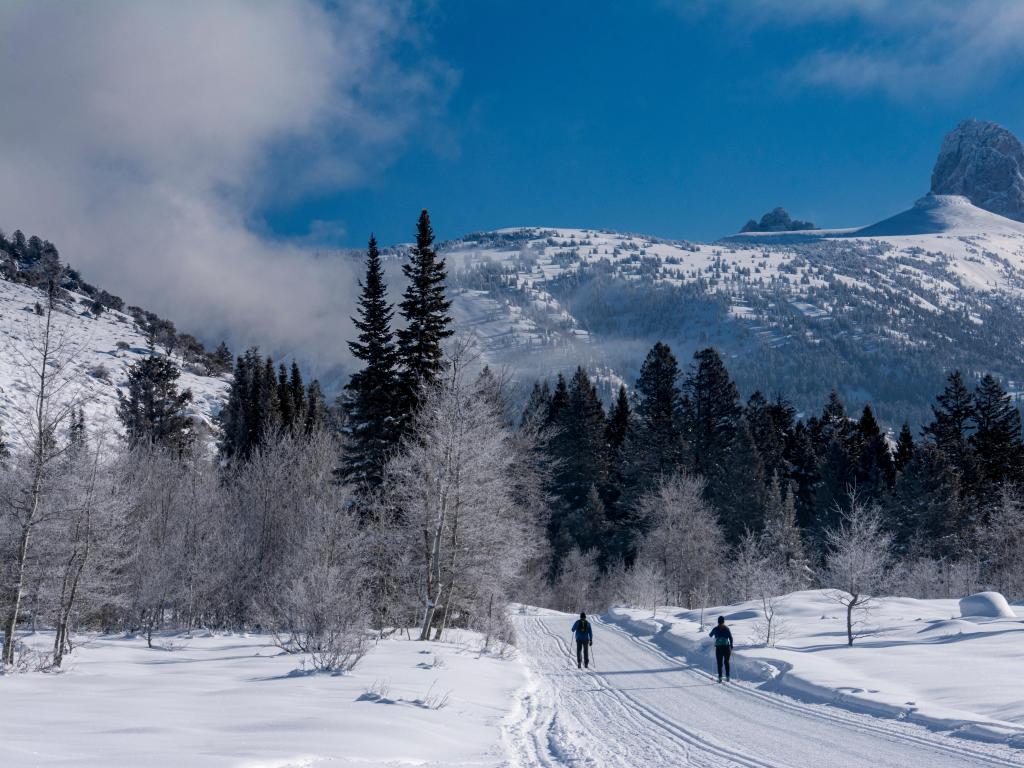 On Both Routes
Black Hills National Forest - A truly magical national forest with a breathtaking golden hour, fantastic wildlife, and incredible rock formations. Hike in the north of the park to see waterfalls tumbling into the wildlife-rich Spearfish Canyon, or in the south to see roaming elk and views of the iconic Mount Rushmore sculpture.
Jewel Cave National Monument - Discover the incredibly beautiful Jewel Cave, the third longest in the world. Calcite crystals sparkle from the cave walls and huge stalactites and stalagmites dwarf you as you clamber through the incredible cave formations.
Thunder Basin National Grassland - A stark contrast to the towering spires of the Black Hills National Forest, this huge grassland is a haven for wild birds, home to over 200 species. A flat land located between the Big Horn Mountains and the Black Hills, fantastic hikes, biking, fishing, and camping are on offer here.
Best time to go on a road trip from Mount Rushmore to Yellowstone
Yellowstone National Park is truly a year-round destination that offers breathtaking natural views and experiences no matter what the weather is like. However, travelers should make sure to plan for colder weather as some park roads and attractions may be closed due to extreme weather.
Summers in Yellowstone usually have temperatures in the low 70 degrees Fahrenheit, but can get up to as high as 85 degrees. It is often common for afternoon storms, but they generally do not last long.
Yellowstone National Park is one of the most popular national parks in America and can be very crowded and busy in the summer months.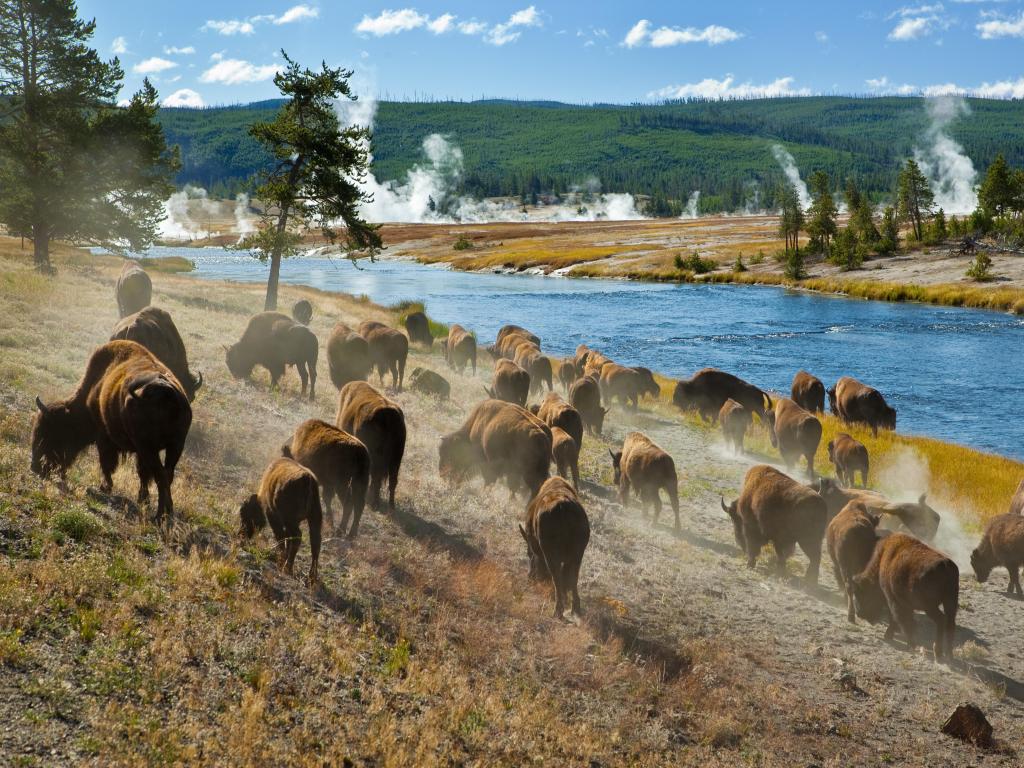 Yellowstone rangers often close some roads in the winter as the park gets an average of 150 inches of snow each winter. However, visiting at this time of year offers better wildlife spotting and a more unique experience. You can hike trails through snowy woods, steaming hot springs, and frosted meadows.
Fall is a stunning time of year to visit with the changing of the seasons. Temperatures can really vary during this time, usually averaging somewhere between 20 degrees Fahrenheit and 65 degrees Fahrenheit, with temperatures dropping significantly after the sun goes down.
The national park has a large fun-filled calendar of events - from book signings to ranger-guided tours - which means you are in for a treat whenever you decide to travel.