Road Trip from Minneapolis to Mount Rushmore
Mount Rushmore is one of the USA's most famous landmarks, and a bucket list item for many Americans and international tourists. You can make the remarkable journey to this amazing monument a whole adventure of its own by planning an exciting road trip!
The 660-mile road trip from Minneapolis to Mount Rushmore takes about 10 hours to drive. Highlights include Sioux Falls, Chamberlain, Minneopa State Park, Badlands National Park, Custer State Park, Crazy Horse Memorial, and the Akta Lakota Museum.
Read on to discover more about the best routes you can take, the best places to stop, and our top tips for things to do to create a memorable experience over the course of your journey.
How far is Mount Rushmore from Minneapolis and how long will the road trip take?
Comparison of road trip routes between Minneapolis and Mount Rushmore

| Route | Distance | Driving Time |
| --- | --- | --- |
| Direct Route | 600 miles | 8 hours 50 minutes |
| Scenic Route | 660 miles | 10 hours 30 minutes |
The road trip from Minneapolis to Mount Rushmore is approximately 600 miles and will take 9 hours to drive if you decide to follow the quickest and most direct route.
However, this is without taking any breaks or stopping to admire the many beautiful South Dakotan cities, landmarks, and landscapes on the way. After all, what's the point of a road trip if you don't stop to experience what your journey has to offer?
It is possible to drive this distance in one day, but this will mean having to set off early and enduring long hours of driving. A better plan may be to split the trip across several days to truly appreciate the iconic landmarks and admire the scenery along the way.
Instead of the direct route, we recommend taking the 660-mile scenic route which will take you about 10 hours and 30 minutes to drive.
This detour from Interstate 90 (I-90) will take you through the gorgeous sights of Badlands National Park, Custor State Park and the Crazy Horse Memorial.
The best part of the road trip is the journey itself! You will want to take a sufficient amount of time to see all the fantastic attractions on the way and truly experience what Minnesota and South Dakota have to offer.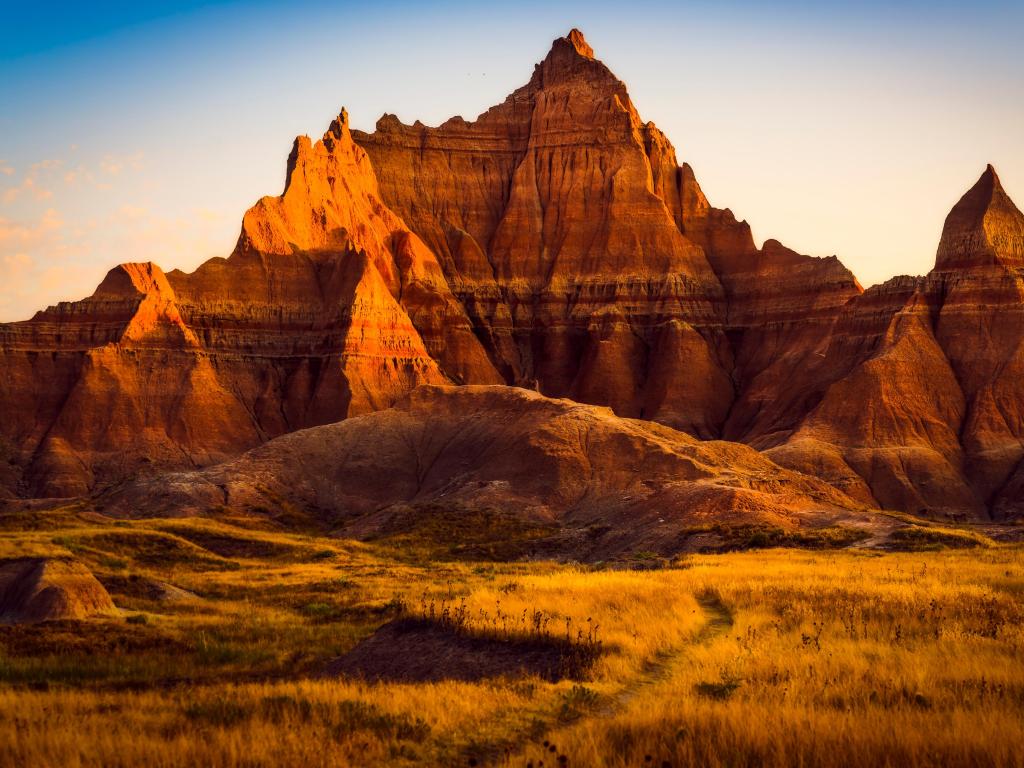 Best Road Trip Route from Minneapolis to Mount Rushmore
A road trip from Minneapolis to Mount Rushmore will take you through some amazing landscapes and history, and this is before you even reach your journey's impressive destination of Mount Rushmore.
The best road trip route from Minneapolis to Mount Rushmore is across I-90, with detours into the Badlands and across the landscape around Mount Rushmore.
Following the scenic route and taking the short sightseeing detour will be worth traveling the extra miles for as this route will take you through some of South Dakota's most beautiful landscapes, its famous prairies, grasslands, and historic museums.
If you're stuck on time, the more direct route will save you more than an hour of driving, but with less to see. From Minneapolis, it will follow I-90 until Rapid City and then head straight to Mount Rushmore, giving you fewer attractions to visit and explore.
Road trip route from Minneapolis to Mount Rushmore
To leave Minneapolis, follow I-35W and take Exit 9B to merge onto I-494. Take Exit 10A and use the right two lanes to merge onto US-169. This route will take you past Mankato and into the Minneopa State Park.
After seeing the bison at Minneopa, join MN-60 W, and follow this direction until you join I-90 near Worthington. Crossing from Minnesota to South Dakota, you will pass through Sioux Falls and Chamberlain.
Continue following I-90 until you reach Exit 110 for SD-240. This semi-circular highway will take you through the heart of the incredible Badlands National Park and then back up to the interstate.
Follow SD-240 after your visit and rejoin I-90 when Highway 240 ends at the town of Wall. Continue driving on the interstate until you reach Rapid City.
From Rapid City, it's possible to take Route 16 directly to Keystone and Mount Rushmore, where you'll pass through Bear Country. However, we suggest following the more scenic route to the south to take in some of South Dakota's best landscapes and attractions.
When you reach Rapid City, take SD-79 South, where you'll drive through rolling Dakotan prairies. Turn onto SD-36 and follow until you reach US-16A, which will take you through Custer State Park's rugged landscape and beautiful rivers.
When you reach the city of Custer, turn right onto US-385. Driving in this direction, you will pass by Crazy Horse Memorial and the Indian Museum of North America.
Follow US-385 until you reach SD-244, which will take you the last stretch to Mount Rushmore.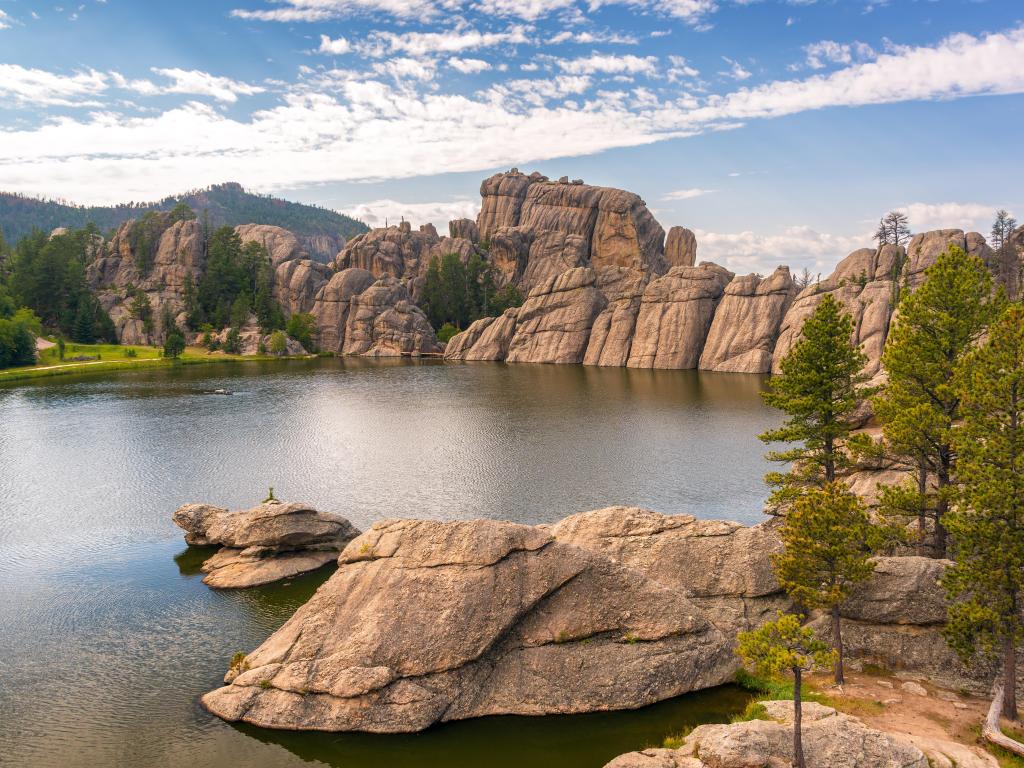 Best places to stay between Minneapolis and Mount Rushmore
With so much to see on your road trip from Minneapolis to Mount Rushmore, we recommend breaking up your journey over at least four days, in which case you will need some places to stay the night. Luckily for you, there are plenty of great spots along the way to rest and relax.
You can combine these overnight stays with some local sightseeing – you'll find our favorite things to do further down in this article.
Marvel at nature in Sioux Falls
Sioux Falls is located about four hours from Minneapolis, and it's a great stop to rest and unwind during the first leg of your trip. When it comes to top-notch comfort and prime location, ClubHouse Hotel Sioux Falls is an excellent option to stay overnight.
Located right on the banks of the gorgeous Big Sioux River, this hotel boasts spectacular stone décor and wonderful views over the city's gorgeous country club beyond the river. The hotel is also perfectly located to explore the city of Sioux Falls.
Sioux Falls is named after its beautiful waterfalls located in Falls Park, which is only about 10 minutes' drive from the hotel. You can enjoy different views of the falls from the many different viewing platforms and a five-story observation tower or take a stroll in this historic park.
If the beautiful views of the falls inspire you to go on a water adventure of your own, the hotel has a water park where you can enjoy a water drop and a dip, as well as a fabulous pool and a romantic hot tub.
Located nearby, you will find several parks to admire the flora and fauna of the area. Sertoma Park is one of the closest parks to the hotel and is the home to a beautiful Butterfly House & Aquarium. After your visit, you can grab an energizing meal at the hotel's chic restaurant.
Explore culture and history in Chamberlain
If you're looking for a way to break up the journey across I-90 and discover some hidden gems, stopping in Chamberlain is a great option. Located on the scenic Missouri River, this city has a lot to offer with its landmarks and museums.
Here, you can rest and unwind before the action-packed leg of your road trip. Baymont by Wyndham Oacoma in the nearby town of Oacoma is a great base for your adventure in this area and offers a more reasonable price than hotels in Rapid City.
With its location just off I-90, this hotel has easy access to all the major attractions in Chamberlain. The famous 50 feet tall Dignity Statue, depicts an Indigenous woman and is about a short drive away, offering majestic views of the Missouri River below.
Akta Lakota Museum & Cultural Center is another must-visit that is nearby, where you can interactively learn about the Native American way of life, both in the past and the present. You can also visit the South Dakota Hall of Fame if your energy levels allow.
After a day of excursions and museum-hopping, you can unwind in the welcoming indoor pool or the hot tub in the hotel before you head to bed. Don't forget to enjoy the delicious breakfast included in your stay before you set off for your trip!
Relax under a canopy of stars near Mount Rushmore
There are undoubtedly many accommodation options near Mount Rushmore but staying at K Bar S Lodge Ascend Hotel Collection is a terrific way to make this already memorable journey the road trip of a lifetime!
Located in the heart of the Norbeck Wildlife Preserve, this hotel has rooms that reflect the comfortable lodge atmosphere and boasts beautiful views of Mount Rushmore. You can even enjoy the scenery sitting under a canopy of stars on the hotel's fantastic wooden deck.
One of the most famous landmarks in the world, you will find the iconic Mount Rushmore National Memorial only 5 minutes away from the hotel. Seeing the faces of four of America's greatest presidents carved in stone alone is worth taking this road trip for!
Custer State Park is about half an hour away from the hotel and this impressive park encompasses 71,000 acres in the Black Hills with opportunities for camping, hiking, biking, swimming, and fishing. You can also observe the abundant wildlife here and peaceful nature trails.
There is so much to see and do in the area, you could even consider adding an extra night or two to your stay. It is good to keep in mind that the famous Crazy Horse Memorial and The Indian Museum of North America are less than an hour away from the hotel.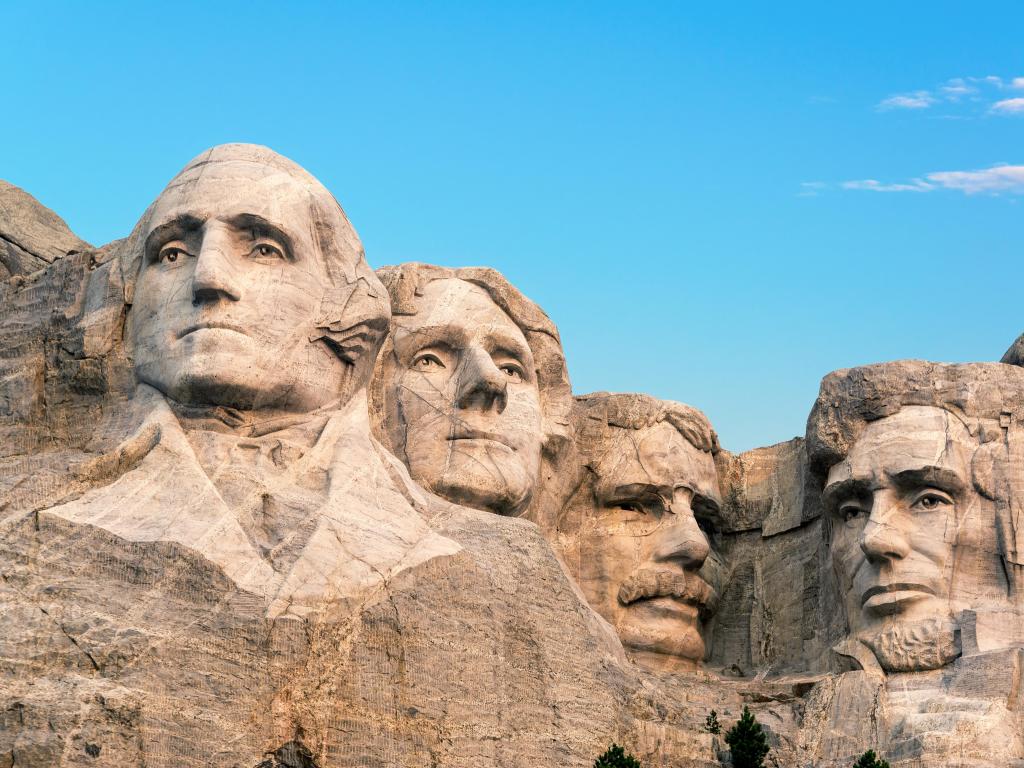 Things to see on a road trip from Minneapolis to Mount Rushmore
Minneopa State Park, Mankato - A wonderful park to drive through, home to the Minneopa Falls and the American bison.
Falls Park, Sioux Falls - Home to the Sioux River Falls, this park makes for a relaxing afternoon walk to escape the city.
Sertoma Park, Sioux Falls -This park features a large picnic pavilion and the Butterfly House & Aquarium.
Lake Herman State Park, Madison - A one hour detour from Sioux Falls, with beautiful trails and lakes for kayaking or swimming.
Dignity Statue, Chamberlain -Impressive 50 feet statue of an Indigenous woman, overlooking the Missouri River.
Akta Lakota Museum & Cultural Centre, Chamberlain - A thought-provoking collection of cultural and artistic history from the Native American Lakota tribe.
Badlands National Park, South Dakota - Stunning buttes and pinnacles, endless prairies, and home to the Oglala Sioux tribe.
Wall Drug, Wall - Stop by this famous roadside attraction and tourist stop for kitschy attractions.
Custer State Park, Custer - 71,000 acres of grasslands and rugged mountains. 1,500 bison find their home here, as well as coyotes, elk, and cougars.
Crazy Horse Memorial, Crazy Horse - A contender to Mount Rushmore which depicts Crazy Horse, the former leader of the Oglala Lakota people.
The Indian Museum of North America, Crazy Horse - Sharing its site with the Crazy Horse Memorial, this museum is an interesting site to learn more about Indigenous and Lakota culture.
Wind Cave National Park, South Dakota - A slight detour from Custer State Park where you can see rolling prairies and experience cave tours.
Cosmos Mystery Area, Rapid City - Take a tour of this mystery house where the laws of nature seem to disappear, and you can stand on walls.
Mount Rushmore National Memorial, Keystone - This legendary colossal sculpture carved into Mount Rushmore depicts the faces of four of America's greatest presidents.
Black Hills National Forest, South Dakota and Wyoming - Situated in two states, this forest covers 1,2 million acres of natural beauty and is the home to several stunning parks, including Custer State Park.
Rush Mountain Adventure Park, Keystone - This amusement park is the home to the famous Rushmore Cave and offers fun adventures for both adults and children.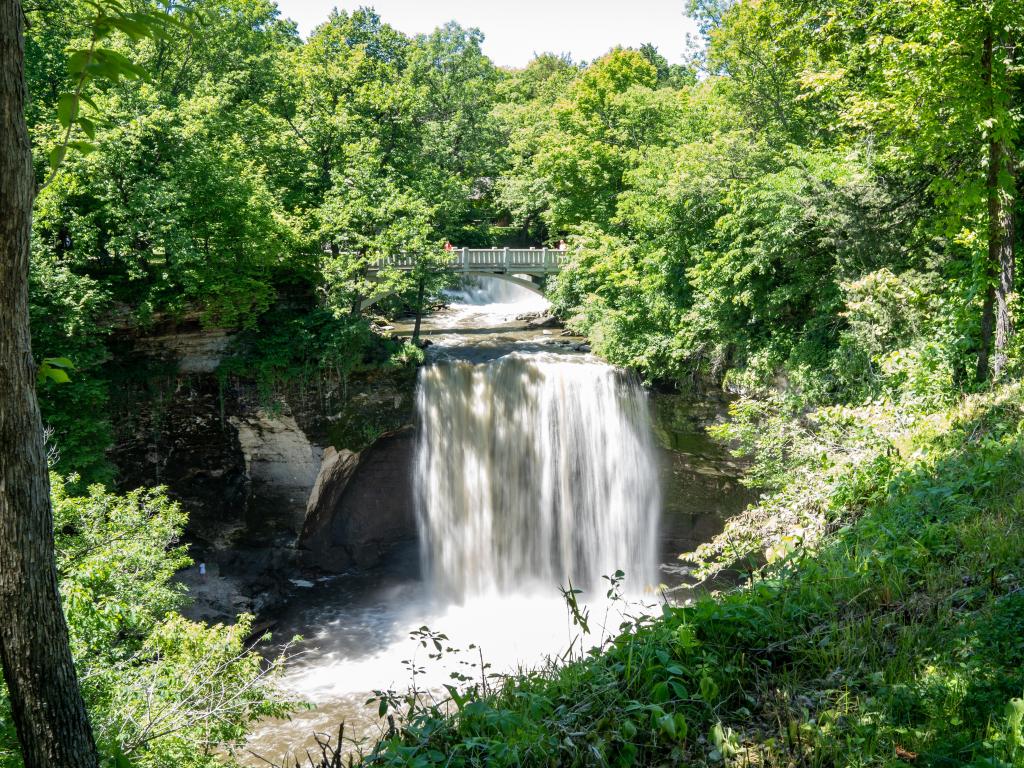 Best time to go on a road trip from Minneapolis to Mount Rushmore
The best time of year for this road trip would be in the months of September, October, and May. These months will have milder weather, with temperatures fluctuating between 60 and 75 degrees Fahrenheit, as well as better driving conditions and fewer crowds.
As expected, Mount Rushmore gets very busy during the summer months. If you don't mind the crowds, these months could be an option for you. However, local accommodation will be more expensive in summer and the temperature can reach 90 degrees Fahrenheit.
If you are visiting in September or October, make sure to observe the Buffalo Roundup and Arts Festival in Custer State Park as this might be your only chance to see a herd of approximately 1,300 buffalo.
This route is less suited to traveling in the winter months, as some roads and parks such as Custer State Park will have reduced facilities and access due to weather conditions, with the temperatures dropping to around 15 degrees Fahrenheit.
Badlands National Park closes during periods of heavy rain or snow. Nonetheless, the winter months could be better for fans of skiing, as you could take a detour to Deadwood's terrific slopes.