Road Trip From New York to Mount Rushmore
A road trip from New York to Mount Rushmore is one of the ultimate American journeys - not only will you see one of America's most iconic landmarks, but you could also visit some of its best cities, national parks, and areas of historical and cultural relevance.
The 1,725-mile road trip from New York to Mount Rushmore takes about 26 hours to drive so allow at least 3 to 4 days. Stops include Cleveland, Lake Michigan, Chicago, Omaha, and Yankton Reservation, as well as Wind Cave and Badlands National Parks.
There are many other wonderful things to see and do along this route, so please keep reading until the end to find out all about them.
How far is Mount Rushmore from New York and how long will the road trip take?
Covering some 1,725 miles, a road trip From New York To Mount Rushmore will take you about 26 hours of pure driving time.
If you power through the drive, you can theoretically reach Mount Rushmore in about three days, but a much better move would be to spread out the drive over a couple of weeks if you have time.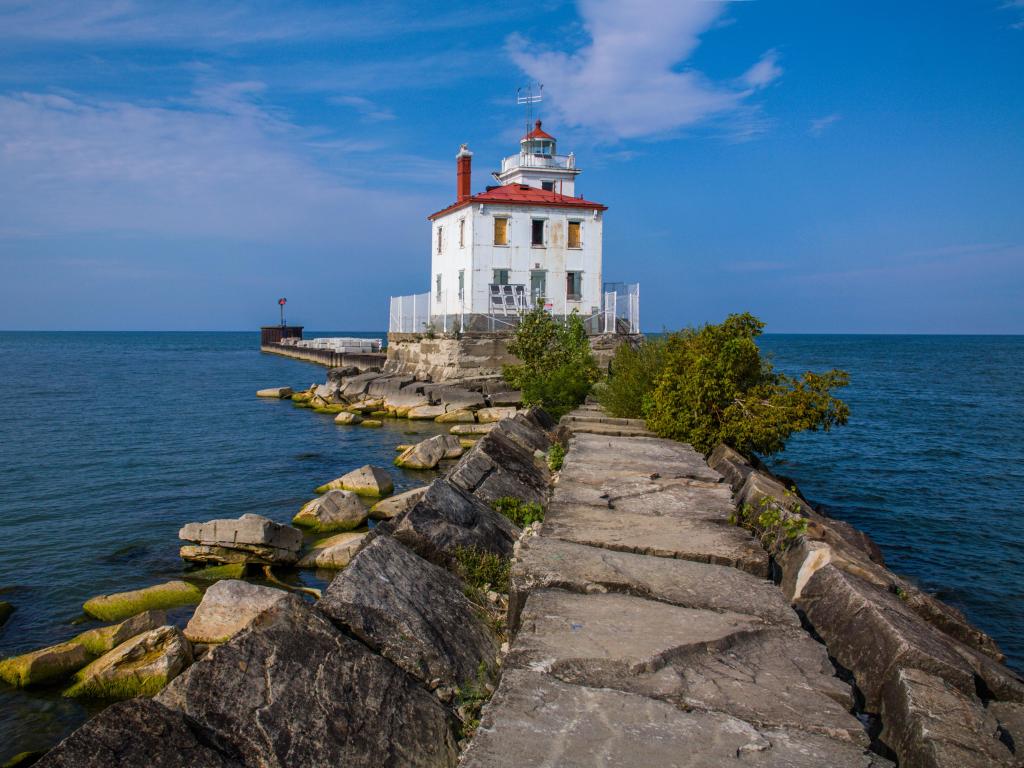 From New York, you will find the most direct route to Mount Rushmore to be along Interstate 80 and Interstate 90.
This is a pretty uncomplicated drive that features long, uninterrupted stretches of open road, but remember that visiting places like Pittsburgh and Chicago is bound to get you caught up in traffic.
Best road trip route from New York To Mount Rushmore
With America's highways and interstate networks being so vast and connected, there are a host of different routes you can take on a road trip from New York to Mount Rushmore.
The route we recommend largely follows Interstates 80 and 90, making for a fairly straightforward if fairly long drive.
This route enables you to maintain a steady course between the two destinations, while also letting you divert to any of the major cities or fantastic tourist attractions that are located around it.
Road trip route from New York to Mount Rushmore
From New York, make your way onto Interstate 80. For about 700 miles, you will keep straight on this road, passing by Pittsburgh, Cuyahoga Valley National Park, and Cleveland en route.
In Indiana, close to the Vistula, you will veer off onto Interstate 90. This will take you pretty much all the way up to the Mount Rushmore National Monument.
During this particular part of the transit, you will pass the likes of Toledo, Chicago, Des Moines, and Omaha, as well as a number of wonderful national parks too.
Best places to stop between New York and Mount Rushmore
When planning your overnight stops on a road trip between New York and Mount Rushmore, there are a number of options for places to stay.
We recommend the following:
Chill out in Chicago
Sitting on the shores of Lake Michigan, the city of Chicago is famous for its tall skyscrapers, world-class museums, fantastic pizzas, and notorious association with Al Capone. After a long drive or day of sightseeing, it is an excellent place to stop for a few days.
The Viceroy Chicago is the perfect place to see the city and relax, courtesy of its amazing rooftop swimming pool and top-of-the-line city views.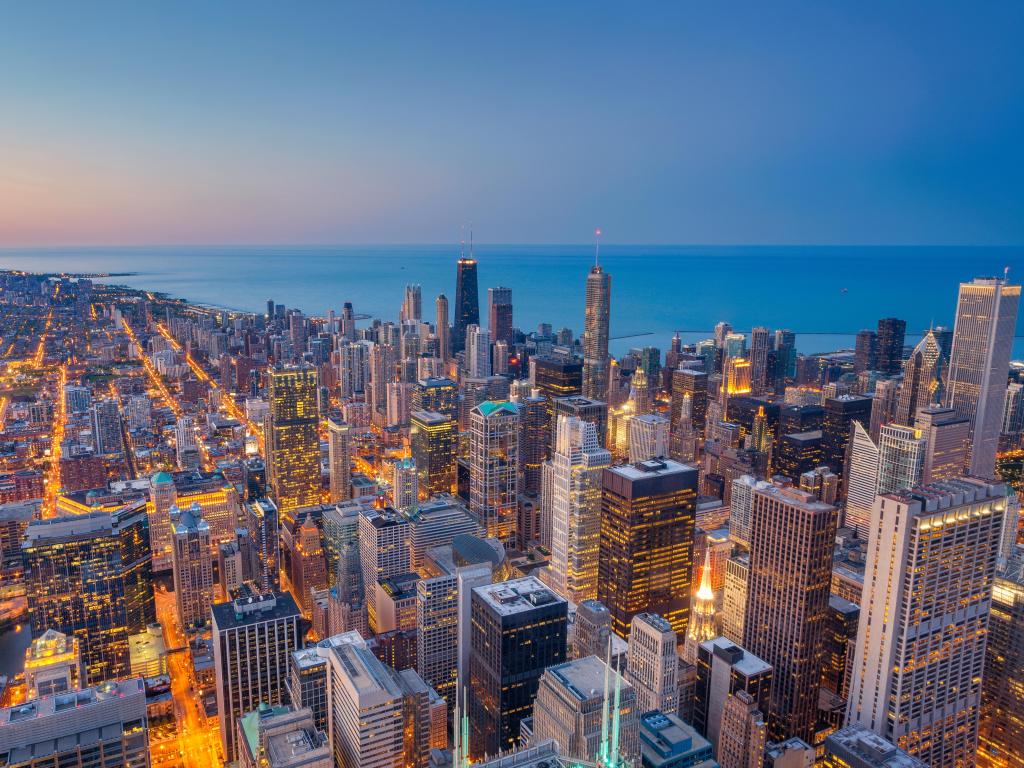 The rooms at this resort are extremely luxurious, and they let you take in the city's gorgeous architecture with their floor-to-ceiling windows. Whether you're relaxing in the lobby or working up a sweat at the gym, you're guaranteed to have an amazing time here.
Located in the vibrant heart of downtown, amongst all the best shops, restaurants, and entertainment venues on the Magnificent Mile, the hotel features an impressive rooftop bar, which is a lovely way to take in its panoramic city views at sunset.
While far from cheap, the hotel is not nearly as expensive as you might expect from looking at it. This, along with its long list of amenities, makes it a no-brainer when it comes to picking a place to stay near the middle of the route.
Recharge your batteries in Rapid City
Once you reach South Dakota, you should consider a stopover in Rapid City - known as the gateway to both Mount Rushmore and the Badlands, the 'City of Presidents' is a great place to unwind before heading off to those destinations.
Part of the Curio Collection by Hilton, Hotel Alex Johnson Rapid City is the best place to use as a base for exploring the Black Hills National Forest, thanks to its spectacular attention to detail, great price, and proximity to Mount Rushmore.
The old-school interior design somehow manages to feel extremely modern, both in the stylish lobby and the extremely cozy bedrooms. The former even has a fireplace to relax by after a long day of exploring Mount Rushmore.
Add to that a great fitness center, a beautiful rooftop terrace, and an amazing restaurant, and you have yourself the single most appealing resort in the Mount Rushmore area.
Things to see and do on a road trip from New York To Mount Rushmore
Such is the sheer number and variety of tourist attractions and places of interest to visit on a road trip from New York to Mount Rushmore, you could easily spend a couple of months seeing them all.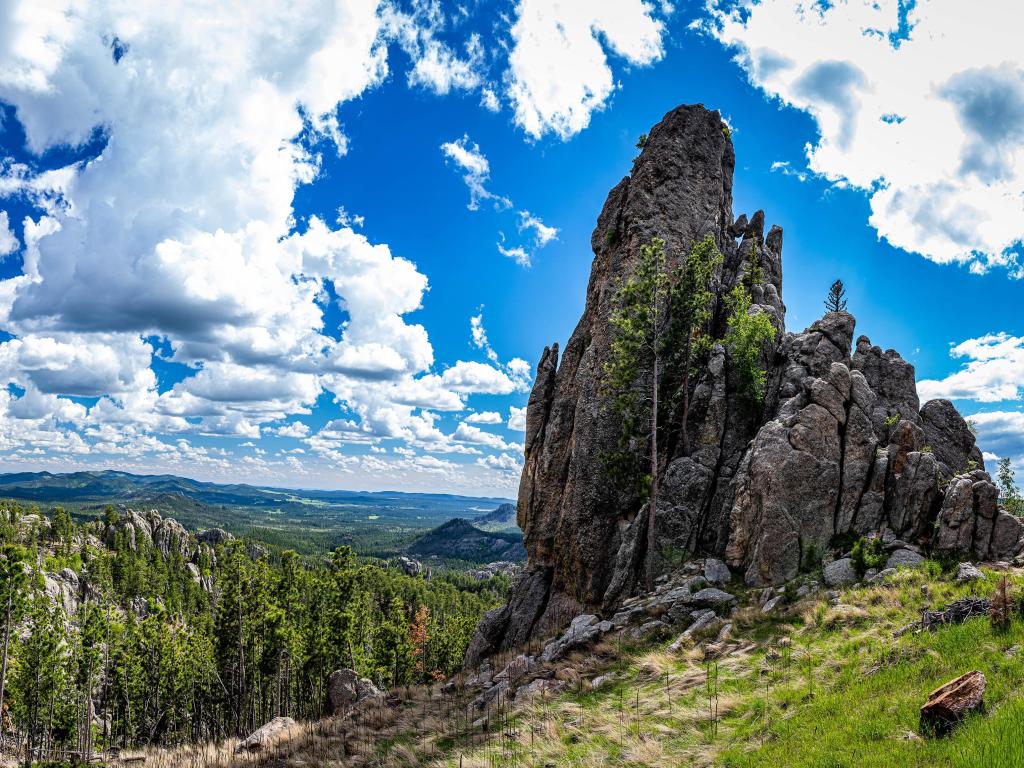 If you don't have that much time at your disposal, we have compiled this splendid list of some of the major attractions and points of interest you may wish to visit during your excursion:
Susquehanna River – The longest river on the east coast of the USA, running for some 444 miles, all the way from Cooperstown, New York to the Susquehanna State Park in Maryland.
Pittsburgh – Known as "Steel City' on account of its massive steel production, Pittsburgh is a lively city that is known for its incredible architecture, three beautiful rivers, and collection of 446 bridges.
Cuyahoga Valley NationalPark – Located along the banks of the Cuyahoga River, this stunning national park features 51 square miles of forests, farmland, and rolling hills. It's also known for being home to a spectacular collection of wildlife and flora.
Cleveland – Sports-mad city known as the birthplace of rock and roll. Boasting picturesque parklands, it also has a vibrant contemporary art and culture scene.
Lake Erie – One of the five great lakes. A beautiful spot to hike, picnic, swim, kayak, camp, and generally get yourself at one with nature.
Toledo – Best known for its rich history of jazz, it houses a number of museums, galleries, and bars that are dedicated to this genre of music. Often referred to as 'The Glass City.'
Indiana Dunes National Park – Almost 25 miles of sand dunes, undulating along the beautiful shoreline of south-eastern Lake Michigan.
Lake Michigan – The second largest of the Great Lakes and the only one located wholly within the USA. An area of outstanding natural beauty where you can partake in a number of water-based activities.
Chicago – World-class city nestled on the shores of Lake Michigan. Famous for its huge skyscrapers, excellent museums, outstanding pizzas, and the infamous exploits of Al Capone.
Des Moines – Birthplace of Bill Bryson. The capital of Iowa features some lovely sculpture parks and botanical gardens, as well as a lively dining and shopping scene.
John Wayne Birthplace Museum – Visit the childhood home of Marion Robert Morrison, aka John Wayne, or 'The Duke'. The home has been restored to how it would have looked when he was born in 1907. Now a museum, it is dedicated to his life and works.
Omaha – The capital city of Nebraska, and the original home of the Reuben sandwich (though New Yorkers might disagree!). Also contains the Henry Doorly Zoo and the main residence of Warren Buffet.
Sioux Falls – Located within Falls Park is a great natural attraction – gorgeous waterfalls from the Big Sioux River that flow over pinkish-red stones dotted through the park.
Yankton Reservation – Take the opportunity to experience the fascinating history, culture, and landscape of a modern-day Indian Reservation.
Wall Drug – An iconic attraction close to Badlands national park. Showcases a large collection of Wild West-themed stores, souvenir shops, restaurants, and a drug store. It also boasts a large art gallery and a sculpture of a Brontosaurus that highlights the history of the area.
Badlands National Park – A stunning national park made up of vast prairies and canyons where dinosaurs once roamed. Home to many bison or bighorn sheep, as well as one of the world's richest collections of fossils. Resident paleontologists are on hand to teach you more and answer any questions you might have about them.
Wind Cave National Park – Located just south of Rapid City and situated beneath great pine forests and grassy prairies, Wind Cave National Parkis one of the longest and most complex cave systems in the world. It features a stunning collection of stalagmites and stalactites.
Rapid City – "City of Presidents" that showcases 43 life-size bronze presidential statues on street corners throughout the downtown area. Also has a genuine piece of the Berlin Wall and some cool art galleries within its city limits.
Best time to go on a road trip from New York To Mount Rushmore
The Mount Rushmore National Memorial is open 24 hours a day, all year round, so you can undertake a road trip from New York to Mount Rushmore any time of the year.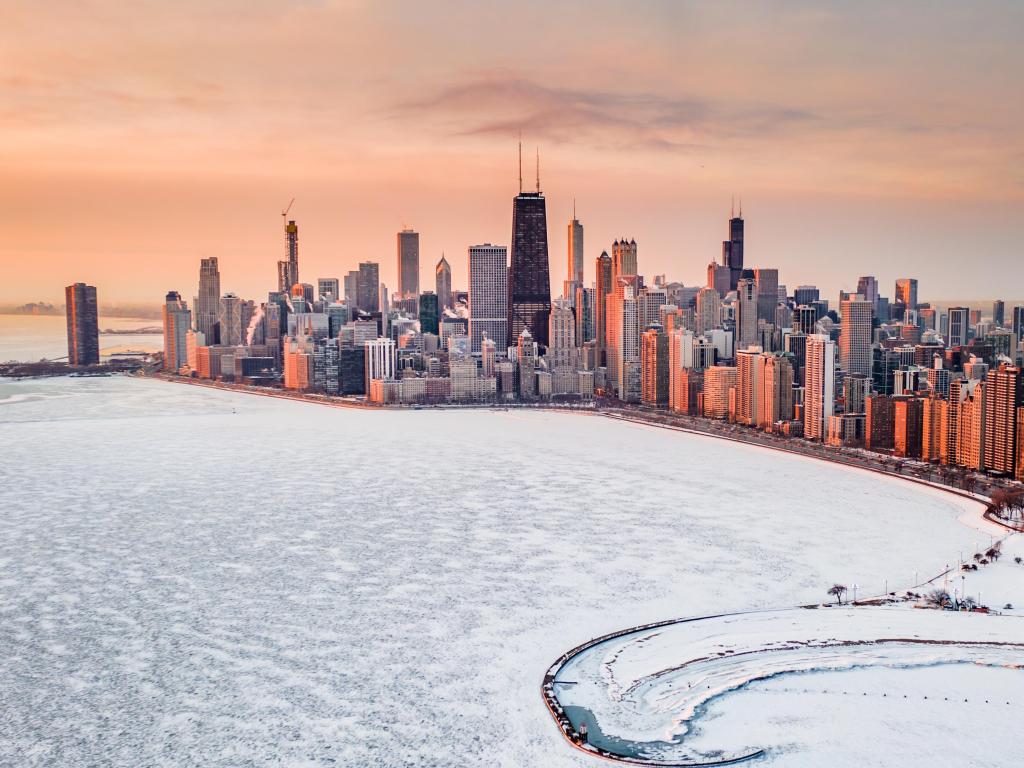 June to August is the most popular time to do this journey - the weather is generally warm, the skies are at their bluest, and pretty much all the attractions are open. That said, you will find that hotel prices and visitor numbers will be a lot higher during these times.
If you can, it might be a good idea to do this road trip in late spring or early fall. The weather is still pretty good then, and the children are back at school, drastically reducing crowds. Prices tend to be at a lower, off-peak rate too.
Winter can cause road conditions to become potentially more treacherous, especially if you are planning to visit national parks or other attractions located along back roads. It is a good idea to bring your snow chains if you plan to drive around this time.
Whenever you decide to set off, be sure to get your car fully serviced before you go. This will reduce your chances of experiencing breakdowns or other issues relating to your vehicle when you are actually on the road.