Road Trip From New York to California
As the famous refrain goes, "California knows how to party. . ." and the landscape of the Golden State itself seems to be a celebration of every walk of life. If you are in the mood for something completely different, from rustic ranches in the mountains to sunsets by the beach, then this loop road trip around California has your name on it.
The 5,040-mile road trip from New York to California. takes 90 hours to drive if you do a loop of the whole sate. See Chicago and Las Vegas en route to California, then San Francisco, Lake Tahoe, Los Angeles, San Diego, and Sequoia and Yosemite National Parks.
Below we detail the most exciting places you can stay on your way across the country and around California, from the Pacific Coast to the Sierra Mountain Range.
How far is California from New York, and how long will the road trip take?
Distances and driving times from New York to popular destinations around California, following our state loop

| Destination City/Landmark | Distance | Driving Time |
| --- | --- | --- |
| Mojave National Preserve | 2,692 miles | 41 hours |
| Joshua Tree National Park | 2,781 miles | 42 hours 40 minutes |
| San Diego | 2,952 miles | 45 hours 20 minutes |
| Los Angeles | 3,105 miles | 48 hours 45 minutes |
| Big Sur | 3,405 miles | 54 hours 40 minutes |
| San Francisco | 3,552 miles | 57 hours 40 minutes |
| Sonoma Coast | 3,622 miles | 60 hours |
| Crescent City | 3,963 miles | 67 hours |
| Mt. Shasta | 4,176 miles | 72 hours |
| South Lake Tahoe | 4,452 miles | 77 hours |
| Yosemite National Park | 4,630 miles | 81 hours |
| Sequoia National Park | 5,101 miles | 85 hours 20 minutes |
This route takes you across the vast plains and mountains of the entire American Landscape, passing through 10 states on the way to California.
It will take about 40 hours of continuous driving over 2,670 miles from New York to reach the desert border of California and Nevada. This by itself could be split over 1-2 weeks of driving depending on how much time you have.
Just 20 miles into the Golden State and you'll arrive at the massive Mojave National Preserve. This impressive desert biosphere has sand dunes, more Joshua trees than the national park named after them, and ancient volcanic features.
We recommend driving the 2,345-mile route around California in a clockwise direction, covering southern California, then heading north along the entire Pacific coast before venturing south following the Sierra Mountains back into the desert.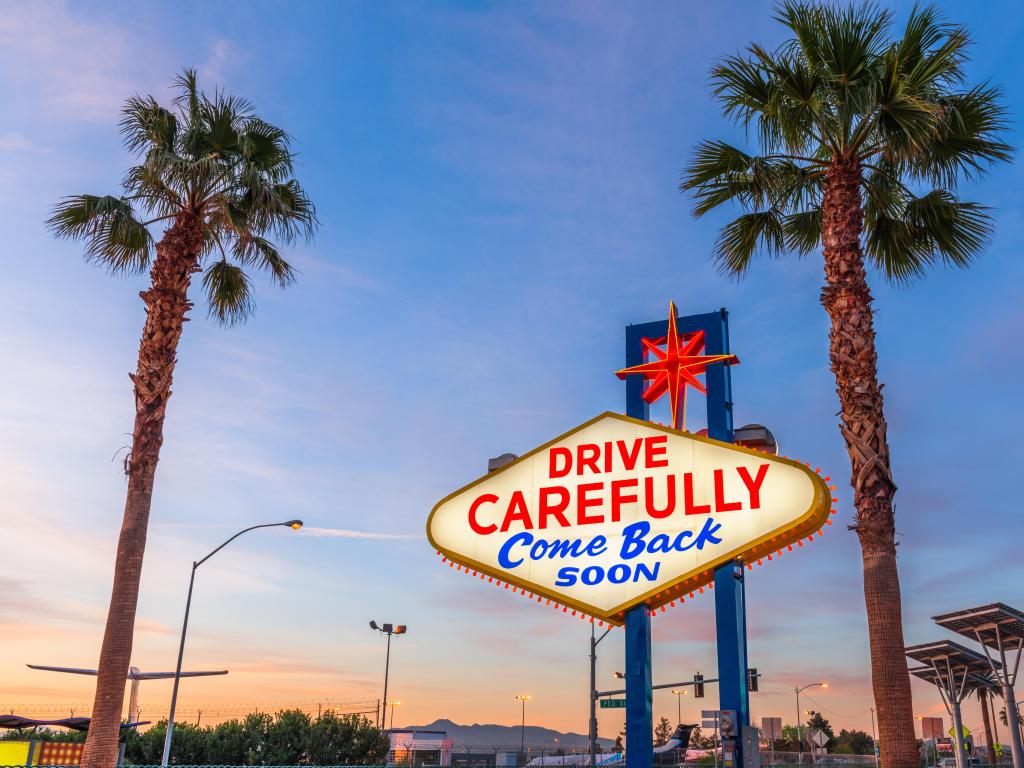 This route will take at least 44 hours to drive, so set aside a minimum of 8 days to two weeks just for this Californian loop. As you'll read on below, there is a lot to see on this once-in-a-lifetime trip around one of America's most diverse states.
Keep in mind that you'll have another 2,670-mile drive between the Mojave National Preserve and New York on the way back. Ideally, you will have at least a month to drive the entire route.
Best trip route from New York to California
This massive route passes through some of America's greatest Midwest cities and long stretches in the heartland. Get to know exciting cultural centers like Chicago, Denver, and Las Vegas on your way out west.
Once in California, sun streaming over golden hills and long scenic drives along the Pacific Ocean will enchant you as you hop between the state's major cities along the coast, San Francisco, Los Angeles, and San Diego.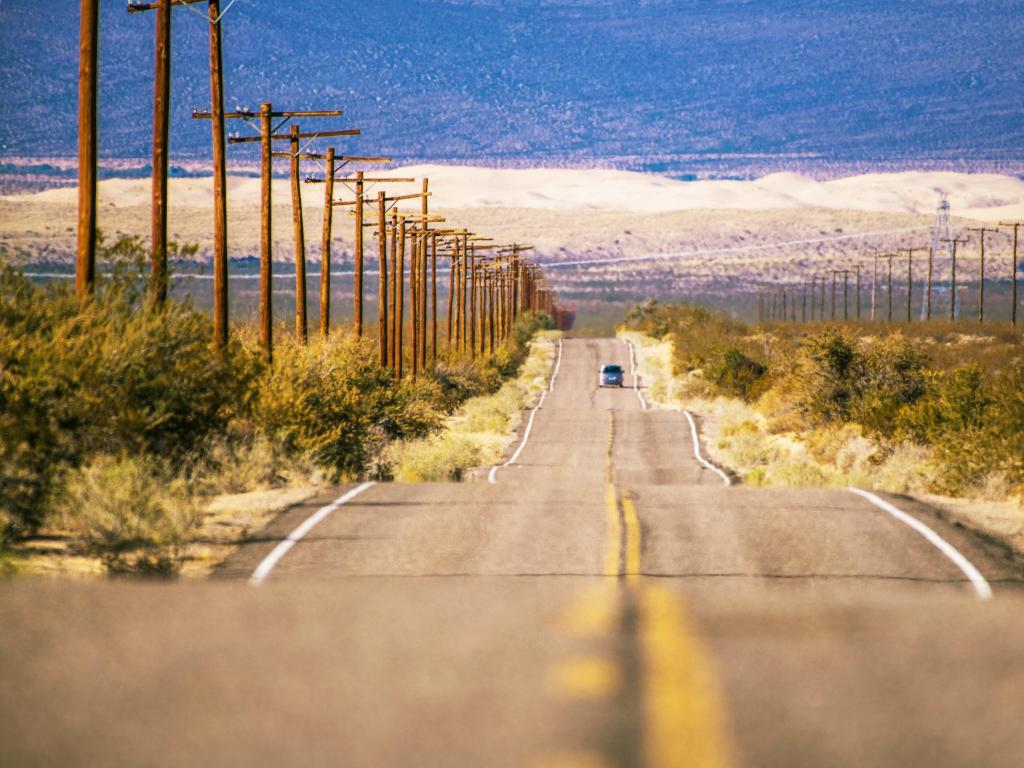 Road trip route from New York to California
Early on in this trip, you'll have a chance to enjoy the tranquil old growth forests of Pennsylvania in Cook Forest State Park, but that's just the beginning of the bountiful natural beauty along this route.
Continue through Pennsylvania on Interstate 80 (I-80), passing south of the Allegheny National Forest, making your way to Cleveland, Ohio. Consider spending a night here, enjoying the sights around Lake Erie, or head west on Interstate 90 to illustrious and industrious Chicago on Lake Michigan.
Navigate back to I-80 which will take you across Iowa, including its capital Des Moines, and over to Omaha in Nebraska. Midwestern cities like these are a welcome break from long stretches of agricultural plains.
Continue driving west on I-80 West until you get to the Colorado border, then hop on Interstate 76 south to Denver. At the very least take a drive around the Mile High City and admire its colorful neighborhoods around Union Station and the River North Arts District.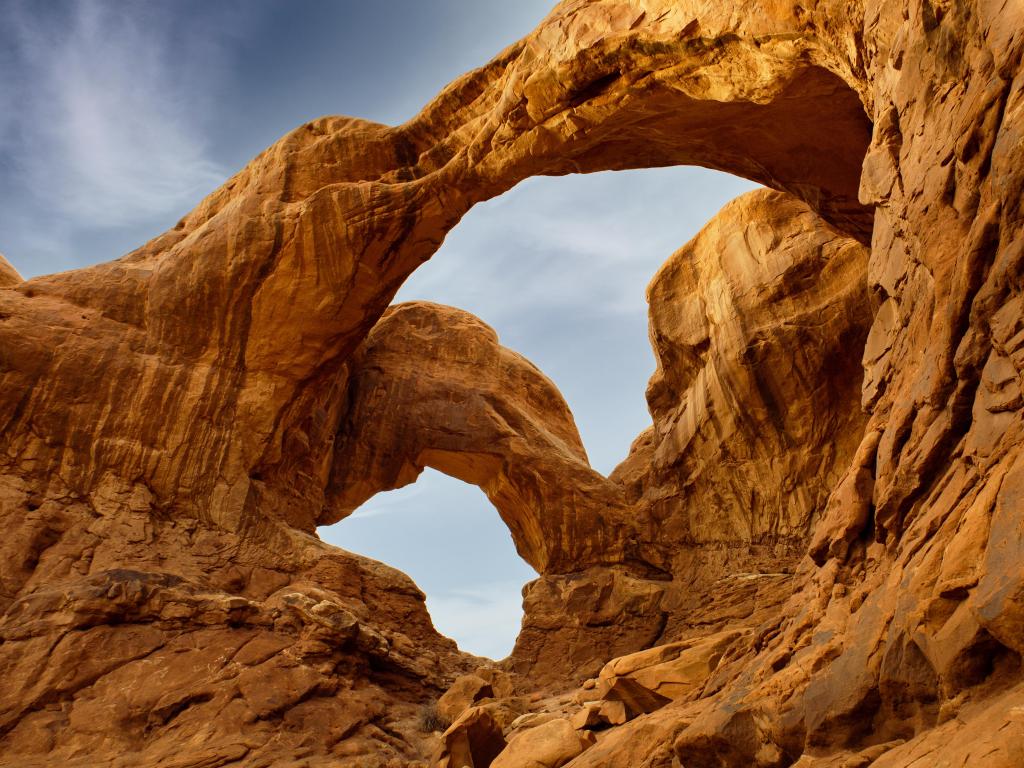 At the western edge of Denver, navigate to I-70 which will take you into Utah. Just across the border you won't want to miss this chance to check out Arches National Park near Moab. Seeing this jaw dropping cluster of water and wind carved natural monuments only adds 60 miles to the overall journey.
I-70 eventually meets with I-15 South which will take you the rest of the way to California, but not before passing through that tantalizing rhinestone in the desert, Las Vegas. From there, it's just a 55 mile drive to the first Californian highlight, the Mojave National Preserve.
Road trip route around California
California has an enormous variety of landscapes on full display on this trip. Especially if you're from a smaller East Coast state, you'll be amazed to find endless deserts, temperate rainforests, and every single kind of coastal environment from tropical to rugged misty cliffs, all within California's borders.
This trip introduces you to California through one of its most extreme and mystical environments, the vast Mojave Desert, before taking the scenic route to the refreshing coastal towns of San Diego and Los Angeles, via the resort town of Palm Springs and Joshua Tree National Park.
From Los Angeles, you'll head north along the famous Pacific Coast Highway, passing the perfection that is Santa Barbara, the hallowed curves of Big Sur, and free-spirited San Francisco. On this part of the route through central Californian coast, you'll see a multitude of idyllic beach towns, like Pismo Beach and Cambria, where the weather is still warm enough to balance out the cool waters of the Pacific.
Across the Golden Gate Bridge from San Francisco, the misty and wild vibe of Northern California begins. The signs of human civilization thin out as you pass dramatic cliffs and dense redwood forests. Sonoma Coast State Park is less than three hours north of San Francisco and has a wonderful system of trails both inland and along the coast.
At the very northwest of the state you'll drive through adorable Eureka and finally Crescent City, where you can wander the Jedediah Smith Redwoods State Park.
Here the route reaches its northern apex slightly across the border in Grants Pass, OR, before snaking through Happy Camp, CA along the mind-blowing and remote Klamath River Highway, to Interstate 5 where you'll begin the southern leg of the journey.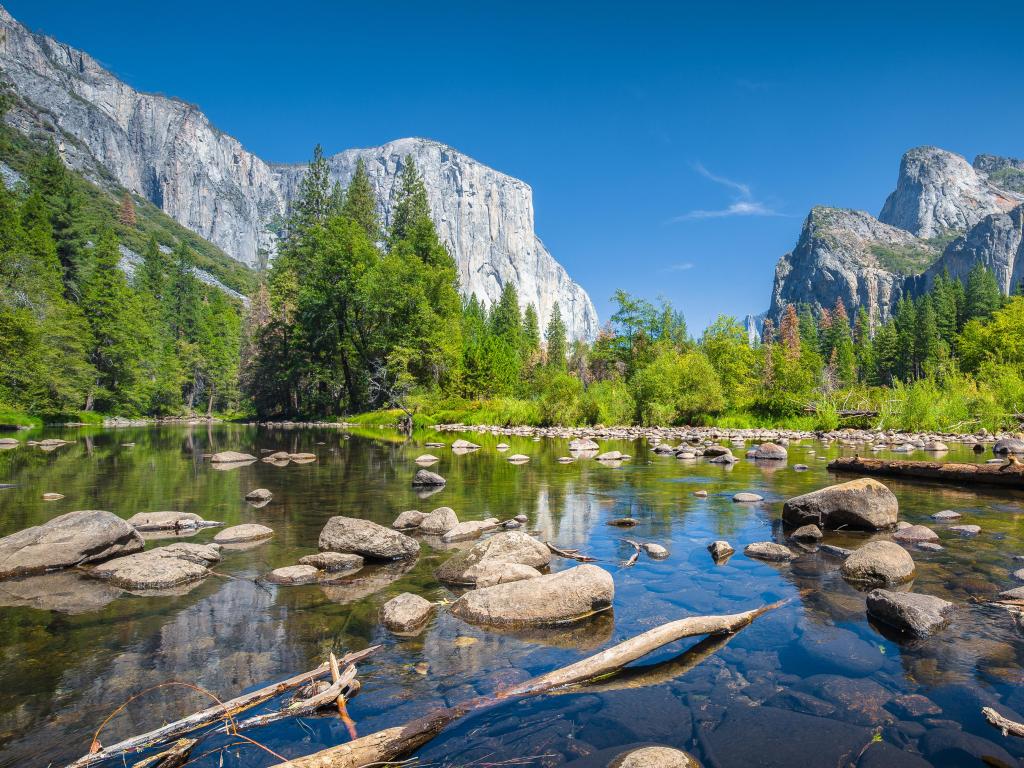 Spend some time adventuring the hard-to-miss Mount Shasta and the pristine wilderness of Lassen Volcanic National Park before you come to the sapphire of the Sierras, Lake Tahoe. You can opt to spend the night in lively South Lake Tahoe.
The last two stops in the southern Sierra Nevada range are unmissable Yosemite and the grand Sequoia National Park, before you'll drive via Bakersfield and Barstow back to I-15.
Best places to stop between New York and California
So much driving is bound to leave you ready to fall into a big, cushy bed at the end of the day. We've scoped out these overnight stops that will pamper you and leave you refreshed for the road in the morning.
Let Denver dazzle you for a night
This gorgeous city in the Rockies has a great range of activities for those who want to have fun outdoors, as well as those who like the cultural refreshment of an urban vibe. It's also conveniently close to half way to California.
Known as the Mile High City, Colorado's Capital is 5,280 feet above sea level. Home to the Rockies baseball team as well as Coors Brewing Company, Denver has a healthy dose of Americana tempered with niche contemporary attractions.
One of the nicest things about Denver is the variety of neighborhoods. Around Coors Field you can find plenty of craft breweries, in Larimer Square you can learn more about the history of Denver, and in the River North Arts District, known locally as RiNo, you'll find a budding creative community complete with murals and art walks.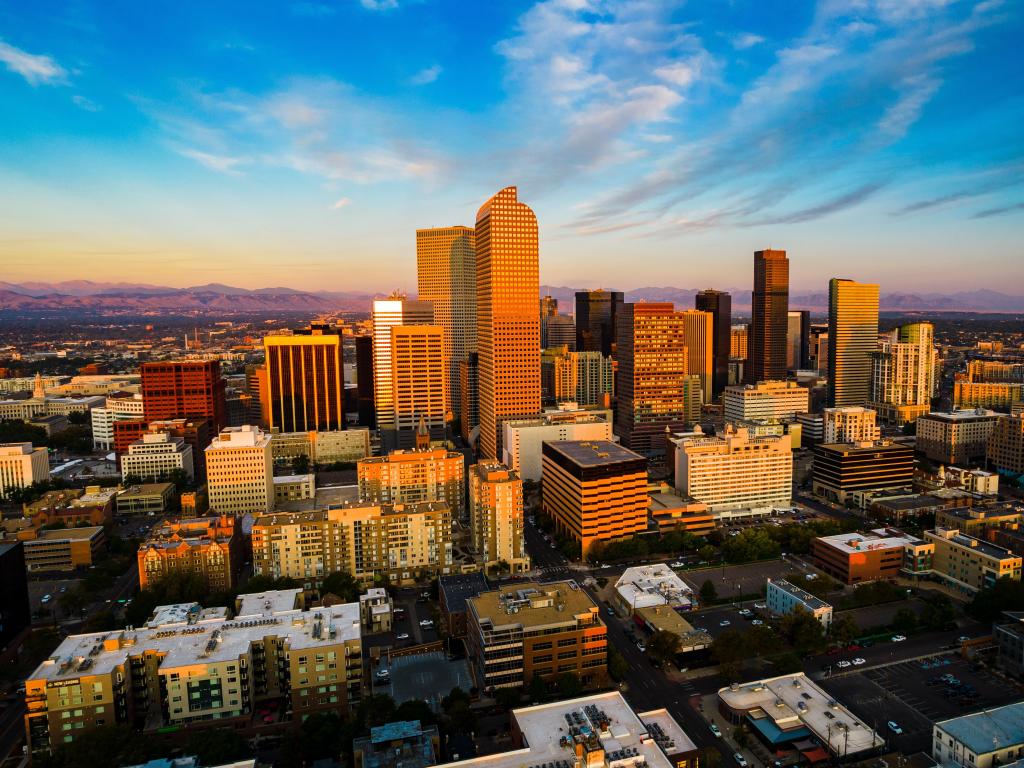 When the weather is nice, a stroll through the Denver Botanic Gardens will sooth the soul and revitalize you for the rest of your journey.
Our go-to accommodation, The Oxford Hotel Downtown Denver, seamlessly blends elegance and convenience, with a boutique hotel feel and parking on site. They offer complimentary Bourbon tastings and have a chic restaurant, where you can enjoy an exquisite meal and reflect on the first half of your cross-country trip.
Major Denver attractions like Larimer Square, Union Station, and Museum of Contemporary Art are also within a few blocks, so you can take a break from the wheel and explore on foot.
Live it up in Santa Barbara
Get the most of southern Californian sun in a truly idyllic setting about 500 miles into your Californian loop.
Boasting a cohesive Spanish architectural style, think terra cotta roofs strewn with the fuchsia blossoms of bougainvillea vines, and an exquisite wine region, Santa Barbara is known as an epicurean dreamland.
In addition to the old Mission Santa Barbara, an 18th century vestige of Spanish colonial efforts, you can also see an excellent example of Santa Barbara's famous architecture downtown along State Street and at the County courthouse.
Equally renowned for its broad sandy beaches, be sure to spend some time at Stearns Wharf and walk along Shoreline Park.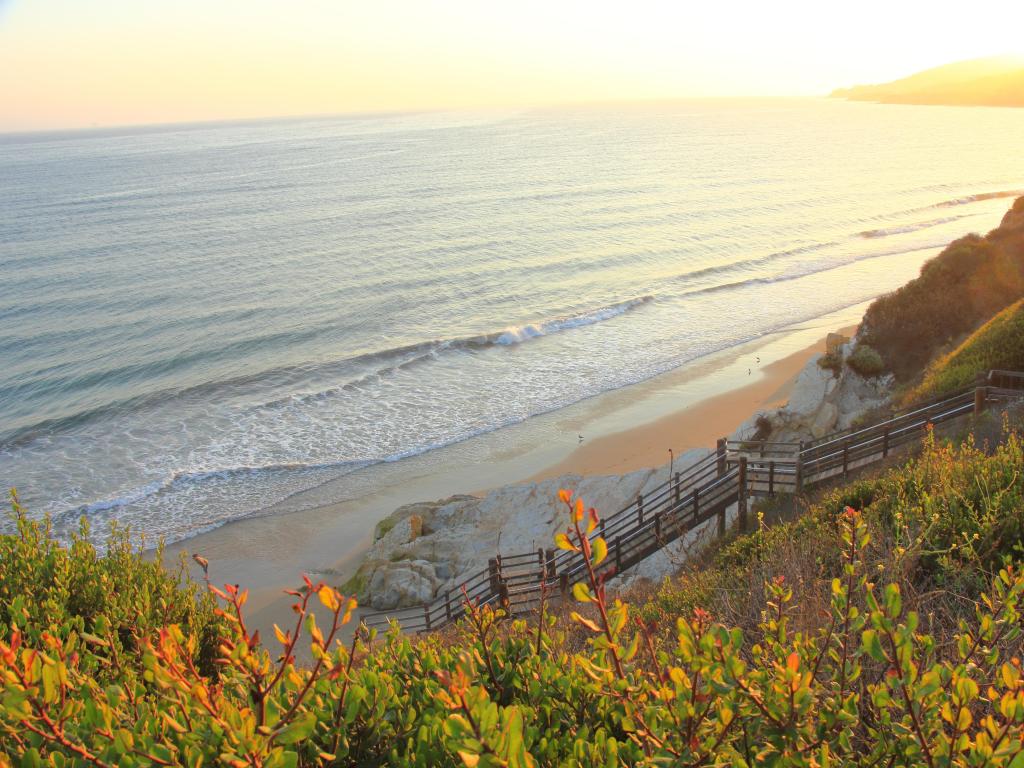 The meticulously clean and comfortable rooms of La Playa Inn are arranged around a Spanish colonial style central gallery, paying homage to some of Santa Barbara's most famous buildings.
A stay here makes the most of Santa Barbara's beautiful beach weather, with the West Beach a four minute walk away and the picturesque marina even closer. There's also free fruit in the lobby at all time so you can easily replenish your electrolytes in between ocean dips. Ample free parking is yet another perk of this ideally located hotel.
Get to know the Sierras in South Lake Tahoe
Lake Tahoe is not only the largest alpine lake in America, but an area of such outstanding natural beauty that people come from all over the world to gaze into its azure waters. You'll pass by here about two thirds of the way into your Californian route.
In addition to being a dream destination for outdoor adventure, South Lake Tahoe is also known for its vibrant nightlife and Casinos.
The unmissable lake can be admired from up high on any of the mountain trails surrounding it, like the Mt. Tallac Trail, Bayview Trail, or from Cascade Falls.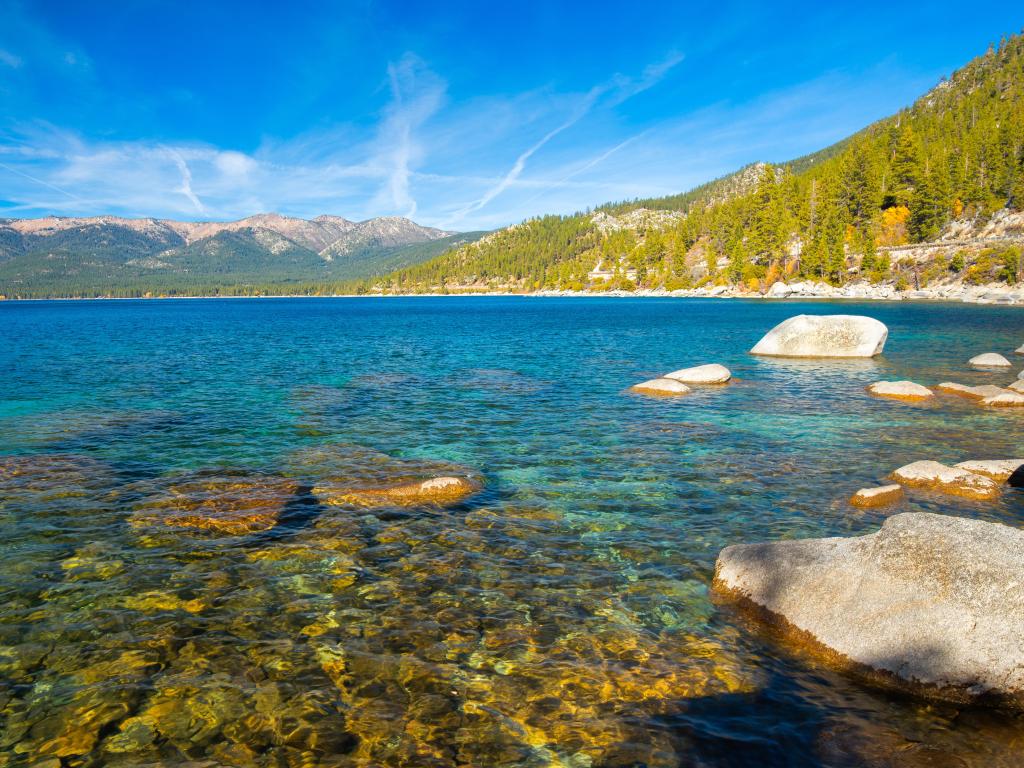 For those more inclined towards leisure, there are long stretches of sandy beaches perfect for lounging, like Pope Beach, and lakeside restaurants that boast a fine selection of California wines and beers from local breweries.
If you're here in the winter, there are prime skiing and snowboarding destinations nearby like Palisades and Heavenly resorts.
A contemporary take on that old Tahoe feel, The Coachman Hotel blends warm wooden interiors with a highly stylized motel layout. After exploring the ample outdoor gems of the Tahoe area, unwind with a local microbrew at their trendy bar or relax under the stars around an outdoor fire pit.
Just a few blocks from the lakeshore, they also have a private beach area for guests to enjoy. It's conveniently located in one of the most happening parts of South Lake Tahoe within walking distance of the casinos across the border in Nevada.
Things to see on a road trip from New York to California
The best thing about this Californian route is that you'll have a chance to soak up the famous SoCal sun as well as hit the slopes, all in one trip. On the way from New York, you'll also have an opportunity to see the America in-between that you'd miss by just flying.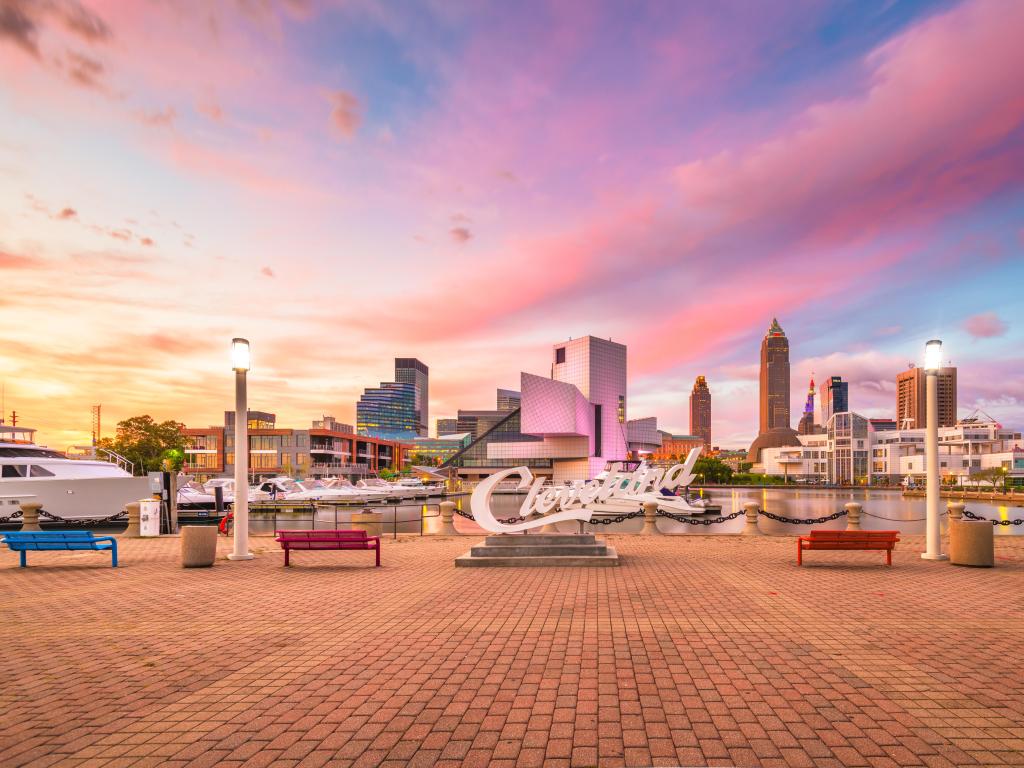 Things to see on the way to from New York California
Cook Forest State Park, PA - This idyllic environment was once called the Black Forest after its Old World counterpart. In addition to old growth pines and hemlocks, there's a 10 mile stretch of the Clarion River which passes through the park and is great for rafting.
Cleveland, OH - Set on the shore of Lake Erie, Cleveland is a city on the rebound and has a wide array of attractions. Keep room in your stomach for a trip to the West Side Market and pay tribute to the greats at the Rock & Roll Hall of Fame.
Chicago, IL - Gaze at the towering skyscrapers of the Magnificent Mile in the Windy City, then wander along the lakeshore at Lakeview Park. Also a city of the arts, a must see is the Cloud Gate statue in Millennium Park and the Art Institute of Chicago.
Des Moines, IA - Iowa's capital, Des Moines has an impressive and ornate State Capitol building from the late 18th century in addition to the expansive Pappajohn Sculpture Park and one of the freshest Downtown Farmers Markets you'll be able to find.
Omaha, NE - This pioneer city is still in the center of one of America's major beef producing regions and is surrounded by cowboy culture. In Omaha you can learn more about Old West at the Durham Museum, wander the Old Market historic district, or visit the impressive Henry Doorly Zoo.
Frisco Historic Park and Museum, CO - Especially if this is your first trip "out west", then this is a wonderful place to be introduced to the history of the Old West. This open air museum includes a schoolroom and other period buildings, all clustered within the modern town of Frisco.
Arches National Park, UT - Just north of Moab, Utah, less than 10 miles from I-70, you can see one of Utah's most uniquely beautiful parks. Full of towering arch-like formations carved out of stone over millennia, Arches National Park is a must-see for anyone who loves to be awed by nature. You might need to make a reservation for a timed-entry permit while visiting Arches National Park. Please check the national park's website for up-to-date information.
Las Vegas, NV - Even though Sin City has been steadily cleaning up its act, it is still America's premier adult playground. From over the top shows to the fountains of the Bellagio and flashy casinos along the strip, Las Vegas knows how to dazzle.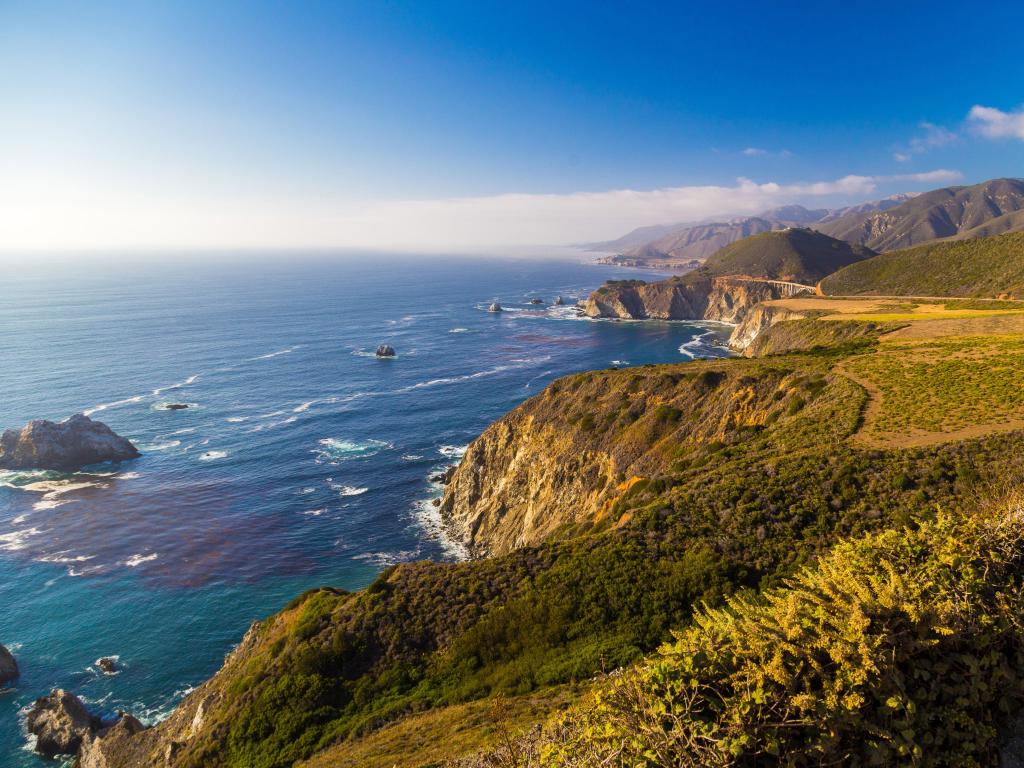 Things to see around California
Mojave National Preserve - This is the first desert landscape you'll get to explore on this trip, full of dunes, extinct cinder cones, and even archaeological remains from 10,000 years ago.
Joshua Tree National Park - Filled with the eponymous trees that look like they were created by Dr. Seuss, Joshua Tree National Park has an increasing amount of enthusiasts. For a taste of the desert beauty on display here, try the Hidden Valley Nature Trail.
San Diego - In addition to irresistible sunny beaches like Mission Beach and Pacific Beach, San Diego also has a huge Marina, tons of Naval History, the chic Ja Jolla neighborhood, and sprawling Balboa Park which boasts over a dozen different Museums.
Los Angeles - The cultural capital of southern California and the place where stars are born, Los Angeles is larger than life. From glitzy locations like Hollywood and Rodeo Drive, to the fun beach vibes of Santa Monica, there's a surprising variety of attractions throughout the city, including the La Brea Tar Pits, a goldmine of ice age fossils.
Big Sur - The undisputed gem of California's central coast is the 90 mile stretch of road between Carmel and San Simeon known as Big Sur. In addition to the ever photogenic Bixby Bridge, here you can pull over on either side of the highway and explore trails to McWay Cove and within Pfeiffer Big Sur State Park.
San Francisco - This foggy city spread out over steep hills has every kind of adventure. From the barking sea lions of Pier 39, the infamy of Alcatraz, and the twisting curves of Lombard Street, these are just a few of San Francisco's most celebrated attractions.
Sonoma Coast - The gorgeous coast of one of California's most celebrated wine regions, Sonoma, has plenty to offer in addition to phenomenal wines. For outstanding coastal trails, craggy coves, natural arches, and breathtaking views, spend a few hours exploring Sonoma Coast State Park just south of Jenner.
Eureka - Full of colorful Victorian homes, the legacy of a booming lumber industry that has been active since the 1850's, this port city is the largest along the Humboldt coast, famous for its Redwoods and other greenery. In the smaller college town of Arcata to the north, you can stop for an ice cream of coffee and take in the quaint town square.
Crescent City - This is one of California's northernmost coastal cities, which features a functional harbor, gorgeous cove and lighthouse, as well as the nearby Jedediah Smith Redwoods State Park.
Klamath River Highway - We've included this road less traveled in our route because it is simply spectacular. You won't pass a lot of traffic as you follow the Klamath River along part of its journey to the ocean, through forested ravines and pristine mountains.
Mt. Shasta - Hard to miss as you drive along I-5 north of Redding, Mt. Shasta has long been a favorite spot for summer and winter outdoor enthusiasts. Around the mountain you can trek innumerable trails and in the small town nearby there are some surprisingly great restaurants for a lunch stop.
Lassen Volcanic National Park - Tucked up in the northeast corner of California, in this incredible park you can see all four kinds of volcano, thermal streams and burbling mudpots along the Bumpass Hell Trail, and more typical above ground treats like meadows, lakes, and mountains. This park is a gem hidden in plain sight.
Yosemite - Further north, you can also see the most visited national park in California for yourself. From Half Dome to Yosemite falls, this dramatic glacial valley has been inspiring photographers from Ansel Adams to today's Instagrammers.
Sequoia National Park - Here you can walk among the massive relatives of the coastal redwoods, another kind of sequoia, including the largest tree by mass, General Sherman. Situated in the southern Sierra Mountains, here you can also find valleys and meadows reminiscent of Yosemite in neighboring Kings Canyon National Park.
Best time to go on a road trip from New York to California
Along with states like Florida and Arizona, California is known for its abundance of sunny weather year round. While you can see almost all of our suggested Californian stops in every season, some of the roads back east during the first leg of the trip around New York might be subject to winter closures.
Temperatures rarely climb above 90 degrees Fahrenheit along the southern coast and are even cooler north of Big Sur. Inland temperatures can climb to the triple digits Fahrenheit, so make sure your car's AC is working and that you stay hydrated as you explore the parks in the Sierras.
Certain stops like the Mojave Desert might be dangerously hot during the summer, so keep that in mind while planning your trip.
Southern California is a great place to escape the winter freeze, and even the north tends to be temperate in the 60s and 70s degrees Fahrenheit along the coast.
The Sierra Mountains receive significant snow fall during the winter and back roads like Highways 395 and 89 connecting eastern Yosemite and Lake Tahoe are closed. Highway 50, which is on our route, is open but you will want to make sure you have a vehicle with snow tires or keep chains in the trunk.
A magnificent treat in the spring, especially entering through the southern deserts, is the chance to catch a wildflower super bloom. The usually golden hills all around the state briefly flush a vibrant green for a month around late February and Early March.
The fall also offers warm to temperate weather throughout the state, but the Sierras don't see any snow until winter, so don't plan on bringing your skis on a trip during this time of the year. This is a great time to visit the national parks as the crowds are much less and the weather is perfect for hiking.
Throughout California, you can catch some amazing Dia de los Muertos observances in late October and Cinco De Mayo celebrations in May due to the large Mexican-American population here.
Golden Gate Park in San Francisco was recently voted "Best Festival Site" in the world by Billboard Magazine. There are two fantastic music festivals in the fall here, Hardly Strictly Bluegrass and Outside Lands.
No matter when you head out west, there's sure to be a happening somewhere along the route we've laid out.