Road Trip from New York to Finger Lakes
Prepare for a journey from the energetic heart of New York City to the serene tranquility of the Finger Lakes. This road trip promises a fascinating mix of winery-filled countryside, glittering lakes and unrivaled natural beauty that makes it an irresistible escape from the urban jungle.
The 280-mile road trip from New York to Finger Lakes will take 5 hours and 20 minutes to cover. You will get to visit Woodstock, Callicoon, Watkins Glen, Ithaca, Seneca Falls, Peekskill, Corning, Catskill Mountains and Taughannock Falls State Park.
Read on to find out about the best routes to follow on a New York to Finger Lakes road trip, amazing things to see and do, unforgettable places to stay and when to set off on this scenic adventure.
How far is Finger Lakes from New York, and how long will the road trip take?
Comparison of road trip routes between New York and Finger Lakes

| Route | Distance | Driving Time |
| --- | --- | --- |
| Finger Lakes Wine Country Route | 280 miles | 5 hours 20 minutes |
| Catskill Mountains Route | 350 miles | 7 hours 30 minutes |
Following the Finger Lakes Wine Country Route from New York to Ithaca, you can expect the journey to cover approximately 280 miles and take around 5 hours and 20 minutes without any stops.
If you opt for the Catskill Mountains Route, the drive from New York to Seneca Falls will take about 7 hours and 30 minutes, navigating through the winding roads and mountainous terrain, but the views are worth every moment. This route covers 350 miles
We'd recommend setting aside at least 3-4 days for the road trip to allow time to explore and soak up the attractions along the way.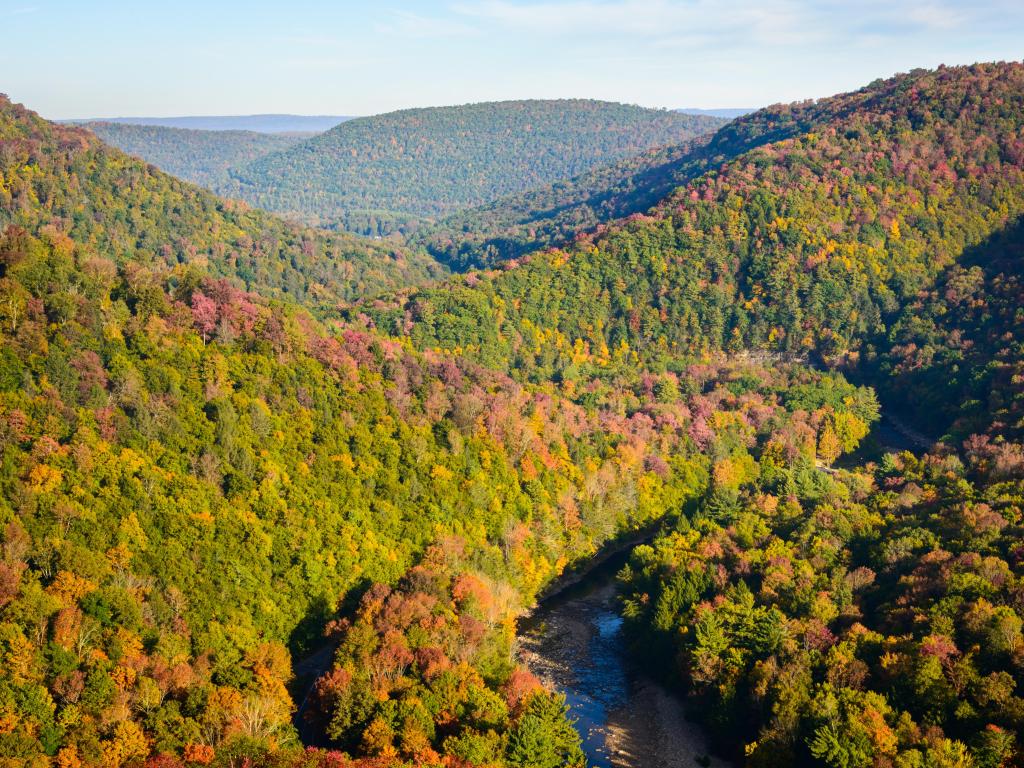 Best road trip route from New York to Finger Lakes
Feel like a stroll down lush vineyards? Then the Finger Lakes Wine Country Route is the perfect option for you. Imagine cruising down roads hemmed with wineries, where the world's tastiest wines are crafted.
This route serves a full-bodied blend of relaxation, exploration, and of course, top-notch wine tasting. Not to mention, natural gems like Watkins Glen State Park as well as the shimmering shores of Seneca and Cayuga Lakes are ready to wow you at every turn.
The Catskill Mountains Route calls out to adventurers and culture buffs. With a backdrop of the majestic Catskill Mountains, this route traces a journey through New York's scenic highlands and intriguing towns.
Here's your chance to soak in the bohemian vibe of Woodstock or stand awestruck by the grandeur of the Catskills. It's an unforgettable mix of picturesque settings, amazing cultural pit stops, and that perfect "back to nature" feeling.
How to drive from New York to Finger Lakes
The map above shows our suggestions for the best road trip routes between New York to Finger Lakes. Keep reading for detailed descriptions of both routes, where to stay on either, and the best things to do on the way.
Finger Lakes Wine Country Route
Start your journey from the bustling metropolis of New York City, heading northwest on Interstate-280 (I-280). Continue heading this direction to enjoy the beautiful landscapes of the Pocono Mountains.
Once you reach Scranton, switch onto US-6 heading west. This scenic route will take you through charming small towns like Tunkhannock and Towanda, offering perfect opportunities for rest stops and grabbing a bite to eat.
You will also pass the picturesque Endless Mountains area, known for its rolling hills and rural beauty.
As you exit Towanda, make your way to your next destination, the Finger Lakes Wine Country located in Corning. The Finger Lakes region is one of the most renowned wine-producing areas in the United States, with vineyards and wineries lining the region's numerous lakes.
Next, you will head north towards the quaint village of Watkins Glen, known for the stunning Watkins Glen State Park. Here, you can walk along the Gorge Trail to witness stunning waterfalls.
Continue east to your final stop, the beautiful city of Ithaca, nestled on the southern tip of Cayuga Lake.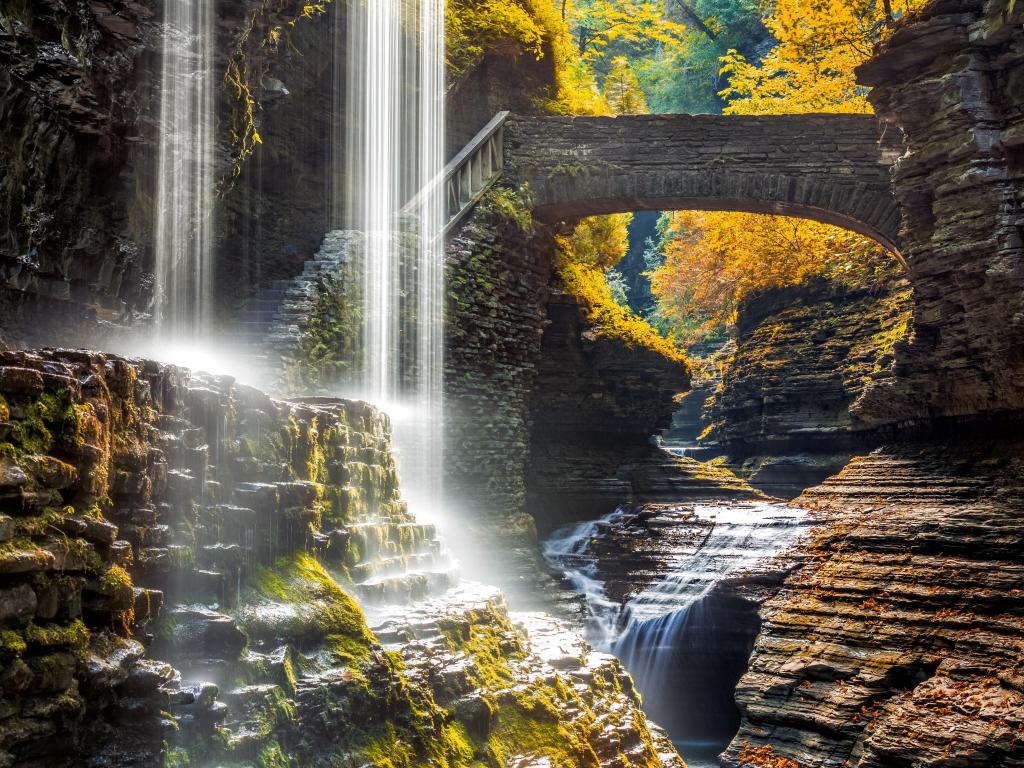 Catskill Mountains Route
Head north on I-87 to reach the picturesque town of Peekskill. Here, the Hudson River meets the start of the Hudson Highlands, offering stunning riverside parks and a charming downtown area for a pleasant start to your road trip.
Continue your drive north to the legendary town of Woodstock. Known for its namesake music festival in 1969, Woodstock is brimming with a rich musical history, bohemian culture, and an array of unique shops and art galleries.
Soon you'll find yourself surrounded by the awe-inspiring Catskill Mountains in Shandaken. This vast expanse of nature's bounty offers endless opportunities for outdoor recreation including hiking, fishing, and camping, perfect for the adventurer at heart.
Next, head to Callicoon, a hidden gem nestled along the Delaware River. Here, you can explore the quaint, historic town and enjoy a peaceful riverside picnic.
After your visit, head east to reach Binghamton, a city renowned for its unique blend of urban life and natural beauty. Visit the Ross Park Zoo or explore the lovely Recreation Park for a taste of the city's allure.
Continue your journey east on Route 96, and you'll reach the historic town of Seneca Falls, your destination.
Best places to stop between New York and Finger Lakes
We've carefully handpicked our preferred stopovers along both routes on a road trip from New York to Finger Lakes, coupled with a smattering of top-notch activities to explore during your break. Read on to find out more about the best places to stay.
Embrace the bohemian soul of Woodstock
Enveloped in a rich tapestry of music history and counterculture spirit, Woodstock stands as an iconic pit stop on the Catskill Mountains Route. Located about 3 hours from New York, Woodstock is known for lending inspiration to the mother of all music festivals in 1969 (despite the festival eventually settling on Yasgur's Farm in Bethel, some 40 miles southwest).
Nature strums a beautiful tune in Woodstock as well. Overlook Mountain, a hiker's delight, rewards every bit of your effort with sweeping vistas of the surrounding Catskill Mountains and Hudson Valley.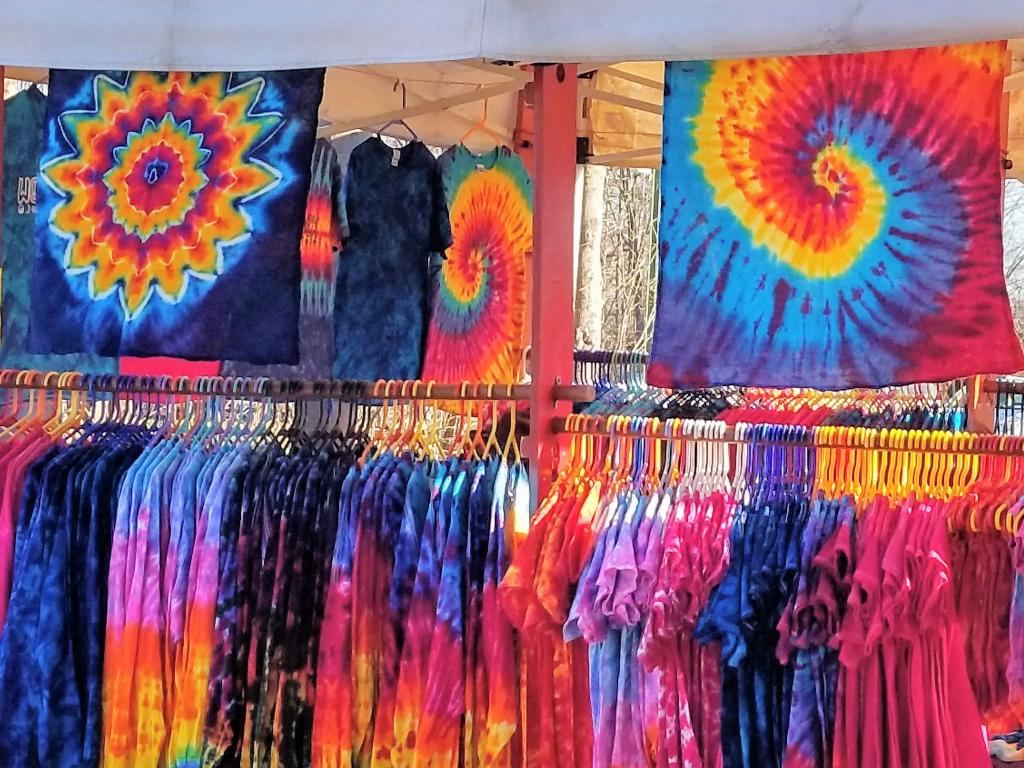 Meanwhile, the peaceful waters of Cooper Lake offer an idyllic setting for a leisurely walk or a lakeside picnic.
A trip to Woodstock wouldn't be complete without strolling through its quaint, welcoming downtown. Packed with unique shops, eateries, and music venues, it's the perfect place to experience the continuing harmony of Woodstock's music, arts, and legacy.
To immerse yourself in the bohemian vibes of Woodstock, there is no better place to stay than Hotel Dylan. This beautiful hotel features stylish music-themed rooms, a cozy outdoor firepit to relax by, and a fantastic restaurant on-site.
You will find something to enjoy on the property no matter what time you visit, such as outdoor table tennis in summer and easy access to ski passes in winter. Make sure to take a snap with the popular peace sign on the premises before you check out!
Where to stay when you reach Ithaca
Nestled at the southern tip of Cayuga Lake, in the heart of the Finger Lakes region, Ithaca is known for its dynamic blend of natural beauty, vibrant cultural scene, and prestigious educational institutions.
Ithaca is famously home to Cornell University and beyond its collegiate credentials, Ithaca brims with scenic wonders and outdoor adventures. It's often said that "Ithaca is Gorges" due to its impressive number of waterfalls and gorges, including the remarkable Ithaca Falls and Taughannock Falls.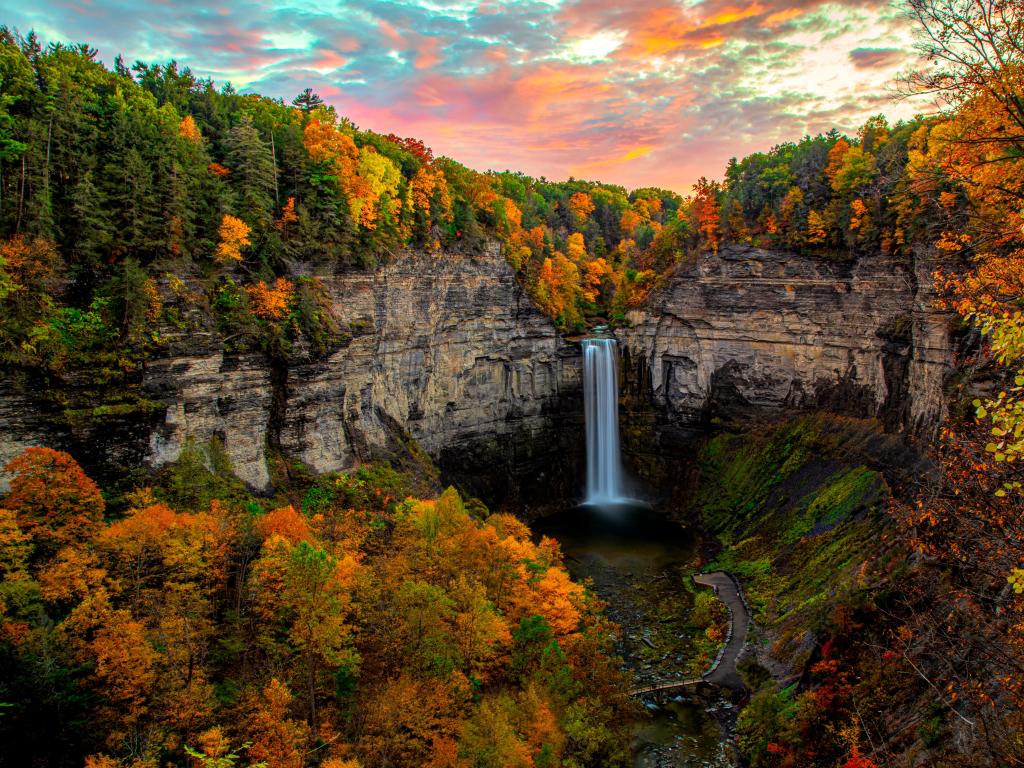 On top of this, Ithaca is the starting point of the Cayuga Wine Trail, the oldest of its kind in the United States, making it a must-visit destination for wine enthusiasts. Whether you're a nature lover, a scholar, or a wine connoisseur, Ithaca has something for everyone.
After visiting Ithaca, drive a little further on the shores of Cayuga Lake to reach Taughannock Falls State Park, home to the famous waterfalls. We highly suggest taking an overnight break here and staying at the Inn at Taughannock Falls.
This gorgeous property, a Victorian house built in 1873, is surrounded by the stunning state park and is a short distance from the waterfalls. Make sure to sample their delicious breakfast before setting off on your next adventure on this beautiful road trip from New York to Finger Lakes.
Where to stay when you reach Seneca Falls
Seneca Falls is a charming small town with a significant place in American history. The town is widely recognized as the birthplace of the Women's Rights Movement; it was the site of the first Women's Rights Convention in 1848.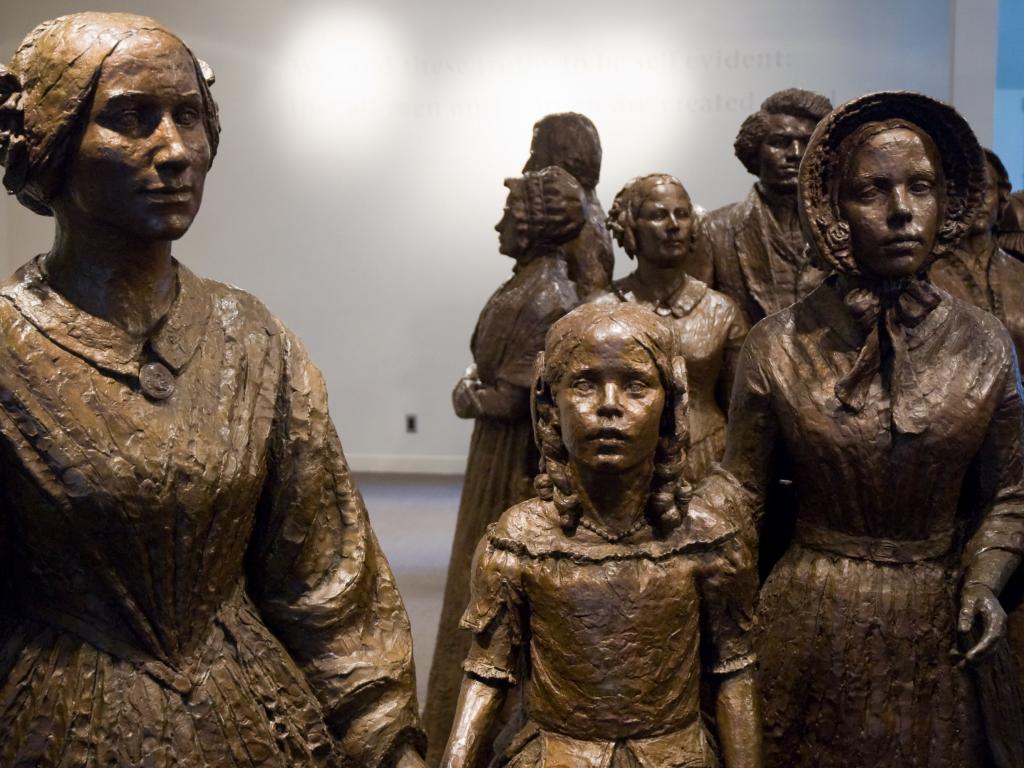 Visitors can explore this pivotal part of American history at the Women's Rights National Historical Park, which includes the National Women's Hall of Fame, dedicated to honoring women whose contributions have made a significant impact.
There's more to Seneca Falls than its historical significance. Wine aficionados will also appreciate its location along the Cayuga Wine Trail. Furthermore, local lore suggests Seneca Falls was the inspiration for Bedford Falls, the fictional town in the classic film "It's a Wonderful Life".
While in Seneca Falls, Barrister's Bed & Breakfast is our favorite place to stay. This beautiful and charming property s located in the historic village of Seneca Falls and is a short drive from the Cayuga Wine Trail and a short walking distance from the Women's Rights National Historical Park.
Things to see on a road trip from New York to Finger Lakes
Whether you're an ardent wine connoisseur, a nature lover drawn to verdant landscapes and cascading waterfalls, or a history buff intrigued by remarkable architecture and intriguing museums, the New York to Finger Lakes road trip promises an unforgettable adventure.
Finger Lakes Wine Country Route
Pocono Mountains - The Pocono Mountains are a natural treasure trove that captivates visitors with its scenic beauty and diverse opportunities for outdoor recreation. The area is ideal for exploring, boasting numerous hiking trails, enchanting waterfalls, and a diverse array of wildlife.
Tunkhannock Viaduct, Tunkhannock - The Tunkhannock Viaduct is a remarkable concrete deck arch bridge that spans the Tunkhannock Creek. From this vantage point, visitors are treated to mesmerizing views of the surrounding landscapes.
Endless Mountains - The Endless Mountains region presents breathtaking vistas of rolling hills, verdant valleys, and charming towns. It's a haven for outdoor enthusiasts, offering a myriad of activities.
Worlds End State Park, Forksville - Tucked away in the mountains of Sullivan County, Worlds End State Park offers magnificent views complemented by hiking trails and camping facilities. The park provides a perfect backdrop for both adventure and relaxation.
Corning Museum of Glass, Corning - The Corning Museum of Glass, housing 35 centuries of glass artistry, offers a unique blend of art, history, and science. Through interactive exhibits, visitors can explore the fascinating world of glassmaking.
Rockwell Museum, Corning - The Rockwell Museum provides a showcase of American art and cultural experience, set within the beautifully restored 19th-century former City Hall in Corning. It's a visual journey through America's past and present.
Seneca Lake Wine Trail, Watkins Glen - The Seneca Lake Wine Trail is a picturesque path lined with over 30 wineries on the shores of the Finger Lakes' largest body of water. It's an ideal location for wine tasting and taking in the tranquil lake views.
Watkins Glen State Park, Watkins Glen - Watkins Glen State Park is renowned for its 19 cascading waterfalls nestled along a stunning two-mile trail. A walk through this park offers an awe-inspiring immersion into nature's beauty.
Watkins Glen International, Watkins Glen - Watkins Glen International is a globally celebrated auto racing track that hosts exciting NASCAR and sports car races. Speed enthusiasts would consider this a must-visit destination on their travels.
Lodi Point State Marine Park, Lodi - Lodi Point State Park is a serene retreat located on the eastern shore of Seneca Lake. It offers the perfect setting for picnics, leisurely walks, and kayaking.
Wagner Vineyards and Brewery, Lodi - Wagner Vineyards and Brewery, one of the oldest wineries in the Finger Lakes region, also boasts an award-winning microbrewery. It's a fantastic spot for tasting a variousines and beers while taking in the lake views from their on-site restaurant.
Montour Falls, Montour Falls - In Montour Falls, the town's main street ends in a dramatic fashion at the base of beautiful waterfalls. This unique layout offers an impressive visual treat that's perfect for photo ops.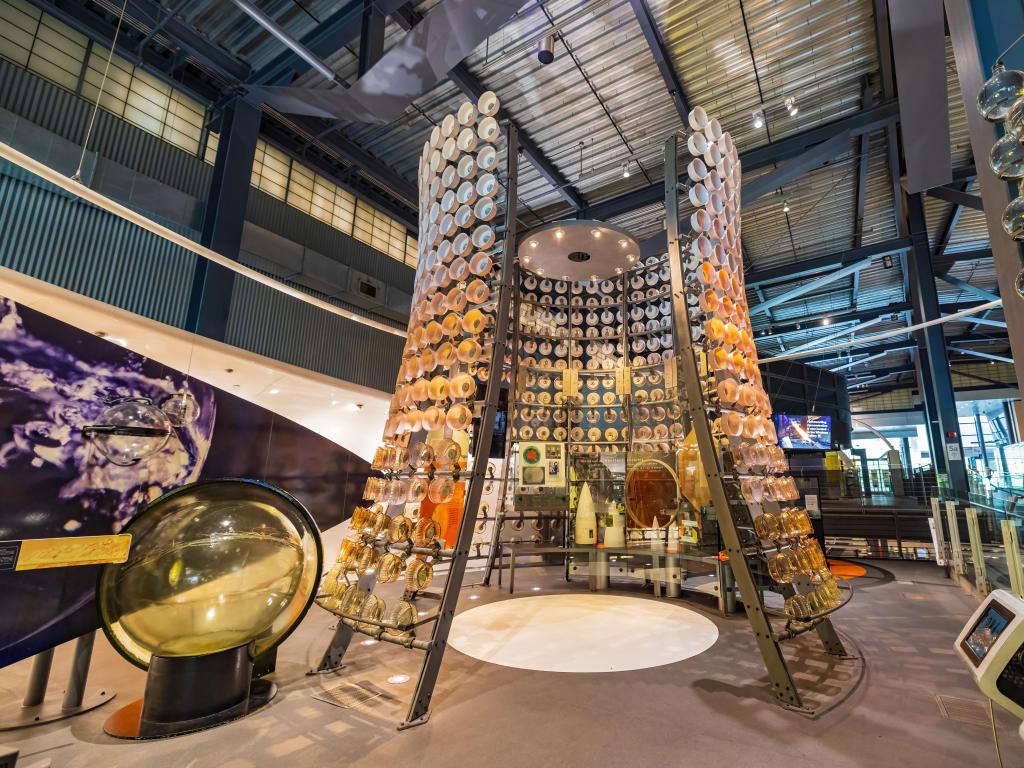 Catskill Mountains Route
Bear Mountain State Park Peekskill - Bear Mountain State Park is an outdoor lover's dream, featuring hiking trails, picnic spots, and stunning views over the Hudson River. In winter, it also offers ice skating and sledding opportunities.
Hudson Valley MOCA, Peekskill - The Hudson Valley Museum of Contemporary Art exhibits works by emerging and established contemporary artists. It serves as an engaging cultural hub, hosting various workshops, performances, and lectures.
Opus 40, Saugerties - Opus 40 is a monumental environmental sculpture handcrafted by sculptor Harvey Fite over 37 years. It's a sprawling labyrinth of finely fitted stones, curated by nature and art alike.
Woodstock Artists Association & Museum, Woodstock - The Woodstock Artists Association & Museum showcases a rich collection of local and regional art. It celebrates the region's cultural heritage, hosting regular exhibitions, art classes, and special events.
Overlook Mountain - Overlook Mountain is a hiking hotspot offering panoramic views of the Hudson Valley and the Catskills at the summit. The trail also features the enchanting ruins of an old hotel and a fire tower.
Phonecia Diner, Phoenicia - Phoenicia Diner serves classic diner fare with a modern twist, using locally sourced ingredients. Its retro, 1960s ambiance and beautiful views of the Catskills have made it a favorite among locals and tourists.
Emerson Kaleidoscope, Mount Tremper - Housed in a silo, this giant kaleidoscope provides a psychedelic experience of colors and patterns. Visitors can lie on the floor and watch a 10-minute show inside this Guinness World Record holder.
Giant Ledge and Panther Mountain - This is a popular hiking destination boasting stunning vistas from Giant Ledge and Panther Mountain. Each ledge offers a unique view of the surrounding mountains and valleys.
Callicoon Theater, Callicoon - The Callicoon Theater is a historic, single-screen cinema that gives you a nostalgic movie-going experience. It shows a mix of new releases and classic films.
Ross Park Zoo, Binghamton - The Ross Park Zoo is one of the oldest zoos in the nation, housing a variety of animals in naturalistic exhibits. The zoo is particularly known for its commitment to animal conservation.
Roberson Museum and Science Center, Binghamton - The Roberson Museum and Science Center offers a blend of art, history, and science exhibits. The museum also houses a planetarium, providing stunning virtual tours of the universe.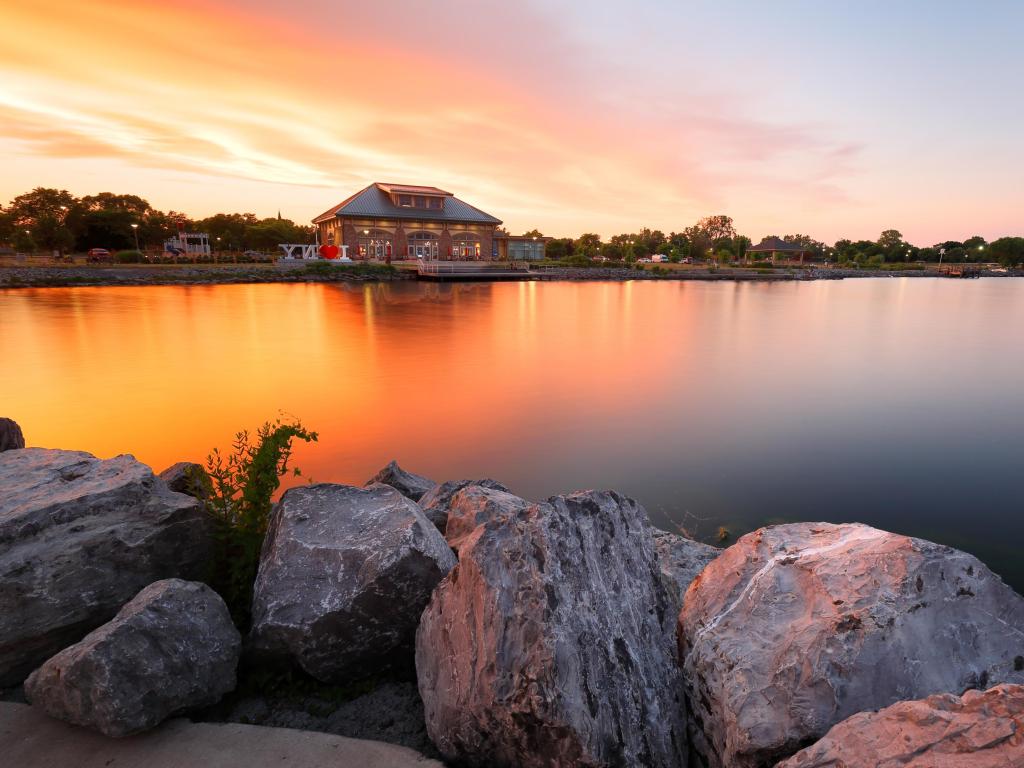 Best time to go on a road trip from New York to Finger Lakes
The best time to set off on a road trip from New York to the Finger Lakes depends largely on your preferences for weather and activities. The Finger Lakes region is indeed a year-round destination, each season offering a unique charm and range of activities.
If you enjoy warm weather, wine tastings, and water sports, summer is ideal, with temperatures averaging between 70 and 80 degrees Fahrenheit. This is the time when the lakes truly shine – locals and visitors alike enjoy boating, fishing, swimming, and kayaking.
The vineyards are lush and green, inviting for wine tastings and vineyard tours. Summer is the peak tourist season, so attractions might be crowded and accommodation prices tend to be higher.
If you are visiting Watkins Glen in summer, Finger Lakes Wine Festival is a paradise for wine enthusiasts. It brings together over 90 wineries, gourmet foods, live music, and art. It's the perfect place to sample the region's celebrated wines.
Spring, with temperatures ranging from 30 to 60 degrees, sees the region reawakening with blooming flowers and greenery. The vineyards begin to sprout their new leaves and create a scene worthy of Van Gogh painting.
2300° GlassFest takes place in May, and is a celebration of glass and the fire arts in Corning, which is known as America's "Crystal City". The festival features glassmaking demonstrations, live music, art vendors, shopping, food, and fireworks.
Fall, on the other hand, presents a glorious display of autumn foliage, creating a picturesque driving experience. The temperatures during this time range between 45 and 70 degrees. Fall is also the harvest season for wineries, making it a great time for wine enthusiasts.
Winter, on the other hand, transforms the Finger Lakes into a snow-covered wonderland. With average high temperatures generally in the mid-30 degrees Fahrenheit, it's the perfect season for winter sports like skiing, snowboarding, and ice fishing.