Road Trip from New York to the Catskills
Forget about the urban buzz of the Big Apple and step into the tranquility of mountains on this road trip from New York to the Catskills, adorned with sparkling rivers, and enchanting forests. Exchange skyscraper-laden skyline with the rugged charm of the Catskill Mountains and get ready to unwind!
The 180-mile road trip from New York to the Catskills will take 4 hours and 20 minutes to drive. The inspirational sights en route are Woodstock, Peekskill, Callicoon, Narrowsburg, Delaware Water Gap, Wappinger Falls and Bear Mountain State Park.
Keep reading to discover the ideal routes, exceptional destinations to explore, remarkable accommodations, unforgettable things to see, and the ultimate time to begin this remarkable adventure.
How far are the Catskills from New York, and how long will the road trip take?
Comparison of road trip routes between New York and the Catskills

| Route | Distance | Driving Time |
| --- | --- | --- |
| The Hudson Valley Route | 180 miles | 4 hours 20 minutes |
| The Callicoon Route | 230 miles | 5 hours |
If you choose the breathtaking Hudson Valley Route from New York to the Catskills, you can expect your journey to take around 4 hours and 20 minutes, covering a splendid and historic distance of about 180 miles.
Following the Callicoon Route, and you'll cover a slightly longer distance of approximately 230 miles and, due to its winding rural roads, takes about 5 hours to complete.
Both routes offer an array of memorable sights from scenic river views to charming townships and verdant mountain landscapes, so we suggest allowing 2-3 days to fully experience all the delights along the way.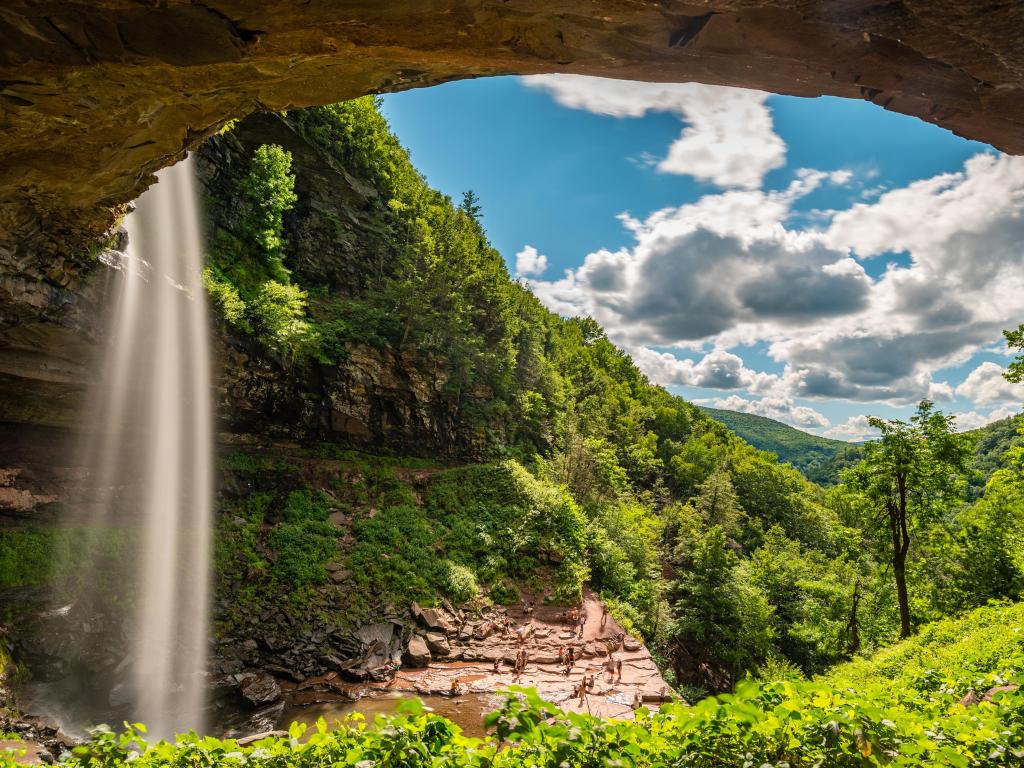 Best road trip route from New York to the Catskills
If the allure of history and culture speaks to your heart, the Hudson Valley Route is a great option to choose. This route delivers an unforgettable journey through iconic sites like West Point, the quaint city of Peekskill and the mystical Bannerman Castle.
The Hudson Valley also provides a panorama of the majestic Hudson River, making this a very scenic route to follow.
If you want to lose yourself in natural vistas (without actually getting lost; that's what we are here for after all!), the Callicoon Route may be more to your taste.
This route weaves through the beautiful Delaware Water Gap, the artistic town of Narrowsburg, and the charming community of Callicoon. What's more, this route offers glistening views of the Delaware River and a taste of the local culture, making it a dream for nature lovers and peace seekers.
How to drive from New York to the Catskills
The map above shows our suggestions for the best road trip routes between New York and the Catskills. Keep reading for detailed descriptions of both routes, where to stay on either, and the best things to do on the way.
The Hudson Valley Route
Begin your journey from New York City and take Interstate 87 (I-87) N towards Peekskill. Here, you can take some time to explore the scenic Peekskill Riverfront Green Park.
From Peekskill, continue north to reach Bannerman Castle located near Beacon, New York. This small island is home to the remnants of a castle, which was built as a residence and military surplus warehouse.
Next, drive further north to Wappingers Falls. Here, you'll find scenic waterfalls and numerous parks, including the Wappinger Greenway Trail that follows the course of Wappinger Creek. It's an excellent spot for a leisure walk or picnic.
Carry on to Poughkeepsie and take a break to visit Vanderbilt Mansion National Historic Site before reaching Catskill, where you'll have the chance to experience the Thomas Cole National Historic Site. Catskill is also a great spot to appreciate the majestic Hudson River views.
From Catskill, drive southwest to the charming town of Woodstock and, finally, make your way past Ashokan Reservoir to the grand finale of your road trip, the Catskill Mountains.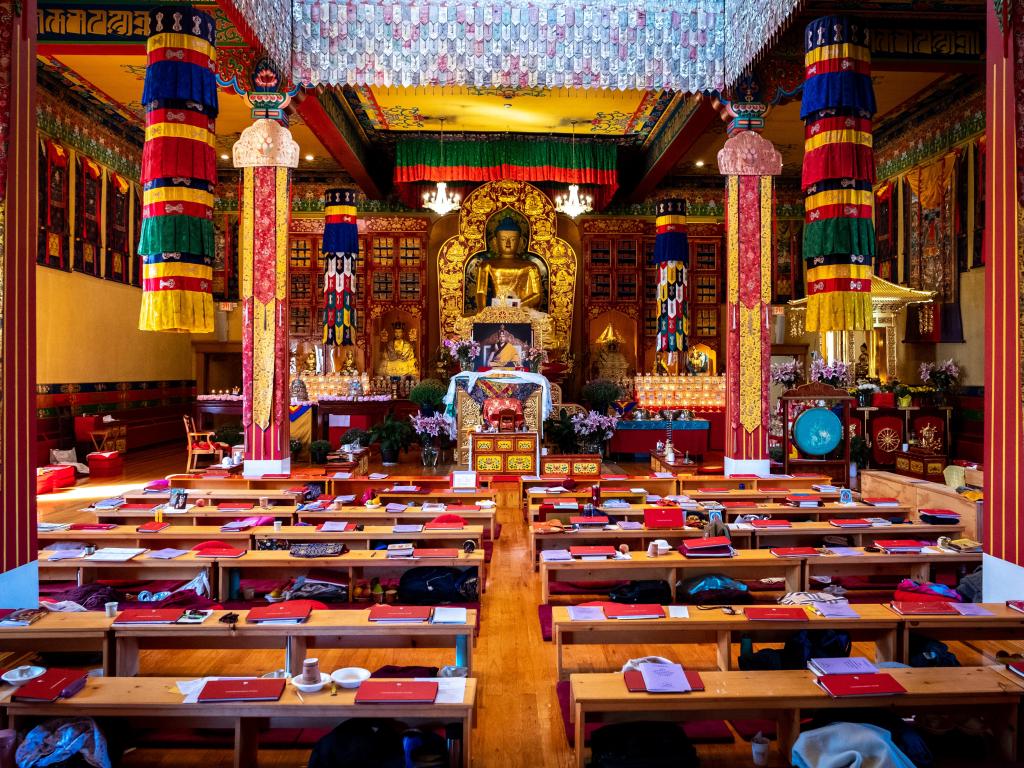 The Callicoon Route
Set off from New York City on I-280. This beautiful region marks the border between New Jersey and Pennsylvania, offering a scenic landscape where the Delaware River cuts through a large ridge of the Appalachian Mountains. Its stunning trails, waterfalls, and historical sites offer a perfect escape into nature.
Continuing your journey, head north along the pristine Delaware River past High Point State Park to the quaint town of Narrowsburg, New York. Be sure to explore the Tusten Mountain Trail for some panoramic views or try to spot an eagle or two.
Further along the route is the incredibly scenic Callicoon. Nestled along the scenic Upper Delaware River, Callicoon is a lively hub of arts, culture, and outdoor fun. Spend some time exploring the Callicoon Farmers' Market.
From Callicoon, venture northeast through the rolling countryside and charming towns of Sullivan County. As you get closer to your destination, the majestic sight of the Catskill Mountains begins to rise in the distance.
Best places to stop between New York to the Catskills
To make sure that your adventure on this road trip from New York to Catskills is as memorable as your majestic destination, we've curated a selection of our favorite stopover points along both routes.
Get ready to discover the hidden gems that lie between the hustle and bustle of New York and the tranquil beauty of the Catskills.
Explore the artistic soul of Peekskill
Peekskill holds a special charm nestled on Hudson Valley Route, located about an hour into the drive. Known for its vibrant arts scene, historic architecture, and awe-inspiring landscapes, Peekskill makes an ideal stopover for those seeking a blend of artistic and natural beauty.
Art lovers will find themselves at home in Peekskill, particularly at the Hudson Valley Center for Contemporary Art. This innovative art space showcases an array of thought-provoking contemporary art from emerging and established artists.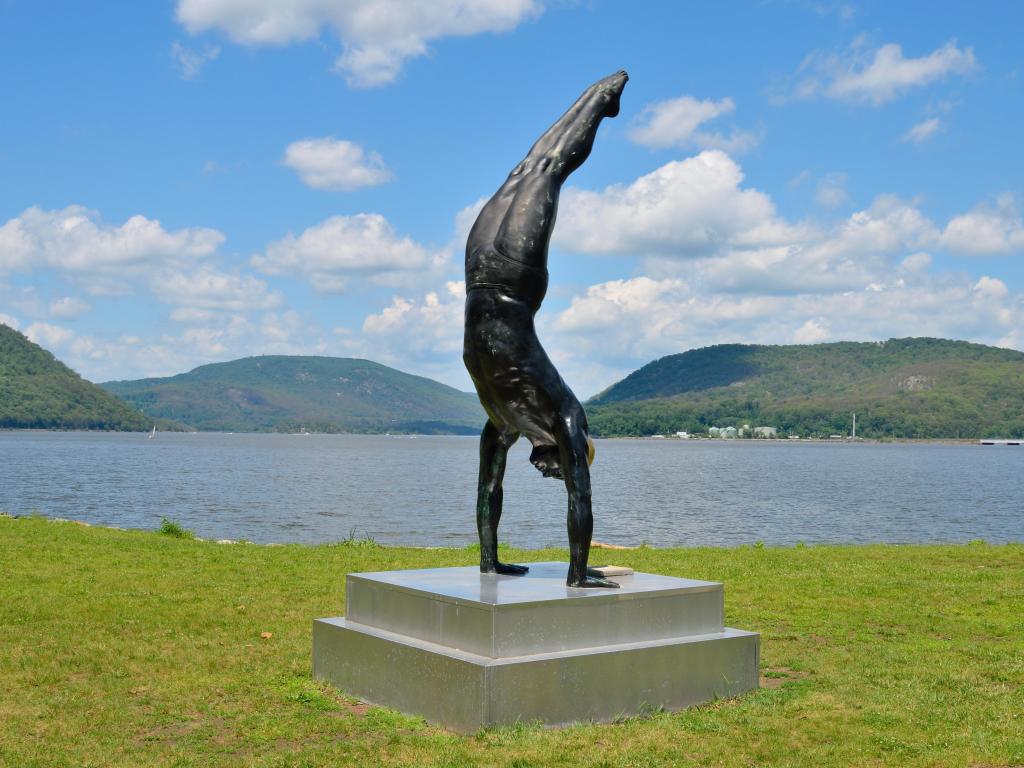 Peekskill's riveting history is ever-present in its beautifully preserved architecture. One standout is the Peekskill Museum, housed in the Herrick House, an impressive Victorian structure.
The outdoors beckons in Peekskill with a walk along the scenic Peekskill Waterfront. Here, you can bask in spectacular Hudson River views, picnic in Riverfront Green Park, or explore Peekskill Bay on a kayak.
Teleport back in time and to an entirely different, majestic scenery at The Abbey Inn & Spa. We are not exaggerating by calling this property stunning; as this hotel is housed in an actual abbey with stunning views of the waterfront.
Featuring a seasonal outdoor swimming pool, a fabulous spa, a manicured garden and a scenic terrace, you might not even want to leave the hotel during your stay. If you do, Bear Mountain State Park is a short drive away for an adventure in the great outdoors.
A scenic stop in Callicoon
Renowned for its scenic beauty, historical charm, and engaging community activities, Callicoon is a great place to stop and explore on the Callicoon Route. Located a little over 3 hours from New York, this small riverside town presents a delightful retreat from bustling city life.
A must-visit in Callicoon is the Farmers' Market, offering a delightful array of fresh produce, locally made crafts, and delicious food. Open on Sundays, the market reflects the heart of the community spirit, inviting visitors to partake in the local flavors and traditions.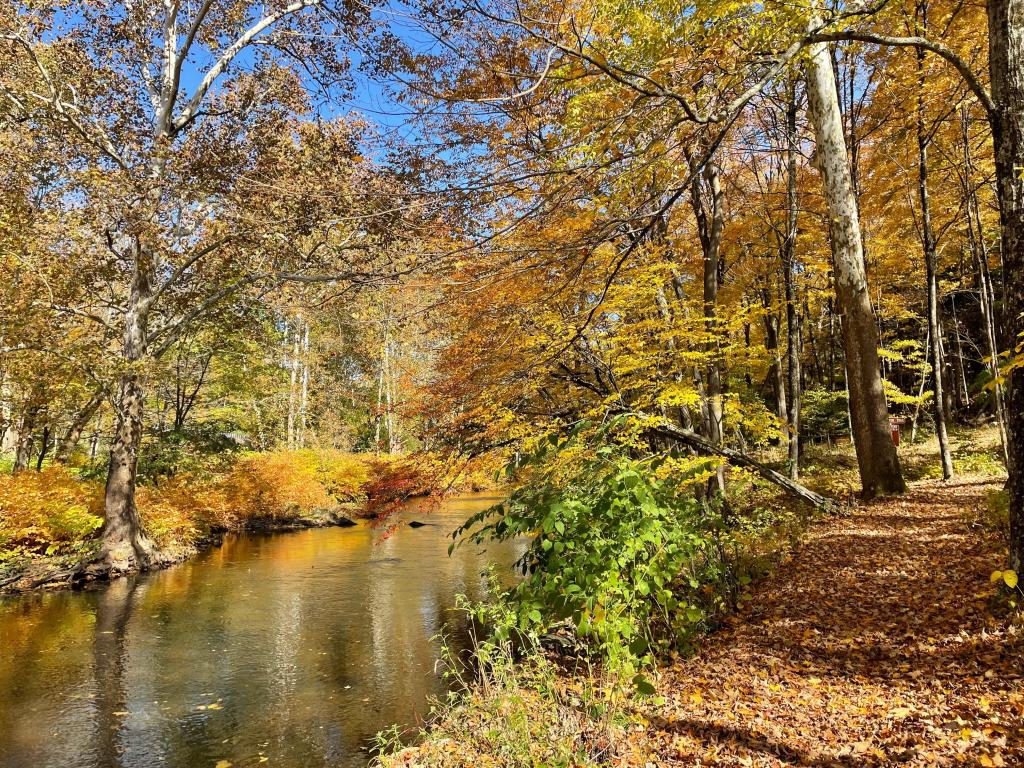 Callicoon sits right along the beautiful Delaware River. You can enjoy numerous activities on or alongside the river such as fishing, kayaking, canoeing, or just having a leisurely picnic by its serene banks.
While in town, visit the Callicoon Brewing Company. Housed in a converted firehouse, this local brewery offers a great selection of craft beers. With its historical charm and friendly ambiance, it's a great spot to unwind after a day of exploring.
Located a short drive from Callicoon, there is no better place than the gorgeous Callicoon Hills. Offering a beautiful seasonal outdoor pool, and a fantastic restaurant, this property is situated in Callicoon Center, a short drive from the Bethel Woods Center for the Arts.
Nestled in emerald-green woods, you will feel immersed in the beautiful natural scenery this area is so famous for. This hotel is also renowned for being very pet-friendly, so your furry friend will be just as comfortable as you will be during your stay.
Where to stay when you reach the Catskills
The Catskill Mountains offer an idyllic retreat into the wilderness that feels far removed from the urban hustle and bustle of New York. Whether you're an outdoor enthusiast or just looking for a tranquil getaway, you will be in for a treat during your visit to the Catskills.
The area is peppered with dotted with towns, each boasting its own distinct character and iconic history. Head to Hunter Mountain for skiing in the winter or music festivals or visit Woodstock with its small-town charm.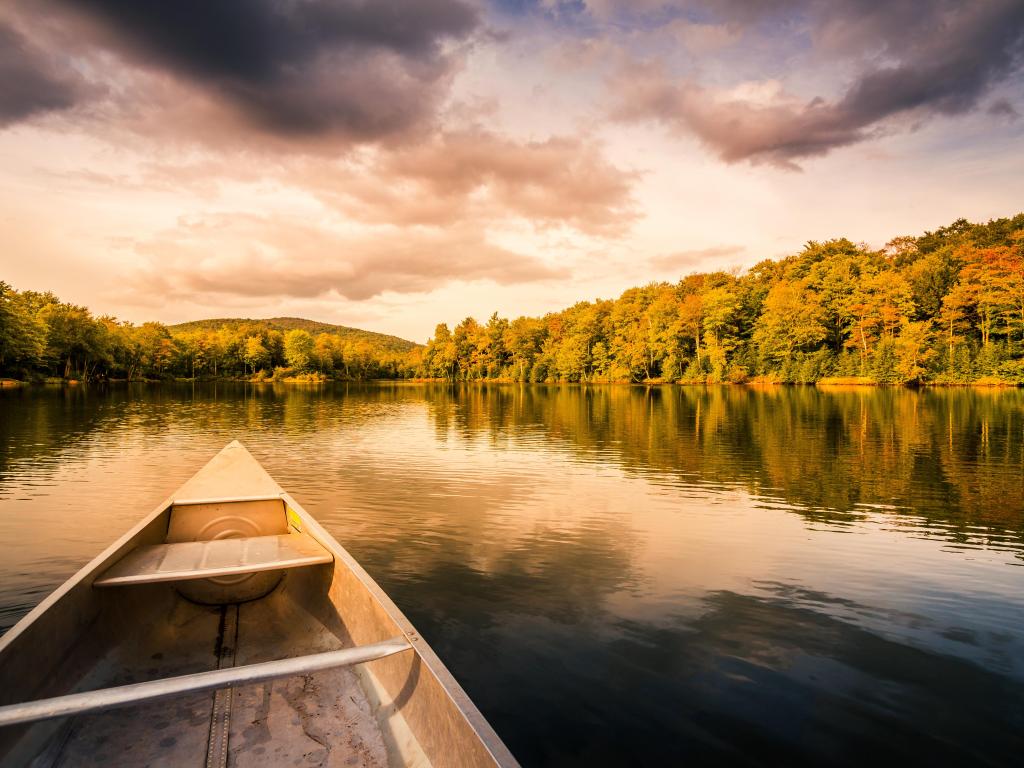 Located a short drive from Big Indian into the mountains, Urban Cowboy Lodge is as charming and quirky as it gets in the Catskills. This beautiful property reflects the atmosphere of its surroundings and embraces the cowboy vibes in the most stylish way.
The property boasts gorgeous views of the mountains and a sun terrace to admire them on. There is also a restaurant on-site that serves delicious American cuisine. Make sure to check out the outdoor Japanese cedar soaking tub for the ultimate relaxation during your stay.
Things to see on a road trip from New York to the Catskills
You're in for an inspiring adventure teeming with cultural richness, captivating history, natural splendor, and a dash of quirkiness on this New York to the Catskills road trip.
So, buckle up and prepare your senses for an unforgettable meander through scenic landscapes a stone's throw from the Big Apple. Here are our favorite must-see attractions on each route:
The Hudson Valley Route
Peekskill Riverfront Green Park, Peekskill - This riverside park offers walking trails, benches, and stunning views of the Hudson River. It's a great place for a picnic or a peaceful walk, often hosting events and concerts during the summer months.
Bear Mountain State Park - A natural jewel in the Hudson Valley, boasting verdant forests, scenic trails, and a majestic view of the Hudson River. With activities ranging from hiking and birdwatching to cross-country skiing and ice skating, it provides a year-round outdoor haven.
Bannerman Castle, Pollepel Island - This castle's ruins are a picturesque yet haunting sight in the middle of the Hudson River. It can only be visited by guided tour, making it a unique and intriguing exploration.
Dia Beacon, Beacon - This is a contemporary art museum in Beacon located in a former Nabisco box printing factory. It features large-scale installations and sculptures, with a unique collection that focuses on art from the 1960s to the present.
Wappinger Greenway Trail, Wappinger Falls - This scenic trail in Wappingers Falls follows Wappinger Creek and provides a wonderful place to walk, bike, or just enjoy nature. It's a hidden gem of the Hudson Valley, offering beautiful sights in all seasons.
Thomas Cole National Historic Site, Catskill - This preserved home of painter Thomas Cole in Catskill is where the Hudson River School of painting was born. The site also includes his art studio and beautiful grounds overlooking the Catskill Mountains.
Olana State Historic Site, Hudson - This is the home and studio of Frederic Edwin Church, a famous American landscape painter. Located in Hudson, the 250-acre property boasts beautiful views and a Persian-inspired house that's now a museum.
Woodstock Artists Association & Museum, Woodstock - Located in Woodstock, this museum showcases works by area artists and maintains a dynamic program of exhibitions. It's a great way to explore the local art scene and engage with the history of the area.
Karma Triyana Dharmachakra, Woodstock - This Tibetan Buddhist monastery located in Woodstock is a place of peace and spirituality. Visitors are welcome to explore the beautiful grounds, attend a guided tour, or participate in a meditation session.
Vanderbilt Mansion National Historic Site, Hyde Park - This grand Gilded Age mansion offers a glimpse into the lifestyle of the wealthy Vanderbilt family. The mansion is surrounded by beautifully landscaped grounds, which are also open to the public.
The Culinary Institute of America, Hyde Park - One of the world's premier culinary schools, you can book a tour, attend cooking demonstrations, or dine at one of the several student-staffed restaurants.
Opus 40, Saugerties - This environmental sculpture park in Saugerties was created by Harvey Fite over nearly four decades. The site includes sculptures, dry-stone walls, and walkways—all made from local bluestone.
Kaaterskill Falls - Near Palenville, this two-tiered waterfall is one of the highest in New York State. It's a popular destination for hiking, photography, and picnicking, and the trail offers stunning views of the surrounding Catskill Mountains.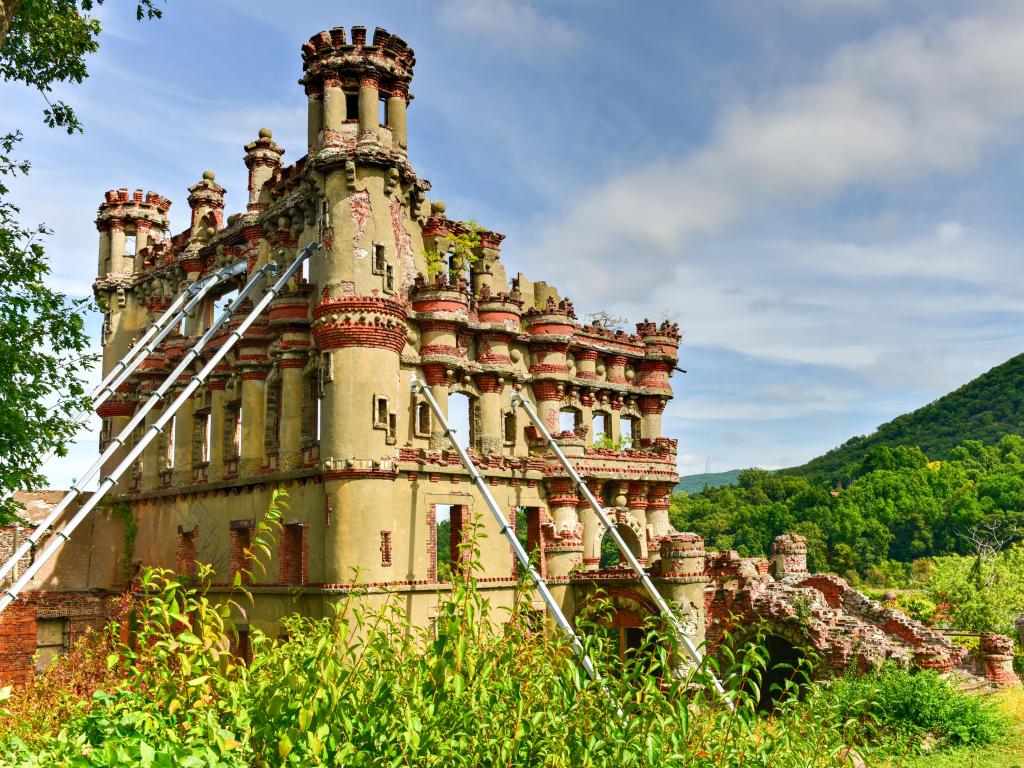 The Callicoon Route
Delaware Water Gap National Recreation Area - The Delaware Water Gap is a beautiful place where the Delaware River cuts through a large mountain ridge. Visitors can enjoy outdoor activities such as hiking, fishing, camping, and bird watching.
Shawnee Playhouse, Shawnee on Delaware - A historic theater offering a variety of productions throughout the year. From musicals to comedies and dramas, the playhouse is a cultural gem in the Delaware Water Gap area.
Bushkill Falls - Known as the 'Niagara of Pennsylvania,' Bushkill Falls features a network of hiking trails and bridges providing access to eight different waterfalls. This spectacular site offers a variety of outdoor activities, including fishing, bird-watching, and picnicking.
Grey Towers National Historic Site, Milford - Grey Towers is the ancestral home of Gifford Pinchot, the first chief of the US Forest Service. The site offers a tour of the mansion, garden, and grounds and provides insight into Pinchot's contributions to American conservation efforts.
Upper Delaware Scenic and Recreational River, Narrowsburg - This stretch of the Delaware River is known for its scenic beauty, recreational opportunities, and historical significance. Activities such as rafting, canoeing, fishing, and bird-watching are popular here.
Tusten Mountain Trail, Narrowsburg - This three-mile trail offers a moderate hike with panoramic views of the Delaware River. It's a fantastic spot for bird watching, particularly for spotting bald eagles.
Fort Delaware Museum, Narrowsburg - This replica of the original fort offers a peek into colonial life during the American Revolution. It's a living history site featuring period reenactments and educational exhibits.
Callicoon Theater, Callicoon - This historic single-screen movie theater offers a mix of independent films, blockbusters, and locally-produced content. It's a step back in time, offering a unique cinematic experience.
Callicoon Farmers' Market, Callicoon -This vibrant farmers' market is a gathering place for the community, offering fresh, local produce, artisanal goods, and live music. It's a great place to sample the region's finest foods and crafts.
Bethel Woods Center for the Arts, Bethel - Located at the site of the 1969 Woodstock festival, this music venue and museum is a must-see. The museum offers exhibits related to the iconic music festival and the 1960s, while the venue hosts a range of contemporary performances.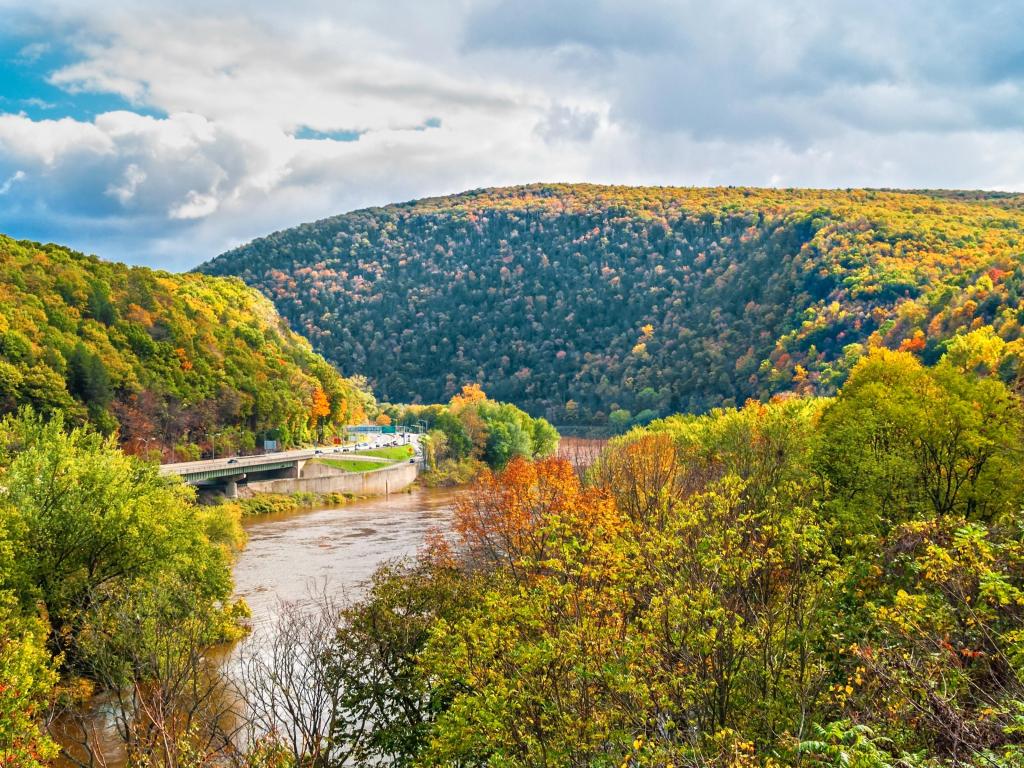 Best time to go on a road trip from New York to the Catskills
The best time to set off on a road trip from New York to the Catskills largely depends on your preferred activities and weather conditions. This trip can indeed be done year-round, as each season offers its unique charm and attractions.
Spring and fall in the Catskills offer some of the region's most striking natural beauty. In the spring, the landscape comes alive with vibrant wildflowers, budding trees, and wildlife emerging after the long winter.
During spring, temperatures in the Catskills typically range between 40 and 70 degrees Fahrenheit, making it a perfect time to enjoy blooming wildflowers, bird-watching, and hiking.
The Fall, on the other hand, is a magnet for leaf-peepers and those who enjoy the crisp, cool air of autumn. This season is one of the most visually stunning times to visit the Catskills, as this is when the region's vast forests change into vibrant hues of orange, red, and yellow.
Temperatures during this period can range from the high 60s to the low 40 degrees, which makes it the perfect time to travel if you are looking to break in your new hiking boots.
If you are visiting in September, check the Catskill Mountain Thunder Motorcycle Festival out. This event held in East Durham draws motorcycle enthusiasts from all over for camaraderie and fun in the beauty of the fall Catskills.
In the summer, the weather is generally warm with temperatures varying from the low 70s to the mid-80 degrees. During this season, you can enjoy canoeing, kayaking, or swimming in the many rivers and lakes.
In the winter, the Catskills become a snowy wonderland with temperatures often dropping below freezing, usually ranging between the high 30s and low 20s degrees Fahrenheit.
From downhill skiing and snowboarding at popular resorts like Hunter Mountain and Windham Mountain nearby, to cross-country skiing, snowshoeing, and snowmobiling on miles of trails, there's plenty to enjoy for winter sports enthusiasts.