Road Trip from Orange County to San Francisco
If you are looking for a road trip that presents to you some of California's rich history, beach holiday locations and mountain views, this road trip from Santa Ana in southern California, to San Francisco in north-central California, is for you.
The 750-mile road trip from Orange County to San Francisco takes 13 h to drive non-stop. You'll drive via Death Valley and Yosemite National Parks, South Lake Tahoe, and Sacramento, or take the coastal route via Solvang, Big Sur, and Pescadero.
Read on to discover our recommendations for best routes, things to see along the way, and ideal times to do this road trip.
How far is San Francisco from Orange County, and how long will the road trip take?
"Comparison of road trip route options between Orange County and San Francisco

| Route | Distance | Driving Time |
| --- | --- | --- |
| The Pacific Coast Route | 530 miles | 11 hours 30 minutes |
| The Yosemite Route | 750 miles | 13 hours 30 minutes |
The road trip from Orange County to San Francisco is 750 miles long and takes 13 hours and 30 minutes to drive non-stop, following the Yosemite Route.
The alternative Pacific Coast Route is slightly shorter at 530 miles long, which will take 11 hours and 30 minutes to drive without accounting for any detours.
You could do this road trip in 1-2 days driving non-stop. However, there are so many amazing natural landmarks and fascinating towns and cities to explore along the way that to give it all justice, we'd recommend 2-4 days for doing this road trip.
Best road trip route from Orange County to San Francisco
You can choose from two route options. Both options allow you to enjoy some of California's most stunning landscapes and exciting towns and cities, and the choice of which route to take thus depends on which particular sites and areas you would like to see.
The Yosemite Route takes you from buzzing Orange County through the deserts of southern California, past Death Valley National Park, and into the Sierra Nevada mountains. You can explore the mountains by visiting some of the many national parks and forests the area contains, including Inyo National Forest and Kings Canyon and Yosemite National Parks.
Along the route, you may also stop over at various cities such as Mammoth Lakes in the mountains, South Lake Tahoe, and Sacramento.
The alternative Pacific Coast Route is a little bit shorter and takes you from Orange County to San Francisco along the coast with a few slightly inland stops as well.
You can take in the lively history and lifestyles of various unique cities such as Santa Monica, Santa Barbara, Monterey and Half Moon Bay. You will also see breathtaking landscapes, such as the coastal cliffs of Montaña de Oro State Park or the Big Sur area, or the forests of the Big Basin Redwoods State Park.
The Pacific Coast Route
To travel this stunning coastal route, first take I-5 from Santa Ana to Los Angeles, then I-10 to reach the coast at Santa Monica.
From Santa Monica, you'll follow the coastline west along California State Route 1, until Santa Barbara. From this city with a rich Spanish history, California State Road 154 takes you to Solvang. Do take a moment to visit the stunning attractions infused with Danish culture of this small town.
From there, you'll follow US 101, until at Bradley you'll take the Jolon Road to reach the coast again just south of the Big Sur coastal area.
California State Route 1 will guide you north from Big Sur, via the fascinating cities of Monterey and Pescadero, all the way to San Francisco. Along the way you'll also travel past the beautiful state forests of The Forest of Nisene Marks and Big Basin Redwoods.
The Yosemite Route
You'll first drive north from Santa Ana, Orange County, along Interstate 15 (I-15). To carry on towards Death Valley National Park, take Route 395 at Hesperia, and then follow Trona Road from Randsburg towards Death Valley.
After visiting this stunning, low-lying national park, follow Route 190 which connects with Route 395 again, towards Mammoth Lakes and Yosemite National Park. Along the way, you may also admire Inyo National Forest and Kings Canyon National Park.
To enter Yosemite, you may take Tioga Road from Lee Vining, although during winter months, this road is closed, and alternative entrances need to be used.
After visiting Yosemite, you'll drive from Lee Vining north along Route 395 towards South Lake Tahoe. From this city, turn west to reach the enchanting Eldorado National Forest, beyond which you'll arrive in Sacramento, the capital city of California.
Finally, follow I-80 from Sacramento to San Francisco.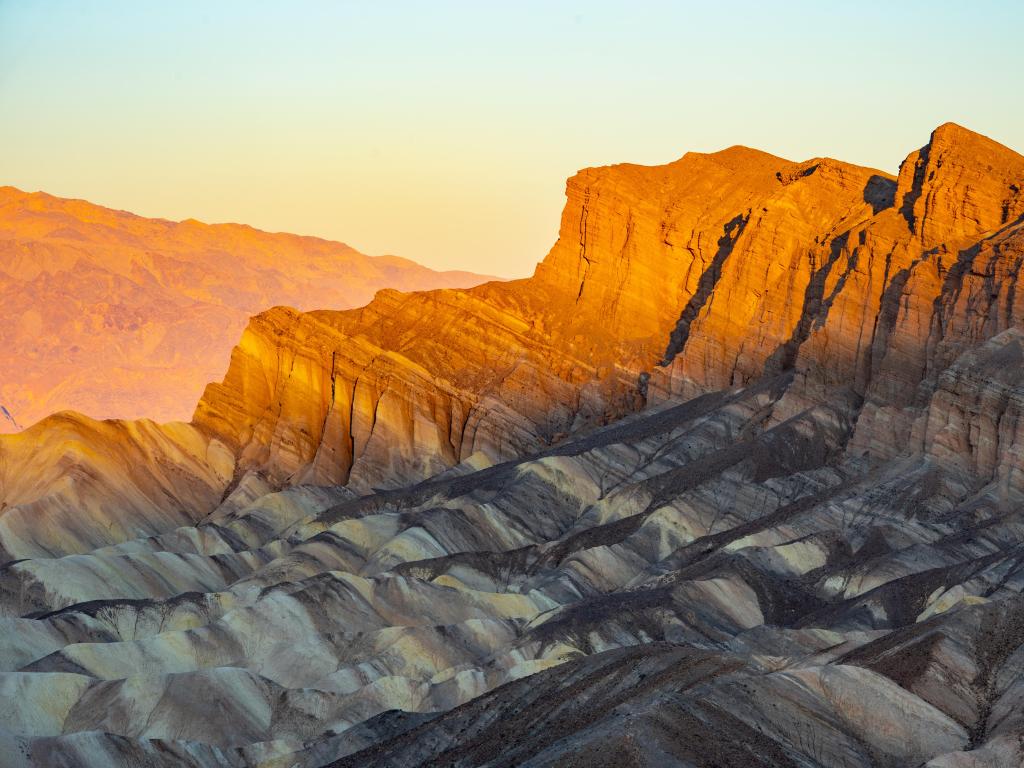 Best places to stop between Orange County and San Francisco
Doing a road trip with so many diverse, fascinating towns and breathtaking natural landscapes to visit along the way, you'll wish to stay over somewhere interesting yet peaceful to rest well on your journey.
Of all the wonderful hotels en route, here are some of our favorites for you to consider.
Experience a relaxing stay by Lake Tahoe
South Lake Tahoe is a beautiful city by Lake Tahoe, located about two-thirds of the way along the Yosemite Route. It is a wonderful place to stay overnight on your road trip, after exploring the Sierra Nevada mountains.
South Lake Tahoe is known for the highly popular Heavenly Mountain ski resort, as well as the sandy beaches and water sports opportunities of the sky-blue Lake Tahoe.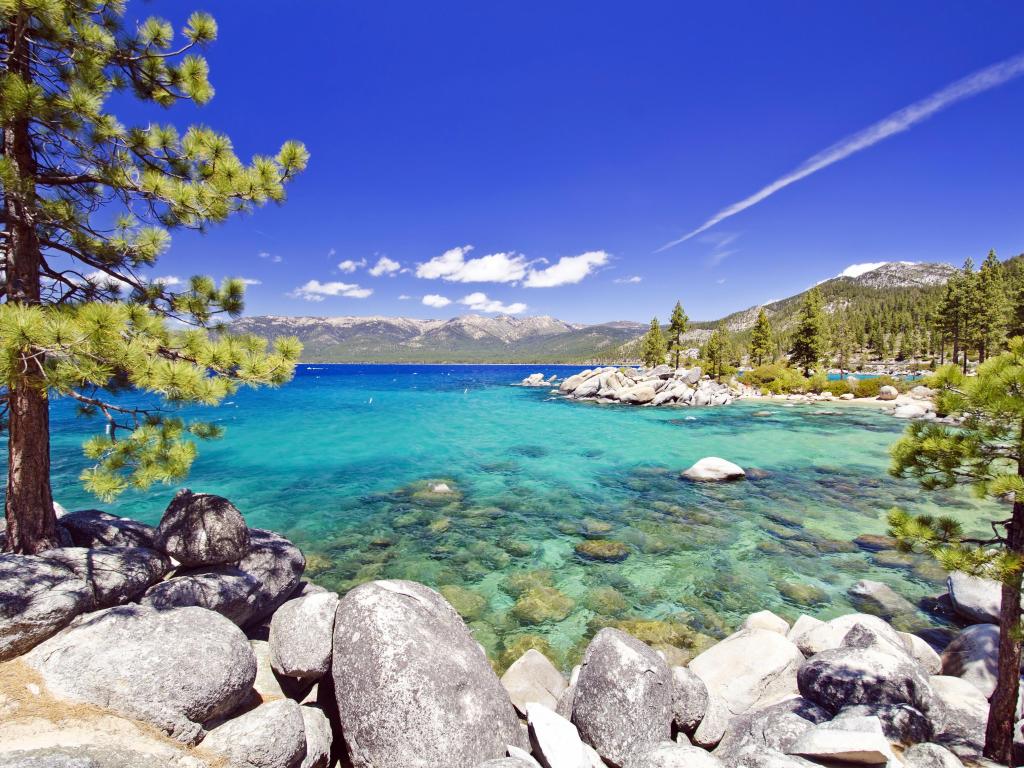 There are lovely attractions and things to do in South Lake Tahoe. In wintertime, spending some time at Heavenly Mountain Resort is a must.
In the summer, you can take in the views from the Heavenly Gondola or enjoy the numerous water-related activities from swimming to kitesurfing and wandering the sandy, white beaches. Alternatively, you might wish to hike up the nearby mountains at Emerald Bay State Park.
For a luxurious yet comfortable stay overnight, we can recommend the Black Bear Lodge, located just half a mile from the lake. This hotel is easy to reach from the road hugging the coast of Lake Tahoe.
The beautiful log cabin-like accommodation is a superb place to rest before continuing further on your journey. The hotel has a hot tub/jacuzzi, a common living room with a wonderful fireplace, a wine bar, as well as free parking available.
Being located in central South Lake Tahoe city, you can also enjoy all that the city center has to offer, such as the many restaurants and bakeries. Heavenly Mountain Resort and the gondola are just over a mile away from the hotel.
Explore Danish-Californian culture in picturesque Solvang
Solvang is located about one third of the way from Orange County to San Francisco, on the Pacific Coast Route. It is a quaint town, and a wonderful option for an overnight stay, being right on the route of your road trip.
Solvang is especially known for its Danish-style architecture and attractions, such as windmills and thatched roofs, as well as famous museums and other landmarks. You might also wish to visit the Solvang Farmer's Market or the Solvang Windmill.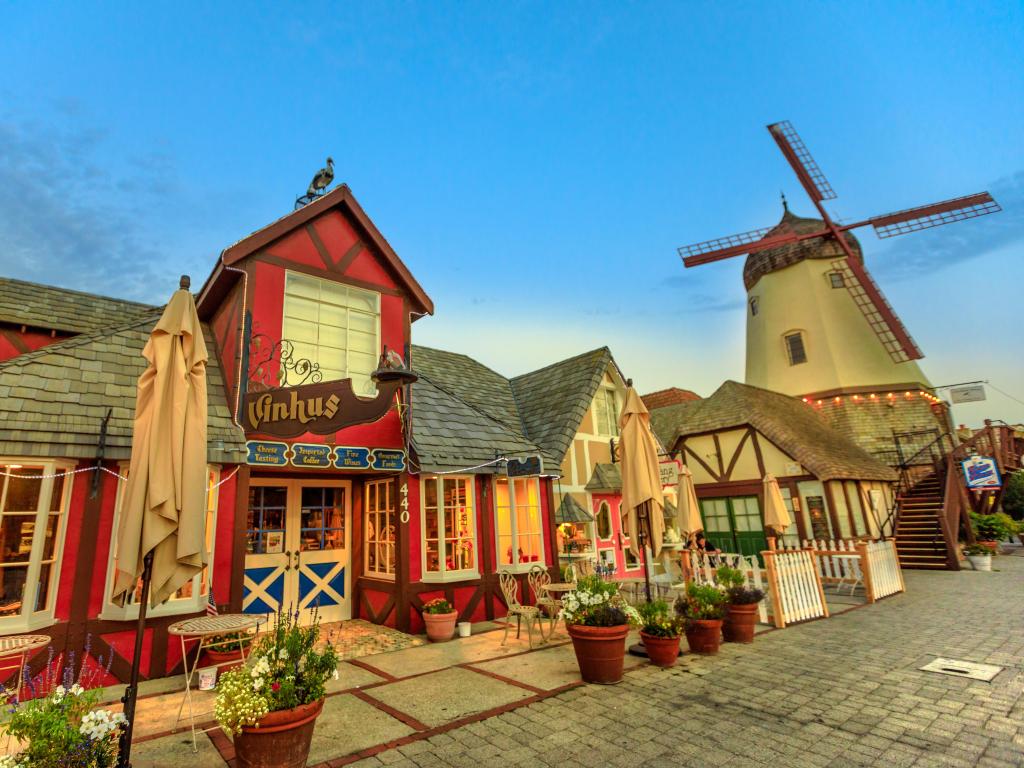 Some of the town's many attractions include the Elverhøj Museum, dedicated to the preservation of Danish heritage in the Solvang area, the Hans Christian Andersen Museum where you may learn about the author's life and works, and Mission Santa Inés, a building that was built by Spanish missionaries in the 19th century.
For an overnight place to stay, there is no place better than Hotel Ynez, located right on the route bringing you into Solvang, about two miles before the village. If you are looking for the ultimate luxurious experience, there is nothing that can beat a stay at Hotel Ynez.
The rooms are impeccable, and there are lovely hangout spots both indoors and on the beautiful grounds of the hotel. You'll find free parking here as well as an outdoor swimming pool.
In nearby Solvang, you'll find fantastic restaurants and cafés. There you can also visit some of the main attractions in the area, including Solvang Windmill, Hans Christian Andersen Museum, or the Elverhøj Museum.
Where to stay when you reach San Francisco
With plenty to do in San Francisco, from admiring the city's rich architecture to visiting the Golden Gate Bridge, you'll wish to stay somewhere comfortable where you can easily explore the city.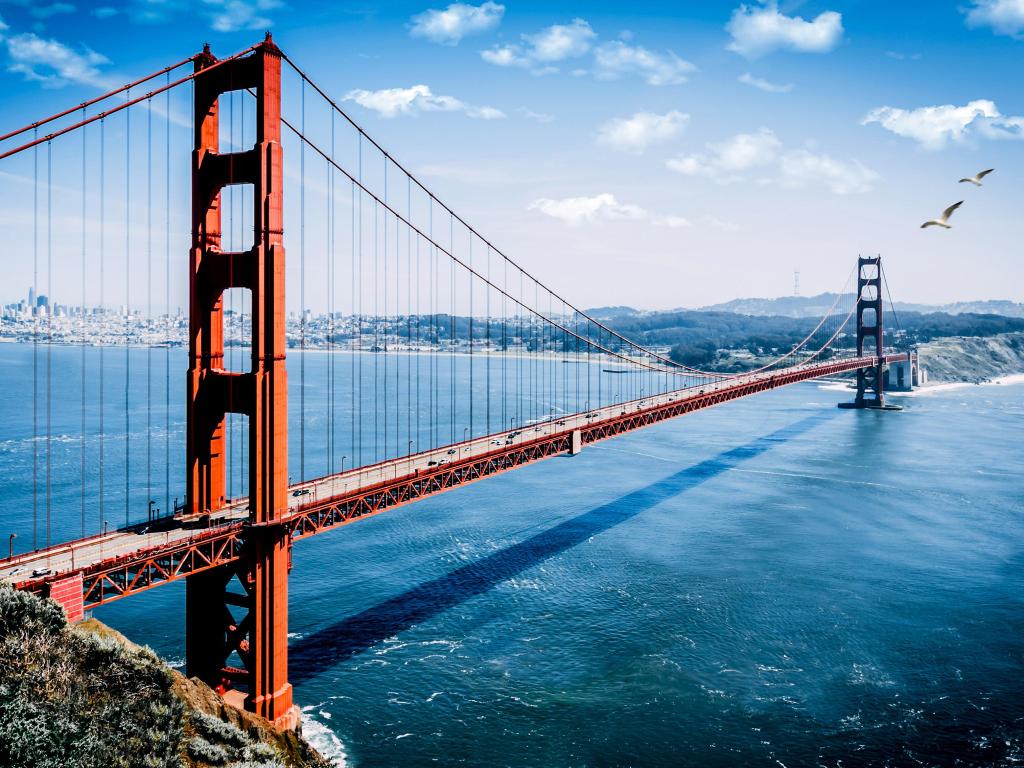 citizenM San Francisco Union Square is centrally located in San Francisco and is a fantastic choice for lodging. It is a modern, comfortable hotel, with amazing service, which also has a fitness center and a great restaurant.
Nearby, you'll find several popular attractions, including Union Square and the San Francisco Museum of Modern Art. The exciting Chinatown and Fisherman's Wharf are nearby, and it is just about three miles from the Golden Gate Bridge.
Things to see on a road trip from Orange County to San Francisco
The road trip from Orange County to San Francisco has some stunning places to visit, from incredible natural areas and landmarks to diverse, culturally rich towns and cities of the Sierra Nevada mountains or the Pacific coast.
Read on to discover some of our recommendations for the best things to see and do on this road trip.
The Yosemite Route
Death Valley National Park - Death Valley National Park includes the lowest point in North America. You may walk along trails past pine trees or admire spiky salt mounds in this hottest and driest national park in the US.
Kings Canyon National Park, California - In the Sierra Nevada mountains, this national park is known for huge sequoia trees, including the majestic General Grant Tree, and steep, granite canyon walls. It is definitely a worthy place to visit on this road trip.
Inyo National Forest - Inyo offers stunning opportunities for hiking, climbing and fishing. In this forest area you may spot various wildlife, including the Sierra Bighorn sheep, slender salamander, and golden trout.
Mammoth Lakes, California - Mammoth Lakes is a picturesque town surrounded by mountains and forest, where you may enjoy skiing, taking a dip in hot springs, or walking the many stunning nature trails of the area.
Yosemite National Park, California - In Yosemite, visit the sequoia forests, Bridalveil Fall, or the majestic cliffs El Capitan and Half Dome. To enter the park, take Tioga Road in Lee Vining between May and November, or an alternative entrance during winter months.
South Lake Tahoe, California - Lake Tahoe is the largest alpine lake in North America. South Lake Tahoe has beautiful sandy beaches for a visitor to enjoy, as well as one of the most favored ski resorts of the country.
Eldorado National Forest, California - You'll find an amazing system of walking trails, beautiful oak and conifer forests, and high peaks, at Eldorado National Forest.
Sacramento, California - The capital city of California, Sacramento is a friendly, enchanting city. It harbors a great number of farmer's markets, and you may enjoy visiting attractions such as the California Museum or Old Sacramento quarter.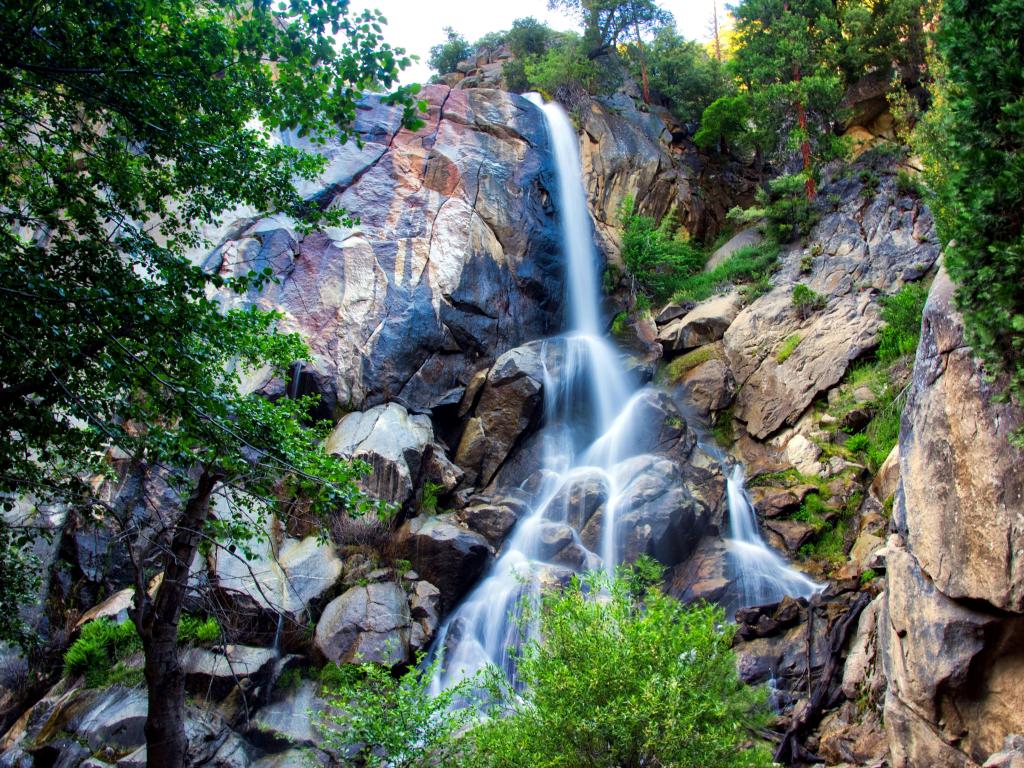 The Pacific Coast Route
Los Angeles, California - A colorful city known for Hollywood and the movie studios of Universal and Paramount, Los Angeles also has other amazing landmarks to explore, such as The Getty art museum and The Original Farmer's Market.
Santa Monica, California - Santa Monica is a popular beach destination. You'll also find the Santa Monica Looff Hippodrome here, located on the Santa Monica Pier.
Santa Barbara, California - Spanish influence can be seen strongly in Santa Barbara, with its many white buildings and terracotta roofs. The city has a beautiful, long, white beach and just behind it rise the Santa Ynez mountains.
Solvang, California - Solvang is known for its rich Danish heritage, and you'll find thatched roofs here, as well as windmills and Dutch architecture.
Montaña de Oro State Park - This nature area on the coast harbors stunning rock formations by the sea, as well as cliffs, canyons, beaches and dunes.
Pfeiffer Big Sur State Park - This park is located on the banks of Big Sur River. You'll find beautiful redwood forests here; one tree nicknamed the Colonial Tree is thought to be 1100-1200 years old.
Big Sur, California - There are long stretches of rugged, beautiful, undeveloped coastline in the Big Sur area. The village of Big Sur has some shops and businesses.
Monterey, California - Monterey is a stunning destination on the coast, popular among artists. You'll find wonderful, fresh seafood here, or you may explore the diverse marine wildlife of the ocean.
The Forest of Nisene Marks State Park - In this forest, you'll find redwood groves, chaparral vegetation on the hotter ridges, and several oak species. This is a popular destination for hiking and mountain biking.
Big Basin Redwoods State Park - There are old-growth forests and huge redwoods in this oldest State Park of California. You may explore the area's many meandering walkways, or visit beautiful, secret waterfalls.
Pescadero, California - Pescadero is a farming and ranching community, and it also has many lovely beaches, as well as hiking trails to the nearby Santa Cruz mountains.
Half-Moon Bay, California - Half Moon Bay has a rich history mixed with Spanish culture. The town is known for its several beaches, cliffs overlooking the ocean, and Mavericks, a high-wave surf location.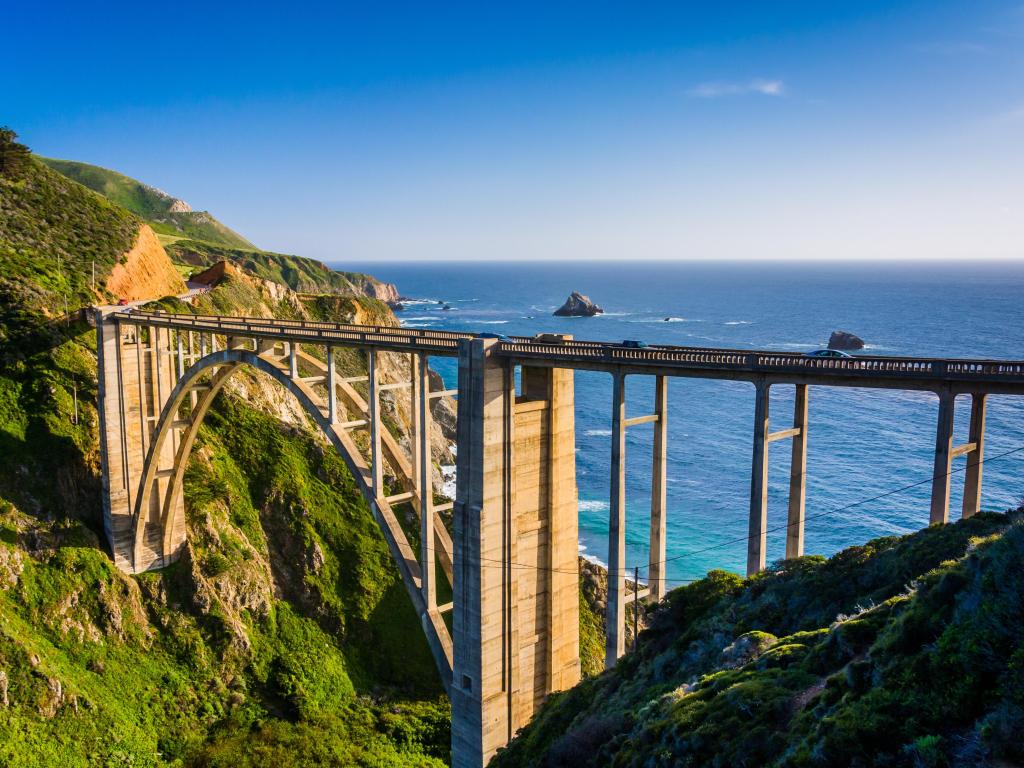 Best time to go on a road trip from Orange County to San Francisco
San Francisco is pleasant to visit any time of the year. During the summer months, temperatures range between 53 and 85 degrees Fahrenheit in San Francisco. All tourist attractions are open and operational; this is thus generally a more crowded time in the city
In winter, temperatures usually don't get lower than 51 degrees or higher than 68 degrees Fahrenheit. It is thus slightly cooler in San Francisco in the winter months.
Spring or fall are generally the best times to visit San Francisco. Temperatures during these seasons are usually mild and pleasant. September-October usually sees temperatures between 52 and 80 degrees Fahrenheit.
Crowds are also thinner than in the summer. However, it does often get foggy in San Francisco between spring and fall - something the locals are quite used to.
There are lots of amazing events and festivals in San Francisco over the year, as well, and you might wish to consider these when planning the timing of your road trip.
For example, the Chinese New Year Parade is celebrated in San Francisco every February. In April, the wonderful Cherry Blossom Festival is organized each year. This festival is a special display of Japanese traditions and heritage.
San Francisco International Film Festival also takes place in April, whereas in August, one drawcard is Outside Lands Music Festival, which is the largest independently owned music festival in the US.
Also a music festival, Hardly Strictly Bluegrass in October is a free and non-commercial music festival, highly worth going to San Francisco for.