Road Trip from Orange County to Seattle, Washington
If you love a trip that has it all - incredible scenery, iconic cities, spectacular beaches, desert views, and gorgeous National Parks - then a road trip from Orange County to Seattle might be what you're looking for.
The 1,485-mile road trip from Orange County to Seattle takes 30 hours to drive along the Pacific Ocean via Los Angeles, Big Sur, San Francisco, and Oregon. Or take an inland route through Las Vegas, Hoover Dam, and Salt Lake City.
Stay with us to find the best coastal and inland route options, hotel recommendations, exciting things to see, and the best time to go on this unforgettable road trip.
How far is Seattle, Washington from Orange County, and how long will the road trip take?
Comparison of road trip routes between Orange County and Seattle, Washington

| Route | Distance | Driving Time |
| --- | --- | --- |
| The Pacific Coast Route | 1,485 miles | 30 hours |
| The Las Vegas Route | 1,680 miles | 26 hours |
The Pacific Coast Route from Orange County to Seattle, Washington is 30 hours long and covers 1,485 miles, without accounting for stops.
Alternatively, you can go inland - via the Las Vegas Route - which covers a longer distance of 1,680 miles in a shorter driving time of 26 hours.
Because this road trip covers a significant distance and some unmissable locations on the way, you'll want to split your trip over at least 4-5 days. Explore the route leisurely and make sure you include enough time for rest.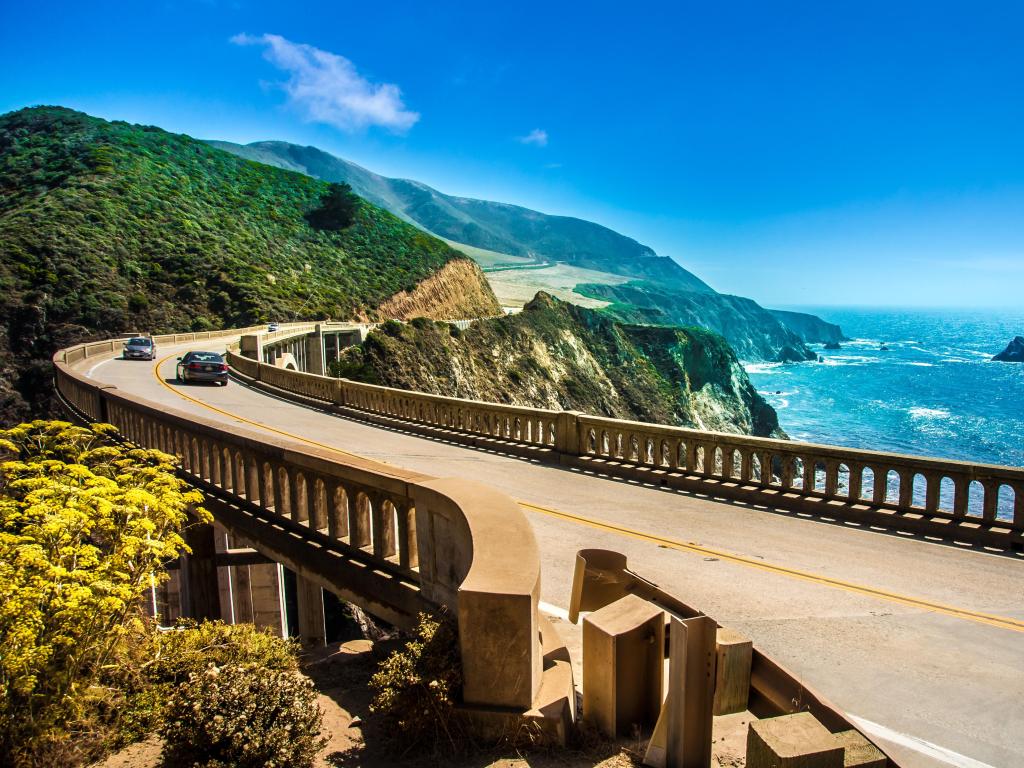 Best road trip route from Orange County to Seattle, Washington
We have detailed two fantastic route options for you, one along the Pacific coast and the other exploring the natural diversity of Utah.
The Pacific Coast Route is the most direct way to reach Seattle. The route will take you through iconic cities like Los Angeles, San Francisco, and Portland. Because of its popularity, though, you may experience heavy traffic en route.
Also, you'll experience some lovely beaches, coastal mountains, and the beautiful wine region of Napa Valley. On the way, you can also visit Pinnacle and Redwood National Parks and take a detour to Olympic National Park.
On the other hand, you could take the Las Vegas Route, further inland, through the deserts of Nevada. Drive through the phenomenal cities of Las Vegas and Salt Lake City on the way.
Some popular attractions on this route include the Hoover Dam and Mount Rainer National Park, with optional detours to scenic Joshua Tree, Bryce Canyon, and Capitol Reef National Parks.
The Pacific Coast Route
Exit Santa Ana, California, by taking I-5 toward Los Angeles. Merge into US-101 to cross Hollywood, passing the Hollywood Walk of Fame, Hollywood Bowl, and Universal Studios along the way.
Pass Santa Monica Mountains National Recreation Area on the left and cross the Santa Clara River to join the coastal route. Explore Santa Barbara and the nearby tourist attractions before taking a right on CA-154.
Drive through the lush greenery and stretch your legs at the Cachuma Lake Recreation Area. Take a short detour on CA-246 to Solvang before merging again onto US-101.
Head through Santa Maria, Pismo Preserve, and Paso Robles till Bradley, and then follow the road to Hunter-Liggett. Take the picturesque mountain route along the Coast Ridge Trail to join CA-1.
Head North driving along the edge of mountains and the ocean to reach Big Sur. Pass by Andrew Molera and Garrapata State Parks and cross Castroville by taking CA-156 before merging into US-101.
Drive through the beautiful cities of San Jose and San Francisco and follow I-80 to Napa. Continue driving west on CA-12 until Big Bend, then take a right to join CA-116. A drive through the rustic countryside will lead you to CA-1 again.
Drive past a string of lovely beach towns, stunning state parks, and national forests bordering the west coast of Oregon. Take a detour on OR-6 to Portland through Tillamook State Forest.
After exploring Portland, take I-5 to cross the Columbia River to Vancouver, Washington. Follow the scenic waterways and pass by an endless stretch of beautiful waterbodies to finally arrive at Seattle.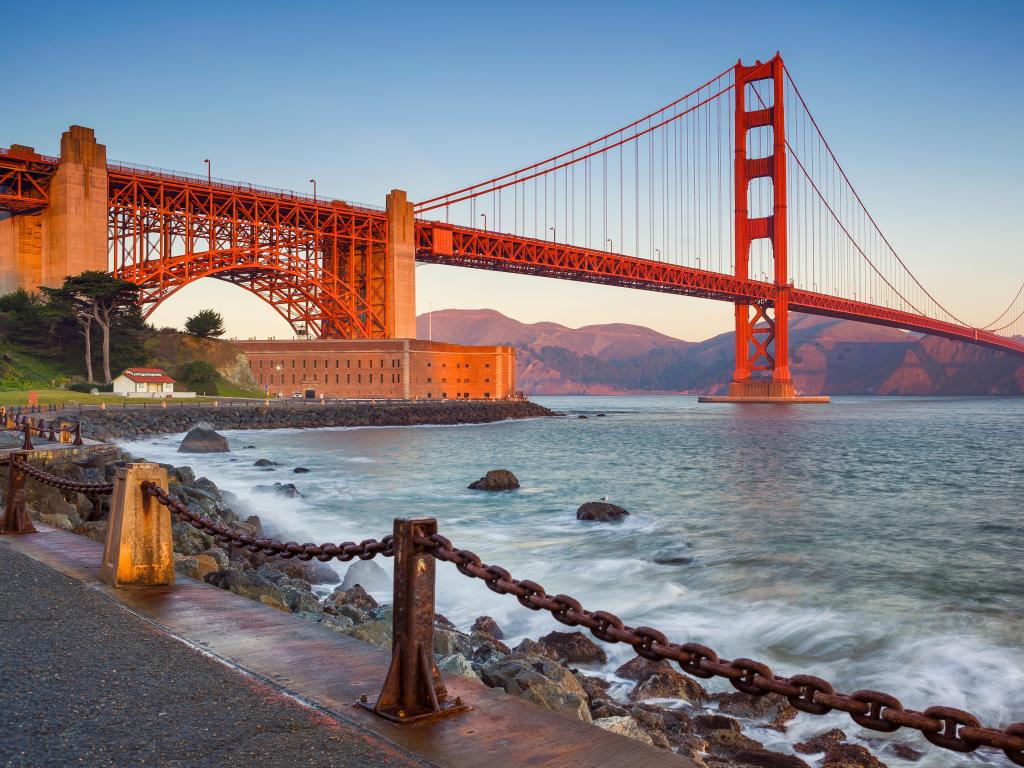 The Las Vegas Route
Exit Santa Ana by taking CA-55 through Orange County, which soon merges into CA-91. Meander through the lovely countryside to head on to I-15 toward Barstow.
Drive through the patchy greens of California and pass the Mojave National Reserve to your right as you make your way to enter Nevada. Enjoy the Sin City of Las Vegas and take a detour to Hoover Dam via Henderson before returning to I-15.
Explore Valley of Fire State Park to your left before entering the desert landscapes of Utah. Admire the Red Cliffs National Conservation Area and Dixie National Forest to your right.
Drive along the Utah lake and check out the beautiful town of Provo before heading to Salt Lake City. Marvel at the majestic mountains on both sides and the scenic Bear River Migratory Bird Refuge before hopping on I-84 toward Boise.
Head West along the Snake River to reach Boise. Follow I-84 through Oregon, passing by rich National Forests. Further, take I-82 to Umatilla, and cross the Columbia River to enter Washington.
Take a shortcut via Plymouth Road and WA-221 to merge into I-82 again. Drive along Yakima River till you arrive at the eponymous town before heading west on US-12.
Following the path through lush forests and stunning mountain views, jump on WA-7 at Morton for a trip to Mount Rainer National Park. After exploring the natural diversity there, head to Tacoma on I-5 and drive North, parallel to the waterways, to reach Seattle.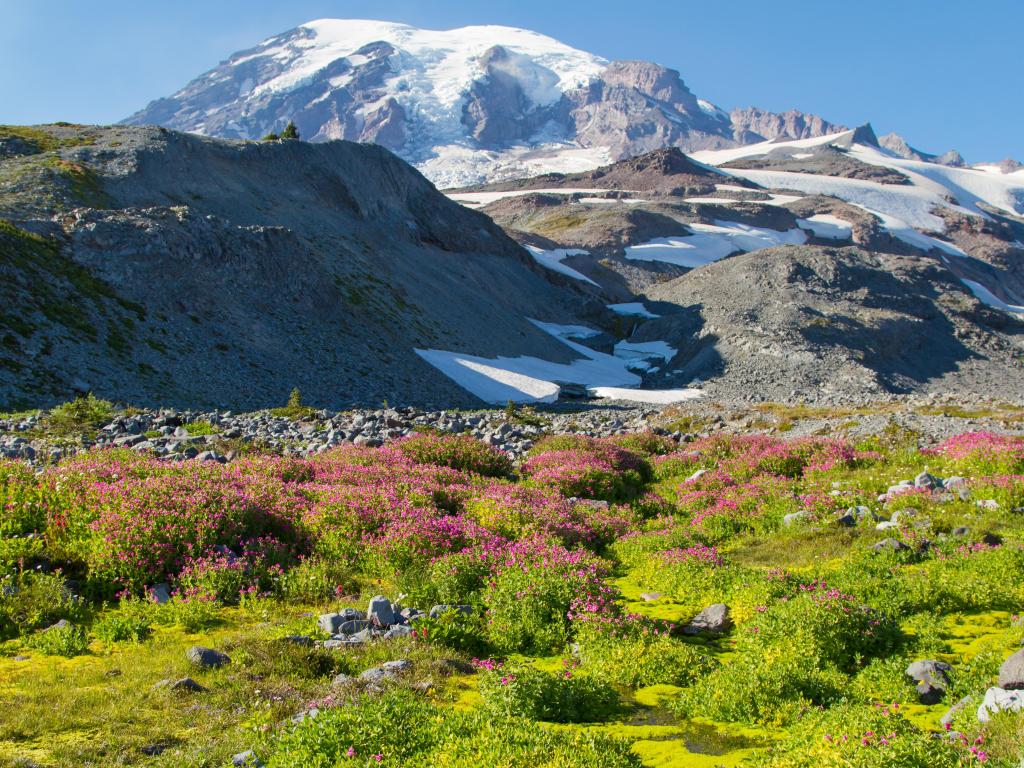 Best places to stop between Orange County and Seattle, Washington
On this epic road trip from Orange County to Seattle, you'll want to take overnight breaks to avoid exhaustion. When the trip covers a route filled with exciting stay options, it could get overwhelming.
Let us help you by narrowing down to a few of our favorite locations and some of the best hotels for stays on both routes.
Wine tasting in Napa Valley
After driving a quarter of the total distance on the Pacific Coast Route, you'll arrive at Napa, California. For a Tuscany-like experience in the US, Napa remains a world-class destination for wine lovers.
Enjoy an evening in the vineyards and wineries of Napa Valley, sampling the best wines of the region. You can do so by strolling in the Oxbow Public Market to meet local vendors.
Discover an exciting wine experience by going on the Napa Valley Wine Train. On this 36-mile trip, you can stop at local wineries for local wine tasting.
A stay at the R Inn Napa boutique hotel totally befits this classy stopover location. This historical building converted hotel has a cozy vibe, perfect for a romantic getaway.
The moment you step on the property, you'll be welcomed with wine goodies. It only gets better from here. Enjoy the complimentary breakfast, chill at their posh lounge, or stroll in their gorgeous gardens.
The hotel also boasts a bocce ball court and free parking and is centrally placed with easy access to highway and downtown attractions.
If you have time to spare, we highly recommend visiting Castello di Amorosa, an authentic Tuscan medieval-styled castle housing a lovely vineyard.
Enjoy the scenic surrounds of Salt Lake City
As you finish a third of your trip on the Las Vegas Route, you'll arrive at the beautiful capital of Utah, Salt Lake City. Known for the surrounding salt flats, it is also a great gateway to five major national parks in the USA.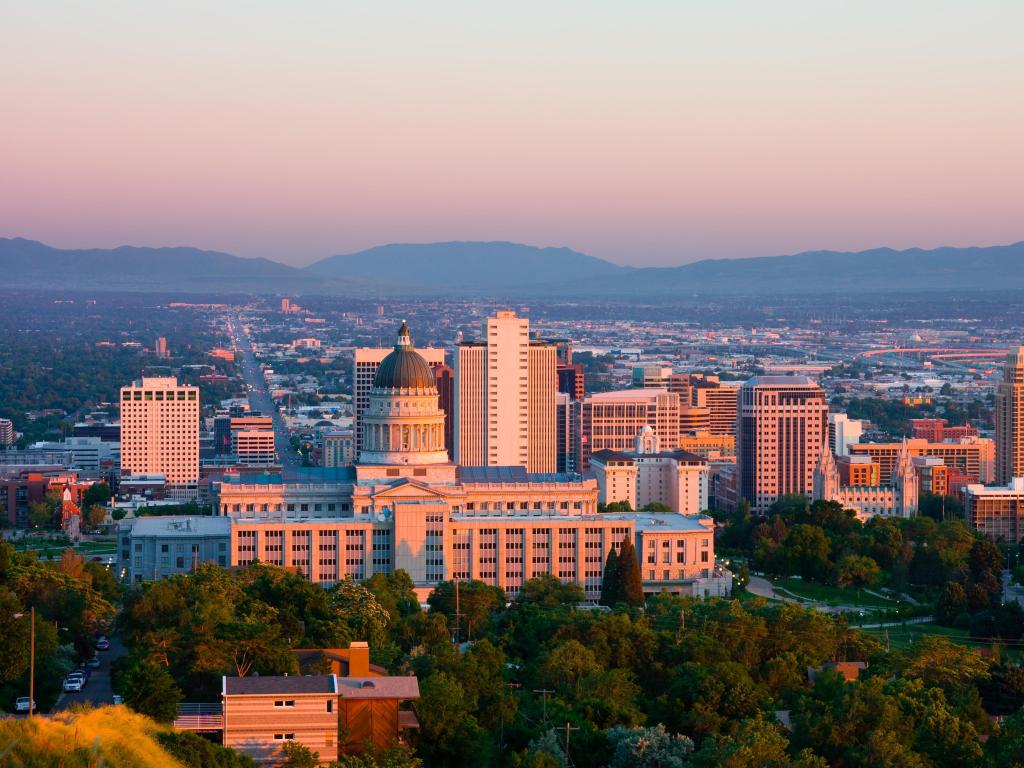 This city has so much to offer everyone. You can explore the beautiful Temple Square, a church that has dramatically shaped the city's history.
If you love engaging museums, we suggest you check out the Natural History Museum of Utah, which showcases ten unique galleries focusing on the natural world, intermountain west, and Utah.
A trip to Salt Lake City is incomplete without a visit to the Great Salt Lake. Don't miss out on a chance to boat, sail, or kayak through the iconic lake.
For ease of access to the city center, the highway, and major attractions, we have picked the fabulous Grand America Hotel for your overnight stay. This highly-rated, elegant hotel has excellent amenities, including a full-service spa, fitness center, and indoor and outdoor pool.
In case you'd prefer to stay in after a day on the road, the Grand America Hotel has plenty of options to choose from. You can experience upscale dining experiences like fancy Sunday brunch and high tea at this fantastic hotel.
Where to stay when you reach Seattle, Washington
Once you arrive in this beautiful city, you'll be spoilt for choice regarding fabulous hotels. But we cannot think of a better option in Seattle than the Arctic Club Hotel.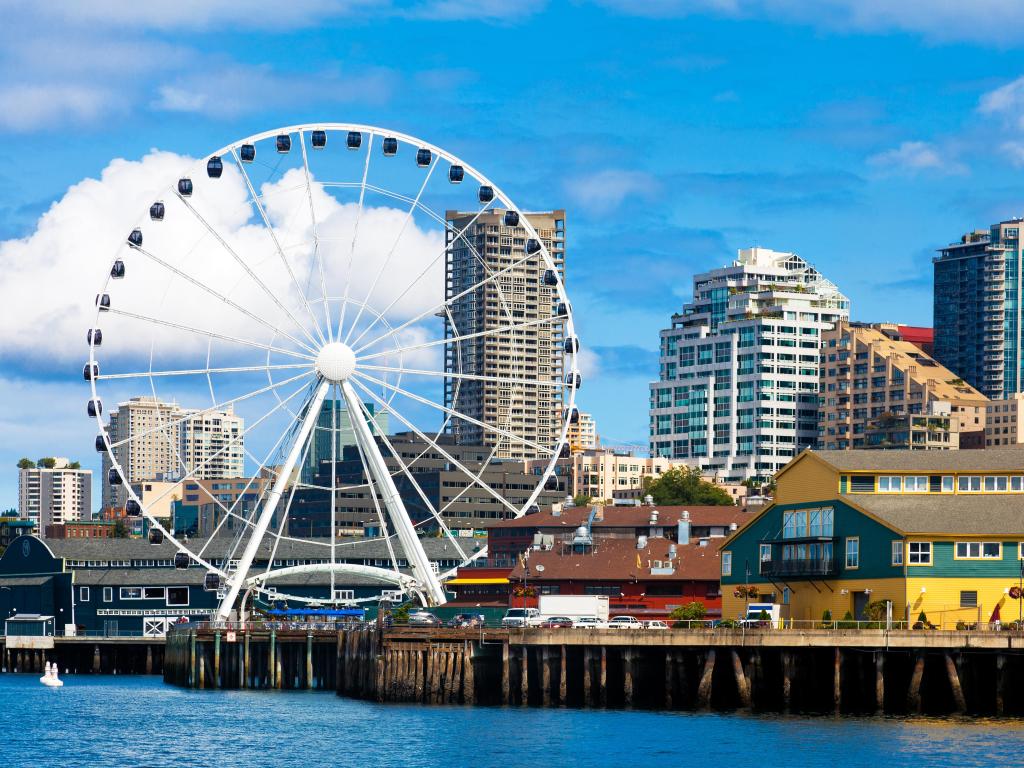 Located downtown, you can easily access major attractions like the Pike Place Market and The Seattle Great Wheel from here. Also, the hotel offers private parking, which is a huge bonus.
You'll love the historic vibe of the place and the seamless blending with modern luxury. You can benefit from their fitness room and enjoy food at their Polar bar. Their regionally inspired cuisine and signature cocktails will lift your spirits after a long drive day.
Things to see on a road trip from Orange County to Seattle, Washington
This trip from Orange County to Seattle, California, covers incredible beaches, world-famous monuments, tourist destinations, lovely countryside, and immense natural diversity.
Keep scrolling to find some of our top recommendations on the Pacific Coast and Las Vegas routes to make this trip worthwhile.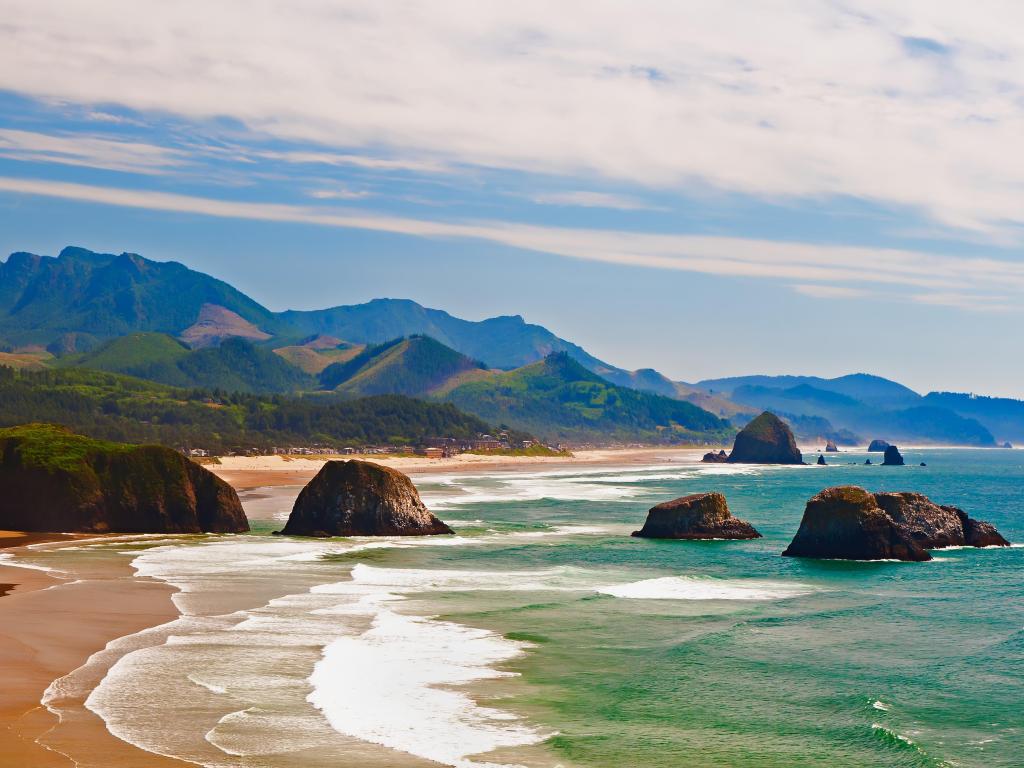 On the Pacific Coast Route
Channel Islands National Park – Five isolated islands have created a unique ecosystem home to great diversity. It offers a great way to experience the coast.
Hollywood Walk of Fame, Los Angeles – A visit to Los Angeles is incomplete without a visit to the Hollywood Walk of Fame. You'll see a star-studded sidewalk, each star awarded to a person with notable contributions to the entertainment industry.
Big Sur – Located on the central coastline of California, Big Sur's cliffs offer some breathtaking ocean views.
Pinnacles National Park – Remnants of the volcanoes that erupted over million years ago have created this unique landscape.
Golden Gate Bridge, San Francisco – This iconic landmark is touted as one of the modern world's wonders. This suspension bridge connects San Francisco to Martin County over Golden Gate Strait.
Redwood National Park– Squeeze this destination in your itinerary to gaze at some of the tallest trees on the planet.
Chetco Point Park, Brookings – Trail along the small town of Brookings, looking over the magnificent Pacific Ocean.
Thor's Well – Get captivated by nature's beauty as you witness this natural wonder. This well on the Oregon coast that swallows the water around and throws it out as a fountain during the high tide is hard to miss.
Cannon Beach – Cannon beach is easily one of the most beautiful beaches on the Oregon coast and worth your time.
Powell's City of Books, Portland – This place is indeed a booklover's paradise. It is the world's largest bookstore for used and new books.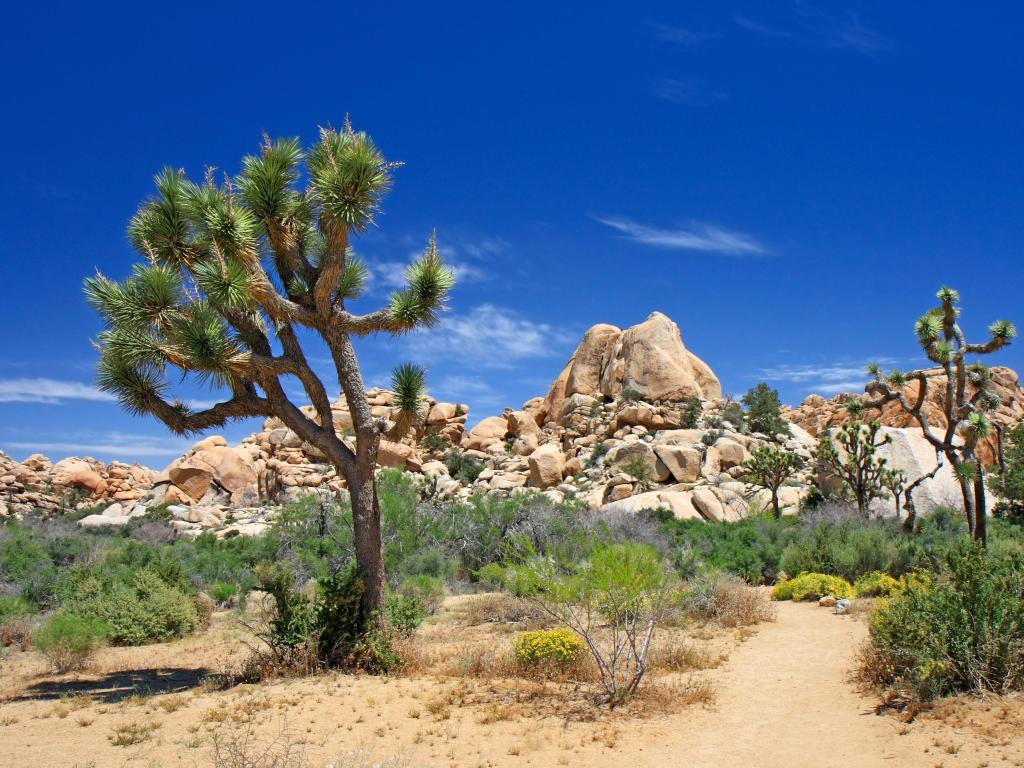 On the Las Vegas Route
Joshua Tree National Park – Wander through this lovely park and experience a unique ecosystem home to characteristic flora and fauna.
Fremont Street, Las Vegas – Travel back in time to experience an old Las Vegas on this famous Fremont Street.
Hoover Dam – Located on the Colorado River, it is one of the highest dams in the World and a popular tourist destination.
Bryce Canyon National Park – Gaze at the highly dense and marvelous Hoodoos or rock spires formed at the top of the Grand Staircase.
Capitol Reef National Park, Utah – Get a Grand Canyon vibe by detouring this lovely national park showcasing beautiful cliffs and canyons.
Brigham Young University Museum of Art, Provo – What could be a better encouragement than displaying your art as a student? Even today, this museum remains one of the most-visited student art displays in the US.
Bonneville Salt Flats – Experience a landscape never seen at the Bonneville Salt Flats. Walk on the perfectly flat salt plans and admire the beautiful naturally created patterns on the ground.
Utah State Capitol, Salt Lake City – Explore the neoclassical architecture of this beautiful building, which is also recognized on the National Register of Historic Places.
Anne Frank Human Rights Memorial, Boise – This educational park is a memorial that honors the human spirit and the families affected by the holocaust during the second world war.
Mount Rainier National Park – This majestic mountain is an active volcano site and one of the tallest mountains in the US.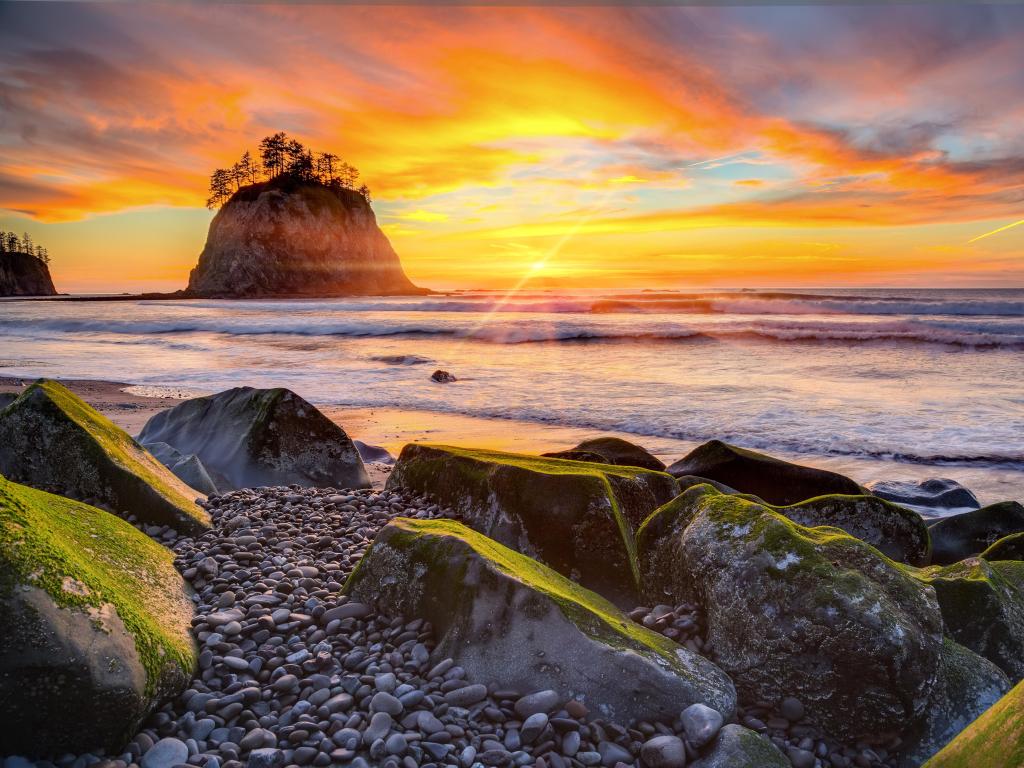 On both routes
Museum of Glass, Tacoma – Marvel at the lovely creations and exhibitions made from glass at this unique museum.
Olympic National Park – Take a short trip from Seattle to visit the snow-capped mountains and the beautiful rainforests overlooking the sunset on the ocean.
Best time to go on a road trip from Orange County to Seattle, Washington
This road trip can be taken at any time of the year because there is little to no temperature variation throughout all four seasons. As you take this northward trip, there is a drop in the temperature. However, you'll still have a pleasant road trip. Whichever route you pick, they are full of terrific destinations with their distinctive charm.
Summers are hot and try toward Southern California, but as you move up North, there is a fall in temperatures and an increase in humidity. The temperature varies between 80 and 100 degrees Fahrenheit. High temperatures make the desert regions unbearable during the peak summer months of July and August.
You won't experience harsh winters and snow on this trip, and the temperature averages from 35 to 60 degrees Fahrenheit. This makes winter a great season for planning this trip. However, watch out for rain as it frequently rains during those months.
You can plan this trip during the shoulder seasons of spring and fall. The temperature ranges from 50 to 75 degrees Fahrenheit; you'll love the shades of beautiful greens during spring and the colorful foliage during the fall. You can expect rain during spring, but fall is usually drier and a preferred tourism season.
Seattle doesn't host too many notable events or festivals. Bumbershoot is probably the only famous international music festival that Seattle is known for. It takes place during the Labor Day weekend under the Space Needle.