Road Trip from Philadelphia to Chicago
A road trip from Philadelphia to Chicago takes you from the city of brotherly love to the windy city.
The 770-mile road trip from Philadelphia to Chicago takes 12 hours to drive, traveling through 4 states, past the Great Lakes, Lancaster, Cleveland, Toledo and South Bend as well as Cuyahoga Valley and Indiana Dunes National Parks.
Read on to learn more about the fantastic journey that takes you to vibrant cities, the beautiful shores of the Great Lakes, and some hidden gems along the way.
How far is Chicago from Philadelphia and how long will the road trip take?
The most direct route for a road trip from Philadelphia to Chicago takes 11 hours 30 minutes and covers 760 miles.
However, we would recommend making a slight detour that takes you through one of the most unique areas in the country. This will slightly increase your trip time to 12 hours and 770 miles.
For a trip of this length, the vast majority of people will also need to split it up into more manageable chunks. This will let you take your time to enjoy some of the fantastic sights you'll pass along the way.
While experienced road trippers may be able to complete it in a day, in order to really enjoy the journey, we would suggest breaking it up over a period of 3 days, leaving you with just 4 hours of driving per day.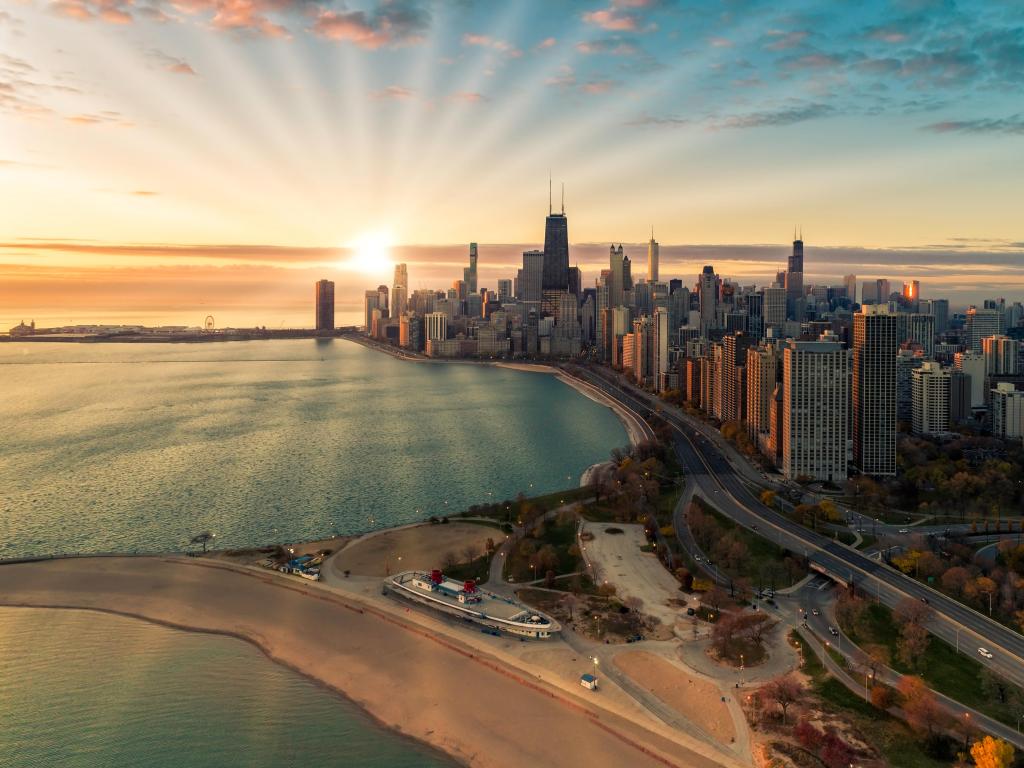 Best road trip route from Philadelphia to Chicago
The route for your road trip from Philadelphia to Chicago will see you traveling northwest, through the states of Pennsylvania, Ohio, Indiana and Illinois.
It's a pretty simple drive that follows interstates for most of the way, and along the way you'll encounter Amish culture, the spectacular Great Lakes, and some of the region's vibrant cities and towns.
Road trip route from Philadelphia to Chicago
You'll begin by heading northwest on I-76 and following it till just past Bowmansville. You'll then switch to US 222 and take it south to Lancaster. This is the largest Amish settlement in the country and is an incredibly unique place to experience.
Once you're done exploring and taking in the sights, head north on Pennsylvania Route 283 where it begins and follow it its entire 29-mile duration to where it merges with the I-76, on the bank of the Susquehanna River.
You'll follow this for 280 miles, passing Pittsburgh along the way, until you reach Youngstown, where you'll switch to the I-80 going west.
The I-80 will take you around Cleveland - if you want to spend some time in the city, maybe to visit the Rock and Roll Hall of Fame, simply detour along the I-77 then return to the route via the I-90 heading towards Amherst.
If you're continuing along the direct route, you'll join the I-90 at the town of Amherst, just west of Cleveland.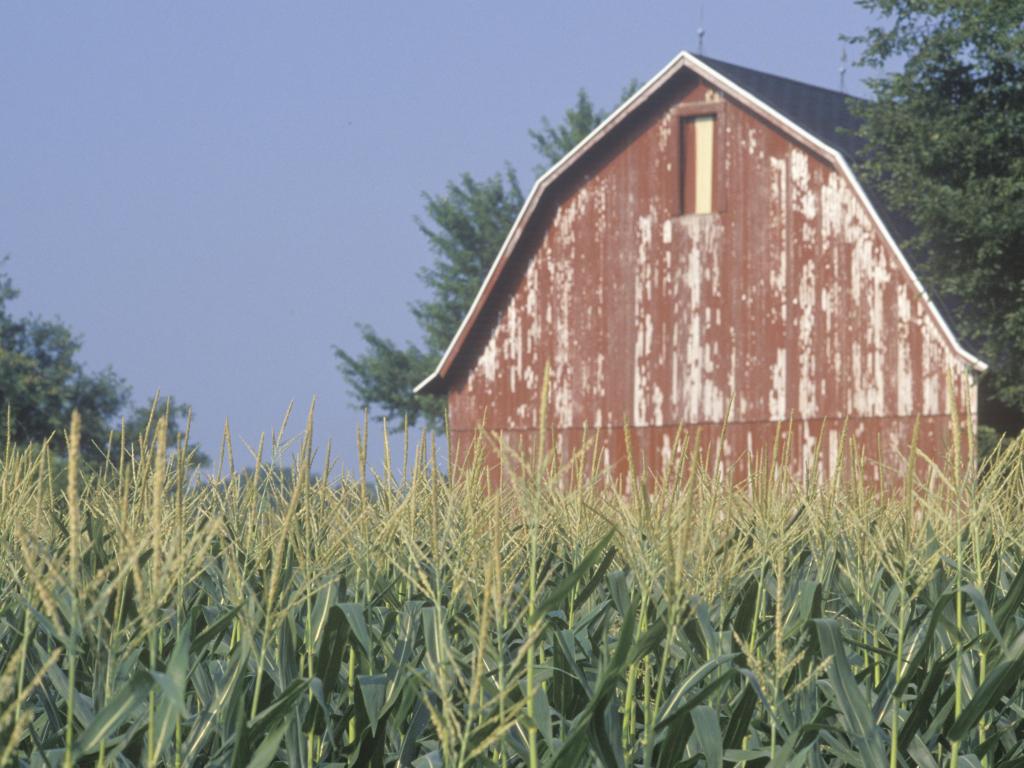 As you travel along the I-90, you might like to take the short detour via OH-61 and US-6 to spend a little time exploring the lake shore around Huron, where you'll find beaches and nature reserves. Or head to Sandusky to take some time out at Cedar Point Amusement Park.
Then, simply follow the I-90 for the remainder of the journey, passing the city of Toledo and Fawn River Nature Preserve - accessed from Exit 121 off I-90 - before approaching South Bend, home to Notre Dame University. In Elkhart, just outside South Bend, you can also call into the Hall of Heroes Superhero Museum.
From South Bend it's just a short run into Chicago via the I-90.
Best places to stop between Philadelphia and Chicago
If you're splitting your road trip from Philadelphia to Chicago across three days as we've recommended, you're going to need two locations to make overnight stays.
While everyone will have their own personal preferences, the following two locations are some of the best places to make a longer stop.
Experience the Amish way of life in Lancaster
Our first suggested overnight stop is Lancaster - one of the most unique destinations in the country and the reason the early section of this route detours from the interstate. While this stop is only around an hour and a half into your journey, you'll feel like you're a world away from the metropolitan hustle and bustle of Philadelphia. If you're looking for a complete change of pace and perspective, this is the place for you.
Lancaster is the location of the biggest Amish population in the country. Many people will have heard about this way of life or seen it on screen, but actually getting the opportunity to see this culture in person is quite an experience.
From their iconic horse-drawn buggies to their unique building and farming techniques, the entire town demonstrates a way of life that many will struggle to understand without witnessing it first-hand. Consider hiring an Amish guide to enhance your visit even more.
As for where to stay, such a unique location requires accommodation of equal measure and the Fulton Steamboat Inn certainly fits the bill.
Converted from an authentic steamboat and containing beautiful Victorian-style rooms, it will allow you to keep the traditional vibe of your visit going throughout your stay. Well, traditional-ish, as modern luxuries like a gym, pool and WIFI are also included.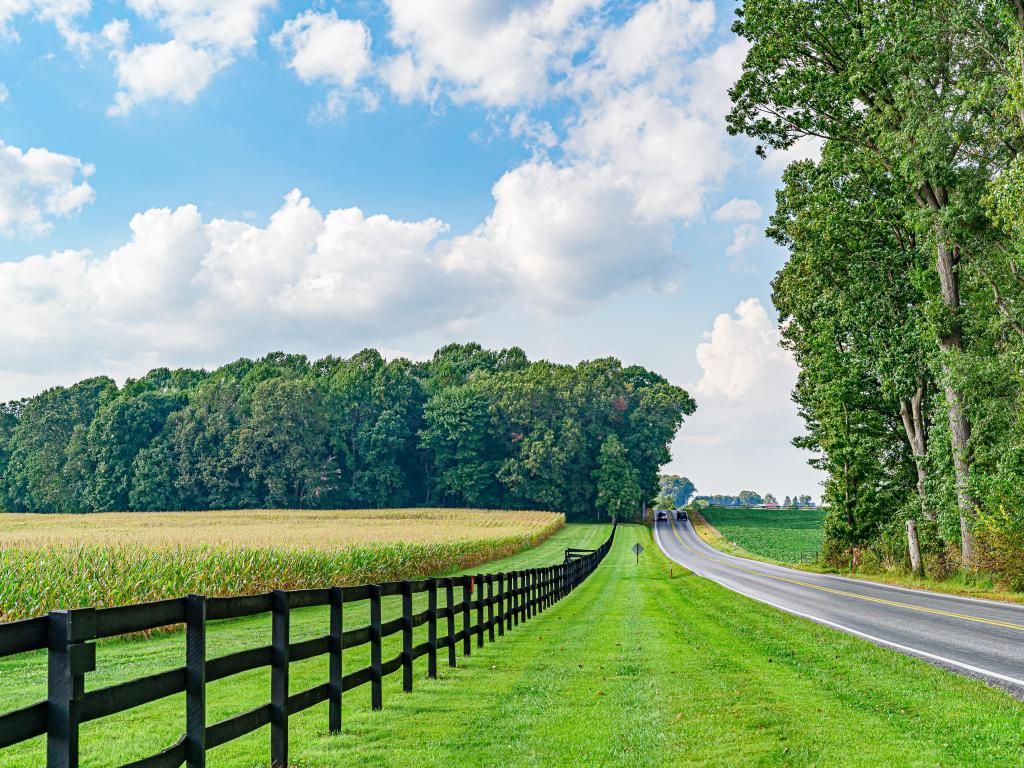 Meet the rock legends in Cleveland
The second location we'd suggest for this route is a real contrast to the first, as Cleveland, situated on the southern shores of Lake Erie, is the 2nd largest city in the state of Ohio. Helpfully, this fabulous city also lies around the half way mark on our road trip.
If you're interested in history, you can visit museums and the legendary Rock & Roll Hall of Fame. For those with interests more rooted in the natural beauty of the area, you have an incredible botanical garden and even the opportunity to explore one of the Great Lakes, on foot or by boat.
If you don't want to spend your entire stay within the city limits, you could even take a short drive to Cuyahoga Valley National Park. With rolling hills, sprawling forests and cascading waterfalls, you can spend hours getting lost in this natural beauty spot.
Then, when you're worn out after a busy day taking in everything the city and its surrounding areas has to offer, why not treat yourself to a night at the stunning Glidden House.
A beautiful early 20th-century gothic manor house, Glidden House's gorgeous rooms, grounds and dining room will add a level of luxury to your stay you will remember forever.
A complimentary breakfast is included for all guests and if you visit around Christmas time, the house is beautifully decorated from top to bottom, so you can feel like you are staying in a Christmas card.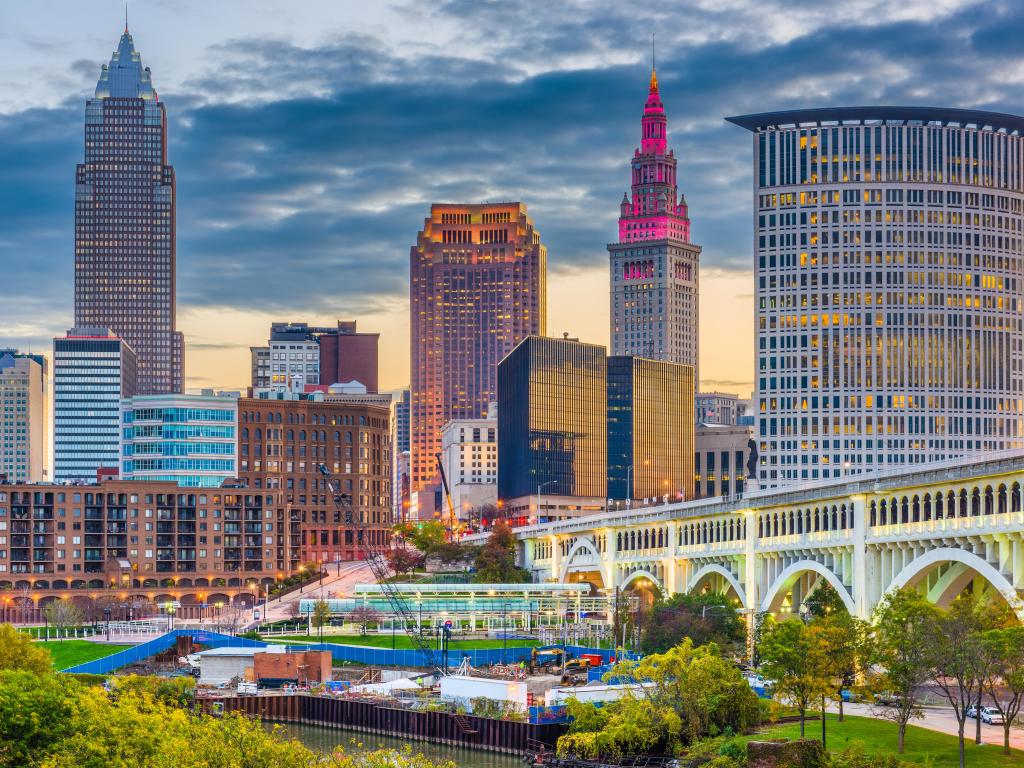 Where to stay once you reach Chicago
After your long drive, you'll probably want to relax in style when you arrive in Chicago, and Hotel EMC2 makes the perfect place to stay at the end of your road trip.
The hotel, which has an array of stunning design features, is located on Chicago's Magnificent Mile, with dozens of restaurants and bars right on the doorstep.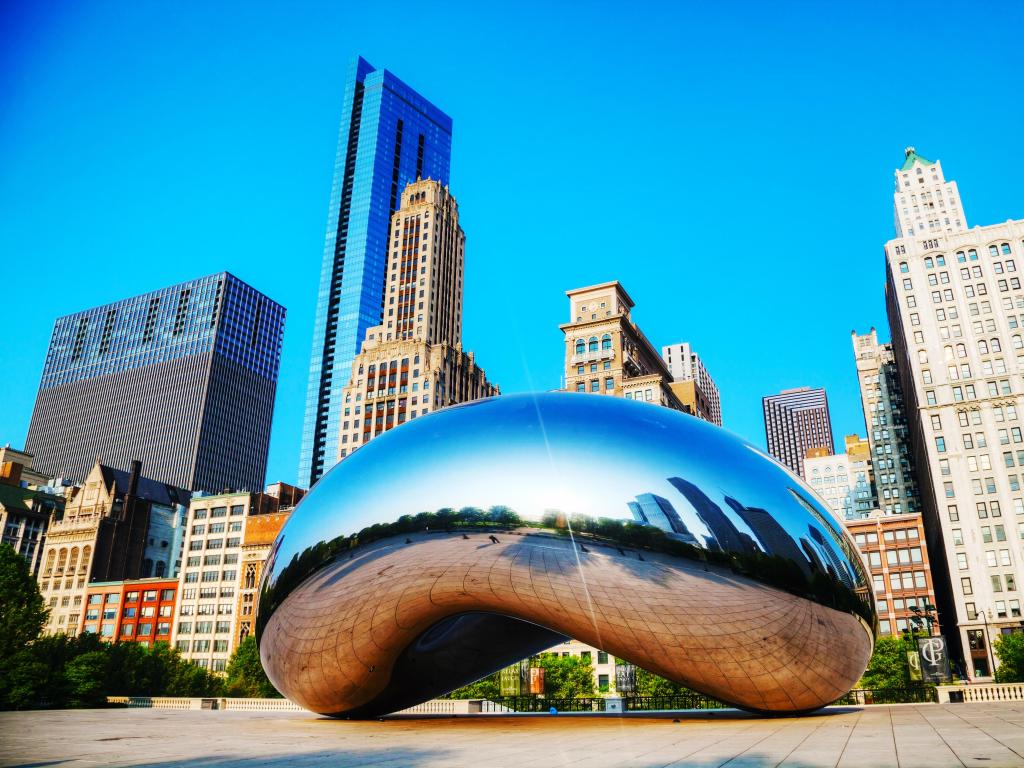 The Chicago River is just a few blocks away, and the beaches of Lake Michigan are in walking distance, so you can really experience the natural wonders that make Chicago such a striking city to visit. Think about taking a sunset boat ride to see the city from a different angle.
While you're in town you should also be sure to visit the Museum Campus, where many of Chicago's world-class museums are located. Or simply take a stroll along the waterfront to admire the view across the lake and the impressive modern architecture that makes up the city's skyline.
Things to see on a road trip from Philadelphia to Chicago
If you're following our recommended route for your road trip from Philadelphia to Chicago, you'll be looking at around 4 hours of driving per day, meaning you'll have plenty of time to stop and take in the sights along the way.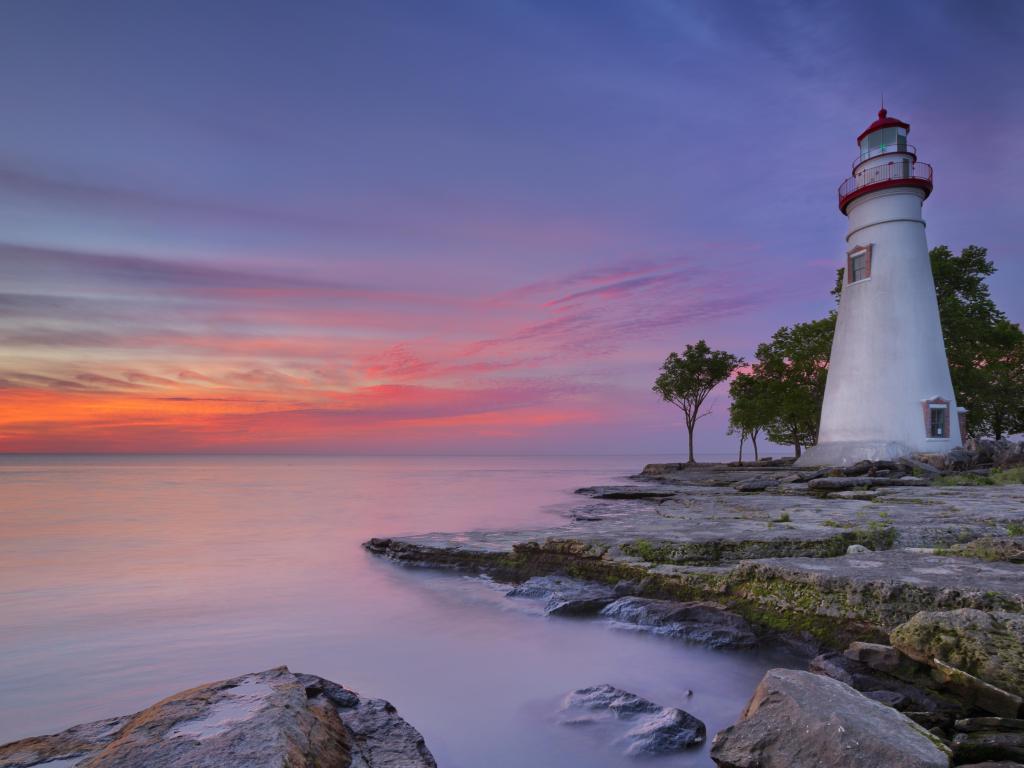 The following list features some of the top attractions between these two fabulous cities that you simply must stop at if you get the chance.
Valley Forge National Historic Park - The site of the 3rd winter encampment in the American Revolutionary War, featuring museums, memorials, historical buildings and recreated encampment structures from one of the most important locations in American history.
Town Of Lancaster - Home to the largest Amish population in the country, take the opportunity to experience their unique ways, with everything from farming to transportation being an eye-opening experience.
Susquehanna River - The longest river on the eastern coast of America, running for 444 miles, from Cooperstown, New York to Susquehanna State Park in Maryland.
Pittsburgh - The 2nd most populous city in the state of Pennsylvania, known as steel city due to its famous steel production, incredible architecture and collection of 446 bridges.
Cuyahoga Valley National Park - Designated a national park in the year 2000, Cuyahoga Valley features forests, rolling hills and waterfalls, abundant with a huge range of wildlife, located along the banks of the Cuyahoga River.
Cleveland, Ohio - The second largest city in the state of Ohio, located on the southern shore of Lake Erie, is home to the Rock & Roll Hall of Fame, as well as stunning views out over the Lake.
Cleveland Metroparks Zoo - Cleveland's zoo includes a fantastic rainforest section which is really fascinating to visit.
Lake Erie - Covering almost 10,000 square miles, it is the 11th largest lake by area in the world, yet still only ranks as one of the smallest of the 5 Great Lakes.
Sandusky, Ohio - Visit the impressive Maritime Museum to learn more about the history of this region and the lakes that have shaped life here for centuries.
Cedar Point Amusement Park - Thrill-seekers shouldn't miss this fantastic park, known for its white-knuckle rides.
Toledo, Ohio - The 4th largest city in the state of Ohio, best known for its history with jazz music. The city features numerous museums, galleries and bars dedicated to it, allowing current generations to study and enjoy it.
Sauder Village Living History Museum - This recreated village is dedicated to telling the history of Ohio through engaging and interactive exhibits.
Fawn River Nature Preserve - A beautiful and peaceful place to hike or seek out some of Indiana's varied wildlife.
Hall of Heroes Superhero Museum - Located in Elkhart, this is one of the most comprehensive museums on the subject in the world.
South Bend - See a performance at the Morris Performing Arts Center or take a trip to the Basilica of the Sacred Heart for a moment of reflection.
Indiana Dunes National Park - One of the newest additions to the US register of national parks, Indiana Dunes contains almost 25 miles of rolling sand dunes, home to a great number of species of plants and animals.
Lake Michigan - The second largest of the great lakes by volume and 3rd largest by area, it ranks as the 5th largest lake on the planet. It is also the world's largest lake located entirely in one country.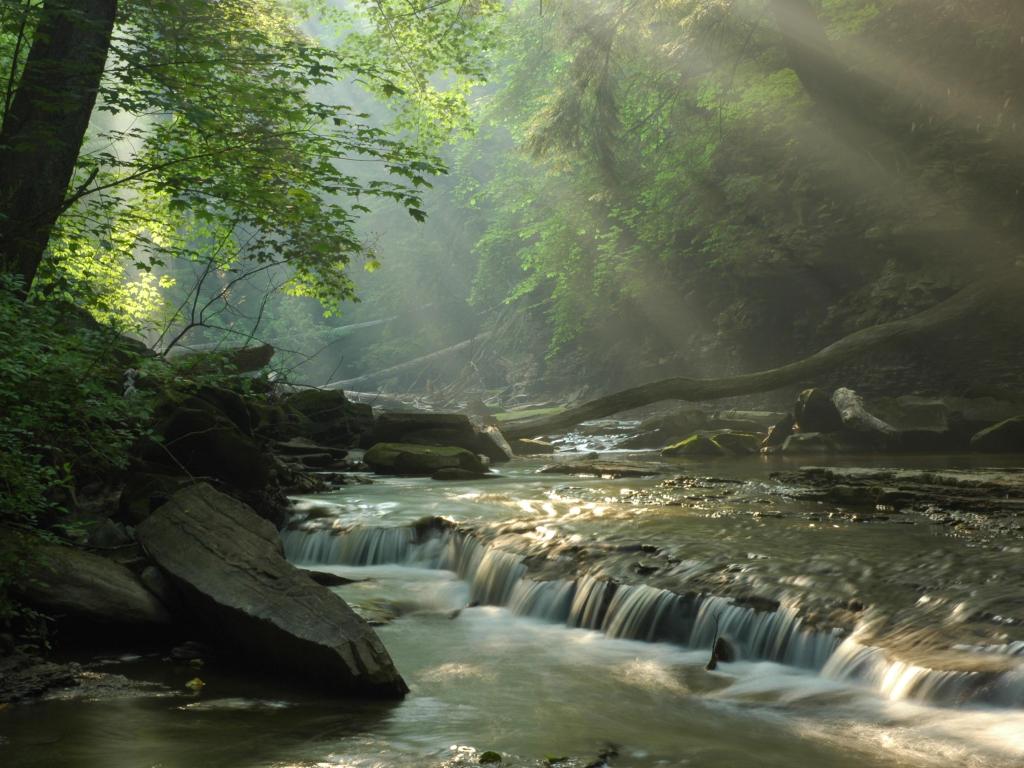 Best time to go on a road trip from Philadelphia to Chicago
When planning your road trip from Philadelphia to Chicago, you may not really be thinking about the best time to make it, as city breaks rely a lot less on the weather than say, as a beach vacation might.
However, Chicago is a city that is known to be bitterly cold during the winter; with daily average highs of 33 degrees Fahrenheit, and lows of just 20.
That means if you want to be able to comfortably explore it or take part in some of the activities available on Lake Michigan, you're going to want to make your journey when the weather is a little more hospitable.
Not only that, but some of the destinations along our route will also benefit from being seen in the warmer months. For example, parts of Cuyahoga Valley may be closed if there's too much snow and you won't be able to see half as much of the Amish culture in Lancaster if you go at the wrong time.
That's why we would suggest making your trip between late June and early September. This is the time when both the journey and the destination should be dry, warm and sunny, making for a much more enjoyable experience.
What's more, if you are heading to Chicago during the summer months and love live music, you might want to consider timing your visit to coincide with the legendary Chicago Blues Festival and the Chicago Gospel Music Experience.
Both of these events fall in June each year and draw fans from across America and beyond. And as an added bonus, these concerts are free admission and are held in easily accessible public spaces, creating a real buzz across the city!