Road Trip From New York To Houston
The epic road trip from New York City to Houston gives you a wonderful highlight of the best of America. Visit breathtaking national parks, vibrant cities, world-famous tourist attractions, and some of the 'real' Americana located by the back roads off the highways.
The 1,790-mile road trip from New York to Houston takes 25 hours to drive. The route passes Atlantic City, Gettysburg, Washington, Philadelphia, Baton Rouge and Jacksonville, as well as Myrtle Beach, Apalachicola National Forest, and New Orleans.
There is a huge number other attractions and points of interest to see along the way, so keep reading until the end to find out about them, plus where to stay overnight, and the best times of year to travel.
How far is Houston from New York City and how long will the road trip take?
Comparison of road trip routes between New York and Houston

| Route | Distance | Driving Time |
| --- | --- | --- |
| The Inland Route | 1,790 miles | 29 hours |
| The Coastal Route | 1,830 miles | 28 hours |
The cities of New York and Houston span a distance of around 1,630 miles. If you go by car, it will take you about 25 hours of non-stop driving. That said, the routes we're going to recommend will add a little extra time and distance, but they also add extra value in terms of scenery and attractions.
Our Inland Route, taking you through Nashville, will take 29 hours to drive and covers a distance of 1,790 miles. Meanwhile, a second option is to follow our Coastal Route which is slightly longer at 1,830 miles but actually a quicker journey taking around 28 hours to drive.
While you could complete either route quickly over a couple a days, a better idea would be to spread it out over five or six days. The extra time will allow you time to explore the surrounding attractions en route.
Irrespective of which course you plot, if you spend the majority of your time on the interstate highways, the drive down to Houston from New York should be a fairly straightforward one.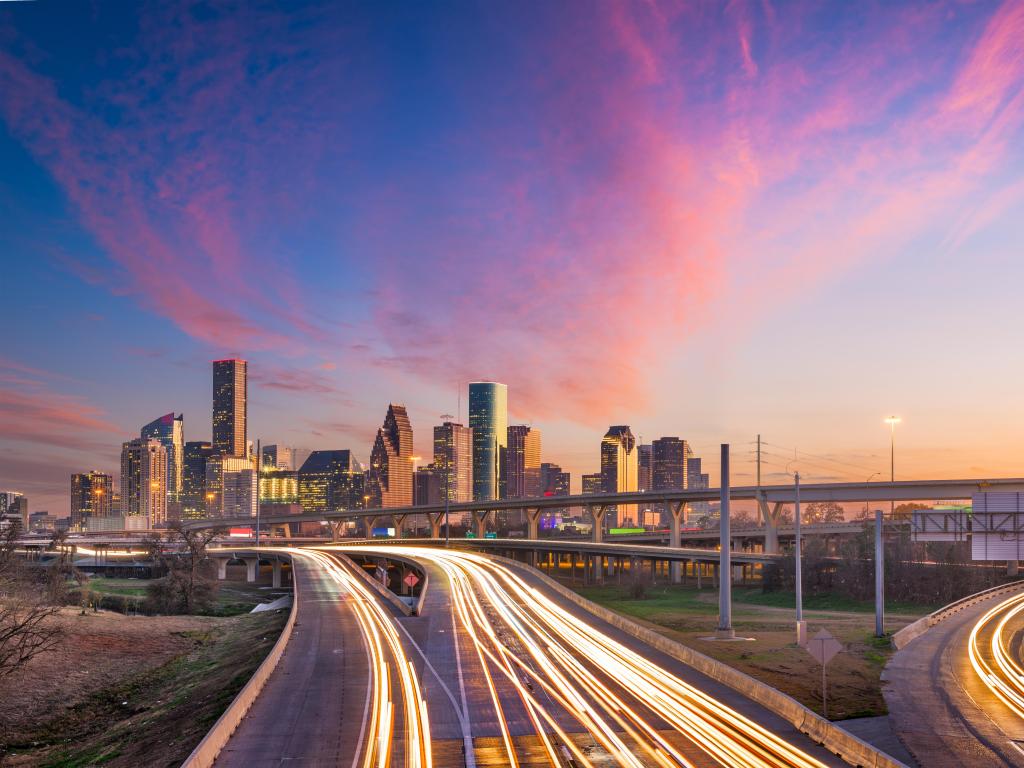 Best road trip route from New York City to Houston
There are a number of different routes you can take during your road trip from New York to Houston, including many that stick to some of the region's major highways.
With that said, you can make the trip more interesting by doing something a little different and following either our Inland Route, making the most of the great US cities, or our Coastal Route which hugs closer to the sea and passes Jacksonville.
Keep in mind that you will have the option to drive on "America's Favorite Drive", Blue Ridge Parkway, on the Inland Route.
While both routes aren't the quickest or most direct way to get to Houston, they will enable you to explore the magnificent eastern and southern coasts of the country in a little bit more detail.
With little difference in terms of distance between the two routes, your preference will depend entirely upon which of the main attractions you would rather see.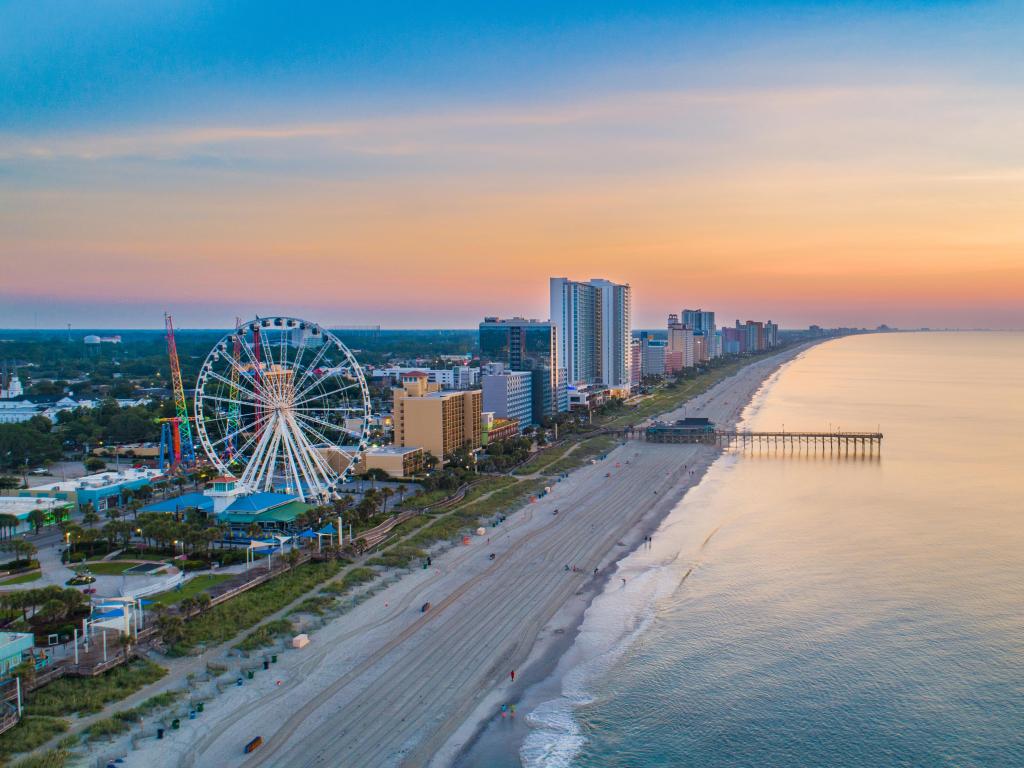 How to drive from New York to Houston
The map above shows our suggestions for the best road trip routes between New York and Houston. Keep reading for detailed descriptions of both routes, where to stay on either, and the best things to do on the way.
The Inland Route
For the Inland Route option, you'll follow Interstate 78 from New York and head west to the city of Allentown and through several towns before merging on I-81 south.
Follow this road through the towns of Winchester and Harrisonburg before taking a short detour to take in the stunning Monongahela National Forest.
Continue south on I-81 until you follow VA16, NC-16 and US-221 to Chetola Resort and Tanawha Trail. Eventually, this road turns unto I-40 west which you'll follow until you reach Knoxville. Continue a short distance before arriving in the fabulous city of Nashville and an ideal overnight stop.
Leaving on I-40, you'll soon find yourself in famous Memphis for another optional stopover to explore this music city. Continue west to Little Rock and consider a spot of nature hunting at Ouachita National Forest.
From here, take I-30 heading south past Jefferson and Carthage where you'll change to US-59 and drive through Angelina National Forest and alongside Davy Crockett National Forest and all the way to Houston.
The Coastal Route
Leaving from New York, take the Interstate 95, passing Philadelphia and to Baltimore. For a break from the cities, you could take an optional detour to Michaux State Forest.
Continue south on I-95 to Washington DC - a city worthy of several days sightseeing if you can spare the time - until you reach Richmond where you could stop for the night or take a drive out to Shenandoah National Park.
Continue through several towns before heading into North Carolina. Take a break at Fayetteville or detour to Croatan National Forest by the coast.
Back on the interstate, enter South Carolina and either take some optional detours to the coast, visiting Myrtle Beach and Charleston, or drive inland to Conragee National Park.
Stop in Savannah and Okefenokee National Wildlife Refuge before arriving at Jacksonville. From there, you can take Interstate 10 all the way to Houston, passing by the likes of Pensacola, Apalachicola National Forest, New Orleans, and Kisatchie National Forest along the way.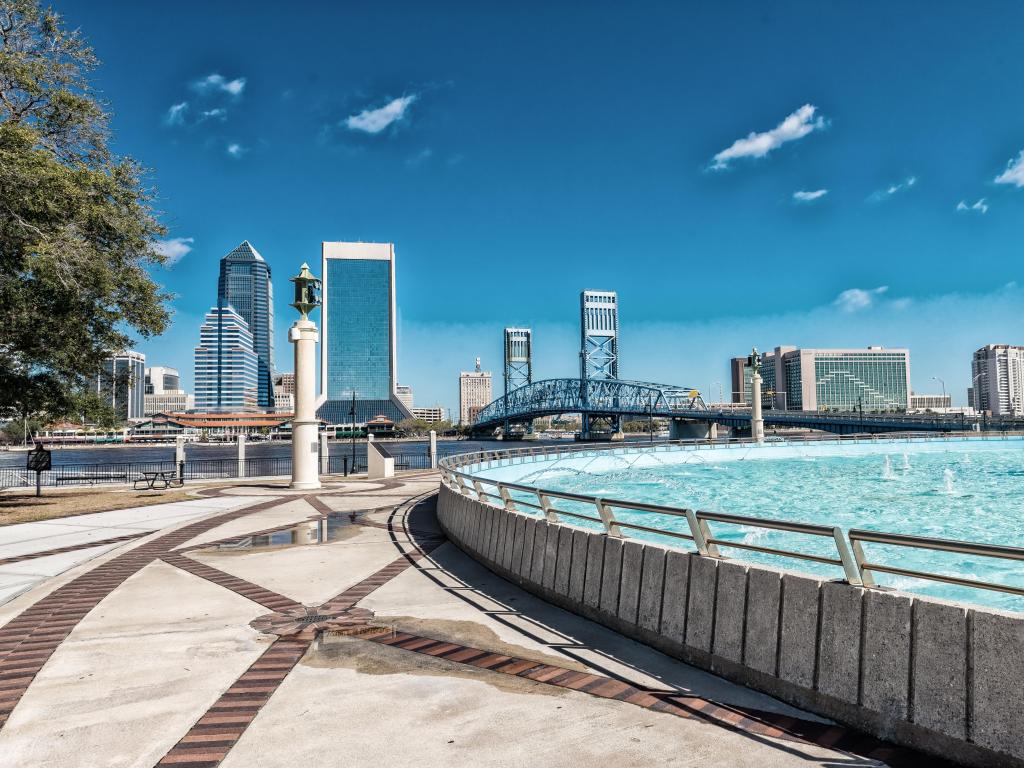 Best places to stop between New York City and Houston
As this route covers a lot of major cities, as well as some gorgeous national parks and huge places of historical significance, there are quite a few stop-off options available to you on the road trip from New York to Houston.
Of all the fantastic places to stop, here are some great ones to consider:
Enjoy the music in Nashville
Over halfway to your destination, Nashville is a great overnight option if you have chosen the Inland Route to Houston. As the capital of the US state of Tennessee, this fantastic city is home to legendary country music venues, including the Grand Ole Opry.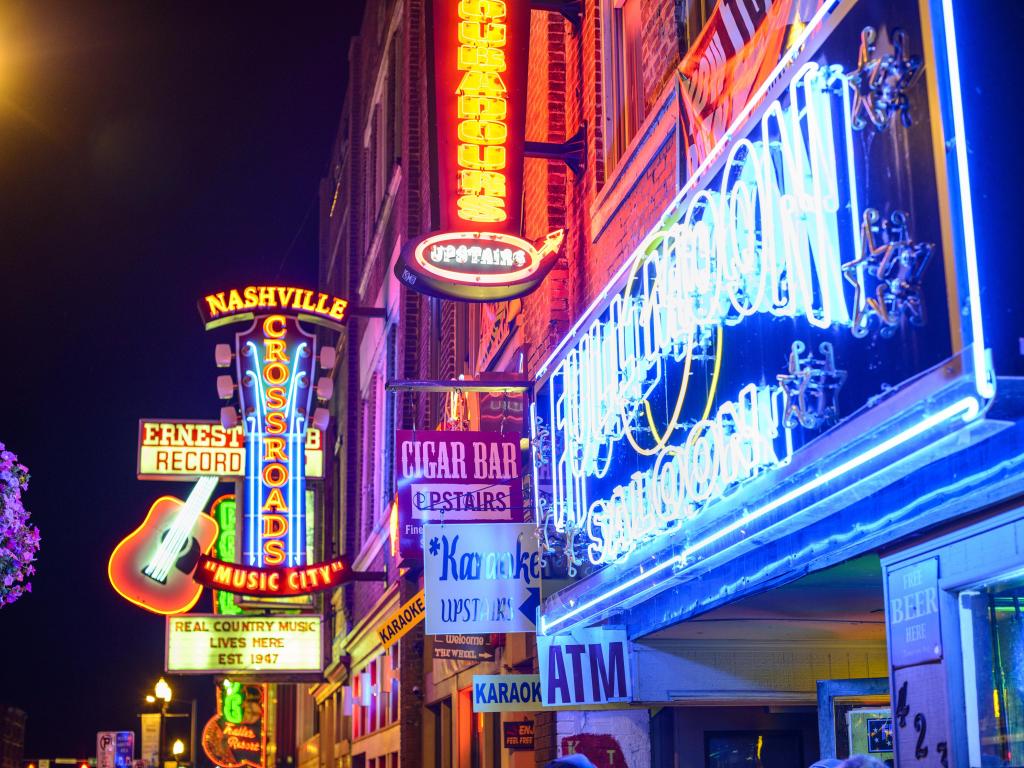 Walk the streets of this famous city and you'll discover the Country Music Hall of Fame and Museum and historic Ryman Auditorium, all within its downtown. Explore the District and you'll find live music and the Johnny Cash Museum, celebrating the singer's life.
There's so much more to Nashville than just its music history, the city is full of great museums, restaurants, shops and so much more. You could easily spend several days just soaking up the atmosphere.
Unsurprisingly there's a great choice of hotels in Nashville itself, but the Hyatt Centric Downtown Nashville is one of the best. The stunning 5-star hotel is situated near to the Johnny Cash Museum, Bridgestone Arena and Tootsies Orchid Lounge and is a truly luxurious stop.
With its own restaurant, seasonal outdoor swimming pool, bar and private parking, the Hyatt hotel has all the amenities coupled with modern and stylish rooms and fantastic city views.
Relax in the "Big Easy", New Orleans
New Orleans' reputation as one of the States' ultimate tourist cities is reason enough to schedule a stopover here. Whats more, if you follow our Coastal Route then this city is just over 5 hours from your final destination, making it a fantastic final stop before arriving at Houston.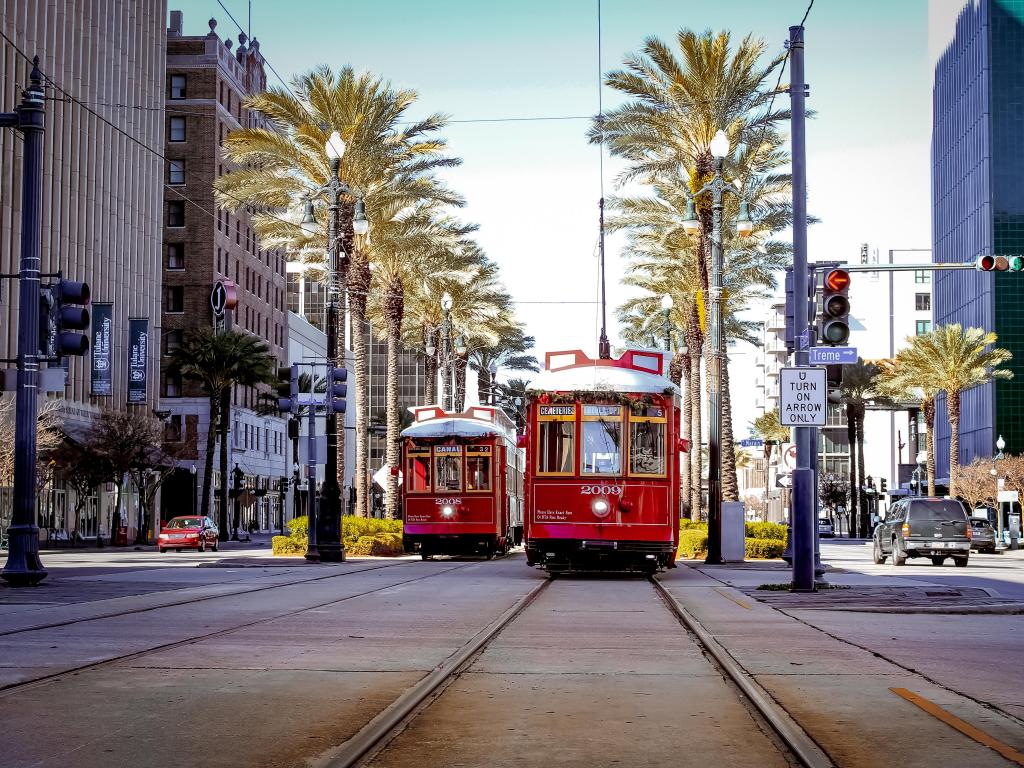 Set on the Mississippi River, near the Gulf of Mexico, New Orleans is nicknamed the "Big Easy," and is known for its round-the-clock nightlife, vibrant live-music scene and fantastic French, African and American cultures.
For a hotel as fantastic as this city, you'll definitely get a kick out of the amazing Four Seasons New Orleans. Boasting some of the best rooms in the entire American South, this hotel is impossible to leave after only a night or two.
Four Seasons is based in the historic French Quarter, amongst many of the best restaurants, bars, and attractions in the city, giving you plenty to do in the immediate area.
Another highlight would definitely be the pool, which is the perfect place to catch a tan and enjoy the clear skies above New Orleans.
Needless to say, this place is on the pricy side - that said, the hotel has so much to offer that you'll likely want to stay here longer than you may have planned.
Things to see on a road trip from New York City to Houston
There are so many fantastic tourist sites, and interesting towns and cities to visit on a road trip from New York to Houston, that creating a travel itinerary for it can seem quite daunting at first.
If you need some pointers, we have compiled this list of some of the major highlights along the way.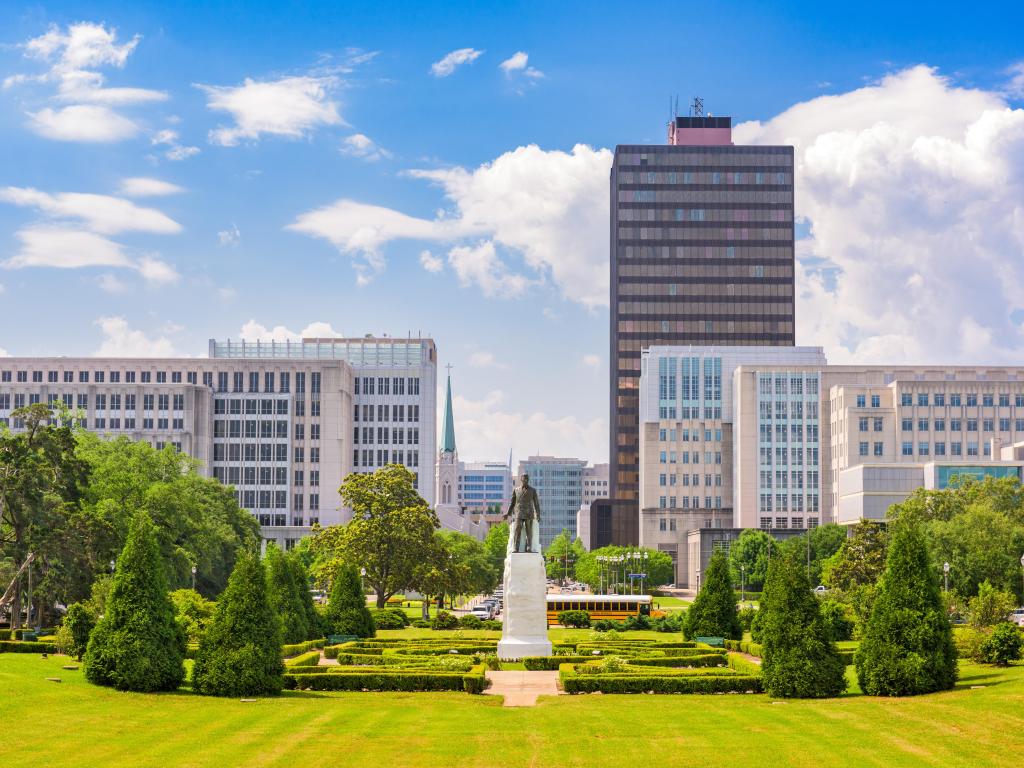 The Coastal Route
Philadelphia – The 'City of Brotherly Love.' Home to the Liberty Bell and Independence Hall (where both the declaration of Independence and the Constitution were signed). Also known for the Philly Cheesesteak, Philadelphia Orchestra and Rocky Bilboa.
Atlantic City – Glitzy resort city along the Atlantic Coast of New Jersey. It is lauded for its beautiful beaches, quaint boardwalk, flashy casinos and buzzing nightlife.
Baltimore – Situated at the mouth of the Inner Harbor, this vibrant Maryland city is famed for being the birthplace of 'The Star-Spangled Banner'. It also has a celebrated hipster culture and some fascinating museums, as well as the wonderful National Aquarium.
Washington DC – The nation's capital, boasting a host of world-class neoclassical monuments and structures like Capitol Hill, Lincoln Memorial, Washington Monument, The White House and The Supreme Court. Also houses a number of famous museums like the Smithsonian, as well as world-class art galleries and performance art venues.
Myrtle Beach – Gorgeous beachside city and vacation resort on the Atlantic Coast of South Carolina. Boasts more than 60 miles of sensational white sandy beaches. Also known for housing a number of celebrity-designed championship golf courses, as well as an iconic boardwalk with arcades and an old-fashioned amusement park that features the tallest Ferris wheel in the USA.
Charleston - Historically significant city that features a number of beautiful parks and impressive monuments, including Fort Sumter, Charleston Harbor, and the South Carolina Aquarium.
Savannah – Charming city celebrated for its idyllic coastal landscapes. Also features historic architecture, some excellent museums and Chippewa Square, the setting for the iconic bench scenes in Forest Gump, where he often related stories of his past to locals as he waited for the bus.
Jacksonville – Known as Jax by locals, this is the largest city in mainland America. It boasts more than 850 spectacular square miles of beaches, as well as the world-class Jacksonville Zoo and Gardens.
Pensacola – Westernmost city in the Florida Panhandle. Known for its fabulous sandy beach, impressive pier, historic village and stately lighthouse.
Apalachicola National Forest – Stunning forest with a number of trails and rivers that make this a great spot for hiking, camping, kayaking, and fishing.
Panama City – Boasts some of the most sublime stretch of coastline in America. A haven for those who love scuba diving, snorkeling, and fishing. Also popular for its fabulous shopping and dining scene.
New Orleans - One of the most gregarious, historical, and culturally significant cities in America. Known for its love of jazz and blues music, as well as its stunning French Quarter, Mardi Gras and delicious Creole cooking.
Baton Rouge – Home to LSU, Louisiana's beautiful capital city sits along the Mississippi River. It is known for its stunning antebellum architecture.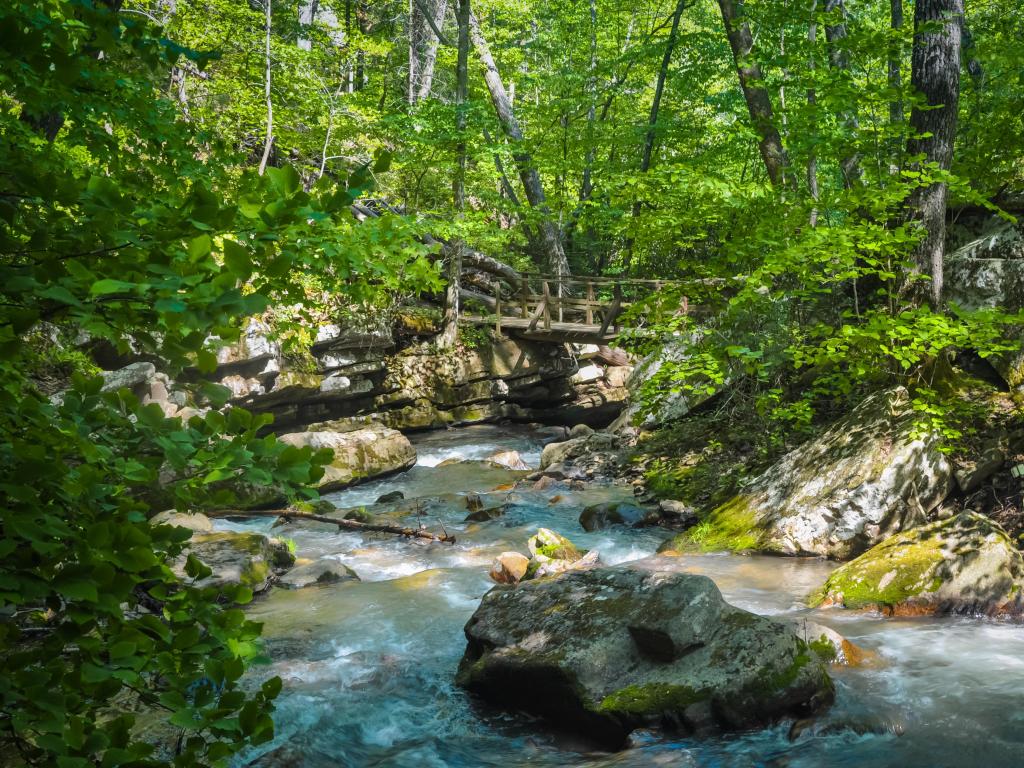 Inland Route
HersheyChocolate World – A must visit for all lovers of America's favorite brand of chocolate. One part of a vast entertainment complex that also includes Hersheypark Arena, Hersheypark Stadium, Hersheypark, Hershey Museum, and the Giant Center.
Knoxville - A city on the Tennessee River. Explore its Market Square district with 19th-century buildings with shops and restaurants. There's also a the Museum of East Tennessee History which has interactive exhibits plus regional art, textiles and Civil War artifacts
Nashville – Explore this famous city and discover the Country Music Hall of Fame and Museum and historic Ryman Auditorium, all within its downtown. Explore the District and you'll find live music and the Johnny Cash Museum, celebrating the singer's life.
Memphis - Famous for its blues, soul and rock 'n' roll, this Tennessee city is great place to explore. As well as its musical history, Memphis is also a great city for its museums, restaurants and colorful nightlife.
Ouachita National Forest - Located in both Arkansas and Oklahoma, this forest is home to rolling hills, pristine lakes and a vast array of adventures at every turn. A hikers paradise, it's also a great place to spot local wildlife.
Allentown - This Pennsylvania city is home to the Liberty Bell Museum which houses a full-size replica of the iconic bell, plus a mural about its history. Nearby, the Allentown Art Museum's collections include Renaissance and modern American works.
Angelina National Forest - Discover hundred of wildlife species in this huge national forest. Take a hike and explore the tall pines of East Texas, or enjoy a spot of fishing in its rivers.
Mount Rogers - The highest natural point in Virginia, this 200,000 acre site is part of the George Washington and Jefferson National Forest and includes great hiking opportunities as well as stunning views.
Kisatchie National Forest – Immerse yourself in a beautiful landscape of forests and prairies, which is ideal for outdoor sports and recreational activities like fishing, hiking, paddleboarding and camping.
Charlottesville - Surrounded by Jefferson's mountain-top plantation, Charlottesville is a city in Virginia with fantastic with a burgeoning culinary scene, world-class golf and amazing counryside to explore.
Cherokee National Forest - Divided into northern and southern sections by the Great Smoky Mountains National Park, this 650,000 acre forest has numerous picnic areas, over 700 miles of trails, over seven rivers and stunning views.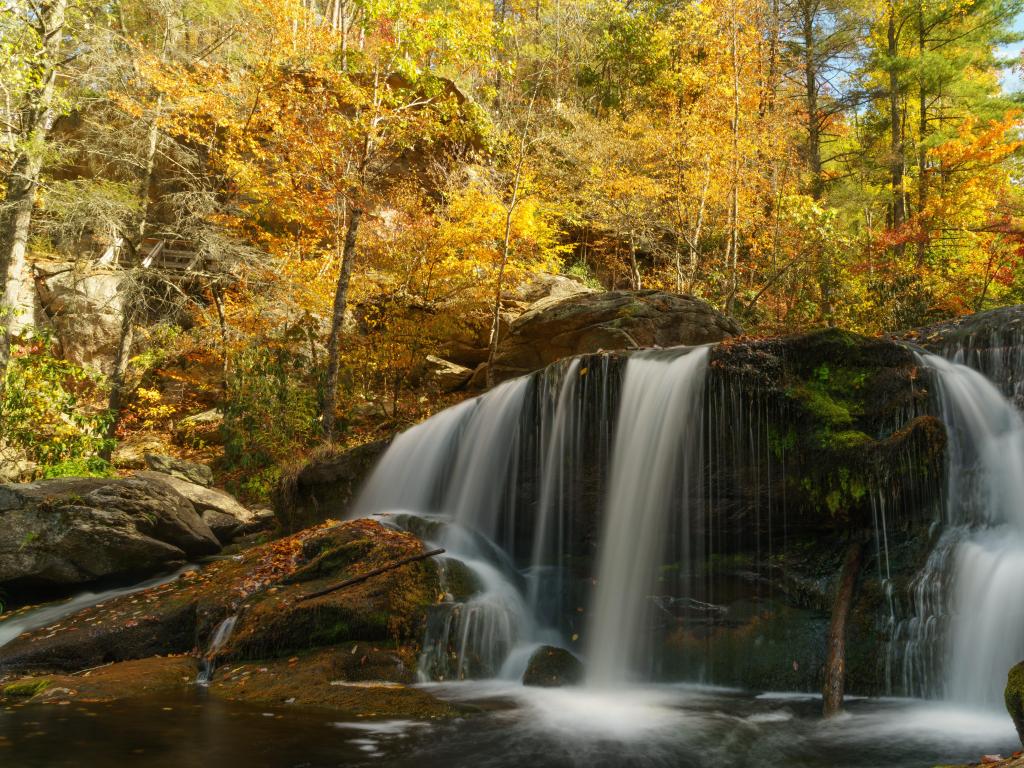 Best time to go on a road trip from New York to Houston
A road trip from New York to Houston can be undertaken all year round. While summer tends to be a popular tourist time, temperatures in this part of the US are hot, with average highs of 94 degrees Fahrenheit.
You will also find that traffic is likely to be busier during the summer, the holidays, and at weekends. While hotel prices and queues at tourist attractions will be more expensive and busier too.
If you plan to head to some of the national parks during the winter months, it is a good idea to plan ahead with extra layers for the evenings. The cold season lasts from November to February with an average temperature of 70 degrees.
Arguably the best time to do this drive is in late spring, between February and April, or early fall (September to November) as it will still be warm, prices will be cheaper, and queues should be much shorter too. There are also plenty of great festivals to enjoy during these seasons.
If you're passing New Orleans, you could time your trip with the famous Mardi Gras, the late-winter carnival famed for raucous costumed parades and street parties. There's also a huge number of events held in Houston, like the Pride Celebration in June and Soul Food Festival in July.