Road Trip from Philadelphia to Los Angeles, California
A cross-country road trip is a rite of passage and the road trip from Philadelphia to Los Angeles will take you through iconic American cities and attractions while the history, natural wonder, local food, and entertainment options on the way will delight you.
The 3,010-mile road trip from Philadelphia to Los Angeles takes about 49 hours. Key sights and experiences en route include Washington DC, Knoxville, Nashville, Palm Springs, Blue Ridge Parkway, Grand Canyon and Great Smoky Mountains National Parks.
This East to West Coast road trip from Philadelphia to Los Angeles is a truly epic, once-in-a-lifetime experience. Continue reading to learn about the best routes to follow, amazing sights and places on the way, as well as the best time to set off on this amazing adventure.
How far is Los Angeles from Philadelphia, and how long will the road trip take?
Comparison of road trip routes between Philadelphia and Los Angeles

| Route | Distance | Driving Time |
| --- | --- | --- |
| The Southern Route | 3,010 miles | 49 hours |
| The Northern Route | 3,120 miles | 51 hours |
The Southern Route from Philadelphia to Los Angeles covers 3,010 miles and takes 49 hours of non-stop driving. This is the shorter of our two route recommendations.
If you're looking for a route with more off-the-beaten-path attractions, try the Northern Route, which covers 3,120 miles and takes 51 hours of nonstop driving without accounting for any stops and detours you might want to make.
There is no denying that both of the routes cover mammoth distances and make for a pretty long journey, so we recommend taking at least 15 days to soak it all in.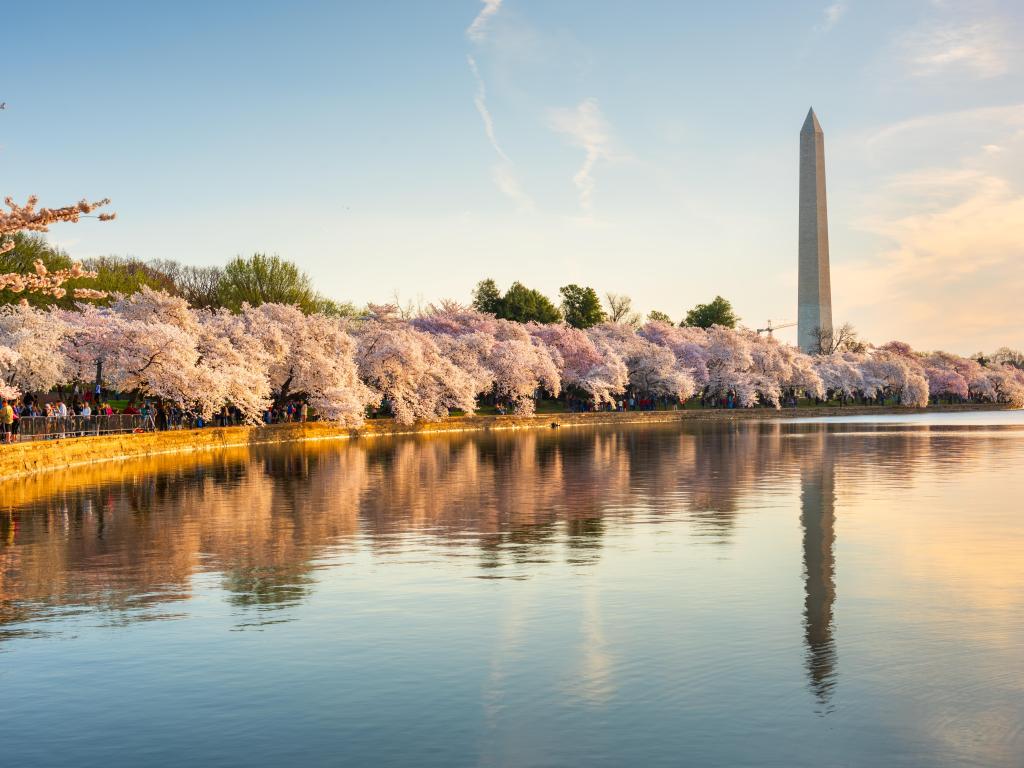 Best road trip route from Philadelphia to Los Angeles
The Southern Route will take you to some of the United States' most famous cities such as Washington DC, Nashville and Memphis, as well as epic landmarks and offers a wide variety of urban, forest, mountain, and desert landscapes along the way.
The Northern Route strikes a good balance between nature and culture, taking you through unique cities that are off the beaten path and well-known gems like the Grand Canyon and Las Vegas.
If you're planning a round-trip road trip, try one route on the way to Los Angeles and another on the way back to Philadelphia! A win-win! Just remember that the Northern Route will be harder to travel during the winter, so plan accordingly.
The Southern Route
Bid Philadelphia farewell and take Interstate 95 (I-95) South to Baltimore for some amazing crabs and continue on to the Nation's Capital – Washington, DC.
Make sure to visit the White House before sailing down to Skyline Drive south through Virginia to Charlottesville. Check out Thomas Jefferson's former haunts and taste some excellent local wines before taking yet another scenic highway – the Blue Ridge Parkway – into North Carolina.
In the Tar Heel state, check out Blowing Rock's legendary geological formation and the tiny home and craft beer mecca of Ashville.
Take I-40 West into Tennessee and marvel at the mist-crested terrain at Great Smoky Mountains National Park before continuing on to Gatlinburg's distilleries and quirky attractions. Soon after, you will arrive at Pigeon Forge, home of Dollywood.
Continue to Knoxville and then to Music City, Nashville. The interstate will then take you to Memphis, the birthplace of blues and rock and roll and home to Graceland.
After paying your respects to "the King," I-40 will take you into Arkansas and to the state's capital of Little Rock, which is perched on the Arkansas River.
From there, it's back onto the interstate and into Oklahoma to see the wind sweeping down the plain. Past Oklahoma City, you will head west to Texas. Pick up 40 West once again and follow it into Amarillo.
Head to Albuquerque in New Mexico for its historic old town and outdoor adventures and then into Arizona to see the stunning array of colors peppering the landscape at Petrified Forest National Park.
Take your last jaunt on the interstate into Flagstaff and stretch your legs at the amazing prehistoric cliff dwelling at Montezuma Castle National Monument.
The last leg of your journey will take you to Joshua Tree National Park before you reach Palm Springs, which is the perfect place to recharge before your last leg of the journey on I-10 West through San Bernadino and on to Los Angeles.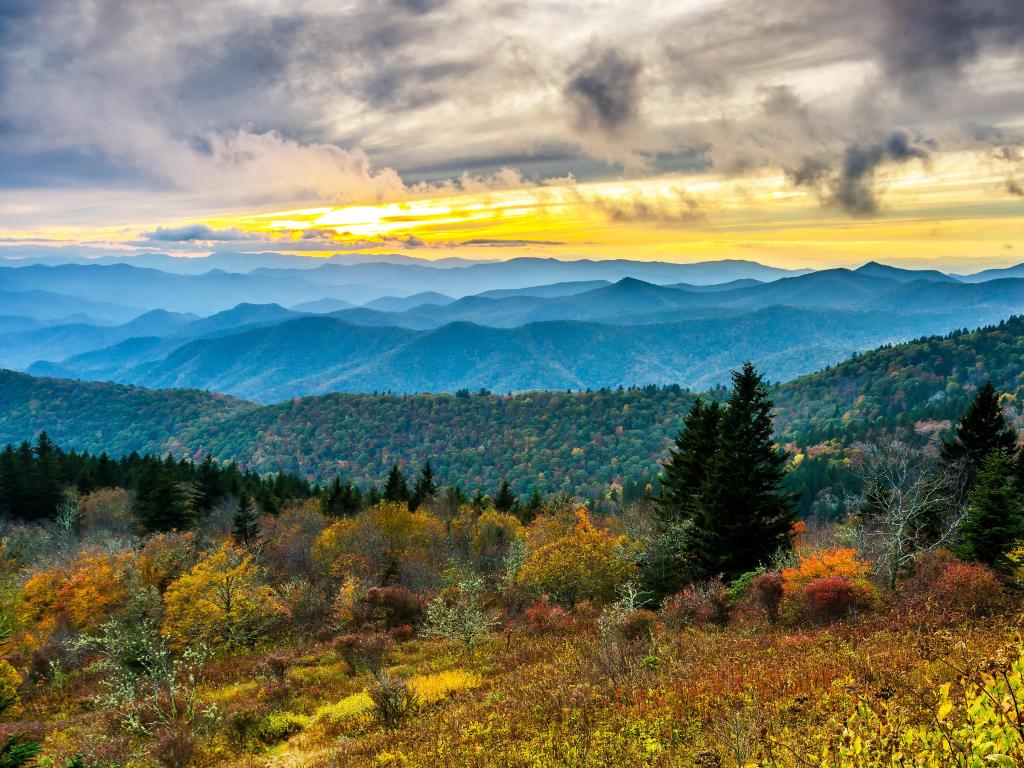 The Northern Route
Head west on I-76 to sample some of Hershey's famous chocolate before continuing on to Pittsburgh and then to Cleveland. Head towards the southern shores of Lake Michigan all the way to Windy City.
After some Chicago-style deep-dish pizza, it's a straight ride west across Iowa to Des Moines and then to Omaha. Soak in the plains and farm country as you drive the entire length of the state of Nebraska until you cross into Colorado and reach the vast expanse of the Pawnee National Grassland.
As the name might suggest, the landscape turns from open expanses to mountain ranges as you approach Boulder. Drive south through the Rocky Mountains into Denver, an urban hub with loads of sophistication and culture.
Enjoy breathtaking mountain scenery as you take I-70 West into Aspen, which, though known for its winter activities, is a cozy alpine-style retreat any time of year.
Continue on the interstate into Utah through Arches National Park and on to Moab, whose famed arched red rock formations make a surreal backdrop for all kinds of outdoor adventures.
From Moab, drive through Canyonlands National Park and into Arizona to pick up US-160 East, which will take you to the biggest canyon of them all – Grand Canyon. After your visit, head south to encircle beautiful mountain vistas as you get back on the interstate.
At this point the bright lights of Las Vegas will be impossible to miss! After living it up in Vegas, follow I-15 South across the sweeping desert landscapes in the Mojave National Preserve to 10 West to reach Los Angeles.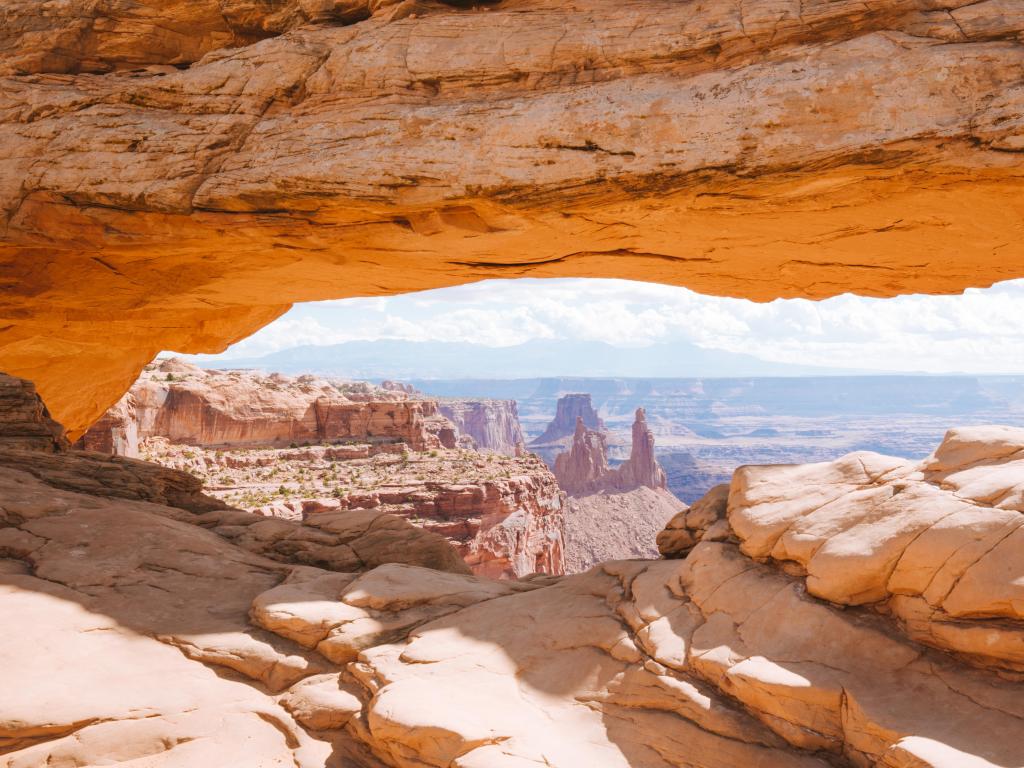 Best places to stop between Philadelphia and Los Angeles
The possibilities are endless when you drive from one ocean on the East Coast to another on the West. Below are just a few of our favorites places to stop and stay for a memorable trip.
A fun adventure in Pigeon Forge
Pigeon Forge, located 13 hours into the Southern Route, feels like one giant adult theme park. This fun-filled resort city is a full-on vacation destination. With its quirky attractions and laid-back southern charm, it really breaks the mold.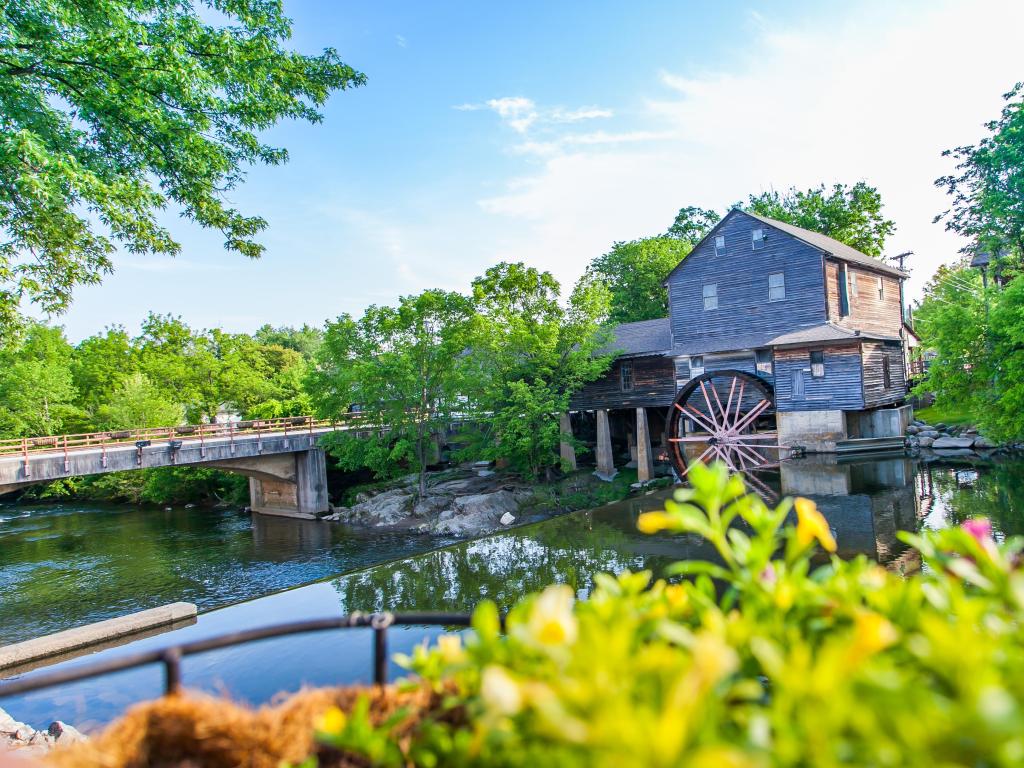 If you need a break from natural wonders and scenic views, hit one of the local theaters for a musical extravaganza or head over to Dollywood's country music-themed rollercoasters, waterslides and live music.
Shop 'til you drop, sample local moonshine, and snow tube indoors year-round! For a completely random experience given its geographical setting, visit the Titanic Museum, which traces the ship's history from construction to its sinking and eventual discovery in 1985.
It can't get more quintessentially Pigeon Forge than Dollywood's DreamMore Resort and Spa. This gorgeous, sprawling resort offers everything you need to kick back after a long day of driving. The large, well-appointed rooms have the perfect kick of country flair.
Pamper yourself at the salon and full-service spa. Relax at one of the resort's indoor and outdoor pools, which feature two waterfalls, a seasonal hot tub, and an interactive family splash pad. Enjoy southern-style on-site dining and grab a drink at "The Lounge."
Door-to-door transportation is available to local theme parks. The resort is a three-minute drive from Dollywood and within a ten-minute drive of the rest of Pigeon Forge's top attractions.
Check out Pittsburgh 2.0
Pittsburgh is located 5 hours outside of Philadelphia, making it likely to be your first overnight stop as you embark on your cross-country journey if you're taking the Northern Route. As you arrive, you'll soon see why Pittsburgh is known as Bridge City. Snap a picture on the imposing and iconic bright yellow Sixth Street Bridge.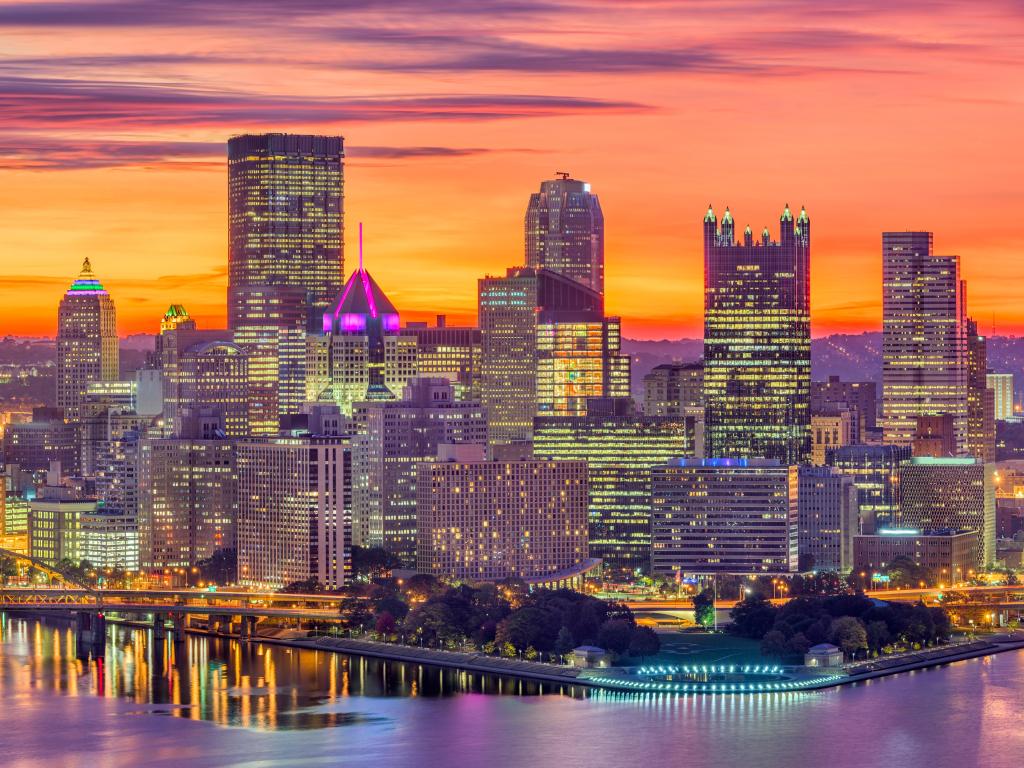 Explore the city's 90 unique neighborhoods and check out its myriad of museums, including the Senator John Heinz History Center, the Andy Warhol Museum, and the Carnegie Science Center, which offers amazing Pink Floyd and Queen-themed laser shows.
If you've got kids in tow, a visit to the Children's Museum of Pittsburgh is a must. Did you know Daniel Tiger is from Pittsburgh? Don't miss out on seeing Mr. Roger's original Daniel Tiger doll on display at the enormous Children's Museum.
You'll love the chic and boutique Kimpton Hotel Monaco Pittsburgh, which will be a welcome respite after a day of driving. Located in the heart of Pittsburgh's downtown, the Kimpton is an easy walk to most of the city's attractions.
Its beautiful lobby will surely impress you and the eclectic elegance continues to your room. You'll be able to enjoy an evening wine reception in the hotel lobby to unwind after all your adventures, given that you book ahead.
Work out at the fitness center before retiring to Kimpton's first-class on-site restaurant of rooftop beer garden. Pets are welcome (for no charge!) and parking is available nearby.
Where to stay when you reach Los Angeles
Feel like Hollywood royalty at this luxurious, carefully curated Pendry West Hollywood. From the lobby to the rooms, the place exudes hip confidence.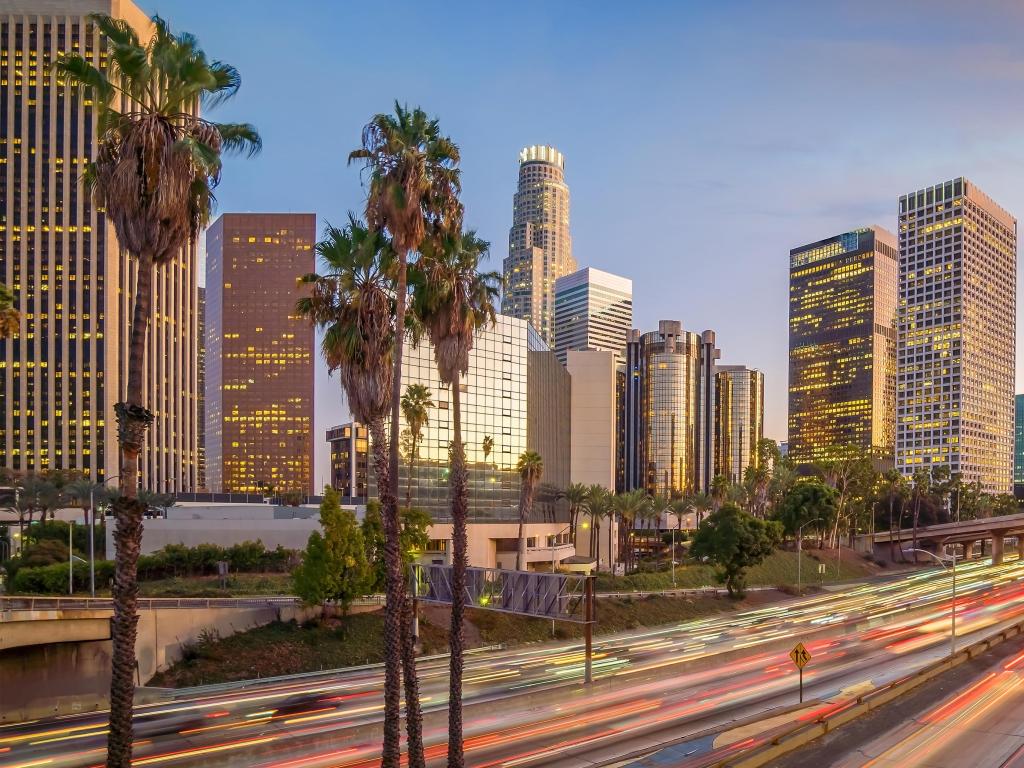 Stunning color combinations and unique fixtures will delight your eyes while the level of service you'll receive will make you want to come back again and again.
Peer out over Los Angeles from its massive, heated rooftop pool, stretch out in the expansive gym, treat yourself at the on-site spa, melt into the velvet lounge chairs in the opulent screening room, get your drinks shaken, not stirred at the glitzy bar, and sample haute cuisine at one of the two on-site restaurants.
If you can tear yourself away from the Pendry, you'll find you're in the heart of everything Los Angeles has to offer.
Things to see on a road trip from Philadelphia to Los Angeles
Get ready for the adventure of a lifetime! There are countless opportunities for adventure on both routes and here are some of our favorite things to see and do on both routes to help you plan.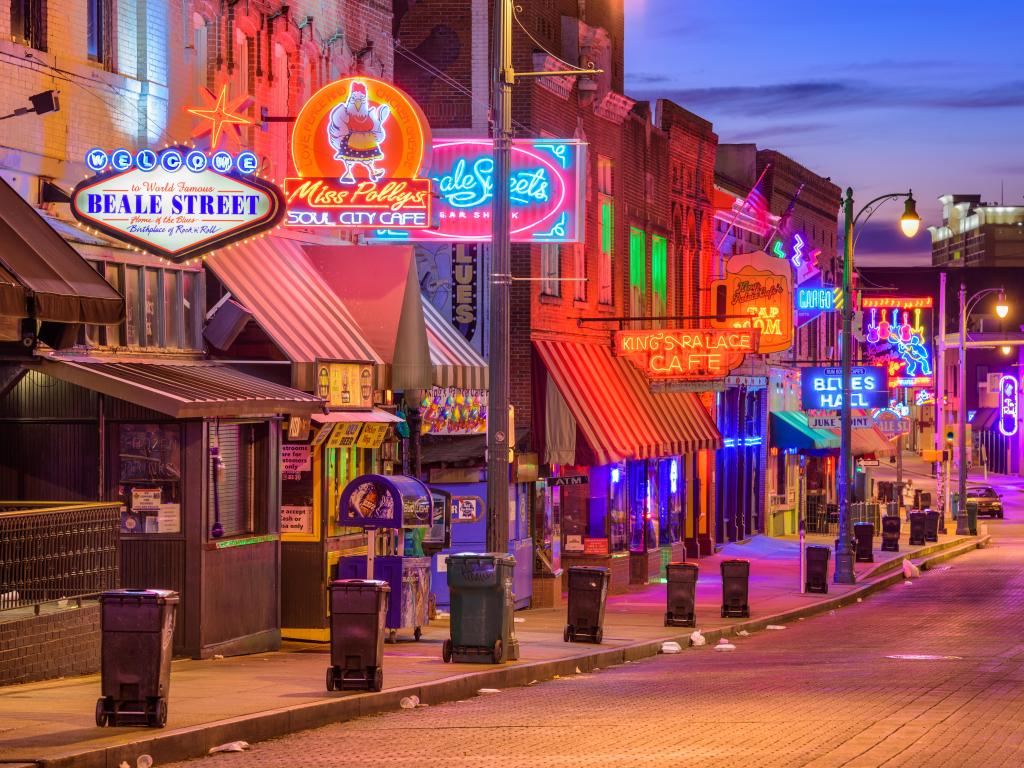 The Southern Route
Baltimore, MD – "Charm City" lives up to its name with its abundance of historic attractions, unique museums, and harbor attractions. Walk the cobblestone streets in the city's oldest section, Fells Point. Be sure to try the famous Maryland crabs during your visit (and the crab dip too!).
Washington, DC – There is so much to do in the nation's capital that it's impossible to fit it all into one trip. Wander the National Mall, lined with Smithsonian Museums (all free!). Climb to the top of the Washington Monument and visit The White House.
Charlottesville, VA – Charlottesville is a bustling university town that was once also home to three of America's founding fathers: Monroe, Jefferson, and Madison. You can visit their grand homes and stroll through the University of Virginia's sprawling campus.
Skyline Drive – This breathtaking 105-mile stretch of highway was built in the 1930s and covers the entire length of Shenandoah National Park.
Blue Ridge Parkway – This 469-mile drive is incredibly scenic and passes through three states – Virginia, North Carolina, and Tennessee – as you wind your way through the Shenandoah and Great Smokey Mountains National Parks.
Blowing Rock, NC – Come for the legendary geological formation, stay for the resort town! According to Ripley's-Believe-It-Or-Not, the Blowing Rock formation is "the only place in the world where snow falls upside down." Crazy!
Asheville, NC – Asheville has become something of a hub for craft beer, creative pursuits and enjoyment of the great outdoors. We can see why!
Great Smoky Mountains National Park – Named for the grey blue mist that clings to the mountain tops, it's easy to see why the Great Smoky Mountains is America's most visited National Park. Enjoy hiking, camping, fishing, and a host of other outdoor activities.
Gatlinburg, TN – This is the perfect place to stay if you're planning to explore the Smokeys. You'll love the distilleries, dining, and quirky attractions, like Ripley's Aquarium of the Smokies and Ripley's Mountain Coaster.
Pigeon Forge, TN – This fun-filled resort town is a full-on vacation destination. If you need a break from natural wonders and scenic views, hit one of the local theaters for a musical extravaganza or head over to Dollywood's country music-themed rollercoasters. Visit the Titanic Museum, which traces the ship's history from construction to its sinking and eventual discovery in 1985.
The Island in Pigeon Forge – With 23 acres of fun, you might not want to leave! Enjoy shopping, dining, and rides both day and night at this beautiful, uniquely American entertainment mecca. Don't miss visiting Ole Smokey Moonshine Co to taste some of the local brew.
Knoxville, TN – Host to the 1982 World Fair, Knoxville features a knock-out historic downtown; a fantastic zoo; and several excellent museums.
Nashville, TN – "Music City" will have you turning the radio up and rocking out after you recharge here. Check out the Country Music Hall of Fame and Museum and go to a show at the Grand Ole Opry or one of the many Country-Western bars that line its streets.
Memphis, TN – Known as the birthplace of blues and rock n roll, visit the museum at the renowned Sun Records, where Elvis, Johnny Cash, and many others laid down tracks. Be sure to dig into some world-class BBQ while you're here.
Albuquerque, NM – New Mexico's most populous city is jam packed with museums, history, and outdoor adventures. Don't miss the Old Town and the Petroglyph National Monument.
Montezuma Castle National Monument – You'll be amazed by this prehistoric cliff dwelling built into as cave on the side of a cliff, which has five floors and 20 rooms. This unique stone castle makes a great photo op to stretch your legs and break up the drive.
Joshua Tree National Park – The Mojave and Colorado deserts meet here to produce an explosion of flora and fauna. Enjoy hiking, camping, climbing and endless desert landscapes dotted with rock formations and cacti.
Palm Springs, CA – You'll love the mix of kitschy culture, relaxation, and dining this oasis in the desert has to offer. Downtown is lined with upscale shops and the city is ringed with impressive mountains.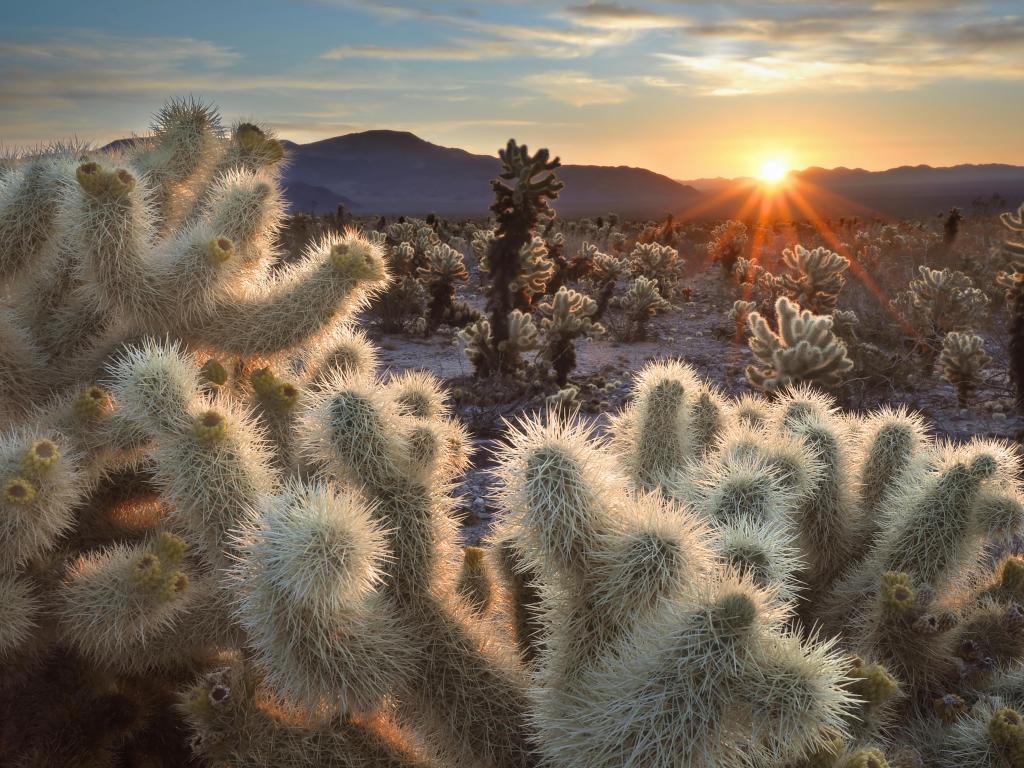 The Northern Route
Hershey, PA – You can't think of Hershey without thinking of the famous chocolate that was born here. Hershey's Chocolate World pays homage to the famed brand and Hersheypark packs fun for all ages with its huge selection of rides, waterslides, and rollercoasters.
Pittsburgh, PA – This riverfront city has outgrown its gritty reputation and transformed into a cultural hub. Explore its 90 unique neighborhoods and check out its myriad of museums featuring Pittsburgh legends like Mr. Rogers and Heinz Ketchup.
Senator John Heinz History Center – Walk through Pittsburgh's history and learn about the cultural and sports icons that shaped the city and put it on the map. Highlights include the Mr. Rogers and Heinz Ketchup exhibits.
Andy Warhol Museum – Born in Pittsburgh, Andy Warhol redefined mid-century art. This museum houses the largest collection of his work in North America.
Children's Museum of Pittsburgh – This multi-story, hands-on museum has something for kids of all ages to engage their minds and bodies. Mr. Roger's original Daniel Tiger is on display along with other fan favorites from Mr. Roger's cast.
Carnegie Science Center – Pittsburgh's most visited museum isn't your traditional science center. Science comes to life at the planetarium, roboworld, and Bodyworks. You can even tour a Cold War-era submarine.
Cleveland, OH – Located on the banks of Lake Erie, this mid-West metropolis keeps it real with its mix of local and world-renowned culture. Marvel at rock legends at the Rock and Roll Hall of Fame and enjoy local craft beer during your visit.
Rock and Roll Hall of Fame – Imagine yourself as a rock legend for a day at this 150,000-square-foot mega-complex that pays homage to some of the genre's greatest legends.
Chicago, IL – The Windy City has something for everyone. Sample its famous deep-dish pizza and get a hot dog Chicago-style. Snap a selfie of your reflection in the Cloud Gate sculpture in Millennium Park, meander the shopping mecca of the Magnificent Mile, and check out the city views from the top of the Sears Tower, the tallest skyscraper in the world.
Omaha, NB – Stoll the cobblestone streets of Omaha's Old Market neighborhood and dine at one of its host of excellent restaurants. Visit the Henry Doorly Zoo, which is the world's dome-enclosed largest indoor desert.
Boulder, CO – Hike and bike until your heart's content and then unwind on Pearl Street with shopping and dining.
Denver, CO – Denver is not just a way-lay point for skiers and nature enthusiasts heading to the Rocky Mountains, but a sophisticated urban hub in its own right. Home to breweries, wineries, street art, and more, you've got to see what all the buzz is about.
Aspen, CO – This famous winter resort town feels like a cozy alpine village any time of the year.
Moab, UT – Moab's famed arched red rock formations make a surreal backdrop for hiking, mountain biking, and rock-climbing adventures.
Grand Canyon National Park, AZ – The 277-mile-long Grand Canyon One is of the world's great natural wonders and can be explored on foot, donkey, raft, or helicopter.
Las Vegas, NV – Vegas has it all. Where else can you meet Elvis; see an amazing live show; relax at a spa; party by the pool; or win big at a world-class casino?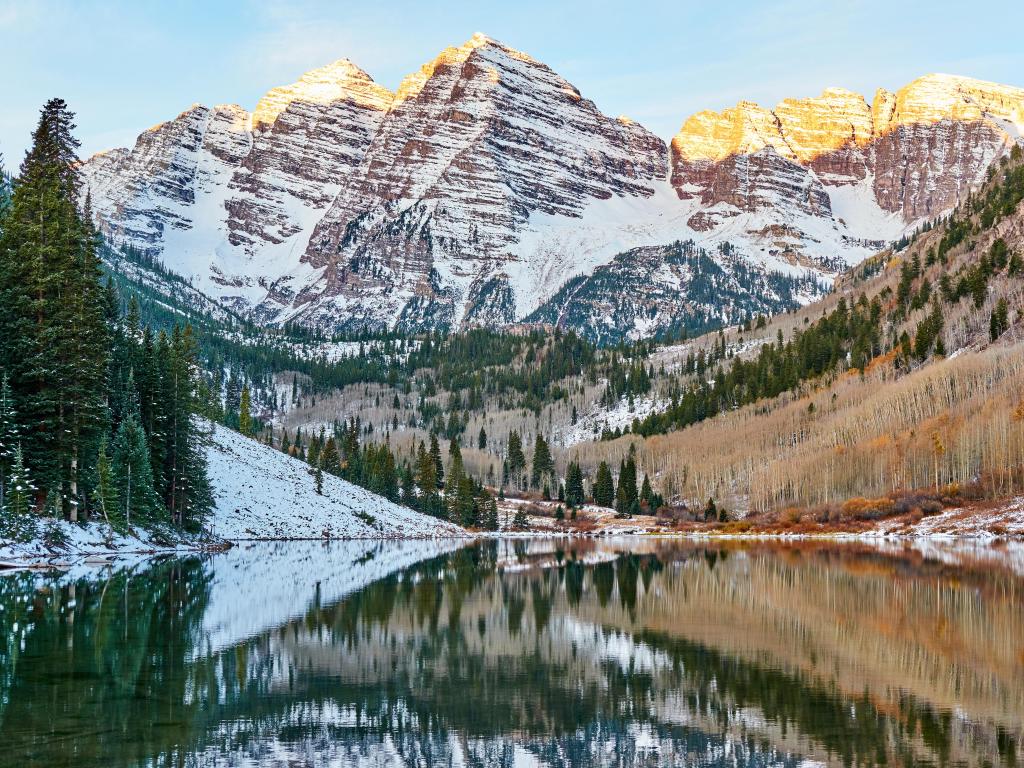 Best time to go on a road trip from Philadelphia to Los Angeles
Los Angeles is absolutely a year-round destination. It's sunny and warm almost every day in City of Angels, but if you're venturing to and from the beach and the valleys you can see temperature fluctuations as you head inland so it's best to bring layers so you can adjust as needed.
For the road trip portion of your journey though, you may not want to choose the Northern Route if you're traveling in the winter as the weather conditions might make it hard to enjoy some of the offerings along the way and snow and sleet could make for difficult driving conditions.
Summer is a popular season to visit Los Angeles, but keep in mind that it is cloudy in June. Starting in July, the clouds start disappearing by around noon, bringing the sunny skies that you imagine when you think of LA. Summer average temperatures range between 70 and 75 degrees.
Winter and early spring are the wettest months in Los Angeles, but it doesn't usually rain all day and the rainy season ends by mid-May. It's rare for the mercury to drop below 40 degrees, making winter pretty mild and comfortable. Daytime winter temperatures average between 58 and 59 degrees.
Spring temperatures range between 62 and 66 degrees and fall temperatures fluctuate from 63 to 74 degrees. Fall is a fantastic time to visit, especially September since it's dry, the summer tourist season has ended, and it's still quite warm.
LA's most famous event is arguably the Academy Awards, which are better known as the Oscars. If you visit in late February during Oscar season and are looking to stay near the Dolby Theatre where they're being held, hotel prices will likely be higher.
Likewise, the Golden Globes are held each January, so position yourself accordingly if you want to catch a piece of the action. For more celebrity-spotting action, you should know that the Grammys are held in February each year and the Emmys happen each September.
For something more low-key, check out the LA County Fair each May, which has been a Southern California tradition since 1922. It lasts three weeks and is accompanied by a start-studded concert series.