Road Trip from Philadelphia to Quebec City
The road trip from Philadelphia to Quebec City boasts the perfect balance of history, cityscapes and nature. This is the ideal road trip for those looking to visit picturesque lakes, take in the stunning scenery and explore historic cities brimming with cultural attractions on the way.
The 780-mile road trip from Philadelphia to Quebec City takes 15 hours and 30 minutes to drive. You'll drive through Allentown, Ithaca, Syracuse, Oswego and Cape Vincent, before driving into Canada through Kingston, Montreal and Trois-Rivières.
Winding through forest-filled American and Canadian landscapes, this scenic trip is full of amazing historic stops and bustling yet beautiful cities. With so much to see, find out our suggested routes, the top places to stop, and the best time of year to visit.
How far is Quebec City from Philadelphia, and how long will the road trip take?
Comparison of road trip routes between Philadelphia and Quebec City

| Route | Distance | Driving Time |
| --- | --- | --- |
| The Lake Champlain Route | 620 miles | 12 hours 30 minutes |
| The Lake Ontario Route | 780 miles | 15 hours 30 minutes |
This adventure promises scenic drives along lake shores and through awe-inspiring US and Canadian greenery. Plus, whichever route you take, there are vibrant towns and cities where you will find exciting adventures and attractions.
The more leisurely Lake Ontario Route from Philadelphia to Quebec City covers 780 miles with a driving time of about 15 hours and 30 minutes. This doesn't account for stops or congestion en route.
If you want a slightly more direct route with a little less driving time, our Lake Champlain Route has a total driving time of about 12 hours 30 minutes and covers 620 miles.
Although you could do the drive in just a few days, we suggest taking 4 or 5 days. This will give you plenty of time to make the most of the sights and attractions along the way.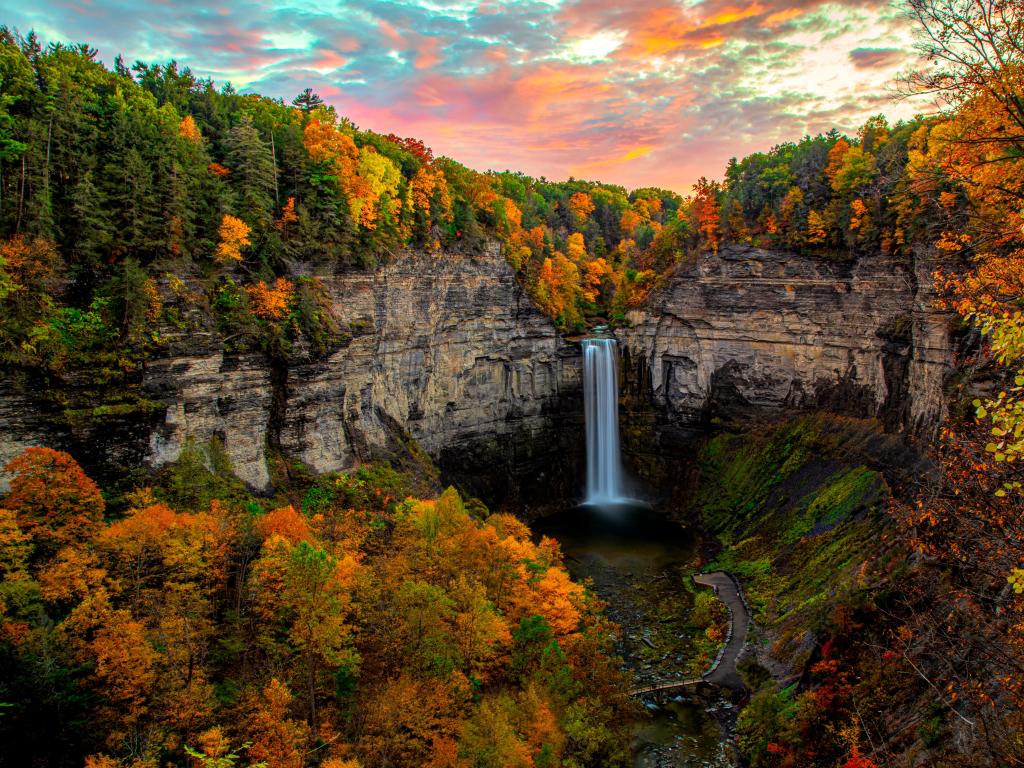 Best road trip route from Philadelphia to Quebec City
Our recommended road trip routes to Quebec City from Philadelphia will take you through beautiful landscapes with a healthy dose of cities and historic attractions along the route. Either way, you finish your trip up in one of Canada's oldest cities with incredible historic architecture and year-round attractions.
Want to take your time? The leisurely Lake Ontario Route divides itself equally between New York State and Canada, with a beautiful stretch along the shore of Lake Ontario. You'll journey through Allentown, Ithaca and Syracuse, and visit Cape Vincent, Kingston and Montreal.
Our Lake Champlain Route is a little more direct and stays in the US for a lot longer before crossing the border into Canada through Vermont. As you pass through New York, Catskills, Albany, Lake George and Burlington, you'll see smaller lakes, plenty of greenery and the magnificent Catskills Mountains.
Something to bear in mind with this route is you won't hit as many Canadian cities as our Lake Ontario Route, although Montreal can easily be added on as a detour.
It's also worth noting that congestion out of New York City could slow you down a little too – although it's such an incredible city, you probably won't mind too much!
The Lake Champlain Route
Head out of Philadelphia and take the interstate (I-95) towards New York City. Cross into New Jersey and drive on I-87 towards Albany. Just after Saugerties, you can take a short detour to Catskill.
Carry on driving on the interstate directly to Albany. Then drive on to Saratoga Springs. Just after Glens Falls, you'll come to Six Flags Great Escape - well worth a stop for a few hours of fun! From there, continue on the same road to Lake George.
Drive on Lake Shore Drive and follow the road around the shore of Lake George, past Bolton and Silver Bay Point until you reach Ticonderoga. From there, head to Crown Point, then to the Lake Champlain Bridge.
Cross over into Vermont and drive on VT-17 and US-7 to Shelburne via Addison and Vergennes. Then continue into Burlington. The interstate will then take you past Swanton before crossing the border into Canada, just before Saint-Armand.
Head to Saint-Ignace-de-Stanbridge and past Montreal, though if you wish you can choose to detour into the city if you have the time. You will then continue past Drummondville and reach your destination in Quebec City.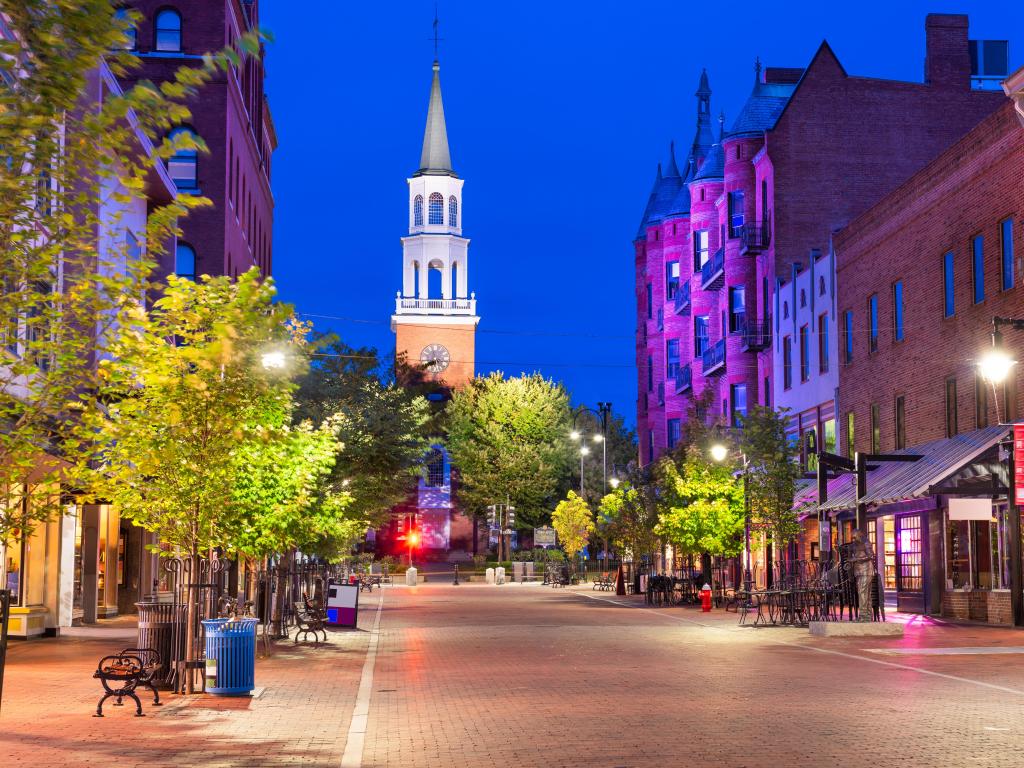 Lake Ontario Route
Leave Philadelphia and head towards I-476. Drive along the interstate and turn towards Lehigh Valley to reach Allentown. After your detour to Allentown, get back onto the interstate. Continue past Scranton onto I-81 to Ithaca. Continue on the interstate to Syracuse.
Head out of Syracuse and continue on to Oswego. From Oswego, you'll drive along Lake Ontario, passing Pulaski and Watertown before reaching Cape Vincent.
You then cross from Cape Vincent to Canada. Drive across Wolfe Island and cross the St. Lawrence River to Kingston.
Leave Kingston and drive along the freeway (F-401) towards Montreal. Cross the bridge over the Ottawa River to Perrot Island, and then continue, going past the airport and into the city of Montreal.
From there follow Route 40 to Trois-Rivières and continue on the same road to reach Quebec City.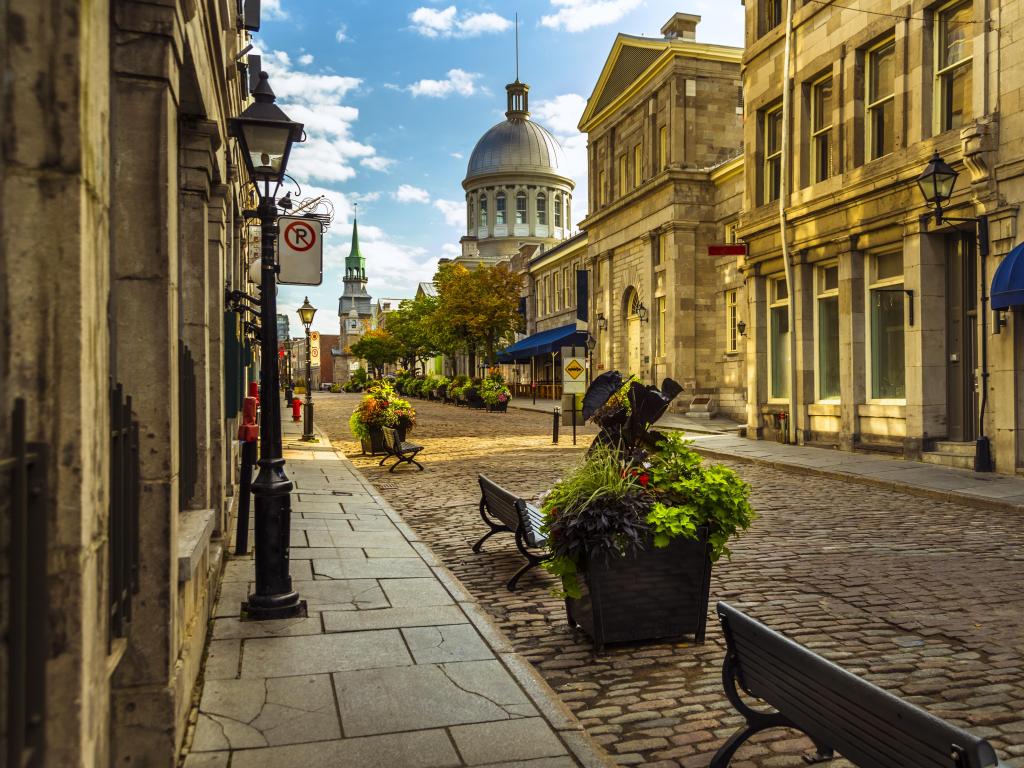 Best places to stop between Philadelphia and Quebec City
Whether you opt for the Lake Champlain Route or the Lake Ontario Route, you'll be spoilt for choice when it comes to the beautiful, scenic spots to stay along the way. To help you plan your trip (and your time), these are our top choices for where to stay on your journey.
Stay in scenic Lake George
Roughly halfway along the Lake Champlain Route, Lake George is a small, historic town in New York State's beautiful Adirondack region. Named "the Queen of the American lakes'', this lake and its surrounding area are the perfect spots for scenic walks and relaxation.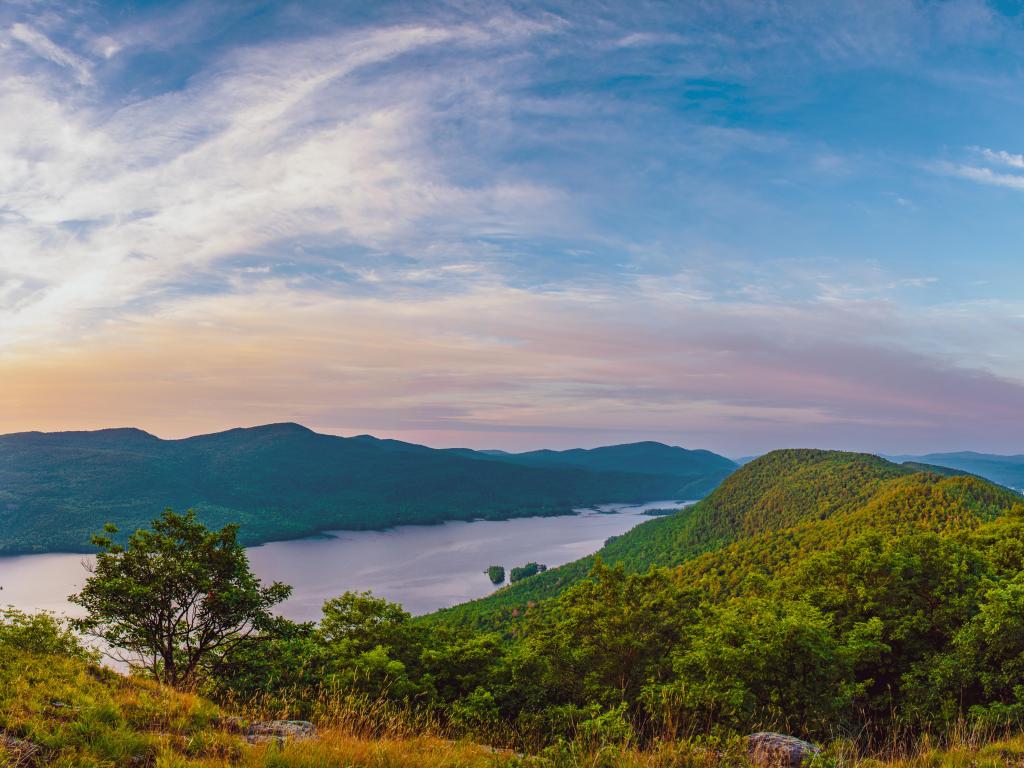 This lake is one for all seasons. In summer, visit Million Dollar Beach, a 1700-foot beach on the southern tip, or in the winter, enjoy New York's largest ski resort, Gore Mountain Ski Center if you are keen to hit the slopes.
The centrally located Courtyard by Marriott Lake George hotel is just minutes from the shore of the lake and a stone's throw away from the town's many attractions.
Relax and recharge in the hotel's contemporary, elegant rooms before taking a dip in the indoor pool. Then sip a drink at the bar or enjoy a meal in the on-site restaurant while enjoying incredible views over the Adirondack Mountain region.
Just a short walk away you'll find the 18th century Fort Willian Henry where battles of the French and Indian Wars took place – a must-visit for history fans – while adrenaline junkies will find their thrills at the Six Flags Great Escape and Hurricane Harbor amusement park nearby.
Wander by the waterfront in Kingston
Halfway between Philadelphia and Quebec City along the Lake Ontario Route, Kingston is a small yet bustling city that sits on Lake Ontario. Canada's original capital city, Kingston is known for its 19th-century limestone buildings and is home to tons of cultural attractions and great places to eat.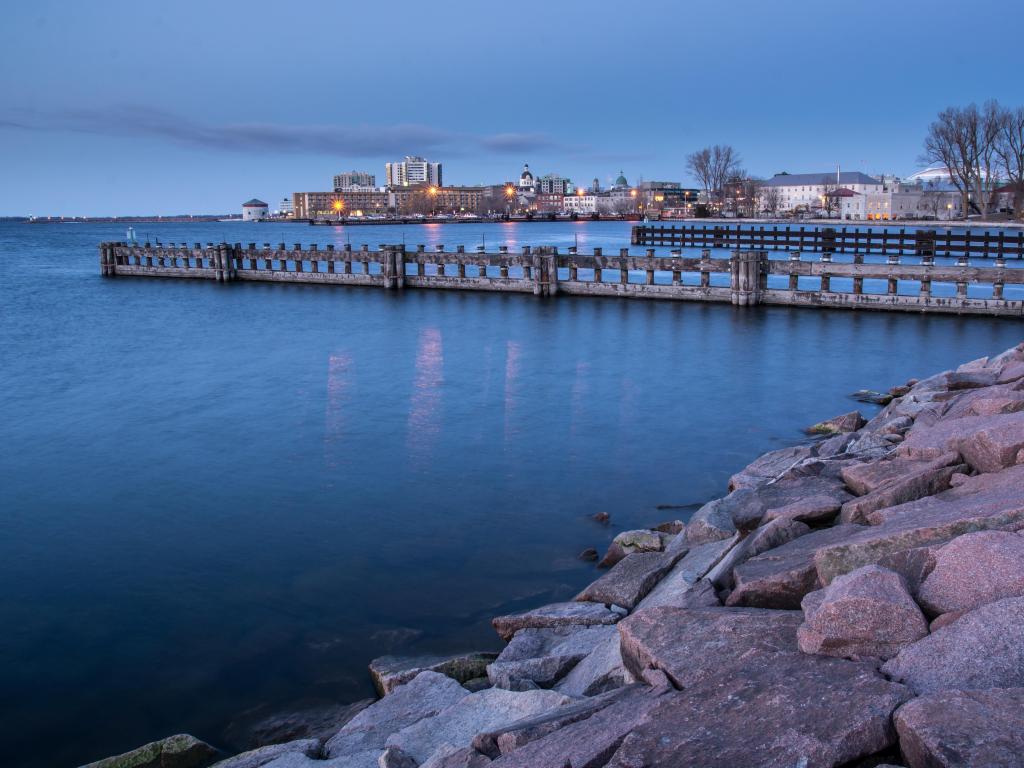 Home to art galleries, parks, a lively waterfront and an excellent shopping district, Kingston is located right by the US-Canadian border. History buffs will want to check out Fort Henry, a Canadian National Historic Site offering guided tours, a museum, and military demonstrations.
With an excellent central location, Delta Hotels by Marriott Kingston Waterfront puts you right at the center of all Kingston has to offer. It's right on the waterfront, with Kingston 1,000 Islands Cruises just a short walk away, where you can book a boat trip to watch the sunset from the lake.
Modern and sleek, the rooms' large windows showcase stunning panoramic views of the lake and harbor. The pièce de résistance however, is the indoor rooftop pool, where you can enjoy a relaxing swim with overarching views. Be sure to sample delicious dinner in the award-winning waterfront restaurant, too.
Where to stay when you reach Quebec City
The only walled city in North America, Quebec City is packed full of character and historic charm. There's plenty to see and do, so you'll want a base with an excellent location to explore all the city has to offer.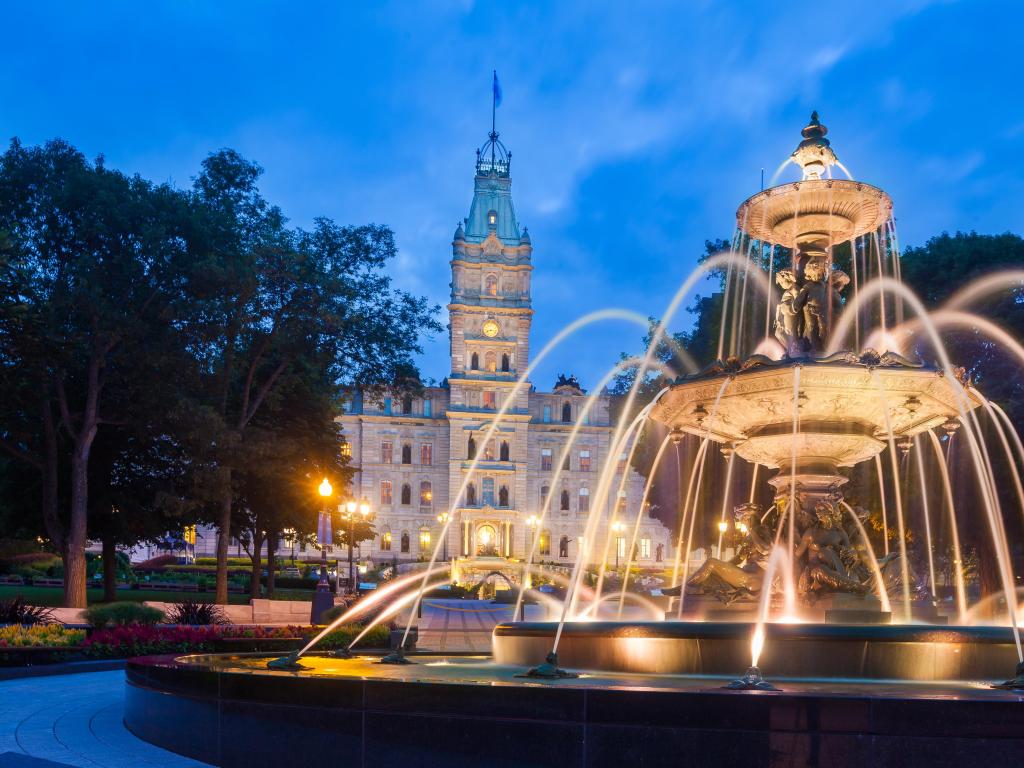 Our top pick is the super-stylish Hotel Port-Royal, which is right in the center of Quebec City's Old Port. It's a perfect base to spend a few days, with airy, contemporary suites that let you spread out, and even have their own kitchenettes.
With its excellent location, you'll be just a short walk away from Quebec City's main attractions, including the Notre-Dame-de-Quebec Basilica Cathedral, the Naval Museum, and the Fairmont Chateau Frontenac.
Things to see on a road trip from Philadelphia to Quebec City
While driving the trip from Philadelphia to Quebec City, there are so many places and attractions – it's (almost) impossible to narrow it down. We've listed our favorites to help guide you when making those tricky decisions.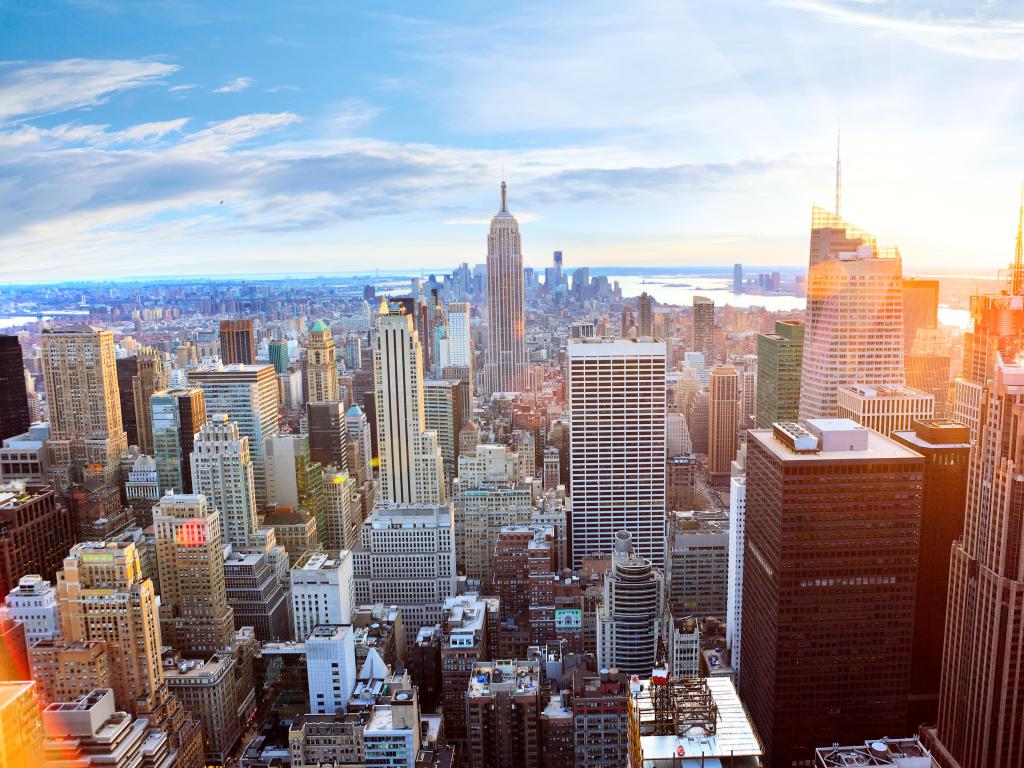 The Lake Champlain Route
Grounds for Sculpture – Just a stone's throw across the border from Pennsylvania to New Jersey, this contemporary sculpture park boasts two museums and an arboretum. Be sure to buy your tickets in advance!
New York City – See the endless sights of the Big Apple. Check out the Empire State Building, Broadway and Times Square, Central Park, the Lincoln Center for Performing Arts and the recently built Hudson Yards.
Walkway Over the Hudson State Historic Park – Take in the beautiful sights of the Hudson River and the luscious surrounding forest from this nineteenth-century bridge walkway.
Clermont State Historic Site – This historic mansion once belonged to the socially prominent Livingstone family. Take a tour to explore the 1750s building and its surrounding 500-acre grounds with hiking trails and gift shop.
Albany Institute of History and Art – One of the oldest museums in the United States, here you'll find a collection of fine art, furnishings and photographs from the nineteenth century.
Saratoga National Historical Park – The site of an unprecedented Revolutionary War victory, take an educational tour of the Saratoga National Historical Park to see the battlefield and monument.
Billings Farm and Museum – This working farm offers attractions perfect for adults and children alike, including wagon rides, a gift shop, and barns full of farmyard animals.
Vermont Teddy Bear Factory – Stop at this colorful factory near Burlington, Vermont for a tour and the chance to build your own teddy bear, giving you a wonderful souvenir to keep forever.
Sherbrooke, Quebec – In picturesque southern Quebec, this small city has several museums, including the Musee des beaux-arts de Sherbrooke. Plus, stroll along the walkway along the Magog River rapids, and wander through the city to discover famous murals.
Centre du Quebec Dinosaur Park – Life-like dinosaur statues loom over this park, making it a great place to snap some fantastic pictures while you grab a bite to eat.
Fromagerie Victoria Saint-Nicolas – On the highway to Quebec City, you'll find this incredible cheese shop full of mouth-watering Quebecois cheese. Once you've stocked up on cheese, check out their restaurant for a tasty lunch or dinner.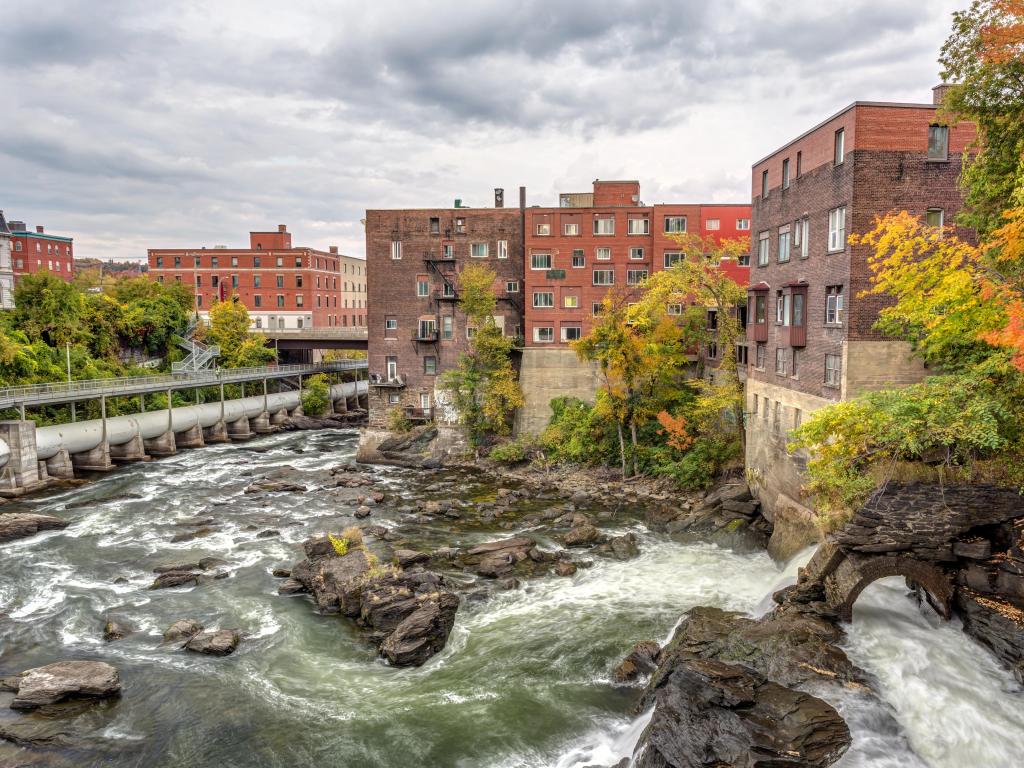 The Lake Ontario Route
American Treasure Tour Museum – This unique, kitschy museum has a huge collection of American and Pop culture pieces, including tons of vintage pianos and automobiles.
Allentown Rose Gardens – It's easy to see why these scenic gardens with three pavilions are a popular wedding location! Wander through the waking paths or follow the fitness trail; you may even see a ceremony taking place.
1890 House Museum – Take a tour through this imposing four-story mansion to discover life in the nineteenth and twentieth centuries, and learn about its original owners, the Wickwire Family.
Wonderworks Destiny – This fabulous family-friendly amusement park boasts 6D interactive exhibitions, over 100 hands-on science exhibits, a laser tag course and a ropes course. Book online to get a discounted rate!
Selkirk Shores State Park – A popular campsite and a must-see for nature lovers, this state park is the perfect place to take in a beautiful sunset or go for a dip in Lake Ontario – or both!
Maclachlan Woodworking Museum – Right on the shores of the St. Lawrence River, this pay-by-donation museum offers interactive woodworking workshops as well as nature-based exhibits.
Thousand Islands National Park – Explore one of Ontario's most unique landscapes (and one of Canada's many natural wonders). This national park is made up of dozens of tiny islands scattered across the St. Lawrence River and can be reached from almost anywhere along the route.
Ottawa, Ontario – A must-see for history and culture buffs, Canada's capital city has plenty to explore. Visit the National Art Gallery and Parliament Buildings or take a stroll along the Rideau Canal before visiting the historic Byward Market.
Gibeau Orange Julep – An iconic Montreal fixture, it's not every day you see a massive orange offering freshly pressed juice and snacks. Right on the highway, stop for a quick bite – be sure to sample Quebec's most famous dish, poutine.
La Ronde – Thrill-seekers will love La Ronde amusement park on St. Helen's Island in Northern Montreal. Open for the summer and early fall seasons, it offers dozens of rides and restaurants, plus arcade games and performances.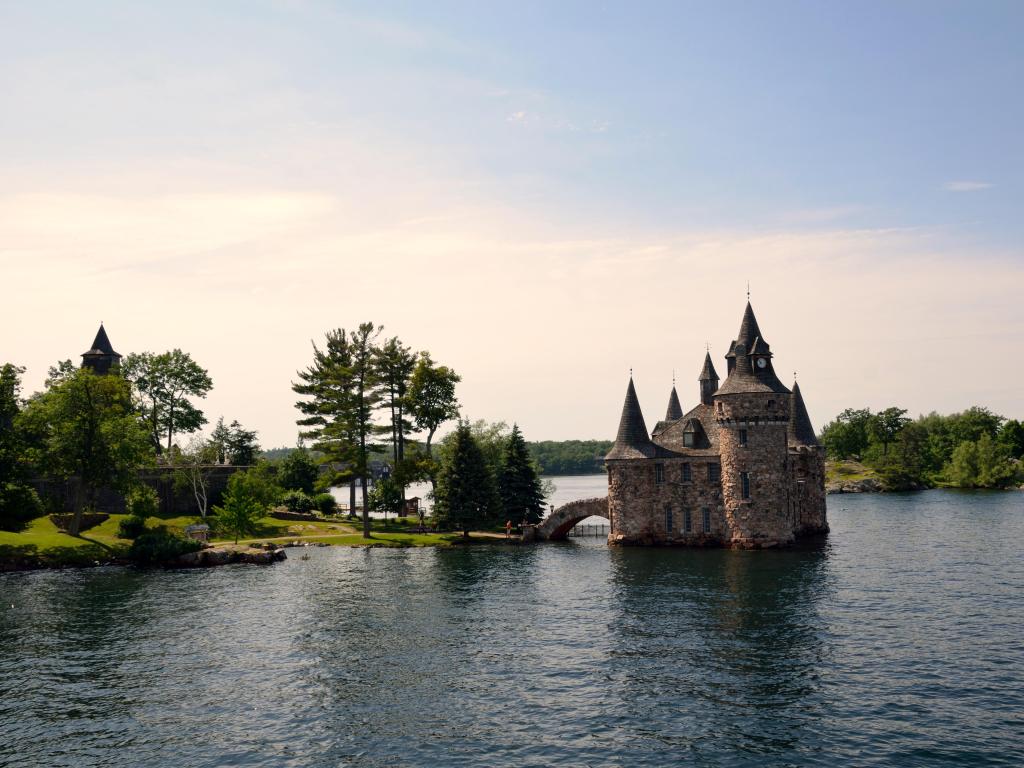 Both routes
Statera - The 104th Island Experience – On the banks of the St. Lawrence River, Statera offers river cruises, flight simulations, and a futuristic dome where you can catch a 360° educational film projected onto its ceiling.
Best time to go on a road trip from Philadelphia to Quebec City
Quebec City offers plenty to do all year round, so unless you want to avoid the snow, the road trip from Philadelphia to Quebec City can be done at any time of the year.
Quebec City's winters are known to be intense and chilly, with temperatures ranging from 0 and 25 degrees Fahrenheit. Snowfall is significant too, especially in January and February. It's a beautiful way to view this historic city – from underneath a layer of snow.
With the exception of holidays, prices are typically cheaper during these months as well. During this time the city holds the Quebec Winter Carnival and the German Christmas Market. Plus, there are plenty of opportunities to enjoy winter sports!
Spring and fall are the tourist shoulder seasons so prices are cheaper than the high summer season, while temperatures are between 16 to 63 degrees Fahrenheit.
Spring heralds the beginning of Quebec City's festival season, while fall is a vibrant time of year with stunning red and orange forests and seasonal activities like fruit-picking.
Fall is also a great time for festivals, with Quebec City Film Festival, Quebec City Pride and the Quebec Gourmet Festival all taking place.
Quebec City summers are comfortably warm, with temperatures ranging between 50 and 80 degrees Fahrenheit. It is known to experience rainfall in the summer, so it's important to pack a waterproof jacket!
During this time, you'll find that accommodation prices peak. Summer is Quebec City's busiest tourist season – you can catch lots of festivals including the city's free firework festival and the Grands Feux Loto-Québec.