Road Trip from San Francisco to Mount Rushmore
If a trip from the West Coast of the US to Central America encompassing world-famous national parks, crystal-clear lakes, stunning attractions and beautiful cities excites you, then this road trip from San Francisco to Mount Rushmore is just the adventure you need!
The 1,800-mile road trip from San Francisco to Mount Rushmore will take 28 hours to drive. Notable stops include Sacramento, Lake Tahoe, Reno, Salt Lake City, Idaho Falls, Grand Teton and Yellowstone National Parks as well as Ashley National Forests.
From the cityscapes of Salt Lake City to the mesmerizing landscapes of the forests along the way, you'll have plenty of indoor and outdoor attractions to explore. Read on to find out about the best routes, detour options, places to stop overnight, and things to see.
How far is Mount Rushmore from San Francisco, and how long will the road trip take?
"Comparison of road trip route options between San Francisco and Mount Rushmore

| Route | Distance | Driving Time |
| --- | --- | --- |
| The Salt Lake City Route | 1,500 miles | 23 hours |
| The Yellowstone Route | 1,800 miles | 28 hours |
The drive to Mount Rushmore from San Francisco taking The Yellowstone Route takes around 28 hours to cover 1,800 miles, not considering any food and gas breaks.
Choose The Salt Lake City Route (via Medicine Bow-Routt National Forests), covering 1,500 miles over 23 hours of driving without overnight stopovers for a shorter, more direct route.
Because you have a massive mileage to cover during this epic road trip, we suggest you take at least 6-7 days to explore the route leisurely and avoid exhaustion.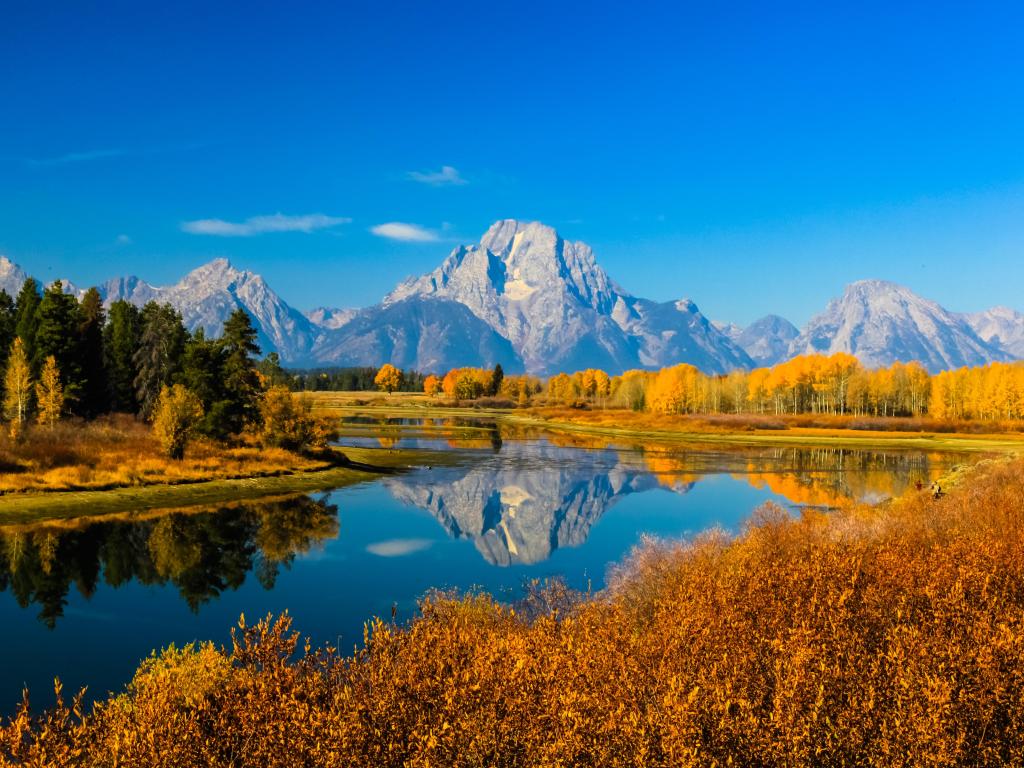 Best road trip route from San Francisco to Mount Rushmore
This mammoth road trip starts in sunny San Francisco. It takes you through some of the most beautiful and ever-changing scenery, including rolling hills, redwood forests, endless deserts, and stunning rock formations.
If the long mileage doesn't deter you, take The Yellowstone Route spanning California, Nevada, Utah, Idaho, Montana, and Wyoming before finally entering South Dakota.
Besides the star of the route, the bucket-list-worthy Yellowstone National Park, you can visit several beautiful natural spaces, including Ashley National Forest, Thunder Basin National Grassland, and the Great Salt Lake.
Take The Salt Lake City Route via Medicine Bow-Routt National Forests through California, Nevada, Utah, Wyoming, and Colorado for a shorter and quicker journey to Mount Rushmore. Explore the incredible Rocky Mountains and indulge in outdoor activities and the rich culture at the fascinating Medicine Bow-Routt National Forests.
Whichever route you choose, you'll spend a night in the picturesque Salt Lake City, known for its gorgeous architecture and stunning mountain ranges surrounding it.
The Yellowstone Route
Take Interstate 80 (I-80) out of the city and head east, crossing the Bay Bridge. Pass by stunning north California and the flourishing Sacramento River Delta before reaching Sacramento.
Admire the city's beautiful skyline before heading on US-50 to Lake Tahoe, soaking in breathtaking views of the Sierra Nevada mountains, alpine waterbodies, and charming mountain villages.
After exploring the deep blue waters and the sandy beach around, descend the Tahoe Basin and take the winding NV-431 road till it merges into the steep highway I-580, taking you to the flat and contrasting cityscapes of Reno.
To continue your eastward escapade, take I-80 out of Reno. You'll leave behind Reno's towering skyline to experience the Great Basin first, then make way for Utah's vast desert area. Observe the changing landscape as you enter Salt Lake City to find yourself nestled by gorgeous mountains.
After exploring the Great Salt Lake and the fantastic city, take I-15 till Idaho Falls and then take a right on US-20 toward Yellowstone. From West Yellowstone, head north on US-191 through dense forests with occasional views of the snow-capped mountains.
Taking US-89 toward the park's northern entrance, you'll drive along the Yellowstone River, marveling at the dramatic canyons, rock formations, and stunning nature. After returning to the highway, merge into I-90 for the last lap of your drive.
The road will take you through the rugged mountains of Wyoming, the vast prairies of Montana, the great plains, and the Black Hills of South Dakota before arriving at the impressive Mount Rushmore.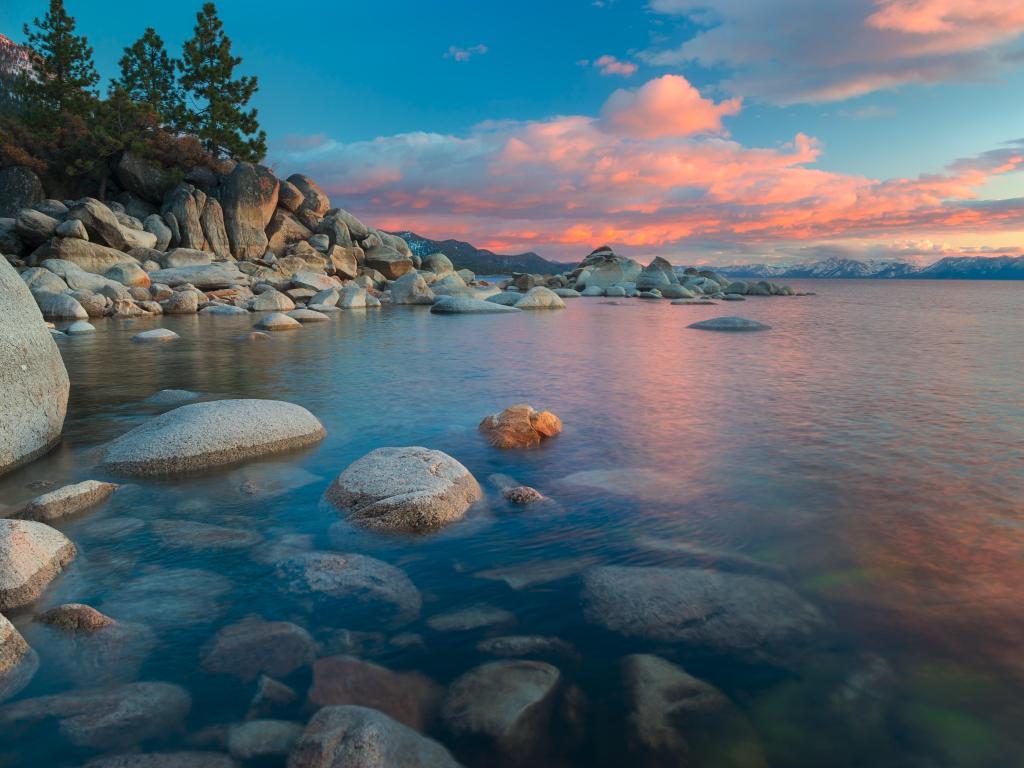 The Salt Lake City Route (via Medicine Bow-Routt National Forests)
The San Francisco to Salt Lake City route remains the same as the earlier route covering Sacramento, and Reno, crossing Nevada via I-80 and US-50 roads.
Continue I-80 out of Salt Lake City through the Wasatch Mountains before welcoming the view of the massive desert ahead. Admire the dramatic landscapes of Wyoming and the rustic towns lining your route.
Shortly after crossing the North Platte River, take a right on WY-130 for a detour to Medicine Bow-Routt National Forests. Meander your way through dense forests, taking a further diversion on WY-230 to enter Colorado briefly.
Enjoy the unforgettable scenery before leaving the woods and merging into WY-34 for your eastward trip. As you drive through the plains of Wyoming, merge into I-25 to head North.
Enjoy the occasional tranquil waters and pristine rivers before heading right on the US-26 road to pass through the Guernsey State Park. Continue your northward drive by turning left on WY-270 briefly before entering South Dakota via US-18.
Observe the changing backdrop as you continue North and are welcomed by the distant rock formations and the plush forests. Merge into US highway-385 and travel until it finally intersects with SD-244 to reach Mount Rushmore.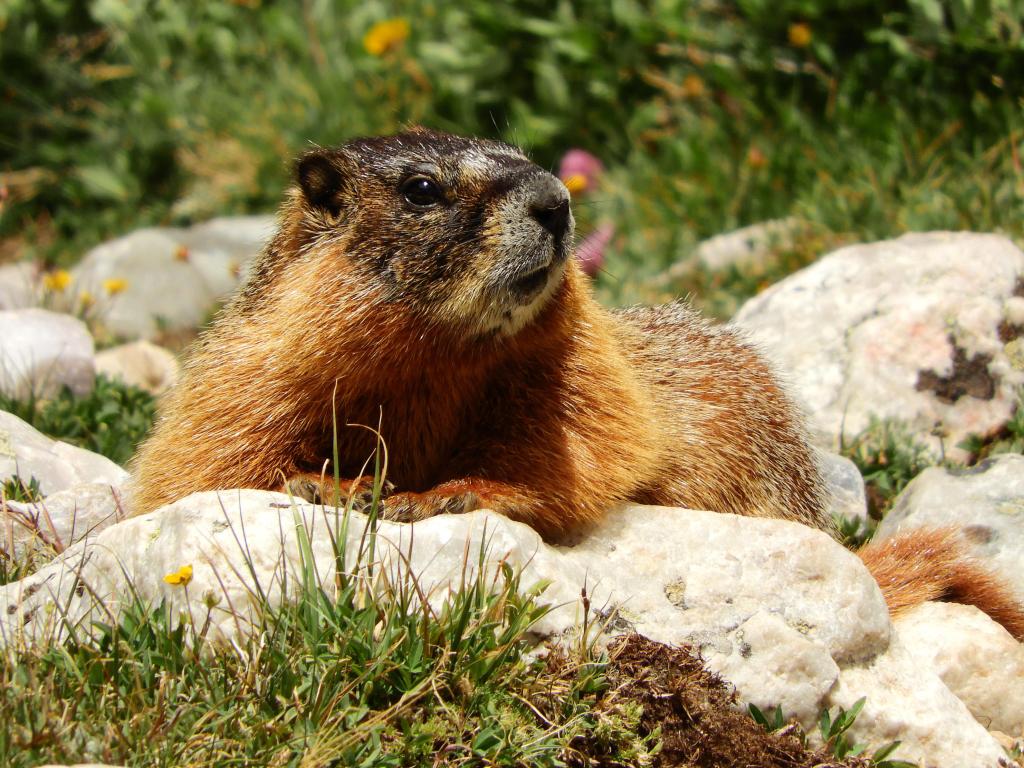 Best places to stop between San Francisco and Mount Rushmore
You may have observed that both routes are lengthy but identical for two-thirds of the journey. Meaning that you will benefit from a couple of overnight stops. Irrespective of your chosen route, you can explore some of our favorite stopover points.
Discover the Great Salt Lake at the beautiful Salt Lake City
Fondly referred to as America's Dead Sea, the Great Salt Lake is one of the major tourist attractions in Salt Lake City, which draws huge crowds there. Also, the fact that this is the only metropolis on the routes makes it an obvious choice for an overnight stay.
Salt Lake City falls halfway on both routes and is widely known for its Mormon architecture. After driving through arid deserts and landscapes, this bustling city serves as an oasis for travelers.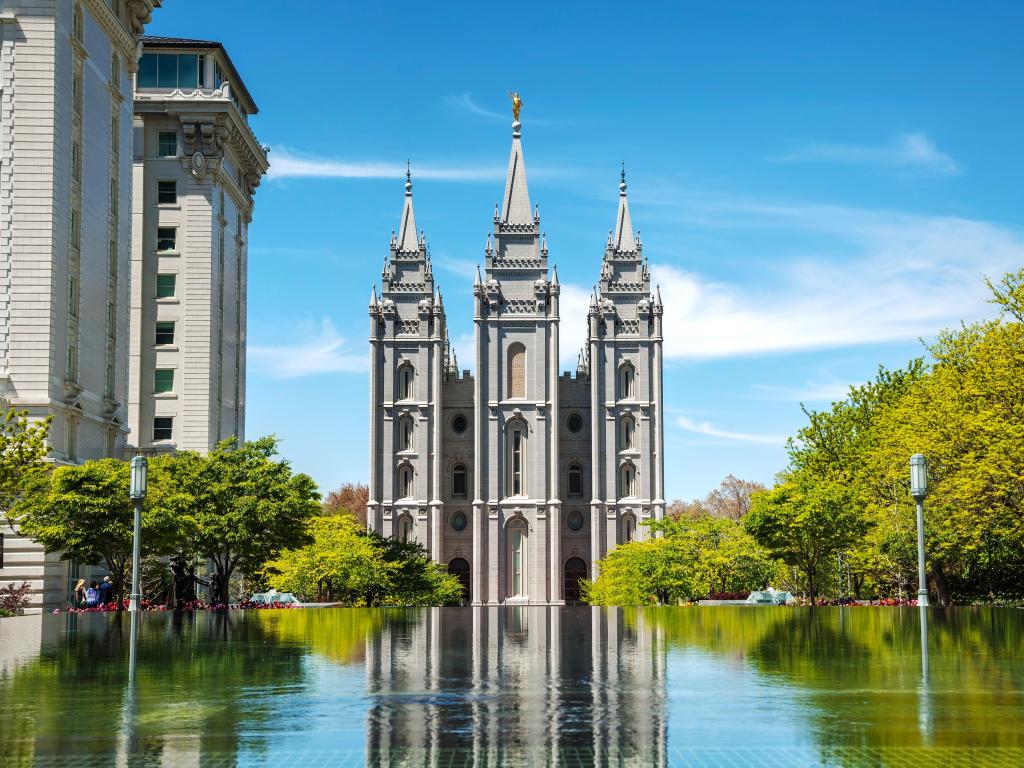 You'll find plenty of exciting things to do in the city, including vibrant nightlife, museums, and occasional festivals. One such museum is the Natural History Museum of Utah, which showcases regional exhibits from the Intermountain West.
Located minutes away from local attractions, including the Mormon architecture-centric Temple Square and Washington Square Park, is the beautiful Grand America Hotel, topping the list of the best hotels in the city.
After a day of driving and excursion, take a dip in their indoor or outdoor pools and spoil yourself with a spa treatment. You'll be spoilt for choice with an on-site French bakery, fantastic lounges, high tea, and Sunday brunch.
Either way, you can enjoy guilt-free time by burning those calories at their state-of-the-art gym. The hotel's best feature is its proximity to I-15, saving precious morning time.
Bask in the neon-lights of Reno
After covering a third of your journey on either route, you'll end up in the fun city of Reno. Fondly called as "Biggest Little City in the World," it is miles away from the other attractions on these routes.
The unique features of this city are its gaming tourism and gambling scene. You can venture into the city for a fun night to enjoy pub crawls and the colorful nightlife.
If you are not a night person, you can still enjoy the city by visiting the iconic National Automobile Museum, which displays over 200 classic cars. Or stroll around the idyllic Idlewild Park for a stunning rose garden view and recreation along the river.
Atlantis Casino Resort Spa is one of our favorite hotels near the city center, tourist attractions, and the highway. This AAA Four Diamond Award-winning luxury hotel boasts a lavish casino for adults and a fun video game center for kids.
After a long day of driving, you can relax in their spa or chill in the pool and explore their fantastic on-site dining options. This hotel promises an ultimate luxurious stay, and its 24-hour room service is truly impressive.
A sky bridge connects the hotel to the Reno-Sparks Convention Center, which is a huge bonus point.
Where to stay when you reach Mount Rushmore
After arriving in Mount Rushmore, you can enjoy a relaxing stay at the K Bar S Lodge, Ascend Hotel Collection. The hotel is conveniently located close to the actual sculptures and offers unparalleled monument views.
You can take advantage of the excellent amenities offered by the hotel, like complimentary deluxe continental breakfast, Wi-Fi, newspapers, coffee, and TV in your rooms. Also, free parking makes a strong case in favor of this hotel.
Being so close to the Mount, it is a perfect place to station yourself as you discover the legendary landmark at leisure.
Things to see on a road trip from San Francisco to Mount Rushmore
We mean serious business when it comes to making the most of our travel routes. With so many states, diverse landscapes, awe-inspiring views, unique forests, and pristine waters, this road trip is a truly fulfilling experience.
We have combined a list of must-visit things to see on the way to get you excited about planning this trip.
Both Routes
Sacramento, California – Visit the capital of California, home to the Californian State Capitol Building and known for its incredible culinary scene.
Reno, Nevada – Get the small-town vibe and try your luck at gambling in this charming city of Reno.
Lake Tahoe – Lake Tahoe is North America's largest freshwater alpine lake and the most fantastic lake in the Sierra Nevada. Surrounded by mountains, it is a popular year-round destination and a stunning body of water you must visit.
Wendover Airfield Museum – Located close to the Nevada-Utah border, this museum is perfect for a glimpse into the history of aviation in the United States.
Salt Lake City, Utah – Home to tons of marvelous architecture and fascinating museums, the beautiful city of Salt Lake also hosted the Olympic Games in 2002.
Spiral Jetty – Spiral Jetty is a coiled sculpture made from black basalt rock in the Great Salt Lake. It was created by American artist Robert Smithson in 1970 and is visible when the water levels are low.
BYU Museum of Paleontology – This museum is a must-visit if you love prehistoric and historical museums. Run by Brigham Young University, you can marvel at many prehistoric rocks and fossils here.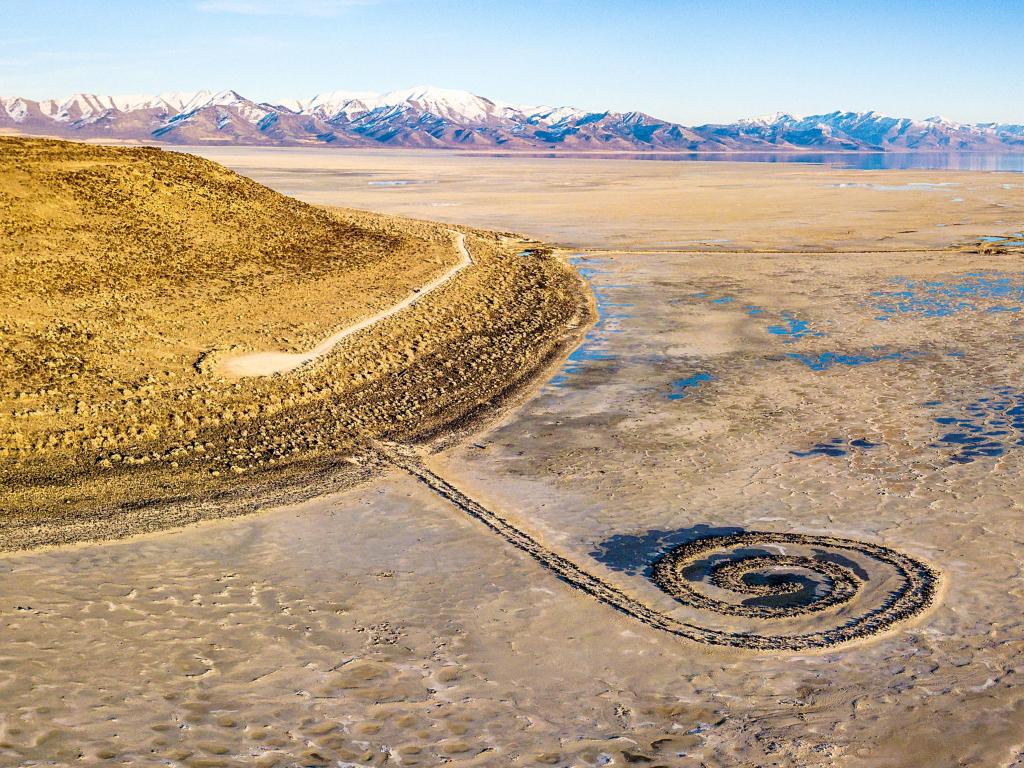 The Yellowstone Route
Idaho Falls – A lovely and scenic city. Take a break here and enjoy a stroll on the gorgeous River Walk to admire the scenery of the Snake River.
Grand Teton National Park – This stunning national park is a detour on the route, yet worth adding an extra day to your itinerary to take in all the sights.
Yellowstone National Park – Known for its famous geysers and adored for its fascinating bison herds, a visit to the Grand Prismatic is a must while in Yellowstone.
Custer Gallatin National Forest – You can never get enough forests on this route. Custer Gallatin National Forest is perfect for enjoying many hikes available under the canopy of trees.
The Salt Lake City Route
Ashley National Forest – Witness the best forest and grassland encompassing over 1.4 million acres of land in this unique forest. Although a little out of the way, it is worth visiting.
Fort Bridger State Historic Site – Get a sneak peek into the history of the 19th-century trading industry at this reconstructed trading post and wooden fort.
Rock Springs Historical Museum – This former city-hall building now houses tons of unique antiques and artifacts that date back to the 19th century.
South Pass City Historic Site – You can spend some time strolling, touring, engaging in family-friendly activities, and learning about American history at this site, which was once an Old West mining town.
Thunder Basin National Grassland – Appreciate the signature landscapes of Wyoming as you explore these stunning grasslands near Mount Rushmore.
Black Hills National Forest – Spread over 1.2 million acres of area, the Black Hills National Forest is full of hills and mountains, offering canyons, rugged rock formations, deep blue lakes, and unique caves.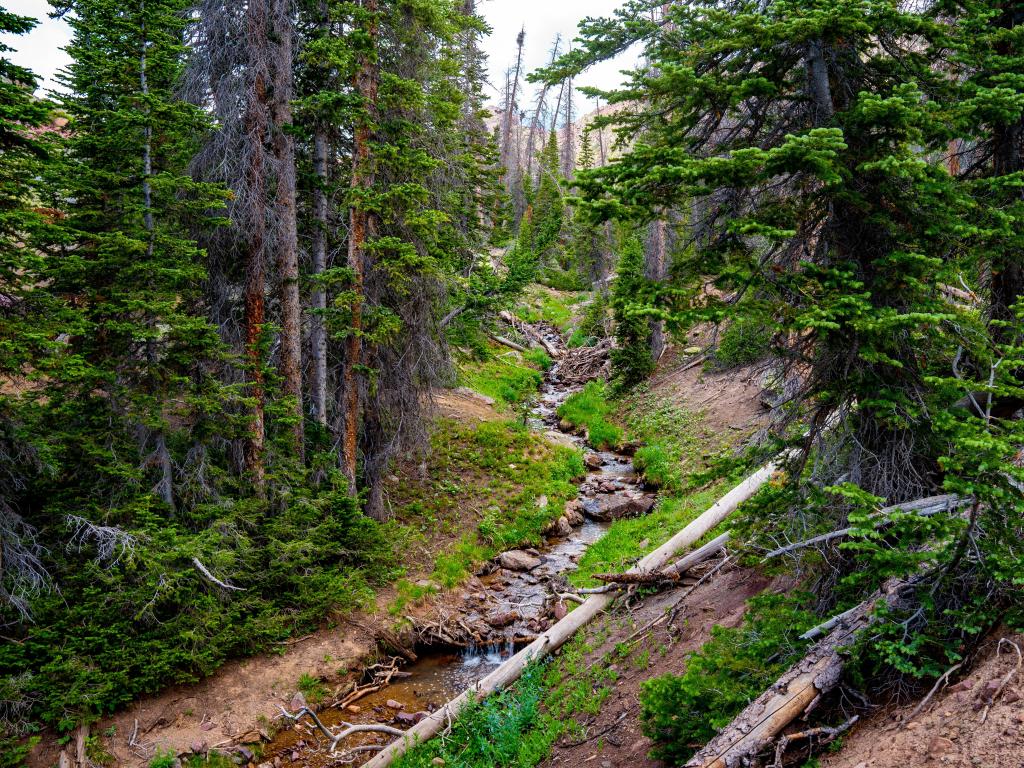 Best time to go on a road trip from San Francisco to Mount Rushmore
Although Mount Rushmore is a year-round destination on paper, there are seasonal variations that you consider while planning this road trip. Summer is the busiest time, and it might result in expensive accommodation.
In contrast, winter is too cold to explore outdoor activities freely. So, the best time to visit Mount Rushmore is spring or fall, when you can avoid tourism and enjoy pleasant weather.
While summer remains the most popular tourist season, it often rains during summer, which might cause inconvenience. So, keep yourself updated with the weather conditions. The temperature averages between mid-fifties to mid-eighties Fahrenheit.
If you love chilly winters, you may plan this trip during winter. The temperature goes as low as 15 degrees Fahrenheit with 30 degrees Fahrenheit being the maximum temperature. But because there are fewer tourists, the accommodation will be reasonably priced.
The temperature averages between 30 and 50 degrees Fahrenheit during the spring and fall, which is excellent for visiting Mount Rushmore. Rain is possible, so keep checking the weather forecast and carry waterproof gear.
Although there are plenty of things to see and do near Mount Rushmore, it is not famous for particular annual events. But if you visit Rapid City, you may be fortunate to catch the Black Hills Renaissance Festival, Oktoberfest, and the Cruiser Car Show.