Road Trip from San Francisco to Orlando, Florida
If you're looking for a road trip of a lifetime, traversing across the south of the United States from west to east, past some of America's most loved cities and natural landmarks, then the road trip from San Francisco to Orlando, Florida is the perfect adventure for you.
The 2940-mile road trip from San Francisco to Orlando takes 45 hours to drive non-stop. You will travel past Phoenix, Coronado National Forest, San Antonio and New Orleans, or the slightly longer route via Las Vegas, Grand Canyon, Santa Fe and Dallas.
There are plenty of fascinating and exciting places and landmarks to explore along this epic road trip across the continent. Read further to discover some of our recommendations as to the best routes to take, things to see and do, and best places to stay overnight during your road trip.
How far is Orlando, Florida from San Francisco, and how long will the road trip take?
Comparison of road trip routes between San Francisco and Orlando, Florida

| Route | Distance | Driving Time |
| --- | --- | --- |
| Southern Route | 2,940 miles | 45 hours |
| Northern Route | 3,280 miles | 52 hours |
The road trip from San Francisco to Florida is 2,940 miles long and takes 45 hours to drive non-stop, when traveling via the Southern Route without accounting for any stops.
Alternatively, you can choose to travel via the Northern Route, which is 3,280 miles long and takes 52 hours to drive non-stop.
Seeing that this epic journey passes through diverse American landscapes, from sunny California and Arizona to the Native American homelands of New Mexico or the plains of Texas, and finally to the exciting cities in Florida, we'd really recommend taking at least 10-12 days.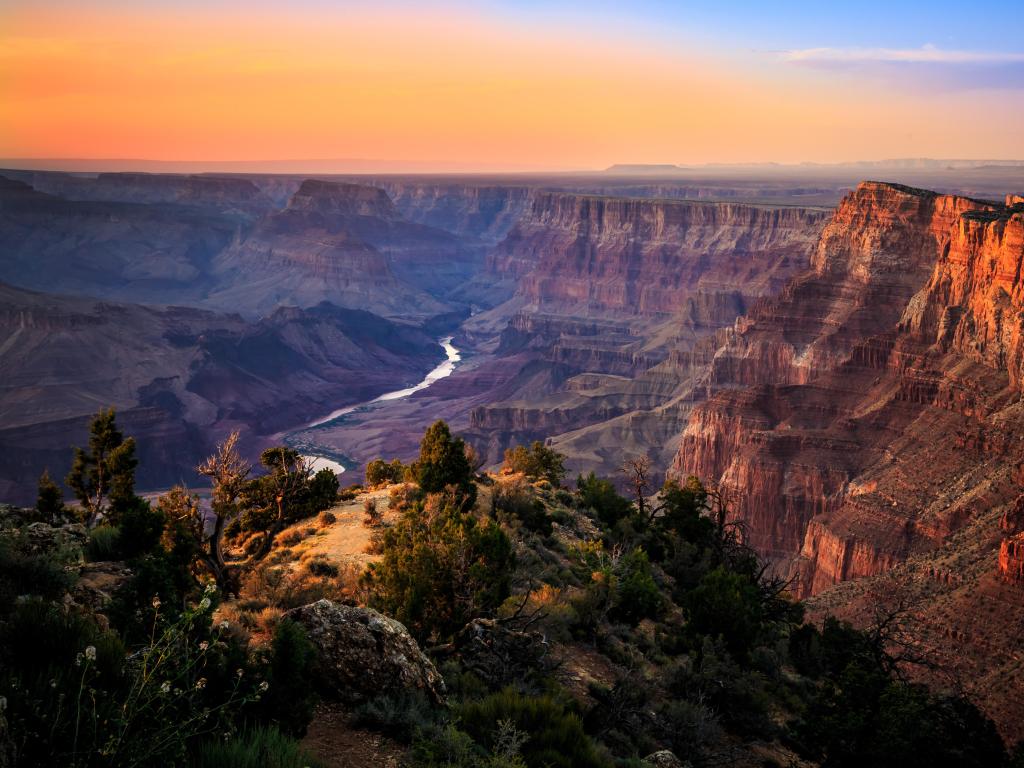 If you are looking to extend your trip, our Ultimate Florida Road Trip Itinerary is the perfect starting point!
READ MORE - Ultimate Florida Road Trip Itinerary
Best road trip route from San Francisco to Orlando, Florida
We have laid out two fantastic road trip route options for you. They're both full of amazing cities, landmarks and national parks to visit along the way, and your choice of route then depends on which particular sites and landmarks you wish to explore.
The Southern Route takes you from the cultural and entertainment hotspots of California to the heat and deserts of Arizona and the cities of Phoenix and Tucson.
You'll then travel via Texas and the cultural hubs of San Antonio and Amarillo, to the southern lands of Louisiana and for example the city of extraordinary cuisine, New Orleans. You'll also get to visit fantastic nature areas, including Joshua Tree National Park and Coronado National Forest.
Alternatively, take the Northern Route via Las Vegas in Nevada and the Grand Canyon in Arizona, into New Mexico. Explore the interesting native histories and architectural styles in Albuquerque and Santa Fe.
Then, you'll drive through Texas's cultural and commercial capital Dallas, after which you can opt to visit Shreveport in Southern Louisiana, or Apalachicola scenery in Florida.
How to drive from San Francisco to Orlando, Florida
The map above shows our suggestions for the best road trip routes between San Francisco and Orlando, Florida. Keep reading for detailed descriptions of both routes, where to stay on either, and the best things to do on the way.
The Southern Route
To get out of San Francisco, follow Interstate 5 (I-5) to Los Angeles. After visiting this fabulous city, you'll travel along I-10 eastward. This major US highway takes you across almost the entire continent.
You'll pass by Phoenix, Tucson and Coronado National Forest along this road, and will then traverse southern Texas through El Paso, San Antonio and Houston.
I-10 will still take you to New Orleans in Louisiana. When you reach Florida and the city of Pensacola on the coast, you'll turn off I-10 onto US-98.
This major highway will lead you further southeast into Florida, until just before Orlando you join I-75 for a while, and then follow Florida's Turnpike into Orlando.
If you can't get enough of beautiful Florida, check out our ultimate Florida road trip itinerary.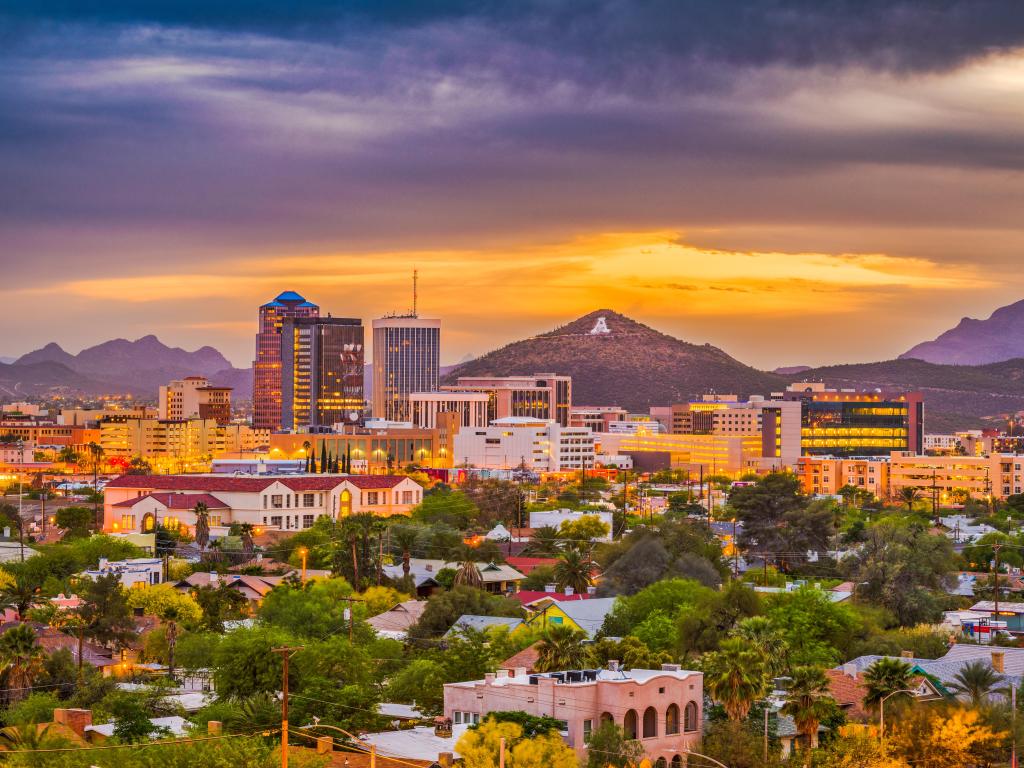 The Northern Route
To travel along the Northern Route, take first I-5 from San Francisco towards Los Angeles. In Buttonwillow, turn eastward past Bakersfield.
You'll then follow I-15 into Las Vegas, a fantastic place to enjoy some live entertainment, visits to casinos or exploring culture in museums. Then, follow I-11 and US-93 until in Kingman, you'll join I-40, a major US highway that will take you a lengthy distance eastward.
Visit the Grand Canyon on the way, then drive towards Albuquerque and Santa Fe in New Mexico. Just after Amarillo, turn off I-40 and head southeast.
You'll drive along US-287 to Dallas. Visit this commercial and cultural center in Texas, and then follow I-20 to Shreveport, Louisiana and Jackson, Florida.
From Jackson, drive southeast past De Soto National Forest, until you reach Mobile. After this, the route is the same as that of the Southern Route - follow I-10 until Pensacola, and then US-98 southeast deeper into Florida.
Take I-75 just before Orlando, then follow Florida's Turnpike into Orlando city. If looking to spend more time in Florida, here is our ultimate Florida road trip itinerary.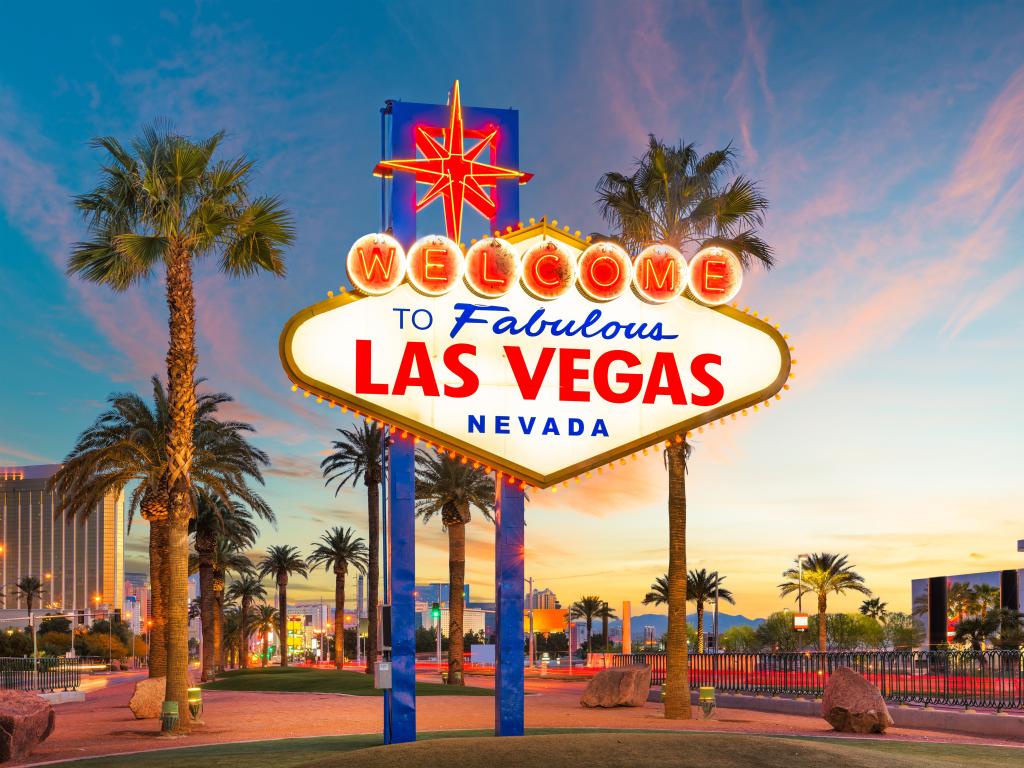 Best places to stop between San Francisco and Orlando, Florida
Along this monumental road trip, there are tons of beautiful and fascinating places to visit and exciting things to do, from stopping at popular resort cities to exploring Native American history and viewing stunning natural landscapes.
Here we provide some recommendations for the best places to visit and stay overnight during your trip, and our favorite suggestions for hotels.
Enjoy Spanish history and delicious food in San Antonio
San Antonio is a beautiful city, with the San Antonio River running through it past parks and picturesque streets and buildings. It is located about halfway along your road trip, on the Southern Route option.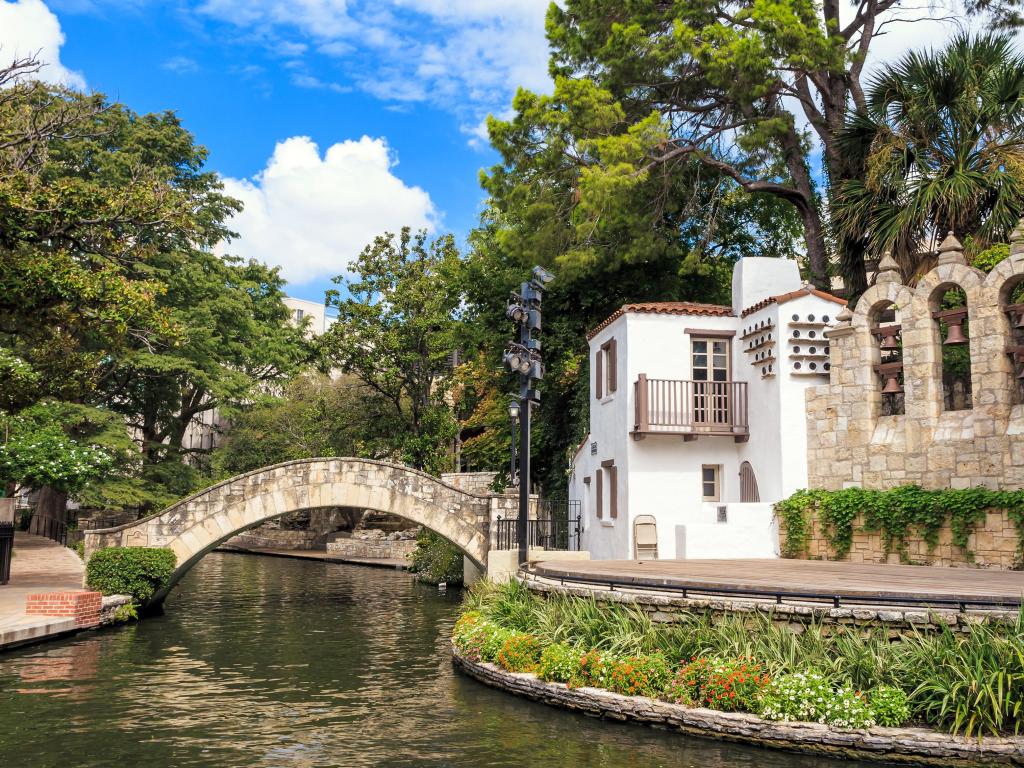 The city is known as a gastronomical hotspot, as well as for being one of the oldest Spanish settlements in Texas.
While visiting here, do take a stroll along the River Walk, a mile-long pedestrian promenade by the San Antonio River. You'll find wonderful cafés and shops along this walkway, and you may taste the local dishes, such as puffy tacos or Texas quail.
You may also enjoy visiting the HemisFair Park's Tower of the Americas, which is a 750-foot tower overlooking the city, or the museum Alamo, which is set at the building that used to be a Spanish Mission in the 18th century - one of the oldest in the country.
Of the many places to stay in San Antonio, we can recommend La Hacienda Inn. The inn is beautifully decorated in Mexican/Spanish style, and you'll find comfortable rooms and wonderful staff here. Free, covered parking is available for guests.
It is conveniently located within a 15-minute walk from the Alamo, Tower of the Americas and San Antonio River Walk. There are also various restaurants and bars in the vicinity for you to visit and enjoy.
Explore art and Puebloan architecture in Santa Fe
Santa Fe is a stunning city in New Mexico, found just under halfway along the Northern Route option. It is a culturally, historically and architecturally fascinating city, and a popular hotspot for artists.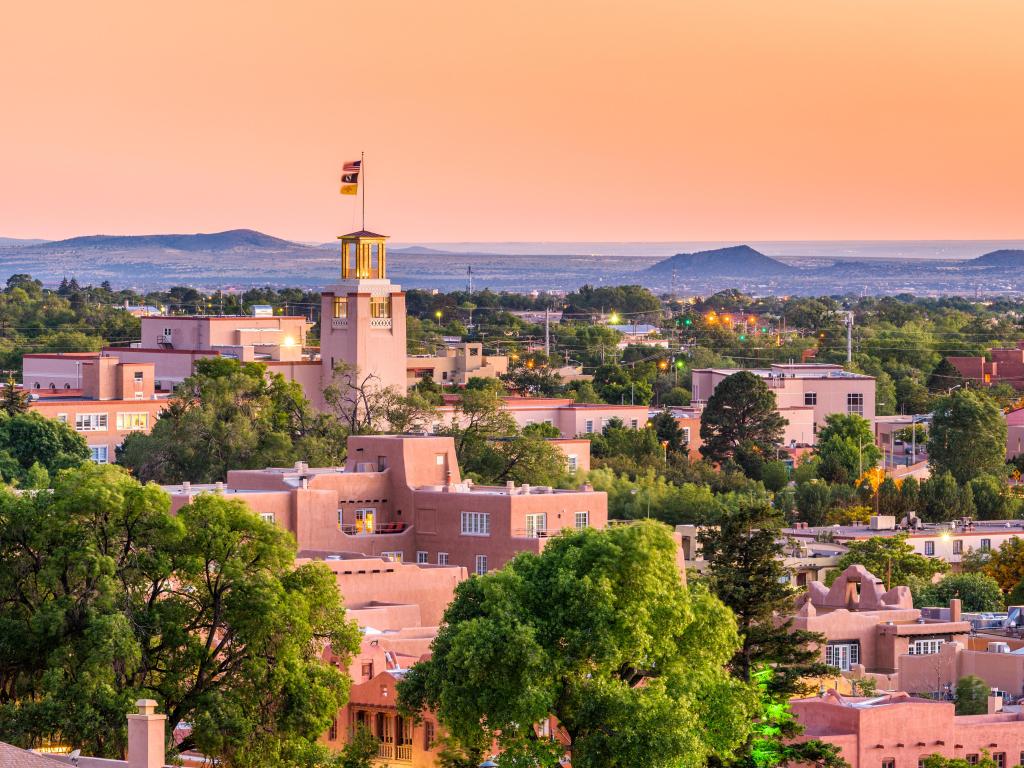 The city is especially known for its numerous art galleries and museums, as well as the many buildings found here built in the traditional Puebloan building style.
Famous attractions well worth visiting in the city include the Palace of the Governors, a must-see landmark in Santa Fe built in the traditional Puebloan style, Canyon Road area that has lots of wonderful art galleries to explore, and New Mexico Museum of Art, set in a building that mixes Native American and Spanish colonial building styles and that hosts American and European art.
If you wish to venture into the nearby nature, Valles Caldera volcanic area is found a short drive away from Santa Fe and is an environmentally and geologically interesting site to visit, with hot springs and other signs of volcanic activity.
For a place to stay overnight in Santa Fe, we can recommend the Inn on the Alameda. This is a beautiful, peaceful hotel, with traditional, Santa Fe style interior decorations. You'll also find a wonderful tequila bar as well as delicious New Mexican breakfast at the hotel.
The hotel is located right on the route of your road trip, and in central Santa Fe. It is within walking distance of the famous Plaza and the Palace of the Governors, many museums, and art galleries of for example the Canyon Road area. There are also lots of wonderful restaurants and lovely parks nearby.
Where to stay when you reach Orlando, Florida
At the end of your epic road trip, Orlando is still full of exciting, fabulous sights to see and things to do.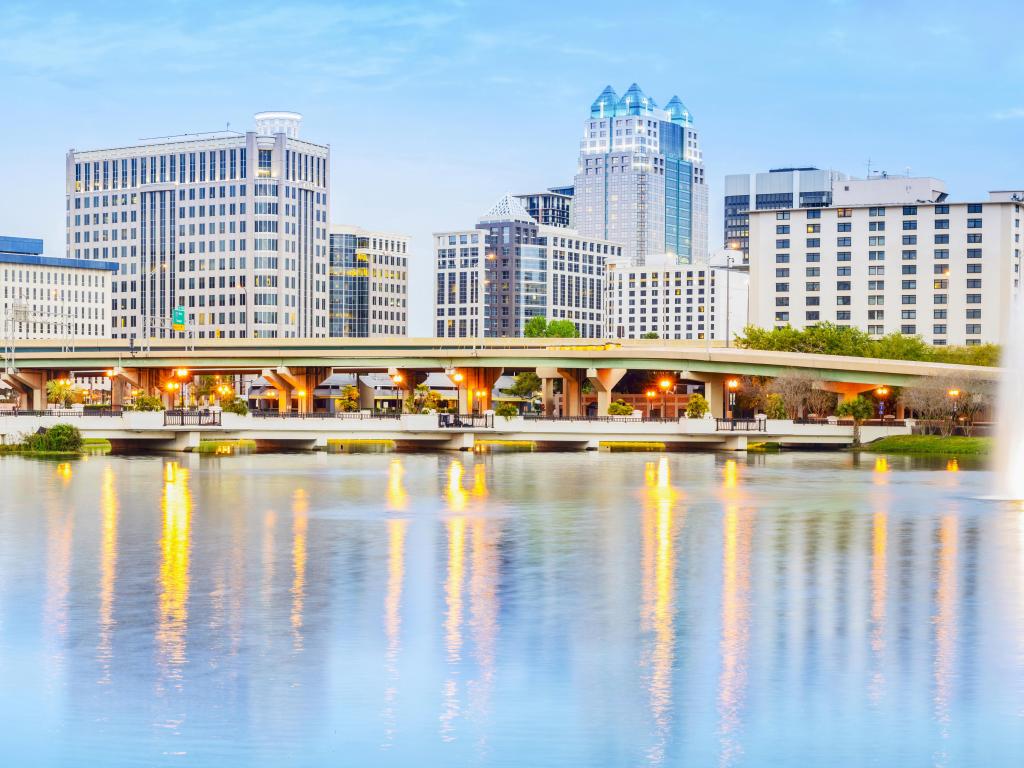 Stay overnight at the Grand Bohemian Hotel Orlando, Autograph Collection, a hotel with comfortable, spacious rooms that will offer you a relaxing stay, right in the city center.
This hotel has a lovely sundeck and a rooftop swimming pool for guests to enjoy, with panoramic views of the city. There are also two restaurants to choose from, and parking available for guests.
It is easy to explore the various attractions the city has to offer from the hotel. For example, the many theme parks of the area are only a short drive from the hotel. These include the world-famous Walt Disney World Resort and Universal Orlando Resort.
You can also explore the attractions of the city center, which include, within walking distance, Orlando Museum of Art, or the Orange County Regional History Center, presenting local and regional history starting from 12,000 years ago.
Things to see on a road trip from San Francisco to Orlando, Florida
The road trip from San Francisco to Orlando is packed with well-loved natural landscapes to visit, and exciting cities to explore. Continue reading to discover some of our recommendations for the best things to see and do during this road trip.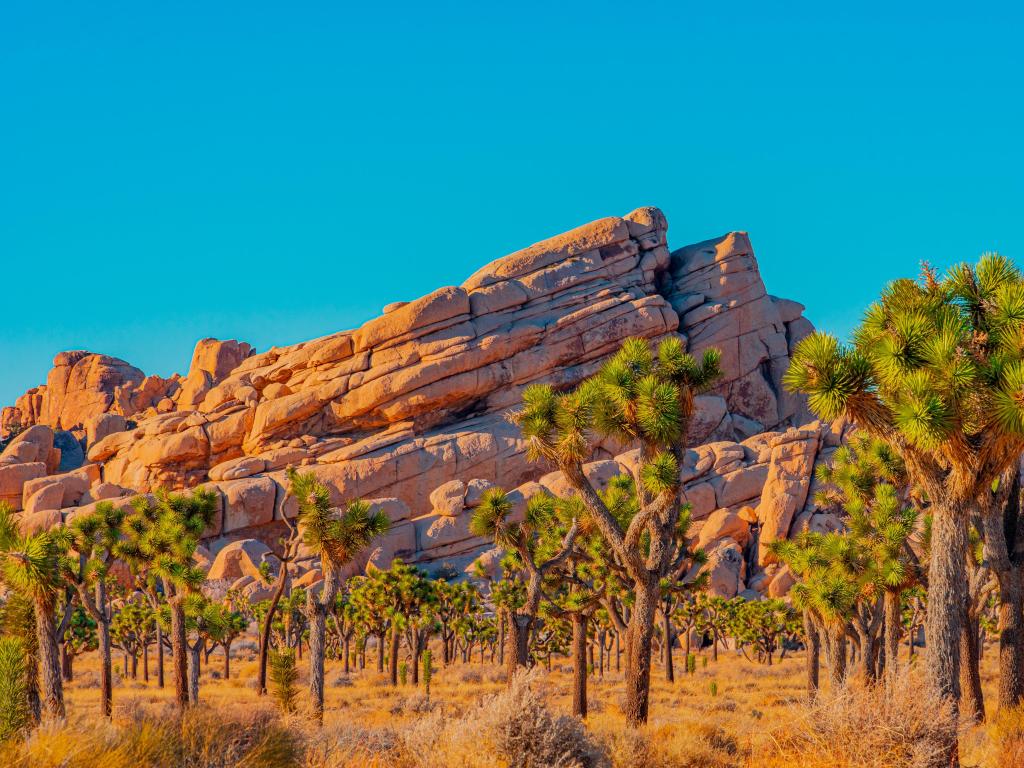 The Southern Route
Los Angeles, California - Los Angeles in California is home to the iconic Hollywood, Universal and Warner Bros movie studios, and also dozens of other exciting attractions and sites of interest. These include for example the Grand Central Market, the Museum of Contemporary Art, and the historical Bradbury Building.
Joshua Tree National Park, California - Named for the region's own Joshua trees, this national park is located where two deserts meet, making it an ecologically and geologically interesting area. You'll find stunning rock formations here, as well as bouldering and climbing walls famous on an international level.
Phoenix, Arizona - Phoenix is set in the "Valley of the Sun", or Phoenix Metropolitan Area, and is known as the sunniest place on Earth. It also invites tourists to explore its vibrant nightlife, spas and many stunning golf courses.
Tucson, Arizona - Known for its fresh air and beautiful views over the Sonoran desert, Tucson is a city with a friendly, interesting atmosphere. You may also explore wonderful cultural attractions, such as Tucson Museum of Art or Arizona State Museum.
Coronado National Forest, Arizona - Coronado National Forest contains mountain ranges rising up from the desert floor. The area is especially known for the amazing diversity of plant and animal life it harbors.
El Paso, Texas - Known for its location on the Mexican border, and for the military base there, Fort Bliss, El Paso also is home to an exciting culinary scene and interesting cultural attractions.
Houston, Texas - Houston's downtown area is home to fascinating cultural-historical buildings and landmarks, including the Grand Opera and the Historic District with 19th century buildings and lovely restaurants. Houston is also the base for one of NASA's space operation centers.
New Orleans, Louisiana - New Orleans is known as a melting pot of French, African and American cultures, and this shows especially in its fascinating cuisine. The city is also known for its vibrant nightlife and live music scene.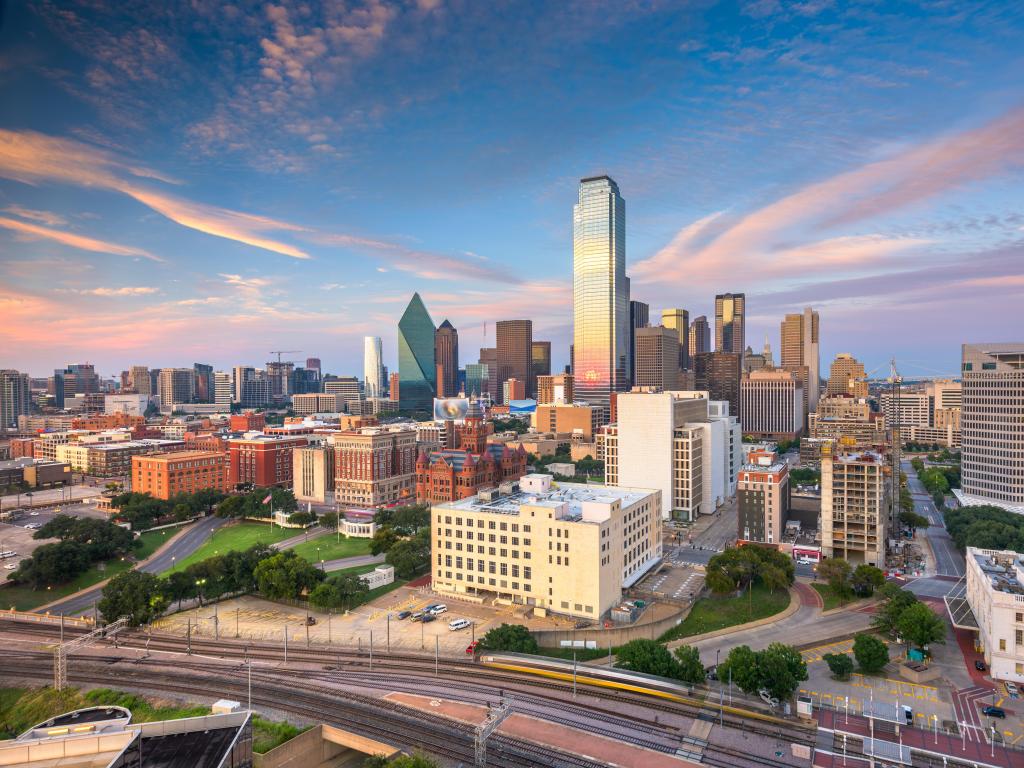 The Northern Route
Las Vegas, Nevada - Called the "Entertainment Capital of the World", Las Vegas provides something for every visitor, from its famous casinos and gaming halls to wonderful museums, art galleries and live music venues.
Lake Mead, Nevada/Arizona - Lake Mead, formed by the Hoover Dam, is a large water reservoir, providing water to several states. Its blue waters are set amidst beautiful desert and hill landscapes.
Grand Canyon, Arizona - The Grand Canyon is one of the world's seven natural wonders. At this spectacular natural landmark you may observe the red bends of the river canyon that portray hundreds of millions of years of geological history.
Coconino National Forest, Arizona - In this diverse forest area, you can enjoy viewing varying landscapes from mountains to rivers, deserts, and alpine meadows, best enjoyed on foot, on a mountain bike, or over a picnic.
Albuquerque, New Mexico - Albuquerque hosts an enchanting Old City area as well as a modern Downtown area for visitors to explore. You can explore several attractions in this capital of New Mexico, such as the Albuquerque Museum of Art and History or the National Hispanic Cultural Center.
Santa Fe, New Mexico - Santa Fe is a beautiful city where you may visit amazing art galleries and museums, such as the New Mexico Museum of Art or the Canyon Road art galleries, or admire the local adobe style architecture of the Puebloan peoples.
Amarillo, Texas - Palo Duro Canyon State Park can be accessed easily from Amarillo. You may also visit exciting cultural attractions, such as the graffiti-painted Cadillac's partly buried in soil at the Cadillac Ranch, and the Sixth Street Historic District that commemorates the historic Route 66 that spanned across the US.
Dallas, Texas - Dallas is a commercial and cultural hub in Texas. Do visit the Arts Districts, or the Sixth Street Museum at Dealey Plaza. Or, enjoy a Texas barbecue or frozen margaritas, that this city is also known for.
Shreveport, Louisiana - Enjoy the southern hospitality and culture at Shreveport. You may visit wonderful sights and attractions, such as riverboat casinos on the Red River, the Sci-Port Discovery Center, or Spring Street Historical Museum.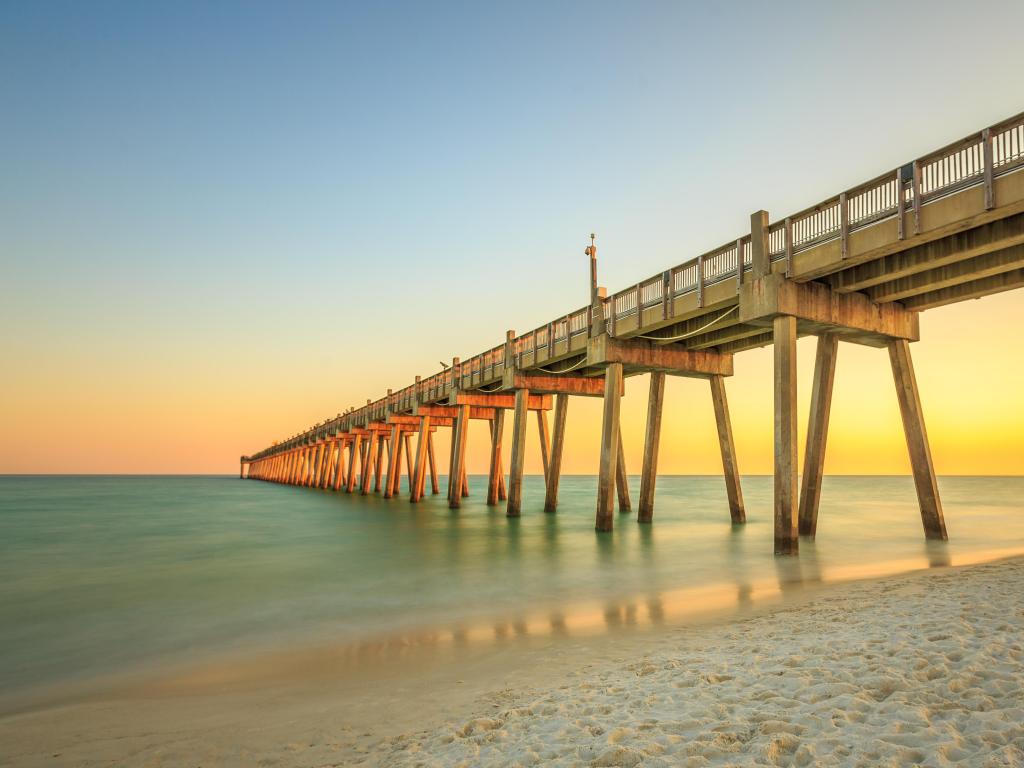 Both Routes
Pensacola, Florida - Pensacola is known for its pristine beaches, for its history as one of the first Spanish settlements in the US, and for the National Naval Aviation Museum.
Panama City, Florida - Panama City is a beautiful, popular beach destination with fantastic opportunities for water sport enthusiasts of all kinds.
Apalachicola River Wildlife and Environmental Area, Florida - This nature area contains forests, swamps, estuaries and savannas, and is home to numerous wildlife. These include deer, black bear, alligators and dolphins.
Best time to go on a road trip from San Francisco to Orlando, Florida
Orlando is a year round destination, although between March and May could be the best time to visit due to moderate temperatures and less crowds than in the summertime.
Orlando has a subtropical climate, and there are mainly two weather seasons: the hot and rainy season from May to October, and the warm and dry season from November to April.
Temperatures in the summer months range from 70 to 90 degrees Fahrenheit. The hot summer season also coincides with the thunderstorm and hurricane season of the western Atlantic, something to consider when planning the timing of your road trip.
Temperatures in winter range between 40 and 70 degrees Fahrenheit. You can find hotel and flight prices cheaper in winter than in other seasons. The theme parks and attractions do get slightly more crowded during the holiday season, December-January.
The best times to visit Orlando, Florida are October-November and March-April. Temperatures then are generally moderate, between 50 and 75 degrees Fahrenheit, and you'll avoid the biggest crowds of the summer and December holiday seasons. Do take note of the higher chance of thunderstorms though, from July until November.
You might also wish to consider the many events and festivals that take place in Orlando over the course of the year, when deciding the timing of your road trip. For example, in April, the Florida Film Festival takes place or you can enjoy Universal's Mardi Gras in April.
The Orlando International Fringe Theater Festival in May is a diverse cultural experience, and Bite30 is a festival highlighting the work of Florida's best local chefs and restaurants, and it takes place in June-July.
Finally, very well attended every year, the festival Come Out with Pride Orlando takes place in October.