Road Trip from St Louis to Los Angeles, California
Discover western America through its deserts, iconic national parks and great cities on this epic road trip from St Louis to Los Angeles. Journey through the Rocky Mountains and the badlands of Utah, or drive through the planes of Oklahoma and colorful deserts to the Pacific Ocean.
The 1,980-mile road trip from St Louis to Los Angeles takes 31 hours to drive. Highlights include Kansas City, Denver, Las Vegas, Amarillo and Sante Fe, as well as Grand Canyon, Hoover Dam, Joshua Tree National Park, Zion and Arches National Park.
There's an incredible amount of natural scenery, iconic landmarks and fascinating cities to explore on this trip, including some of the best national parks in the US. So keep reading to learn the best routes, places to stop and things to see on this exciting journey to the City of Angels.
How far is Los Angeles, California from St Louis, and how long will the road trip take?
Comparison of road trip route options between St Louis and Los Angeles

| Route | Distance | Driving Time |
| --- | --- | --- |
| The Mountain Route | 1,980 miles | 31 hours |
| The Desert Route | 2,200 miles | 34 hours |
However you wish to tackle the drive from St Louis to Los Angeles, it's a pretty impressive journey. That said, there are so many beautiful places to stop along the way that you'll never run out of things to see and do.
The quickest route is via the mountains past Kansas City and Denver. This scenic drive covers a distance of 1,980 miles and will take a minimum of 31 hours, not accounting for stops along the way.
Our alternative option takes you through the deserts of New Mexico and Nevada and is longer at 2,200 miles. This Desert Route will take 34 hours of non-stop driving.
Since you'll be covering quite a distance, as well as passing many scenic parks and cities as well as exciting landscapes, you should plan to spend around five to six days completing the drive and plan a few great overnight stops along the way.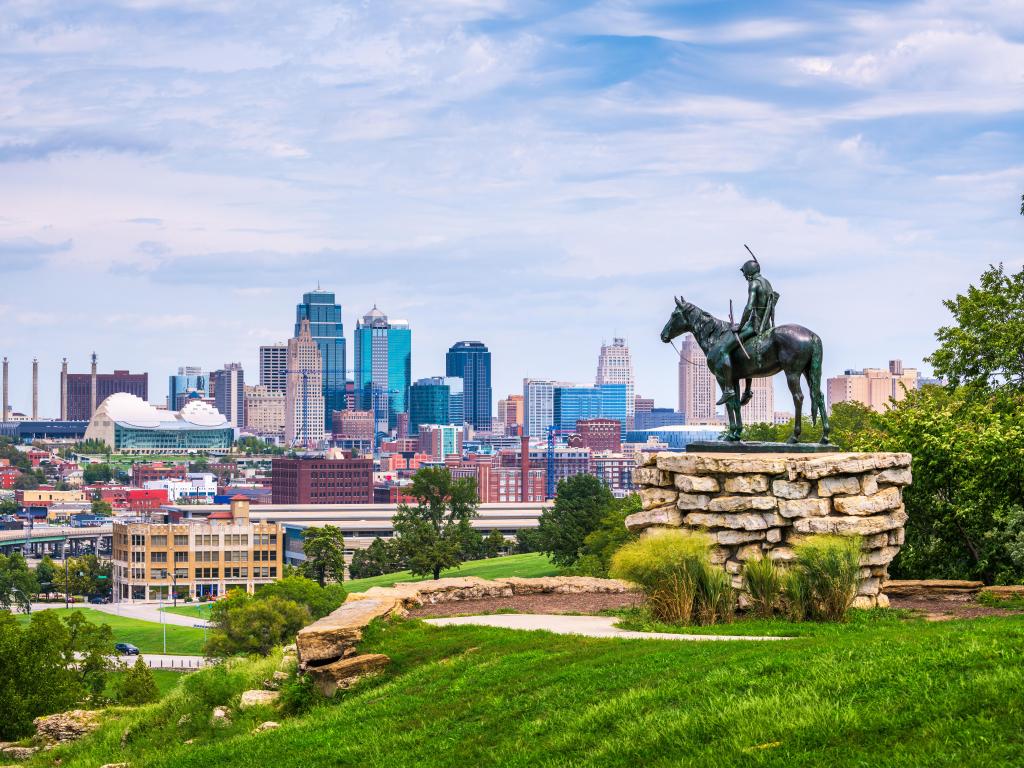 Best road trip route from St Louis to Los Angeles, California
There is no single best route to drive between St Louis and Los Angeles. So, you'd be better off choosing which route suits the kind of road tripper you are, whether you're into outdoor pursuits or prefer to tick some big US landmarks off your bucket list, such as the Grand Canyon.
Our Mountain Route begins in the rolling hills of the Midwest and takes you through the majestic Rockies on your way to LA. Afterwards, you'll get the chance to see spectacular canyons at Arches, Zion Canyon, and Bryce Canyon National Parks as well as a few quirky attractions on the edge of the Mojave Desert.
This option features a good number of city and national park stops, plus as a bonus, it's also the shorter route. While you miss the Grand Canyon, the three Parks in Utah are outstanding and easily make up for it.
Alternatively, you could opt for our Desert Route. This option offers a variety of quirky roadside attractions, Midwestern metropolises, Southwestern cities, and of course vast desert landscapes. The breadth of attractions will ensure everyone has fun on this memorable trip.
Again, there's a good mix of city and park stops and if the distance is an issue, you could always skip a few stops, such as Las Vegas and the Grand Canyon, though if you haven't yet experienced them, we would recommend driving the extra few hundred miles.
The Mountain Route
Begin in St Louis and head west on the interstate Kansas City, passing through Columbia en route. Continue west, crossing into Colorado to Denver.
From here you can head south to Colorado Springs or continue west where you can explore the Rocky Mountain National Park, Arapaho and Roosevelt National Forests and head towards the White River National Forest for stunning mountain views and hiking opportunities.
Continue driving alongside the mountain terrain into Utah where you'll get desert views. Stop at Arches National Park, or take a rest at Moab, before heading south towards Fish Lake Hightop.
Follow the highway south, making stops at Bryce Canyon National Park and Dixie National Forest before reaching the breathtakingly beautiful Zion National Park.
Next, join the interstate and drive alongside the Red Cliffs National Conservation Area and into Nevada. Follow signs for Las Vegas, stopping at Valley of Fire State Park along the way if you have time.
From Vegas, you can explore the Red Rock Canyon National Conservation area, or head east to Hoover Dam and Lake Mead. Otherwise, continue south on the interstate through California.
Pass by the Mr San Antonio mountain range and begin to head west to Los Angeles, stopping at Chino Hills State Park along the way if you'd like.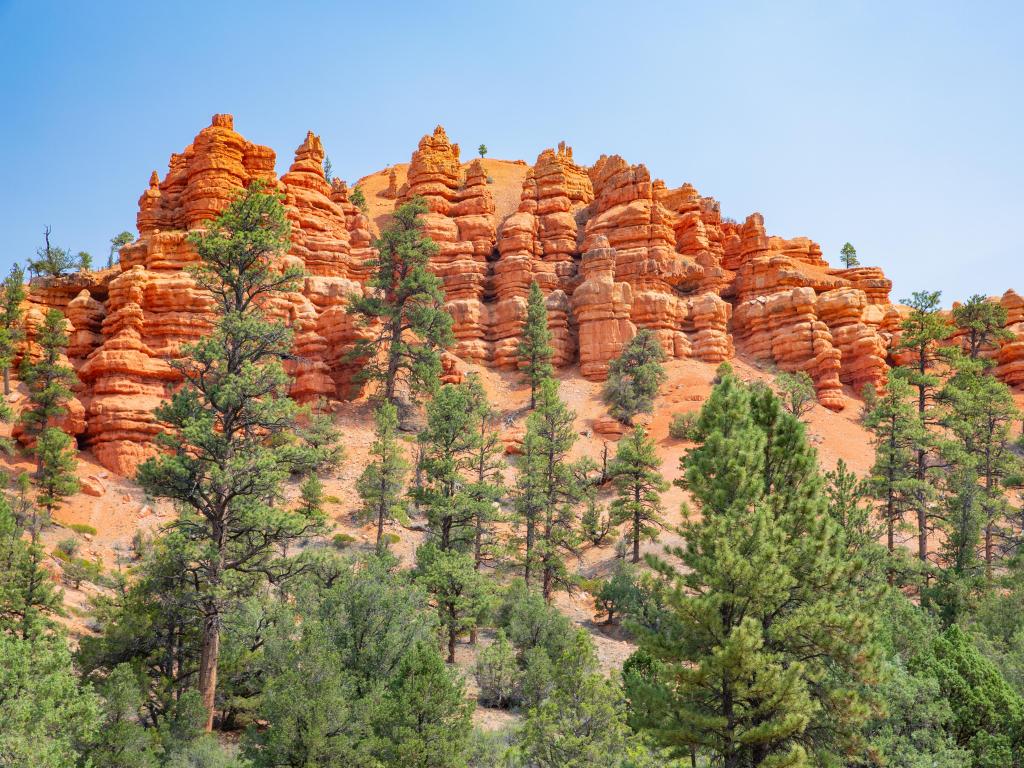 The Desert Route
From St Louis drive west to Springfield, passing by the Mark Twain National Forest or heading south to Missouri along the way if you'd like. Otherwise, continue west on the interstate and drive into Oklahoma.
Head towards Tulsa and Oklahoma City, before continuing west. You can stretch your legs and explore Wichita Mountains National Wildlife Refuge, or stick to the interstate and follow signs for Amarillo.
Still on the interstate heading west, pass through Santa Rosa and follow signs for Santa Fe where history buffs will love exploring Bandelier National Monument. Afterwards, go south to Albuquerque which offers incredible views of the Sandia Crest.
Drive further into New Mexico past the Bluewater Lake State Park before crossing into Arizona and stopping to explore the fascinating Petrified Forest National Park.
Continue west to Flagstaff where you can journey south to the Coconino National Forest or head north through the Kaibab National Forest and the epic Grand Canyon.
Afterwards continue west on the interstate to Kingman, where you can head north towards the Hoover Dam and explore Lake Mead, as well as experience the thrill of Las Vegas.
The final stretch will take you south past the Dead Mountains Wilderness Area, alongside the Mojave National Preserve and towards the Joshua Tree National Park. Afterwards, head west through the San Bernardino National Forest to Los Angeles.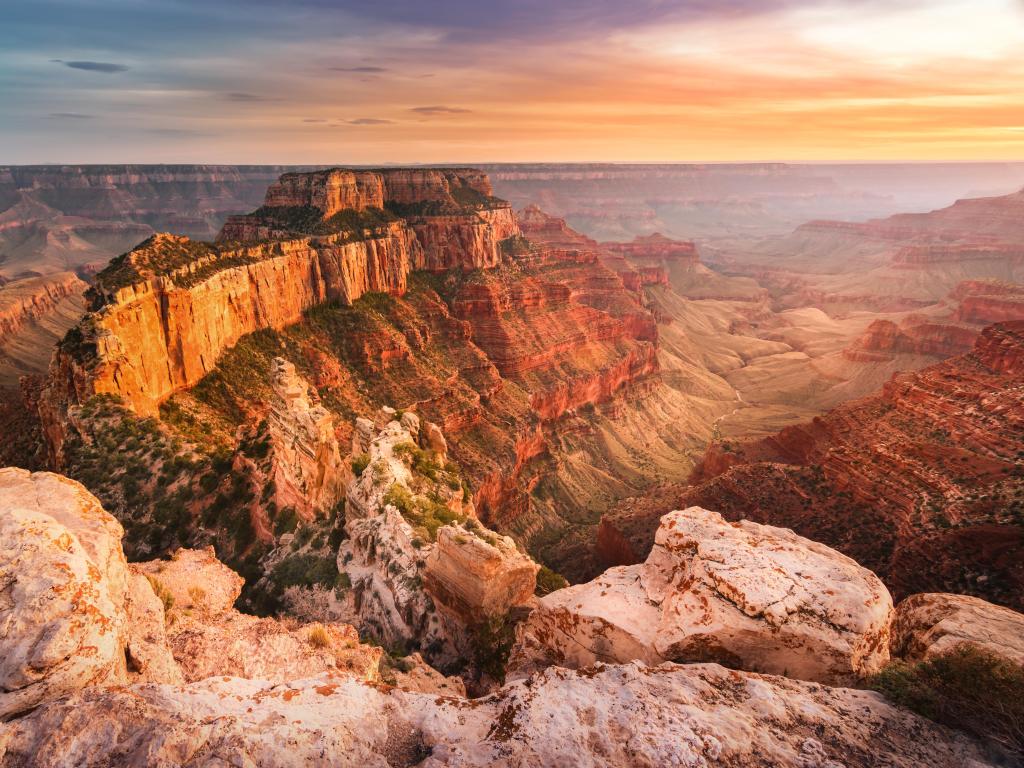 Best places to stop between St Louis and Los Angeles, California
There's no shortage of fantastic stops along both routes from St Louis to Los Angeles. Of all the spectacular hotels you'll pass along the way, here are some of our favorites.
City views at Denver
An ideal location for an overnight rest if you're following the Mountain Route is Denver, which you'll find slightly less than halfway between St Louis and LA. This iconic city is directly on your route and is becoming an increasingly popular destination in its own right.
As well as the surrounding mountains and ski resorts, many people come to Denver to catch a game at Coors Stadium, marvel at the Denver Union Train Station, find inspiration at the Denver Art Museum, and wander the Denver Botanic Gardens and City Park.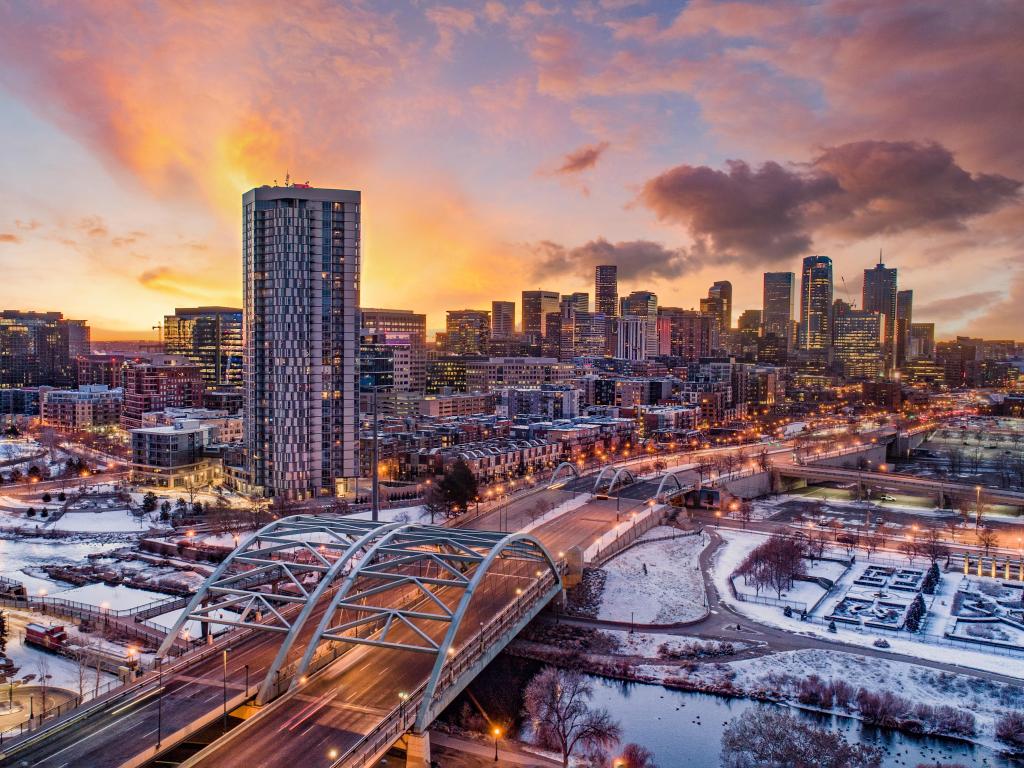 A great hotel for exploring this part of Colorado is The Ramble Hotel. This charming hotel offers comfortable and thoughtfully appointed rooms for the weary traveler which are luxurious and feature floor-to-ceiling windows to take in the city views.
In addition to being in a prime downtown location surrounded by walkable restaurants and bars, there are delicious cocktails to enjoy, as well as a cozy lounge area. So if you're really beat from the day's drive, you'll find plenty of in-house ways to unwind.
The Ramble is located conveniently between the Downtown area and North Arts District, just a 10-minute drive from major attractions like Larimer Square, City Park, Denver Union Station, and the Forney Museum of Transportation.
Luxury in Santa Fe
If you've opted to follow our Desert Route, then a great midway point to stop is the beautiful Sante Fe. This desert rose of the Southwest is the perfect stopover to get a full sense of the region's unique landscapes and cultures.
Santa Fe is quirky and brimming with Southwestern charm, Spanish Colonial architecture, and has a longstanding status as a haven for artists. Be sure to explore the heart of the city at the Plaza, which dates to the 17th-century era of Spanish colonization and is a Historic Landmark.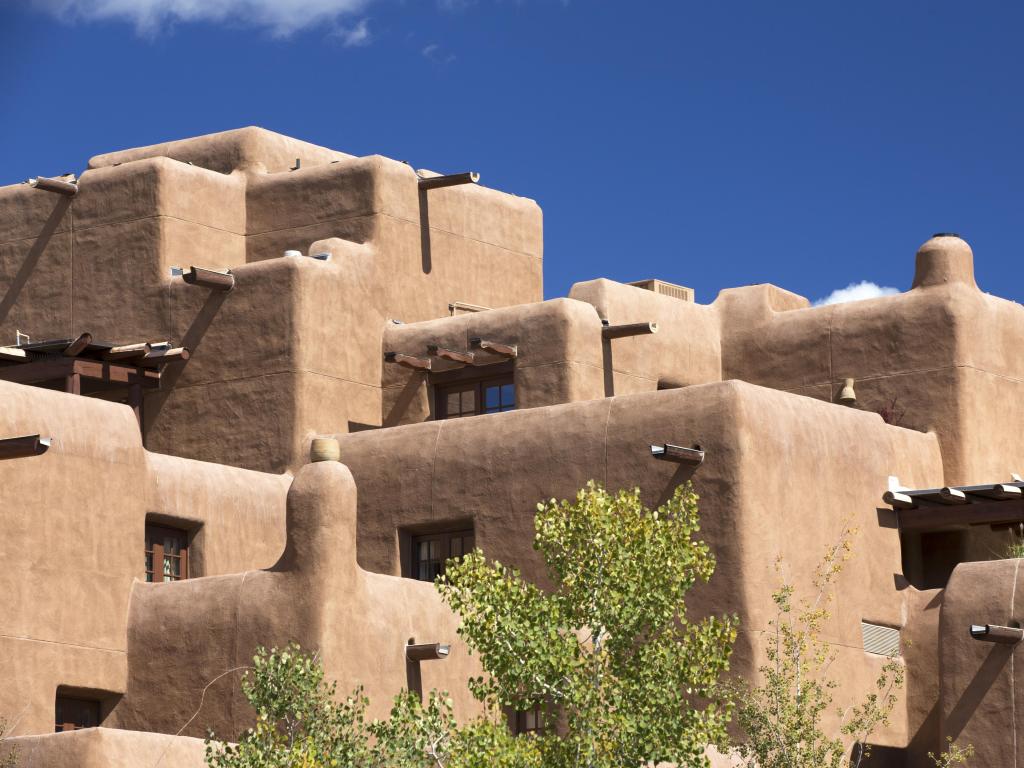 For a spot of luxury, a great resort in this part of New Mexico is the Rosewood Inn of the Anasazi. This 5-star hotel embodies the best of Santa Fe's varied styles, from Pueblo Revival to Old West.
Each room has wooden features and several also have fireplaces if you'd like to snuggle up on a winter road trip. Meanwhile, the hotel couldn't be more centrally located and is within walking distance of the O'Keeffe Museum, performing arts center, and the colonial-era square.
If you'd like to wander through the Sangre de Cristo hills, they are a 15-minute drive away. Santa Fe isn't very congested, so you'll have no trouble hopping back on the highway when it's time to go.
Downtown city views at Los Angeles
Los Angeles is a fantastic city to explore after a long road trip. Since you have traveled all this way, why not indulge in a luxurious stay at the L'Ermitage Beverly Hills, a 5-star property nestled in Beverly Hills and within walking distance of Rodeo Drive?
Many of the rooms have private balconies overlooking the Hollywood hills and the rooftop pool "The Canopy" has spectacular views of the downtown LA skyline. Certain bookings include complimentary valet parking and shopping trips in luxury cars.
Meanwhile thanks to its excellent location, you're within a short drive of the University of California, the Los Angeles Convention Center and Franklin Canyon with its reservoir and green space.
Things to see on a road trip from St Louis to Los Angeles, California
This road trip is packed full of incredible views, iconic national parks and some of the best US cities in the American West. To help you plan your trip, we've included some of the highlights you'll pass along the way.
Both routes
Las Vegas - This fascinating city is worth a visit if casinos and never-ending shows aren't your thing. You will be dazzled by the sparkling lights of the Strip and the Fountains of Bellagio. For a more scenic experience, you can enjoy the views of the city from the Stratosphere Tower.
The Mountain Route
Kansas City - Kansas City is a great Mid-Western hub and home to a wide variety of attractions like the National WWI Museum and Memorial, the Nelson-Atkins Museum of Art, the Negro Leagues Baseball Museum, and Union Station with its iconic fountain.
Denver - In addition to being a launching pad for all kinds of snow sports in the surrounding mountains, Denver has a lot to offer the city lover as well. Visit the Museum of Contemporary Art, see the Rockies at Coors Stadium, explore the Denver Union Train Station or City Park.
Sapphire Point Overlook - This beautiful stop on Swan Mountain Rd offers a wonderful view of the Dillon Reservoir and surrounding mountains. So many people are in love with this spot that many choose to get married here.
Arches National Park - Just outside Moab, UT this iconic park is unforgettable for everyone who visits. Walk among the copper-colored sandstone arches and other awe-inspiring geological formations. You might need to make a reservation for a timed-entry permit while visiting Arches National Park. Please check the national park's website for up-to-date information.
Bryce Canyon National Park - Who knew what a hoodoo was before visiting this fascinating National park near Bryce, UT? We sure didn't! The relatively small scale of the canyon and the bizarre formations make for an accessible and almost mystical park experience.
Zion National Park - Zion Canyon is yet another fabulous National Park in Utah, accessed via Springdale. It is much larger than Bryce Canyon and has a variety of trails from the narrow to the hair-raising Angels Landing. If you'd like to hike up to Angels Landing, you will need a permit and will need to make a reservation. Check the Zion National Park's website for more details.
Bonnie and Clyde's Death Car - Though the unincorporated Primm, NV has several tourist attractions, the main one is this bullet-riddled car where the infamous duo finally met an end to their Depression-era crime spree. By all accounts, it is the authentic car.
Zzyzx - Just after Baker, you will see a sign for this unpronounceable town with a funny history. Today it is essentially a ghost attraction with an abandoned spa near a lake. More of a curious place to explore and take pics for the "creepiest place I've ever been" collection.
Yermo - This unincorporated desert badland is home to the well-preserved Calico Ghost Town where you can get a sense of how the old prospectors lived, as well as the Liberty Sculpture Park, which was established by the Chinese overseas community to preserve hopes for greater civil liberties on the mainland.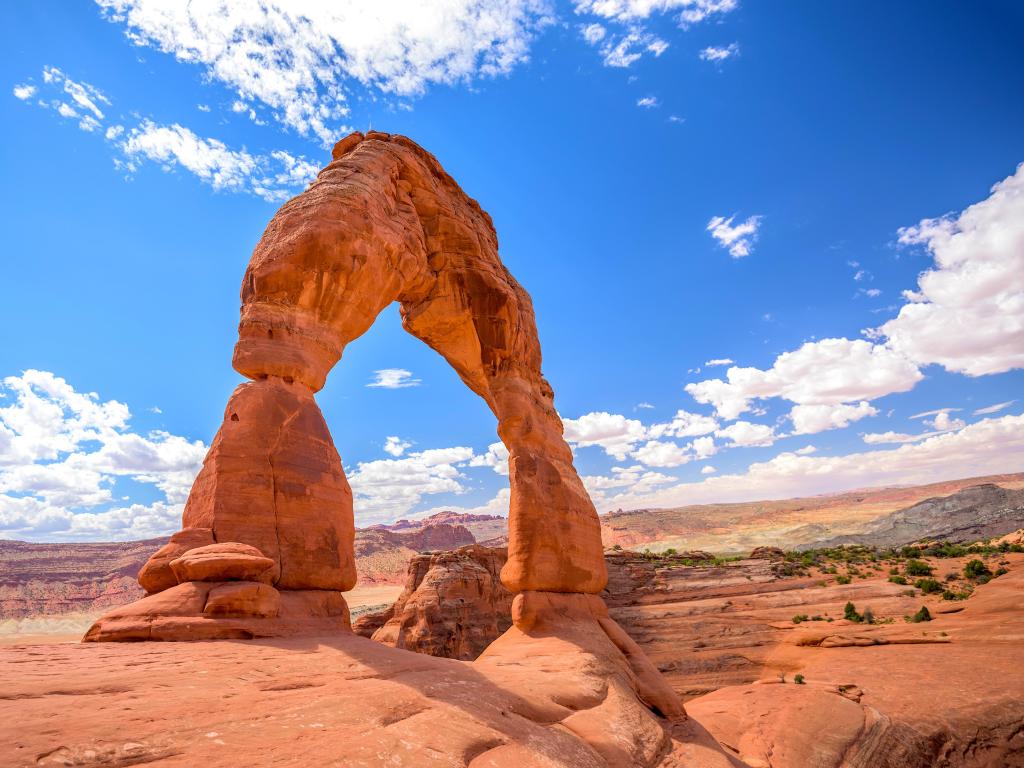 The Desert Route
Uranus - This classic Route 66 pit stop understands its base and looks upon its humorous town name with pride. Here you can find a quirky Town Center with features like Escape Uranus, Uranus Fudge Factory and General Store, and the Uranus Sideshow Museum.
Bernice Nature Center - Along the beautiful Neosho River in Afton, OK. If you feel like a place to rest from the drive while enjoying some time outdoors, wander the nature trail at the Bernice Nature Center and the surrounding shoreline area.
Oklahoma City - For those who have never been here, you're in for a treat! Some of the main attractions include the interactive Oklahoma City National Memorial and Museum, the National Cowboy & Western Heritage Museum, and the old district of Bricktown.
Amarillo - Amarillo is a place to fall in love with Old West nostalgia. Sign up for a horseback tour with Cowgirls and Cowboys in the West where you can ride a pony into the sunset yourself. Another popular attraction is the Jack Sisemore Traveland RV Museum.
Santa Fe - In Santa Fe, the Spanish Colonial history of the SW is on full display in the downtown Plaza, along with mountain vistas. Galleries and art museums abound, including ones dedicated to Georgia O'Keefe, Indian Arts & Cultures, and International Folk Art.
Petrified Forest National Park - Situated in the stunning painted desert near Holbrook, this park is the remnant of forest that was quickly washed away and buried under sediment over 200 million years ago. The remnants are mostly made of quartz and add some sparkle to an already beautiful landscape.
Grand Canyon - If you'd like to take in some spectacular views of the Grand Canyon, one of America's greatest national treasures, head to Yaki Point. This will add some mileage to your trip from the route, but it's a worthwhile addition if you've not yet marveled at it.
Hoover Dam - A marvel of engineering built with over 3,250,000 cubic yards of concrete, this gravity-arch dam was built during the Great Depression. It also played an important part in America's historical and economic development in the pre-WWII era.
Joshua Tree National Park - One of the most popular parks, Joshua Tree not only attracts visitors with its unique trees and otherworldly landscapes, but it also has archaeological sites up to 5,000 years old. It is also a destination to learn rock climbing and rappelling.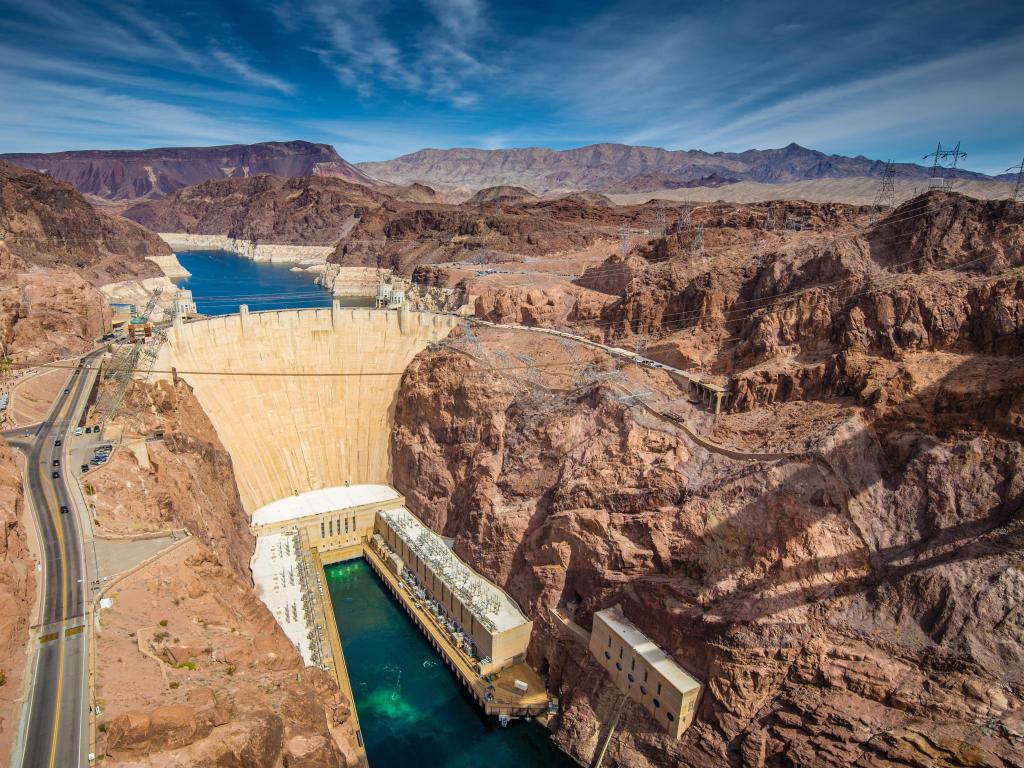 Best time to go on a road trip from St Louis to Los Angeles, California
Even though Florida grabbed the official title of the "Sunshine State", that appellation could just as easily go to California. Despite the fact that inland temperatures can soar, as long as you have decent air-con, you will be met with a temperate climate and hardly any rain year in LA.
LA is a beach dream in the summer with temperatures between 70 and 80 degrees Fahrenheit. There are plenty of beaches to choose from to cool off, though you're likely to experience crowds in the vacation months. Due to this being the height of the travel season, hotels are going to be more expensive.
While you will need a wetsuit to enjoy the ocean in winter, temperatures are mild, and you might even get some sunny days that beat spring in colder areas. Expect highs of around the 70s, making it a great season for hiking and outdoor dining. You'll also enjoy fewer crowds too.
Aside from the school break periods, both spring and fall are great times to visit LA. The temperatures range from the 50s to 70s and there is hardly any rain, with March and November being the two months when you might see a drop or two. The crowds and the prices begin to surge in May.
As you can imagine, LA is a city full of glitz and celebration. You might not be getting ready to attend the Oscars, but you can still enjoy the sense of the famous LA glamour if you try to time your trip to coincide with the American Film Institute Festival in November.
You will be spoiled for choice as to what to do while you visit LA because there are countless art, culture and food festivals around the city. These include Cinco De Mayo celebrations, the Abbot Kinney Festival, and the Hollywood Halloween Carnival.