Road Trip from St Louis to Yellowstone National Park
A road trip from St Louis to Yellowstone sounds like a pretty mammoth journey, since it's a very long drive. However, with so many stunning sights to take in and exciting attractions to enjoy, it is an adventure you definitely can't afford to miss.
The 1,460-mile road trip from St Louis to Yellowstone takes 23 hours and 25 minutes to drive. Notable stops are Kansas City, Denver, Jackson, Rocky Mountain State Park, Medicine Bow-Routt and Shoshone National Forests, and Pawnee National Grassland.
If you'd like to make the best of this journey, read on to learn the route and discover some amazing sights and exciting things to do on the way.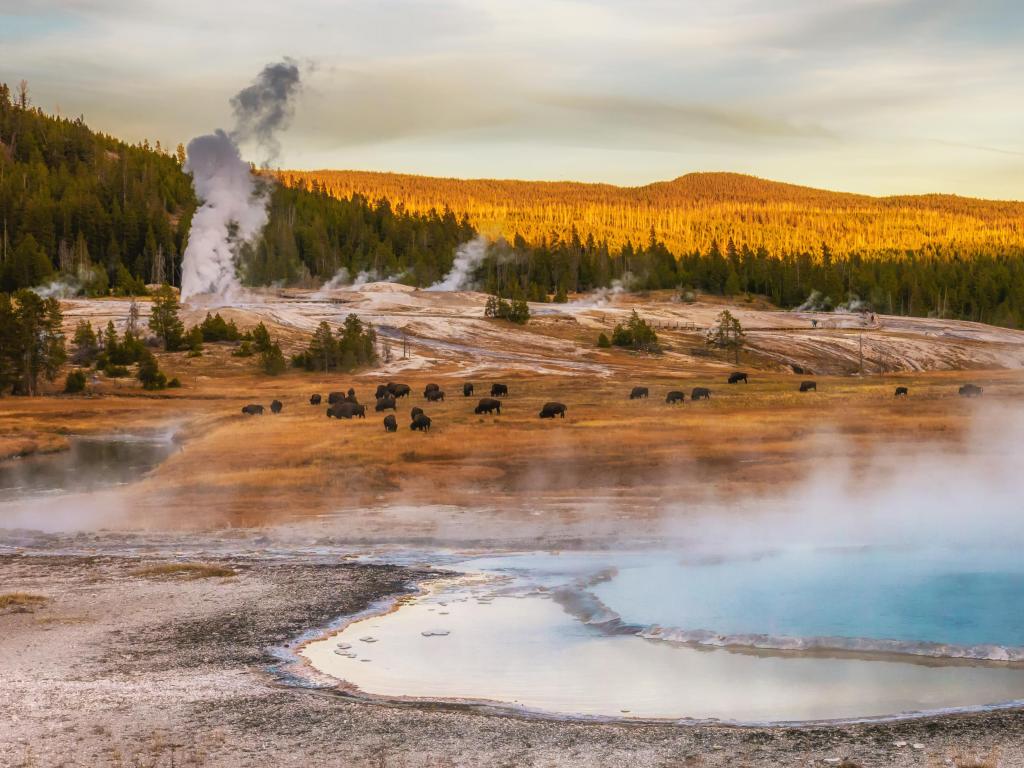 How far is Yellowstone from St Louis, and how long will the road trip take?
The road trip from St Louis to Yellowstone National Park is 1,464 miles and will take you a total of 23 hours and 25 minutes of nonstop driving on the road without accounting for stops or detours. Since this is a long journey, you might want to leave early to avoid the morning traffic and make good headway on day one.
The best part about a road trip is the beautiful places and sights you get to see on the way. If you're more interested in getting to Yellowstone without taking in your surroundings, then you might as well take a flight instead, but then you will miss out on this unforgettable experience.
If you'd like to take full advantage of all that the road trip from St Louis to Yellowstone has to offer, then you should consider taking at least four days. This will give you enough time to make stops along some major routes and places that we'll describe below.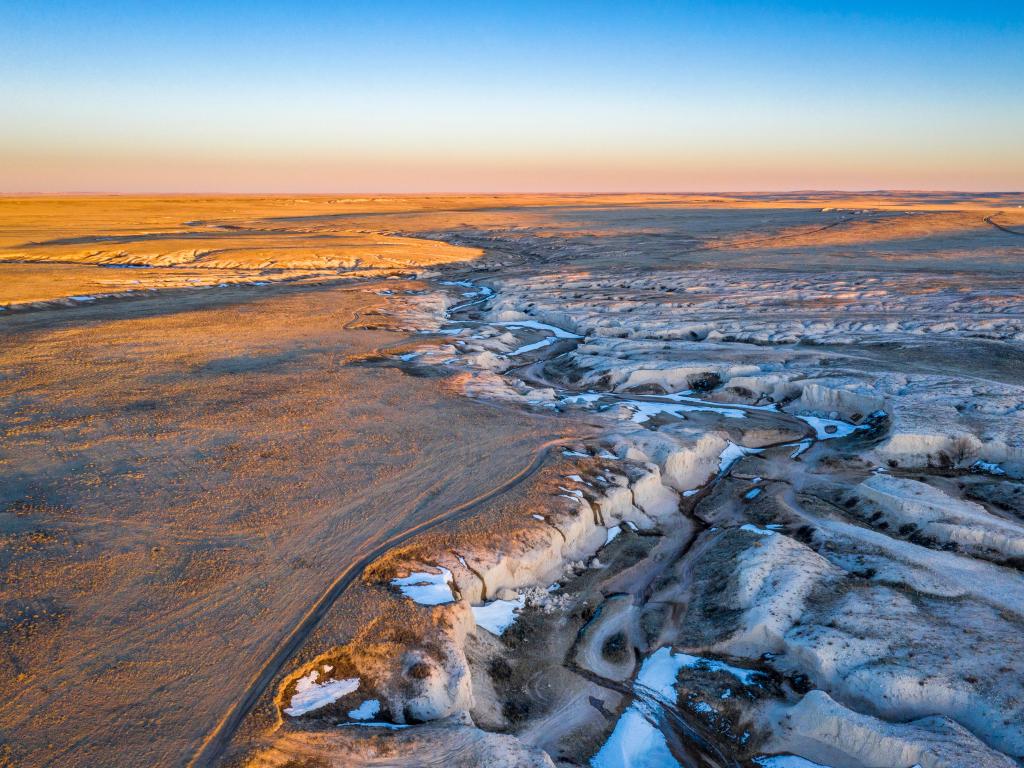 Best road trip route from St Louis to Yellowstone
There are several routes for the road trip from St Louis to Yellowstone, and the best route will take you through bustling major cities, iconic national parks and forests, imposing mountains, conservation areas, and scenic landscapes all around.
This route will take you through Kansas, right into the beautiful city of Denver and through the stunning scenery of the Rocky Mountains. You can always add more detours to extend your trip and to enjoy your time on the road to the fullest.
Road trip route from St Louis to Yellowstone
Head out of St Louis following Interstate 64 (I-64) and drive through Chesterfield. From there, hop on to Interstate 70 (I-70) via Dwight D. Eisenhower Highway to pass through Wright City and Warrenton. This highway will take you through Burr Oak Woods Conservation Area.
Keep on I-70 and drive through Topeka and Salina. You will cross into Colorado past Goodland. Following this route will take you directly into the bright city of Denver, where you can take a short detour to visit the Pawnee National Grassland.
To make this detour, take Exit 216A out of Denver to merge onto Interstate 76 (I-76) and then Exit 34 for US-34 E. Turn right onto CO-392 and then CO-14, which will take you to the grassland.
Otherwise, keep following I-70 out of Denver and take Exit 232 for US-40 past Idaho Springs, where you will start traveling along the famous Rocky Mountains. Turn right onto US-34 E past Granby to reach Estes Park where you can stop for the night.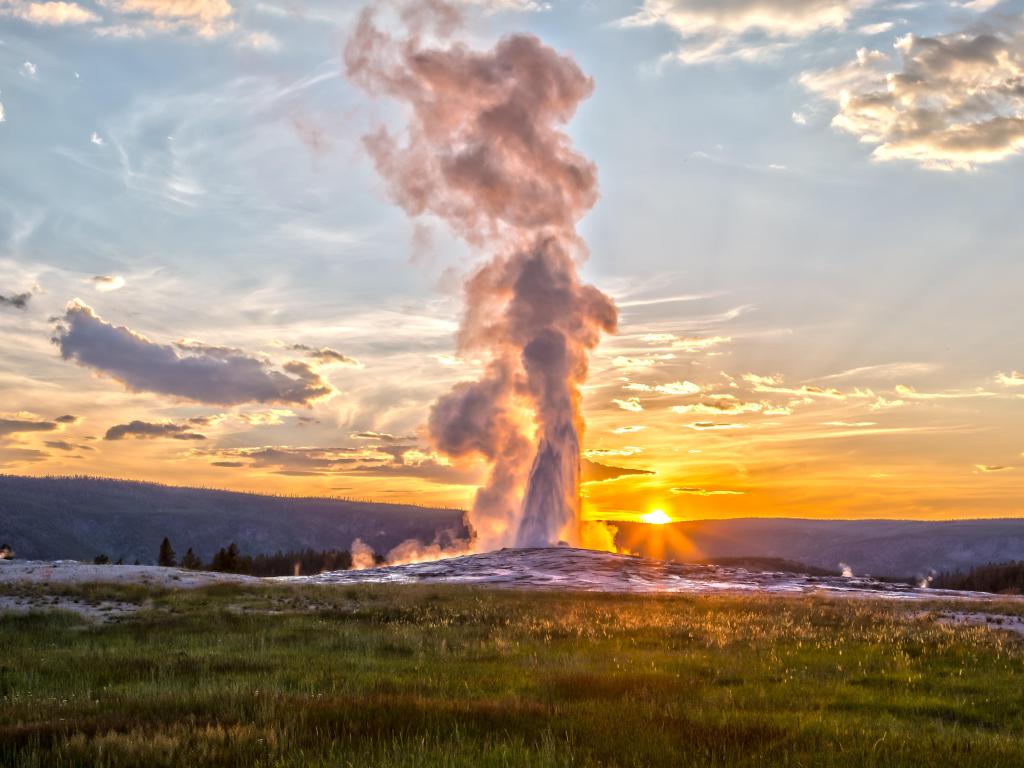 After your visit to Estes Park and Rocky Mountain National Park, follow US-34 back to Granby and turn right onto CO-125. Drive north towards Walden and continue onto WY-230 as you cross into Wyoming.
Continue onto WY-130 W past Encampment, where you can visit the Medicine Bow-Routt National Forest. Continue following WY-130 until Walcott and turn left onto Interstate 80 West (I-80 W) towards Rock Springs.
Take Exit 104 for US-191 N which will take you to Jackson. You can take a break and visit this picturesque town before the last stretch of your journey.
Keep on US-191 and pass through Bridger-Teton National Park and Grand Teton National Park before arriving soon at your destination, Yellowstone.
Best places to stop between St Louis and Yellowstone
Since it's a better idea to break up your road trip from St Louis to Yellowstone, you'll want to stay overnight in some of the best places along the way. Not to worry, there are several awesome places you can stay and even get to explore different places and sights while you're there.
Enjoy the nightlife in Kansas City
Located about 4 hours from St Louis, the beauty of Kansas City is enough to make you stop over and spend the night – you'd definitely not want to miss seeing the Nelson-Atkins Museum of Art and the Negro Leagues Baseball Museum.
When thinking of a place to stay in Kansas City, what should come to mind is the 21c Museum Hotel Kansas City. You can enjoy works of art in every corner of this luxurious accommodation, which is located right in the heart of downtown and features stunningly unique rooms.
Arabia Steamboat Museum is about 10 minutes away from the hotel and is a must-visit for every history buff. The museum displays artefacts from the famous steamboat Arabia, which sank near Kansas City in the 19th century.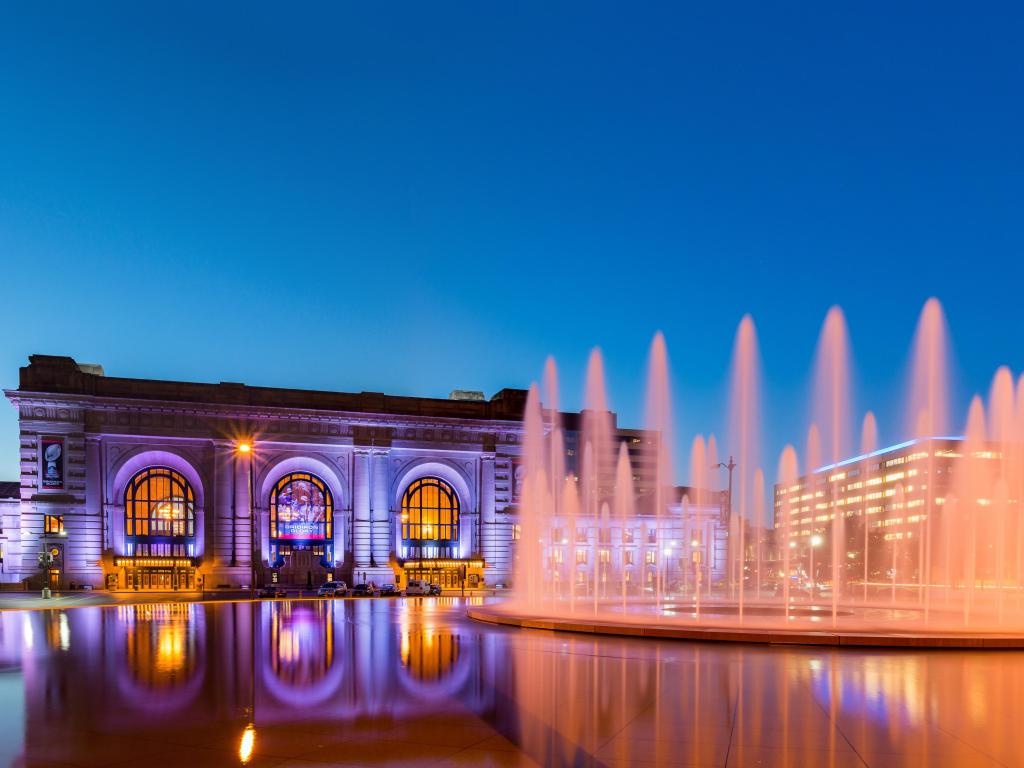 If it is a pleasant day, you can take a stroll over to Berkley Riverfront, where you can admire the beautiful Missouri River and the views of the iconic Kit Bond and Heart of America bridges. Why not pack a nice lunch and enjoy a leisurely picnic here on your day out?
When it is time to get back, make sure to pass by the Muse of the Missouri Fountain on your way to the hotel. There are some great restaurant options in this area, but you might want to opt for The Savoy at 21c, which was once the oldest restaurant west of the Mississippi.
Admire iconic peaks at the Rocky Mountain National Park
The Rocky Mountains, known lovingly as the Rockies, are among the most popular landmarks in the USA. Located about 9 hours from Yellowstone National Park, Rocky Mountain National Park is the perfect stop before the last leg of your trip.
The Rocky Mountains are the largest mountain system in North America, and you can view some of its most magnificent peaks while enjoying one of the many breath taking hiking trails in the Rocky Mountain National Park.
This National Park consists of several zones you can explore, so you can easily spend several days admiring the meadows found in the montane life zone, crystal-clear lakes in the subalpine zone and to the mountain peaks in the alpine zone.
You will want to rest in comfort after enjoying the outdoors, and The Estes Park Resort is the perfect place to call home from home, located in Estes Park adjacent to Rocky Mountain National Park. This fantastic hotel features magnificent views of the picture-perfect Lake Estes.
You can admire the view of the Rocky Mountains on the deck of this lakefront resort while enjoying a warm drink before you head to the luxurious spa for a well-earned massage or the casual fine dining restaurant on site.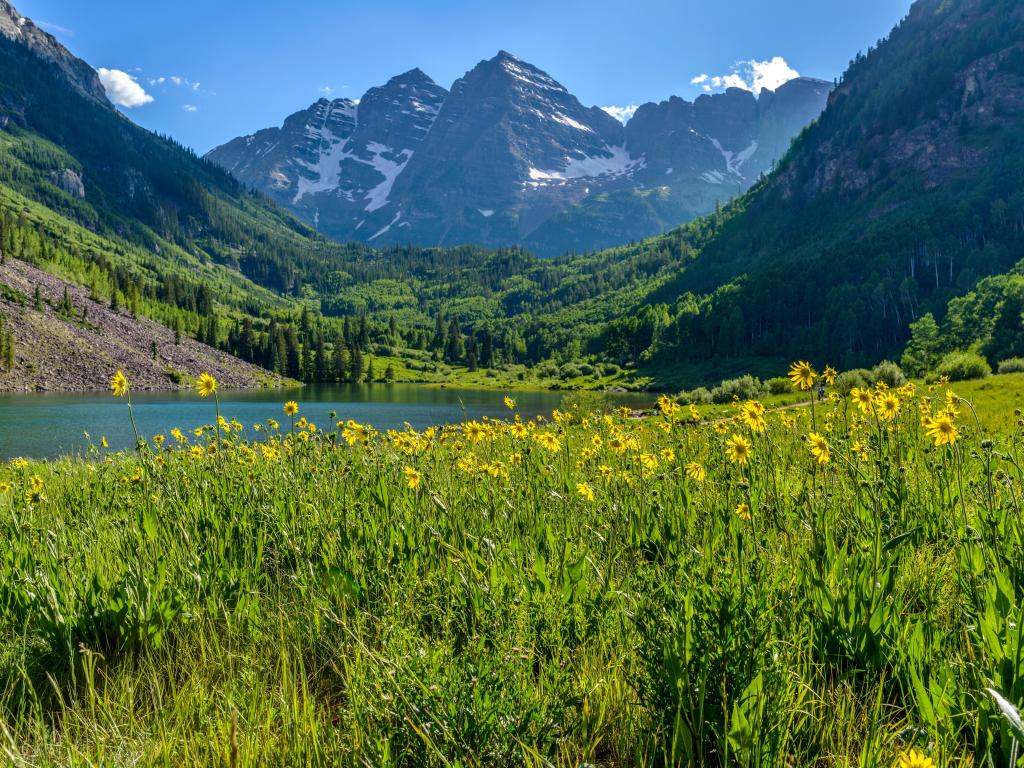 Things to see on a road trip from St Louis to Yellowstone
It shouldn't surprise anyone that there's a lot to see on the road trip from St Louis to Yellowstone – it is almost a 23-hour journey, after all. The list is endless, from national parks to conservation areas and vibrant cities.
After going through the list of places to be and things to see on your road trip, it wouldn't take much to convince you to extend your journey and add a few more days to your trip. So, here they are:
Saint Louis Zoo, St Louis – You can begin your trip with a quick stop at Saint Louis Zoological Park that features other attractions like the Lakeside Crossing, the River's Edge (home to several animals from all over the continent), The Historic Hill, The Wild, and more.
Missouri Botanical Garden, St Louis - Informally known as Shaw's Garden, the Missouri Botanical Garden is an ancient garden in the United States that boasts more than 6.6 million herb species.
Mark Twain National Forest, Rolla – This national forest features the Greer Spring, the Glade Top Trail National Scenic Byway, and trail systems for hikers, bikers, and riders.
Burr Oak Woods Conservation Area, Blue Springs - Natural features in the area include steep forested hillsides along Burr Oak Creek, large limestone boulders and outcrops, restored prairies and woodlands, and a trail complex.
Maple Leaf Lake Conservation Area, Higginsville – This conservation area is popular for its fishing lake shaped like a maple leaf – which is how it got its name in the first place.
Nelson-Atkins Museum of Art, Kansas City - This extensive museum is known for its encyclopedic collection of art from nearly every continent and culture with a focus on Asian Art.
Negro Leagues Baseball Museum, Kansas City - This museum recreates the look, sounds and feel of the game's storied past while drawing attention to the challenges sportspeople of color had to face and how they overcame these.
Arabia Steamboat Museum, Kansas City - Located in Kansas City, this museum houses artefacts collected from Arabia, a boat that sank in the Missouri River centuries ago.
Denver Zoo, Denver - This zoo is home to more than 3,000 animals and is the oldest zoo in the city.
Pawnee National Grassland, Ault – This popular grassland has different hiking trails, and there's the Bird Watching option for hikers at the Chalk Bluffs.
Rocky Mountain National Park, Colorado – Rocky Mountain is one of the most visited parks in the US, and you wouldn't want to miss seeing the alpine lakes, mountains, and a fantastic collection of wildlife. Keep in mind that the national park uses a timed entry permit system. Please check the national park's website to see if you need to make a reservation before your visit.
Estes Park, Colorado - Known as one of the world's most beautiful locations, Estes Park is surrounded by the Rocky Mountains, where you can try fly fishing, horseback riding, or white water rafting.
Medicine Bow-Routt National Forest, Steamboat Springs – This area contains the Routt National Park, Medicine Bow National Forest, and Thunder Basin National Grassland.
Cheyenne Frontier Days Old West Museum, Cheyenne – This museum was built to protect and exhibit the history of Cheyenne and it highlights the significance of the Frontier Days celebration to this town.
Shoshone National Forest, Wyoming - Considered the first national forest in the US, Shoshone shares the western border with Yellowstone National Park and features rugged mountains, meadows, and sagebrush flats.
Grand Teton National Park, Wyoming – Located close to Yellowstone National Park, this is one of the best places to go in the summer, as there are different areas for hiking, fishing, and mountaineering.
National Elk Refuge, Jackson - Visit during winter months for the chance to see the most elk, which can be as many as 5,000! You can also take a drive in the refuge, as long as you make sure not to disturb the elk.
National Museum of Wildlife Art, Jackson - Stand face to face with life-size sculptures on the outdoor trail, take in vistas of the National Elk Refuge, and experience wildlife in this museum.
Bridger-Teton National Forest, Wyoming – Bridger-Teton is a target destination for outdoor recreational activities, featuring everything from pristine watersheds to wildlands, wildlife, and trails.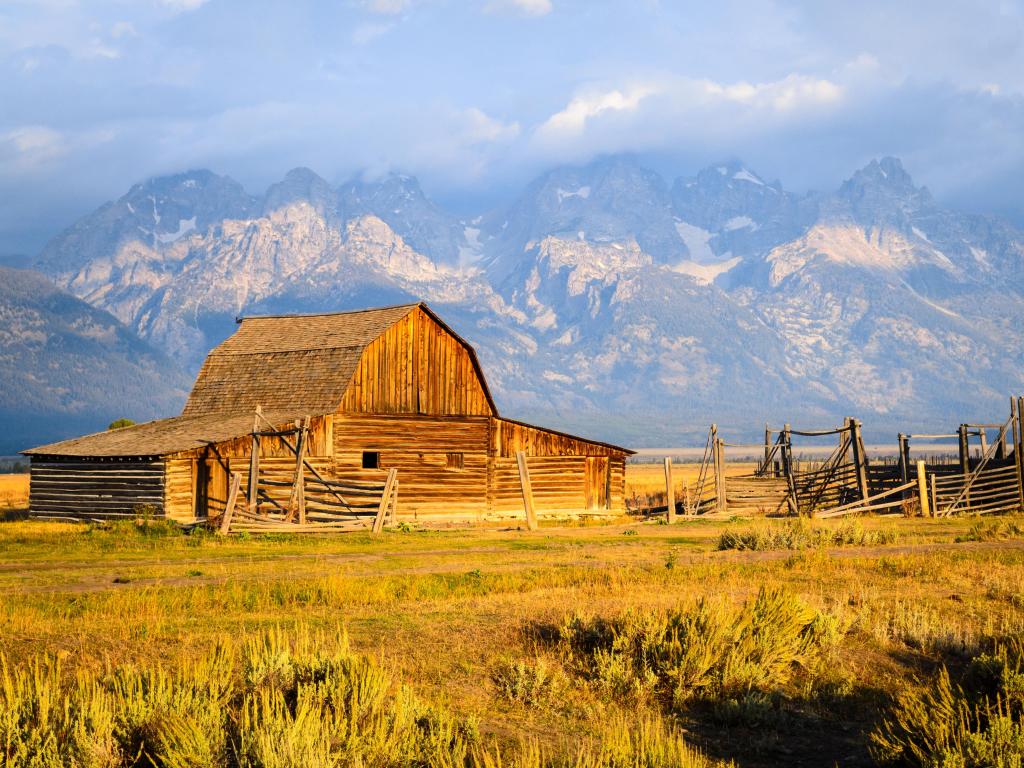 Best time to go on a road trip from St Louis to Yellowstone
You can embark on a road trip from St Louis to Yellowstone at any time of the year since the route is rather straightforward.
However, once you consider the fact that there are several national parks and forests that you'd love to see on the way, the best time to travel would be in summer between June and September with temperatures often around 70 degrees Fahrenheit.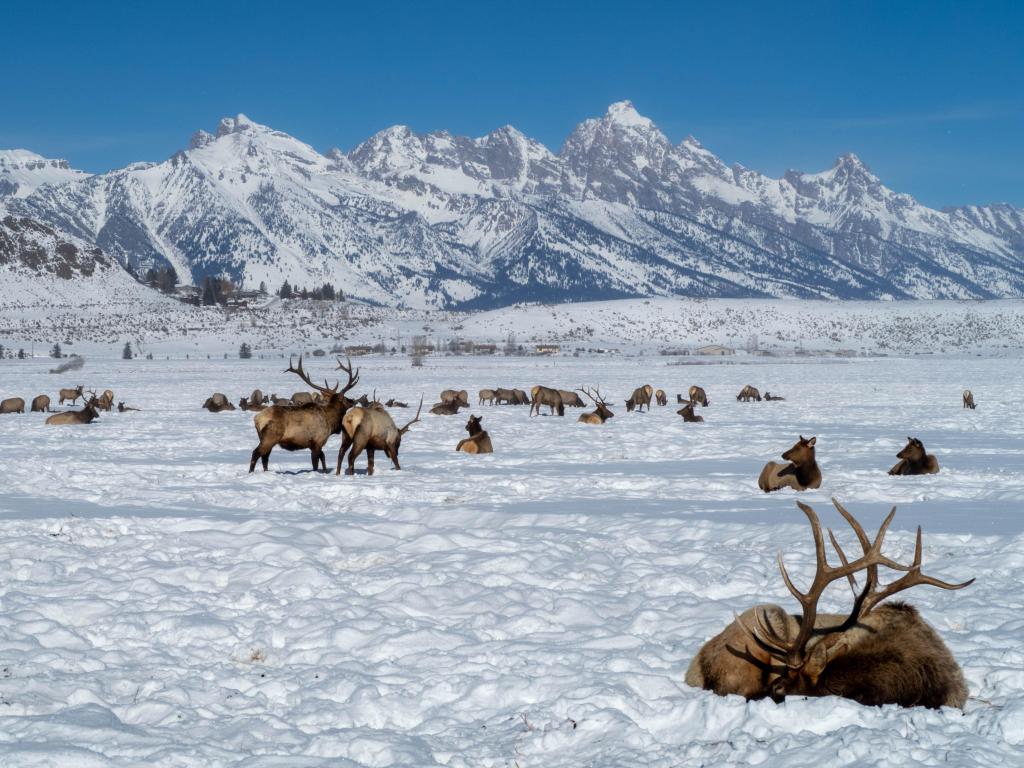 Winter would also be a great time to visit Yellowstone, as it's usually beautiful at this time of the year, as long as you pack appropriate winter gear to brave the cold. The temperatures can go down to 20 degrees Fahrenheit December through February.
In addition, the park is usually deserted at this time of the year, so if you aren't a fan of crowds, you can travel in the winter. Who knows? You might fall in love with winter hiking and snowboarding - just make sure to check road and weather warnings, and be aware that the park closes completely for a few days at either end of the winter season.