Road Trip from Vancouver to Seattle
This short but impossibly scenic road trip from Vancouver to Seattle takes you from some of the most stunning parks that dot the Canadian border, alongside the beautiful islands of Washington before arriving at one of America's most beautiful, bustling cities.
The 230km (145 mile) road trip from Vancouver to Seattle will take you under 3 hours to drive. Key stops include Orcas Island, North Cascades National Park and Whitby Island, as well as Richmond, Golden Ears Provincial Park and Olympic National Park.
Despite this being a relatively quick trip, there are many scenic detours that you can take along the way, so please keep reading until the end to learn about them all - plus our top tips on where to stay, what to see, and the best time of year to travel from Vancouver to Seattle.
How far is Seattle from Vancouver, and how long will the road trip take?
Comparison of road trip routes between Vancouver and Seattle

| Route | Distance | Driving Time |
| --- | --- | --- |
| The Direct Route | 230 km | 2 hours 30 minutes |
| The Scenic Route | 345 km | 7 hours |
The most direct route between Vancouver and Seattle spans a distance of 230km (145 miles) and will take around 2 hours and 30 minutes to drive without stopping.
A longer and more scenic option is available which covers 345km (215 miles) but takes much longer to drive at 7 hours. Both routes can be completed in a single day if you are really pressed for time.
That said, we would strongly recommend you plan an overnight stop en route, especially if you are following the scenic journey. A minimum of 2 days would be advisable.
Regardless of which option you choose, your trip will involve crossing from Canada into America. Therefore, you will need to ensure you have the correct documentation and proof of identification with you, to make your border crossing as smooth as possible.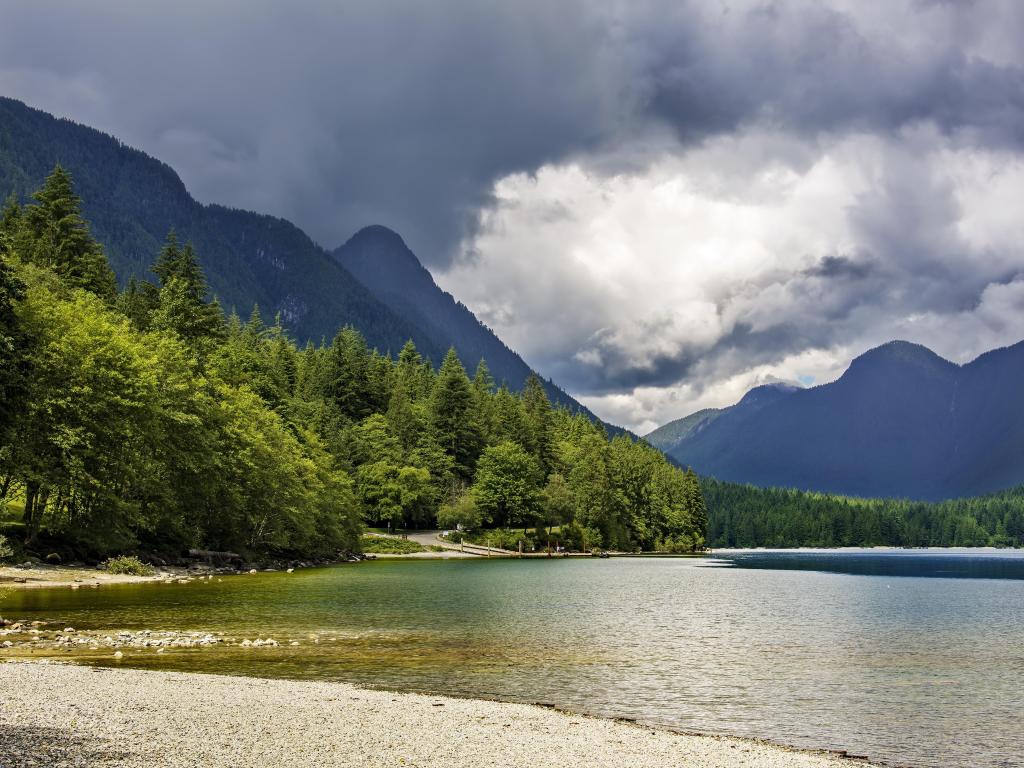 Best road trip route from Vancouver to Seattle
There are two distinct options to drive between Vancouver and Seattle. The Direct Route is the quickest and means that you can take off after breakfast and be in Seattle for lunch. Following the interstate, it's also a simple drive which may appeal to some.
That said, the Direct Route does miss out on some of the spectacular scenery on offer in this part of Canada and the US. Our recommendation would be to follow the Scenic Route and pass through more of the lush national parks and forests and alongside beautiful islands.
If you are pressed for time, then you might opt for the quickest route, otherwise spend a few extra days and explore the exciting attractions and landmarks in the vicinity on this delightful road trip. You can always take the Direct Route on your return leg if you're making this a round trip back to Vancouver.
How to drive from Vancouver to Seattle
The map above shows our suggestions for the best routes between Vancouver and Seattle. Keep reading for detailed descriptions of both routes, where to stay on either, and the best things to do on the way.
The Direct Route
This straightforward route begins in Vancouver and will see you follow the BC-99 south through Richmond before crossing the Fraser River and passing Delta and White Rock.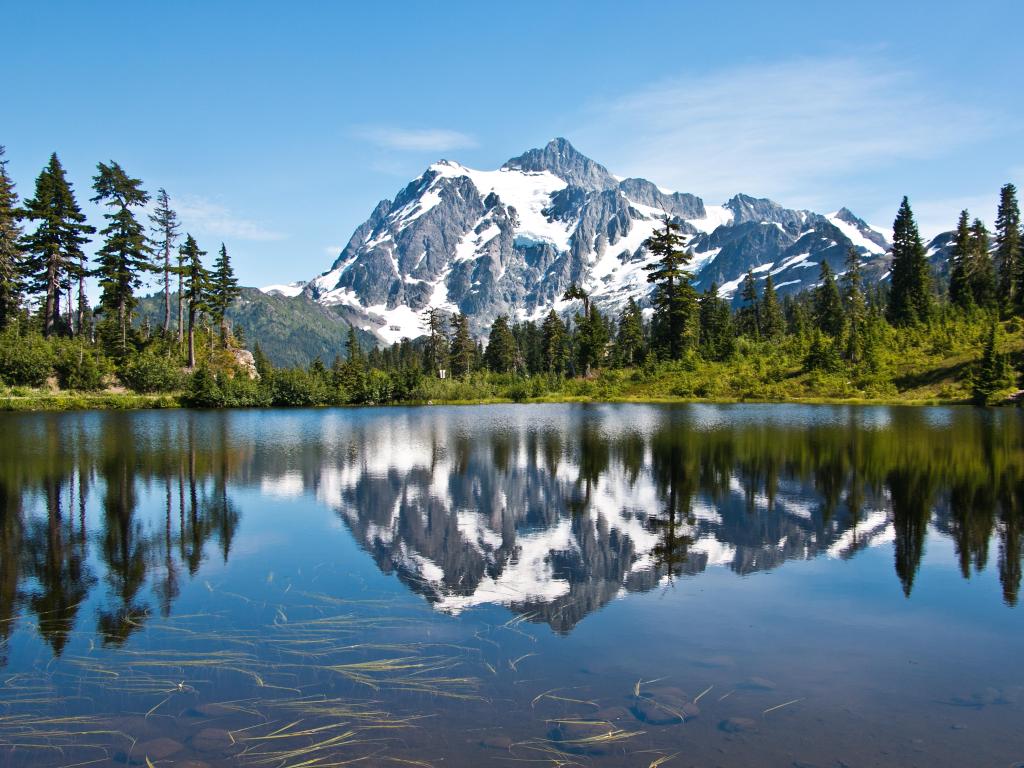 At Blaine you will cross into the US and the road merges into Interstate 5 (I-5) which you will follow for the rest of the trip. Head south past Custer, Ferndale and Bellingham. Travelling this close to the coast means that you can veer off the interstate and spend a few tranquil hours watching the sea.
Continue on I-5 past Alger, Burlington and pass Mount Vernon. You could take a couple of extra detours and visit Big Lake or Lake Cavanaugh, or from Marysville, you could take a drive to Mt. Baker-Snoqualmie National Forest.
Back on I-5 heading south, you'll pass through Everett and Mountlake Terrace before arriving at your destination of Seattle.
The Scenic Route
The alternative option begins the same way at the Direct Route, following BC-99 south through to Richmond and crossing the river, before crossing into the US at Blaine and then margining with the I-5.
Follow this road south all the way past Custer, Ferndale, Bellingham and Alger. You could take several detours on this stretch, including to visit Larrabee State Park or Bay View State Park.
Turn left on WA-20 and head west to Anacortes. From here you can take the ferry to Orcas Island, which would also make a fantastic overnight stop.
Next take the ferry to Fidalgo Island where you will pass Alexander Beach, Rosario Beach and drive through Deception Pass State Park into Whidbey Island. Continue on WA-20 past Moran's Beach County Park and to Oak Harbor.
This section of your journey passes some stunning beaches, parks and forests. You'll continue to follow WA-20 through Greenbank, Freeland, Bayview and Clinton.
At Clinton, you'll need to take the ferry to Mukilteo. Follow WA-525 and I-5 south through Mountlake Terrace and Northgate before arriving at Seattle.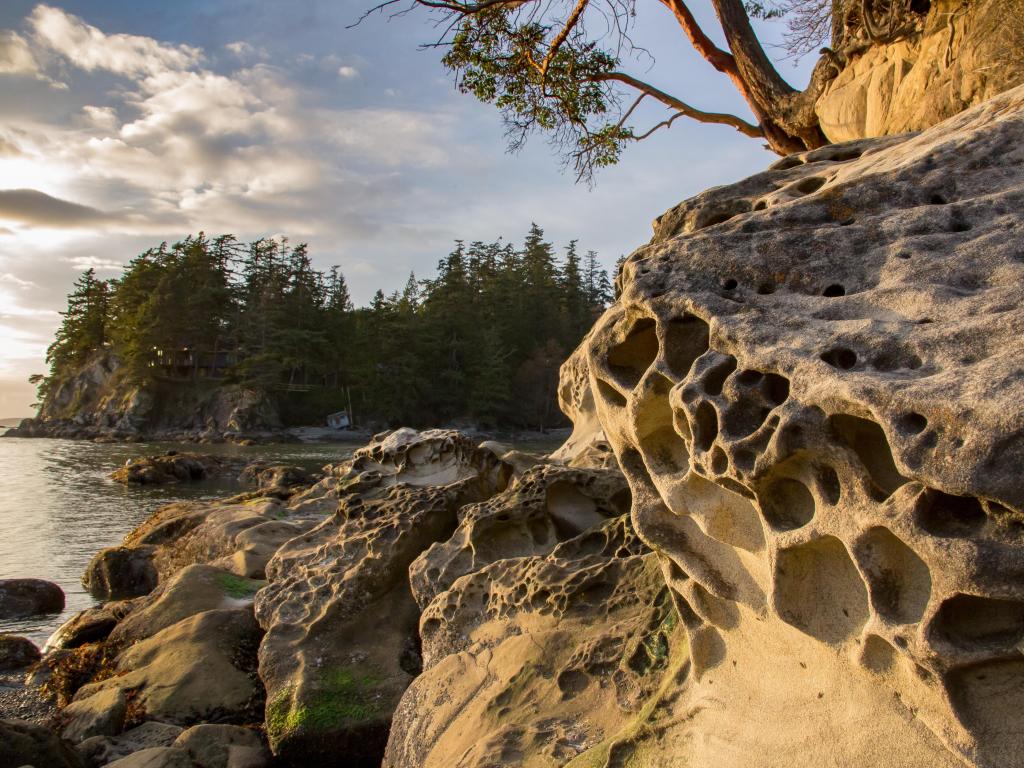 Best places to stop between Vancouver and Seattle
If you are pressed for time and opt for the direct route, you can manage the trip from Vancouver to Seattle in a single day. However, if you want to make more of the stunning scenery on offer and include a few island visits, then an overnight stop is a must.
Of all the great hotels you can book along the way, here are a few of our favourites:
Stop at "The Gem of San Juans"
If you decide to follow the Scenic Route, then just over 3 hours from Vancouver, a stay on Orcas Island is highly recommended. Not only is it situated halfway through your trip, but known as "The Gem of San Juans", it's a fantastic setting for exploring island life.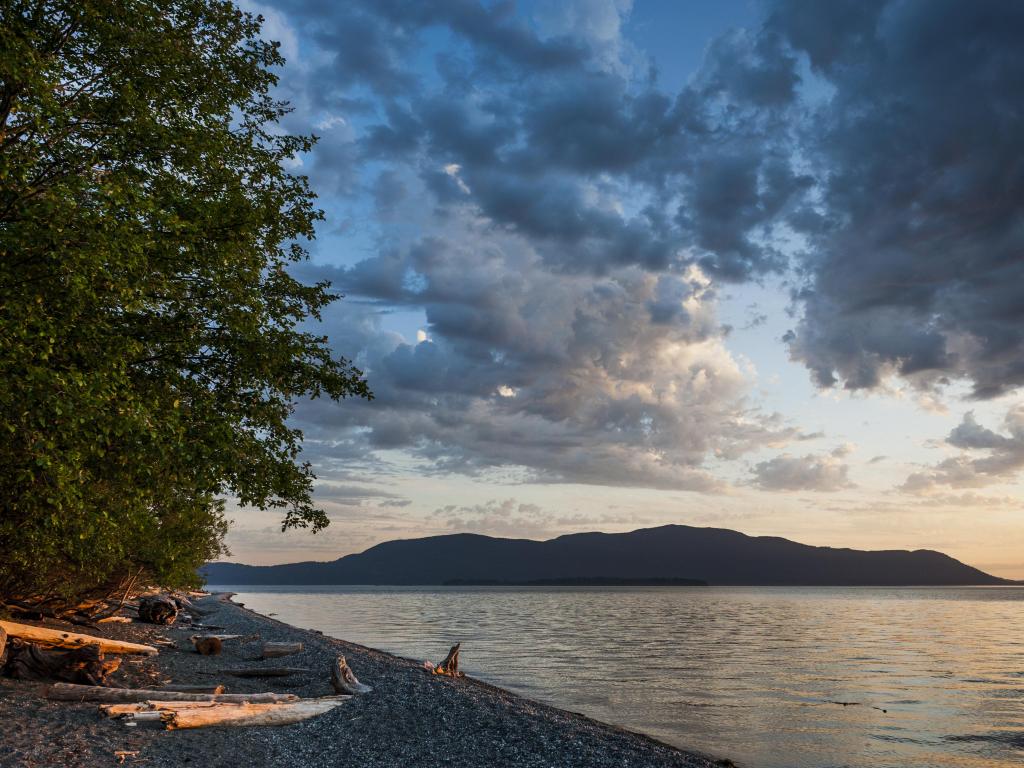 Known as an artists' hub, Orcas Island is full of small artisan shops dotted around the island. It is however probably best known for its pristine lakes, hilly landscapes and lush greenery.
Spend some time discovering the marine life that make this island its home, and you might even get to spot orcas and minke whales. There's also a Scenic Byway to explore, Moran State Park and Turtleback Mountain Preserve.
To make the most of your visit, a stay at the beautiful Otter's Pond Bed and Breakfast is a must. This charming bed and breakfast is located in the heart of a nature preserve, so you can expect amazing views all around, plus it is only a short walk from the beach.
Otter's Pond has a hot tub for guests can relax in, as well as comfortable rooms with stunning views. Gorgeous Moran State Park is less than 5 minutes away by car, meaning you can easily enjoy orca watching, swimming, kayaking, hiking and sailing from the comfort of your resort.
A cultural city break at Seattle
Seattle is an incredible city, combining great architecture, rich musical history and great cafes, shops and restaurants. There is so much to explore in Washington State's largest city.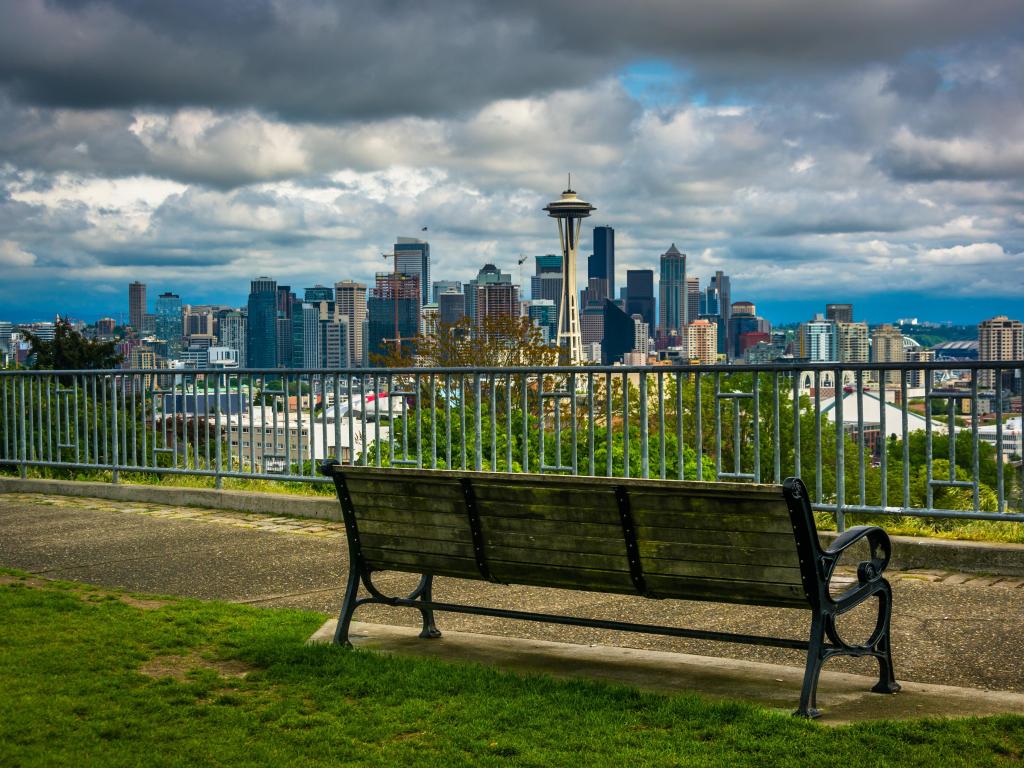 Set in the Pacific Northwest, surrounded by water, mountains and evergreen forests, Seattle also contains thousands of acres of parkland making it a destination that can appeal to everyone.
Home to a large tech industry, with Microsoft and Amazon headquartered in its metropolitan area, Seattle is probably best known for its futuristic and iconic Space Needle, a 1962 World's Fair legacy, as well as more recently famed for Starbucks and its coffee culture.
To complete your trip, a stay at The Alexis Royal Sonesta Hotel Seattle will guarantee you'll leave feeling on top of the world. This 5-star hotel is located right in the Seattle city center. Despite its high level of luxury and style, The Alexis Royal Sonesta is also very reasonably priced.
A short walk from the waterfront, Pike Place Market and Seattle Art Museum, the hotel's bar and cafe is also well known for its large whiskey library and features a cozy atmosphere of a working bookstore.
For comfort, style and an ideal location, this glamorous hotel really has it all ensuring that your stay in Seattle is as impressive as the city is itself.
Things to see on a road trip from Vancouver to Seattle
There are plenty of attractions and incredible scenic detours you can take on this road trip from Vancouver to Seattle. Of all the great places it passes, these are the things you'll want to look out for: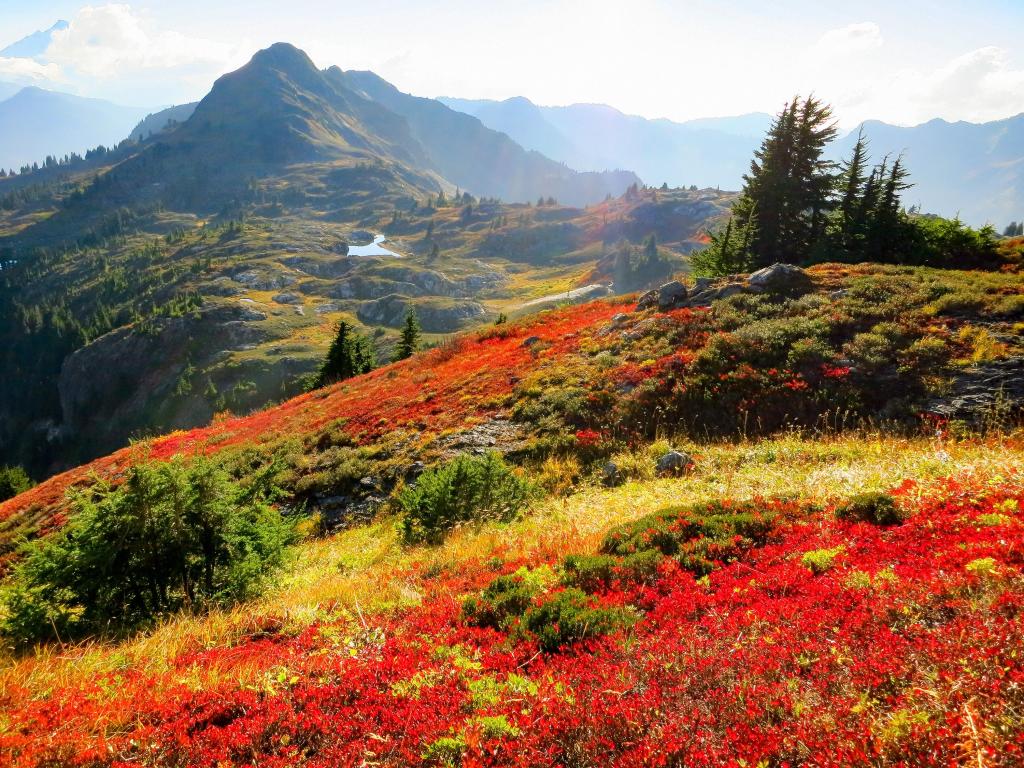 Both Routes
Golden Ears Provincial Park - Prized for its recreational opportunities, this park is perfect for the adventurous souls who also enjoy amazing scenery.
Richmond - This seaside city has a rich cultural and historical heritage. Steveston Harbor and Iona Beach Regional Park are hotspots to visit in the city.
Sehome Hill Arboretum - Escape from the chaos of the city in this beautiful 175.5 acre forested area on the south side of Bellingham. Enjoy a hike or walk and take it the beautiful views this oasis has to offer.
Campbell Valley Regional Park - Whether you are a nature lover looking for beautiful trails or an avid horseback rider, you will have a great time here.
Bay View State Park - This amazing park is the go-to spot for camping enthusiasts. It boasts great facilities and unparalleled scenic views.
Direct Route
Okanogan-Wenatchee National Forest - A diverse landscape, this forest encompasses 3.8 million acres of gorgeous slopes. You can also go mushroom picking in spring and fall if you are experienced.
Mt Baker-Snoqualmie National Forest - Snowy peaks and gorgeous mountain meadows will welcome you during your visit to this historically rich national forest.
North Cascades National Park - This rugged beauty is the perfect destination for hikers with the abundance of its scenic trails that overlook crystal clear waters.
Evergreen Arboretum & Gardens - Another beautiful garden that is conveniently located just off the interstate, you will want to spend a whole day here and contemplate among gorgeous flowers.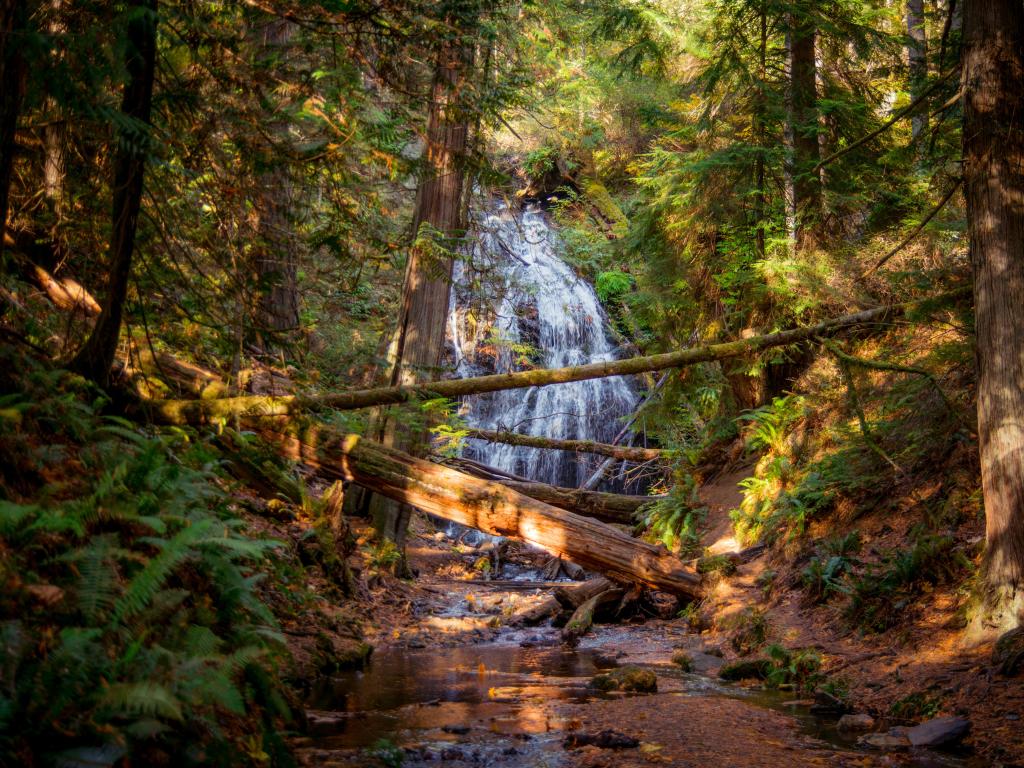 Scenic Route
San Juan Islands - This network of islands, which also include the immensely scenic Orcas Island, are natural wonders that are definitely worth a visit, especially if you love the great outdoors.
Whidbey Island - This island is deservingly famous for its scenery, so it isn't surprising that it is the preferred destination spot for Seattle dwellers.
Olympic National Park - One of the most stunning parks in the vicinity of Seattle, you can enjoy all sorts of recreational activities here, including winter sports.
Meerkerk Gardens - Enjoy these beautifully landscaped gardens in Greenbank that are sure to impress and wash away all your weariness from driving.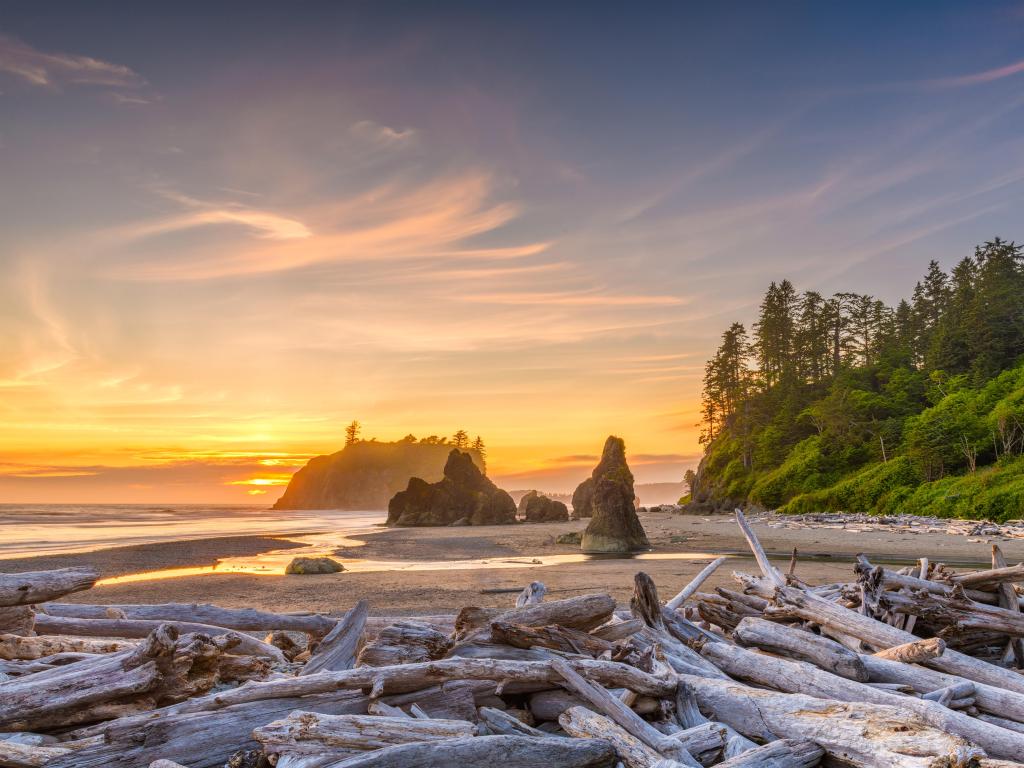 Best time to go on a road trip from Vancouver to Seattle
This road trip from Vancouver to Seattle is one that can be enjoyed all year round, depending on what activities and attractions you'd like to view along the way.
Perhaps the most obvious time to visit would be in summer. Being predominantly a northern route, the weather - even in the peak of summer - will be mild and enjoyable with highs averaging around 65 degrees Fahrenheit.
That said, you will experience larger crowds at some of the tourist hotspots in mid-summer, as well as experience higher prices at nearby hotels. The San Juan Islands might well be worth the crowds however, as summer will give you the best opportunity to enjoy its beaches.
If winter sports are more appealing that beach days, you may want to consider a trip between December and March. Vancouver is surrounded by top-notch winter resorts such as Whistler Blackcomb and Grouse Mountain ski resorts.
While Vancouver has some of the mildest weather in Canada, it's worth keeping in mind that temperatures do drop to around 45 degrees in the colder months, so you'll definitely want to pack extra layers.
Spring and fall are also good options, which will allow you to enjoy seasonal foliage in the vast variety of parks you'll pass. With temperatures around 55 degrees during the day but dipping to 45 at night, make sure you pack warm for those cozy, chilly nights.
For a trip with a bang, why not combine it with a festival or two. Vancouver has its Dine Out Vancouver Festival in January, meanwhile Seattle has a great Independence Day Parade on 4th July that's always an enjoyable experience.