Road Trip from Vancouver to Las Vegas
If you want to see the best of British Columbia and top it off with some of the most scenic mountains, forests, and deserts in the States, consider doing a road trip from Vancouver to Las Vegas - few itineraries can come even close in the variety department.
The 2,300 km road trip from Vancouver to Las Vegas takes around 23 hours to drive. Stops include Seattle, Portland, and Mammoth Lakes, and exploring nature at Lake Tahoe, Mount Rainier, and in Yosemite and Death Valley National Parks.
There's a lot to be seen on the way, so be sure to read until the very end to learn this route inside and out.
How far is Las Vegas from Vancouver and how long will the road trip take?
The road trip from Vancouver to Las Vegas covers around 2,300 km and takes just over 23 hours to drive before adding time for breaks and overnight stops, provided that you take a more scenic route along the Sierra Nevada.
You could make it to Vegas a lot quicker if you skip through California and speed through Nevada all the way to Las Vegas, but the issue is that Nevada's a huge state, and much of its northern stretch is pretty barren, especially compared to California's landscapes.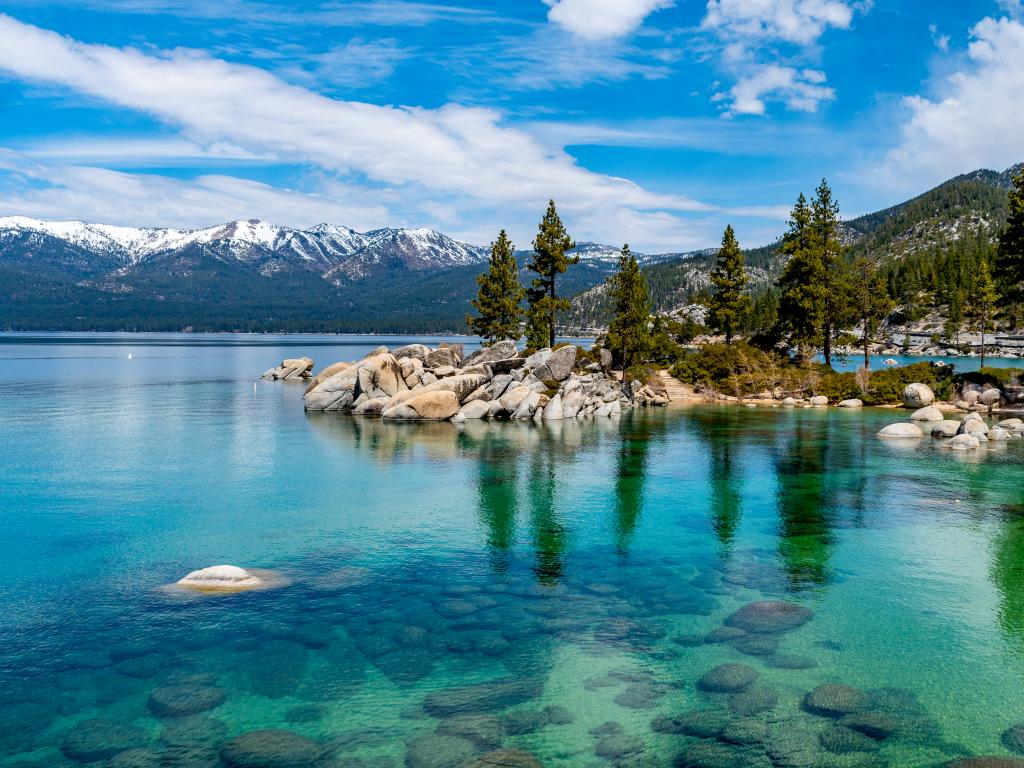 A few obstacles that might extend your travel time are Portland and Seattle – there's no good reason to pass up these beautiful cities, but the downside is that traffic here tends to get congested on weekdays and weekends alike.
Also worth keeping in mind is that Sierra Nevada may not be as easy to drive through in the winter.
You can definitely still do it during the winter season, but certain portions of the drive, especially on Highway 395, may or may not be closed off depending on the weather, further extending your drive.
Best road trip route from Vancouver to Las Vegas
The definitive road trip route from Vancouver to Las Vegas will take you through Washington, Oregon, and California before getting you to Southern Nevada. If you can, try to devote at least a couple of weeks to this drive to cover everything. there is to see
Road trip route from Vancouver to Las Vegas
Taking Highway 99 out of Vancouver, drive over the Fraser River before entering Washington and getting onto Interstate 5. Follow it through Seattle and right by Okanogan Wenatchee National Forest, then pass by Mt. Rainier and Olympic National Forest all the way to Portland.
From there, continue south between Williamette and Siuslaw National Forest before reaching Eugene. Once there, take Oregon Route 58 past Deschutes National Forest, then get on U.S. Route 97, following it along Crater Lake National Park and Fremont-Winema National Forest.
Just past Klamath Falls, briefly follow Oregon Route 39 to get into California and onto State Route 139. Follow it past a chain of scenic California forests, and get on Highway 395 just before Honey Lake.
Drive through Reno and Carson City, and pass Lake Tahoe and Yosemite National Park. Not long after driving through Inyo National Forest and Mammoth Lakes, you'll reach the city of Bishop.
Stick to the highway all the way to Kramer Junction, then head east to Barstow before taking Interstate 15 - follow this route past Mojave National Preserve and make your way into Las Vegas.
Best places to stop between Vancouver and Las Vegas
There's no way around the fact that you'll be stopping somewhere on the way from Vancouver to Las Vegas. Among the countless amazing resorts en route, these are some of the definite highlights:
Spend an unforgettable time in Reno
Although it's smaller than Seattle and Portland, Reno makes for a great place to stop since it's so close to some of the most scenic places in all of California. There are quite a few great hotels here, but Atlantis Casino Resort Spa is by far the swankiest midpoint hotel for this trip.
The Atlantis boasts an aesthetic and level of service well above its price range – featuring two swimming pools (the view from the "pool dome" is spectacular!) and the option to book a jacuzzi room, you'll have everything you need to cool off after a long day of driving or hiking.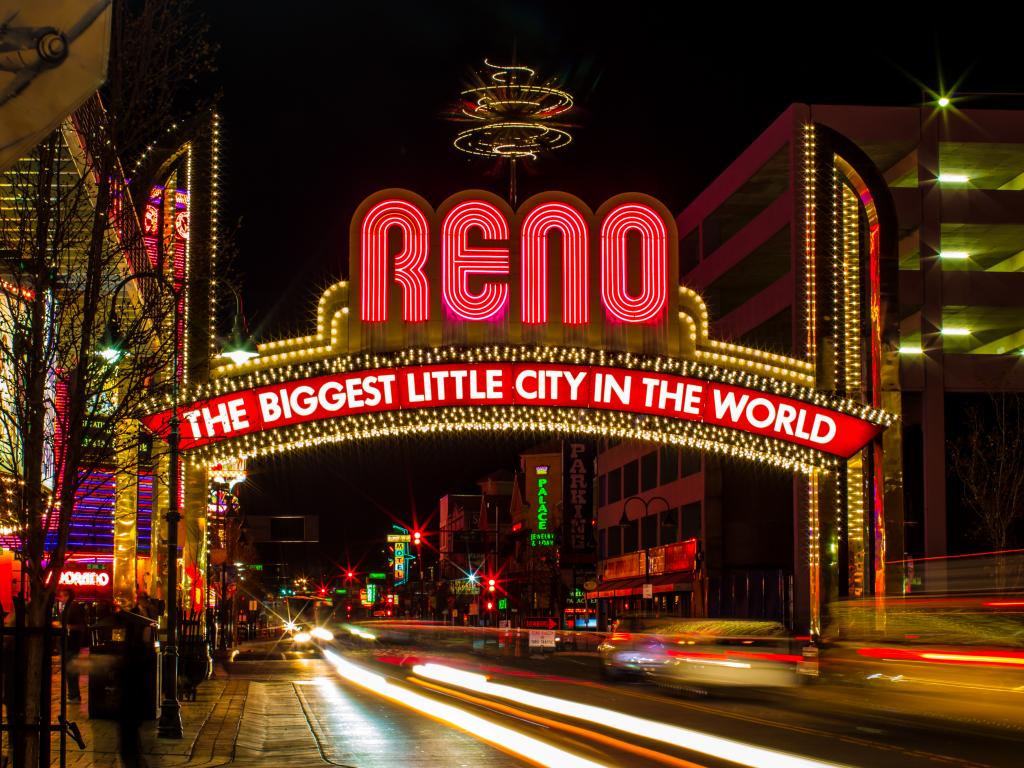 On top of that, you'll have access to a variety of spa services, including massages, saunas, steam rooms, and more. Once you're done for the day, you can have a meal at one of the 8 on-site restaurants, with options ranging from completely informal to outlandishly extravagant.
At its core, the hotel is quite cheap, provided that you don't overspend at the on-site casino. If you want to keep things cheaper and a bit more casual, consider spending the time with a video game in the Fun Center instead!
Check out the Strip in Las Vegas
If there's one place in the States where you can find stylish accommodation at a fairly reasonable price, it's Sin City. You could pick any random hotel along the Strip and have a great time, but Nevada's fanciest, prettiest, and most luxurious resort would be The Venetian.
To fully immerse you in its distinct European style, The Venetian takes things to the next level with an honest-to-God gondola ride. This, coupled with the amazing performance halls, makes this resort one of the best entertainment venues you can hope to find in Vegas,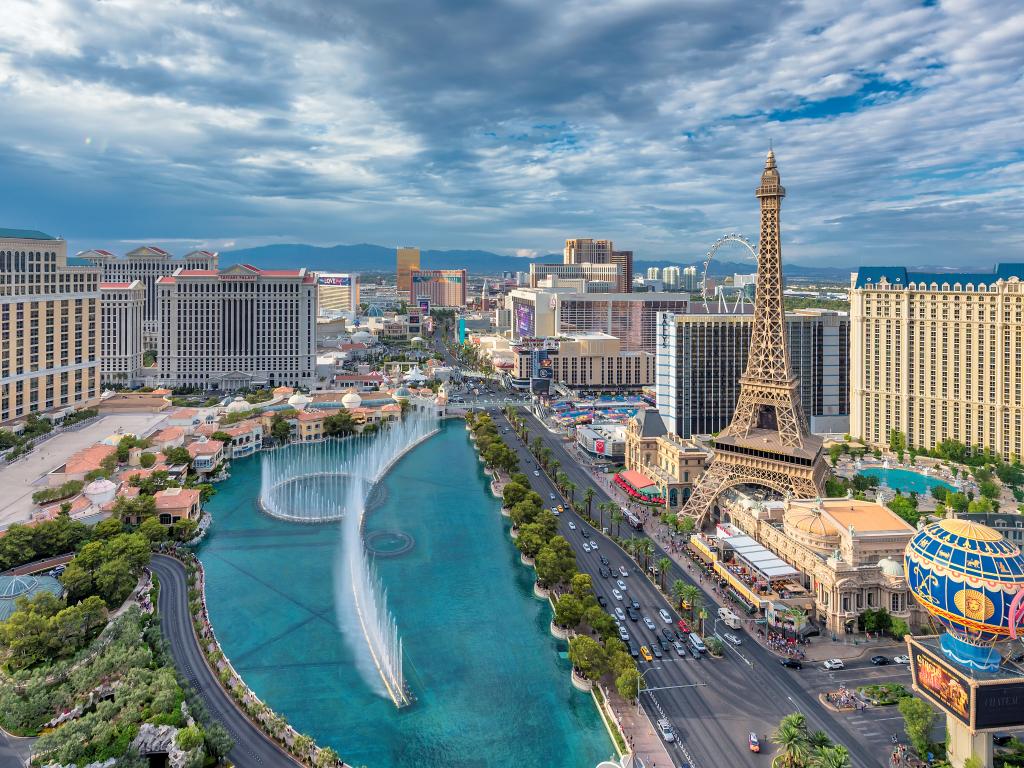 The interior goes above and beyond to make you feel welcome – from the beautiful bar and lobby to the 10 swimming pools and stylish rooms, there's no impulse this hotel can't satisfy. You don't even need to go out of your way to find a casino, as the on-site one is spectacular.
Multiple restaurants, a yoga area, rock climbing, and an incredible location on the Strip all amount to a fairly affordable stay. You'll definitely be paying extra for individual services, but if you're careful, you can come out of the experience with your wallet relatively unscathed.
Things to see on a road trip from Vancouver to Las Vegas
A road trip of this magnitude is bound to have plenty of landmarks worth checking out, and you can certainly expect things to get scenic between Vancouver and Las Vegas. Here are some of the absolute must-sees along the way:
North Cascades National Park – Featuring everything from beginner-level trails to challenging, steep hikes, this is one of the definitive mountainous areas in Washington (and that's saying something!).
Seattle – One of the larger port cities in the States, Seattle's incredible architecture, Pacific atmosphere, and view of Mount Rainier are bound to leave an impression.
Mount Rainier National Park – Thanks to its combination of mountainside meadows and beautiful bodies of water, this is a must-see for anyone passing through Washington state.
Olympic National Park – This unique park combines mountains, woods, and beaches into an unforgettable stopover.
Portland –Oregon's largest city is a perfect addition to this scenic itinerary, courtesy of its reputation as one of the greenest cities in the States.
Oregon forest stretch – Incredible hiking and recreation spots, distinguished by their countless streams and small waterfalls.
Crater Lake National Park – This is one of Oregon's most unique parks, and the beautiful Crater Lake is among the deepest and most beautiful in the world.
Lava Beds National Monument – The eruptions of Medicine Lake Volcano are what give this area its distinctive aesthetic.
North California forests – A seemingly endless chain of green and a perfect introduction to what's in store for you further south in California.
Reno – Affectionately referred to as the "world's biggest little city", Reno will give you a good taste of what you can expect from Vegas.
Carson City – The capital of Nevada also makes for a great pivot when exploring the Sierra Nevadas.
Lake Tahoe – A lake whose impossibly scenic surroundings make it perfect for both summer and winter recreation.
Yosemite National Park – One of the most popular parks in the States and for a good reason, Yosemite's canyons, meadows, and forests draw millions of visitors every year.
Inyo National Forest – This largely mountainous forest is made even more beautiful by the fact that you need to drive directly through it.
Mammoth Lakes – Rain or shine, this town by the Sierra Nevadas will woo you with its quirky charm and abundance of summer and wintertime activities.
Sierra National Forest – One of the first in a list of many forests along this route, the beautiful landscapes of this forest make it an ideal camping spot.
Death Valley National Park – Unbearably hot at its worst and impossibly scenic at its best, it's always a good idea to slot this park into your trip whenever possible.
Red Rock Canyon National Conservation Area – The incredible red rock formations in this are the telltale sign you're approaching Las Vegas. You might need to make a reservation for a timed-entry slot, so check the official website before traveling.
Hoover Dam – One of the most popular attractions in the Nevada/Arizona area, the view from this historical dam is absolutely breathtaking.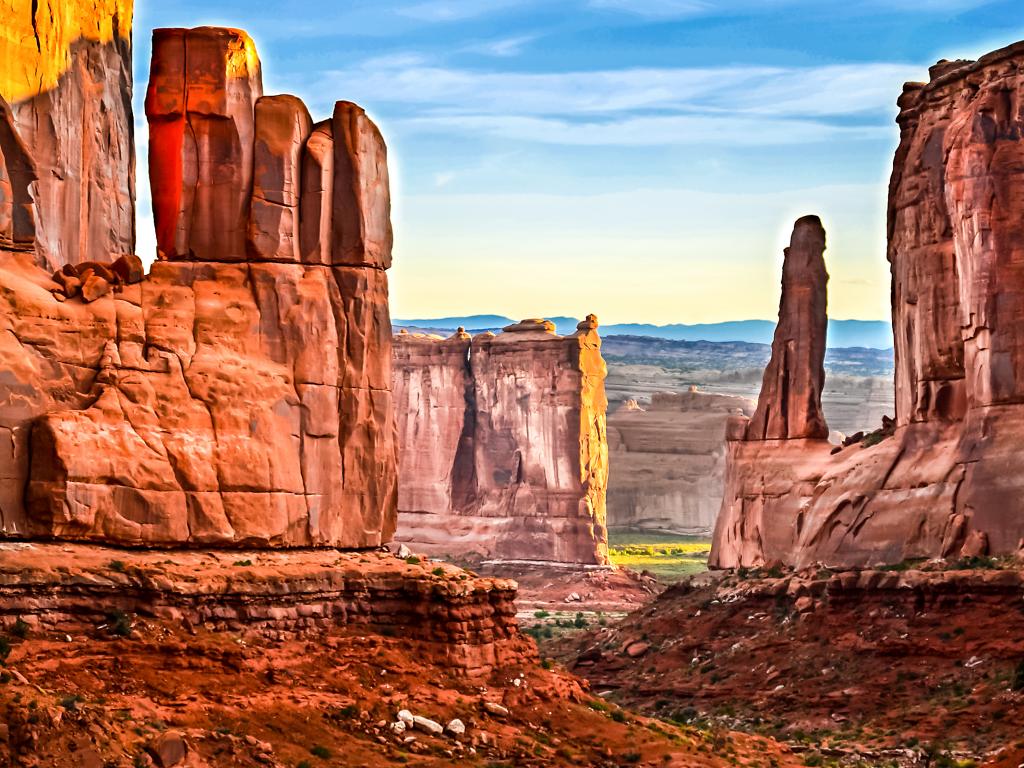 Best time to go on a road trip from Vancouver to Las Vegas
The road trip from Vancouver to Las Vegas can be done no matter the season, but given the amount of ground the trip covers, it should come as no surprise that certain are best experienced during a very specific time of year.
For instance, with so many nature spots to check out along the way, you should do some research if you decide to travel in winter – lots of sections of the route's parks and forests aren't accessible when it's snowy, most notably Tioga Pass, which closes as early as November.
Summers in Las Vegas can be rather difficult, bordering on unbearable, especially for a native of Canada – with temperatures reaching above 100 degrees, July and August are not the best times to be braving the streets of Las Vegas.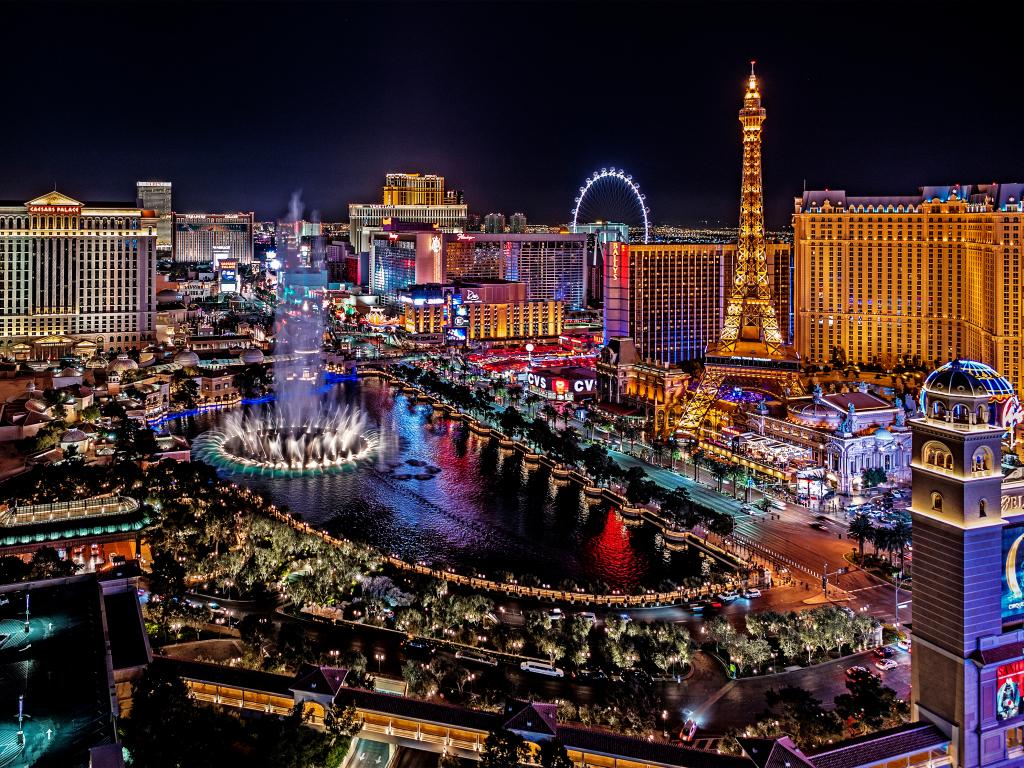 With that said, the majority of Vegas' key attractions are casinos and entertainment venues. This means most of the things to do in Vegas are indoors, so the heat is less of a problem here than you might expect.
Still, if you want milder temperatures coupled with cheaper accommodation and festivities, springtime might be the best time for you to do the trip – temperatures in May shouldn't exceed 90 degrees, meaning you should be more comfortable taking the party outside.