Road Trip From Seattle To Vancouver
The drive from Seattle to Vancouver is perfect if you want to escape for a weekend of beautiful scenery. The relatively short drive is jam-packed with exciting places for you to explore, so pack your bags and head out on an epic adventure.
The 140-mile road trip from Seattle to Vancouver takes 2 hours 30 minutes. The route's main draws are Mt. Baker-Snoqualmie National Forest, Larrabee State Park and Golden Ears Provincial Park, as well as Whidbey and the San Juan Islands.
To get a good idea of what you can expect to see, read until the end and familiarize yourself with this amazing itinerary.
How far is Seattle from Vancouver, and how long will the road trip take?
The road trip from Seattle to Vancouver covers 140 miles and takes about 2 hours 30 minutes to complete. Although this means you can easily do the trip in a day, a better idea would be to spread it out over the course of at least 3 days.
This scenic itinerary lets you get a good look at the bluish-green waters of the Pacific Ocean, and most of the drive takes you past dense forests on either side with mountains in the background.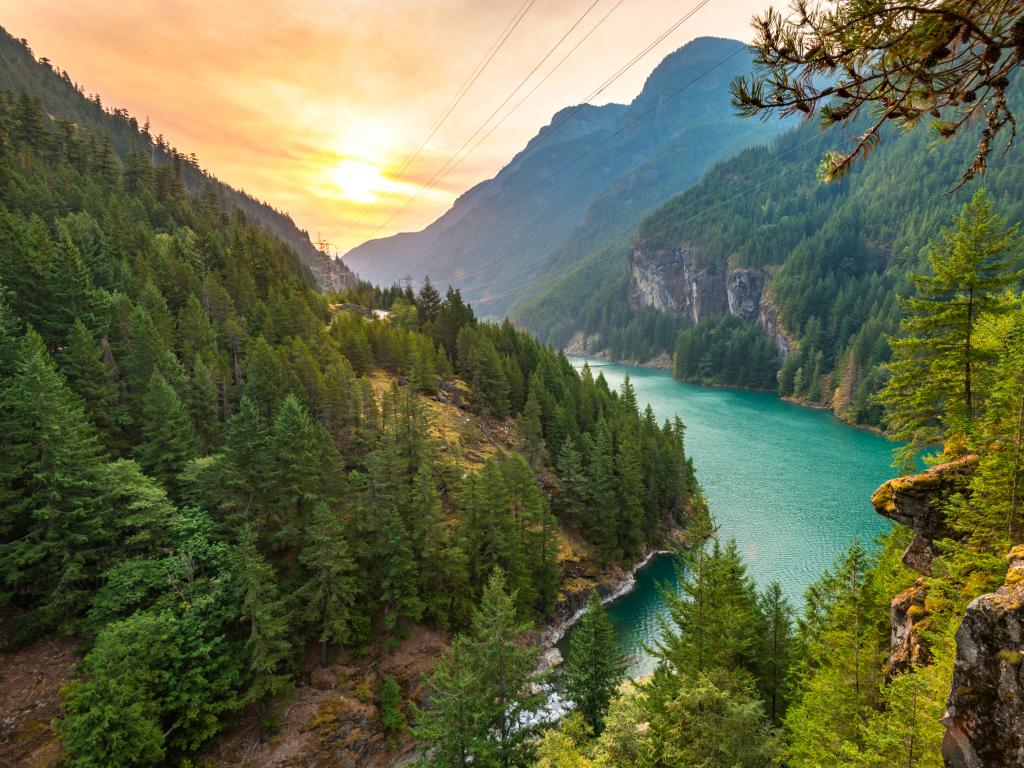 While the trip itself is short, you should keep in mind that crossing the Canadian border may or may not extend your travel time by an indefinite amount of time. This is especially true on weekends, when people who don't have time for longer drives would be doing this trip.
Another thing to remember is that both Seattle and Vancouver are notoriously hard to drive through during rush hour, so if you're doing the drive during a workday, be sure to monitor traffic as you make your way out of the former and into the latter.
Best road trip route from Seattle to Vancouver
The best road trip route from Seattle to Vancouver will have you hugging the coast the entire way to the end. With that said, detours are highly encouraged so that you can check out some of the best parks and forests in the States and Canada.
Road trip route from Seattle to Vancouver
From Seattle, you'll be following Interstate 5 all the way to the Canadian border. From Everett, make a detour to visit Okanogan-Wenatchee National Forest. Up north, visit Mt Vernon and off-road to North Cascades National Park, Bay View State Park and Deception Pass State Park.
Stop by Larrabee State Park before pulling into Bellingham, then pay a visit to Whatcom Falls Park. After passing Ferndale and Birch Bay State Park, you'll soon find yourself in Blaine, just south of the border.
Once in Canada, get on Highway 99 and detour to Campbell Valley Regional Park before moving forward to Delta. Stop by Deas Island Regional Park and cross the Fraser River, then cut through Richmond. Cross the river again, and you'll be in South Vancouver.
Best places to stop between Seattle and Vancouver
Don't miss out on the chance to stop during the road trip from Seattle to Vancouver just because it's short - to make the most of it, you'll at least want to devote a full weekend to the drive. Here are some of the best places to stop:
Enjoy the majesty of the beautiful Whidbey Island
If you're going to be making one detour on the road trip from Seattle to Vancouver, it might as well be the stunning Whidbey Island. Stunning farmlands and unforgettable island landscapes are hard to say no to, and the best place to experience them is Coachman Inn Oak Harbor.
This resort manages to mix quaintness and luxury without feeling the least bit tacky - the rooms feel like genuine homes as opposed to hotel rooms, and the window view of the exterior is on another level entirely.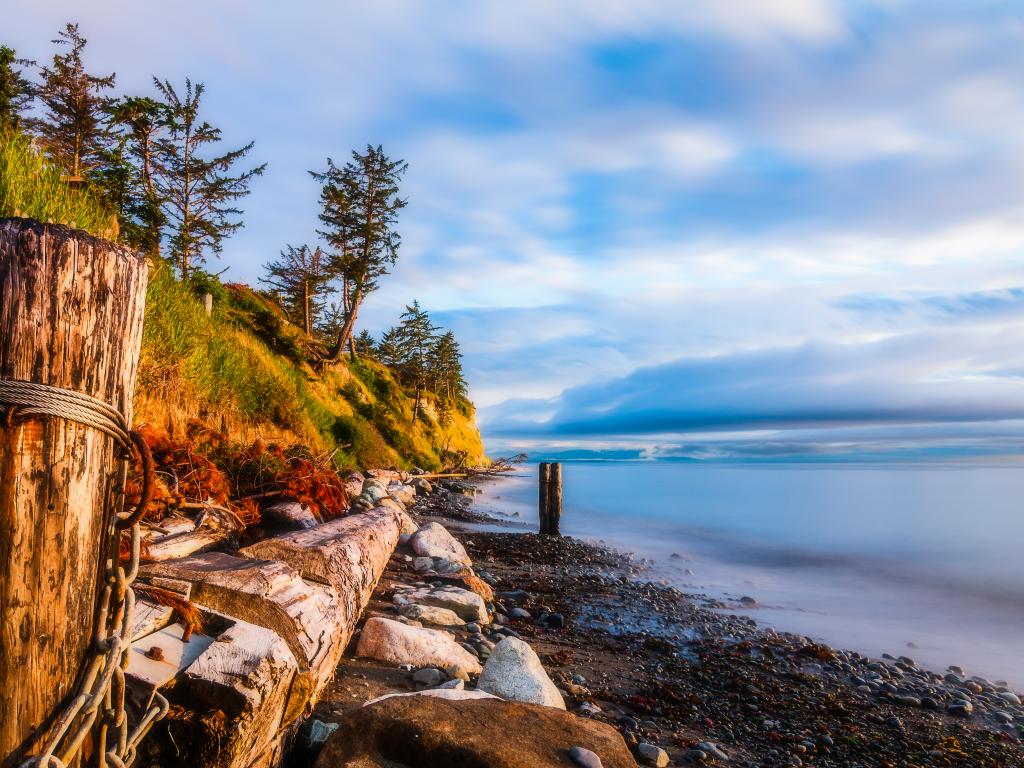 The best part of staying here would have to be stretching your legs in front of the swimming pool as you take in the sunrays, although you can't go wrong with a dip in the hot tub either.
Whidbey is something of a hidden gem among true road trip enthusiasts, and the stay is made all the better by the convenient location (near Fort Casey and Deception Pass State Parks) and the extremely generous price.
As an added bonus, while you might not expect it, Whidbey is one of those islands that manage to look amazing even in wintertime - there genuinely isn't a bad time to go on vacation here.
Experience the best of Canada in Vancouver
It should come as no surprise that the city of Vancouver is full of hotels that can make your vacation one you'll remember for life. With that said, not a single resort in the area can even come close to Fairmont Hotel Vancouver in terms of style points.
The rooms are the kind of thing you'd expect to see in a high-production Hollywood movie, and those window views are every bit as impressive, especially if you can get a room on a higher floor.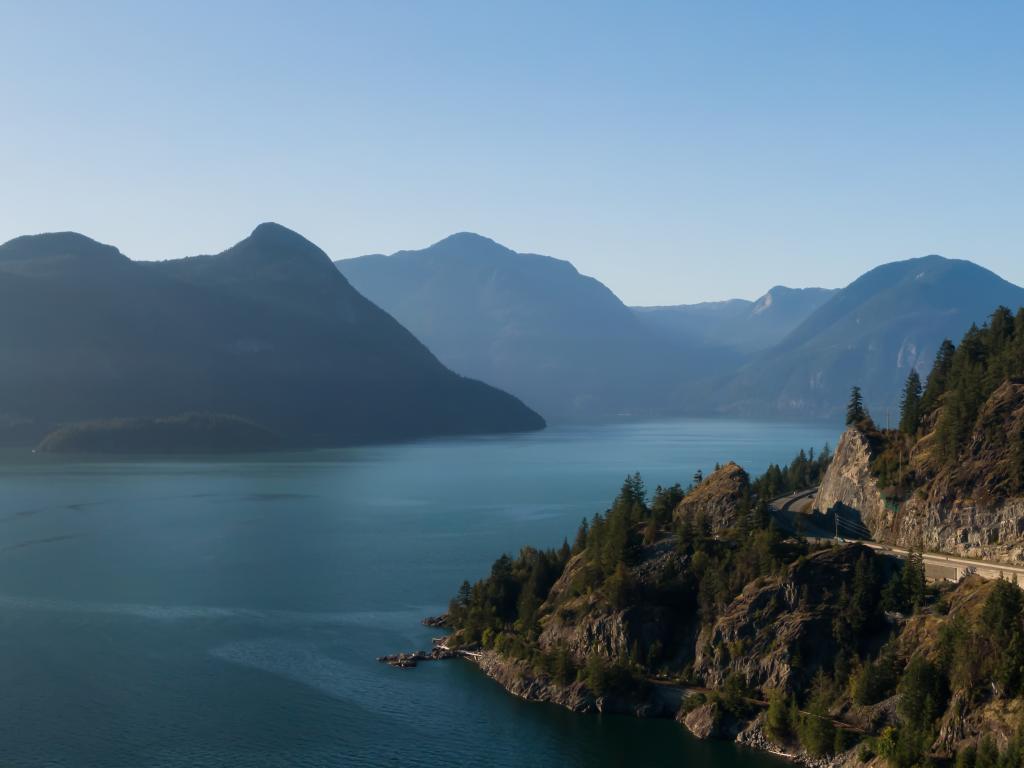 Even the lounge areas at Fairmont Hotel don't pull any punches - fancy interior design is one thing, but marveling at one of the fanciest interiors of any Canadian hotel is an experience you won't soon forget.
Notch8 Restaurant & Bar has one of the most impressive menus you'll ever come across in a hotel, and when you're nice and full, you can relax in the swimming pool or the spa center before heading out into town.
This is one of Vancouver's most expensive resorts, but the combination of unparalleled luxury and a central location in Canada's finest city makes it easy to justify the price tag.
Things to see on a road trip from Seattle to Vancouver
Don't be fooled by the short 2.5-hour road trip, there is still plenty to see and do on this path if you aren't afraid of taking longer detours. Here are all the places you'll want to check out:
Everett - one of Washington's main cultural hubs, this is the perfect place to get a taste of what The Evergreen State is all about
Okanogan-Wenatchee National Forest - this beautiful forest is home to Waptus Lake and some of the most scenic mountain landscapes in the States
North Cascades National Park - you haven't experienced Washington if you don't see the North Cascades mountain tops clad in snow in the winter
Bay View State Park - if you want some scenic place to camp out by the water, you'd be hard-pressed to find a better place in mainland Washington
Deception Pass State Park - a scenic strait between the beautiful Whidbey and Fidalgo Islands
San Juan Islands - Moran State Park, The Whale Museum, and San Juan Islands National Monument are only some of the amazing places to check out in this network of gorgeous islands
Whidbey Island - this island's scenic farmlands and beautiful water views never fail to leave an impression
Mt Baker-Snoqualmie National Forest - this forest incorporates the beautiful slopes of the Cascade Range into its terrain to great effect
Larrabee State Park -the view of Samish Bay from this park is like something out of a children's fairytale
Bellingham - a gorgeous city with a stunning view of Mount Baker and a ferry service to Alaska
Whatcom Falls Park - courtesy of its beautiful waterfalls and green-covered walkways, this is the blueprint for an amazing recreational area
Birch Bay State Park - an amazing spot to drop your fishing line and enjoy the sunset over Birch Bay
Campbell Valley Regional Park - any horse riding enthusiast will feel right at home galloping down this park's unforgettable trails
Deas Island Regional Park - this park boasts a spectacular view of the majestic Deas River
Richmond - this city brings the Asia experience closer to home with its Eastern-influenced architecture and atmosphere
Golden Ears Provincial Park - this park is the best place to experience the unforgettable Coast Mountains in all their splendor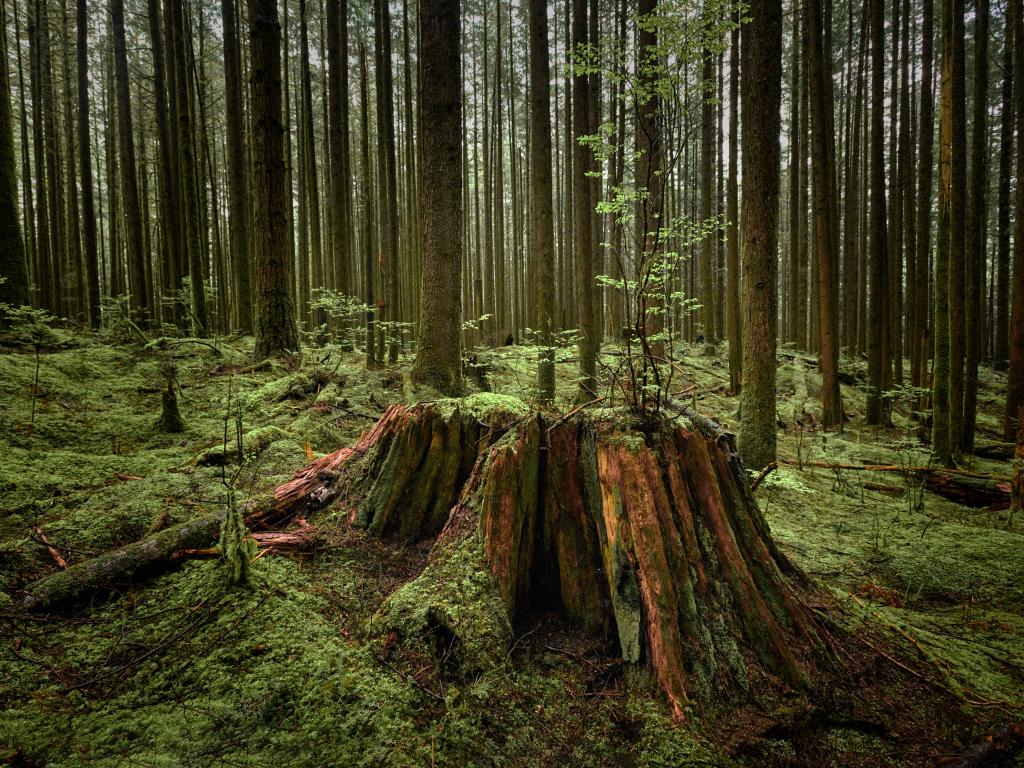 As amazing as all these places are, you'll be surprised at just how much more there is to see if you go a little off-road, so if your instincts tell you to deviate from the route, chances are you'll find plenty of hidden gems.
Best time to go on a road trip from Seattle to Vancouver
The best time for a road trip from Seattle to Vancouver would be the summer months. While there won't be hazardous conditions due to extreme weather this time of year, you could still be met with slippery roads that would require winter tires.
You should definitely be planning your trip around the places you intend to visit - if you want to stop by Whistler for the ultimate skiing experience, for example, you'll want to do the drive in the winter.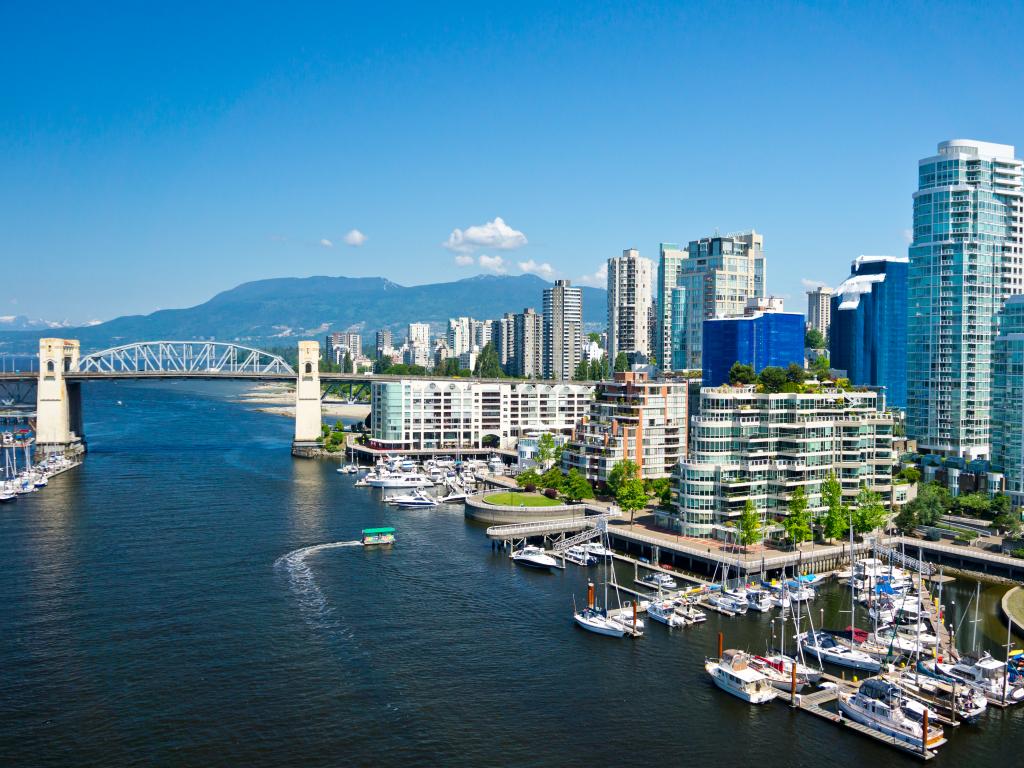 The variety of parks along this journey is so vast, you're guaranteed to find something that works for you no matter the season. It also helps that the interstate in Washington and the highway in Canada are well-maintained, so the drive is easy and safe all year round.
Vancouver isn't as cold as the East, but winter can definitely be rough. in the winter. If you're not one for the cold, aim for summer months when the sun doesn't set until 9 pm and the glorious views of green trees, flowers, and endless sunny skies seem everlasting.
If you are just planning on getting a shopping trip in at the largest mall in B.C., then it doesn't matter when you go. But you should account for the road conditions on the drive and remember that dismal weather may bring more traffic jams and a longer wait at the border.