Road Trip From San Francisco To Vancouver
The Pacific Northwest is bursting with incredible landscapes and a huge array of vibrant wildlife, so to see the best of California, Oregon, Washington, and British Columbia, consider doing the road trip from San Francisco to Vancouver.
The 950-mile road trip from San Francisco to Vancouver takes 15 hours 30 minutes to drive. Key stops include Crater Lake, Mt Rainier, and Olympic National Parks, Lake Tahoe and Mt Hood, Golden Ears Provincial Park, as well as Portland and Seattle.
To help with the planning of your amazing road trip, check out all the information below for great inspiration, information and things to do along the way.
How far is Vancouver from San Francisco and how long will the road trip take?
Comparison of road trip routes between San Francisco and Vancouver

| Route | Distance | Driving Time |
| --- | --- | --- |
| The Inland Route | 950 miles | 15 hours 30 minutes |
| The Coastal Route | 1,037 miles | 19 hours 45 minutes |
The journey from San Francisco to Vancouver is approximately 950 miles and has a minimum drive time of 15 hours without any stops. However, you should consider breaking up the drive into a few days at the very least to make the most of the amazing attractions.
To fully appreciate the innumerable parks, forests and fantastic cities, we would recommend doing the journey over the course of at least 3 days. This gives an average of 5 hours driving per day (depending on your route choice) and plenty of free time to soak up the views.
There are two options of routes for this road trip. The more direct, Inland Route, makes the most of the national parks and vast lakes. Alternatively our Coastal Route takes you along the Pacific Coast Highway and offers some of the most stunning coastal views.
It's important to note that both of our routes involve crossing the border from the US to Canada, therefore be prepared and remember to bring any documents and proof of identity you will need for a smooth crossover.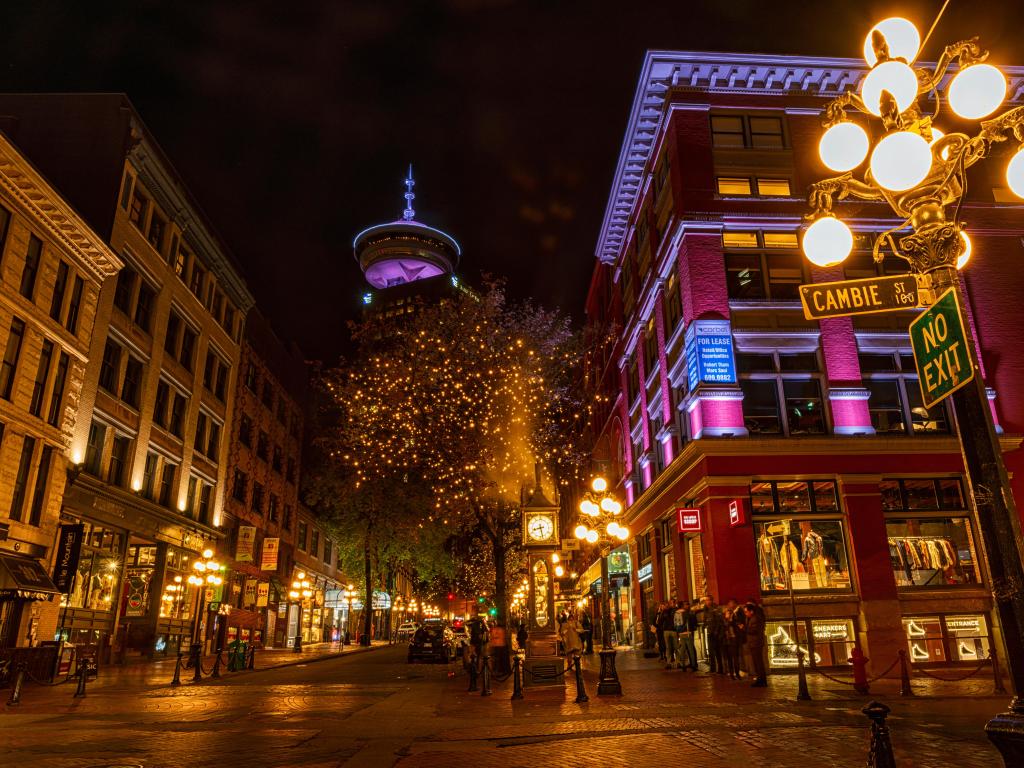 Best road trip route from San Francisco to Vancouver
The most direct route from San Francisco to Vancouver will take you through Northern California, Oregon, Washington and eventually into Canada. This route is so diverse that you will be able to take in various different landscapes and experiences.
Meanwhile, the Coastal Route will take you to Santa Rosa and then along the coast through some of Oregon's most popular beaches and towns, before joining the route above at Seattle and onwards to Vancouver.
While not a huge difference in milage, the Coastal Route takes 1,037 miles but just under 20 hours to complete, so if you are stretched for time, you might want to consider the Inland Route on this occasion.
How to drive from San Francisco to Vancouver
The map above shows our suggestions for the best road trip routes between San Francisco and Vancouver. Keep reading for detailed descriptions of both routes, where to stay on either, and the best things to do on the way.
The Inland Route
Cross the San Francisco Oakland Bay Bridge followed by the Casquinez Bridge and past Briones Regional Park. Head east on Interstate 80 through Vallejo before following it to Vacaville.
From here, you can either stay on Interstate 80 to detour to Sacramento and Lake Tahoe, or take Interstate 505 past Putah Creek State Wildlife Area. Just north of Madison, connect to Interstate 5 and follow it to Redding, passing Mendocino and Lassen National Forests.
After a short break in Redding, continue north through Shasta-Trinity National Forest, and consider detouring to Klamath National Forest before reaching Medford. Explore the city, then go off-roading to see Rogue River-Siskiyou National Forest by the Pacific Coast.
Back on the interstate heading north, drive through Wolf Creek Park before paying a visit to Umpqua National Forest and Crater Lake. When you arrive at Eugene, you'll drive between Siuslaw and Willamette National Forests - both great options for a detour to explore.
Continue north past Salem on I-5 and consider a stop at Portland where you can visit Mount Hood National Forest.
From Portland, continue past Gifford Pinchot National Forest and Mount St. Helens National Volcanic Monument, then pull into Capitol State Forest before reaching Olympia. Once you're there, be sure to detour to Olympic National Park before continuing along the interstate.
At Tacoma, make sure you visit Mount Rainier National Park before continuing through to Seattle - another great option for an overnight stop.
Not long after passing Mount Baker-Snoqualmie National Forest and North Cascades National Park, you'll cross over into Canada and get on Route 99. Follow this road or consider one final detour to Golden Ears Provincial Park, before pulling into Vancouver.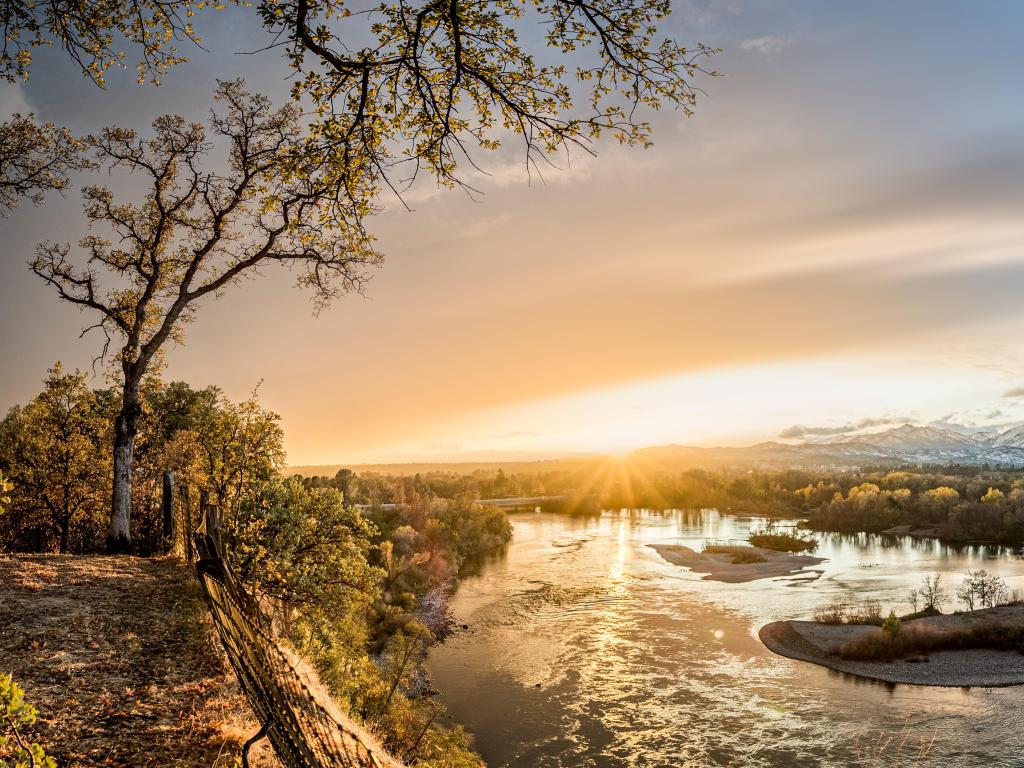 The Coastal Route
Leave San Francisco and head north on US-101 (more famously known as the Pacific Coast Highway, or PCH for short) - one of the most scenic roads in the world - until you reach Santa Rosa.
Leave Santa Rosa and continue slightly inland while passing Mendocino National Forest. Eventually this road will lead to Eureka, an old port town and worth a stop to explore nearby Sequoia Park. You could also detour from here to visit Lassen National Forest or Shasta-Trinity National Forest.
Continue heading north on the PCH through Crescent City before passing Gold Beach and arriving at Coos Bay, where you can explore the sand dunes or Sunset Bay State Park, amongst other things.
A short drive north and you'll pass Siuslaw National Forest and through lots of pretty coastal towns including Pacific City. If you wanted to, you could divert here and head towards Portland, otherwise you'll continue along the coast before heading inland through Olympia and joining the Inland Route on Interstate 5 for the rest of the journey to Vancouver.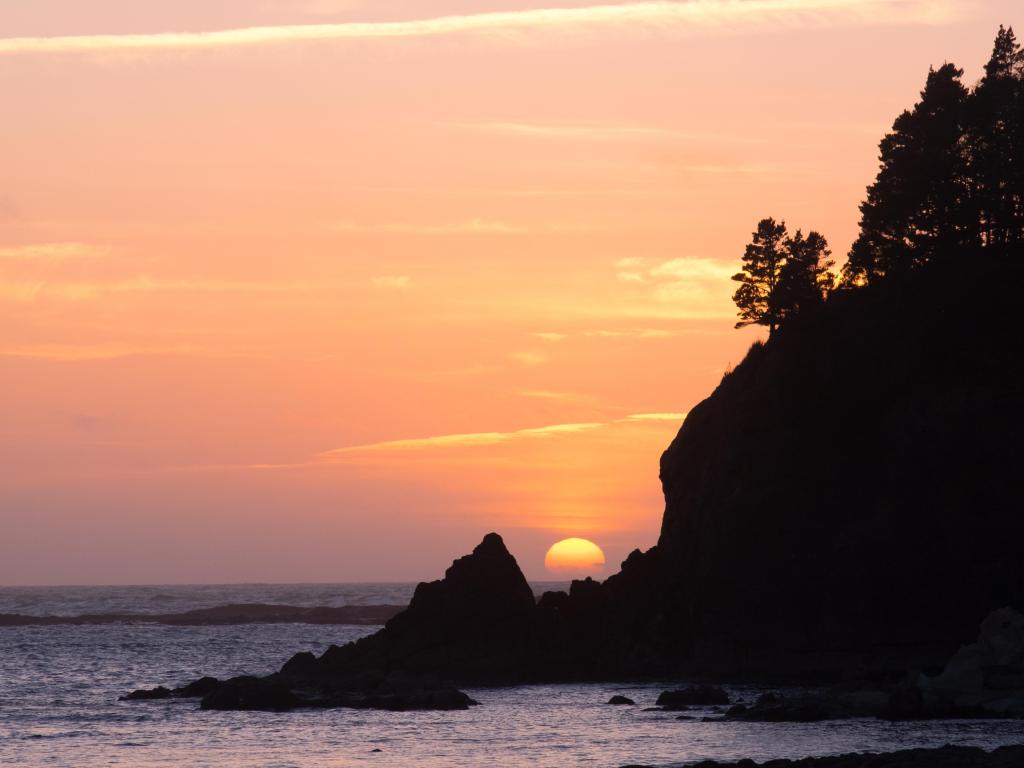 Best places to stop between San Francisco and Vancouver
The road trip from San Francisco and Vancouver has countless amazing places for you to stay for a night or two - if you can devote a couple of weeks to the drive, you're guaranteed to have an unforgettable time at these resorts:
Explore the resort town of Medford
Located in the Rogue Valley, in the southern part of Oregon, Medford is an excellent place to rest before continuing your epic road trip. About a third of the way along our Inland Route, Medford is surrounded by stunning forests and parks, making it an ideal overnight stop.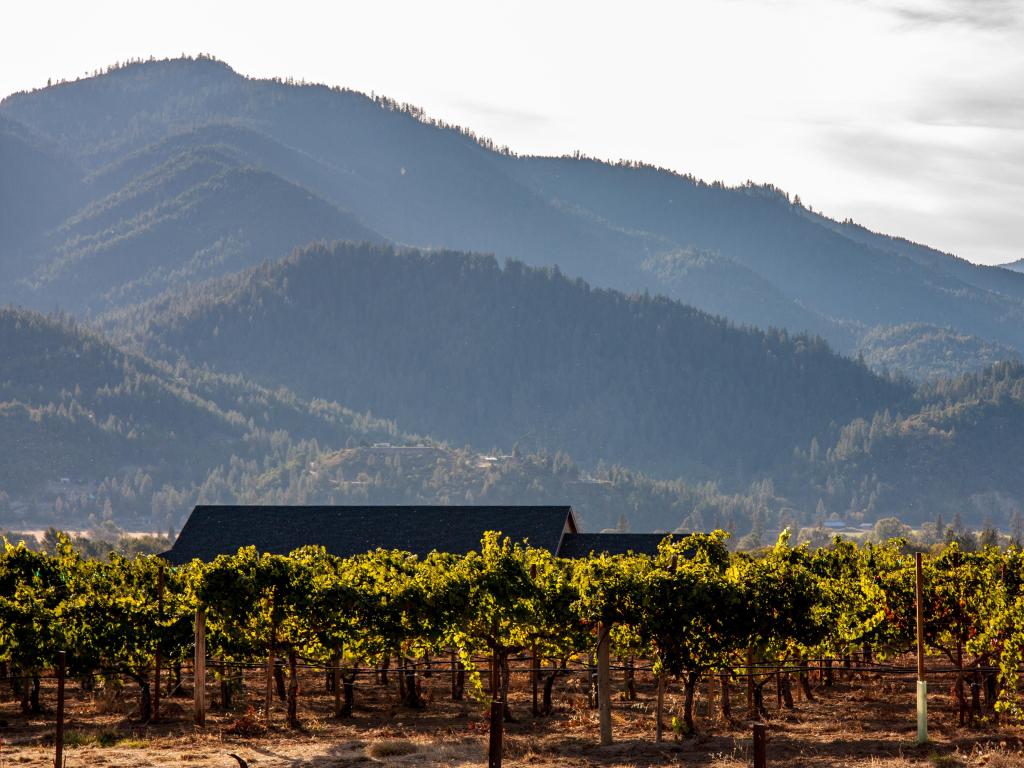 As well as being ideal for long hikes, Medford is also a fantastic city known for its theater, which hosts musicals and concerts. There are also plenty of wineries locally, and Medford's Crater Rock Museum is well worth a visit for its gems and fossils.
When it comes to finding a special place to stay over, the Resort at Eagle Point Golf Club is a superb choice. Surrounded by exquisite grounds and yet close to Crater Lake, this resort is every bit of luxury.
The Resort at Eagle Point provides sizeable, elegant rooms with stylish furniture from which you can enjoy the amazing outdoor view. As a guest of the hotel, you can even take advantage of the amazing scenery and enjoy a hiking trip in and around the premises of the resort.
With free parking, an onsite restaurant and cosy lounge area, you could easily just stay at the resort for several days and really make the most of the surrounding attractions.
As arguably the best hotel in the area, Resort at Eagle point's prices are reasonable. Best of all, with so many natural vistas to check out, you won't have any trouble finding a beautiful spot to explore in the immediate area.
Relax on the beach at Eureka
If you have decided on the Coastal Route, then an overnight stop at Eureka - about a day's drive from San Francisco along the Coastal Route - is an excellent option. This city in Northern California is set right on the shoreline and is the perfect stop to enjoy the beach.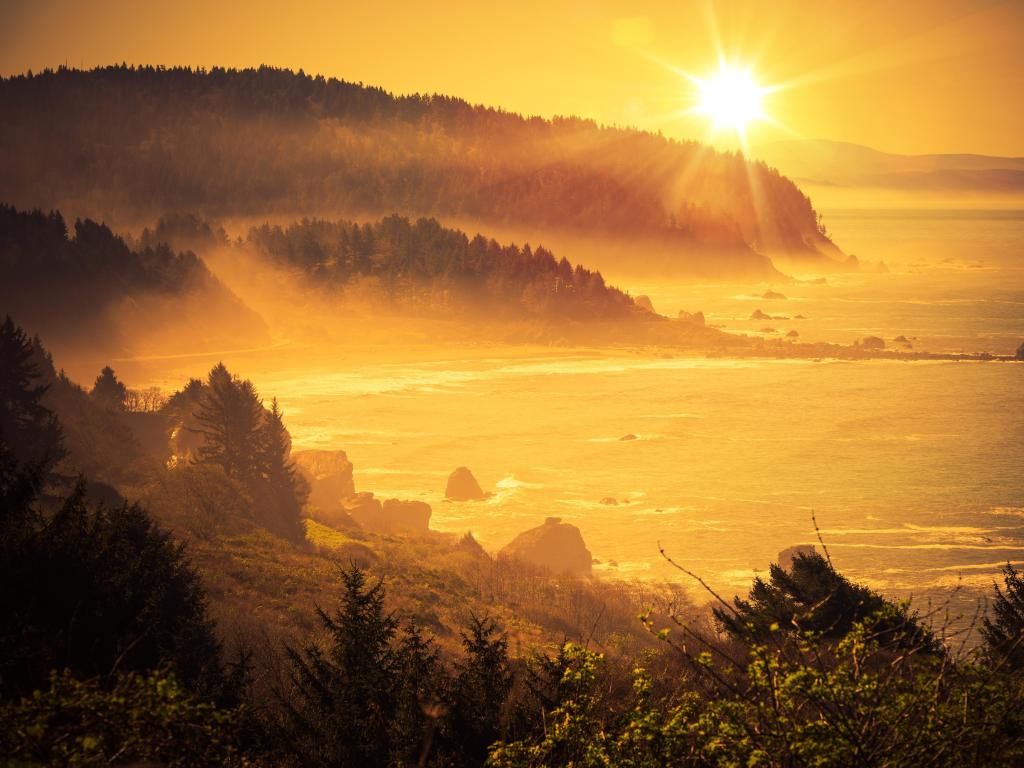 This pretty port town, famed for its rugged coast, has so much to offer. Take a walk through Sequoia Park and discover its iconic redwood trees - the world's tallest trees, or pay a visit to the Sequoia Park Zoo which features a walk-through aviary.
After relaxing on one of its beautiful beaches, you can take a drive to Six Rivers National Forest or Klamath National Forest. After all that exploring, a stay at Carter House Inns is a must.
Just a short walk away from Old Town Eureka on Humboldt Bay, this hotel is ideally located, while giving you the experience of historical Eureka. This beautiful hotel has an organic garden for cooking and proudly houses horticultural education seminars.
We highly recommend booking a reservation for the on-site eatery, Restaurant 301 to sample the products grown there. The wine is also produced here, so you will be in for a treat!
Discover the bright lights at Seattle
Before arriving at your final destination (via either route), a great option would be an overnight stop in Seattle. Just a few hours' drive from Vancouver, this city is the main hub of the Pacific Northwest, and it boasts some spectacular urban views.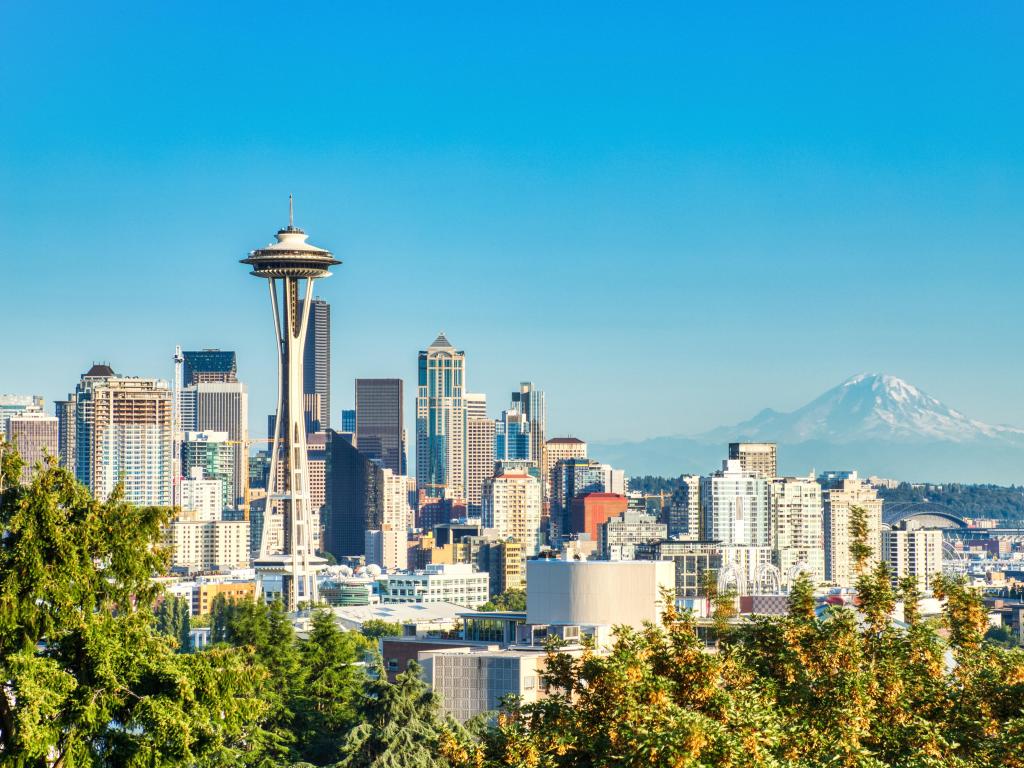 While in Seattle, make sure you visit the iconic Space Needle tower - the observation deck makes for an incredible panorama of the city. Afterwards why not take a walk around the acres of parkland, before enjoying its vibrant nightlife and top restaurants.
In keeping with the city's stunning architecture and impeccable standards, Fairmont Olympic Hotel is a fantastic choice. Boasting the most beautiful rooms in all of Washington State, this place will recharge your batteries like no other.
Listed on the National Register of Historic Places, this downtown Seattle hotel features multiple onsite award-winning dining options well as a fabulous indoor swimming pool - the perfect way to unwind after a long drive.
The rooms, as you would expect, are well-designed, modern and comfortable, while the bar and lounge area give a nod to the hotel's historic heritage.
On top of all that, Seattle's swankiest resort also benefits from its amazing location. Positioned right by The Washington State Convention Center and just about everything else you could want to see in town, the place couldn't be better situated.
Things to see on a road trip from San Francisco to Vancouver
The journey between San Francisco and Vancouver is jam-packed with things to do and places to stay. It's practically impossible to list all the major stops along the way, but if you can, try to visit as many of the following places:
Both Routes
Seattle –The largest city in Washington is known for its amazing nightlife scene and the Space Needle's 360-degree urban views.
Portland –Also known as the City of Roses, Oregon's largest city is home to breathtaking architecture and numerous scenic parks.
Olympic National Park - Combining the sweeping Pacific Coast with rugged beaches and mountains, this is one of the most geologically interesting parks in all of the States.
Mount Rainier – Boasting an iconic view of Washington State, this place is a haven for photographers and nature enthusiasts.
Mt. Baker-Snoqualmie National Forest - If skiing isn't your scene and you like your mountain treks green and sunny, this is one of the very best hiking spots in all of Washington.
Richmond - Located just south of Vancouver, this Asian-influenced city is home to beautiful beaches, lush-green gardens, and the famous Night Market.
Golden Ears Provincial Park - The beautiful riverside campsites at this park make it an amazing place to spend a few nights if you need a break from the city.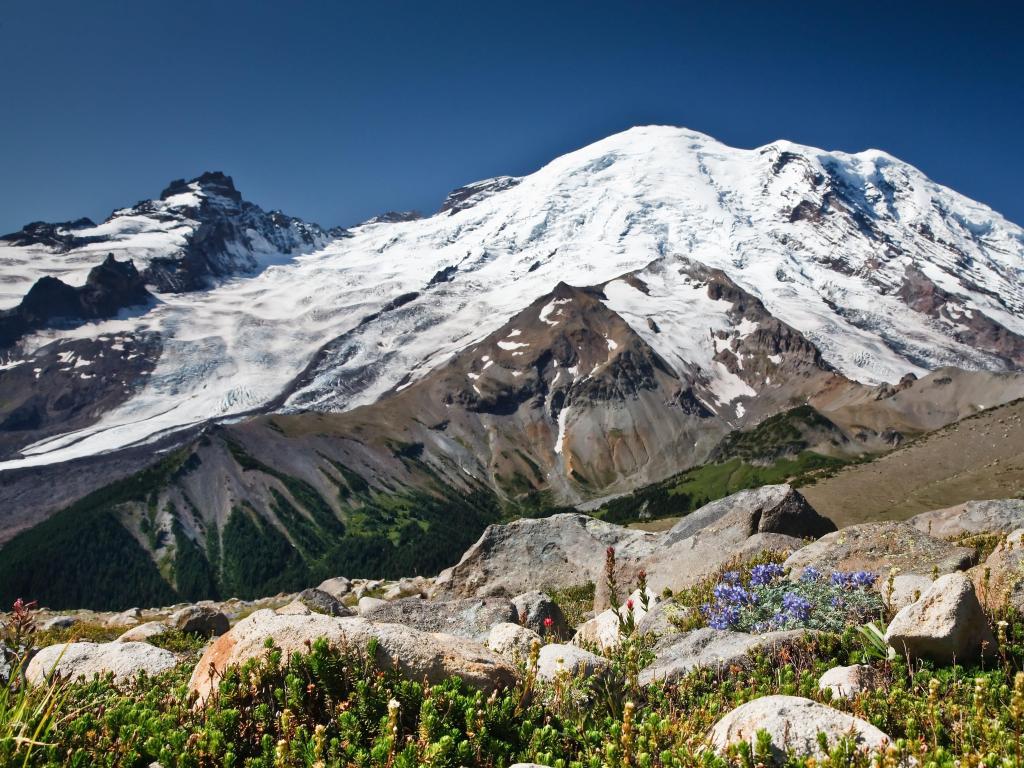 The Inland Route
Vallejo - Home to beautiful beaches and the iconic Six Flags Discovery Kingdom, this city is one you won't want to miss out on.
Sacramento –The state capital of California is home to an abundance of museums and beautiful parks just waiting to be explored.
Yosemite National Park –Although it's a bit out of the way, the jaw-dropping landscapes that dominate Yosemite National Park make it a detour worth considering no matter the season.
Lake Tahoe – The shores of Lake Tahoe are a beautiful place to unwind in the summertime, although the general area is also very popular among skiers.
Plumas, Lassen, Shasta-Trinity, and Umpqua National Forests - This beautiful chain of forests gives a number of nearby cities their iconic natural backdrops.
Medford – Surrounded by beautiful nature from all sides, this city lets you enjoy the countless trails are scattered all round or take a river cruise down the Rogue River.
Crater Lake National Park - This park houses the deepest lake in all of America, not to mention innumerable scenic picnic and campout spots.
Willamette and Mt Hood National Forests - Two of Oregon's crowning attractions, these forests are the state's quintessential outdoor activity hubs - the latter is even popular in the winter thanks to its ski slopes!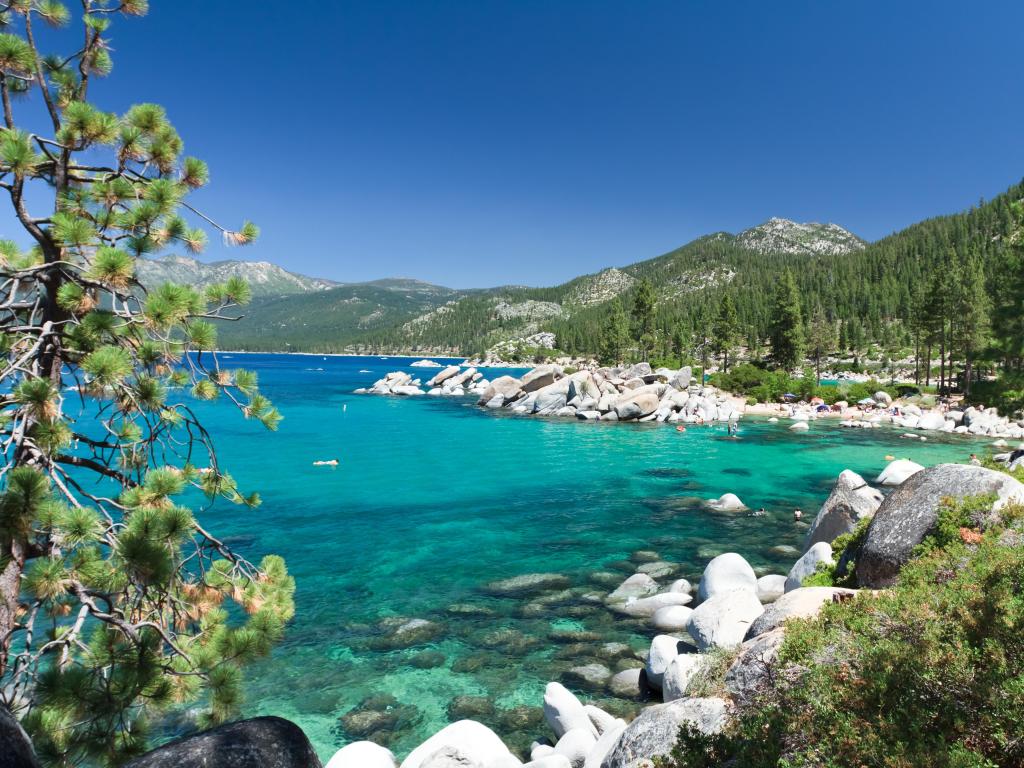 The Coastal Route
Cannon Beach – This coastal attraction is best known for the stunning Haystack Rock and its tranquil beaches.
Six Rivers National Forest - Explore over a million acres of wild rivers and mountain wilderness, ideal for camping, fishing and hiking.

Siuslaw National Forest - Not far from Eugene, discover a national forest with coastal mountains and beautiful sand dunes. Stop here for a scenic place to go hiking or paddling.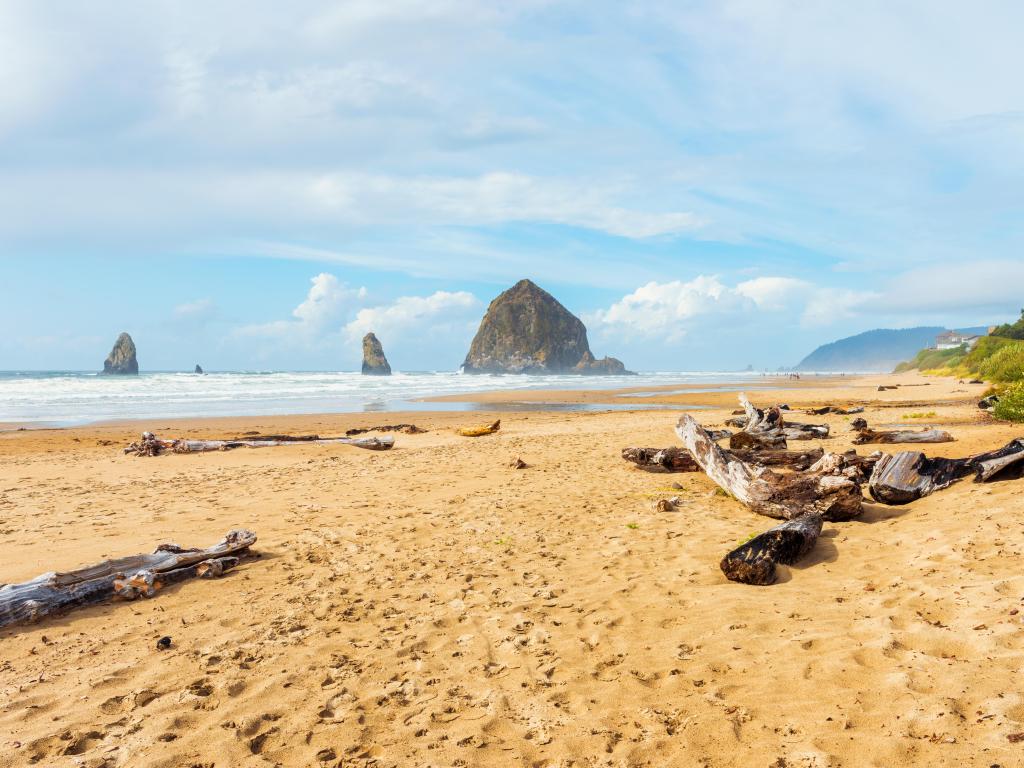 Best time to go on a road trip from San Francisco to Vancouver
The road trip from San Francisco to Vancouver is best enjoyed in the warmer months, between May and September - with the majority of the Pacific Northwest focused on the great outdoors, it's ideal to visit when the temperatures are high.
Summer temperatures tend to peak at around 70 degrees Fahrenheit, perfect for spending time exploring. The American portion of the drive should be significantly warmer in July and August, and the forests and parks along the way will be at their most beautiful too.
A definite benefit to traveling in the spring or fall is that the hotel prices start to go down these times of year. Be warned that Vancouver's temperature can dip to the low 50s, though, so don't go easy on the warm clothes when packing.
One thing that Canada and the Northwestern States have in common is that they make for fantastic winter hubs - with various provincial parks just north of Vancouver and iconic Washington stopovers like Mt Rainier, you'll find no shortage of ski slopes and snowy hiking trails.
If you are looking to plan your trip around some key events, Vancouver has plenty of all-year round festivals from its International Wine Festival in February to its huge Jazz Festival in late June and July. June also sees Seattle light up for PrideFest, the largest free pride festival in the country.
Plan ahead if you are planning to incorporate a festival or two into your trip as hotels are likely to be busy and at their most expensive.