Road Trip From Vancouver To Calgary
Driving from Vancouver to Calgary will take you through some of the most scenic mountain landscapes in Canada and although it's a long trip, it's worth it. Many argue the Canadian Rockies are more scenic than the American ones, so do the drive and decide for yourself.
The 970-kilometer road trip from Vancouver to Calgary takes 10 hours 20 minutes to drive. Highlights along the way can include Kamloops, Abbotsford and Glacier, Banff, and Yoho National Parks, as well as Colville and Kaniksu National Forests.
With so much to do along the way, you'll want to read until the end to get an idea of just how legendary this trip can be.
How far is Calgary from Vancouver and how long will the road trip take?
Comparison of road trip routes between Vancouver and Calgary

| Route | Distance | Driving Time |
| --- | --- | --- |
| The Trans-Canada Route | 970 km | 10 hours 20 minutes |
| The Crowsnest Route | 1,230 km | 13 hours 40 minutes |
Along the quickest route, the road trip from Vancouver to Calgary spans around 970 kilometers and takes 10 hours and 20 minutes, not accounting for weather conditions. Aside from the occasional winding mountain turns, the four-lane Trans-Canada Highway makes this drive straightforward no matter the season.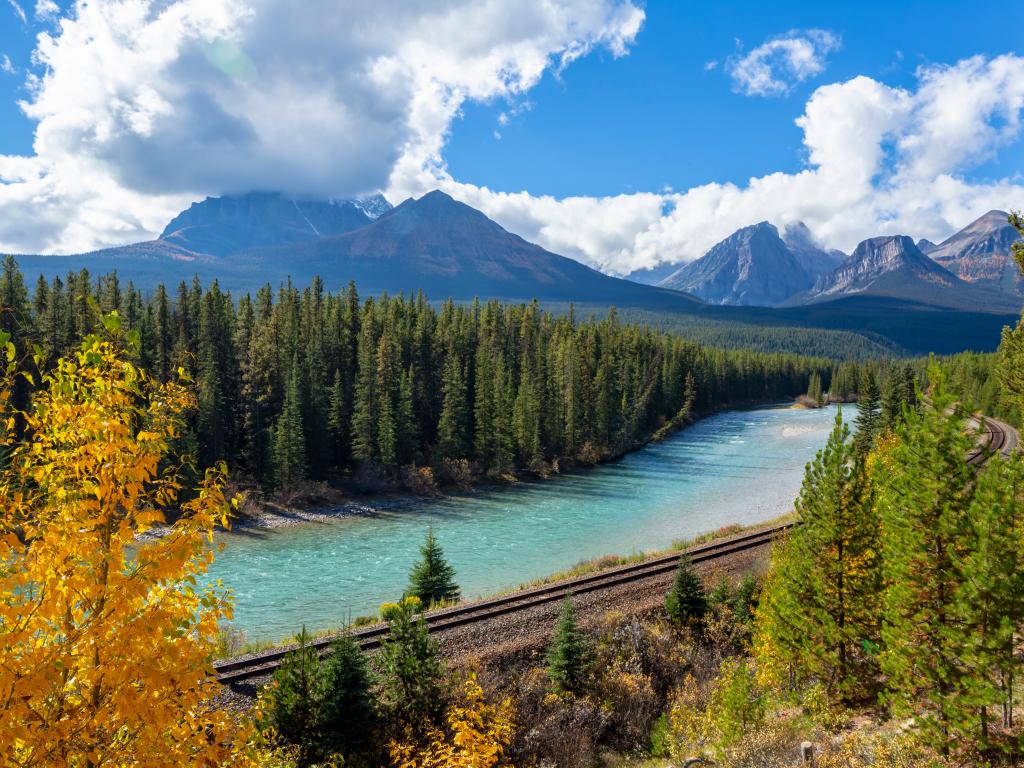 Extending the drive to about 13 hours and 40 minutes, an alternate route will have you driving the Crowsnest Highway. This route is sandwiched between some gorgeous Canadian parks to the north and many of the best forests in Washington, Idaho, and Montana to the south.
Taking this route is a bit of a double-edged sword, though, as you'd be missing out on Banff and Yoho National Parks, arguably the highlights of the region, unless you're willing to make a decent-sized detour.
Another thing to keep in mind is that this route features far more twists and turns, which is always a huge risk factor when driving through mountainous terrain.
Remember that phone signal in this part of the Rockies can be very patchy so be prepared and bring food, water and blankets in case you get stranded by the roadside.
Taking one route on the way to Calgary and the other on the way back is optimal for sightseeing, although the Crowsnest route is a bit harder to recommend in the winter.
Both routes are very scenic, but keep in mind that gas stops are hard to come by outside the major cities like Abbotsford and Kamloops, so you'll want to make sure your tank is nice and full on your way out of Vancouver.
Best road trip route from Vancouver to Calgary
Although there's a case to be made for the southern itinerary, the best road trip route from Vancouver to Calgary would have to be the Trans-Canada Highway route – on top of being quicker and safer, it passes right by a lot of the area's must-see attractions.
How to drive from Vancouver to Calgary
The map above shows our suggestions for the best road trip routes between Vancouver and Calgary. Keep reading for detailed descriptions of both routes, where to stay on either, and the best things to do on the way.
The Trans-Canada (Highway 1) Route
Follow Highway 1 out of Vancouver along the Fraser River, making an optional detour to Pinecone Burke and Golden Ears Provincial Parks before entering Abbotsford.
Continue north along Highway 5 through Coquihalla Summit Recreational Area, then visit Monck and Lac Le Jeune Provincial Parks before reaching Kamloops.
From here, hop back onto Highway 1 and follow the South Thompson River, stopping at BC Wildlife Park. After driving through a series of minor provincial parks and passing Tsútswecw Provincial Park, drive along Shuswap Lake and through the Enchanted Forest, then prepare to pass through the Rockies.
Never leaving the highway, marvel at the beautiful Rocky peaks as you make your way past Mt Revelstoke, Glacier, Yoho, Banff, and Kootenay National Parks. Not long after passing Bow Valley Provincial Park, you'll see the Calaway Amusement Park as you enter Calgary.
The Crowsnest (Highway 3) Route
Like the previous route, take Trans-Canada Highway out of Vancouver and follow it through Abbotsford. After passing Chilliwack Lake Provincial Park, jump onto Highway 3 and follow it along the outskirts of the town of Hope, then pass Coquihalla Canyon Provincial Park and Othello Tunnels.
After driving through E.C. Manning Provincial Park, you'll have a somewhat barren section leading up to Sẁiẁs Provincial Park. After crossing the Columbia River, take a brief southern dip along Highway 6 and either follow it into Washington to see Colville National Forest or hop back onto Crowsnest Highway as soon as it pops up to the east.
Driving through the Rockies, you'll have a chain of smaller provincial parks in the north and Kaniksu and Kootenai National Parks in the south. Once you're out of the mountains, take a detour to Montana's Glacier National Park (not to be confused with the Glacier NP of Canada from the other route!) or take Highways 22 and 2 into Calgary.
As an added footnote, if you want to see more of Washington, you can take British Columbia Highway 11 and Washington State Route 9 from Abbotsford into the States. From there, it's only a short drive from North Cascades National Park and Ross Lake National Recreation Area.
Best places to stop between Vancouver and Calgary
The road trip from Vancouver to Calgary is bound to take you at least two or three days to complete. If you're aiming to see as much as possible, you should take at least a week to explore the Rockies or even the northern parts of the States. These are some of the best stops the trip has to offer:
Recharge your batteries at Kamloops
It's a little hard to split the road trip from Vancouver to Calgary into even halves, but Kamloops comes pretty close to being a midpoint; best of all, it's a relatively short drive from the Rockies.
If you want an incredible swimming pool to cool you off after the long drive, consider booking a room at Wingate by Wyndham Kamloops.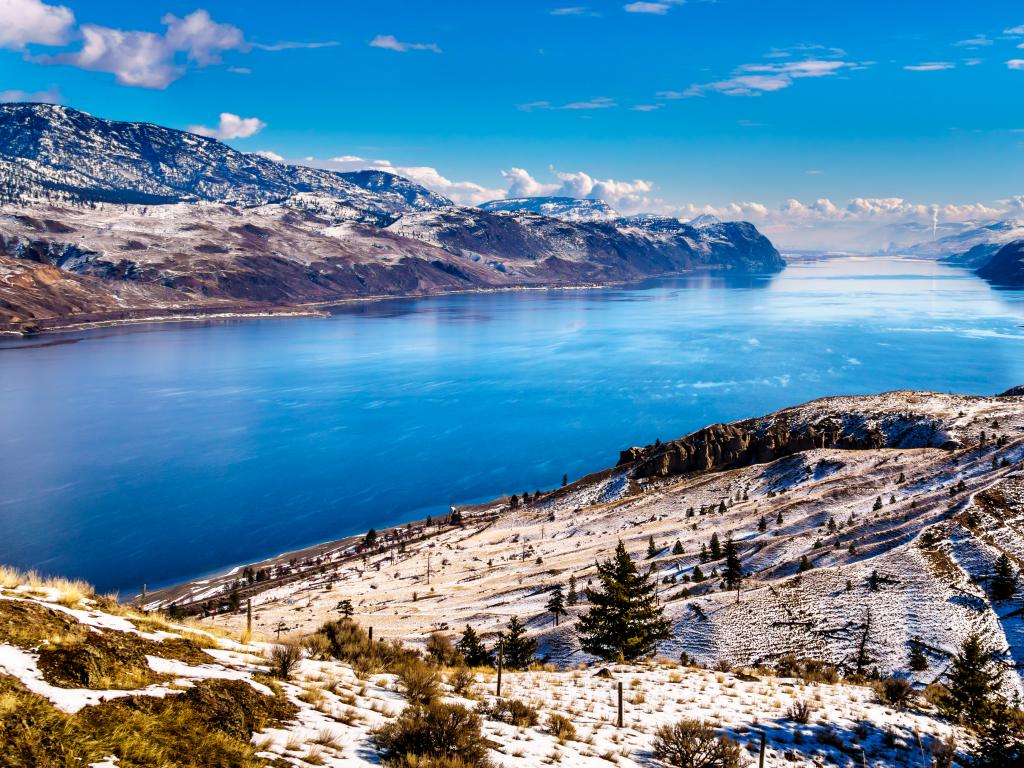 Everything about this hotel, from the spectacular rooms to the top-of-the-line concierge service screams class, and it's hard to say no to a great fitness centre on top of that. As far as food goes, you'll have your pick of American breakfast or a high-caliber buffet.
The hotel's window view is probably its most stunning feature. Besides the scenic mountain backdrop, the quaint city of Kamloops will inspire you to rent a bike and pedal across the renowned Kamloops Bike Ranch to familiarize yourself with the area.
On that note, the hotel is about 3.5 kilometers from the centre, which opens up a lot of possibilities for exploration. Wingate is one of the pricier hotels in the region, but that's more than justified given how much you're getting out of the deal.
Get lost in the city lights of Calgary
When you think of Canada, images of towering buildings might not be the first thing that springs to mind, but Calgary puts a lot of the States' cities to shame with its jaw-dropping architecture and urban atmosphere.
To round off your trip with the best rooms and window views in town, book a room at Hotel Le Germain Calgary.
Offering world-class accommodation and the incomparable Charcut Roast House cuisine, this hotel and its 10-foot ceilings raise the bar for all the local competition. The cherry on top is the Santé Spa, which offers every type of spa treatment under the sun.
There's amazing hotel room views, and then there's this – if you're lucky enough to snag a room on or near the 20th floor, you'll be treated by an unprecedented view of the city and a skyline you'll remember for life.
The hotel is pretty costly, but if you can afford it, there's no better way to experience the city. Located 500 meters from the heart of town, Hotel Le Germain is a hop and a skip from all of Calgary's main draws, including Glenbow Museum and The Art Gallery of Calgary.
Things to see on a road trip from Vancouver to Calgary
If you combine the two routes, the road trip from Vancouver to Calgary is as scenic as they come. Although it would be impossible to mention everything, these should be some of the highest priority stops during your journey:
Mt Seymor Provincial Park - An iconic mountain biking spot in the North Shore Mountains with a great view of the Indian Arm.
Golden Ears Provincial Park - Home to Mount Blanshard's unmistakable Golden Ears peaks and several of the region's finest campgrounds.
Abbotsford - A quintessential mix of size and quaintness, the city is best known for the Abbotsford International Airshow.
Chilliwack Lake National Park - Houses a ginormous event building that offers everything from rodeo arenas to kart racing.
Coquihalla Summit Recreational Area - This area features the iconic Coquihalla Highway and the Kettle Valley Railway.
Lac Du Bois Grasslands Protected Area - A system of unique grasslands and forests and a complex intersection of various geological formations.
Kamloops - The midpoint of the Trans-Canada route and home to various gorgeous parks and ski resorts.
Mount Revelstoke National Park - Despite its relatively small size, this park is a gorgeous precursor to the chain of parks that define the Rockies.
Glacier National Park of Canada - A bevy of scenic caves, skyscraping peaks, and indigenous animals all call this incredible park system home.
Yoho National Park - The park's incredible rock walls and high-altitude vistas make it a must-see for passersby; Takakkaw Falls is a must-see!
Banff National Park - The oldest national park in Canada and the definitive place to experience the Canadian Rockies.
Morant's Curve - A vista that runs along a particularly scenic bend of the Canadian Pacific Railway.
Bow Valley Provincial Park - Stretching along the Bow River, the spring water at this park is famous for not freezing in the winter.
Skagit Valley Provincial Park - Approximately 50 kilometers of scenic hiking trails and a number of amazing fishing spots.
E.C. Manning Provincial Park - No matter when you do the trip, you can do anything from hiking to skiing at this spectacular park.
Kaniksu & Kootenai National Forests - Mostly located in Washington and Montana, respectively, these forests are the perfect complement to Canada's southernmost attractions.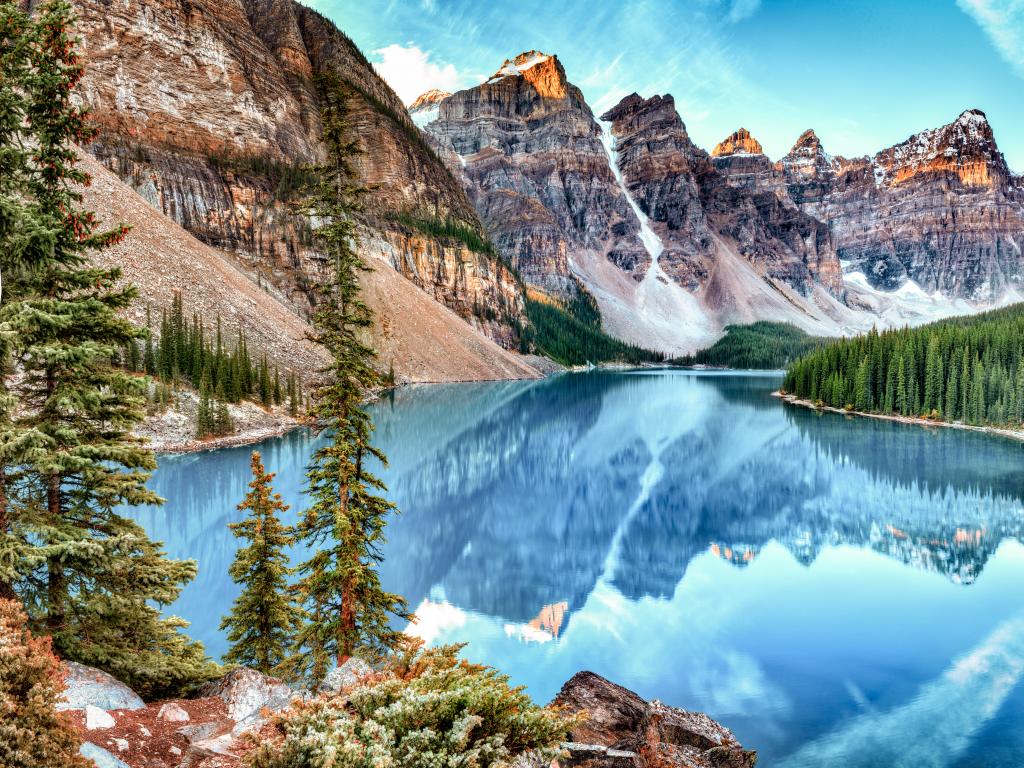 Best time to go on a road trip from Vancouver to Calgary
When it comes to picking the optimal time for a road trip from Vancouver to Calgary, there are two important areas to keep in mind – the Canadian Rockies and Calgary itself.
Many people find the Canadian parts of the Rockies to be more lush and beautiful in the springtime than the American ones. The peaks are also less steep on average than in the States, so hiking in the spring or fall is both accessible and scenic.
As for Calgary, the best time to visit depends on how well you can handle the Canadian climate. Although it's sunny year-round, summers in Calgary peak at around 13 °C (or 55 °F), and this is also when the city has the most tourists.
In the winter, temperatures can plummet to around -1°C (30 °F) and there are hardly any tourists to be found. This is still a good time to visit if you want to ski down the Rockies, though, as the slopes are only 90 minutes away by car.
If you're not a huge fan of crowds, you can get a good hotel deal in spring. Keep in mind that this is nothing like your average spring further south, and you can expect a lot of melting snow and slippery roads as late as April.