Road Trip from Vancouver to Banff
A road trip from Vancouver to Banff National Park is the ultimate Canadian adventure! Not only does the route take you past a number of fantastic national parks, but you will have the opportunity to visit charming small towns and vibrant cities too.
The 1,050 km road trip from Vancouver to Banff takes up to 12 hours to drive, without stops. Along the way, you can visit places like Abbotsford, Chilliwack Lake National Park, Kamloops, Glacier National Park, Hope, Revelstoke, and Yoho National Park.
And this is just the tip of the iceberg! So go ahead and read all the way to the end, to find out all the amazing things to see and do, as well as the finer details like driving distances, driving times, best route, and best stop-offs.
How far is Banff from Vancouver and how long will the road trip take?
In terms of distance, Vancouver is around 1050 km from Banff National Park.
All in, it would take you about 12 hours of uninterrupted driving time to complete this journey if you drove the most direct route.
Whilst it is possible for you to leave Vancouver at breakfast time and reach Banff National Park in time for dinner, you would be much wiser to take a good 2-3 days for the journey, at least. With so many beautiful parks, towns, and cities to visit, it would be a crime to miss out.
Driving conditions are best on the suggested route below in the Summer, with a well-maintained straight highway. Winter conditions are extremely variable, with road closures not uncommon.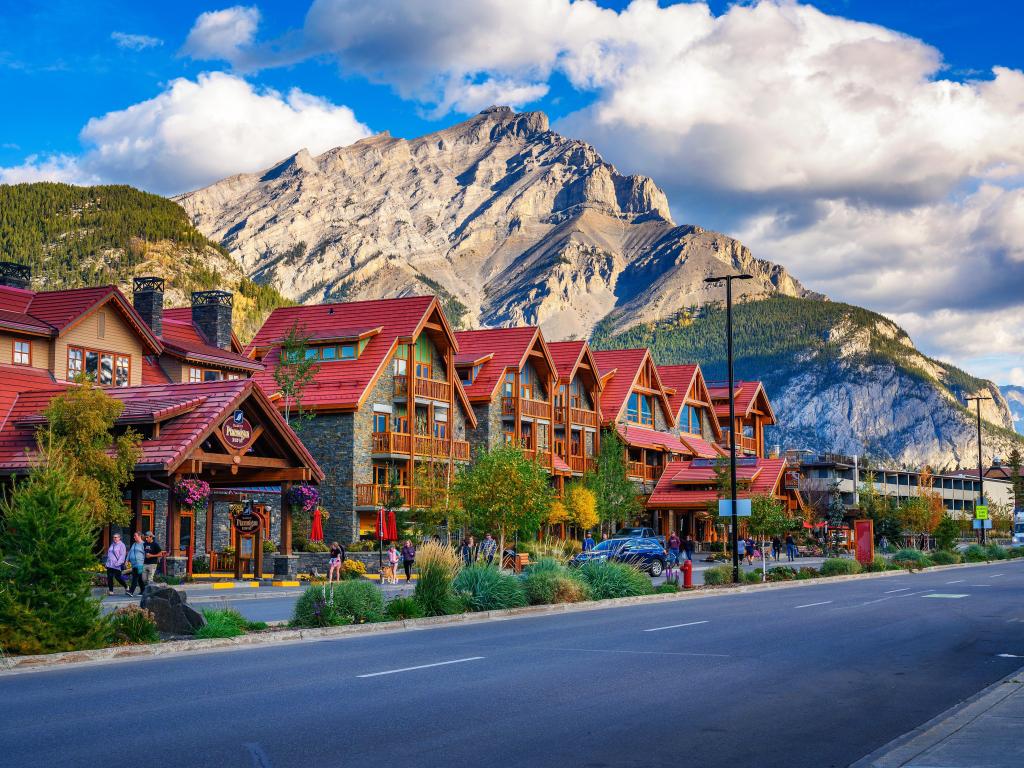 Best road trip route from Vancouver to Banff
There are several ways you can drive from Vancouver to Banff National Park. The quickest route can take around 9.5 to 10 hours by staying on the Trans-Canada Highway all the way from Vancouver to Banff.
The route we suggest takes you along the Trans-Canada Highway, and then British Columbia Highway-1.
This straightforward route from east to west will showcase the extraordinary natural scenery of places like Chilliwack Lake National Park, Skagit Valley Provincial Park, and the Glacier National Park of Canada.
It will also enable you to visit some cool towns and cities like Coquitlam, Abbotsford, and Kamloops.
Road trip route from Vancouver to Banff
Starting at Vancouver airport, your route takes you onto Grant McConachie Way, merging onto SE Marine Drive, when you turn onto Boundary Road.
Your main route then takes you on to the immense Trans-Canada Highway which travels through Burnaby, Surrey, and Abbotsford on the outskirts of Vancouver, then north for just over 3 hours, turning east at Cache Creek.
You then keep heading east for 1 hour on into Kamloops, from there it's another 4 hours to Golden, and on for another 2 hours to Banff.
Best places to stop between Vancouver and Banff
Whilst driving from Vancouver to Banff National Park there are a host of stop-off options available to you.
These incorporate a range of charming towns and cities, as well as many major tourist attractions and national or provincial parks.
If you are of a mind to break up your drive into a few overnight stays, then why not consider the following?
Take an early break at Abbotsford
Located some 70km from Vancouver, the lovely city of Abbotsford is a delightful place to stay after a day of exploration at the Golden Ears Provincial Park or Chilliwack Lake National Park.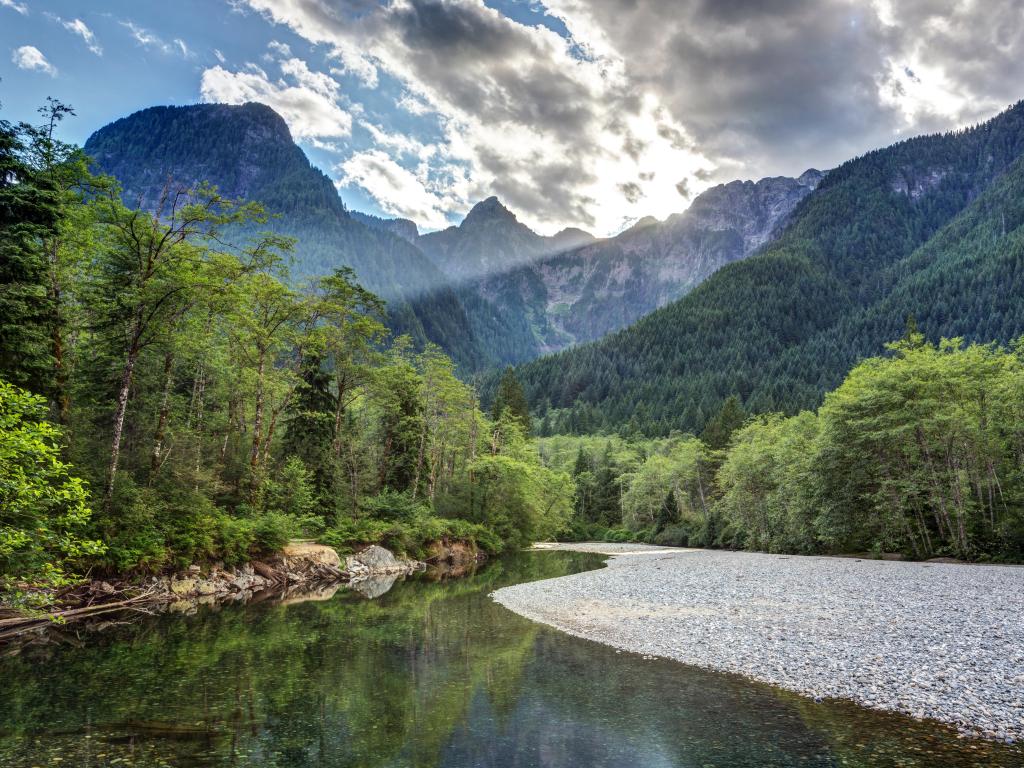 The city itself has a varied mix of attractions to visit including the Abbotsford International Airshow, the Reach Gallery Museum, Castle Fun Park, and the oldest Sikh temple in North America.
One of the best choices of accommodation in the area is the Brookside Inn. This luxurious 5-star, 3-storey Tudor-style hotel, with a stately but welcoming aesthetic, is less than a 10-minute drive to the center of town.
It also lies near the imperious Mt Baker and the stunning vineyards of the Pepin Brook Estates.
A well-earned stop at Kamloops
A further 260km from Abbotsford (and around 500km until Banff), Kamloops is affectionately known as 'The Tournament Capital of Canada', It holds over 100 events every year.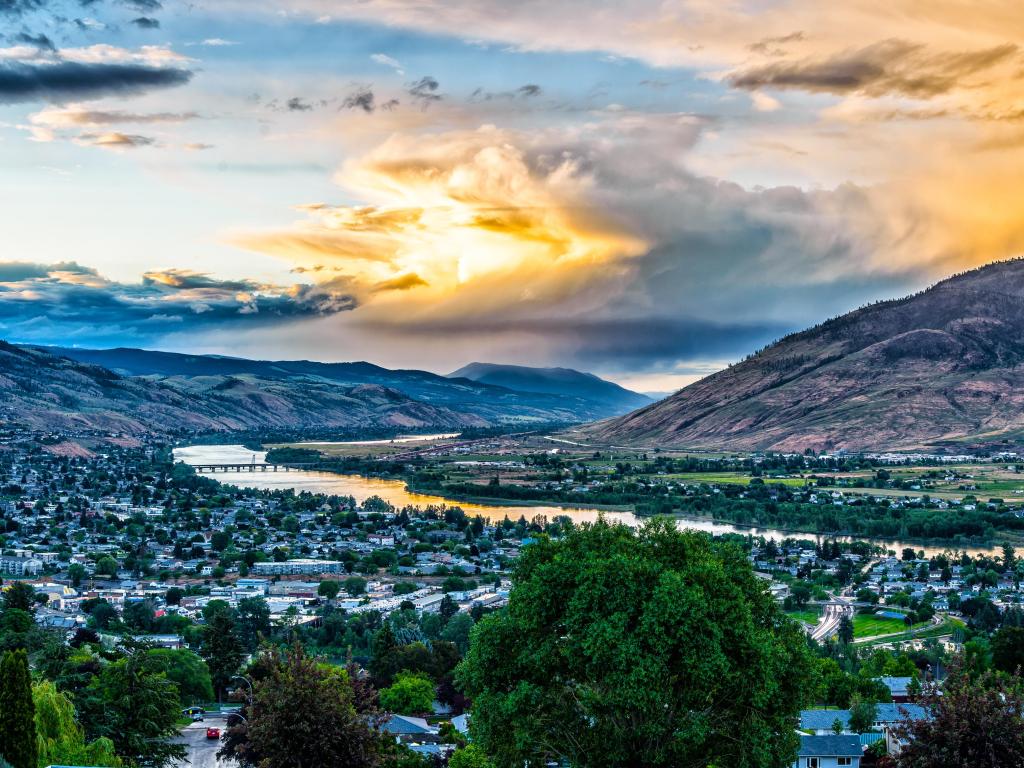 Many of these take place at world-class facilities like the Tournament Capital Centre, the Tournament Capital Ranch, and Kamloops Bike Ranch.
The area is also a noted wine-producing region too, with several wineries open to visitors.
If you choose to stay in Kamloops, the Fairfield Inn & Suites by Marriott Kamlopps is a highly recommended option.
Close to plenty of open spaces, there are lots of parks to stroll to and unwind, and it's also not too far from the slopes too if prefer something more high adrenalin. After a good night sleep the breakfast is a particular hit with visitors, so enjoy the fresh fruit and omelettes ahead of a busy day exploring.
Take in the slopes at Revelstoke
Revelstoke was once famous for ski jumping but is now better known for its downhill sports. It lies just over 200km east of Kamloops, and 330km from Banff.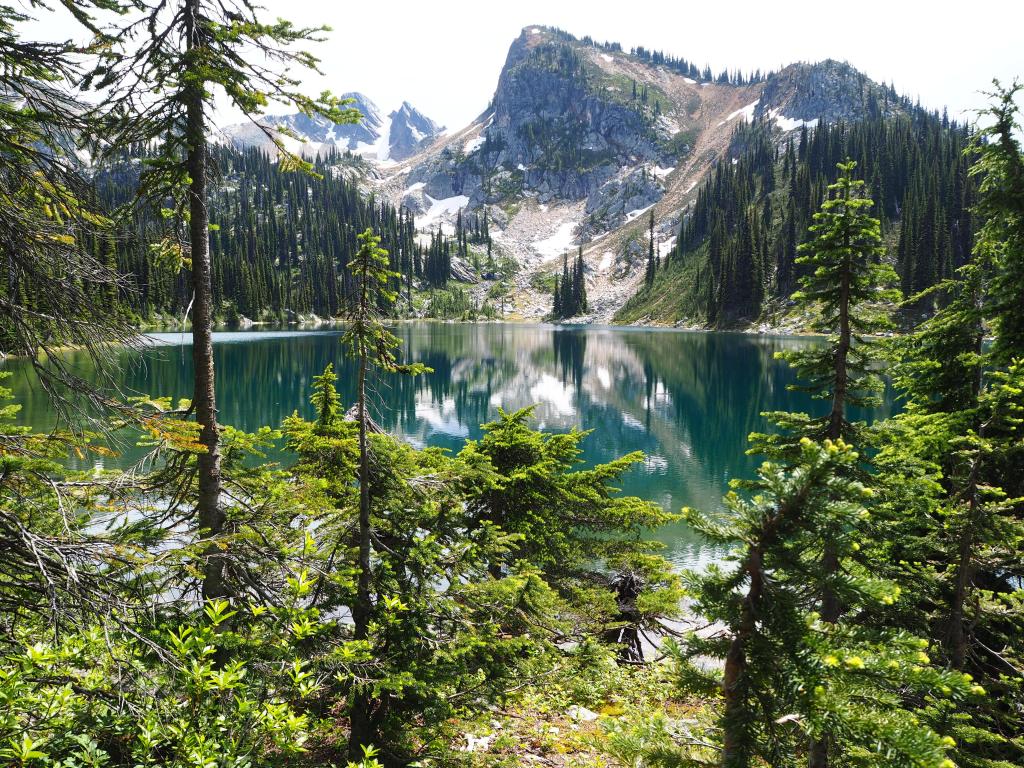 As well as being home to compelling attractions like the Enchanted Forest, Revelstoke Railway Museum, and the Three Valley Gap Ghost Town, it is also a great option for an overnight stay, after visiting the Glacier National Park.
The Explorers Society hotel in the heart of Revelstoke, with its atmospheric, quirky boutique décor, and fascinating history, can give you a last taste of the urban, before surrounding yourself in the wild freshness of Banff.
The Explorers Society boasts fine eateries, with a hidden gem in the Boiler Room for those who like their whisky, and a rooftop hot tub and guest lounge (surely there can never be enough rooftop swimming areas!).
Alternative overnight stops
The picturesque town of Hope enjoys an attractive location on the banks of the imposing Fraser River.
Surrounded by the soaring peaks of the Cascade Mountains, lovers of the film Rambo might recognize this place as the location of Sylvester Stallone's iconic movie.
As well as being a great base to visit, Chilliwack Lake National Park, Skagit Valley Provincial Park, and the E.C. Manning Provincial Park also provide tours around the filming locations there.
The High Hopes Bed and Breakfast is a solid choice for a comfortable overnight stay should you wish to visit here.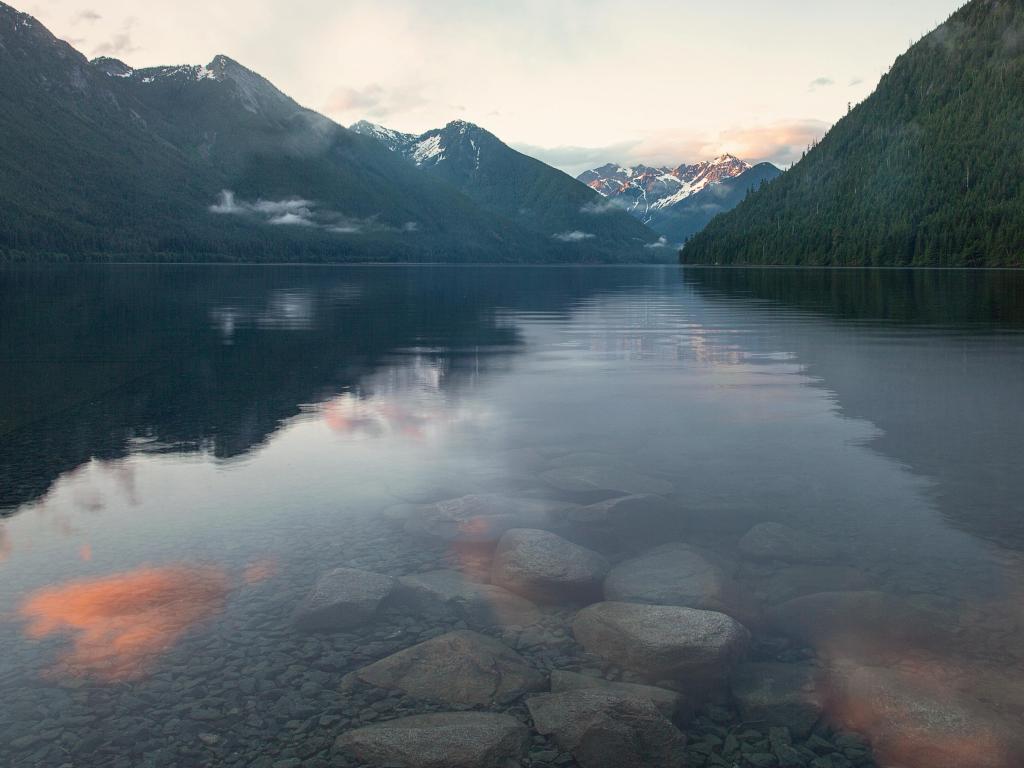 Where to stay in Banff National Park
There are some excellent hotels around the Banff National Park area. One of the best of them is the deluxe 5-star Fairmont Banff Springs.
Originally built in 1888, this resort has been constructed in the style of a Scottish Baronial castle. Designated as a National Historic Site, this impressive property is very close to a host of different ski locations.
As well as hosting a fantastic spa facility that offers a range of exceptional treatments, this resort has an impressive 11 restaurants and 14 shops.
Things to see on a road trip from Vancouver to Banff
On a road trip from Vancouver to Banff National Park, there are several wonderful tourist attractions, engaging towns and cities, and outstanding areas of sheer natural beauty to check out.
Truth be told, it could take you a good two or three months to see them all! If you do not have that length of time at your disposal, then you will need to prioritize where you want to visit. This overview of major highlights along the route will help you do just that.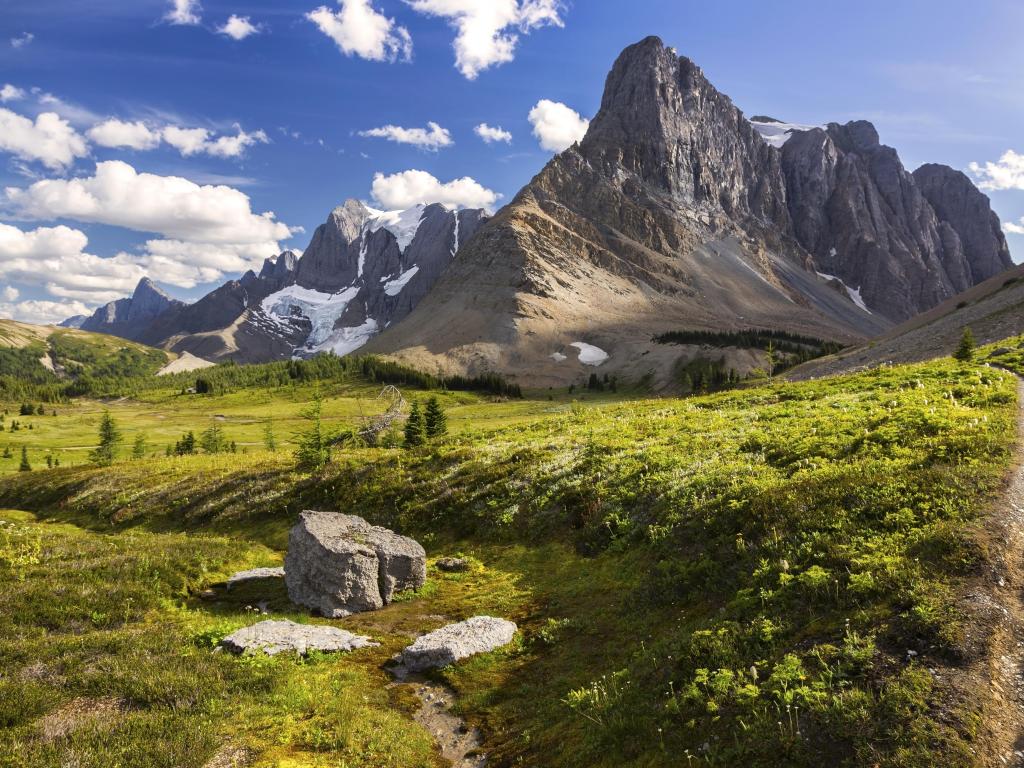 Mount Seymor Provincial Park – Terrific park that conveys exquisite views of both Vancouver and the Indian Arm Provincial Park. A popular picnic area, with stunning lakes and ponds, bird watching, and mountain biking.
Coquitlam - Sparkling city with a rich heritage and cosmopolitan community. Known for its excellent shopping, dining scene, and entertainment. Also boasts a wide range of outdoor activities like biking, hiking, fishing, and trail running.
Golden Ears Provincial Park – Pretty provincial park in British Columbia (BC), features the lovely Alouette Lake – a noted spot for canoeing, boating, windsurfing, swimming, fishing, horse-riding, and water-skiing.
Abbotsford – Charming city with an eclectic mix of attractions like Castle Fun Park, Reach Gallery Museum, the Abbotsford International Airshow, and the oldest Sikh temple in North America.
Hope – Gorgeous town, framed by the Cascade Mountains, situated around the Fraser River. Hometown of Sylvester Stallone's character Rambo! Tours of the filming locations are popular for lovers of the film franchise.
Chilliwack Lake National Park – Situated in the upper Chilliwack River Valley, around 150km from Vancouver, this park contains scenic alpine ridges and a sizeable lake, providing great opportunities for fishing, kayaking, canoeing, boating, and swimming.
Skagit Valley Provincial Park – Outstanding provincial park noted for its glaciers that have been around since the ice age. A good spot for camping, horse-riding, river and lake fishing, and over 50km of hiking trails.
E.C. Manning Provincial Park - Nestled in the center of the Cascade Mountains, this magnificent park boasts a fabulous range of flora and fauna. It also offers plenty of outdoor recreational activities like hiking, cycling, and skiing.
Coquihalla Summit Recreational Area - Diverse terrain that contains four different biogeoclimatic zones and impressive granite peaks. Beautiful views around the Coquihalla Highway and the Kettle Valley Railway.
Bonaparte Provincial Park - An 11,800-hectare provincial park in BC, nestled within the Bonaparte Plateau. Contains the volcanic plug of Skoatl Point and beautiful Bare Lake. A popular destination for camping, adventure tourism, and fishing.
Lac Du Bois Grasslands Protected Area – This spectacular protected area features picturesque rolling grasslands, lush open forests, and many well-established hiking trails.
Kamloops – Lively city known as 'The Tournament Capital of Canada', hosting over 100 major events annually. Recognized for being a terrific place for water skiing and boating, the area also has lovely parks, golf courses, and ski resorts.
Adams Lake Provincial Park - A 56-hectare park that is framed by forests and features pristine beaches. A popular spot for fishing, cycling, water skiing, swimming, windsurfing, and canoeing.
Mount Revelstoke National Park – notable for its beautiful meadows of pretty wildflowers. This small, yet delightful national park features some excellent hiking and walking trails for you to explore.
Revelstoke - Home to engrossing attractions like the Revelstoke Railway Museum, the Three Valley Gap Ghost Town, and the intriguing Enchanted Forest.
Glacier National Park of Canada – A must-visit destination, it contains an awe-inspiring landscape of imposing craggy peaks, deep caves, gorgeous alpine forests, sparkling lakes, and verdant valleys.
Golden – Charming small town that enjoys a fabulous location surrounded by both the Purcell and Rocky Mountains. It boasts a nerve-jangling sky bridge and lots of fabulous hiking opportunities.
Yoho National Park - Known for its massive vertical rock walls, towering peaks, and stunning waterfalls, this is a great spot to experience the Rocky Mountains. Very beautiful, notable for camping and hiking.
Kootenay National Park - Located in south-eastern BC, this picturesque national park boasts raging waterfalls, soaring mountain peaks, flowing rivers, deep canyons, and hot springs. Also has lots of trails, perfect for hiking.
Things to do at Banff National Park
Banff National Park is quite rightly considered to be one of Canada's most iconic highlights.
The oldest national park in the country, this UNESCO World Heritage Site is also recognized as one of the best places to experience the magic of the Canadian Rockies.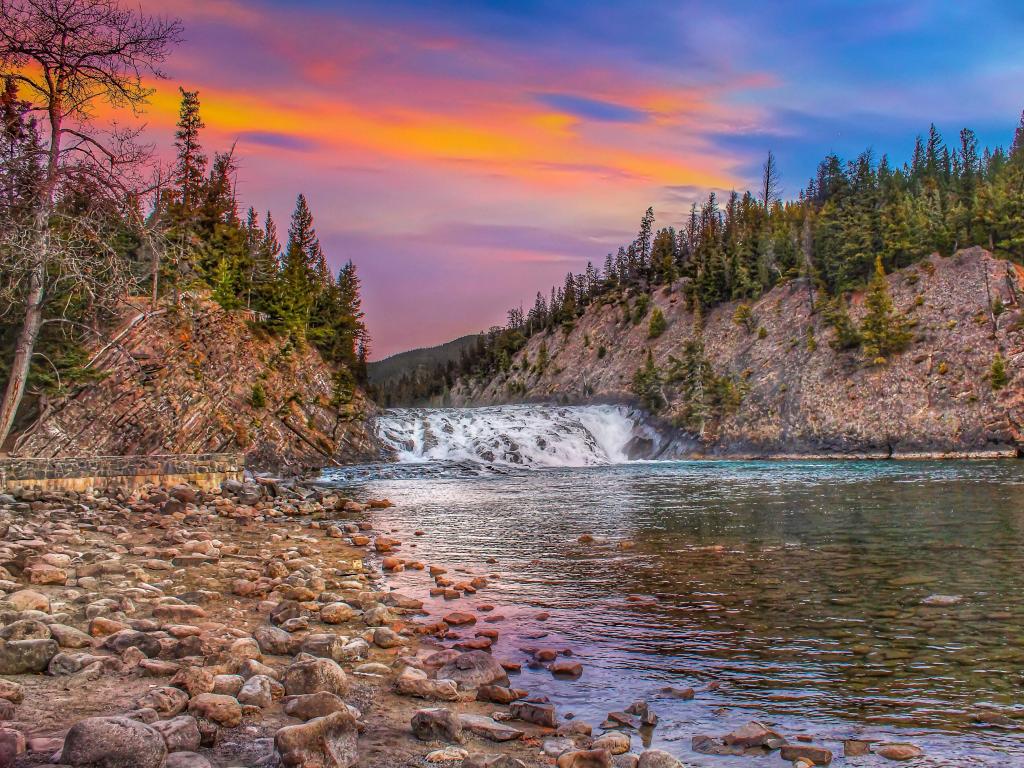 Contained within an area of over 6,600 square kilometers, Banff National Park is known for its incredible scenic beauty. It is a place made up of jagged mountains, imposing glaciers, and gorgeous alpine forests.
When at Banff, there are many things to see and do. Some of the best of them include the following:
Banff Gondola – Take a ride on a modern gondola to the summit of Sulphur Mountain for incredible 360-degree views.
Lake Minnewanka – Gorgeous 21km long glacial lake on the eastern part of Banff National Park. Features a rather spectral underwater ghost town that can only be seen by scuba divers.
Bow Falls – Stunning waterfall on the Bow River in Alberta with a powerful and impressive cascade.
Sunshine Meadows – Located 7500 feet above sea level, this popular hiking and sightseeing destination takes the form of a breath-taking natural garden covered in pretty wildflowers.
Banff Avenue – Gorgeous town in the national park surrounded by an incredible mountainous landscape. Houses an eclectic mix of shops and restaurants.
Best time to go on a road trip from Vancouver to Banff National Park
You can do a road trip from Vancouver to Banff National Park all year round, but there are easier times to travel than others.
To see all the national or provincial parks that feature along this route at their best, you should consider undertaking the trip between late spring and early fall.
Banff in July and August is at its best if traveling by car. With warm temperatures, truly stunning lakes (after thawing from winter), and plenty of opportunities for biking and walking in the Rockies, it will be busy, but worth it. You'll find pleasant average high temperatures of around 23 degrees Celsius if you travel at this time.
The summer also benefits from festivities like Canada day and Performance in the Park. And for those looking for a more physically active adventure, the Banff Yoga Festival and Banff Marathon both draw a crowd in May and June respectively.
In the winter, particularly when it snows, some sections of road can become treacherous and very difficult to pass without tire chains. There may even be road closures due to avalanche warnings, so always make sure you check traffic guidance before setting out for the day.
Traffic congestion will be at its highest during holidays and the summer months of July and August, but going at a leisurely pace and taking breaks and stopovers as suggested, can make up for this.