Road Trip from Los Angeles to Vancouver
For a journey that takes you through the finest landmarks and cities along the West Coast before concluding in beautiful Canada, consider doing the legendary road trip from Los Angeles to Vancouver - very few road trips in or out of The States can match it.
The 1,550 mile road trip from Los Angeles to Vancouver takes 32 hours of driving. Notable attractions along the way include Morro Bay, Big Sur, and the Redwood National Park, as well as the cities of San Luis Obispo, Portland, and Seattle.
With so many stop-off options available, be sure to read until the end to learn about all the cool places you can go.
How far is Los Angeles to Vancouver and how long will the road trip take?
Along the best route, the road trip from Los Angeles to Vancouver covers about 1,550 miles of highway. In theory, you could do the entire drive in about 4 days, but a much better idea would be to take your time to explore everything the route has to offer.
The amazing thing about this drive is that you can hug the coast for the majority of the trip - this will take you past many of America's finest oceanside cities and plenty of charming attractions in the Great White North.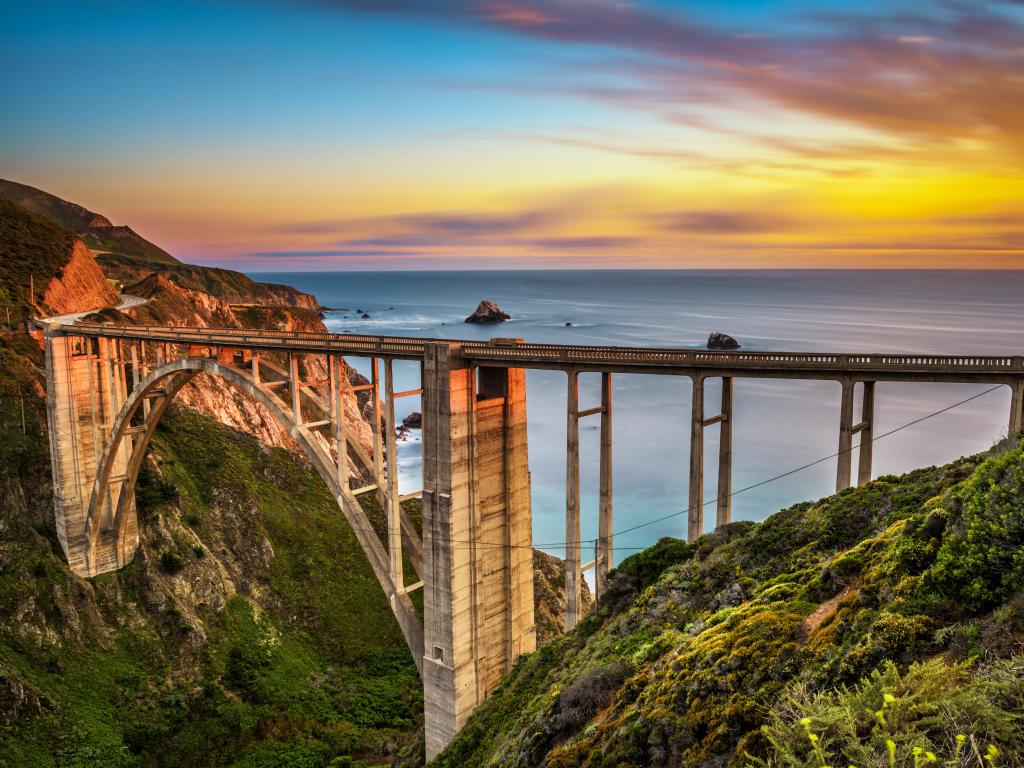 With a route so long and popular, you're practically guaranteed to run into some traffic along the way, especially around places like San Francisco and Portland. Keep a close eye on the congestion near the major cities so you can do some detours if there's traffic ahead.
On that note, you can add plenty of mileage to your trip by driving inland to do some extra sightseeing. There's plenty to see even if you just stick to the coast, but if you have the time, you could visit some additional cities and forests in California, Oregon, or Washington.
Best road trip route from Los Angeles to Vancouver
There are a number of ways to do the road trip from Los Angeles to Vancouver, but sticking to the coast is by far the most scenic option if you have a few weeks to spare.
Road trip route from Los Angeles to Vancouver
Take Interstate 10 west to Santa Monica, then cruise along Route 1, passing Topanga State Park and taking a break in Malibu or at Point Dume. From Oxnard, hop onto Route 101 and drive through Ventura and Santa Barbara, then visit Cachuma Lake and Los Padres National Forest.
Past Gaviota State Park, get back onto Route 1 and follow it to Pismo Beach, then briefly return to Route 101 until you reach San Luis Obispo. From there, get onto Route 1 and follow it past Pfeiffer State Park and Big Sur.
Further north, stop at Monterey and Carmel-by-the-Sea, then spend some time in Santa Cruz before pulling into San Francisco. Rest up here before crossing The Golden Gate Bridge, then follow Route 1 between Point Reyes National Seashore and Samuel P Taylor State Park.
Drive through Salt Point State Park and pay a visit to Jackson Demonstration State Forest, then briefly separate from the ocean and pass Humboldt Redwoods State Park. Then, follow Route 101 back to the coastline and stop at Redwood National and State Parks.
Past Rogue-Siskiyou National Forest and Siuslaw National Forest, take Route 6 through Tillamook State Forest, then follow Route 26 to Portland. From there, take Interstate 5 past Mt Rainier National Park and through Seattle.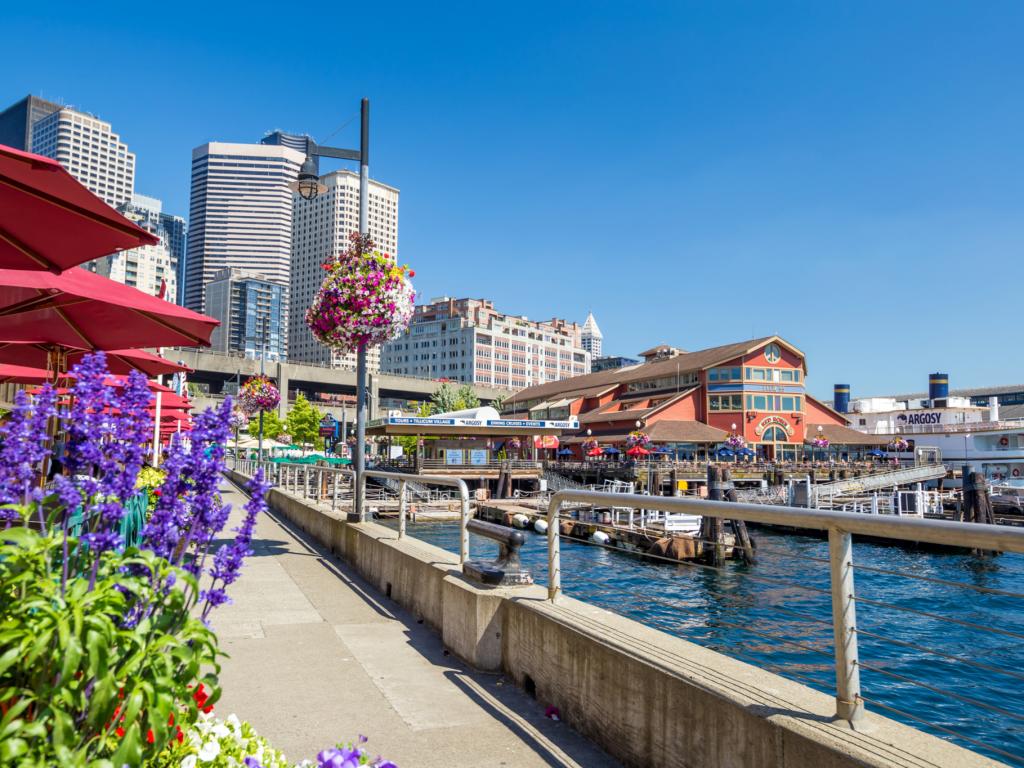 Once you cross over into Canada, hop onto Highway 99 and follow it over The Fraser River. Not long after that, you'll reach Richmond, closely followed by Vancouver.
Best places to stop between Los Angeles and Vancouver
There are so many great cities and fascinating places of interest to visit on your road trip from Los Angeles to Vancouver. If you want to take a few weeks to explore everything the route has to offer, these are some of your best stopover options:
Roam the streets of San Francisco
San Francisco is one of the most progressive, diverse and culturally significant cities in the whole of the USA, so you should consider visiting on your road trip from Los Angeles to Vancouver. If you do stop here, the Hotel Nikko San Francisco has the fanciest pool and lobby in town.
Boasting some of the fanciest rooms on the West Coast, this hotel is a prime example of California's iconic, extravagant resorts. The rest of the hotel is no slouch either, with the lobby being especially breathtaking.
If an afternoon in the swimming pool area doesn't relax you after a morning of exploration, nothing will. Topping things off are the incredible restaurant and the beautiful terrace, which has one of the best views of San Francisco you could ask for.
The place is on the expensive side, but that's understandable considering what you're getting out of the deal. Everything you could hope to see in San Fran, from Union Square to Moscone Center, is only a short distance away too.
Enjoy the spectacular view in Portland
A weekend in Portland is one you won't soon forget, and there are no shortage of amazing hotels to call home here. One of the places you might want to stay at is The Hyatt Regency at the Oregon Convention Center, whose view of the city will take your breath away.
Aside from the spectacular rooms, the hotel distinguishes itself with some amazing service and one of the most gorgeous interiors in all of Portland. If you have some time to kill, the hours will feel like minutes as you mingle with your fellow travelers in the amazing lobby.
The restaurant is one of the best the city has to offer, and once you're full, you'll have a top-of-the-line fitness area to help you burn off those calories.
Conveniently located near most of the city's main attractions, the hotel is perfect for explorers - the Oregon Museum of Science and Industry, Lan Su Chinese Garden and Governor Tom McCall Waterfront Park are all a short drive away.
The hotel is admittedly pricy, even by Portland standards, which makes sense given everything it has to offer. If you want a cheaper stay, you can always book a room out of season - the route has plenty to offer year-round, so you definitely won't regret it.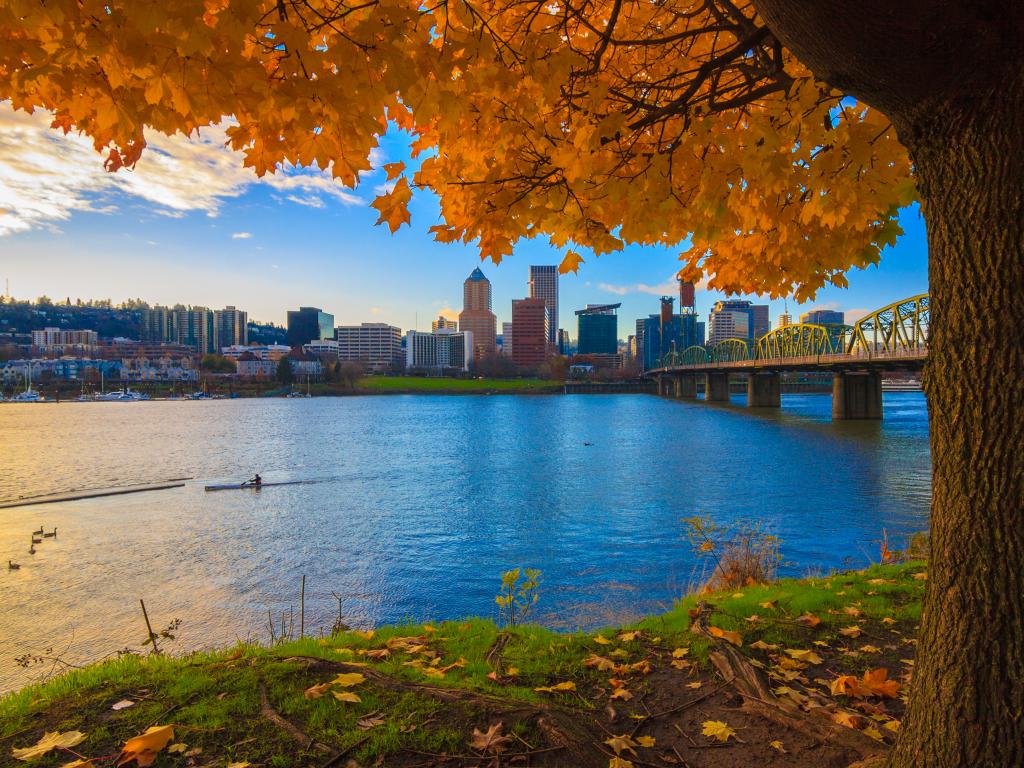 Things to see on a road trip from Los Angeles to Vancouver
The road trip from Angeles and Vancouver covers a lot of ground, so there are many points of interest between the two metropolises. These are only some of the places you won't want to miss out on
Santa Barbara – Well known for its pristine beaches, excellent seafood and most famous landmark, the Mission Santa Barbara.
San Luis Obispo – 'The happiest city in America'. Home to Pismo Beach, gorgeous Spanish-style architecture and the infamous Bubblegum Alley.
Morro Bay – Beautiful coastal city best known for Morro Rock, a 575-foot tall volcanic mound at the end of Morro Rock Beach. Nearby Morro Bay State Park is home to lagoons, trails and a saltwater marsh that is full of birds.
Hearst Castle – Opulent estate of William Randolph Hearst overlooking San Simeon. Features more than 100 rooms, a gorgeous swimming pool, theater and stunning selection of antiquities, artwork and sculptures.
Big Sur – One of the state's best-loved stretch of coastline. Where the Santa Lucia mountains and the Pacific Ocean spectacularly meet. Also home to the Slates Hot Springs.
Carmel By-The-Sea – Artistic beach city best known for its beautiful architecture, sensational coastline and famous former mayor, Clint Eastwood.
Monterey – Home to Monterey State Beach and Cannery Row, which was immortalized by John Steinbeck. Boasts a beautiful beach and famous aquarium. Good spot for whale watching too.
Santa Cruz – Famous for its great beaches, iconic boardwalk, surfing museum and dolphin and whale watching cruises.
San Francisco – Home of the Golden Gate Bridge, Alcatraz, Lombard Street, cable cars, Ghirardelli Chocolate and the historic district of Haight-Ashbury.
Bodega Bay – Known as the setting for the Alfred Hitchcock film 'The Birds', this charming fishing community features quaint oceanside shops, impressive art galleries and top-notch seafood restaurants.
Sonoma and Napa Valleys – Take a beautiful drive through the heart of California's wine country.
Fort Bragg - A city on the Mendocino Coast. Known for Glass Beach, which sparkles with colorful glass stones.
Redwood National & State Park – Home to some of the world's tallest trees including the Hyperion which measures over 115 meters.
Siuslaw National Forest – Popular hiking destination in Oregon. Features large meadows and fabulous 360-degree views of the Coast Range and the Willamette Valley.
Eugene – Charming college town and the birthplace of Nike. Full of quaint boutique shops and cool cafes.
Portland – Vibrant, progressive city. A foodie paradise. Home to awesome coffee, a fabulous art scene and the iconic Saturday Market.
Mt Rainier National Park - Arguably Washington's star attraction, this park offers every type of scenic landscape you could possibly imagine.
Cannon Beach – Charming coastal city which showcases breathtaking views of the rampaging Pacific Ocean. Featured in movies like The Goonies, Point Break and Twilight. Home to lots of adorable Puffins.
Mt Hood - Dormant volcano with plenty of hiking trails, camping spots, fishing and skiing. Visit Trillium Lake for a truly sensational view.
Seattle – Home of Starbucks, Microsoft, grunge music, Pike Place, The Space Needle and for being a gateway to Canada.
Puget Sound – Bordering 4 major cities, this vibrant college town is known for its culture, culinary scene and for being the second largest estuary in the USA.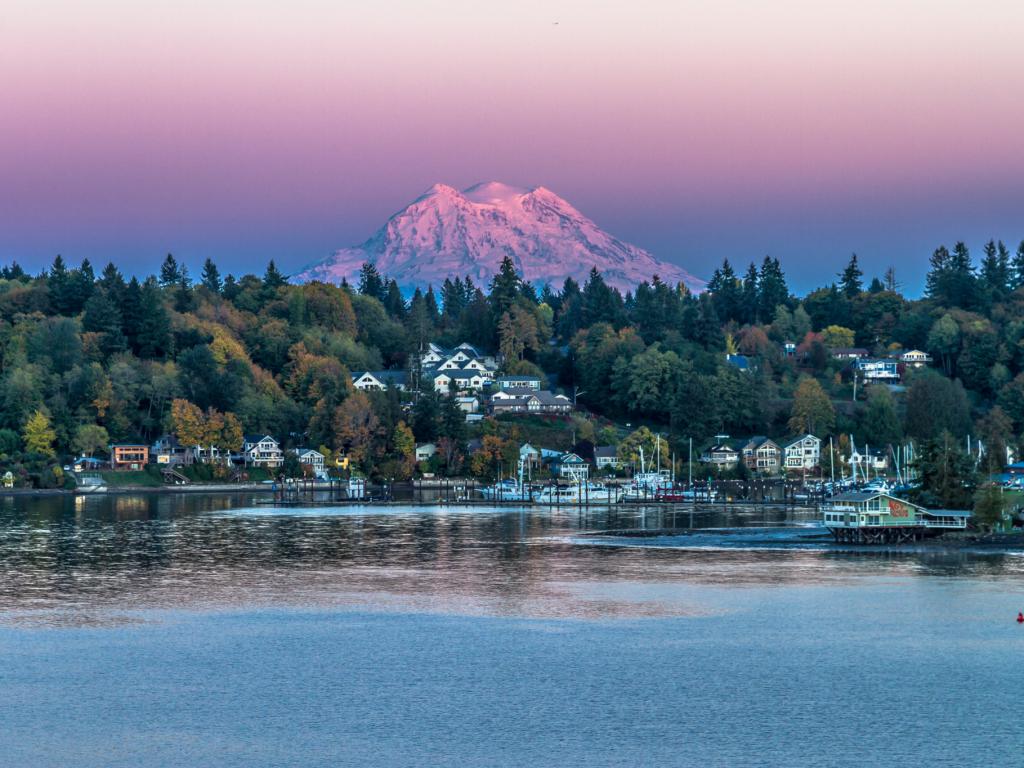 Best time to go on a road trip from Los Angeles to Vancouver
A road trip from Los Angeles to Vancouver is one that can be done at any time throughout the year. With that said, there's plenty to see along the way, so you may want to plan your drive around the places you intend on visiting.
For the best views of the Pacific Coast Highway, the optimum time to undertake this trip would be between late spring and early fall. On the other hand, you will get the best weather in July and August. But also you are likely to get heavy traffic and sky high hotel prices too.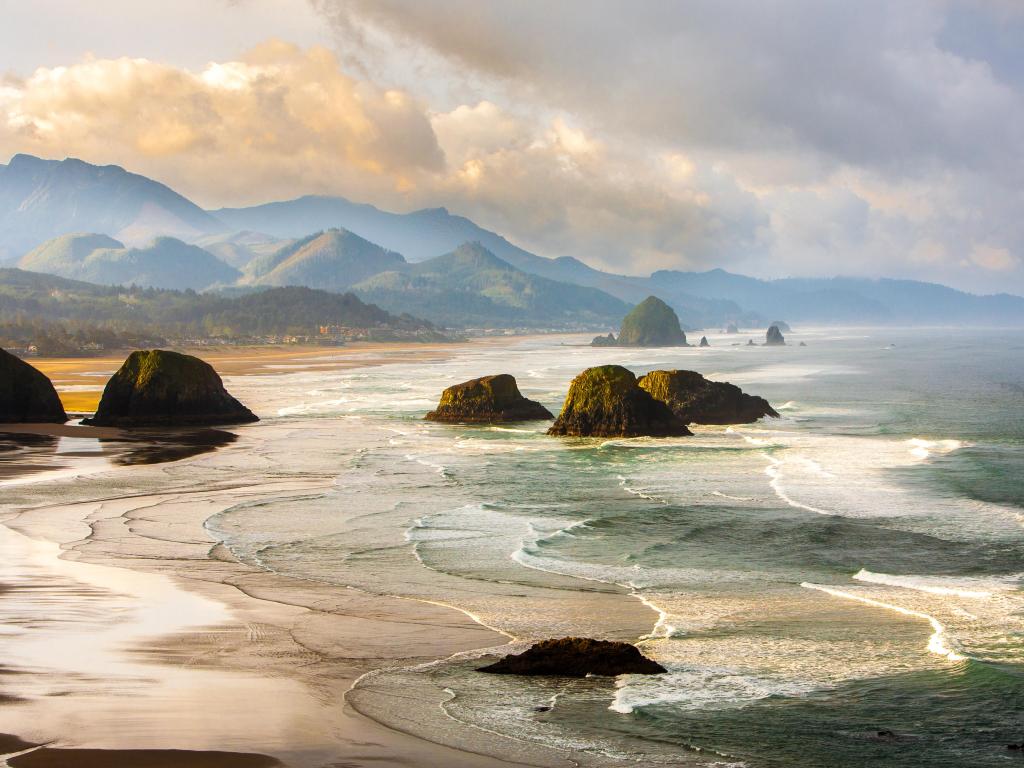 During the winter, especially up near Washington State, some sections of road can become treacherous or even unpassable due to snow. So if you are planning to drive there at this time be mindful to pack the snow chains for your tires.
As a general rule, you are likely to hit more traffic at weekends and during the holidays. So try and avoid going during these periods if you can, or at least download a traffic app to stay ahead of the game and anticipate all the congestion.