Road Trip from Vancouver to Whistler
If you're looking for a short but impossibly scenic adventure, then the epic road trip from Vancouver to Whistler is right up there with the best of them. Witness incredible scenery along the way, while passing through some charming towns.
The 120km road trip from Vancouver to Whistler takes 1 hour 30 minutes to drive. Key stops include Lions Bay Beach Park, Shannon Falls, Squamish, Cypress Provincial Park and Brunswick Beach, as well as Alice Lake Provincial Park and Brandywine Falls.
There are loads of great places to visit on this simple but stunning route, so be sure to read on until the end to find out more about them - as well as where to stay, what to see, and the best time of year to make your road trip from Vancouver to Whistler.
How far is Whistler from Vancouver and how long will the road trip take?
The road trip between Vancouver and Whistler spans a distance of 120km.
Typically, it would take about 1 hour and 30 minutes of non-stop driving to get between the two destinations. So you could easily complete a return trip in a single day.
However, with so many fantastic national parks and other places of interest dotted throughout the route, a better option would be to plan in an overnight stop which would then allow you to see them all in more detail.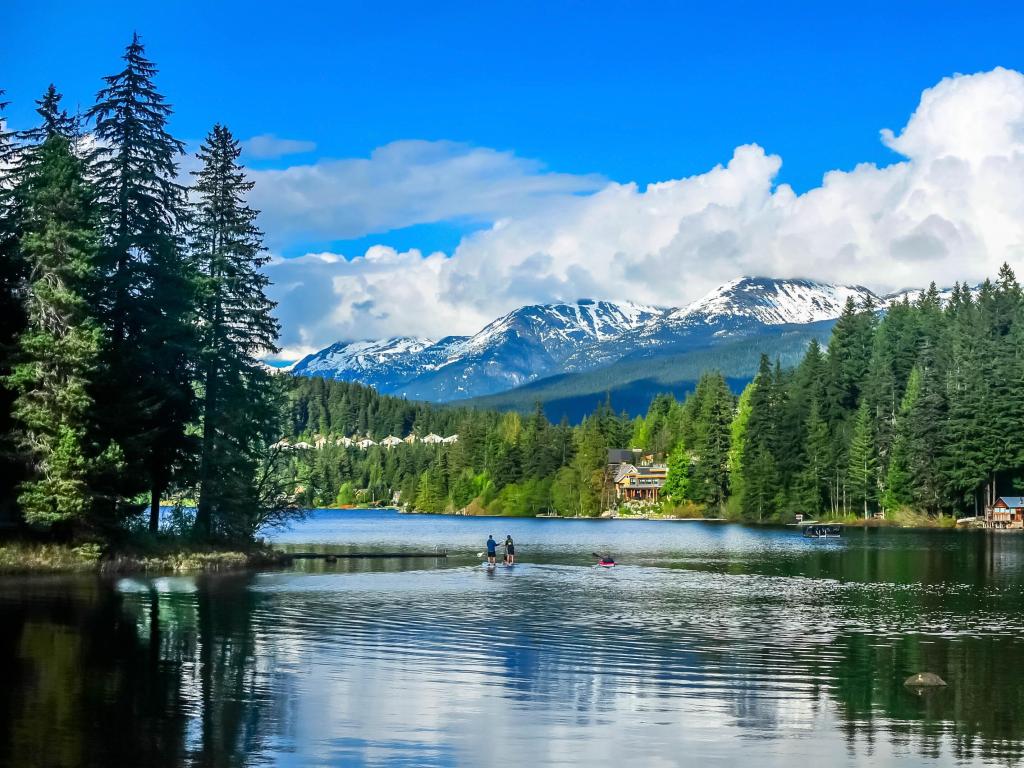 Best road trip route from Vancouver to Whistler
You can get from Vancouver to Whistler via a number of different highways and back roads. However the most popular route, and the one we recommend, will take you along the wonderfully named Sea to Sky Highway.
Also known as the British Columbia Highway 99, this is a major thoroughfare that will take you from the US Border all the way north to Cache Creek.
Essentially, as this is one straight road, the journey is a fairly uncomplicated one to drive.
Road trip route from Vancouver to Whistler
From Vancouver, take the British Columbia Highway 99 north across the Lions Gate Bridge. This section of road is known as the Sea to Sky Highway, as it literally takes you from the sea at Vancouver, to the gorgeous big sky country of Pemberton, which lies just north of Whistler.
Follow the road past Cypress Falls Park, you could take an optional detour to visit Lighthouse Park in West Vancouver, or continue following the coast past Charles Creek, alongside the stunning Cypress Provincial Park.
Continue north and pass Lions Bay, Brunswick Beach, Porteau and Britannia Beach.
A little further north and you will arrive at Shannon Falls Provincial Park - a worthy stop - before taking the exit to Squamish, a town surrounded by mountains and great attractions. Stop here for the night if time allows, before continuing back on the Sea to Sky Highway.
From here you will leave the sea behind and continue through Canada's stunning mountains. Pass Alice Lake Provincial Park, and continue north to the town of Garibaldi.
As you drive alongside Daisy Lake, you will pass Brandywine Falls Provincial Park before driving a short distance further to Whistler.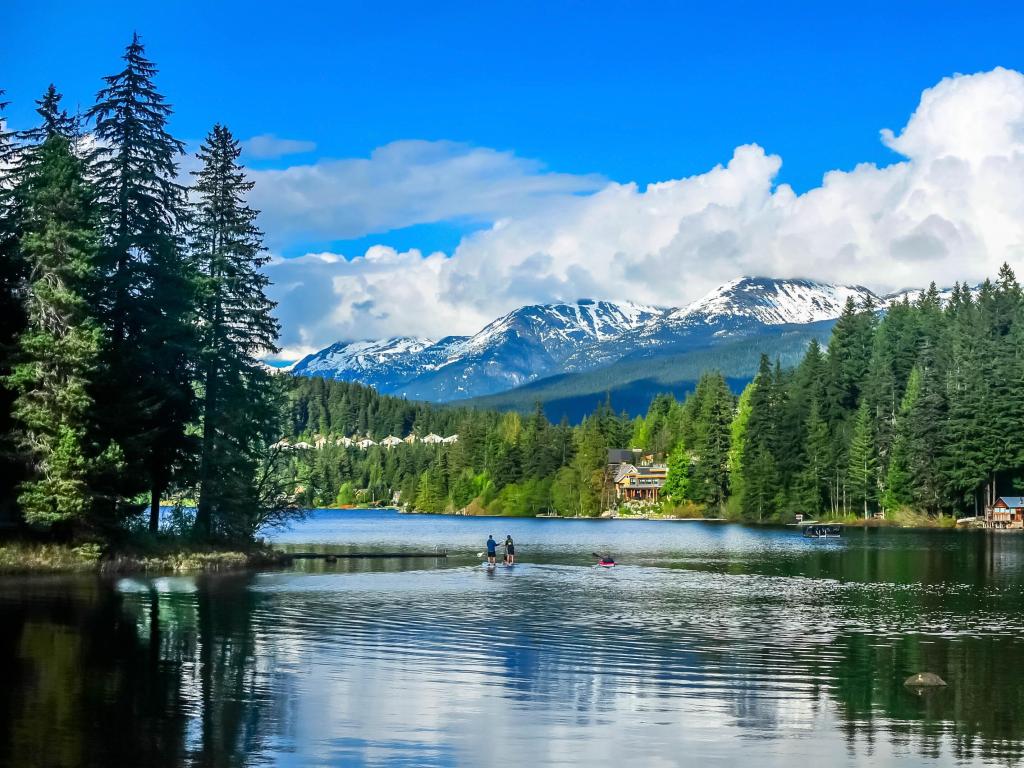 Best places to stop between Vancouver and Whistler
While you could complete this trip in a single day, a much better option is to include one overnight stop en route.
There are a number of great hotels available, but of all the places you'll pass en route, these are the ones you'll want to look out for:
Explore the mountains at Squamish
Located at the northern tip of the Howe Sound and halfway to Whistler, Squamish is a great base for visiting the Sea to Sky Gondola, Shannon Falls, Stawamus Chief Park and Alice Lake Provincial Park.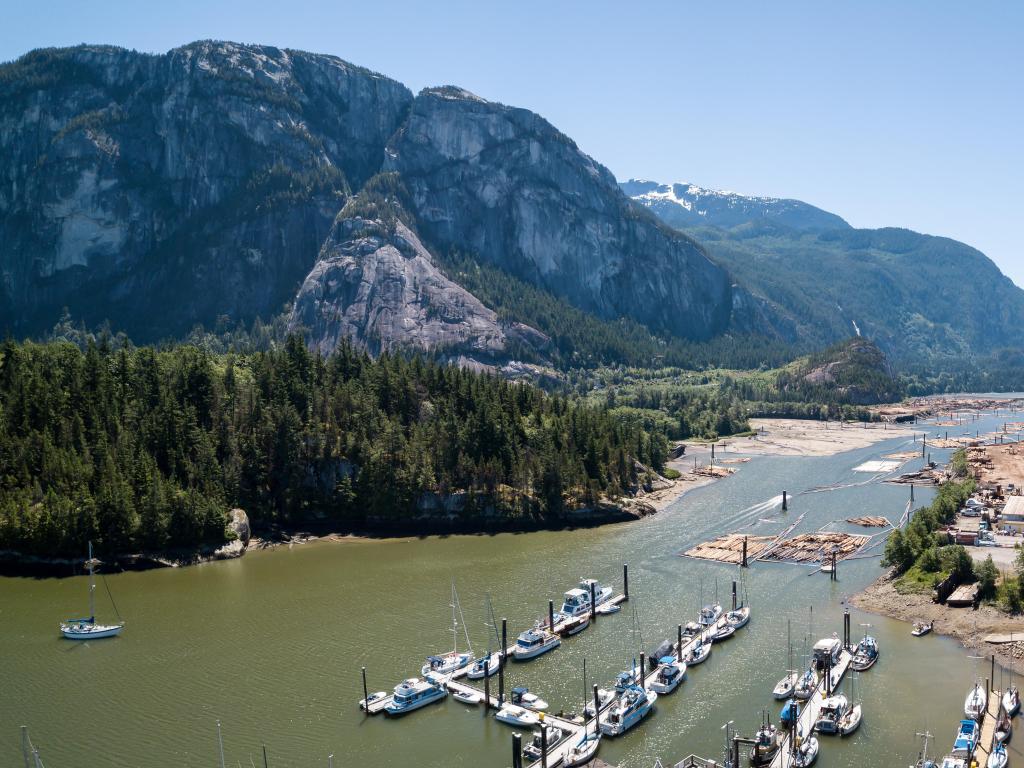 Framed by craggy mountains, Squamish is also a haven for those who enjoy outdoor activities like hiking, wind surfing and rock climbing.
There are a few fantastic options for a comfortable stay in this pretty town, but one of the best places is Executive Suites Hotel and Resort, Squamish. Located just near Sea to Sky Gondola and offering free parking, it's conveniently situated with an incredibly scenic mountain backdrop.
After spending the day in your car or hiking in the nearby landscape, the hotel's indoor swimming pool and hot tub are the ideal way to relax. The hotel also features an on-site bar, perfect for refreshments after a long day enjoying the great outdoors.
A luxury stay at Whistler
After arriving in Whistler, why not plan a few nights to explore all that this fantastic town has to offer?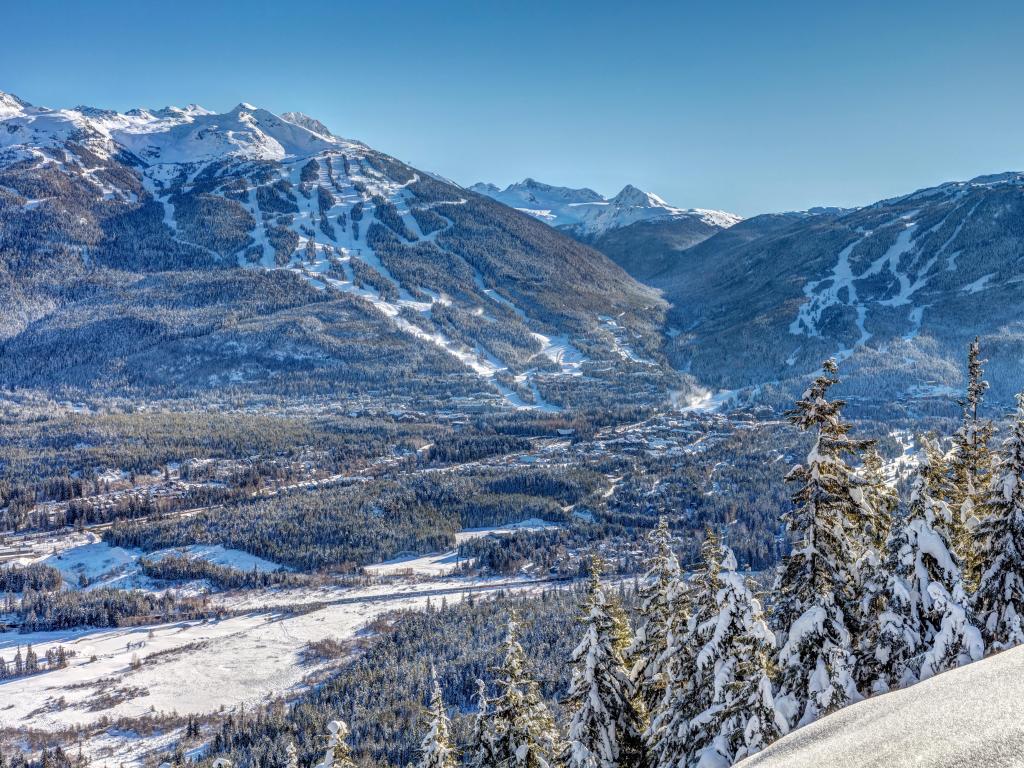 Home to Whistler Blackcomb, one of the largest ski resorts in North America, it's an incredibly popular place for winter sports fans. Besides skiing and snowboarding, the area offers snowshoeing, tobogganing and ski jumping at an Olympic Park.
You don't have to ski however, to appreciate this lovely town. Take a walk to Pika's Traverse to see giant ice walls, or walk from one gondola to the other. It's a great base if you like hiking or visiting stunning parks, there's also great restaurants and shops to explore.
As for overnight accommodation, the resort's popularity means there's plenty of hotel options. One of our favorite resorts here is the 5-star Westin Resort & Spa. Just 150 meters from the Whistler Blackcomb gondola, this place provides sky-to-door access, setting you up to maximize your time in the mountains.
The luxury hotel comes with an outdoor swimming pool and two hot tubs, as well as a world class spa and wellness center onsite. As you would expect, rooms here are beautifully presented, making the most of its stunning setting with breathtaking views.
After packing in a full day exploring, guests here can relax by the stone fireplace in the lounge, eat at the hotel's onsite restaurant or simply watch the sun set against the mountains. For location and luxury, this one is hard to beat!
Things to see on a road trip from Vancouver to Whistler
The road trip from Vancouver to Whistler offers some fantastic places to visit and things to do on the way. You could easily spend a couple of weeks, or more, seeing them all.
If you don't have that length of time at your disposal, then this list includes some of the best things you won't want to miss: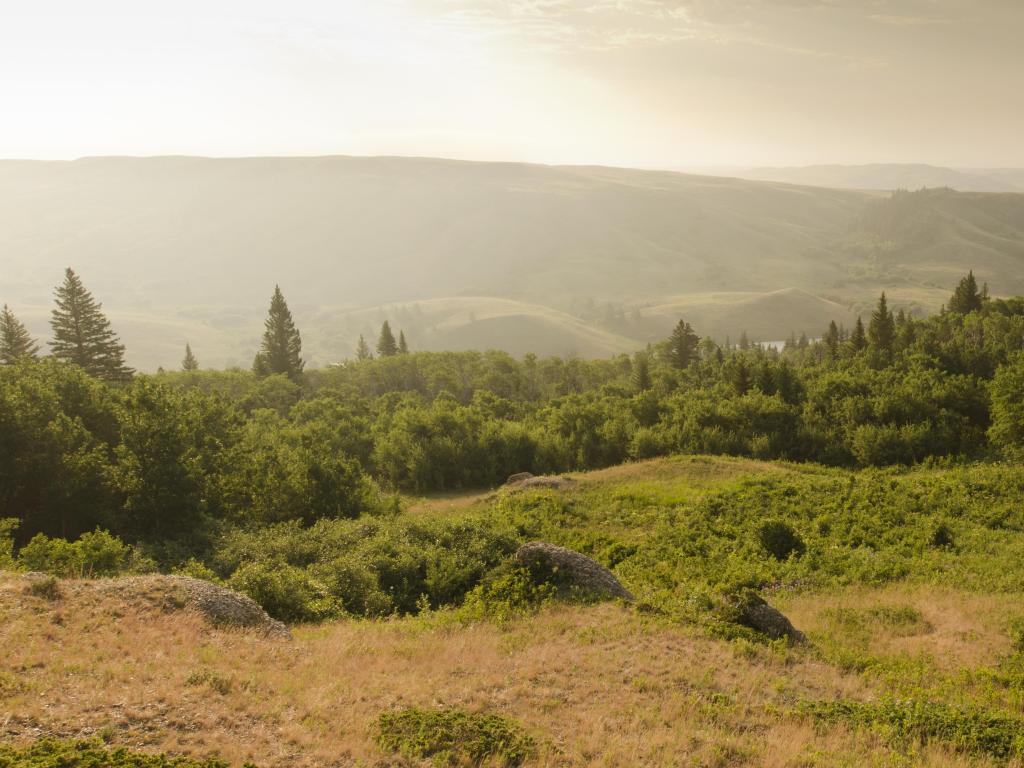 Capilano Suspension Bridge Park – 70-meter high suspension bridge that leads to a stunning treetop walk, where a series of bridges are connected along the tree canopy. This park also showcases some fascinating indigenous exhibits.
Cypress Provincial Park – Situated on the North Shore Mountains, this picturesque park is very popular amongst hiking and skiing enthusiasts. Enjoy great trails and stunning views of the surrounding area.
Lions Bay Beach Park – Located on the eastern shore of the Howe Sound, this well maintained park has a lovely grassy area and a pretty beach that has a protected swimming area.
Brunswick Beach – Discover a gravel beach that is set against the backdrop of a beautiful forest and accessed via a number of hiking trails.
Tunnel Bluffs Hike – Moderate hike to a viewpoint that showcases staggering views that look out towards Bowen Island, the Sunshine Coast and Horseshoe Bay.
Porteau Cove Lookout – This lovely park and campground is a popular spot for deep-sea divers. It also has a dock that conveys stunning views of the nearby islands.
Furry Creek Golf Course – Play a round at what is widely regarded as 'British Columbia's most scenic golf course'. This 18-hole course is surrounded by snow peaked mountains, towering pine trees and the gorgeous Howe Sound Bay.
Britannia Mine – A former copper mine that operated for 70-years until 1974 and once held over 60,000 people – making it the largest copper mine in the British Empire. Today it's a heritage site, with a great museum that showcases the history of the mine and the area.
Shannon Falls – Visit this gorgeous 335 meter waterfall with an impressive cascade and featuring a well looked after wooden boardwalk with excellent rock climbing opportunities.
Sea to Sound Gondola – 10-minute gondola ride that will transport you to Summit Lodge, where the views of the Howe Sound, the Coast Range mountains, the Stawamus Chief and the town of Squamish are absolutely magnificent.
Stawamus Chief Park – An imposing 700m high granite dome that soars imperiously above a collection of fjords known as the Howe Sound. Divided in three separate summits, they all have sensational panoramic views of the area.
Squamish – Surrounded by mountains and nestled at the northern tip of the Howe Sound, this lovely town is a great spot for hiking, wind surfing and rock climbing. It is also a convenient overnight stop to visit a number of other nearby attractions.
Alice Lake Provincial Park – A picturesque area known for its surrounding mountain views, bosky alpine forest, verdant grassy areas and four freshwater lakes. It's also a great spot for fishing, camping, swimming, canoeing and stand-up paddle boarding.
Tantalus Lookout – Sitting up on a 320-meter elevation, the views from this lookout are epic. Enabling you see inside the magnificent Diamond Head Crater, as well as the whole of Waikiki, and all the way to the ocean horizon.
Garibaldi Lake – A stunning turquoise lake accessed by a long hiking trail that takes you past meadows of pretty alpine flowers. The lake lies within Garibaldi Provincial Park, a wildlife protected area that features mountains, glaciers, forests and waterfalls.
Brandywine Falls – Spectacular 70-meter waterfall contained within a park that provides excellent opportunities for hiking and mountain biking. The park also has fabulous views of Daisy Lake and the surrounding mountains.
The Train Graveyard – One of the quirkier attractions along the route, discover the sight of where a train derailed in a forest in 1956. Subsequently graffitied, it is now a fascinating outdoor art exhibition.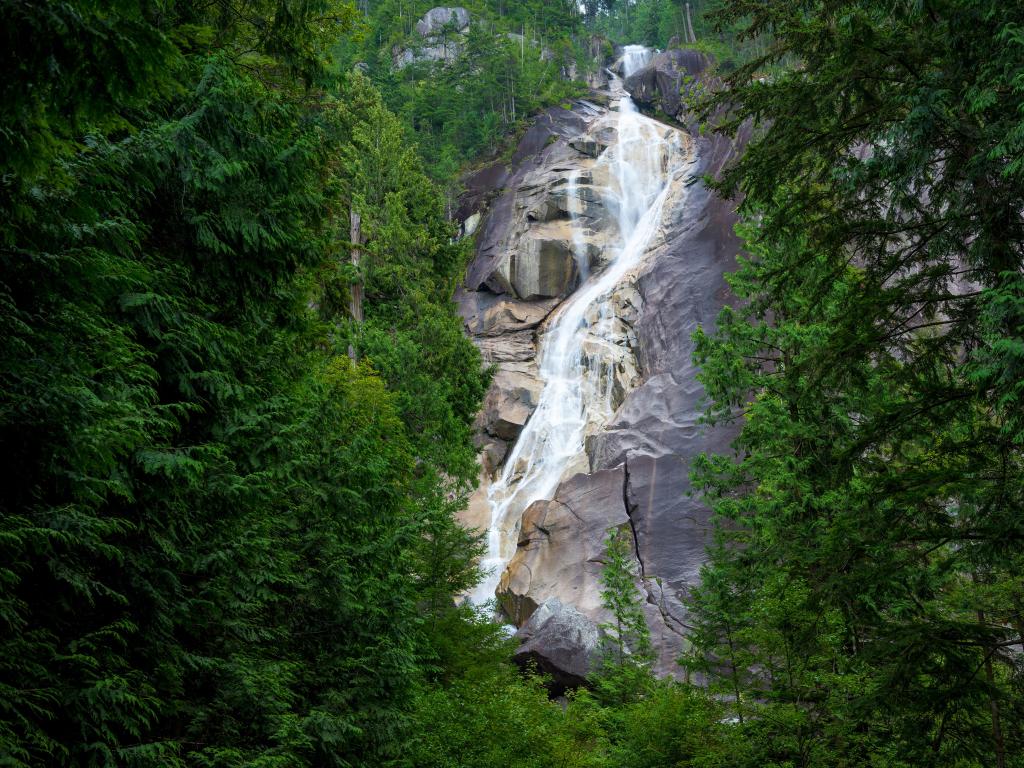 Best time to go on a road trip from Vancouver to Whistler
The road trip between Vancouver and Whistler can be undertaken all year round. That said, if you are hoping to ski, the best time to visit is between January to March. Visiting in winter means you will get fantastic scenery of snow covered mountains too.
Due to Whistler's coastal proximity, you will find temperatures in the winter months fairly moderate, averaging 12 degrees Fahrenheit. One draw back of travelling during this time however, is that hotel prices and visitor numbers will also be at their highest too.
You will also need to plan ahead and ensure you are prepared for driving through potentially snow-covered terrain - think snow chains, extra layers and plenty of supplies.
During April and May, with temperatures averaging between 22 and 37 degrees, Whistler emerges as an ideal destination for hiking. There's also stunning spring flowers to discover and the benefit of travelling during a quieter tourist season, means smaller crowds too.
You could also visit between June and July. The warmer weather, highs of 75 degrees, mean that you can make more of the coast on this road trip and spend some time on a beach or two.
Or if you'd rather avoid the summer crowds, this road trip can also be enjoyed during the fall, when the scenery is turning color and temperatures aren't yet too cold.
Finally, for those looking to combine the trip with a festival, as well as hosting a huge Pride and Ski Festival in January, Whistler is also known for its Beer Festival in September - a week of festivities that are sure to make your trip finish on a high.