Road Trip from Virginia to Orlando, Florida
Discover the beautiful Atlantic Coast and the many stunning cities on offer along the Eastern US on this road trip from Virginia to Orlando, Florida. Along the way, you'll have the chance to see some of the most beautiful beach towns and historic sites on offer along the Eastern Coast.
The 900-mile road trip from Virginia to Orlando, Florida will take you about 15 hours to drive. Highlights include Virginia Beach, Myrtle Beach, Charleston, Savannah, Charlotte, Augusta, Jacksonville, St. Augustine and South Carolina State Museum.
You'll be hard pressed to find a more beautiful route from Richmond, VA down to Florida's most-visited city, Orlando. Keep reading to discover all the fabulous adventures that await you on this once-in-a-lifetime trip.
How far is Orlando, Florida from Virginia, and how long will the road trip take?
Comparison of road trip routes between Virginia and Orlando, Florida

| Route | Distance | Driving Time |
| --- | --- | --- |
| The Charlotte Route | 900 miles | 15 hours |
| The Coastal Route | 980 miles | 18 hours |
Getting to Orlando, Florida from Richmond, Virginia via the Coastal Route will take you about 18 hours in total, and you'll be crossing just over 980 miles. This time and distance don't include detours or gas breaks and overnight stays.
You could also take the slightly shorter, but just as lovely Charlotte Route. This route crosses just over 900 miles and will take you about 15 hours to drive, again not including any stops or breaks you might take along the way.
Both routes have their own unique set of characteristics that will inevitably make a fabulous trip either way, so we suggest taking at least 4-5 days to enjoy the attractions, sights and experiences on offer.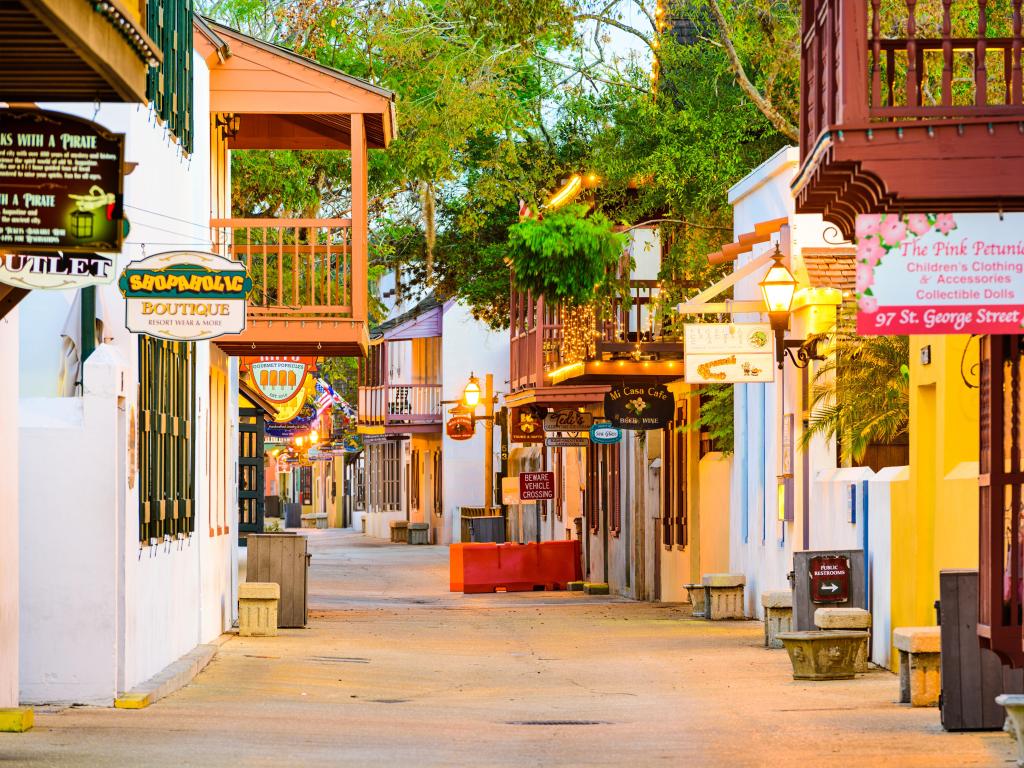 Looking to extend your trip? Our Ultimate Florida Road Trip Itinerary has got you covered!
READ MORE - Ultimate Florida Road Trip Itinerary
Best road trip route from Virginia to Orlando, Florida
We've got two unforgettable routes mapped out for you that will take you from Richmond, Virginia down through Florida to the beautiful city of Orlando. When it comes to choosing which way to go, it really comes down to what sort of vacation you're looking for.
The Coastal Route will take you through the Atlantic Coast, stopping at a variety of beach towns and stunning cities including Virginia Beach, Myrtle Beach and Charleston before merging with the Charlotte Route near Savannah.
This leisurely route also includes a visit to the beautiful and luxurious Hilton Head Island, with the option to add Jacksonville as a stop. It's the ultimate route for ocean and beach lovers.
The Charlotte Route is an in-land route that allows for a really thorough exploration of North Carolina, stopping in cities like Durham, Raleigh and of course, vibrant Charlotte.
If you're worried about not getting to explore the coast, don't worry—this route joins the Coastal Route at Savannah and meanders along the Atlantic from there.
This fabulous route also includes drives through stunning natural spaces, including a stretch along the Francis Marion & Sumter National Forests.
How to drive from Virginia to Orlando, Florida
The map above shows our suggestions for the best road trip routes between Virginia and Orlando, Florida. Keep reading for detailed descriptions of both routes, where to stay on either, and the best things to do on the way.
The Coastal Route
You'll start in Richmond, which you'll exit via Interstate 64 (I-64) following this route through Newport News to beautiful Virginia Beach. From there, you'll turn back towards Chesapeake and follow US-17 down through to the coast and all the way down to Wilmington.
From there, continue along this same road to Myrtle Beach, then past this beautiful beach town and the Francis Marion National Forest to Charleston and, just a little bit further, to Hilton Head Island. Spend a night in Hilton Head before heading back on the road to Savannah.
Once you've reached Savannah, you can hop onto I-95 and follow this route down through Jacksonville and past Jacksonville Beach to St. Augustine, beautiful historic beach-side town. From there, get back on I-95 and then take I-4 to Orlando.
If you want the definitive Florida experience, check out our Ultimate Florida Road Trip Itinerary.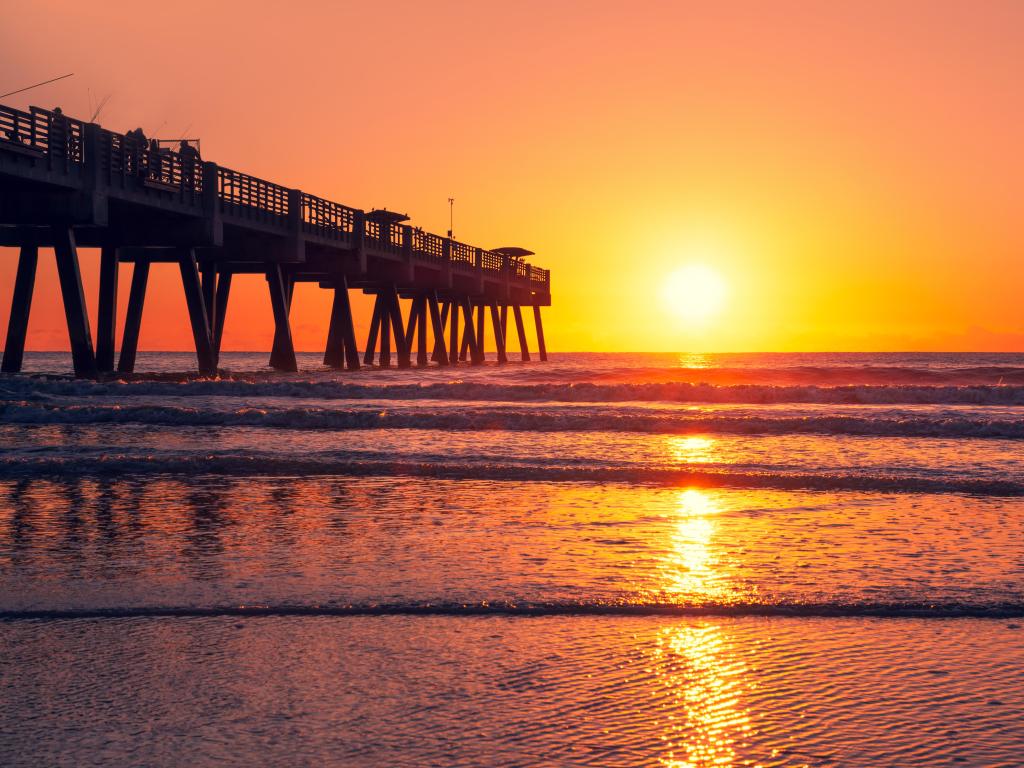 The Charlotte Route
For the Charlotte Route, take I-85 towards Durham and the nearby city of Raleigh, where we definitely recommend you stop for a day or two. From there, you'll continue back onto I-85 towards Charlotte, another fabulous city.
Take I-77 from Charlotte down to Columbia, which is quite close to Augusta, another beautiful stopping point and a signature southern town that's worth exploring for a few days.
From there, take US-21 down to Savannah, at which point you can follow the same path as the Coastal Route all the way down the beautiful East Coast to Orlando, Florida. Make sure to stop in St. Augustine along the way, a highlight of both routes.
If you have more time and want to explore Florida further, here is our Ultimate Florida Road Trip Itinerary.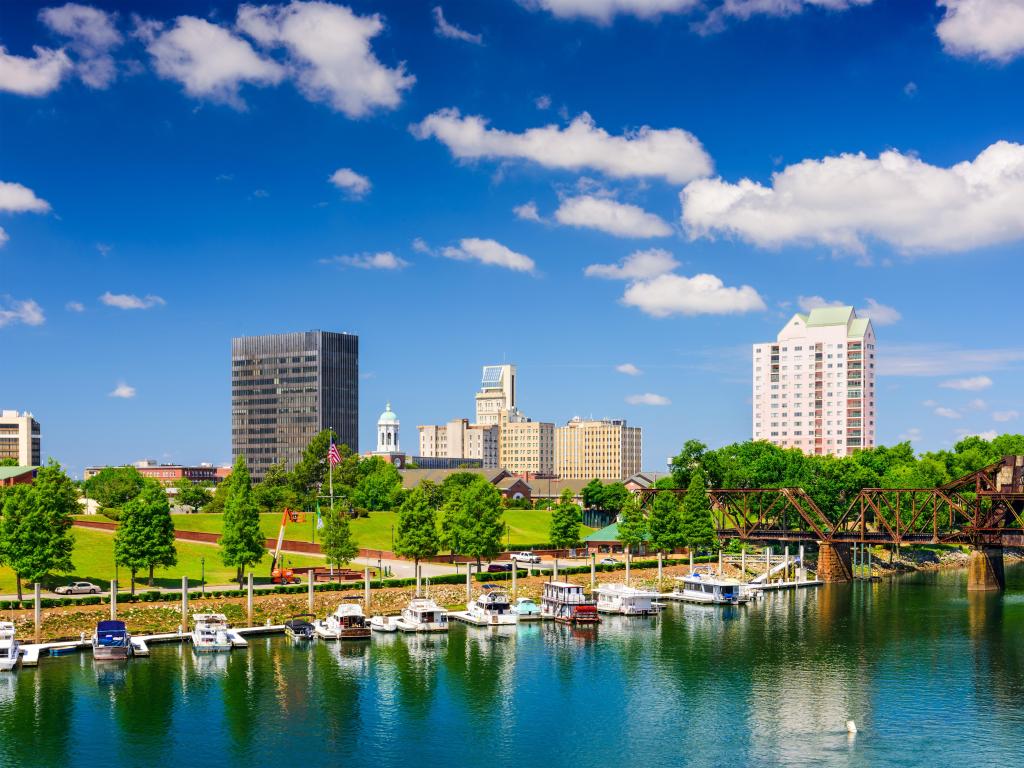 Best places to stop between Virginia and Orlando, Florida
With so many amazing places en route and many miles to cover, you will want to make several stops and rest while enjoying the amazing places you will drive through. Below are our favorite places to relax and unwind on this amazing road trip from Virginia to Florida.
Coastal luxury in Hilton Head Island
No visit to the Eastern Coast is complete without a stop in stunning Hilton Head Island, located just over the halfway point of the Coastal Route. With its stunning beaches and celebrated golf courses, Hilton Head is the ideal spot to stay overnight while exploring the gorgeous Southern Carolina coastline.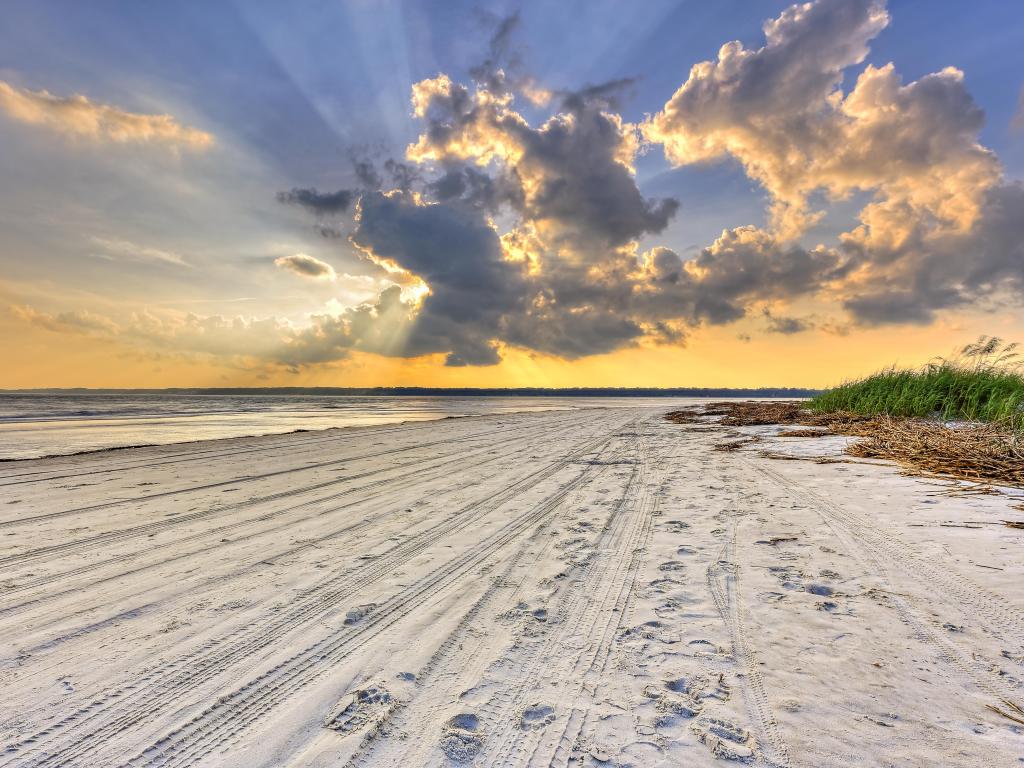 Voted one of the best vacation destinations in the world several times over, Hilton Head Island is tied together by beautiful walking trails (so you can leave your car behind to explore) and has tons on offer when it comes to attractions.
We recommend checking out the Coastal Discovery Museum, a historic museum offering exhibits on the island's history; you could also check out Coligny Beach Park, the largest park on Hilton Head Island.
If you're looking for a place to stay during your visit to Hilton Head, look no further than the Inn and Club at Harbour Town. A beautiful and stylish boutique hotel that highlights their Scottish heritage and English-style service, the Inn and Club at Harbour Town is located steps from Hilton Head's stunning beach.
The hotel boasts a fabulous outdoor pool and a charming fireplace in the lobby where you can relax after your excursions. The Inn and Club also grants guests access to a full-service spa for the ultimate pampering.
You'll be able to enjoy several on-site dining options and a 24-hour butler service for the ultimate luxurious experience.
Best of all, the Inn and Club is located a short distance from the shoreline with easy access to the beach; it also offers access to some amazing golf courses and is walking distance to both Hilton Head's Harbour Town and the beautiful Harbour Town Lighthouse.
Take a stroll in the historic heart of Savannah
Savannah, located in the beautiful southern state of Georgia, is a stopping-point on both routes and makes for the perfect overnight destination regardless of which way you decide to get to Orlando, Florida.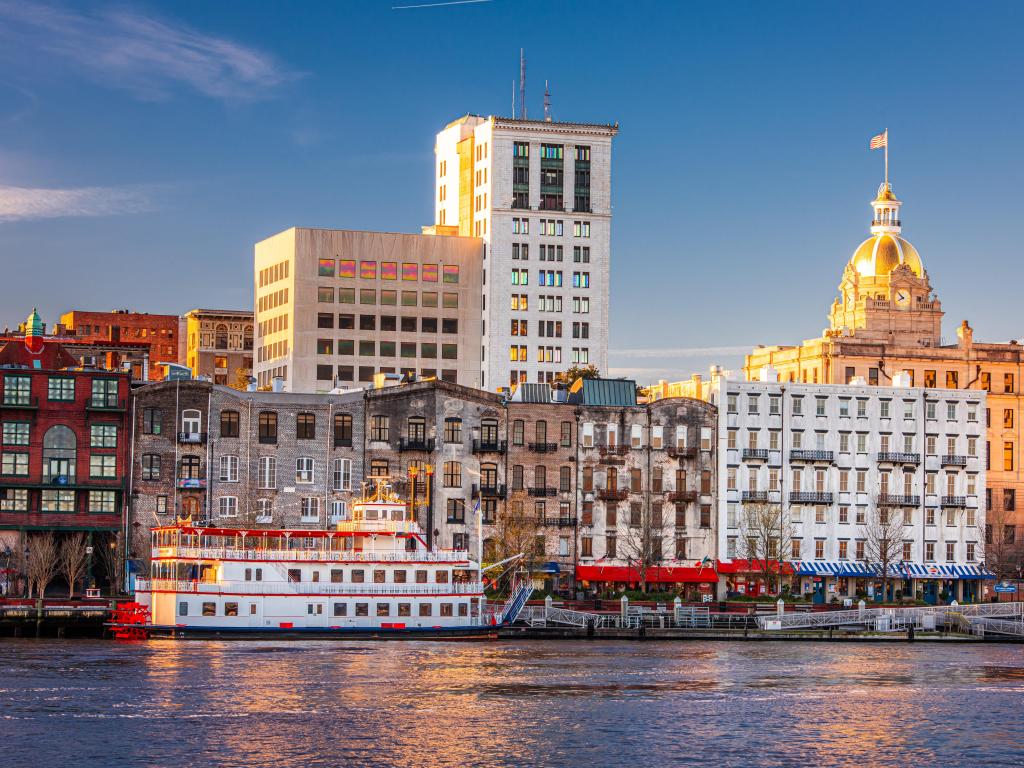 Located about two-thirds of the way to your final destination, this historic city is known for its beautiful architecture and stunning coastal landscapes. It's got tons on offer for visitors, including a gorgeous historic district with picturesque cobblestones streets as well as some unique museums and historic mansions.
While visiting Savannah, we highly recommend checking out Forsyth Park, one of this state's most famous parks and the ideal spot for a stroll or a picnic during the summer.
For the architecture fans, make sure to visit the Cathedral Basilica of St. John the Baptist; and if you're looking for a unique museum experience, then make sure to visit the Georgia State Railroad Museum.
When it comes to finding a place to stay, as usual we've got you covered with the beautiful JW Marriott Savannah in the historic Plant Riverside District.
Comprised of three unique buildings that house a full-service spa and several fabulous dining options, this hotel is also walking distance from most of Savannah's most notable attractions. Best of all, it's located close to the highway so that you can easily get back on route towards Orlando in the morning.
Where to stay when you reach Orlando, Florida
We've picked a couple of options for accommodation in Orlando, because we recognize that a theme park and city vacation require different kinds of accommodation.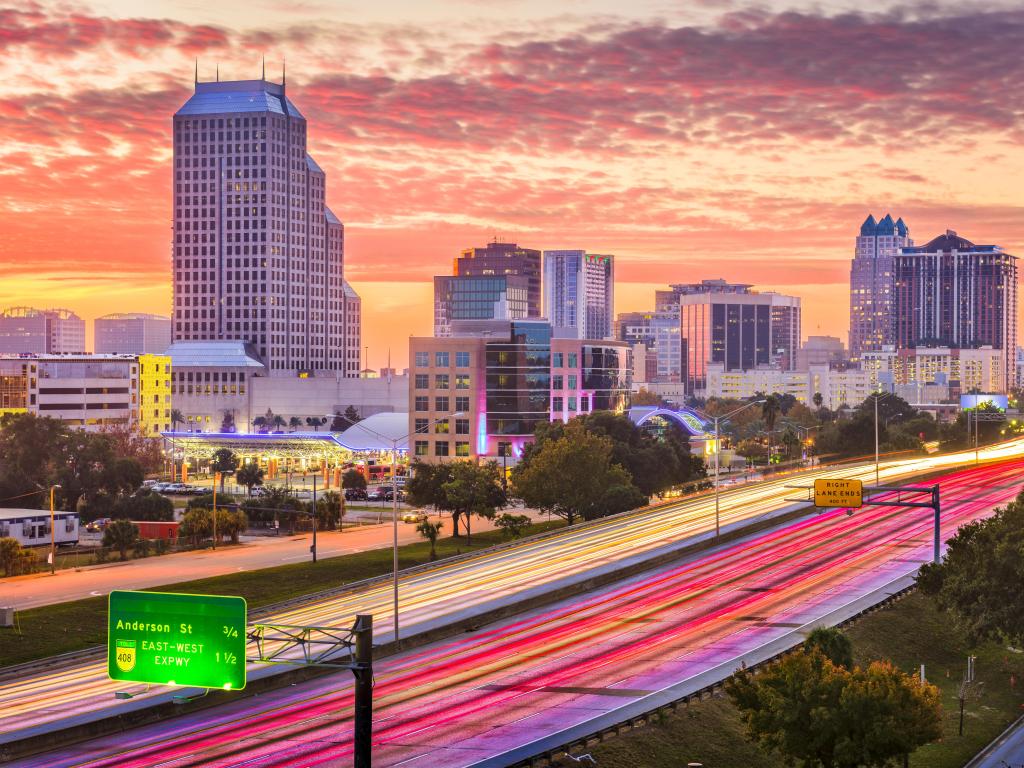 If you're looking to visit Orlando for the theme parks, we recommend staying at the fabulous and very luxurious Four Seasons Resort Orlando at Walt Disney World Resort. This iconic, AAA Five Diamon Resort is dotted with stunning gardens, pools and towering pillars of palms and cypress, and offers a luxurious salon and spa to boot.
You can choose from six on-site restaurants for dinner, and enjoy a private, five-acre water park on site as well. The Four Seasons is in the top 1% of Trip Advisors Luxury Hotels Worldwide—it doesn't get more iconic than this!
For those looking to discover the city of Orlando, we recommend the Grand Bohemian Hotel Orlando. This hotel is truly the perfect choice for city-explorers, located right in the center of Orlando's Arts District and boasting two on-site restaurants: La Boheme and the Bosendorfer Lounge.
On top of that, you'll have access to a rooftop swimming pool with panoramic city views, as well as a fitness center and (our favourite part) a complimentary breakfast.
Things to see on a road trip from Virginia to Orlando, Florida
There's truly an abundance of attractions and sights along your route that make for ideal stopping points. Keep scrolling to discover some of our favourite stops along the way.
The Coastal Route
Military Aviation Museum - Add a half-hour to your route and explore the Military Aviation Museum, offering a look at some vintage warplanes in their sizeable hangar.
Mary's Gone Wild - This free and quirky attraction is home to the Folk Art Garden and Doll Village and is dedicated to displaying the works of American artist Mary Paulsen.
The Swamp Park - If you're feeling up for an adventure, take a gander at this state-of-the-art outdoor amusement park that boasts zip-lines and eco-boast tours.
River Island Adventures - Discover this river adventures park, where you can take a guided kayak tour or indulge in a Gourmet S'mores Night.
Myrtle Beach - A highlight of this route, Myrtle Beach is one of the most popular beach towns along the East Coast and is definitely worth spending a night or two exploring its beautiful coastal sights.
Angel Oak - Snap a pic with the Insta-famous Angel Oak Tree, over 60 feet fall and with a wide canopy of beautifully tangled branches.
Charleston Tea Garden - If you're a tea lover, then the Charleston Tea Garden, complete with a gift shop and factory tours, is for you.
Coastal Discovery Museum - Take a detour to this museum, a learning center that offers exhibits and experiences within its massive 68-acre property.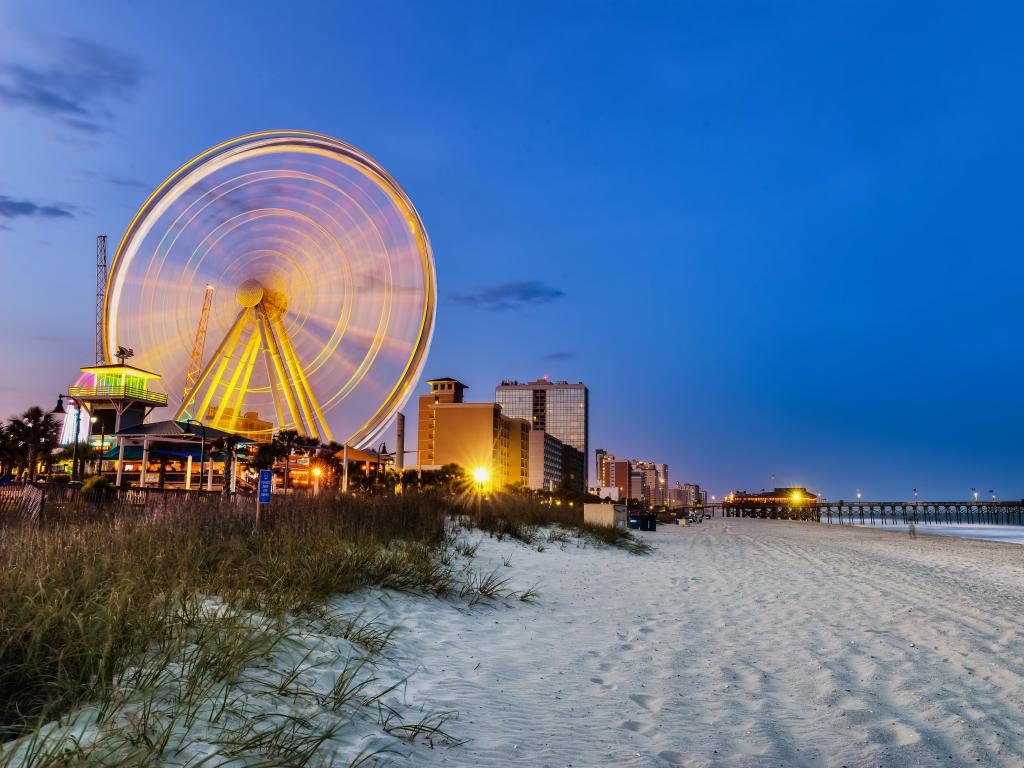 The Charlotte Route
Pullen Park - Visit America's fifth-oldest amusement park, complete with a carousel, paddle boats, an adorable mini-train and so much more.
South Carolina State Museum - For the art aficionados, this beloved contemporary museum offers tons of interesting exhibits on a variety of subjects.
Redcliffe Plantation State Historic Site - This former plantation, now a museum, is dedicated to exploring and showcasing the legacy and history of slavery in the US.
Splash in the Boro Waterpark and Aquatics Center - Just twenty minutes off this route you can take a swim at Splash in the Boro Waterpark, which boasts a wave pool, lazy river and flow rider among its many attractions.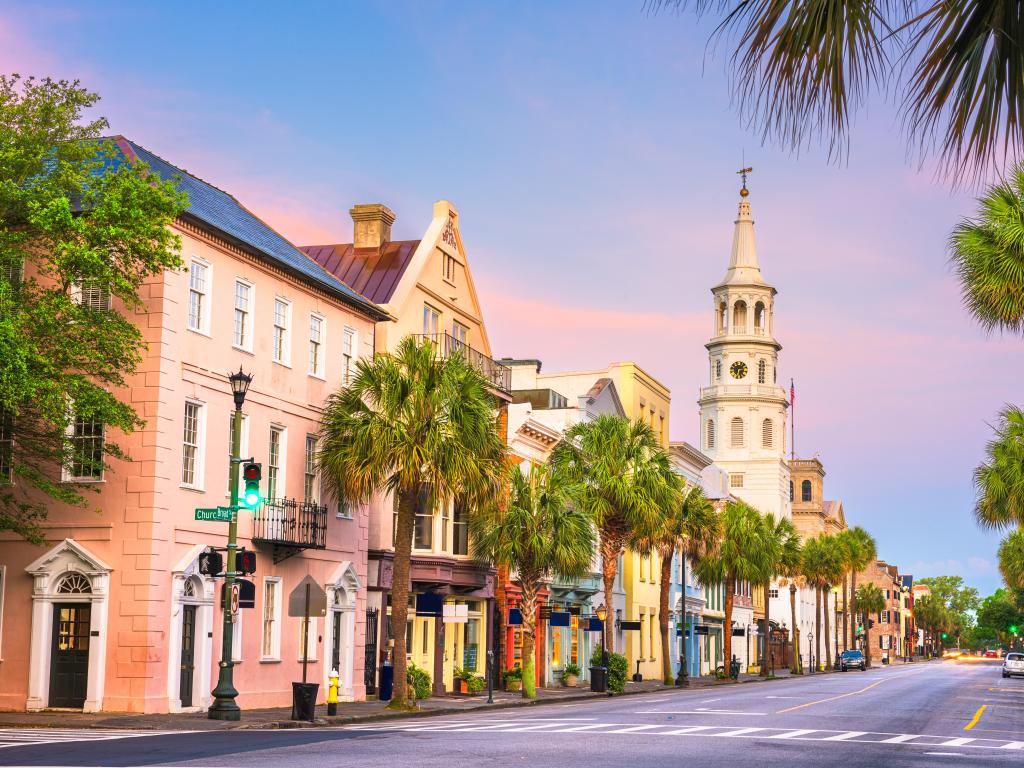 Both Routes
Savannah, GA – You'll love this relaxing and historic city, a must-see along both routes and known for its many unique museums and the stunning Forsyth Park.
Pinball Palace – This quirky arcade was voted one of the best Pinball Arcades in the USA. That isn't surprising as it is home to an impressive number of pinball machines that approach 100, as well as 40 classic arcade games and 3 bouncy castles.
Jacksonville – Check out Jacksonville, home to the largest urban park system in America and with tons on offer, including some fabulous restaurants and lively nightlife.
St. Augustine Alligator Farm Zoological Park – Visit this 100-year-old alligator sanctuary, offering daily wildlife shows and a thrilling zipline ride.
Ponce de Leon Inlet Lighthouse & Museum – Discover this historic brick-and-granite lighthouse, declared a National Historic Landmark in 1998.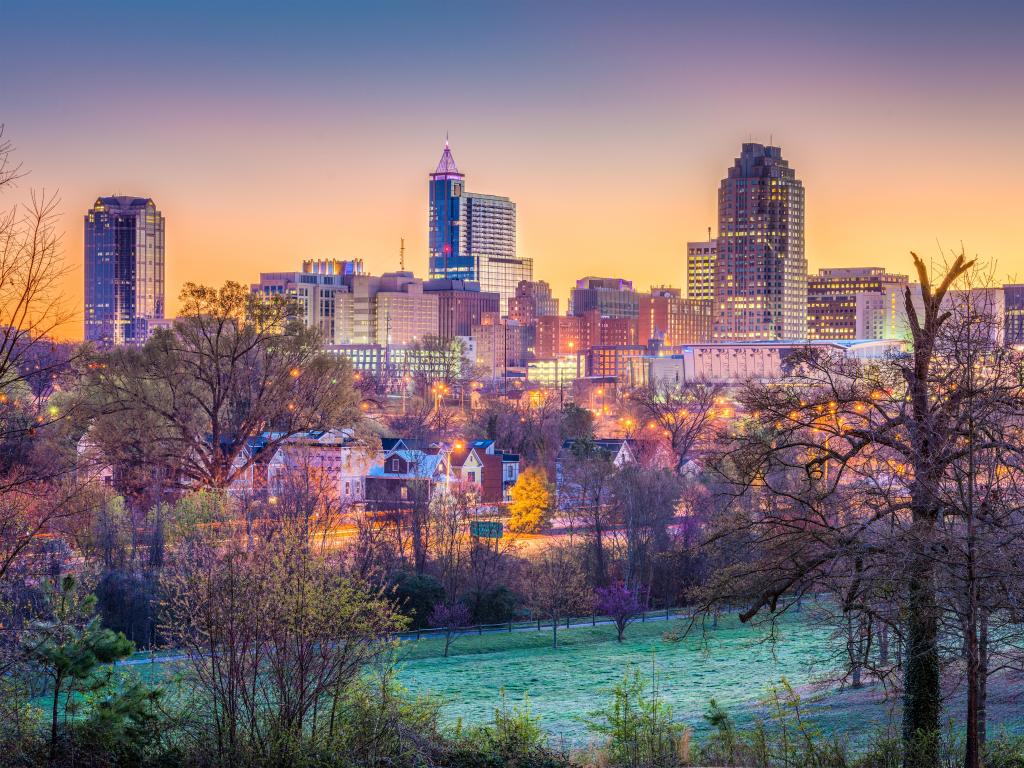 Best time to go on a road trip from Virginia to Orlando, Florida
You can visit Orlando any time of year, as this part of Florida receives truly gorgeous weather year-round. Ultimately, when you decide to visit depends on what sort of vacation you're looking for and what attractions you're interested in enjoying!
If you're visiting in the summer, be prepared for some gorgeous but hot weather. The summers in Orlando are typically quite long and somewhat cloudy/wet, with daily temperatures that feel between the 69 and 91 degrees Fahrenheit range.
This is the busiest tourism period for the many theme parks in this city, so be aware of that as you plan your trip.
Winter is a great time to visit Orlando if you aren't in it for the beaches and if you're looking to experience Orlando's theme parks without very busy crowds (except for the holidays, of course).
Be aware that some rides may be closed due to temperature, which will range between 50 and 75 degrees Fahrenheit, sometimes dipping down to 40 degrees Fahrenheit.
Spring and fall are both fantastic times to visit Orlando as they're considered this city's shoulder seasons, which means you can expect less tourism while still enjoying some gorgeous weather. Average temperatures for these seasons range between mid-fifties and mid-seventies Fahrenheit.
There's an abundance of festivals and events in Orlando year-round, and here are a few of our favorites: the Orlando Renaissance Festival and Light Up UCF in winter, Girls in Wonderland and the Florida Strawberry Festival in summer, and the Florida Puerto Rican Parade & Festival in the spring.