How long does it take to drive Skyline Drive?
Located in Virginia, Skyline Drive is a stunning scenic route that runs through the beautiful Shenandoah National Park. Joining up with the fabulous Blue Ridge Parkway, Skyline Drive is the perfect choice for a short city escape or as the start of a longer road trip.
The Skyline Drive travels 105 miles along the Blue Ridge Mountains through Shenandoah National Park. It takes 3 hours and 10 minutes to drive the whole route, or longer if you immerse yourself in its plentiful trails and overlooks.
Keep on reading to find out more about the beautiful Skyline Drive, different ways to join up, our recommended sections of this drive and discover how to get the most out of your journey.
How long does it take to drive Skyline Drive?
If you don't make any stops along the way, it takes just over 3 hours to drive the Skyline Drive between Front Royal Entrance Station and Rockfish Gap Entrance Station.
Of course, you can drive this road in either direction. If you head south, you'll be ascending the Blue Ridge Mountains as you travel, while driving north means you'll start at higher elevations.
With 105 miles of scenic overlooks to enjoy, we suggest allowing at least 3 hours to pause and take in the view as you travel through Shenandoah National Park.
With a 15-minute stop every 20 minutes or so to take in the views from the many scenic overlooks, plus some extra time in case of congestion, your journey time is likely to be closer to 5-6 hours if you're driving the entire length of the Skyline Drive.
You can also complete a section rather than the entire 105 miles by joining the road at either 31.5 miles or 65.5 miles at the Thornton Gap Entrance Station or Swift Run Gap Entrance Station, respectively.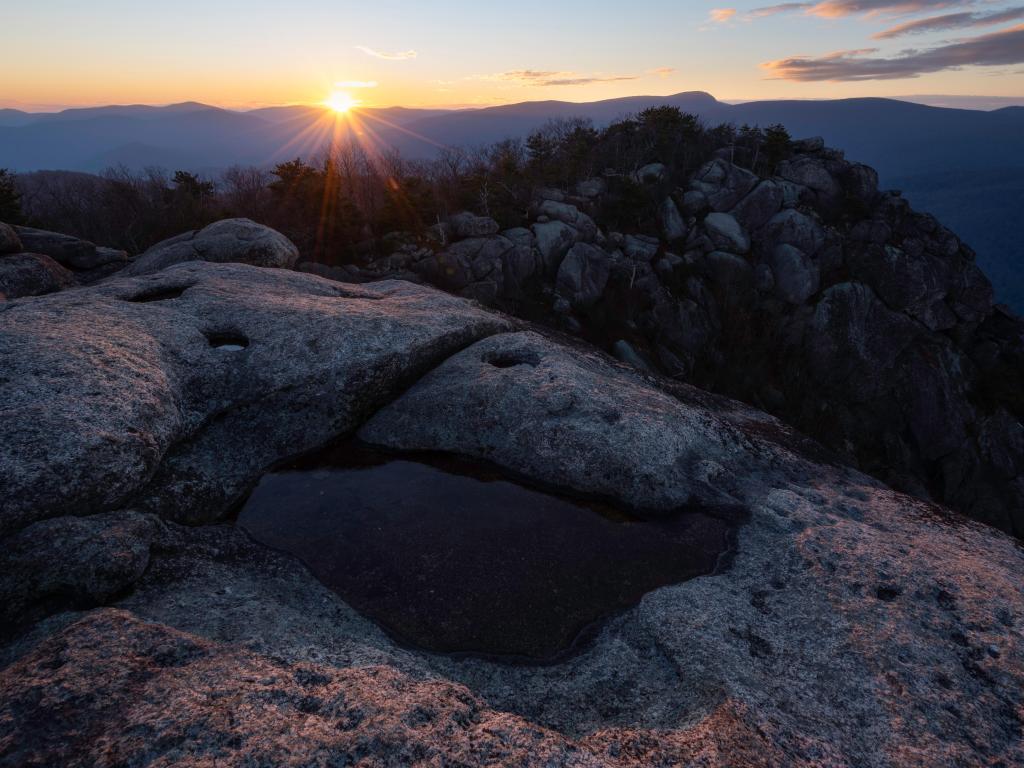 It takes 2 hours and 10 minutes to drive the stretch from Thornton Gap or 1 hour 10 minutes from Swift Run Entrance Station, plus time for stops along the way.
Although it's not necessary to stop overnight to appreciate the scenic lookouts of Skyline Drive, it's also a popular 2-day trip out of Washington DC or other nearby cities. This means you'll have time to explore some of the forest trails easily accessed from Skyline Drive.
Please note that if you'd like to visit Old Rag in Shenandoah National Park, you might need to pre-book a day-use ticket here.
Driving the Skyline Drive from Front Royal to Waynesboro
If you're driving the entire length of Skyline Drive, you'll start at Front Royal, which is a mile or so off Interstate 66 (I-66). From the town, make your way to the Front Royal Entrance Station and enjoy the view as the road rises up to follow the ridge of the mountains southwards.
This is a straightforward route to navigate since you'll be following a single road all the way to Waynesboro. Just take your time as the road winds its way along the ridge.
There are numerous pullovers beside the road where you can stop to take in the view or to follow the clearly marked trailheads. Just past the Hawksbill Loop Trailhead and Rose River Falls, you'll reach Harry F. Byrd Sr Visitor Center, a great place to stop to learn more about the park's wildlife and history.
Skyline Drive continues south, crossing US-33, then passing Bacon Hollow and Brown Mountain Overlooks.
Once you've reached the Rockfish Gap Entrance Station at the southern end of Skyline Drive, simply take the exit towards I-64, which leads you into Waynesboro.
Alternatively, you can continue straight ahead for an even longer road trip adventure as Skyline Drive becomes the Blue Ridge Parkway, which will take you all the way down to Cherokee, North Carolina.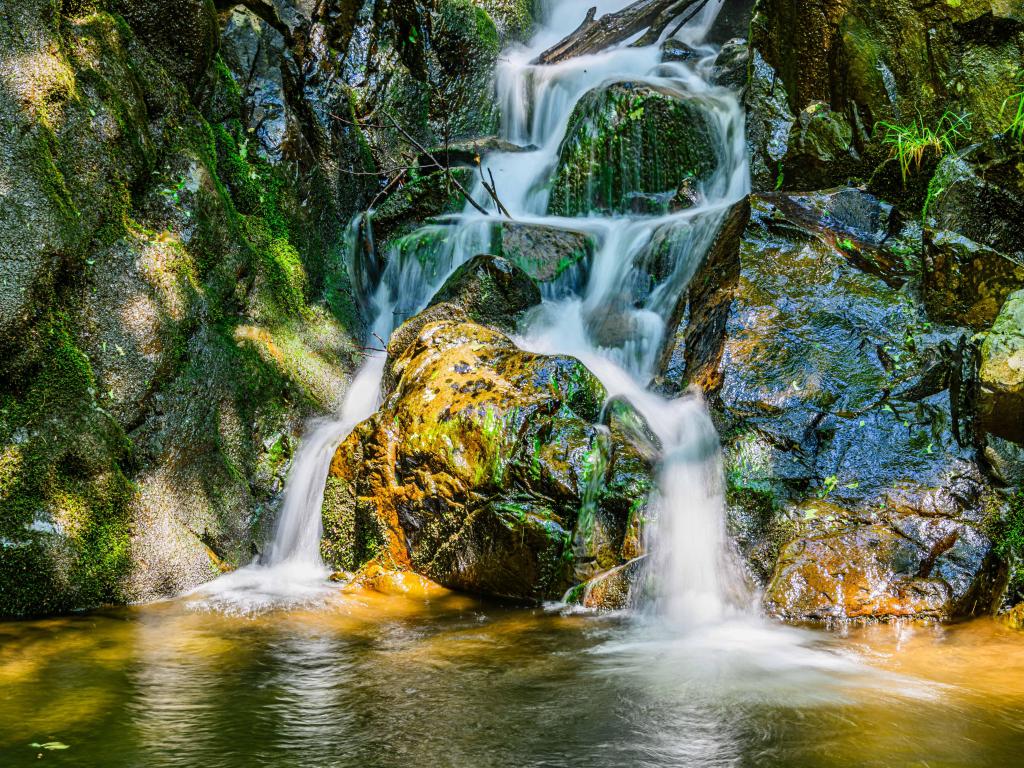 Although you can easily drive this route without an overnight stop, many visitors choose to book into campsites in order to enjoy Shenandoah National Park at night. This also makes for a more leisurely experience, meaning you can hike more of the national park's fabulous trails.
If you'd prefer to camp, Lewis Mountain Campground is ideally situated halfway along Skyline Drive. Note that this popular campground closes between mid-November and late March, so check ahead for availability whether you plan an off-season or mid-summer trip.
Note that you'll have to pay a fee to drive this route as it travels through a national park. This is currently $30 per vehicle at the time of writing.
Driving from the Thornton Gap Entrance
For a mid-length trip along Skyline Drive, you can also join the road at the Thornton Gap Entrance, which is accessed from US-211 between Luray and Sperryville.
From here, you'll pick up the same route as travelers driving the whole length of Skyline Drive, just starting further south. After a few miles, you'll pass Harry F. Byrd Sr Visitor Center and many of the national park's most picturesque views.
This route also takes you to the Rockfish Gap Entrance Station, from where you can continue your journey via Waynesboro or Richmond.
This section of the Skyline Drive will take 2 hours and 10 minutes to drive non-stop, but we'd recommend at least 90 minutes extra for stops along the way.
That allows you to make 6 stops, roughly once every 20 minutes along this stretch of the drive, taking your total trip time to about 3 hours and 40 minutes.
Driving the Swift Run Entrance Route
If you only have time for a quick taste of the Skyline Drive, consider joining at the Swift Run Entrance. Leaving I-81 at Harrisonburg, take US-33 through Elkon until you reach the entrance to Shenandoah National Park.
On this shorter route, you can still see some spectacular lookouts, including Sandy Bottom Overlook, Simmonds Gap and Horsehead Mountain. As with our other routes, you'll exit the Skyline Drive at Rockfish Gap.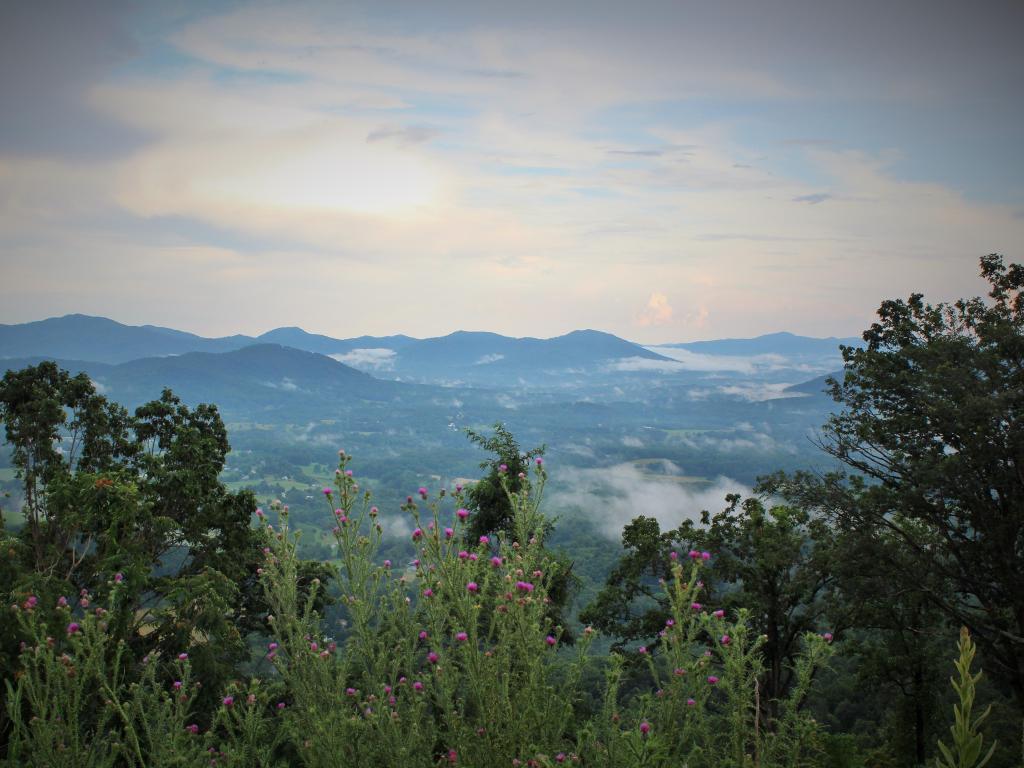 Following the Skyline Drive between Swift Run Entrance and Rockfish Gap will take around 2 hours 30 minutes if you include some time to stop along the way.
We've planned a 15-minute stop for every 15 minutes of driving, but with so many viewpoints to enjoy, you might find that your drive takes a lot longer!
Where is Skyline Drive located?
Skyline Drive runs through the Appalachian Mountains in Virginia's Shenandoah National Park. It begins around 75 miles southwest Washington DC, and ends near Waynesboro, which is connected to Charlottesville and the state capital, Richmond, via I-64.
Check out the table below for travel times from different starting points to help plan your trip. Note that, if you're starting further south, we'd suggest joining the Skyline Drive at Rockfish Gap entrance and heading north.
Table showing the distance to Skyline Drive from major US cities

| From | To | Distance | Driving Time |
| --- | --- | --- | --- |
| Washington, DC | Front Royal | 70 miles | 1 hour 15 minutes |
| Baltimore, MD | Front Royal | 110 miles | 2 hours |
| Pittsburgh, PA | Front Royal | 220 miles | 3 hours 50 minutes |
| Charlotte, NC | Rockfish Gap | 280 miles | 4 hours 15 minutes |
| Knoxville, TN | Rockfish Gap | 360 miles | 5 hours 15 minutes |
| Atlanta, GA | Rockfish Gap | 510 miles | 8 hours |
* Distances/times are shown to the entrance station.
Things to know that can impact your driving time
As you might expect on such a popular drive, traffic is likely to be the main thing that will impact your driving time.
The entrance stations are where you'll most likely have to queue at busy times such as holiday weekends or the summer vacation period, with Front Royal sometimes seeing waits of up to 2 hours. If you're joining at the other entrance stations, delays are usually much less significant.
As you progress along the road, it's not uncommon to find yourself stuck behind a slower-moving vehicle that you don't have space to pass, but with so many overlooks and visitor centers to call in at, you probably won't be slowed down for long.
Plus, given that the speed limit along much of the Skyline Drive is just 35 MPH, you won't be taking any of the routes at high speed.
Although it's a year-round road, Skyline Drive attracts more visitors at certain times of year. The summer vacation through June, July and August is a predictably busy time.
However, late September and October are the busiest months of all, with travelers drawn to see the spectacular fall foliage.
During winter, adverse weather conditions can result in road closures at times. However, allow extra time in winter, as you should always take this two-lane road carefully if there's a risk of ice.
The number of stops you'll need to take will also impact your total travel time. This is a completely personal decision, but if you stop at 8 of the overlooks for 15 minutes, this will add another 2 hours to your journey.
One final thing to factor in is that there are very few entrances to Skyline Drive. You can only exit or begin your drive at the four entrance stations that we've mentioned, so it's not possible to dip into short sections of the route without turning back towards the entrance station you arrived at.
Tips to drive the Skyline Drive in the shortest possible time
If you'd rather spend less time on the Skyline Drive waiting in line, and more of it admiring the views, enjoying an open-air picnic, and hiking the trails, then there are a few things you should factor into your planning.
Congestion at Front Royal Entrance Station is worst at around 9am in peak periods, so try to arrive at the entrance station earlier in the day, or wait until the afternoon if that fits with your travel plans.
Seasonal peaks also contribute to longer delays, so unless you're fixed to the summer vacation period or set on seeing the Fall colors, consider traveling at a different time of year.
With this in mind, here are our top tips for driving the route in the most comfortable way:
Have two drivers so you can take turns, stay alert and get your fair share of time to enjoy the view.
Start your drive early (6am-7am) in the morning to avoid heavy traffic.
Choose midweek over weekends for a less crowded trip.
Plan your trip in spring for fewer tourists.
Pack snacks and entertainment to minimize stops.
Research and prioritize the 70+ overlooks.
Opt for shorter hiking trails to save time.
If you prefer a shorter drive, use Thornton Gap or Swift Run Gap entrances for a partial Skyline Drive experience.
Check for winter closures on Shenandoah's alert system.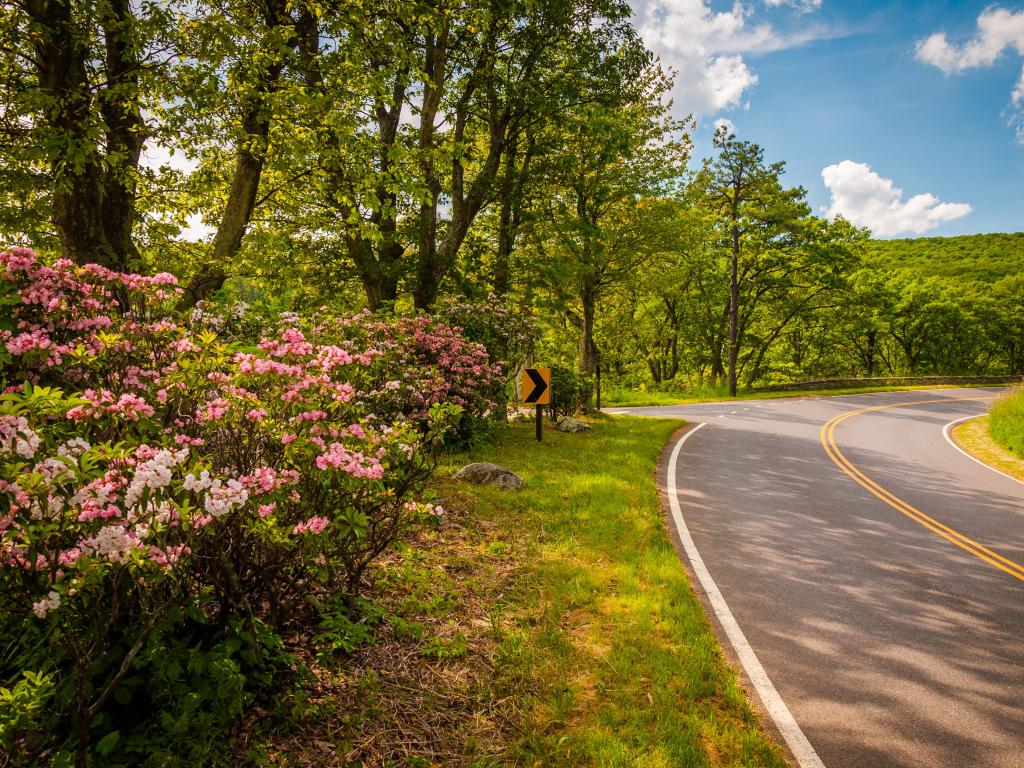 Things to see on Skyline Drive
The Skyline Drive is all about its views and forest trails, so you'll be spoilt for choice when it comes to picking places to pause and appreciate the stunning landscape.
Although there are over 70 overlooks on the road, we've whittled it down to 8 stops to help you prioritize your drive.
Dickey Ridge Visitor Center - Perched at the northern end of Skyline Drive, the Dickey Ridge Visitor Center offers panoramic views of the Shenandoah Valley, serving as a comprehensive introduction to the park's natural wonders.
Thornton Hollow Overlook - A serene vantage point, Thornton Hollow Overlook reveals the lush expanse of Thornton Hollow with undulating hills and a patchwork of forest shades, particularly striking during fall foliage.
Stoney Man Overlook - Providing one of the highest elevation viewpoints, Stoney Man Overlook boasts a bird's-eye perspective of the park, with distant views of the Appalachian Highlands.
Limberlost Trailhead - A gateway to an accessible circuit trail, the Limberlost Trailhead introduces hikers to a diverse mix of habitats, from greenstone outcrops to mountain laurels, exemplifying Shenandoah's biodiversity.
Hawksbill Loop Trailhead - The trailhead to the highest peak in the park, Hawksbill Loop offers adventurers the promise of expansive vistas from the summit and an intimate exploration of Shenandoah's rugged beauty.
Dark Hollow Falls Trailhead - Starting point for one of the park's most popular trails, this trailhead leads hikers down to the cascading beauty of Dark Hollow Falls, a picturesque waterfall set amidst dense greenery.
Harry F. Byrd Sr. Visitor Center - Nestled at Big Meadows, the Harry F. Byrd, Sr. Visitor Center is both an educational hub, detailing the park's history and ecology, and a vantage spot offering vast meadow views teeming with wildlife.
Brown Mountain Overlook - A mesmerizing spot especially during sunsets, Brown Mountain Overlook unveils a vista of Brown Mountain's undulating terrain, bathed in hues of gold and crimson during the fall.
Whether you're in the mood for photographing unforgettable landscapes, or lacing up your hiking boots to explore the trails, a road trip along Skyline Drive is the perfect way to escape the city for a day and appreciate the great outdoors.