Where does the Blue Ridge Parkway start and end?
Taking you through the stunning Appalachian Mountains, the Blue Ridge Parkway is a spectacular scenic drive that will take your breath away. Whether you're a hiker, a photographer, or simply dreaming of driving through those winding mountain roads, it's one of those fabulous road trips that really lives up to its reputation.
The Blue Ridge Parkway starts outside Waynesboro, Virginia and winds a 469-mile route through the mountains towards Cherokee in North Carolina. The amazing sights en route are Grandfather Mountain, Linville Falls, Mount Mitchell and Linn Cove Viaduct.
Known as "America's Favorite Drive", the stunning Blue Ridge Parkway is the perfect opportunity to slow down the pace, pull off the interstate and take some time to enjoy the natural wonders around you.
Where is Blue Ridge Parkway located and where does it start and end?
The Blue Ridge Parkway runs through the states of Virginia and North Carolina on the eastern side of the United States. It's a 469-mile scenic highway that travels through the Blue Ridge Mountains, part of the Appalachians.
If you're following the mileposts in order, the route runs from north to south, though of course, it's possible to follow this stunning route in either direction.
If you're heading south the road starts near Waynesboro, just outside Shenandoah National Park, then heads through Rockfish Gap, Virginia.
The road takes you all the way to Cherokee, North Carolina, close to the Great Smoky Mountains National Park.
If you're traveling the whole route, just pick the direction that works best from wherever you're starting out. If you're joining part way along the route you can choose to head either north or south – this depends on your onward travel plans more than anything else.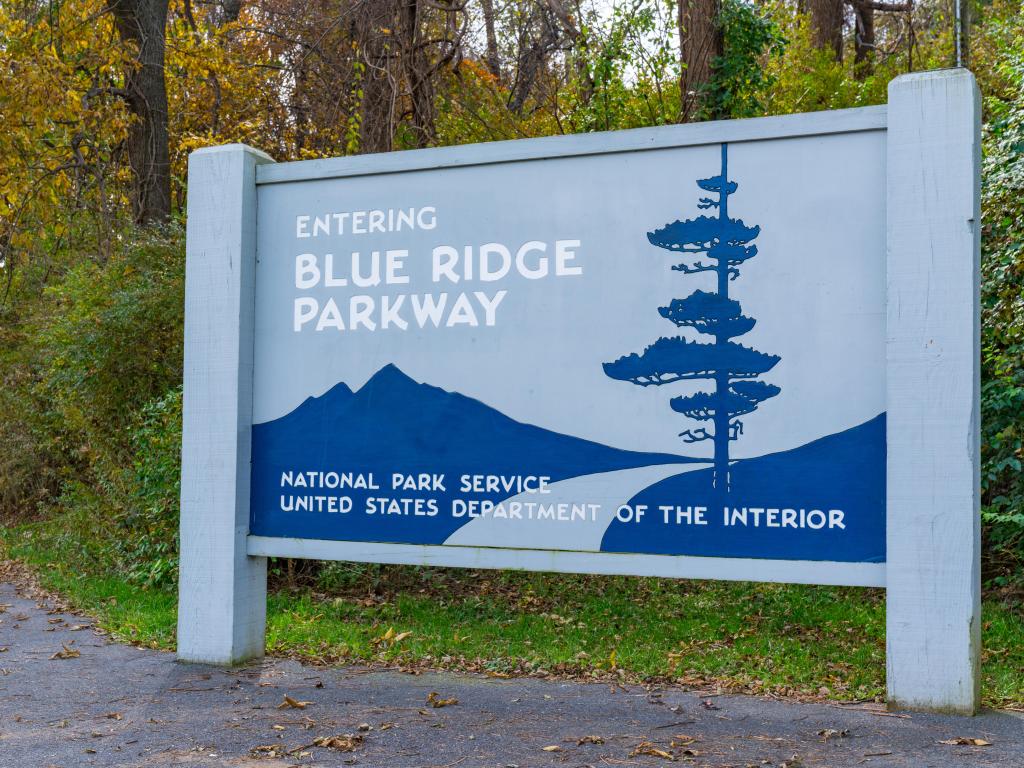 The starting point of Blue Ridge Parkway
The Blue Ridge Parkway begins just outside Waynesboro, VA. You can also join the parkway from I-64 if you're coming from further afield.
The road runs straight on from Skyline Drive through Shenandoah National Park so you can easily combine the two scenic roads into a single trip if you have the time.
The Blue Ridge Parkway is primarily a scenic drive through the seemingly endless mountain landscape, but along the way you'll visit a number of towns and cities.
Roanoke is the first city you'll visit along the parkway, at about 3 hours into the journey (115 miles). Situated around an hour north/northwest of beautiful Smith Mountain Lake, Roanoke has plenty on offer as a stop-off point. Visit the Art & History Museum and the famous Mill Mountain Star to get more of a feel for the region.
As you near the end of your drive you'll come to Asheville, where the impressive Biltmore Estate is worth a visit. You can also stop at the Blue Ridge Parkway Visitor Center here to find out more about the places you've seen on your drive.
The end point of Blue Ridge Parkway
The Blue Ridge Parkway ends where it meets US-441 on the edge of Great Smoky Mountains National Park. The nearest town is Cherokee, just a couple of miles along the highway.
Here, you can spend some time at the informative Cherokee Indian Museum, which celebrates the history and culture of the region's native American people.
If you're looking to spend more time in the great outdoors you can also head on to the Great Smoky Mountains National Park. Route 441 will take you on a scenic drive across the national park towards Gatlinburg and Pigeon Forge, or you can stop and hike at one of the trailheads along the way.
The southern end of the route is also just 45 minutes from I-40, so the route can easily be connected with a longer road trip.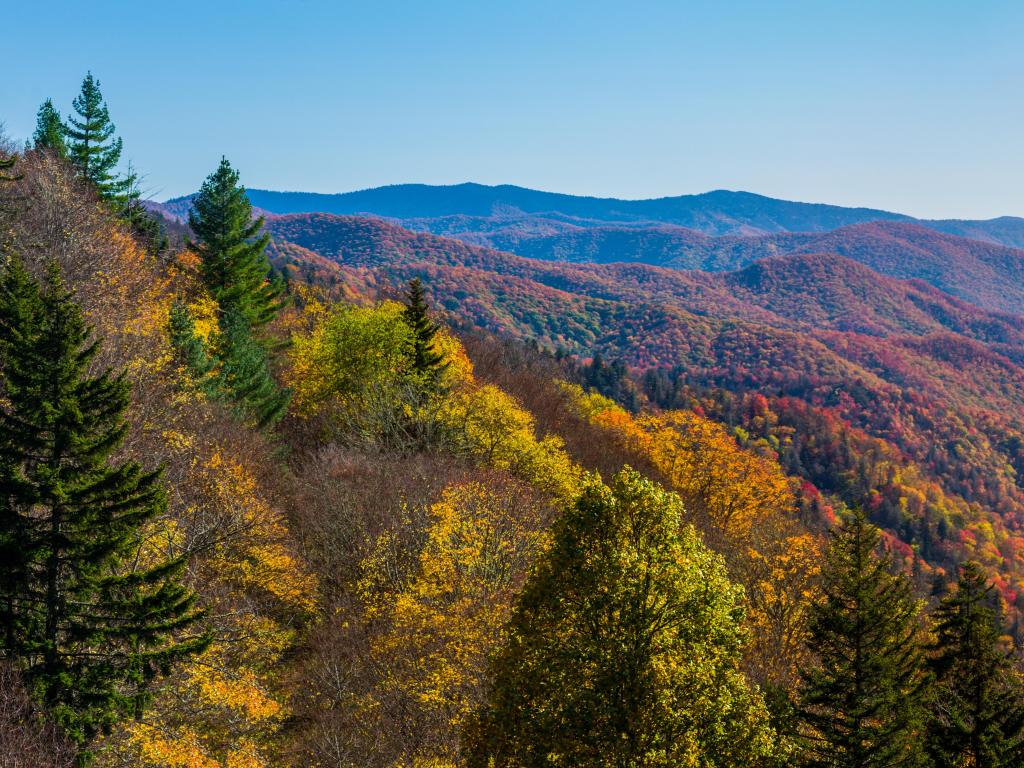 Did Blue Ridge Parkway change over time?
The Blue Ridge Parkway was built between the 1930s and 1980s. It was always intended to link Virginia's Skyline Drive (through what's now Shenandoah National Park) with the Great Smoky Mountains National Park in North Carolina and Tennessee.
The starting and ending points were what drove the development of the parkway and so they were always part of the design. However, there was disagreement about the route the road should take.
The states of Tennessee and North Carolina both hoped that the new road would travel through their states. In the end, North Carolina won the argument, partly to drive the economic regeneration of Asheville after the Great Depression.
It was over 50 years before the whole of the BRP was driveable. Progress was slow, with only half the route driveable after 20 years, but a big push saw it almost complete by 1966.
The last major development was the building of the Linn Cove Viaduct, which had to be undertaken sensitively to avoid environmental damage. The route was finally completed in 1987.
Where can I start my Blue Ridge Parkway road trip?
Most people will plan their Blue Ridge Parkway road trip based on the city they start the drive from. If you're starting nearby you'll probably already have a feel for whether the northern or southern end of the parkway makes a more convenient starting point.
The great thing about the location of the Blue Ridge Parkway, which is close to the interstate network, is that it makes it easy to join from cities further afield too.
It's also possible to join the Blue Ridge Parkway midway. There are entrances and exits all along the parkway, so if you don't have time to drive the entire route you can pick up the road at places like Roanoke, Meadows of Dan, Fancy Gap, Blowing Rock, Grandfather Mountain, Asheville or Bent Creek.
If you're driving the parkway as part of a round trip, chances are you'll use the interstate either out or back, but it's entirely down to personal preference as to whether you travel along the Blue Ridge Parkway on the outward leg of your journey or as you head back home.
To help you to decide which direction to drive the Blue Ridge Parkway, we've shown the driving time and distances from major cities in the region to both ends of the parkway.
Travel times and distances from major cities to the start and end of Blue Ridge Parkway

| Starting city | Distance/time from the start | Distance/time from the end |
| --- | --- | --- |
| Richmond, VA | 90 miles/1 hour 25 minutes | 420 miles/6 hours 30 minutes |
| Washington, DC | 140 miles/2 hours 40 minutes | 530 miles/8 hours |
| Raleigh, NC | 205 miles/3 hours 40 minutes | 300 miles/4 hours 45 minutes |
| Charlotte, NC | 265 miles/4 hours 15 minutes | 165 miles/3 hours |
| Pittsburgh, PA | 295 miles/4 hours 45 minutes | 525 miles/8 hours 30 minutes |
| Asheville, NC | 330 miles/5 hours | 0 miles/1 hour |
| Knoxville, TN | 345 miles/5 hours | 75 miles/2 hours |
| New York, NY | 400 miles/6 hours 25 minutes | 750 miles/11 hours 50 minutes |
| Louisville, KY | 470 miles/7 hours | 315 miles/6 hours |
| Charleston, SC | 485 miles/7 hours 15 minutes | 300 miles/5 hours |
| Atlanta, GA | 520 miles/7 hours 20 minutes | 160 miles/2 hours 50 minutes |
| Nashville, TN | 520 miles/7 hours 40 minutes | 250 miles/4 hours 40 minutes |
How long does it take to drive on Blue Ridge Parkway?
With a maximum speed limit of 45 mph, it takes upwards of 11 hours to drive the whole of the Blue Ridge Parkway, as long as you have a clear road. At busy times, slower moving vehicles can cause tailbacks so allow an extra 3 hours to make the trip.
We suggest allowing at least 3 days to drive the route at a leisurely pace. This gives you time to stop for meals and hike out to some of the spectacular viewpoints which sit a distance away from the road.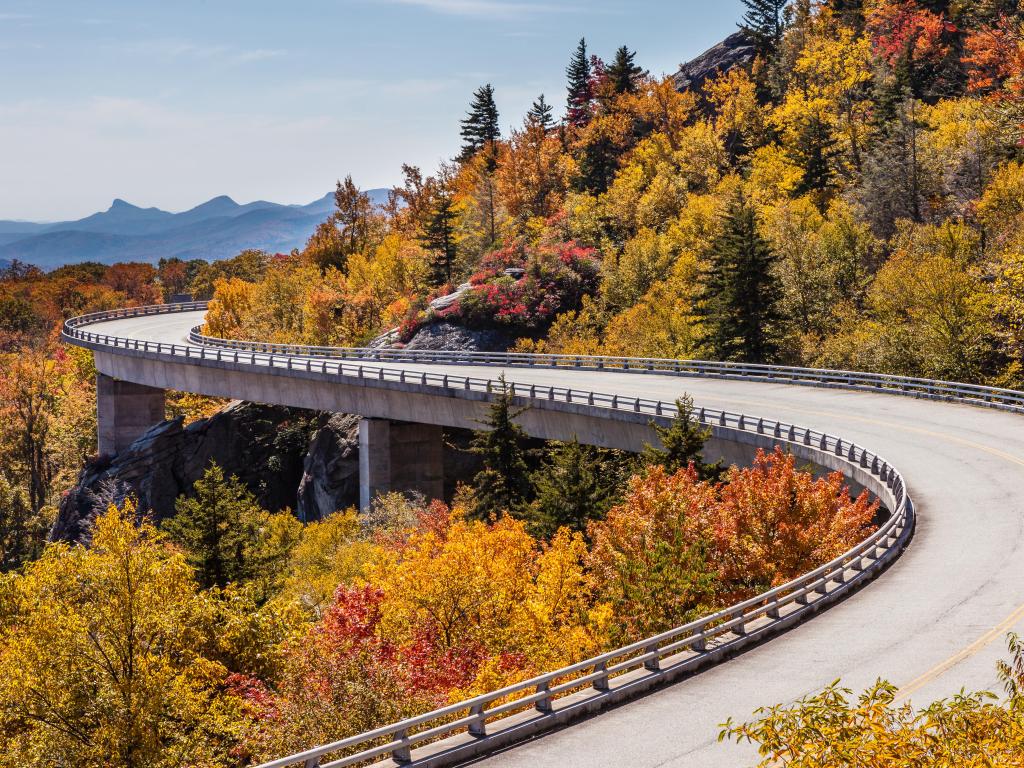 There are dozens of beautiful trails to explore though, so you could easily fill a week if you want to spend more time hiking, especially if you're setting out on some of the longer trails.
Pockets of slower traffic can be found anywhere along the BRP, whether that's because of a driver up ahead slowing down to enjoy the view or just someone taking their time around the route's many tight corners
There can also be congestion approaching popular stops, especially if vehicles are queueing to park at lookouts.
Traffic tends to peak seasonally, with holiday weekends, summer and the fall leaf-peeping season bringing many more visitors. You're more likely to have a smooth journey if you avoid these times.
You'll also have to allow for regular rest stops. Most travelers will want to stop to admire the view at regular intervals, but in case you're planning to drive straight through, you should allow between 3 and 5 stops to stretch your legs. This will add 1 to 2 hours to your drive.
Things to know that can impact your driving time
Here are our top tips to drive Blue Ridge Parkway in the shortest time possible:
Take turns behind the wheel so that everyone gets a chance to enjoy the view while you drive.
Choose an economical car so that you don't have to leave the parkway too often to refuel.
Drive mid-week, when there's likely to be less traffic.
Start early in the morning before the road gets busy. This means you'll find it easier to get space to park at popular stopping points.
Bring a picnic and snacks with you to avoid having to leave the Blue Ridge Parkway to find supplies.
Attractions and scenic areas on Blue Ridge Parkway
As you'd probably expect, the Blue Ridge Parkway offers mile after mile of spectacular views, and the beauty of this drive is that you can simply pull over to enjoy them whenever you're ready.
There are countless other viewpoints and scenic trails, but here are some of the most popular to look out for. If you're set on visiting some of these on busy weekends then you're advised to make an early start to be sure of finding a space to park when you get there.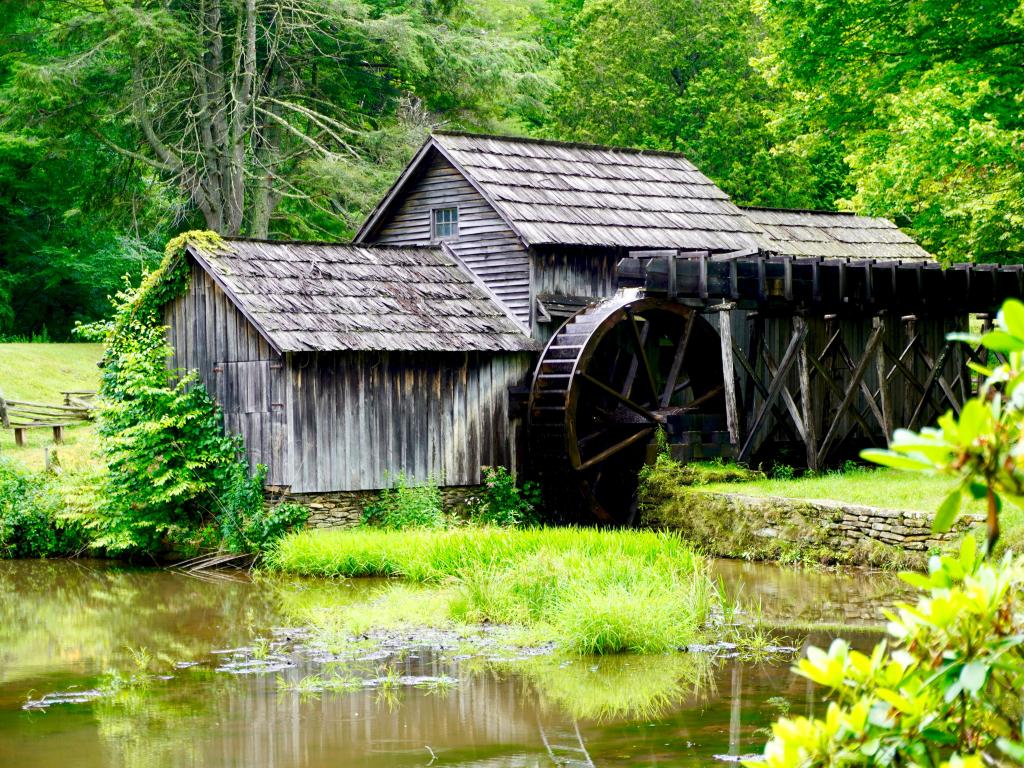 Ravens Roost (MP 10.7) – Watch the sun set over a beautiful valley from this amazing vantage point close to the northern entrance to the parkway.
Otter Lake Overlook (MP 63.1) – Relax beside the water at this picturesque lake.
Mabry Mill (MP 176.1) – A photograph of this historic watermill is pretty much a compulsory souvenir on a Blue Ridge Parkway trip, and for a good reason, as you'll discover when you see the tranquil view for yourself.
Cascade Falls (MP 272) – These impressive waterfalls are a short hike off the route.
Rough Ridge (MP 302.8) – As long as you're comfortable with heights you can get the ultimate cliff-edge view at the end of this hike near Blowing Rock - be sure to snap a photo to remember it by.
Beacon Heights Overlook (MP 305.2) – Enjoy three of the most iconic views on the parkway, with Grandfather Mountain, Grandmother Mountain and Table Rock all on display from this overlook.
Linn Cove Viaduct (MP 304) – Spanning Grandfather Mountain, this was the final piece of the parkway to be completed, connecting the northern and southern stretches of the route in the 1980s.
Linville Falls (MP 316) - Another spectacular set of waterfalls that are definitely worth the walk from the road.
Chestoa View Overlook (MP 320.7) – Take a short walk out to this overlook for a stunning view across Pisgah National Forest and Grandfather Mountain.
Mount Mitchell (MP 355) – You can drive almost all the way to the top of this mountaintop lookout.