Road Trip from Richmond, Virginia to Niagara Falls
If you're looking for a mix of beautiful landscapes and quaint, small towns that the US east coast is known for, alongside bustling city life and culture, this road trip from Richmond, Virginia to Niagara Falls is the perfect adventure for you.
The 590-mile trip from Richmond, Virginia to Niagara Falls will take you around 11 hours and 50 minutes to drive. Notable stops are Baltimore, Washington DC, Hershey, Ithaca, Cascade Falls, Taughannock Falls State Park, Maryland Zoo and Mount Vernon.
Keep reading to find out which might be a better fit for you, including where to stay, what to see and which time of year you'd get the most out of your trip.
How far is Niagara Falls from Richmond, Virginia, and how long will the road trip take?
Comparison of road trip routes between Richmond, Virginia and Niagara Falls

| Route | Distance | Driving Time |
| --- | --- | --- |
| The Eastern Route | 590 miles | 11 hours 50 minutes |
| The Western Route | 630 miles | 11 hours 40 minutes |
The Eastern Route covers 590 miles and is drivable in 12 hours without accounting for any stops but we suggest you take your time as there is so much to see on this route.
The Western Route is 630 miles long and although it covers more distance, it's the more direct of the two options and will get you to Niagara Falls a little quicker, in 11 hours and 40 minutes. It really shows off the quaintness of small-town America but also caters for big city adventure with a possible stop in Pittsburgh.
Although you're not covering the hugest driving distance, we suggest you allow 4 – 5 days for your trip because there is just so much to explore along either route.
Best road trip route from Richmond, Virginia to Niagara Falls
Our two trip options offer one route showcasing mostly beautiful scenery and small-town charm, while the other includes a handful of big cities with many cultural attractions to explore.
Which of our two suggested routes you take depends on what you would like to experience most on your way to Niagara Falls. Would you rather explore quirky American towns and plenty of nature (with lots of extra waterfalls along the way) or focus more on larger cities with all the entertainment, culture and buzz they have to offer?
You will be driving through both Washington DC and Baltimore if you follow our Eastern Route and might want to make a chocolate-flavored pitstop in the town of Hershey. Although this route is the longer of our two options, it's actually a little faster due to the types of roads you'll be travelling on.
If you wanted to make your trip a little wider-reaching, you could easily add optional stops in New York state such as Rochester and Buffalo, or if you're a "The Office" fan, you could even visit Scranton, where the US version of this popular comedy was set.
Shorter but less direct, the Western Route offers a balance between lush stretches of forests and valleys in Pennsylvania, Virginia, West Virginia and New York, and pit-stops in urban centers like Charlottesville and Pittsburgh.
You'll be driving a long stretch along the beautiful lake Eerie and benefit from journeying through many quaint and charming towns like Morgantown and Luray.
The Eastern Route
Hit the road in Richmond, Virginia following Interstate 64 (I-64) towards Washington DC and drive past Chamberlayne. Follow the interstate along the Potomac River, which will take you all the way to Washington, DC. Add a quick stop to see the Pentagon before you cross the bridge into the city.
In Washington Old Town, you'll change direction onto Highway 50, the Baltimore – Washington Parkway. Carry along this road into Baltimore and take time to relax now as I-83 takes you comfortably all the way to your halfway point in Harrisburg.
From here, head towards Hershey, America's favorite chocolate stop! Then, head past Grantville and follow the main roads through Ashland and Centralia. The highway will take you through Bloomsburg and through the town of Waverly.
From here, continue on Highway 34 to Ithaca. Leave Ithaca and drive along Cayuga Lake. You will follow the interstate on the outskirts of Buffalo to reach your destination, Niagara Falls.
The Western Route
Exit Richmond, Virginia on I-64 W towards Charlottesville. At Elkton, merge onto Highway 340, which will take you through Luray and Front Royal Belmont.
The interstate will then take you towards Winchester. Stick to the main roads through a string of small towns including Paw Paw and Old Town, before merging onto I-68 at Cumberland. Follow the interstate to the outskirts of Pittsburgh.
Out of Pittsburgh, head towards Lake Eerie and then Buffalo on the highway. You will soon reach Niagara Falls, following the well-marked signs.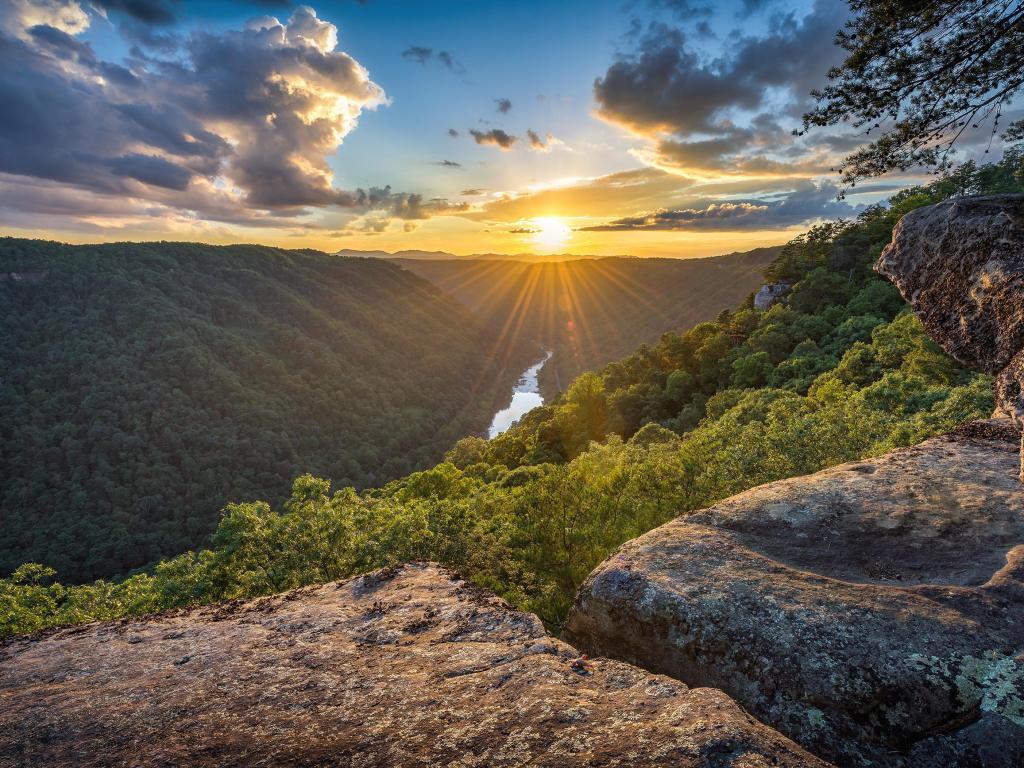 Best places to stop between Richmond, Virginia and Niagara Falls
Since there is so much to see and do along both of our chosen routes, you will want to plan some overnight stays along the way to rest and rechange. With plenty of towns and cities to relax for the night, here is our top recommendation for each route.
Explore the world of chocolate in Hershey
If you've chosen to travel our Eastern Route from Virginia to Niagara Falls, you'll find the historic city of Harrisburg, Pennsylvania a pleasant and interesting stop, just about halfway through your total driving time.
The Hilton Harrisburg is the perfect all-around option for both kicking back after a day's driving and as a base for you to explore further from. It is elegantly furnished and boasts a fitness center as well as an indoor pool.
This fantastic hotel has 2 in-house restaurants, one specializing in steaks, and the other in American small plates. So, if you're exhausted from driving and want to relax in comfort, there's no need to leave again before you bed down for the night.
If however, you've not quite filled your quota of sights and attractions for the day, the hotel's central location enables you to soak in more historic sights such as the architectural landmark that is the State Capitol Complex or the National Civil War Museum, both accessed via a pleasant stroll along the Susquehanna River.
If you have Hersheypark in your sights as an attraction to visit along the way, the Hilton Harrisburg provides the perfect place to start your day from. You are right next to the beltway which leads to the park, so you can arrive bright and early, beating the queues.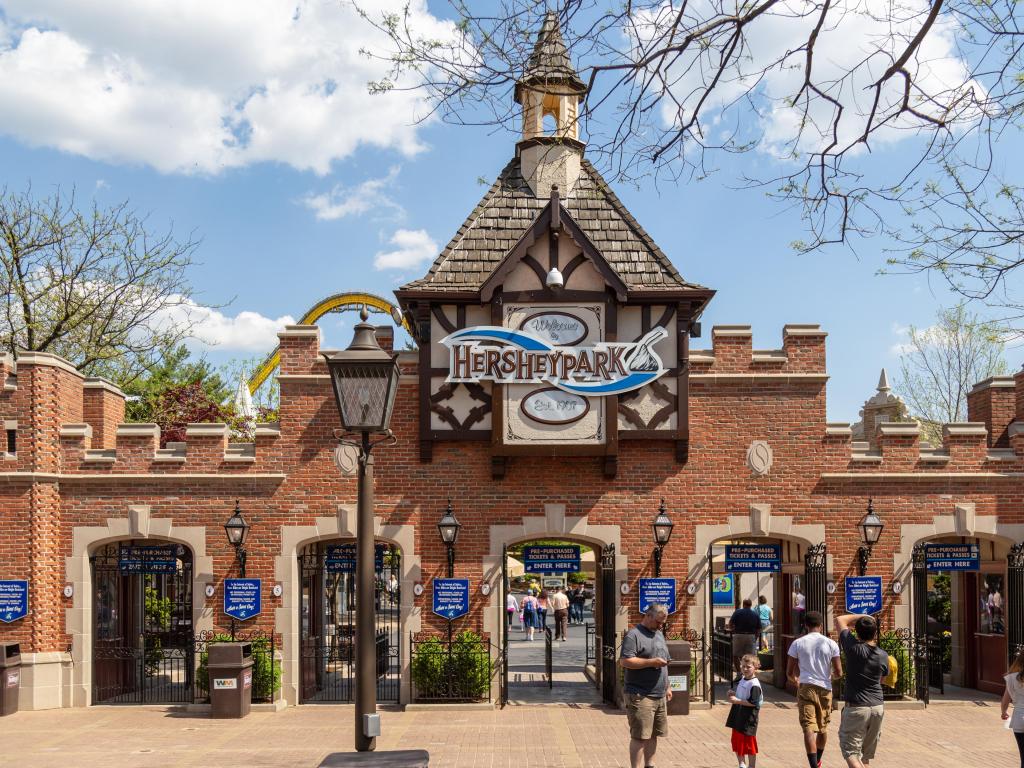 Museums galore and cuisines aplenty in Pittsburgh
The Western Route takes you mostly through quaint towns and bountiful nature in Virginia and Pennsylvania. We're suggesting an overnight stop halfway along your drive, in the city of Pittsburgh, giving you time to explore its many museums, stunning Gilded Age architecture and varied cuisines.
Relax in style with both river and city views at Fairmont Pittsburgh. Call ahead to book yourself a massage or spa treatment to get you freshened up and ready for another day of travelling and take advantage of the views in the stunning hotel restaurant.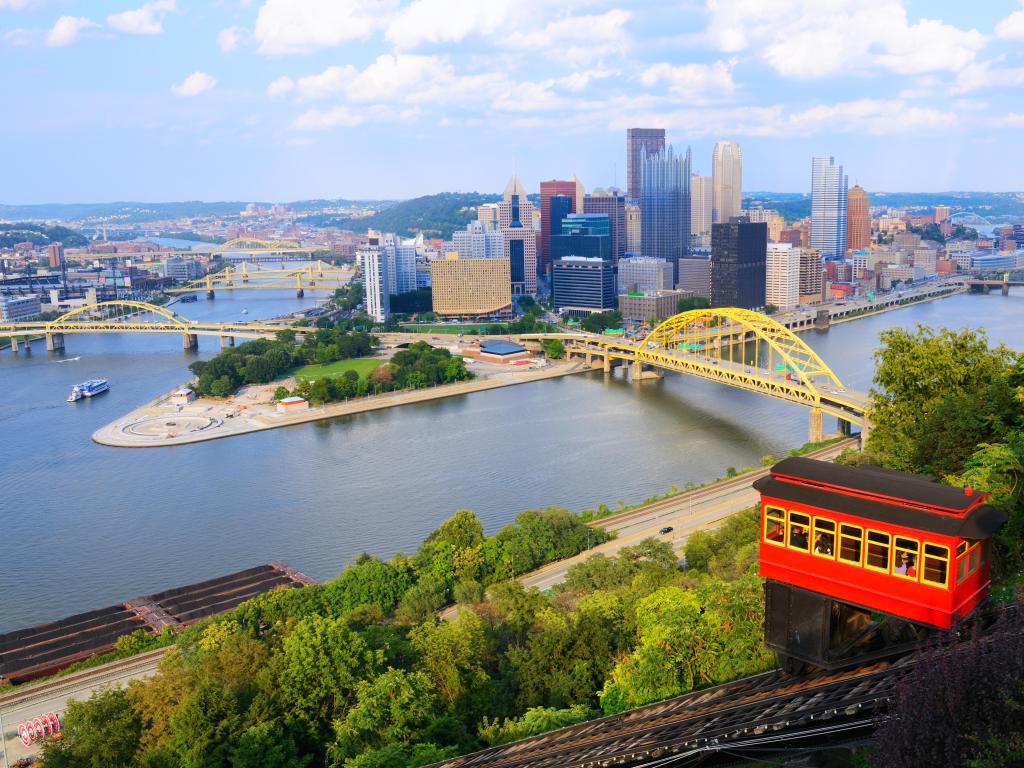 If you'd like to venture into the city to explore, you could head to Market Square, where you'll find a variety of food trucks to beat any craving. Also within walking distance are the Andy Warhol Museum and the Heinz Center for performing arts.
Pittsburgh is known for its huge variety of museums, the Carnegie Museum of Art and the Carnegie Museum of Natural History being the two largest.
And if you'd like to experience a natural oasis in the middle of the city, the Phipps Conservatory and Botanical Gardens with its 14-room glasshouse and 23 distinct gardens will be a pleasure to stroll around and stretch your legs at the end of a long day.
Where to stay when you reach Niagara Falls
Once you reach your end destination of Niagara Falls, we highly recommend the Seneca Niagara Resort & Casino as your base, particularly if you are planning to stay for a few nights.
The hotel boasts free parking, an onsite casino, top of the range spa and multiple restaurants along with the option of rooms overlooking the falls.
Although the hotel has a lot to offer, you're obviously here to enjoy the sights, and the Seneca Resort is conveniently located for a lot of Niagara Falls' main attractions like Rainbow Bridge, the Schoellkopf Geological Museum and the Aquarium of Niagara.
Things to see on a road trip from Richmond, Virginia to Niagara Falls
You can break up your trip from Richmond, Virginia to Niagara Falls with a brilliant mix of waterfalls, state parks, historical sights, and animal adventures to name just a few.
Have a look at our suggested things to see to make your journey a trip to remember.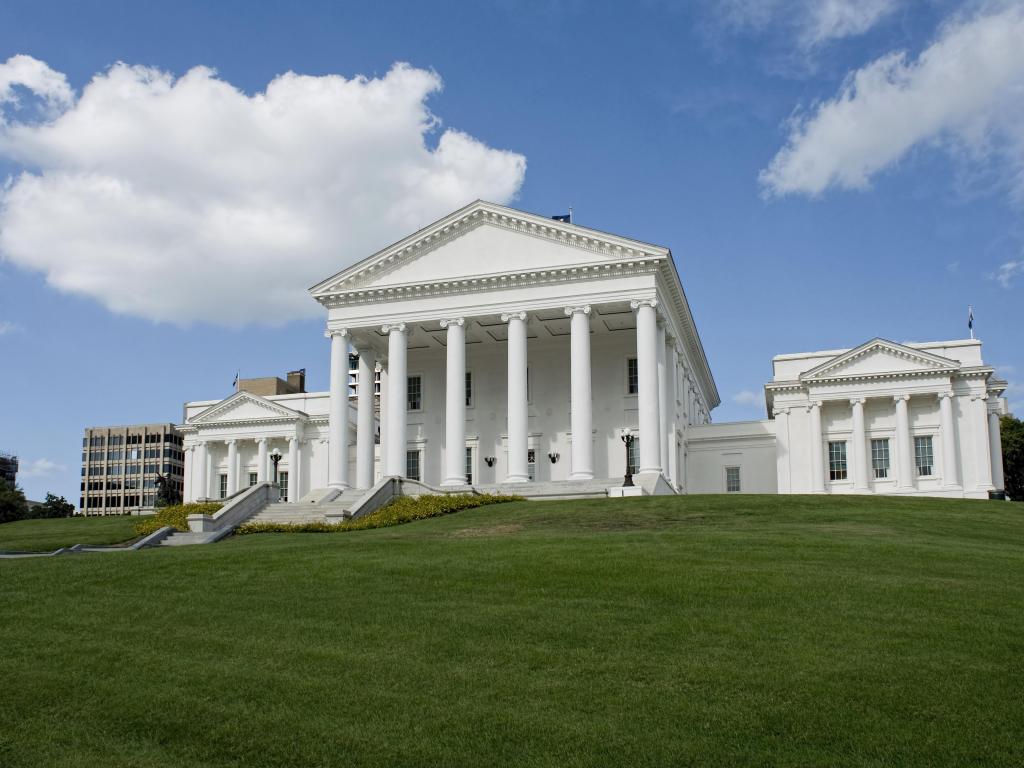 The Eastern Route
George Washington's Mount Vernon – Delve into history as you explore the expansive estate of America's first president. Create memories with activities such as whiskey tastings and educational tours.
Elephant Trails – Part of the Smithsonian National Zoo in Washington DC, just a 30-minute detour from the route, you'll get the opportunity to watch these majestic animals up close in a variety of different surroundings in their sprawling habitat.
Cascade Falls – A short hike will take you to this small, but beautiful waterfall. If the weather allows you can even wade into the water to refresh yourself before carrying on with your trip.
Maryland Zoo – Home to over 1500 birds, mammals, amphibians and reptiles, this historic Baltimore Zoo would make a great stop to stretch your legs.
Cylburn Arboretum – nature and history share this 200-acre park where you can explore more than 20 different gardens as well as Civil War-era mansions. A fantastic stop in the north of Baltimore.
Turkey Hill Experience – Learn how ice cream and iced tea are made with a 60 – 90-minute hands-on tour, with a fabulous gift shop at the end! A short detour to Lancaster County, Pennsylvania, but worth it for the taste buds.
National Watch and Clock Museum – Year-round exhibits showcasing and preserving over 13,000 timekeeping objects from around the world.
Hersheypark – One of Pennsylvania's most popular, and tastiest, attractions, Hersheypark offers chocolate-themed fun in the shape of rides, rollercoasters, a zoo and even a waterpark. And of course – lots of chocolate!
Pioneer Tunnel Coal Mine and Steam Train – Tours of an 1800ft coal mine by experienced miners, or a ride on a steam train. Bundle up warm, it's chilly underground!
Taughannock Falls State Park – Build your way up to the main attraction, Niagara Falls, with another waterfall. This one, with a height of 215 feet also boasts activities such as fishing, swimming and winter sports.
Harriet Tubman's Home – A must-stop for those with an interest in history and human rights. Be captivated by Harriet Tubman's home and her incredible legacy in abolishing slavery.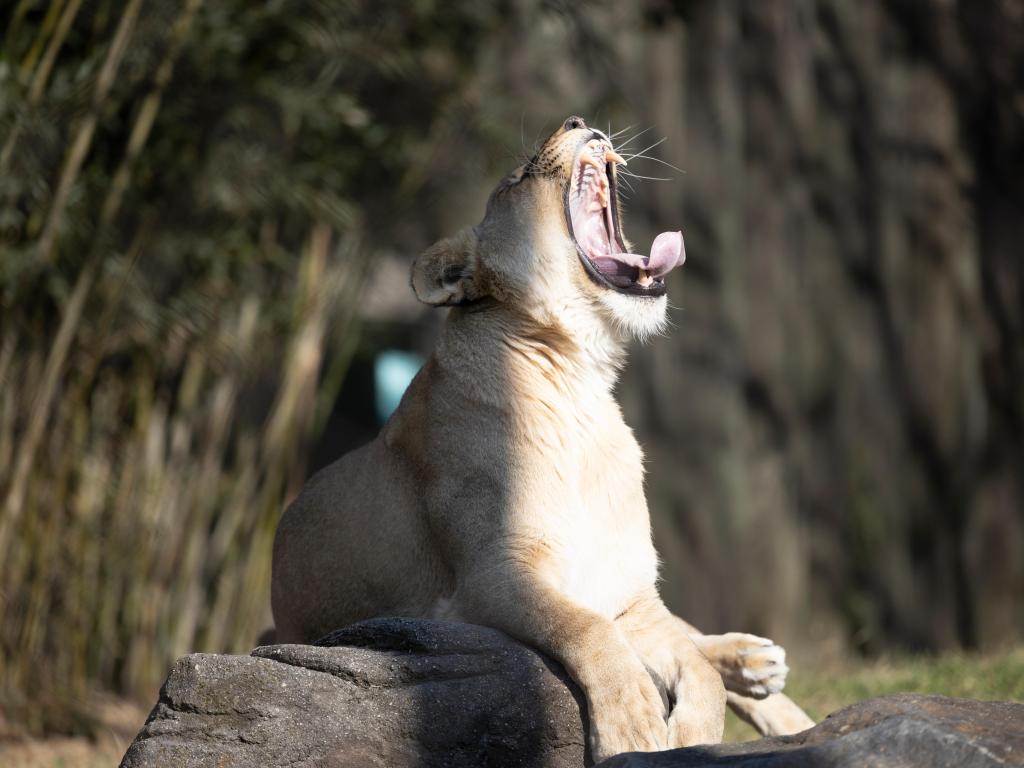 The Western Route
Powhatan State Park – Grab a picnic by the side of the impressive James River and blow away the cobwebs in this 1565-acre nature preserve.
James Madison's Montpelier – Learn about the life of President James Madison at his former home which is now classed as a historical landmark.
Shenandoah National Park – Nestled along the Blue Ridge Mountains with breathtaking views of the Shenandoah Valley, including cascading waterfalls and vivid wildflower fields. You will need an Old Rag Day-Use Ticket if you are planning to visit the Old Rag Mountain. Please check the national park's website for details.
Luray Caverns – Cathedral-sized caves and colorful stalactites make up these largest caverns in the eastern United States.
Virginian Vineyards and Wineries – In the lead up to the town of Front Royal, you'll find an exquisite selection of vineyards and wineries, which all offer a range of tastings and tours. Sunset in a vineyard anyone?
Skyline Caverns – A one-hour tour of these stunning caverns will leave you speechless at their beautiful natural formations and educated about their fascinating geological history. There are also mini train tours, a mirror maze and a nature trail on offer which walks you along the base of the Blue Ridge Mountains.
Living Treasure Animal Park – If you have little travelers with you, this animal park would be a good stop to tire them out, over 70 animal species, pony rides, a petting zoo and plenty of space to run around.
Randyland – A wonderfully kitschy art museum filled with colorful objects and murals and artworks by the American folk artist Randy Gilson.
PennDOT Road Sign Sculpture Garden – A quick and quirky roadside attraction, made up of sculptures created with Pennsylvania road signs.
Presque Isle State Park – 11 miles of beach along beautiful Lake Eerie are calling your name for some waterside tranquility. All as part of this state park which also boasts an environmental center.
Everhaunt Haunted House – Only open during weekends in October (spooky season!), it's well worth a visit if you're travelling at the right time. A terrifically haunted house with spooky VR experiences and paintball shooting promises oodles of jump scares and fun.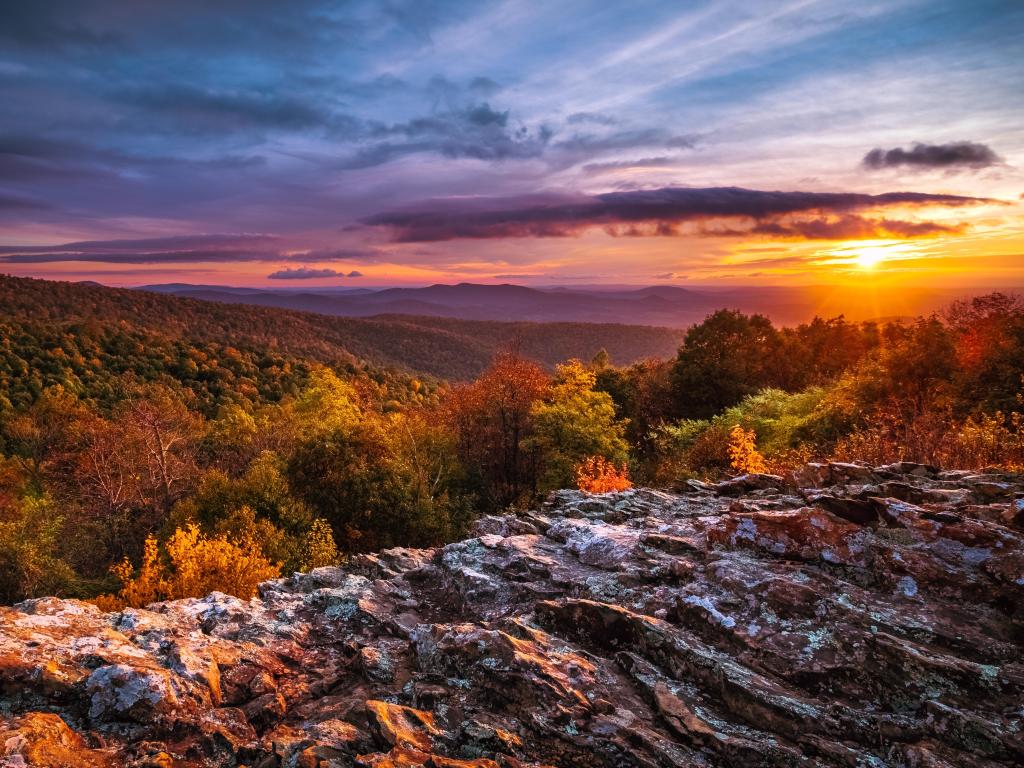 Things to see along both routes
Gettysburg, PA – roughly a 90-minute detour from both routes but well worth it for a wander around this historic town and the location of President Lincoln's monumental Gettysburg address.
Niagara-on-the-Lake – A quaint Canadian town, roughly 30 minutes from Niagara Falls, known for its wineries, summer theatre festival and historic center.
Best time to go on a road trip from Richmond, Virginia to Niagara Falls
The majestic Niagara Falls are beautifully impressive all year round and many attractions along both routes, including the many casinos and restaurants at Niagara itself, will be accessible, but there are a few considerations when it comes to deciding what time of year you'd like to make your trip.
Summer is predictably the busiest tourist season at Niagara Falls, meaning prices for accommodation and attractions can be high. Although this also means there are more events catering for tourists, such as the Lockport and Taste of Niagara Food Festival and the Lewiston Art Festival.
If you're the musical type, you may want to seek out Music Niagara Festival and the Pelham Summer Fest.
Temperatures in the summer months range from 55 to 81 degrees Fahrenheit and on hotter days, the mist from the falls is conveniently cooling.
Winters call for layers at Niagara Falls! Temperatures can drop as low as 30 degrees Fahrenheit since arctic high pressure dominates the town in the colder months.
The cold season does, however, bring a lot of sparkle to Niagara, with the very popular Ontario Power Generation Festival of Lights, which features over 3 million lights on display and the Niagara-on-the-Lake Ice Wine Celebration and Angelfest.
Spring and fall bring milder weather and more affordable prices but since it is a quieter season, it's worth double checking that all the attractions you're hoping to visit will be open. A few festivals take place in the off-season, most notably the Niagara Falls Blues Festival and the Spring Arts Festival.