Where does Skyline Drive Start and End?
Just over an hour outside Washington, DC, you'll find yourself in the stunning landscapes of Shenandoah National Park. It's the perfect getaway whether you're planning on packing your hiking boots and taking on some serious trails or simply looking forward to breathing in the fresh mountain air as you enjoy the breathtaking views.
The Skyline Drive runs for 105 miles along the ridge of Virginia's Shenandoah National Park, from Front Royal in the north to Waynesboro in the south. It's a straightforward 4-drive that offers non-stop views and some fabulous hiking trails.
With its rolling slopes, lush green landscapes and hidden waterfalls, Shenandoah National Park is a beautiful place to discover, and a road trip along the Skyline Drive just adds to the adventure. Read on to find out about where this famous drive starts and ends.
Where is Skyline Drive located and where does it start and end?
The Skyline Drive runs through Virginia, between Front Royal in the north and Waynesboro in the south. It travels the entire length of Shenandoah National Park.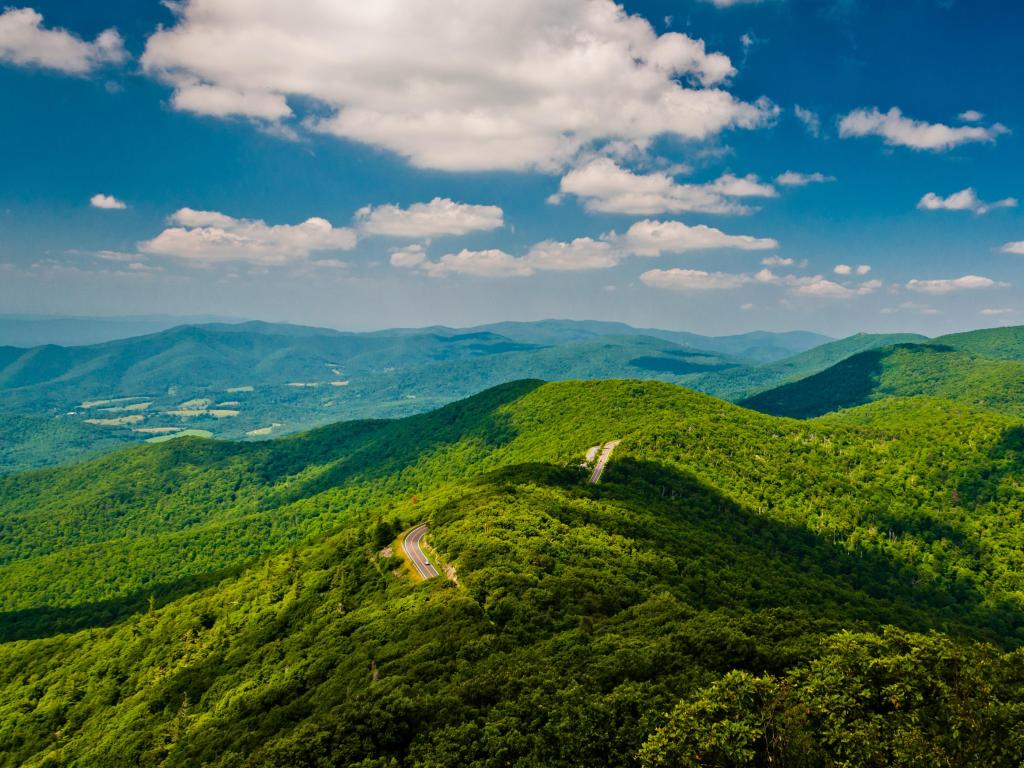 It's possible to follow the Skyline Drive in either direction, depending on your starting point and onward travel plans. To keep things simple, we're looking at the drive from north to south, starting in Front Royal and finishing in Waynesboro.
You can also join or leave the Skyline Drive at Thornton Gap Entrance Station at the 31.5-mile point or Swift Run Gap at 65.5 miles. That means you don't have to commit to driving the whole 105-mile route to be able to enjoy a snapshot of those amazing views across the Shenandoah Valley.
If you'd like to learn more about how long it takes to complete Skyline Drive, we have compiled a useful guide.
The starting point of Skyline Drive
The Skyline Drive begins at Front Royal, which is just a short distance from Interstate 66 (I-66), making it easily accessible from Washington DC, Baltimore and Pittsburgh.
Once you've made it through the entrance station, where you'll pay the entrance fee of $30 per vehicle, simply carry on south and enjoy the view! Please note that the prices are calculated at the time of writing.
The benefit of traveling from north to south is that you'll build up to the higher elevations of the Blue Ridge Mountains on the southern part of the drive, so the views will just keep getting bigger and bigger.
The endpoint of Skyline Drive
If you're traveling south, Skyline Drive ends at Rockfish Gap, just outside the city of Waynesboro. From here you can connect easily with the interstate to travel on to Charlotte, NC, or to continue further on towards Atlanta or Knoxville.
Alternatively, if you're in the mood for even more miles of scenic driving, simply carry on straight ahead at Rockfish Gap and you'll find yourself on the Blue Ridge Parkway. Here is our comprehensive guide on where Blue Ridge Parkway starts and ends to give you an idea.
Known as America's Favorite Drive, the Blue Ridge Parkway will take you another 469 miles through the Appalachians, all the way to Cherokee, North Carolina.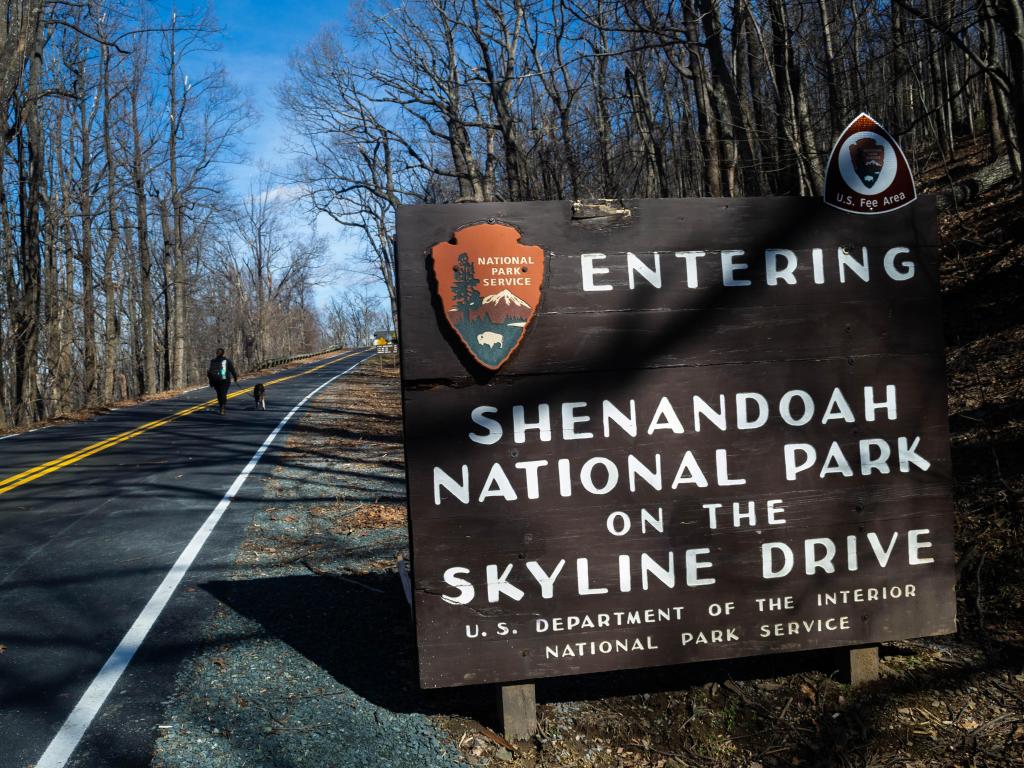 Did Skyline Drive change over time?
Construction of the Skyline Drive began in 1931, with the aim of opening up a road along the ridge of the Blue Ridge Mountains through what would later become Shenandoah National Park.
With the growing dominance of motor travel in the 1930s, it was essential that the new national park should be accessible by car, and in easy reach of nearby cities such as Washington DC and Richmond.
Work began at what's now the Front Royal Entrance, working southwards, and was completed in 1939 when it was opened to the public.
Unlike some of the country's scenic drives, which follow old wagon trails, such as the Natchez Trace Parkway, the Skyline Drive was designed to meet the needs of contemporary travelers, so it's always had the same start and end places.
In fact, even the main lodging areas at Skyland Resort and Big Meadows have been a part of Skyline Drive since it first opened, so when you take this scenic road trip, you'll be following the same path travelers have taken for almost a century.
Where can I start my Skyline Drive road trip?
The great thing about visiting Shenandoah National Park is that Skyline Drive can be easily reached from many major cities. It's also a great addition to a longer road trip.
To get you started with your planning, we've mapped out the driving time and distances from major cities to Skyline Drive.
Options for beginning your Skyline Drive road trip from different cities

| Origin city | Distance/Time (to Front Royal) | Distance/Time (to Rockfish Gap) |
| --- | --- | --- |
| Washington, DC | 70 miles/1 hour 20 minutes | 175 miles/5 hours 20 minutes |
| Baltimore, MD | 110 miles/2 hours | 210 miles/6 hours |
| Pittsburgh, PA | 215 miles/3 hours 40 minute | 320 miles/7 hours 40 minutes |
| Charlotte, NC | 380 miles/8 hours 30 minutes | 275 miles/4 hours 30 minutes |
| Knoxville, TN | 465 miles/9 hours | 355 miles/5 hours |
| Atlanta, GA | 620 miles/11 hours 45 minutes | 510 miles/7 hours 45 minutes |
How long does it take to drive the Skyline Drive?
If you get lucky with the traffic and don't make any stops, it will take you around 3 hours and 10 minutes to drive the entire Skyline Drive. However, given that this is a winding 2-lane road with a low-speed limit, we'd suggest that you plan on spending at least 4 hours on the road.
You'll also probably want to stop several times as you travel along Skyline Drive through Shenandoah National Park. If you take a 15-minute break to admire the view every 30 minutes, this will add about 2 hours to your trip time.
It is good to keep in mind that if you plan on visiting Old Rag, you might need a reservation prior to your visit.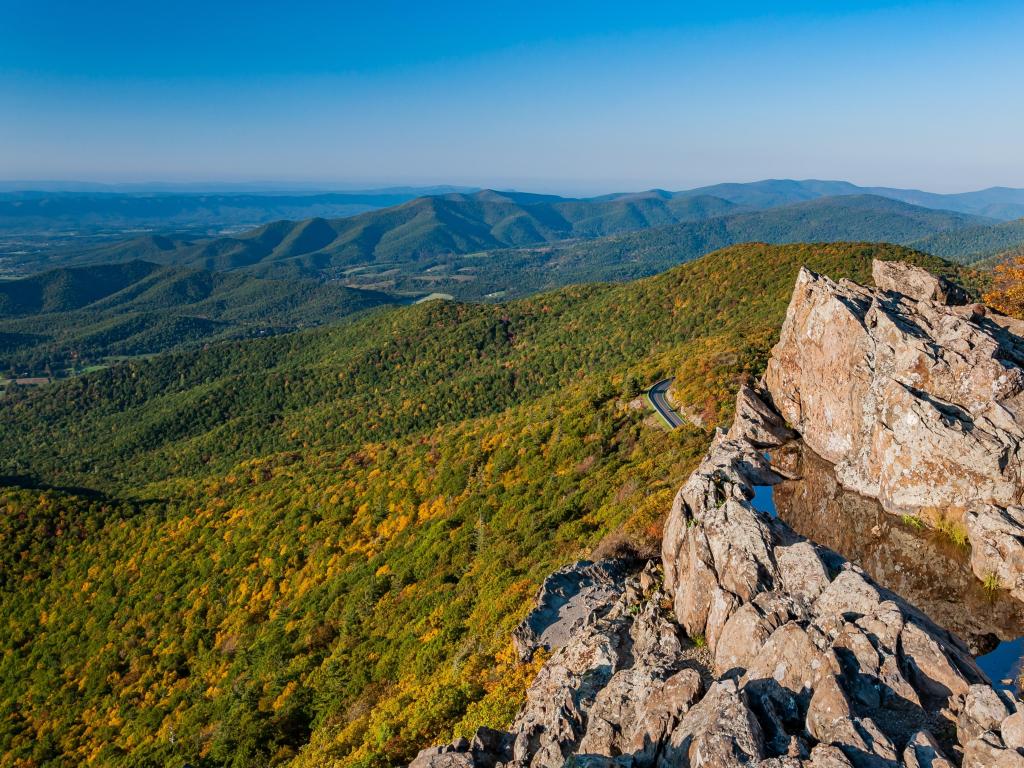 With more than 70 overlooks along Skyline Drive, you can easily spend longer than this in Shenandoah National Park, especially if you want to set out along some of the many walking trails that are on offer.
The sheer number of trailheads means that this is a great place for an overnight trip, and you can choose from campsites and lodges in the national park.
If you're traveling in the peak summer season or during the fall, you should expect to queue at Front Royal Entrance Gate and to make slower progress along the road.
Mid-mornings and midday are the busiest times to visit during June, July and August, especially at the weekends, so avoid these times for the best chance of avoiding the line.
Attractions and scenic areas on Skyline Drive
The Skyline Drive is a long, straight drive, so it's easy to navigate, and there are plentiful overlooks to choose from. Most travelers won't have time to visit them all, so here are some of our recommendations for enjoying the views and exploring the area:
Dickey Ridge Visitor Center
Thornton Hollow Overlook
Stony Man Overlook
Harry F. Byrd, Sr. Visitor Center
Brown Mountain Overlook
If time allows, there are dozens more scenic overlooks you can stop to enjoy when you follow the Skyline Drive through Shenandoah National Park, and many of them also mark the start of beautiful hiking trails.
You'd have to spend weeks in Shenandoah National Park to follow every trail, but here are a few excellent hiking routes and overlooks to consider:
Hazel Falls Trail
Stony Man Trail
Limberlost Trail
Hawksbill Loop Trail
Dark Hollow Falls Trail
Hightop Summit
Blackrock Gap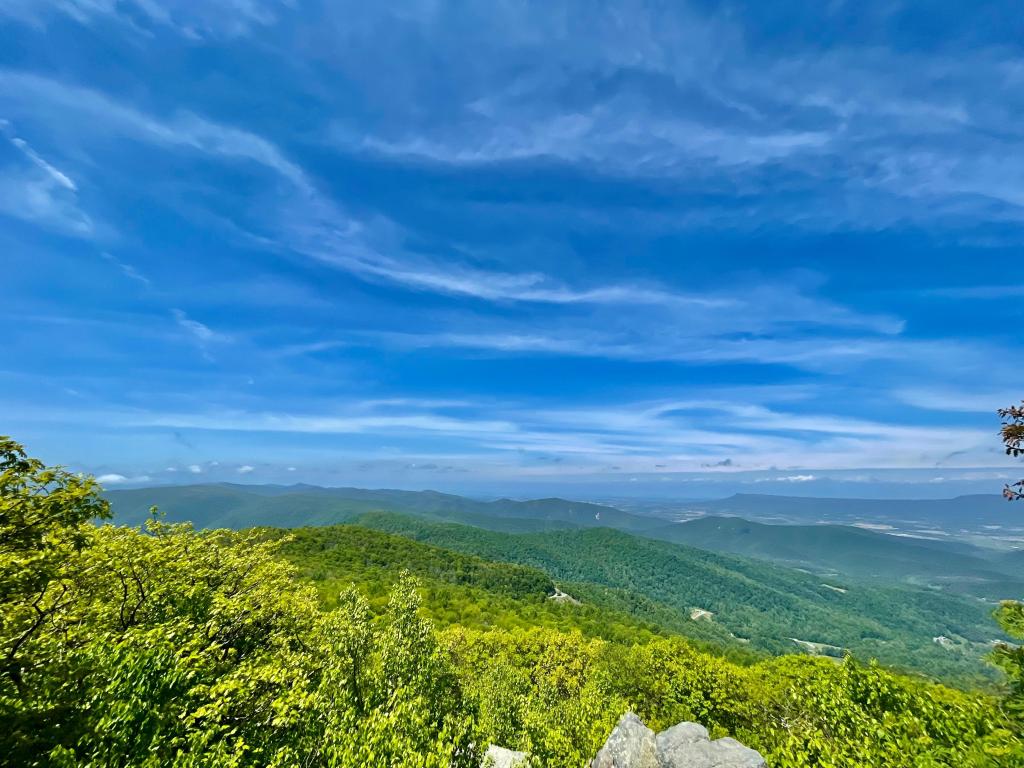 Things to know that can impact your driving time
Here are some of our top tips for making the drive along Skyline Drive as enjoyable and stress-free as possible:
Have two drivers available so you both have a chance to enjoy the view as you travel.
Start your drive early in the morning to miss the rush.
Drive midweek and avoid weekends when there's likely to be less traffic.
Make the drive in spring when there are fewer visitors - the route will be much busier during fall and through the peak summer period.
Stock up on snacks and in-car entertainment to reduce the need for stops and detours.
Although it's a year-round road, it may close in winter due to snow and ice. Check Shenandoah's alert system for closures.
Remember, there are over 70 overlooks, so research and prioritize your stops.
Opt to hike the shorter trails to maximize your time on the road.
If you don't want to drive the full road, entering Thornton Gap Entrance Station (mile 31.5) or Swift Run Gap Entrance Station (mile 65.5) allows you to enjoy a shorter section of Skyline Drive.
Whether you're heading out for an afternoon or a long weekend, a road trip along Skyline Drive is a stunning way to escape the city. So buckle up and get ready to enjoy the unforgettable views.