Road Trip From Washington DC To Niagara Falls
The mid-Atlantic is the perfect place for an unforgettable adventure, and one of your best options would be a road trip from Washington, D.C. to Niagara Falls. Besides the beautiful final destination, you can expect to find lots of truly iconic places along the way.
The 400-mile road trip from Washington, D.C. to Niagara Falls takes 7 hours 15 minutes to drive. Stops include the cities of Pittsburgh and Buffalo, Presque Isle and Shawnee State Parks, as well as the Finger Lakes and Allegheny National Forest.
There's plenty worth seeing on this road trip, so be sure to read until the end to know what to look out for on the way.
How far is Niagara Falls from Washington, D.C. and how long will the road trip take?
| Route | Distance | Driving Time |
| --- | --- | --- |
| The Fast Route | 400 miles | 7 hours 15 minutes |
| The Pittsburgh Route | 480 miles | 7 hours 40 minutes |
The most straightforward way from Washington, D.C. to Niagara Falls will get you there in 7 hours and 15 minutes, and it covers around 400 miles. You could definitely do this drive in a single day, but you'd be doing yourself a disservice given how scenic the trip is.
Although there are a few ways to get to Niagara Falls that all roughly take the same amount of time, this route is by far the most streamlined while still being very beautiful, incorporating the largest and most luscious forests in Pennsylvania.
An alternate way of approaching this trip is by taking a more western route right by Pittsburgh – the drive shouldn't take longer than 7 hours and 30 minutes, and you can still detour to some of the forests from the former route.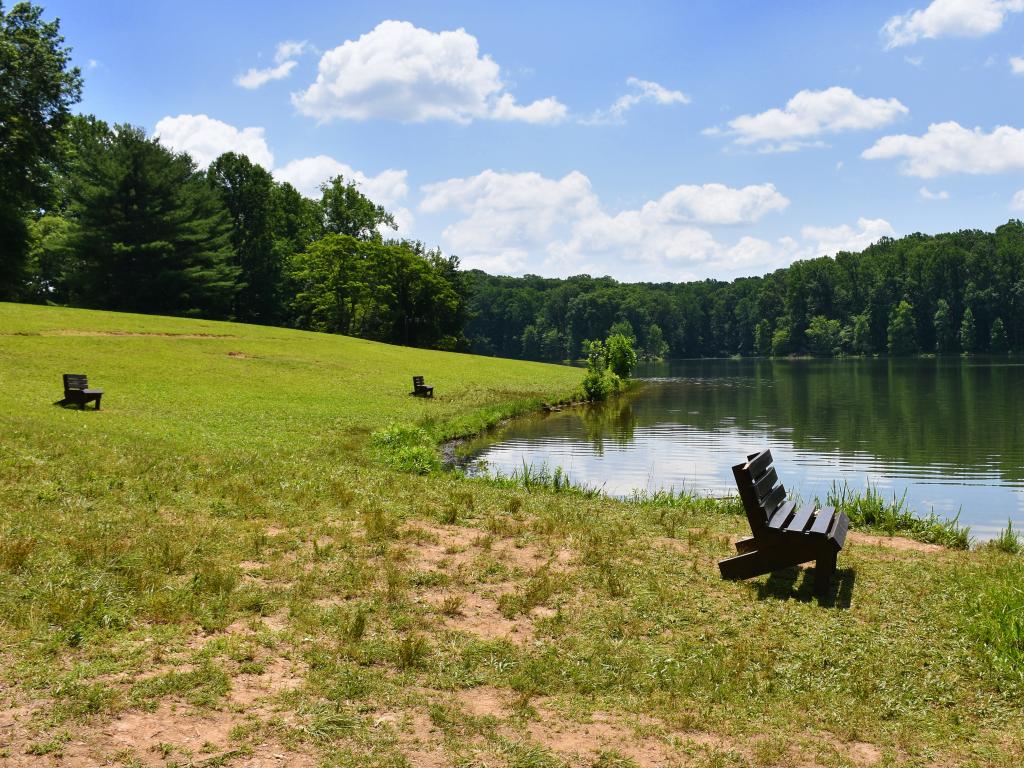 Besides Pittsburgh, this route features its own share of scenic landscapes, including a sizable chunk of Lake Erie's southern coast.
The issue with this route is that, visiting Pittsburgh or even just trying to squeeze past the city's outskirts is likely to get you stuck in one of the city's notorious traffic jams.
In a way, this problem is made even worse during the holidays, owing to the many tourists who use the city as a stopover on the way to Niagara Falls. Keep a close eye on the traffic situation as you maneuver your way around town.
Best road trip route from Washington, D.C. to Niagara Falls
There's no clear "best' route for the road trip from Washington, D.C. to Niagara Falls – both of the itineraries have plenty to offer, even sharing some of their most scenic landmarks. Consider taking one route on the way there and another on the way back.
The Fast Route
Crossing the Francis Scott Key Memorial Bridge into Virginia, drive along the Potomac River on the George Washington Memorial Parkway, then cross the American Legion Memorial Bridge into Maryland.
Briefly drive on Interstate 495 before getting on Interstate 270, driving past Rock Creek National Park and Seneca Creek State Park.
Just past Monocacy National Battlefields, stop at Frederick if you want before hopping onto Interstate 70. Follow it past Gambril, Greenbrier, and South Mountain State Parks before crossing over into Pennsylvania.
Just past Bedford, get on Interstate 99 and pass Raystown Lake Recreation Area and Rothrock State Forest. From Bald Eagle, leave the interstate and continue north past Black Moshannon State Park and Moshannon State Forest until you reach Route 219.
Follow this route past Allegheny National Forest and State Park, then take Interstate 190 just before Buffalo and follow it the rest of the way to Niagara Falls.
The Pittsburgh Route
The first portion of the drive is the same as the other route – once you reach Bedford, though, stay on Interstate 76 and follow it past Shawnee State Park and make a stop at Pittsburgh. Just north of town, jump onto Interstate 79, not far from Bradys Run Park.
Drive between McConnells Mill State Park and Lake Arthur, followed by Grove City Memorial Park. Not long after passing Maurice K Goddard State Park, you'll reach Erie and the Presque Isle State Park.
From here, follow Interstate 90 along the lake, then hop onto Interstate 190 at Buffalo and take it to Niagara Falls.
Best places to stop between Washington, D.C. and Niagara Falls
The Niagara region is absolutely full of great places to stay, but the way there can be a bit lacking in terms of luxury accommodation depending on the route and how you're splitting your trip.
With that said, booking a room at the following hotels is bound to enhance your vacation:
Explore the streets of Pittsburgh
If you're taking the more western route, be sure to stop at Pittsburgh – your road trip will be all the better for it. Out of the slew of great hotels to choose from, Fairmont Pittsburgh has by far the sleekest interior and best location you could hope for.
With rooms that exude a simple kind of elegance and offer great city views, this hotel guarantees you a comfortable, inviting stay. Add to that the amazing concierge service, and you have the best hotel money can buy in Pittsburgh.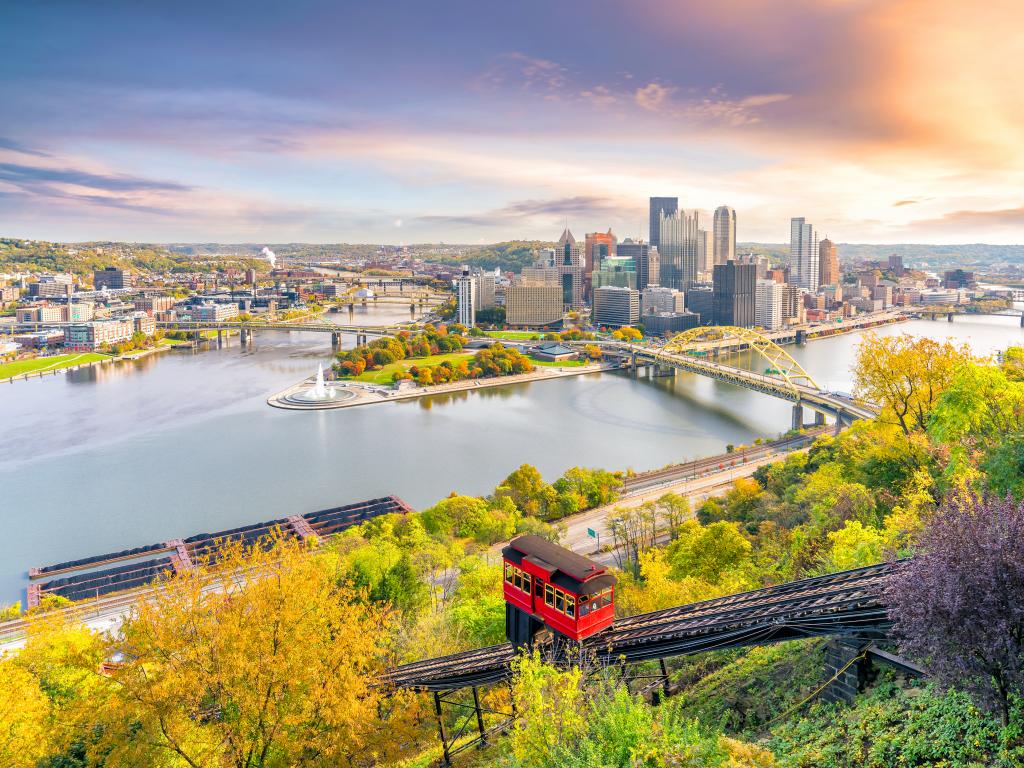 The experience is made all the better by the amazing on-site bar and restaurants, allowing you to spend an evening in style. For the ultimate way to relax after walking around the city, a great way to end your day is at The Health Club and Spa, complete with massage services and a fitness area.
Finally, the hotel offers some great connectivity – conveniently located in downtown Pittsburgh, this resort is within walking distance of iconic landmarks like PNC and Point State Parks. Best of all, a room at this hotel won't set you back much at all, potentially allowing for a longer stay.
Enjoy the royal treatment at Niagara Falls
Many Niagara enthusiasts will readily tell you that the Canadian part of the region is substantially more scenic than its U.S. counterpart. In light of that, you may want to indulge in the jaw-dropping window views at the Hilton Niagara Falls.
Managing to combine both style and substance, the rooms at this hotel are to die for – the fireplace will keep you warm no matter the time of year, and you can expect breathtaking views of the falls from virtually any floor.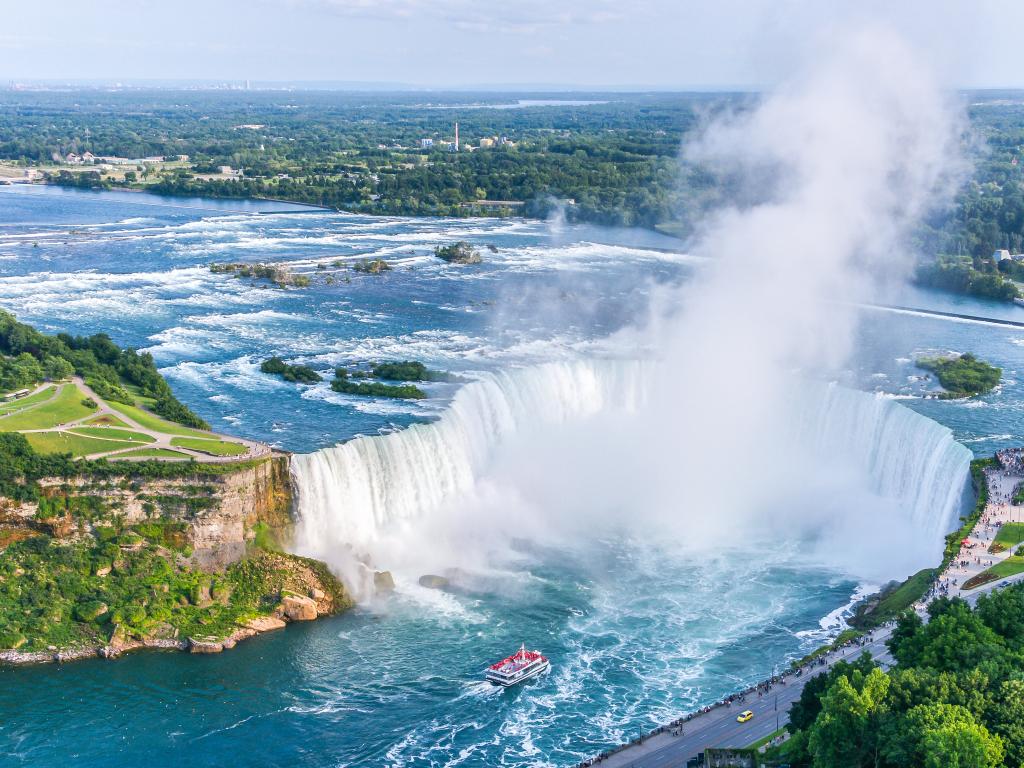 Guests will have several on-site restaurants to choose from, each more stylish than the last, and what little time you're not spending outside near the falls, you can relax in the indoor swimming pool before hitting the hay.
Essentially, for an extremely generous price (even more generous when visiting out of season), you're getting an incredibly scenic resort located mere minutes from the IMAX Theater, Fallsview Casino Resort, and the Galleria shops.
Things to see on a road trip from Washington, D.C. to Niagara Falls
Although the final destination is probably the highlight of the experience, the road trip from Washington, D.C. to Niagara Falls is full of places worth checking out. Here are some of the most beautiful ones:
Seneca Creek State Park – stretching along Seneca Creek, this park features beautiful hiking trails and the stunning Clopper Lake
Monocacy National Battlefield – this beautiful site also happens to be among the most significant battlefronts of the Civil War
South Mountain State Park – a gorgeous park along the Blue Ridge Mountains, perhaps best known for featuring High Shoals Falls
Catoctin Mountain Park – this park combines lush valleys and the scenic Blue Ridge Mountains into an unforgettable hiking experience
Canoe Creek State Park – courtesy of Canoe Lake and its stunning surroundings, this park is the perfect hub for many water and land-based activities
Allegheny National Forest – a scenic forest featuring lakes, old-growth trees, and the gigantic Kinzua Dam
Allegany State Park – this beautiful, historic park is the natural landmark of choice for New York natives thanks to its gorgeous trails and sweeping mountain views
Buffalo – besides being a major thoroughfare for travelers to Niagara Falls, the eye-catching design and access to Lake Erie make Buffalo a beautiful city in its own right
Finger Lakes – although they're a bit of a detour when following the routes outlined above, the beauty of these lakes makes them a must-see when traveling in the region
Shawnee State Park – featuring Shawnee Lake, this is one of the best place to swim and fish in the region
Pittsburgh –anyone in the know will tell you that Pittsburgh's parks, architecture, and overall quality of life make it among the greatest cities in the States
McConnells Mill State Park – one of the region's premier hiking areas, containing a beautiful (and difficult) stretch of the North Country Trail
Maurice K Goddard State Park – chock-full of things to do no matter the time of year, the park makes for an amazing hunting, canoeing, and ice fishing spot alike
Presque Isle State Park – in light of its unique geology and title of Lake Erie's very own "peninsula", this park is a nature lover's dream come true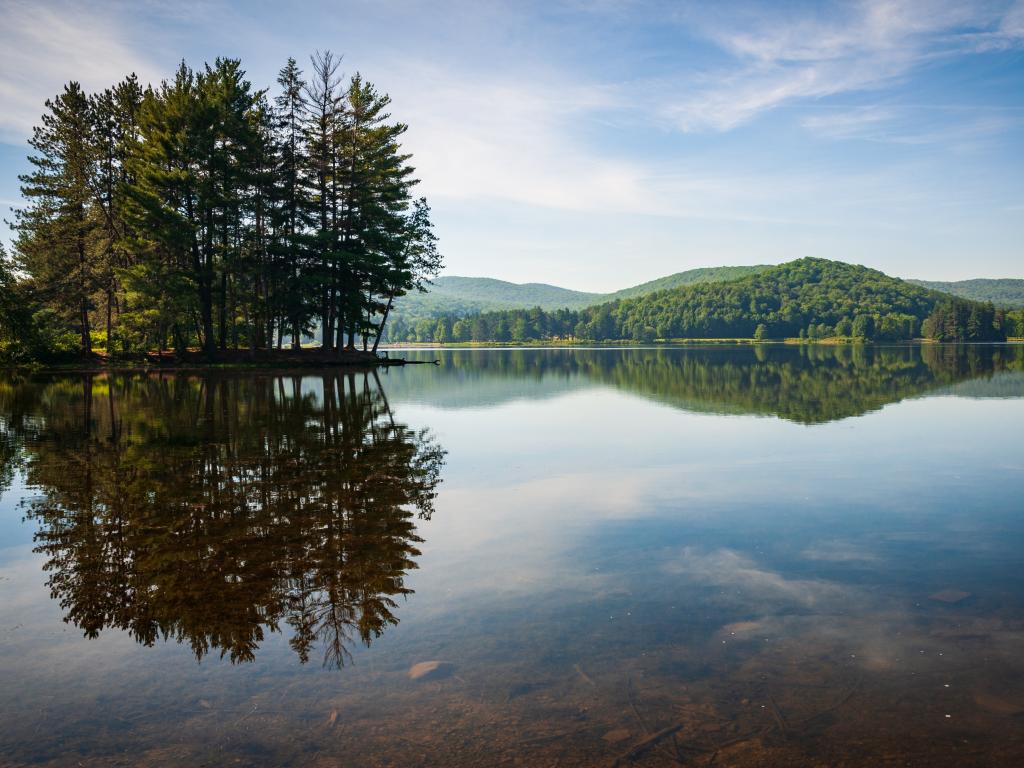 Best time to go on a road trip from Washington, D.C. to Niagara Falls
The best time for a road trip from Washington, D.C. to Niagara is easier to pinpoint than it is for many other trips, considering how dependent the area's tourism is on the weather conditions.
Summer is the busiest time of year at Niagara Falls, whether you're staying on the New York or Canada side. Temperatures cap out at around 80 degrees in July and August, and the abundance of free transportation makes it very easy to get around.
With that said, the convenient weather is a huge tourist draw, so to avoid crowds, you can do the trip in early fall – snow in the fall is not unheard of here, but September doesn't have that problem, and it gives you a nice 70 degrees and generous hotel prices to work with.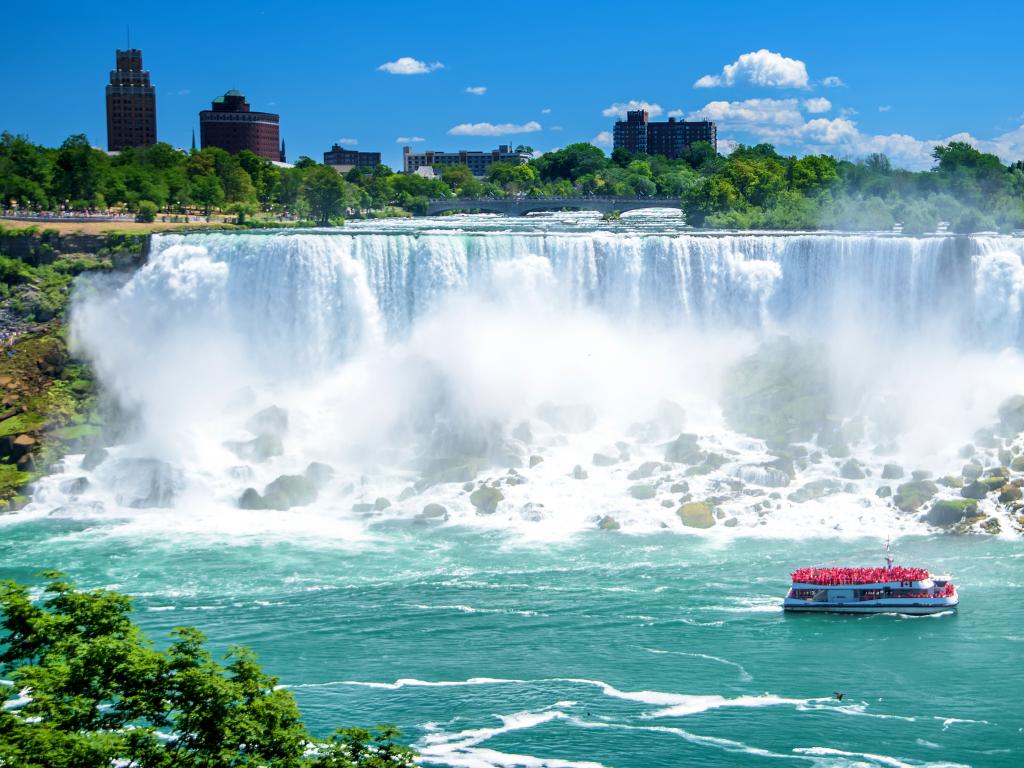 Although there's a certain charm to it, visiting the Falls in winter is generally ill-advised given the potential for blizzards. Visuals aside, the region is rich in amazing wineries to check out, and January's Icewine Festival draws a respectable number of visitors, given the weather.
As you might imagine, the less-than-stellar weather carries over into spring, and the line between it and winter can get quite blurry on a bad year.
For all intents and purposes, late April or early May is usually the earliest you should do the trip. This is also the time to check out Shaw Theater, and the practically weekly fireworks are on full display.