Japan road trip itinerary from Tokyo to Osaka
From the hypnotising neon lights of Tokyo, to the traditional temples and shrines of Kyoto, Japan is a country where history seamlessly coexists with modernity, meaning there's no end of things to discover during a Japan road trip.
Our Japan road trip itinerary celebrates the best of the famous Golden Route, travelling west from Tokyo past Mount Fuji to Hakone and Shizuoka, before continuing on to Kyoto and Osaka.
Although the amazing bullet trains and metro systems mean it may not be conventional to travel Japan by car, the roads are relatively easy to navigate and you'll be able to head off the beaten path a little more, making driving in Japan totally worth it.
From sacred shrines and traditional tea ceremonies, to robot restaurants and futuristic skyscrapers, read on for our definitive Japan road trip guide.
Day 1: Tokyo - visit the Meiji Shrine, relax in Kiyosumi Garden & have a traditional kaiseki meal
After flying into Tokyo you'll probably be needing some time to shake off the jet lag before diving into the high-energy, neon-lit side of the city, so spend the rest of day 1 on a more relaxed tour of some more traditional Japanese sights.
You don't need to pick up your hire car until you're ready to leave Tokyo on day 3, so check into your hotel, freshen up after your flight and head out for you first taste of Japan.
Where to stay in Tokyo
Hotels in Tokyo can be really expensive or somewhat basic so finding the right balance is key.
The Conrad Tokyo hotel is a fantastic choice and is really well located for your stay.
The rooms are perfectly decorated with modern lighting and luxury fittings. The location is perfect for getting about the city with the monorail and Shimbashi and Ginza metro stations a short walk away.
It is half the price of other similar quality hotels in central Tokyo and you really get amazing value for your money.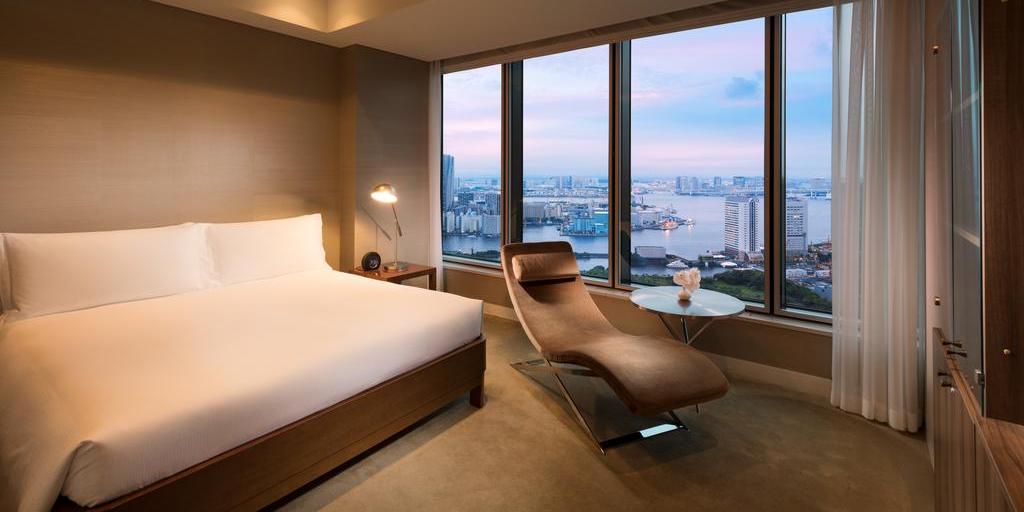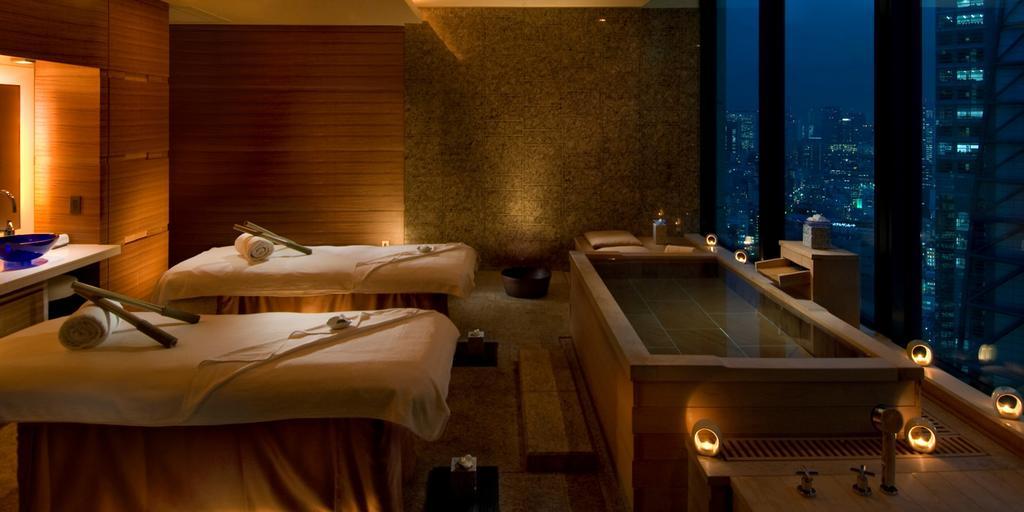 Explore the Meiji Shrine and surrounding Yoyogi Park
Dedicated to the spirits of the Emperor Meiji, the first emperor of modern Japan, and the Empress Shoken in 1920, this beautiful Shinto shrine is one of the most popular in Japan and is a great way to kick off your Tokyo itinerary.
The torii gate, which marks the entrance to the shrine and a transition from the mundane to the sacred, transports you from the busy city into an oasis of natural beauty and calm - exactly what you'll be after having just stepped off the plane.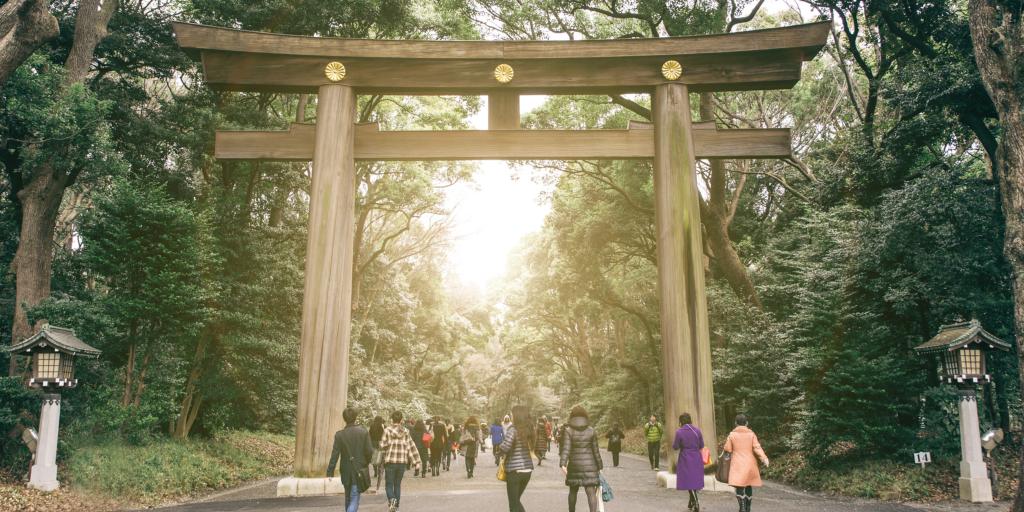 The main complex of the shrine is a pleasant ten-minute stroll from the southern entrance through a tranquil forest of around 100,000 trees donated from across the country, and is made up of beautiful Japanese architecture to explore.
Have a look around the shrine and take part in some traditional Shinto activities including making offerings in the main hall and writing your wish on a wooden ema to leave in the shrine to be granted.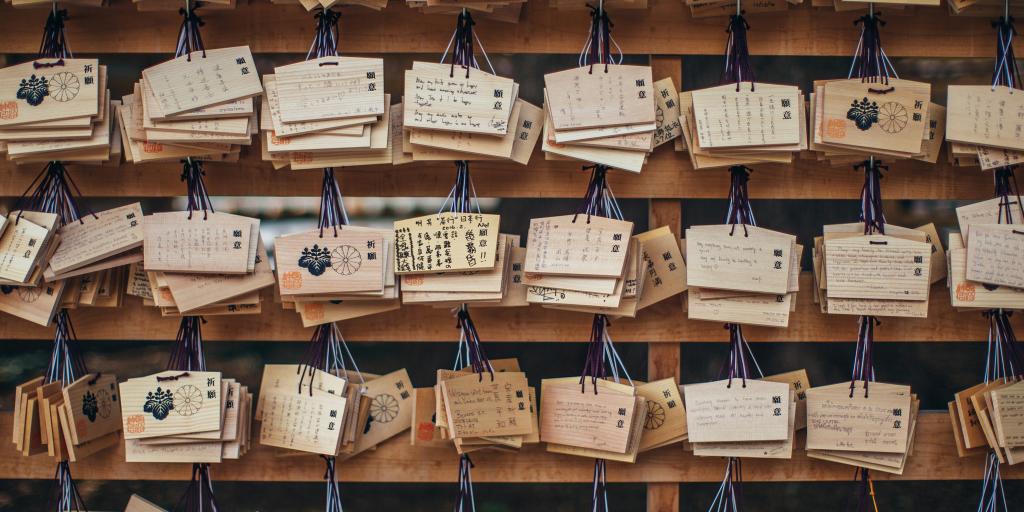 If you're lucky, you might even catch a traditional Shinto wedding taking place here, making your visit even more magical.
The shrine complex also contains the Meiji Jingu Treasure House where belongings of the Emperor and Empress are on display, as well as the beautiful Inner Garden, thought to be an area of strong spirituality that's particularly scenic in June when the irises are in bloom.
Entry to the shrine is free, however there is a small fee of 500 JPY (Japanese yen) to visit the Inner Garden.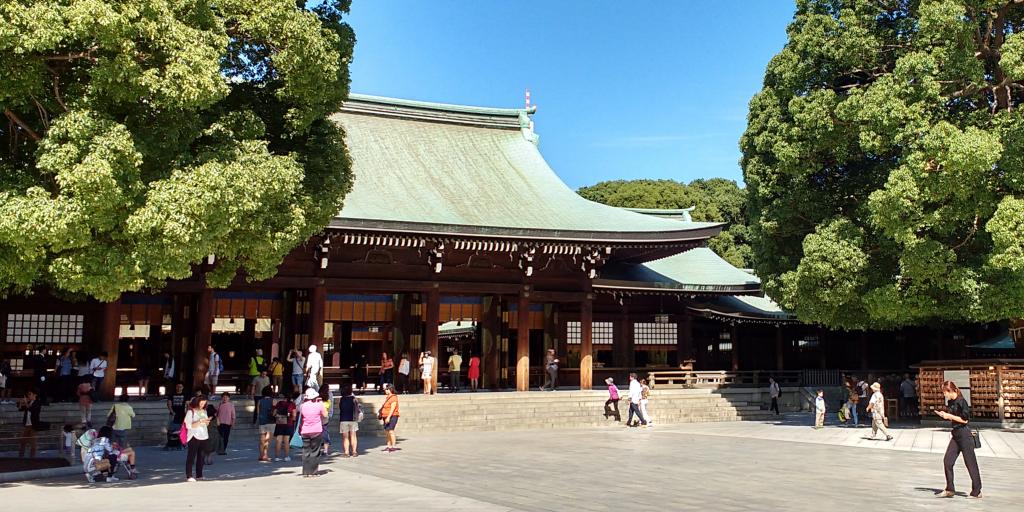 Once you're done at the shrine have a stroll through surrounding Yoyogi Park and head back to the metro to move on to your next stop.
Take the metro to Kiyosumi Garden
Continue with the nature theme and head to Kiyosumi Garden for the rest of the afternoon.
By the time you get there you'll probably be after a quick bite to eat, so grab some food at the tea-house style restaurant Ryotei before you look around (you'll need to reserve a table in advance).
Once you've eaten, spend some time exploring the grounds. This landscaped garden is very carefully designed, with a glittering pond, lush trees, quaint bridges, and the traditional tea house to enjoy as you do the circular walk around the grounds.
Although it's all stunning, one thing to pay particular attention to is the large stones dotted around the garden. Landscape stones are considered extremely valuable in Japan, and here you'll find examples sourced from all over the country.
Be sure to hop along the stepping stone paths and spot the fish and turtles in the water as you go around, and stop regularly to relax and enjoy the serene atmosphere of the garden as the afternoon draws to a close.
Entry to the garden costs 150 JPY.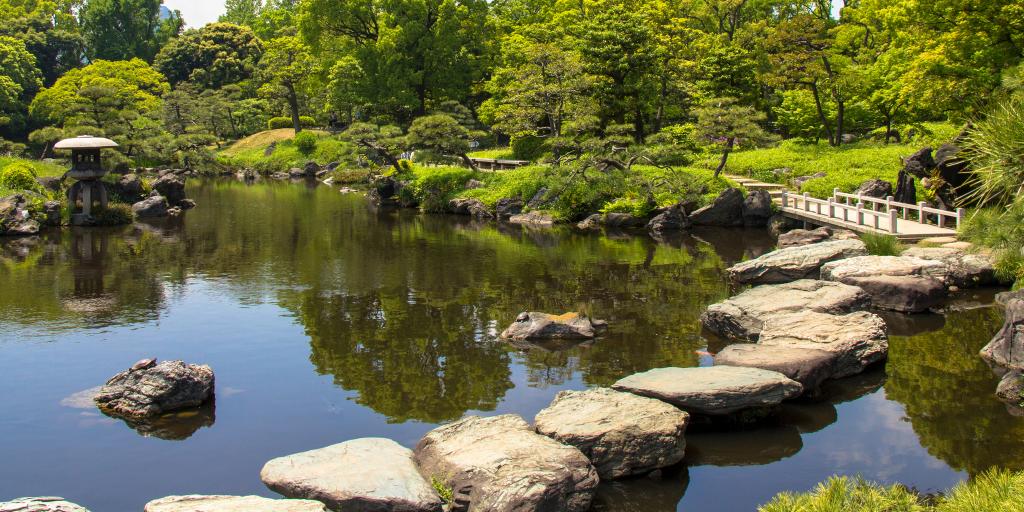 Go for a traditional kaiseki meal at Ao to celebrate the start of your trip
Head back to your hotel and put your feet up for a while, then make your way to Ao for a kaiseki meal.
In keeping with your relaxed, authentic day, this type of meal is a traditional multi-course Japanese dinner made up of beautifully presented dishes that celebrate the taste, texture, and colours of seasonal ingredients.
There are loads of different places where you can enjoy a kaiseki meal in Tokyo, however we'd recommend you book a table at Ao, an unassuming restaurant close to Shibuya which offers a six course meal for 3,400 JPY (a steal when it comes to kaiseki).
They base their dishes on fresh, seasonal Japanese ingredients, but draw on techniques from lots of other cuisines to create unique and delicious flavour combinations.
The dishes on offer change monthly so it's impossible for us to predict what you'll eat during your visit, but we're pretty confident you won't be disappointed.
Enjoy your food, toast the start of your trip with a glass of sake, then head back to your hotel for a well-earned rest.
Day 2: Tokyo - have sushi for breakfast, visit the teamLab Borderless Museum, go shopping, & walk the world's busiest street crossing
Day 2 is all about experiencing the side of Tokyo you've seen in the pictures, AKA the crazy museums, bustling streets, neon lights, and high-end shopping; you're in for a busy day!
Kick off day 2 with a sushi breakfast at Toyosu Fish Market
Yep, sushi for breakfast is most definitely a thing in Japan, especially at the fresh fish markets where the catch of the day arrives in the early hours of the morning, meaning it's expertly prepped and sliced just in time for your morning meal.
One of the best places to get your sushi fix is at Toyosu Fish Market (the new location of former Tsukiji Fish Market), where popular Sushi Dai and Daiwa Sushi serve up the freshest nigiri and sashimi from 5.30am.
Unfortunately if you want to beat the queues you have to get there when it opens at the absolute latest, but don't worry, it'll mean you arrive in time to witness the famous tuna auction, and give you time to wander round the market without eating into the rest of today's itinerary.
If you can't face getting up that early there are plenty of other food options that don't tend to have such long waiting times, including soba noodle restaurants and coffee shops.
Head to nearby teamLab Borderless Museum
By the time you've queued for your breakfast, watched the auction, and had a potter around the market it'll probably be the ideal time to head to the teamLab Borderless Museum (officially the Mori Building Digital Art Museum Epson teamLab Borderless) for its 10am opening.
This quirky digital art museum pretty much sums up the modern side of Tokyo, and is a multi-sensory experience made up of breathtaking light shows that adapt and change as you walk around; you won't see the same thing on a loop here.
From hundreds of colourful flowers projected on the walls and ceilings, to rooms full of LED lights made to seem never-ending with mirrors and polished floors, this art stimulates all the senses and offers a truly unforgettable experience.
You can even stop for a cup of green tea containing digital flowers that bloom right in front of your eyes - magical.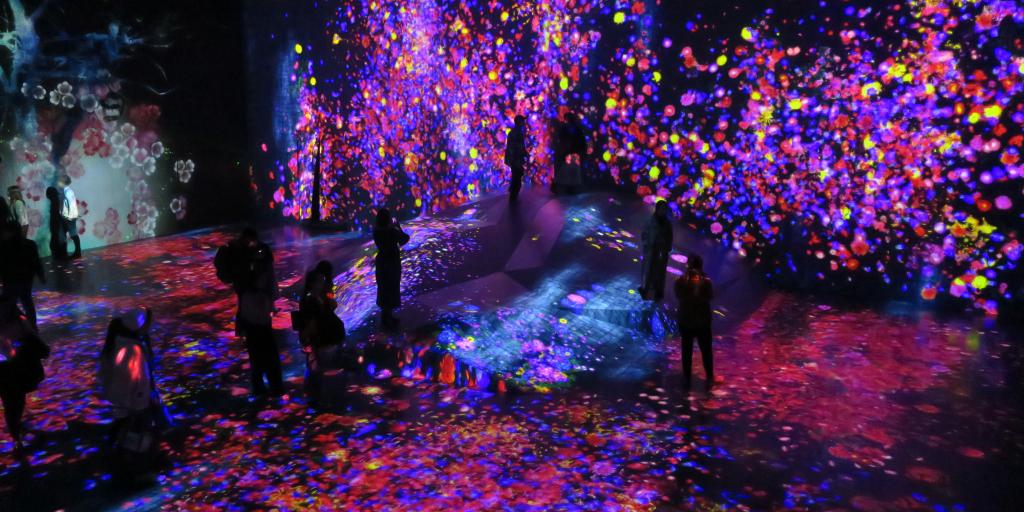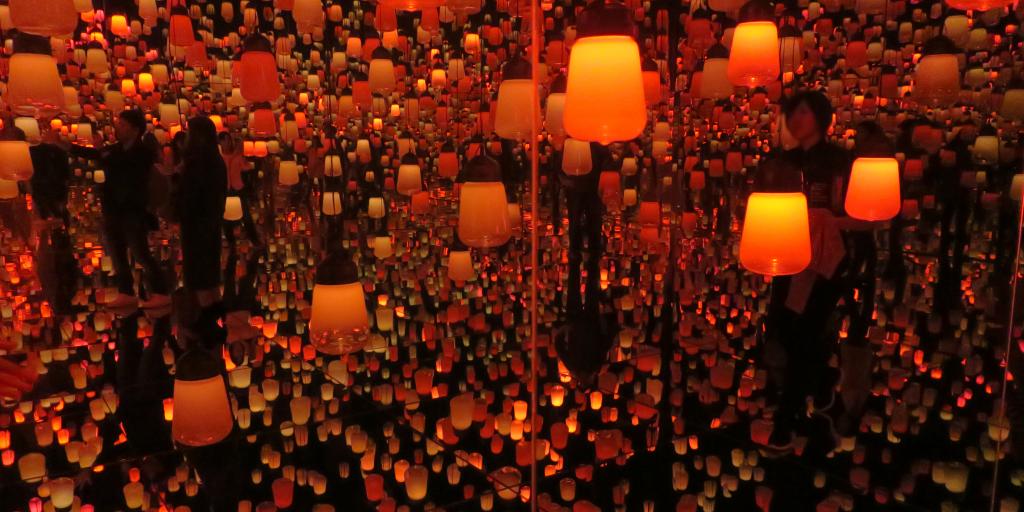 Tickets cost 3,200 JPY and should be bought online in advance.
Grab a quick lunch then do some shopping
A trip to Tokyo wouldn't be complete without a shopping spree, so grab a quick bite to eat after you leave the museum (street food is always a good idea), and set off in search of some retail therapy.
The shopping options in Tokyo are pretty diverse, ranging from high-end malls, to vintage boutiques, to traditional markets, so where you choose to go should definitely depend on how you're feeling on the day.
We've got a few varied suggestions for you to choose from which cover the best of Tokyo's shopping:
For high end (window) shopping head to the modern Ginza district. Dotted with upmarket boutiques and department stores, this is the place to go if you're after some designer souvenirs to take home. You'll also find some traditional craft shops nestled amongst the glamour, so you shouldn't feel too far removed from authentic Japanese culture as you browse.
For vintage shops and quirky boutiques Shimo-Kitazawa is the place to go. Located a little outside of the commercial centre, expect to find the coolest record stores, one-of-a-kind vintage clothes shops, and casual eateries all buzzing with trendy art students and bohemian locals. This is a great place to discover another of Tokyo's many personalities.
If you'd rather shop for traditional Japanese trinkets then Nakamise Shopping Street is the best option. The street is one of the oldest shopping areas in the whole of Japan, and is located on the approach to the Sensoji Temple, so the setting is just as authentic as the shops themselves. From delicate folding fans to traditional snacks, the Nakamise Shopping Street celebrates the best of Tokyo's historic shopping scene.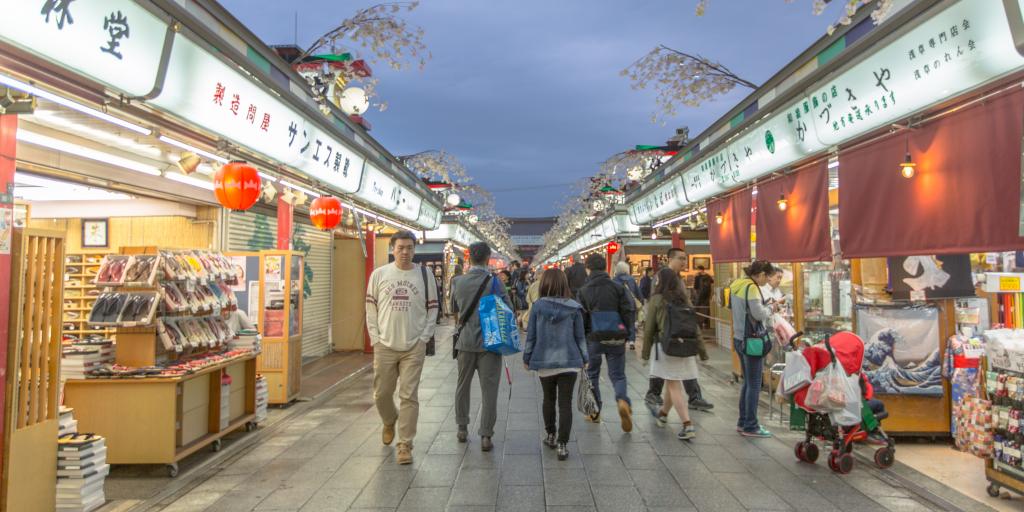 Relax in one of Tokyo's quirky cafes
In our opinion shopping always has to be followed by coffee, and Tokyo isn't short of cafes to choose from.
In the last decade the city has become one of the world's leading hubs for coffee lovers, with countless trendy coffee roasters and specialist shops popping up in every neighbourhood.
We could easily give you a list of 20 amazing spots to hit up, but we've whittled it down to three suggestions to make your choice a little easier.
The Roastery by Nozy Coffee - The coffee roaster takes centre stage at this trendy cafe (literally - it sits in the middle of the room), so you can expect fresh beans roasted to perfection here. With two types of beans to choose from everyday, the friendly English-speaking staff are on hand to help you decide which to go for, and they also sell amazing coffee flavoured soft-serve ice cream if you fancy a sweet treat on the side.

Roar Coffee House - For something a little quirky Roar Coffee House is a great spot. They specialise in multi-coloured coffees, serving up mini works of art to each customer. The coffee connoisseurs among you are probably cringing at the thought of Instagram-worthy rainbow lattes, but they're careful to use the best coffee and roast it in-house, so the flavours are just as good as the visuals.

Tokyo Saryo - Our third option isn't actually a coffee shop but a green tea house - after all, this nutritious infusion is Japan's original brew. Tokyo Saryo offers single-origin green tea hand dripped through their own tea drippers to bring out the best flavour from the leaves. The cafe is clean and minimalist, making it a really calming retreat from the busy shopping districts. Opt for the tasting selection (1300 JPY), choose one tea to try (800 JPY), or grab an iced tea to take away (450 JPY).
If three options isn't enough, our guide to the best neighbourhood cafes in Tokyo will give you some more inspiration and information on what to expect from your Japanese brew.
Have a leisurely coffee then head back to your hotel to relax and freshen up before evening falls.
Walk the world's busiest street crossing in Shibuya and have dinner at the Robot Restaurant
Once the neon lights have switched on, head out to Shibuya before dinner to walk across the world's busiest street crossing just outside of Shibuya metro station - this is the Tokyo you've seen in the pictures.
During rush hour, as many as 2,500 people can cross each time the signal changes, bringing the road to life.
Ordinarily, stepping into the thick of any city's rush hour would be the last thing we'd suggest, but this crossing is made iconic by the crowds, so it's definitely worth braving the bustle this time.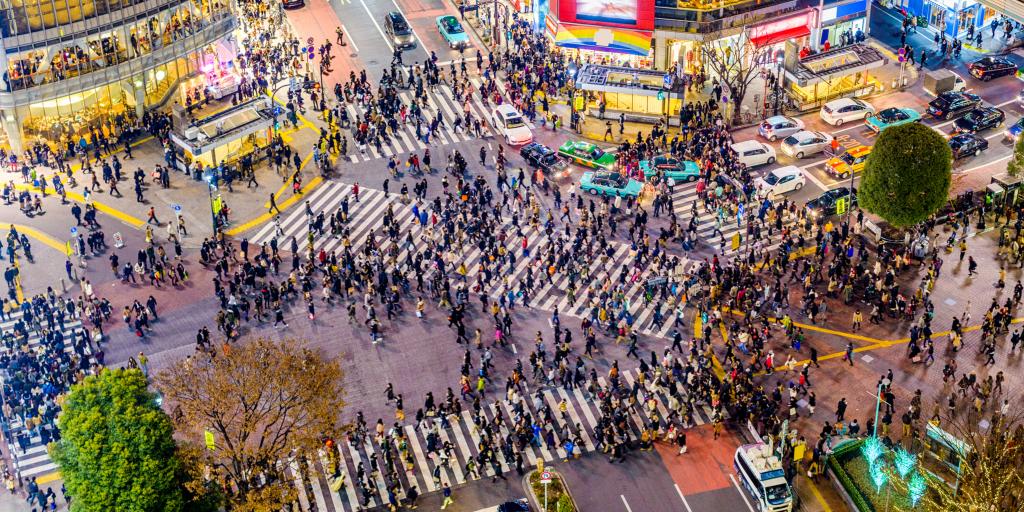 Once you've experienced the crossing make your way to the famous Robot Restaurant to top off your Tokyo itinerary.
Although the food here isn't the best you'll find in Tokyo, the accompanying show, which we can only describe as somewhere between a cabaret and a popular culture explosion, is so wacky and wonderful we doubt you'll even notice.
Expect burlesque dancers fighting reptiles, dancing bunnies playing glittery drums, out of control sharks raging across the stage, and totally in control ninjas battling invaders. And robots, duh.
Put simply: it's complete and utter carefully choreographed chaos.
The whole experience is a little pricey at 8,000 JPY, but it's an unmistakable rite of passage that makes it worth every penny.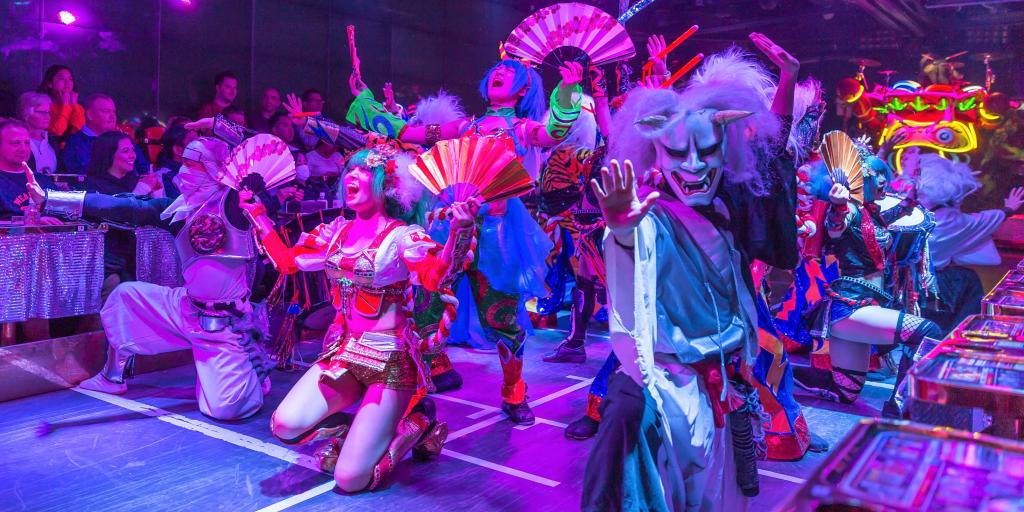 Day 3: Tokyo to Hakone via Mount Fuji - take a scenic drive around Lake Kawaguchi to see Mount Fuji on your way to Hakone
Miles: 115
Have a lie in on day 2 (you might need it after the Robot Restaurant), then pick up your hire car ready to set off in the late morning - today's focus is a scenic drive to get the best views of epic Mount Fuji.
Before we delve in, a quick note on driving in Japan. On the route that this itinerary follows driving should be fairly hassle free, with wide, well-paved roads connecting the country's major cities.
You'll encounter toll roads on some of the expressways and more scenic routes (such as the Chuo Expressway you'll take today), and in and around the cities can get quite congested, but other than that drivers are generally very safe and considerate, making driving in Japan a breeze.
Drive west out of Tokyo to Lake Kawaguchi
Some of the best views of Mount Fuji can be found at Lake Kawaguchi, so rather than heading south straight to Hakone, take a scenic detour west towards the lake.
It should take you around an hour and a half to get there, cruising along Lake Sagami and through stunning verdant mountains and lakes along the way.
You'll probably follow the Chuo Expressway most of the way (don't worry it's still really scenic), but there's also a smaller, toll-free road that runs parallel along the lake if you'd prefer to come off the main road.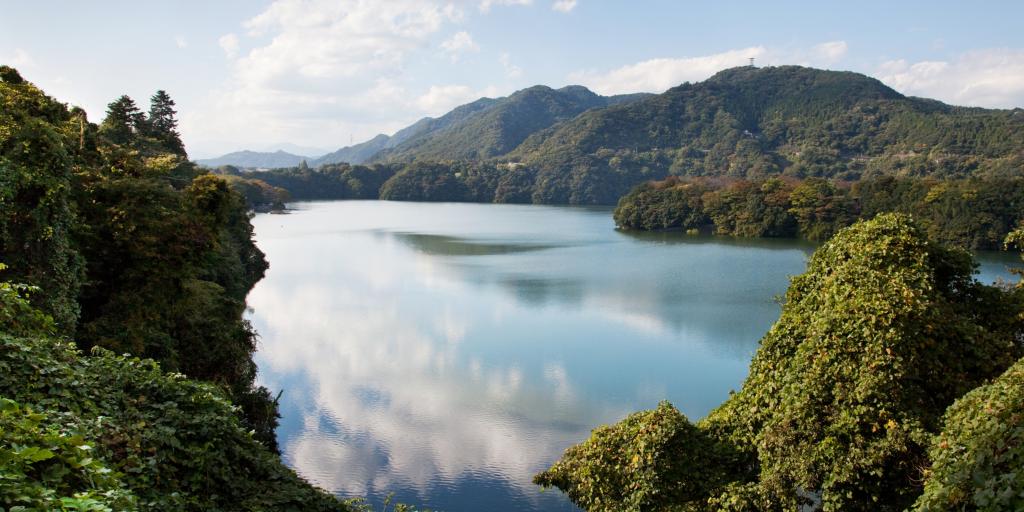 Once you've reached Lake Kawaguchi, you'll want to drive to the north side of the lake, park the car (there are various car parks including one near Nagasaki Park), then walk down to the water to admire the view.
You won't be disappointed - on a clear day you'll get a picture-perfect view of the snow-capped mountain reflected on the water, so make sure you have your camera at the ready, and spend some time taking it all in.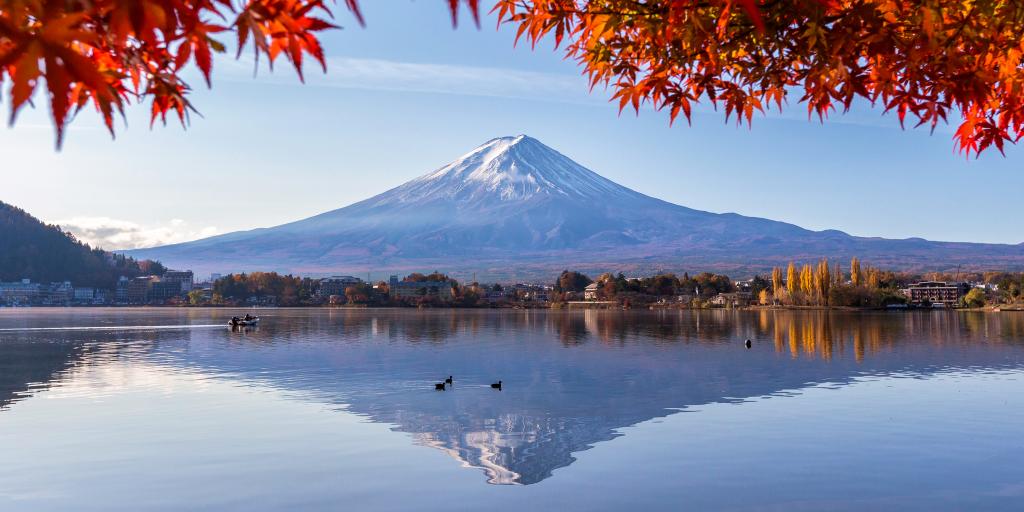 Have a late lunch at Lake Bake Cafe
Once you've spent enough time gazing at the view head to Lake Bake Cafe a little further west from the car park for a late lunch.
The walls of this cosy cafe are lined with baskets of delicious baked goods, ranging from pizza-esque flatbreads to crusty loaves and decadent cakes that you can enjoy on their terrace overlooking the lake and Mount Fuji.
Owing to the fact that you're a little off the beaten path the menu is all in Japanese, so this lunch will be more of a point-at-something-that-looks-tasty affair - a great way to discover something new!
Drive on to Hakone
Continue west and do a full circuit of the lake before heading south to Hakone.
The road hugs the water most of the way, making it a really lovely stretch to drive, particularly on the south side where you'll have a beautiful view of the green mountains you've just driven through.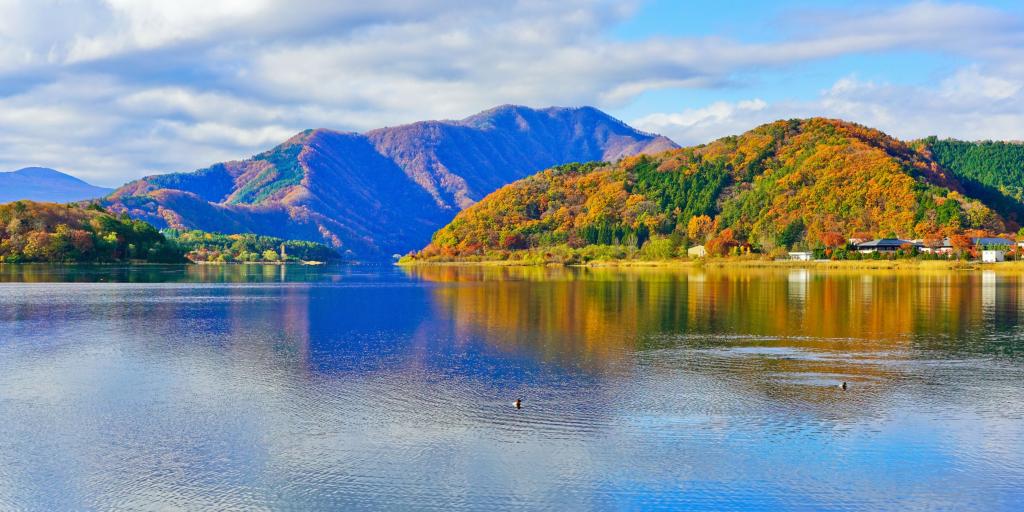 From there drive the remaining 35 miles to get to Hakone, enjoying even more mountain roads and scenic views as you go.
Eat soba noodles at Nakamura
By the time you arrive in Hakone you probably won't have much of the day left, so just check into your hotel, put your feet up for a few minutes then go for another classic Japanese dinner.
Tonight we're sending you to Soba Nakamura, a simple restaurant specialising in traditional Japanese soba noodles. Made of buckwheat flour, these noodles are both nutritious and delicious and come in a variety of different dishes.
They can be enjoyed either hot in a soup or cold with a dipping sauce, and we'd recommend you choose the latter as it's probably unlike any dish you've had before (and you'll probably eat a lot of ramen throughout the trip that's quite similar).
You'll essentially be served a plate of cold noodles with a soy-based dipping sauce and some wasabi and spring onions on the side. The idea is that you mix the onions and wasabi into the sauce then dunk mouthfuls of the noodles into it as you eat.
It's simple yet very delicious, and it's even better if you opt for the side of crispy tempura prawns and vegetables to go with it.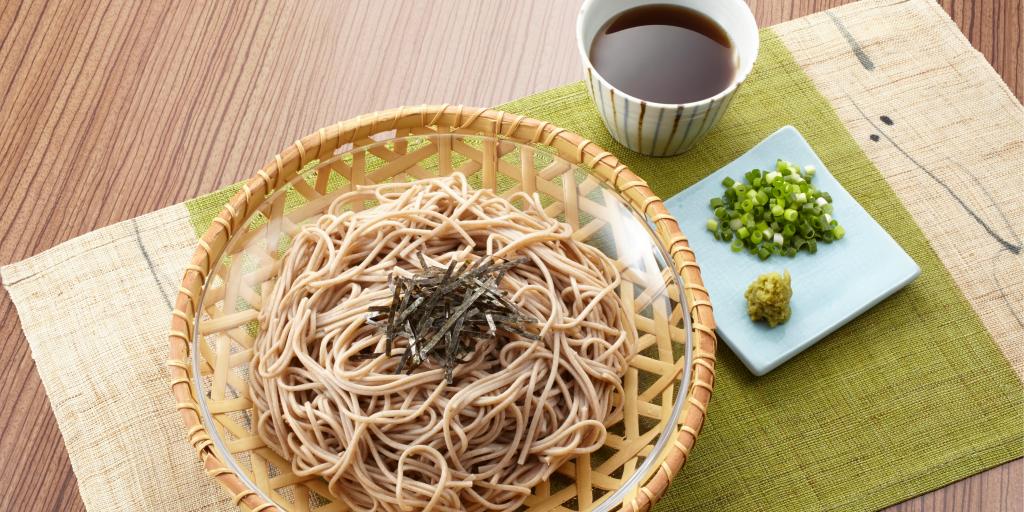 Wash the noodles down with some more sake, then head back to your hotel and call it a night - you'll be up early on day 4 to squeeze in as much as possible before leaving for Shizuoka.
Day 4: Hakone to Shizuoka - go sightseeing in Hakone & drive to Shizuoka
Miles: 60
The mountain town of Hakone in the Fuji-Hakone-Izu National Park is known for its bubbling hot springs and stunning natural beauty, meaning there's loads of great activities to get stuck into, so wake up early and make the most of your day here.
Start the day with a ride on the Hakone Ropeway
A great way to get a feel for Hakone is to hop on the Ropeway, a cable car which offers amazing views of the steaming hot springs, lush hills, and dramatic Mount Fuji.
The line runs from Sounzan Station in the east to Togendai Station in the west, with stops at Owakudani and Ubako in between.
If you wanted to see as much as possible, you could ride the whole line which pretty much covers the length of Hakone.
However, given the fact that you only have a day to see everything, we'd suggest you simply use the Ropeway as a way to get to your first stop, Owakudani.
We'd advise you check out of your hotel and take the car with you so that you can quickly get between sights later on, so parking the car at Togendai Station and getting on the Ropeway from there is a good option.
A return ticket to Owakudani from here costs 2000 JPY and will take around 20 minutes, and the first gondola departs at 9am.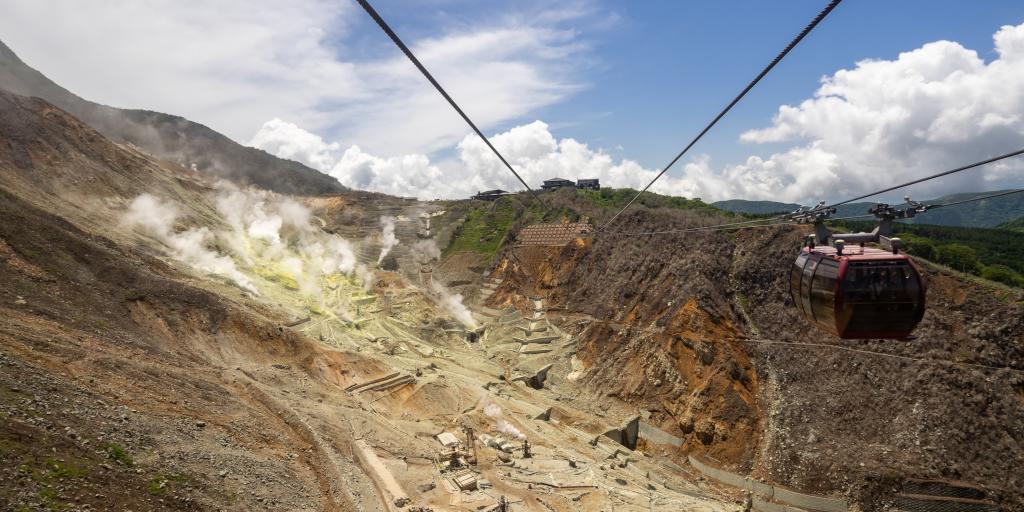 Explore the hot springs and eat a black boiled egg
Before you've even stepped off the gondola it'll be clear you've reached the geothermal valley of Owakudani.
With white smoke rising from the earth and the unmistakable smell of sulphur drifting across the hills, Owakudani is one of the more atmospheric stop offs on your Japan road trip, even if it does have the age-old nickname 'Valley of Hell'.
Aside from having a wander and snapping a few pictures of the views, one thing you need to do whilst you're in Owakudani is eat a black egg (kuro-tamago).
We're aware this sounds as hellish as the valley's nickname, however they're actually just regular hens' eggs boiled in the natural water of the hot springs that are turned black by the sulphur and iron in the water.
It's just the shell that turns black and the egg inside tastes pretty much the same as a regular boiled egg, except these are thought to add seven years to your life, so probably worth devouring one ASAP.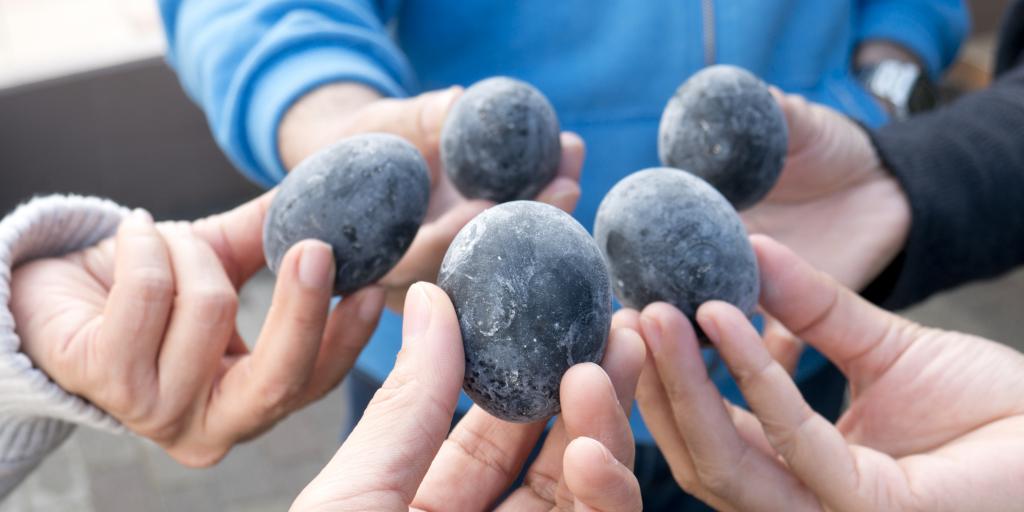 We'd recommend taking the short 15 minute hike from the station to the egg boiling site where you can watch them being made before trying one for yourself, but it's also possible to buy them from the souvenir shops near the station if you don't fancy the walk.
If standing on top of a mountain eating a black boiled egg all sounds a bit odd, you could always opt for a bean jam bun or cookie fashioned to look like one of the famed eggs - a tasty compromise that's not, well, a black boiled egg…
Drive to Hakone Shrine
Once you're done in Owakudani, take the Ropeway back to Togendai Station and drive five minutes down the road to Hakone Shrine.
Tucked away in a dense forest, you'll only be able to tell the shrine is there by its huge torii gates, two of which are located on the approach from the road on the north side of the complex, and the iconic gate on the edge of the lake in the south.
You'll probably end up approaching from the south because there's lots of parking available, so have a wander down to the water to see the gate before heading up the steps to the main shrine buildings.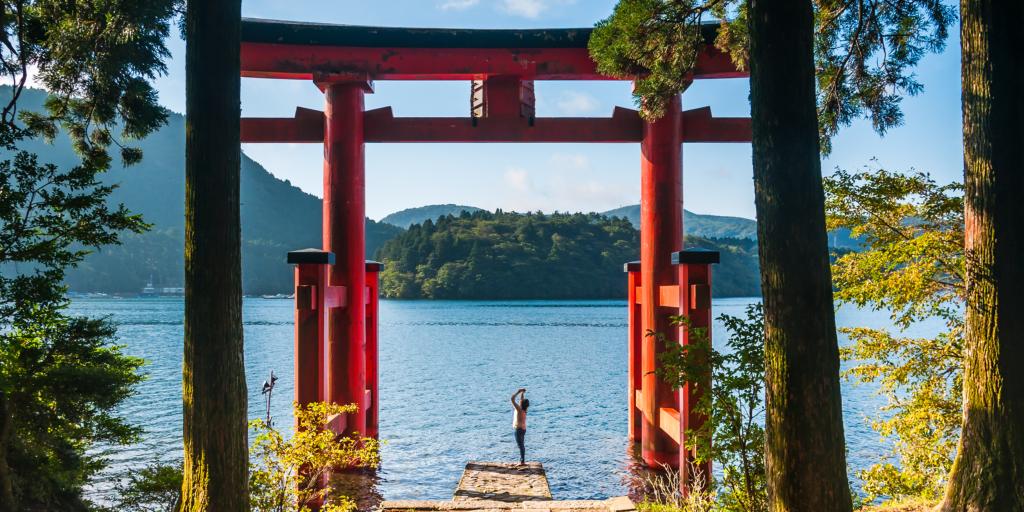 The beauty of this shrine is that it's glorious in all weather; whether the sun is filtering through the trees, drops of rain are running off the curved roof, or a blanket of cool mist has settled across the site, the shrine is always a lovely, calming place to spend some time.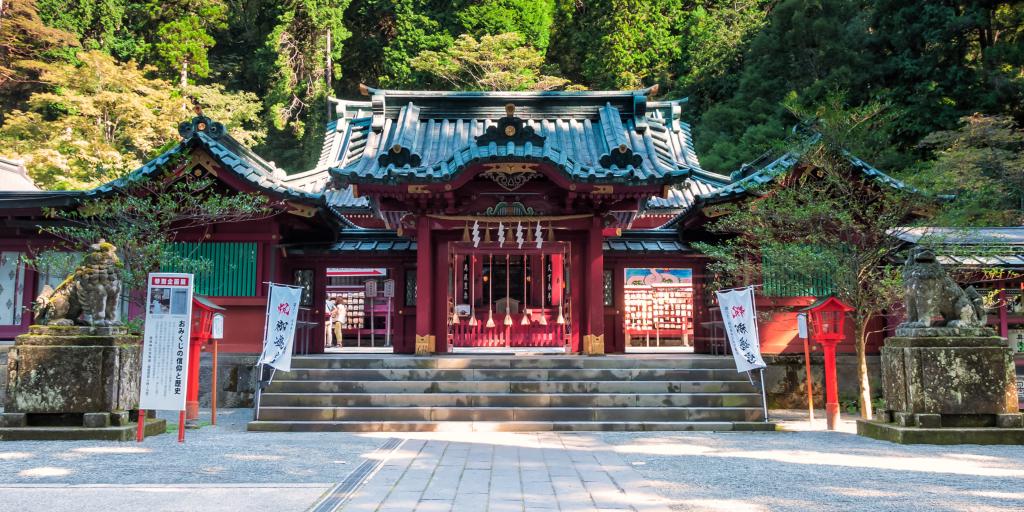 Have a late lunch then make your way to the Hakone Open-Air Museum
After you've explored the shrine and you feel suitably serene, go back to the car and drive to Hakone Open-Air Museum.
You'll definitely need a bite to eat before you get stuck into the museum, so leave your car in the car park and go to one of the nearby restaurants for a quick refuel.
The Gyoza Center, which is just around the corner, is a great spot for a quick plate of gyoza - delicate Japanese dumplings filled with fish, meat or vegetables - that should keep you going until dinner later.
After lunch spend the rest of the afternoon at the museum. Japan's first open-air museum, this attraction contains artwork by world-renowned artists, including Picasso and Henry Moore, and was opened in 1969 to try and boost interest in art.
The museum covers around 70,000 square metres against the backdrop of the mountains, allowing visitors to see artwork in a new light away from the confines of a gallery.
You'll want to drive to Shizuoka before it gets dark, so see as much as you can of the museum before you have to set off.
A few particular highlights to look out for include the Symphonic Sculpture made of beautiful stained glass which you can climb inside, the La Pleureuse sculpture of a woman's head, and the extensive Picasso Exhibition Hall.
There's also lots of fun interactive exhibits and an on-site foot spa that add to the uniqueness of this unforgettable museum.
Admission costs 1600 JPY.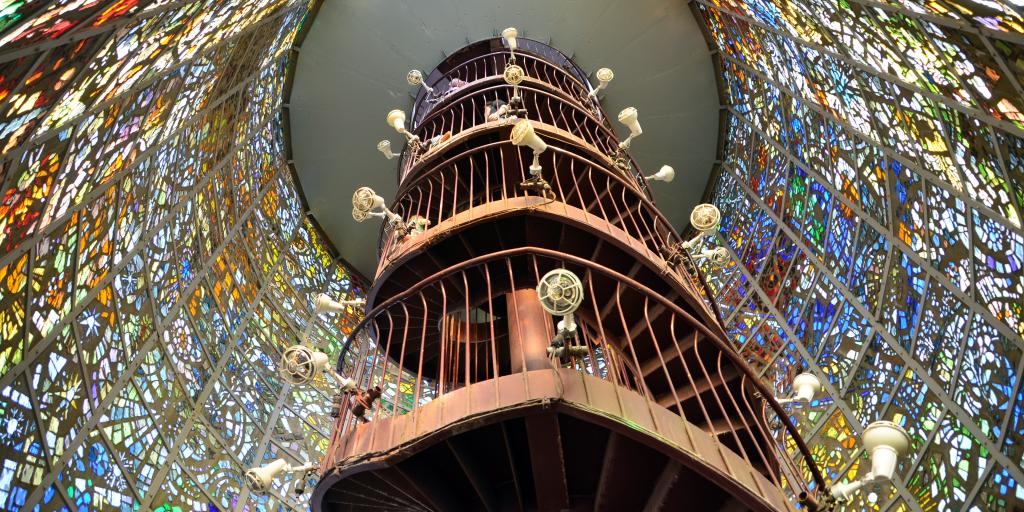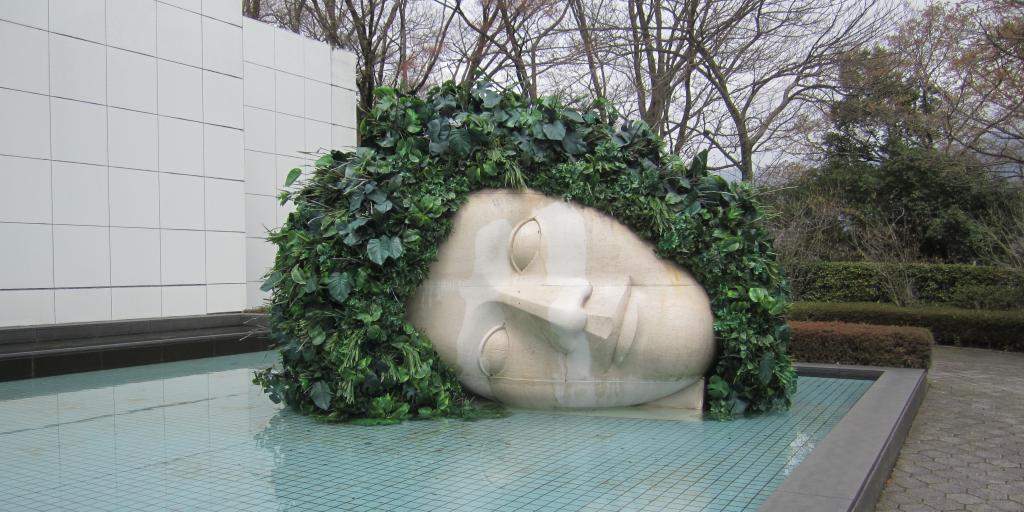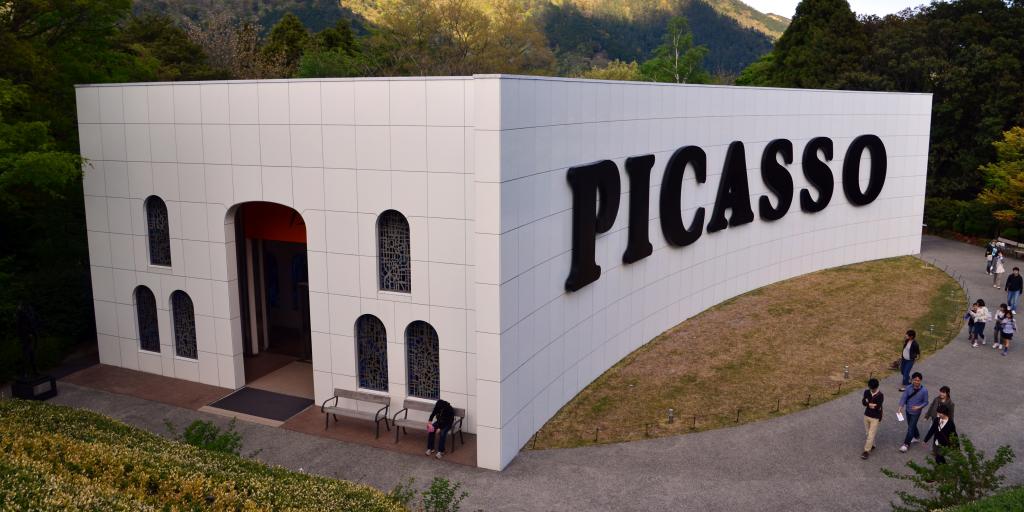 Drive to Shizuoka and relax for the evening
After browsing the art, head back to the car and drive on to Shizuoka 60 miles away.
You've had a pretty busy day so just check into your hotel, find somewhere to eat dinner and spend the rest of the evening putting your feet up.
Day 5: Shizuoka to Kyoto - go sightseeing in Shizuoka city, attend a tea ceremony at Gyokuro No Sato Hyogetsu-tei, & drive to Kyoto
Miles: 177
Wake up early and visit Sunpu Castle
You'll be straight back to big city life once you've arrived in Shizuoka, and you should have just enough time for a whistle-stop tour of the best sights before setting off for Kyoto in the afternoon.
Start your day early with a trip to Sunpu Castle. This important historical sight is thought to have been the centre of the Shizuoka and the point from which the rest of the city expanded, as well as being the retirement home for the famous shogun Tokugawa Ieyasu.
The castle has been destroyed and rebuilt many times throughout history, including a final dismantling of the fortification in the 1860s when the Tokugawa family was stripped of its power.
This means that the parts of the castle you can visit today are restored replicas of the original, carefully built according to original construction plans so they're as close to the real deal as possible.
The East Gate is the main building you can explore, and it contains some really interesting exhibits about the castle's history. The grounds are also worth a visit, with the beautiful Sunpu Park and moat adding to the surroundings.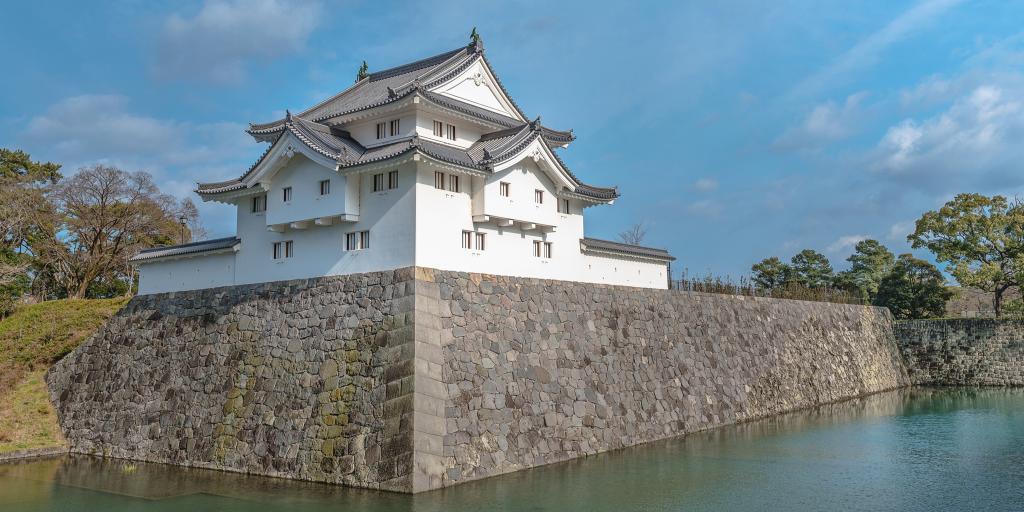 Arguably the star of the show is, however, the intricate Momijiyama Japanese Garden in the park's northeastern corner.
This carefully landscaped space contains a pond, a mound representing Mount Fuji, azaleas representing tea leaves, and pebbles to represent nearby Miho Beach.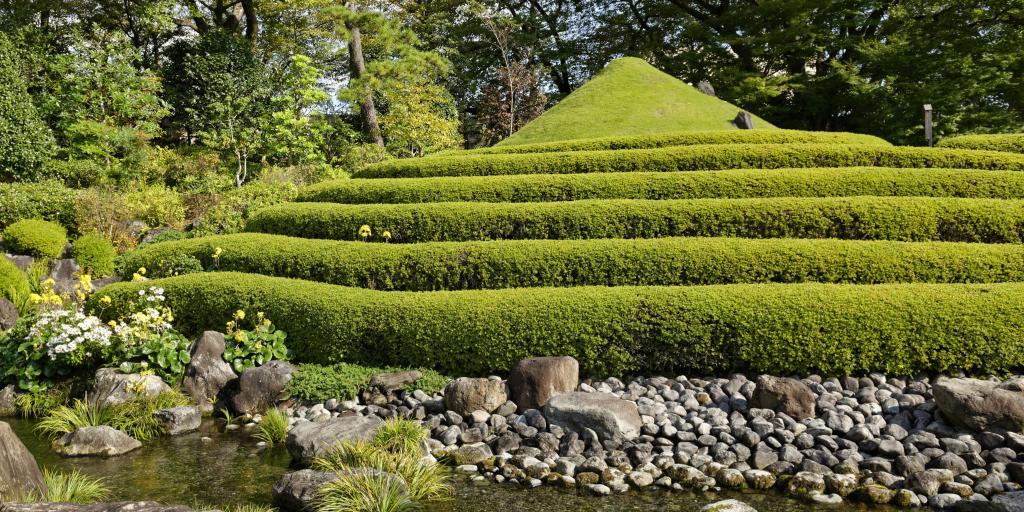 Entry to the castle and garden costs 360 JPY.
Eat sakura shrimp for lunch
Two of Shizuoka's most famous products are tea leaves and Sakura shrimp, so once you've finished exploring the castle and garden dedicate the rest of your time here to sampling these delicacies.
First up, shrimp for lunch.
Sakura shrimp are a type of small pink shrimp which are only caught in Suruga Bay bordering the city and in Taiwan, thanks to the fresh water running off the surrounding mountains and creating the perfect water conditions for them to thrive.
As they're plucked fresh from the sea so close to the city, this is the only place where they are fresh enough to try raw, making for a pretty unique lunch experience.
If raw shrimp doesn't take your fancy, it's also traditional to eat them fried, boiled, or dried in the sun like a pink cherry blossom, so you'll have plenty of options.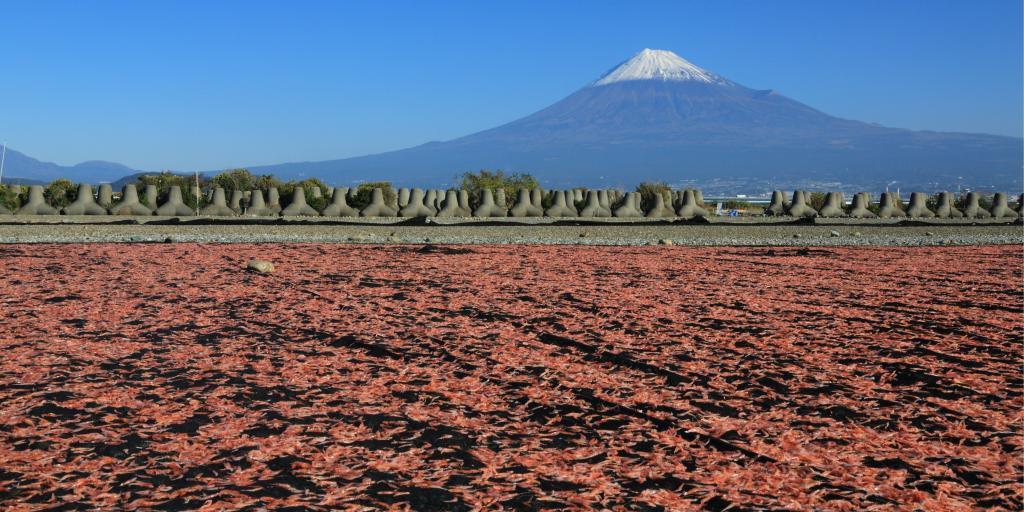 For the best shrimp we'd recommend hopping in the car or catching the train to Yui, a town just north of the city known as 'The City of Sakura Shrimp', to go to Hama no Kakiageya where you'll be able to try these pink morsels at their best.
Note: for conservation reasons the shrimp are only harvested twice a year, between March - June and October - December, so to eat them fresh try to travel in these months.
Drive to Kyoto, stopping off at Gyokuro No Sato Hyogetsu-tei for a traditional Japanese tea ceremony
The best way to explore Shizuoka's tea heritage is to drive to Gyokuro No Sato Hyogetsu-tei, a tea house about half an hour outside of the city on the way to Kyoto, to experience a traditional tea ceremony known as sadou or chadou.
Seeing as Shizuoka prefecture alone contains around 40% of Japan's tea plantations, it's the perfect place to catch your first ceremony of the trip and learn more about treasured matcha green tea.
As with most tea houses in Japan, Hyogetsu-tei is situated in a stunning, tranquil setting in a leafy valley within a picturesque garden. Follow the stepping stone path to the entrance to the tea house, and look out over the pond as you sip your tea.
The tea house itself is really beautiful and traditional, with tatami flooring (made of woven straw), shoji (paper sliding doors) covering the windows, and hosts wearing classic kimonos as they serve.
The tea, which is made from powdered matcha green tea using authentic techniques, is served up with wagashi, a traditional Japanese dessert which offsets the bitterness of the brew, and you'll be shown how to correctly drink it and pay your respects to the ceremony.
The experience costs 510 JPY and is a great stop off to get you ready for the traditional charm that awaits you in Kyoto.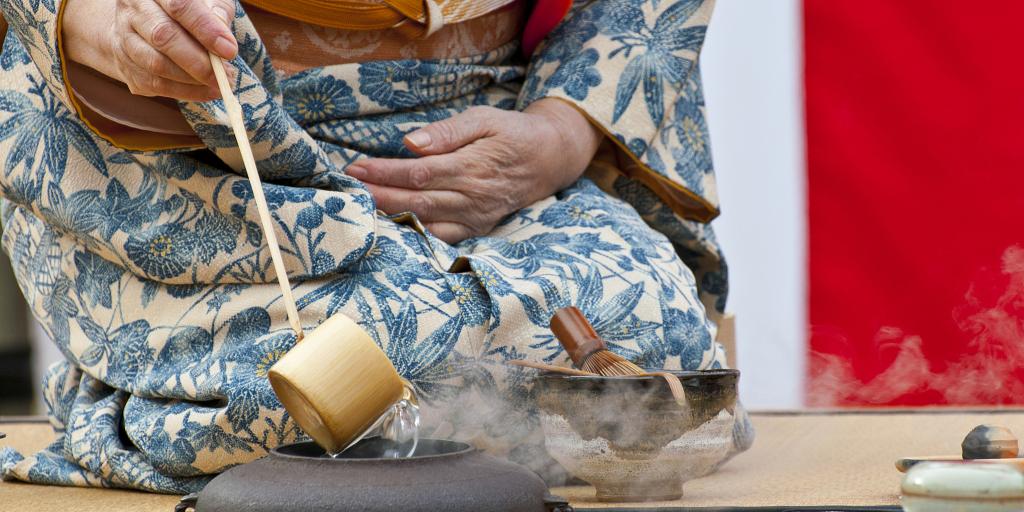 Drive the rest of the way to Kyoto and relax for the evening
After the ceremony continue on to Kyoto. The drive is likely to take around three hours so you probably won't arrive in Kyoto until the early evening.
Check into your hotel and spend tonight having a walk around, grabbing some food, and generally just getting a feel for the city's charm ahead of your full day exploring on day 6.
Day 6: Kyoto - visit some shrines, have lunch at Nishiki Market, celebrate the season, & discover the Gion district
Often dubbed 'the spiritual heart of Japan', Kyoto is awash with old Japanese charm, standing proud as a historical archive amongst Japan's modern skyscrapers.
This leg of the journey is, then, all about the traditional - think temples, tea and geishas.
Spend the morning temple and shrine hopping in Kyoto
If there's one thing synonymous with Kyoto it's temples and shrines, so have breakfast at your hotel then head out for a morning of zen.
There are over 2,000 temples and shrines in Kyoto, so you could literally spend weeks here trying to see them all. Instead, check out a few of our favourites to prioritise during your trip.
The places in our selection aren't located within walking distance of one another so be aware you'll have to travel between them if you do fancy a tour of all of them, but picking just one or two is equally as good and will give you more time to visit them in detail.
Kinkakuji Temple (Golden Pavilion)
The top two floors of this famous Zen temple in northern Kyoto are completely covered in gold leaf to represent the extravagant Kitayama culture of when it was first built.
Each floor represents a different architectural style, making it a really unique and interesting temple to visit.
View the pavilion across the pond and try and have a peek through the open windows; although the building isn't open to the public, the inside is just as decorative as the outside, and the windows are often left open to allow people a glimpse into this opulent temple.
There's also a beautiful garden, a tea house, and various souvenir shops located in the temple complex. Admission costs 400 JPY.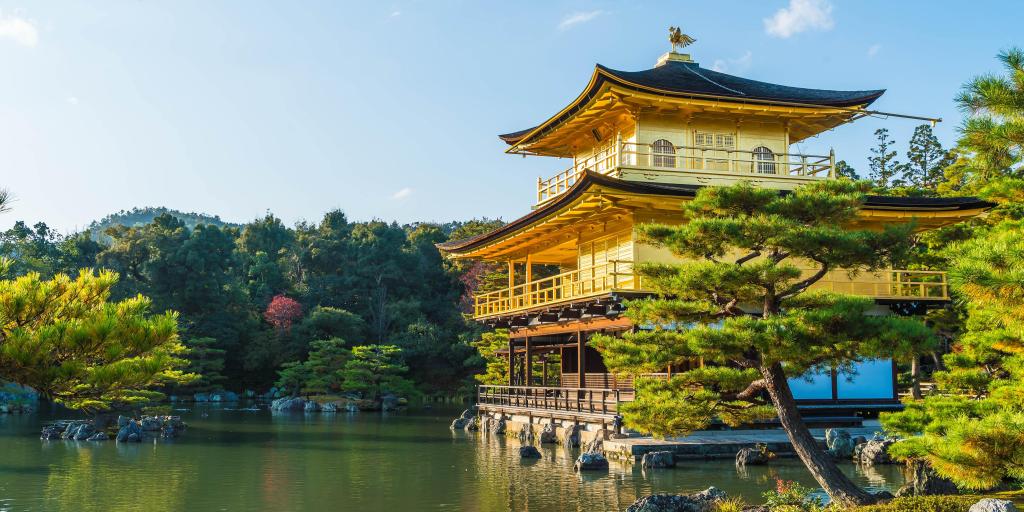 Fushimi Inari Shrine
This Shinto shrine in southern Kyoto is famous for its tunnels of torii gates straddling hiking trails behind the main complex - we're talking thousands of the iconic red archways.
Each gate has been donated by an individual or company, and if you look closely you'll find the donor's name written on one of the posts.
Do the hike if you're feeling energetic (the trip to the top of the mountain and back takes around three hours), or just walk a small stretch of the trail and have a look around the shrine itself.
Admission is free, however if you go into the shrine you should make a small offering.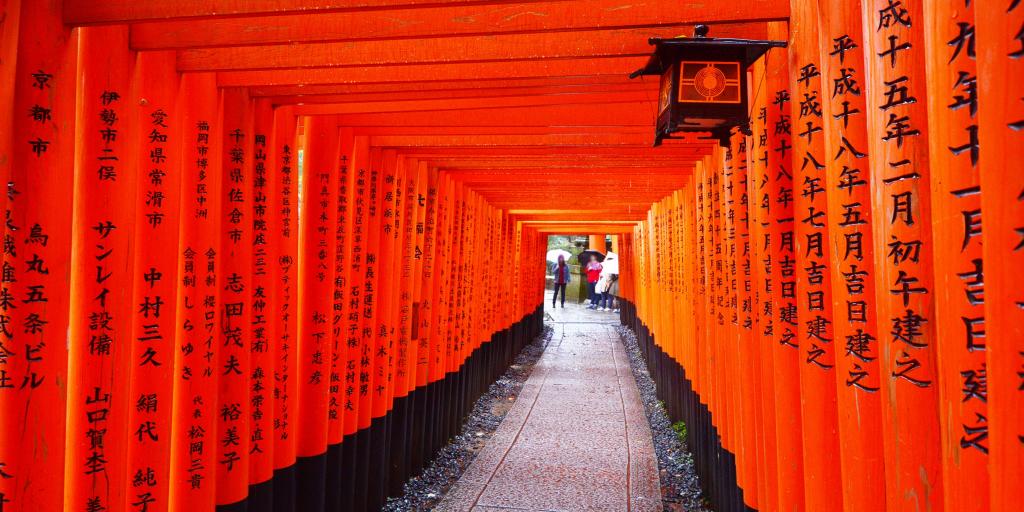 Kiyomizu-dera Temple
As one of the most famous sights in the whole city, this ancient temple was first built in 798 with later additions made from 1633.
Aside from the beauty of the buildings and grounds, there are many traditions you can partake in to grant you a happy and prosperous future.
For example, it is believed that visitors who drink the sacred water from the Otowa-no-taki waterfall will be blessed with health and longevity, and those that spin the rock in the darkness of the Tainai-meguri get to make a wish.
Admission costs 400 JPY.
Note: due to renovations, the outside of the main hall will be covered up until 2020. It's still possible to visit the inside during this time.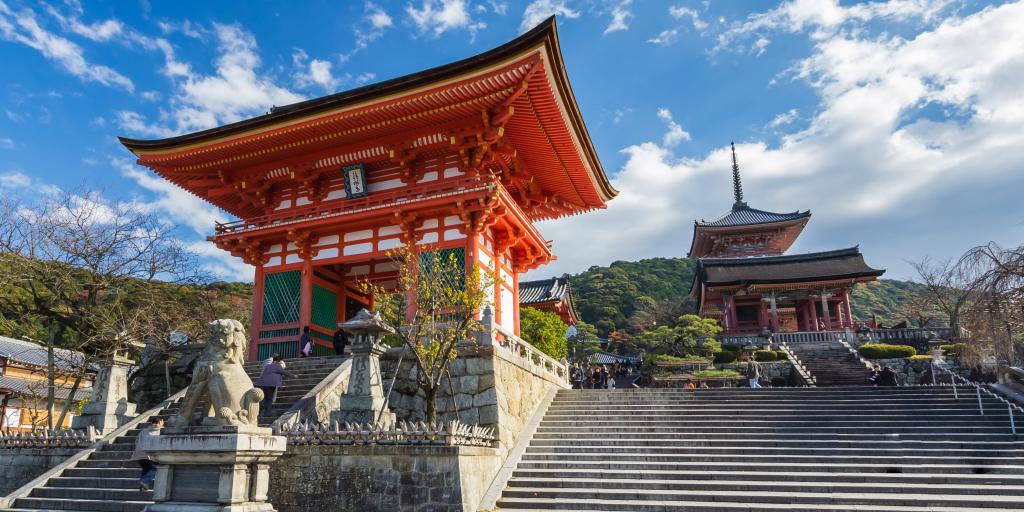 Have lunch at Nishiki Market
When the hunger pangs kick in make your way to central Nishiki Market for some lunch.
Known as 'Kyoto's kitchen', this long shopping street is lined with over a hundred shops and restaurants selling all things food-related. You can buy everything here, from the sharpest Japanese knives, to fresh seafood, fruit and veg, dried seasonings, and ready-to-eat bites.
Have a browse, buy some souvenirs, and pick up a couple of skewers of freshly made street food (each stall tends to specialise in a different dish so we'd recommend hitting up a few). Don't expect a sit down meal here, it's all about fast, grab-and-go dining.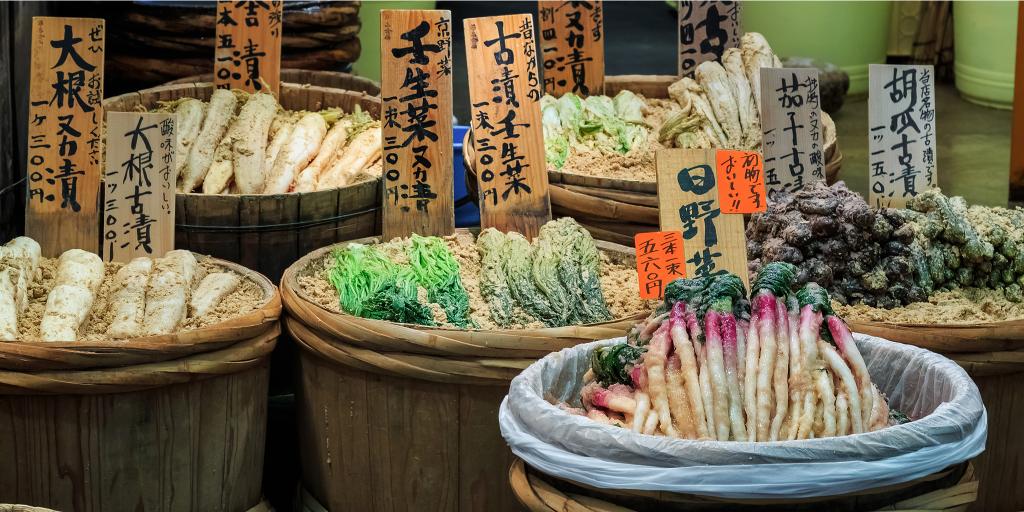 Celebrate the best of the season in the afternoon
Once you've refuelled, we've got a few options of what to do next based on the season you're travelling in.
Winter - soak in an onsen
If you're travelling in the cold season, you'll probably be wanting a warming activity after your outdoor morning of temple hopping, and visiting an onsen, (a public bath fed by a hot spring) is a great option.
Not only will it warm you up, the water in these baths is said to have healing properties and be full of minerals that are great for your skin and circulation, as well as being incredibly relaxing.
Whilst you'll find quite a few indoor baths in the centre of Kyoto, we'd recommend you head slightly out of town to Kurama Onsen to soak in the outdoor pool amongst the snowy trees and mountains.
It really is as idyllic as it sounds, but we must warn you - it's birthday suits only in the pools.
Although this sounds pretty daunting, don't let it put you off! This is a daily ritual for the Japanese so they're unlikely to bat an eyelid, and you'll be so relaxed after a few minutes you'll forget to worry too.
It's also worth noting that you must wash before you get in, wrap long hair in a towel to avoid it going in the water, and that you're forbidden from entering the pools if you have tattoos.
Spring - host your own hanami cherry blossom party
If you're travelling in Japan in spring you will have been basking in flurries of blossoms for five days already, however there's no better place to celebrate these photogenic flowers than in historic Kyoto.
Traditionally to welcome the start of spring, hanami (cherry blossom viewing) parties consist of people gathering beneath the blossom for food, drinks, music (read: karaoke), and conversation.
Pack your own picnic and throw your own hanami, or make friends with some locals and join in their party.
Travel tip: anywhere is great for one of these get-togethers, however a particularly beautiful spot is the Kyoto Botanical Garden, which is at its best in early April.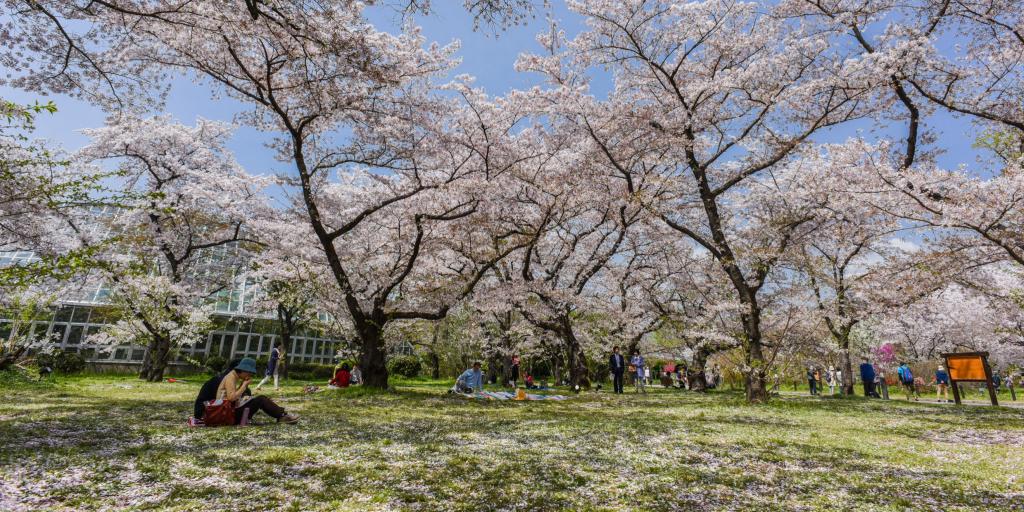 Summer - visit Arashiyama Bamboo Grove
Granted, the Arashiyama Bamboo Grove is an iconic Kyoto sight in any season, however we think it's particularly beautiful in the summer.
This famed pathway through towering bamboo trees is like stepping into another world, and is a calming, unique experience that comes into its own when the summer sun is filtering through the branches as they softly sway in the breeze.
It's also a great place to seek some shade on a particularly hot day and get away from the city for an hour or two.
The summer is also the perfect time to watch traditional cormorant fishing on nearby Hozu River, so you could always head there once you're done at the Grove. You'll be able to catch this technique every day in July and August in the early evening.
Autumn - ride the Sagano Scenic Railway
The fall foliage in Kyoto is just as impressive as the cherry blossom, and if you're travelling in autumn we'd recommend going for a ride on the Sagano Scenic Railway (also known as the Sagano Romantic Train or Sagano Torokko).
This picturesque train line runs a slow 25-minute route over a 12-kilometre stretch through forested hills which are at their best when the leaves turn in the autumn.
Hop on the train at Saga-Arashiyama Station in the west of the city and ride the line to Torokko Kameoka Station, taking in the views and snapping some pictures.
The trains themselves are also pretty scenic and traditional, and feature four enclosed cars and one fully open-air car that's best for the photographers among you. Book in advance at a JR ticket office to make sure you get the seat you want.
Once you get to Torokko Kameoka you can either get the train back or take a Hozugawa River Cruise back to Arashiyama, both are great for making the most of the orangey leaves.
Tickets cost 620 JPY one way and there are no discounts for round trips.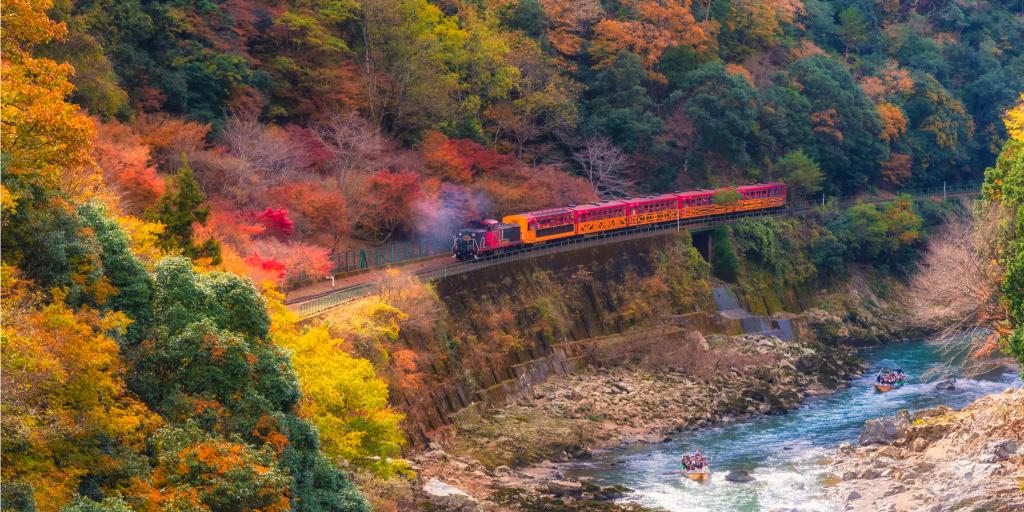 Spend the evening in the Gion district
Round off your time in Kyoto with an evening in the Gion District, Kyoto's famous geisha quarter and the top entertainment area of the city.
Although a great place to visit at any time, Gion is at its best in the early evening when dusk begins to fall and lanterns are lit along the traditional streets, illuminating the tea houses, authentic eateries, and wooden machiya merchant houses.
If you're lucky you may also see a maiko (apprentice geisha) disappearing around a corner on her way to an appointment, although if you do try not to stare or take too many pictures - they're people not tourist attractions!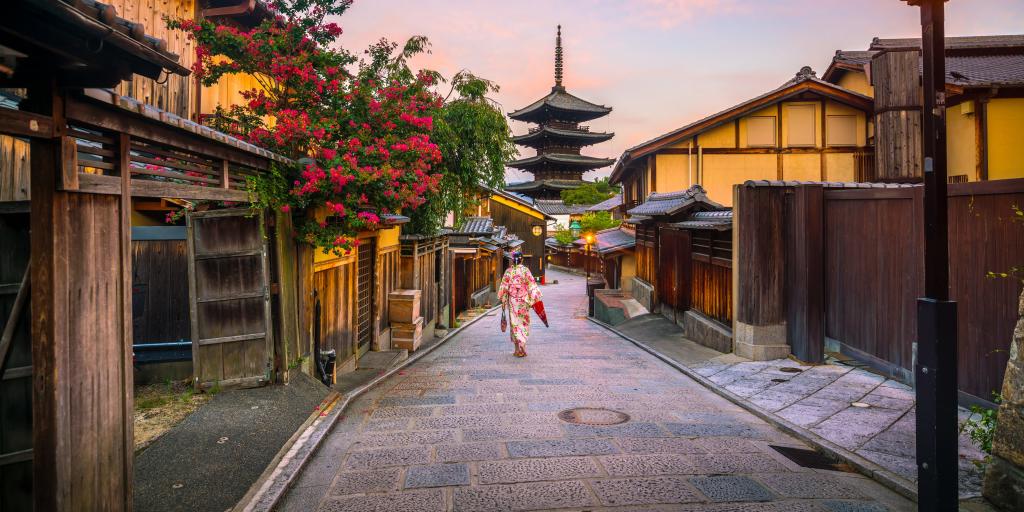 Explore the area, wander into one of the many restaurants for dinner (or do some research and book in advance), and enjoy a spot of entertainment if you've got some energy left.
Private geisha performances are really expensive and often pretty hard to come by, so if you fancy seeing these impressive performers in action we'd recommend heading to Gion Corner instead.
This venue puts on hour-long traditional performances which feature seven kinds of Japanese arts including kyo-mai dance performed by maiko dancers, and Kyogen, a form of comical theatre.
Tickets to a show cost 3,150 JPY, and reservation isn't necessary unless you're travelling in a large group.
Day 7: Kyoto to Osaka - drive to Osaka, do some sightseeing & go on a street food tour
Miles: 34
The drive from Kyoto to Osaka should take less than an hour, so set off after breakfast to get there around mid-morning ready to kick off the final full day of your Japan road trip.
Although as modern and striking as Tokyo, Japan's third largest city Osaka has a different vibe to the capital.
The city was nicknamed 'the nation's kitchen' during the Edo period when it was a centre for Japanese rice trading, and this label persists today, making the city one of Japan's main foodie hubs.
But more on the food later, first hit up a few of the city's best sights to get you better acquainted with this part of the country.
Purchase an Osaka Amazing Pass and head to some of the best sights in the city
A great way to soak up Osaka's sights is to buy an Osaka Amazing Pass.
This is essentially your golden ticket to around 35 different attractions, plus unlimited travel on buses and city trains for 2,500 JPY for the day. A holiday free of ticket-buying and individual admission fees definitely has our vote.
We'd recommend leaving the car at the hotel and choosing three sights (with a break for lunch in between) to make the most of the pass and get a feel for the city.
Our top three sights included in the pass are:
1. Osaka Castle
Osaka Castle is one of the most famous landmarks in Japan due to its role in the unification of the country in the 16th century, and proudly stands out against the backdrop of Osaka's modern skyscrapers.
However don't be fooled, although built to the original Edo-era designs, the castle that stands today is actually a concrete reproduction built in the 1990s (the original was destroyed multiple times throughout history).
Today it houses an informative museum detailing the castle's history, as well as an observation deck on the top floor where you can look out across the city.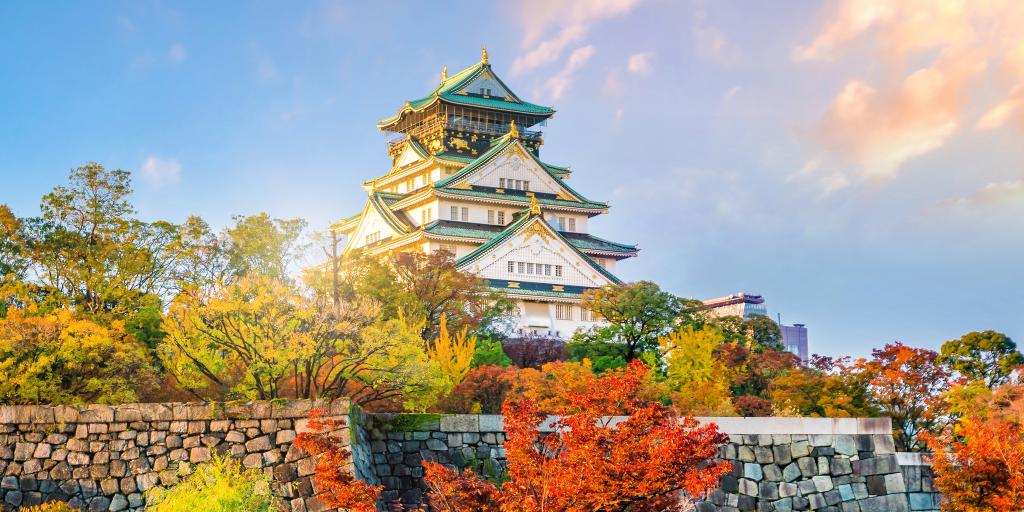 2. The Umeda Sky Building
For even more incredible views make your way to the Umeda Sky Building.
This striking skyscraper consists of two towers connected by the Floating Garden Observatory on the 39th floor, an observation deck offering panoramic views of the city.
In the basement there's also a food hall built to replicate a town from the Showa Period - a great place to stop for some lunch to break up the sightseeing.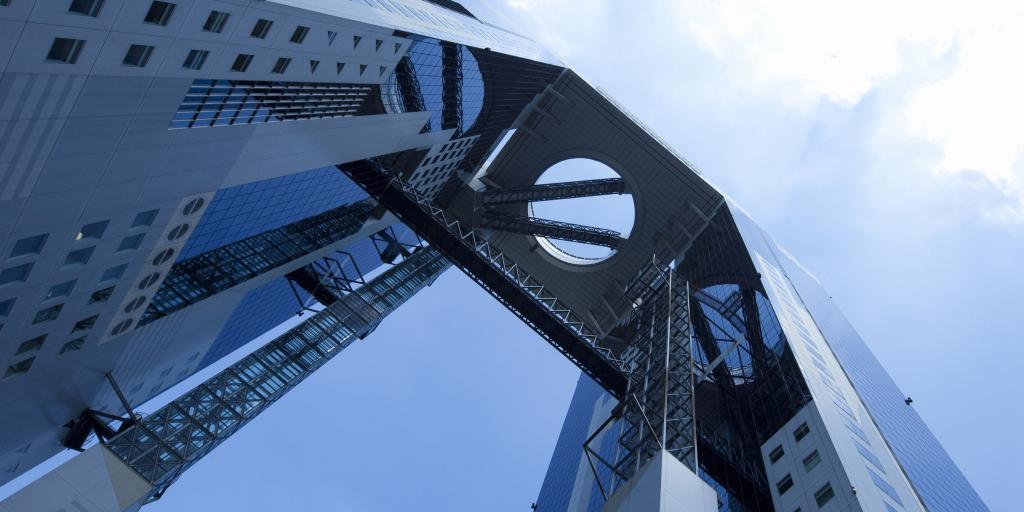 3. Nagai Botanical Garden
Top off your sightseeing with a walk around the beautiful Nagai Botanical Garden.
Located in the corner of Nagai Park, this lovely green space is home to colourful seasonal flowers, around 1,000 species of trees, local wildlife, and a large pond.
This is the ideal place for a relaxing sit down after your busy few hours in Osaka, and is home to the Osaka Museum of Natural History (also included in the Amazing Pass) if you fancy browsing some artefacts before the afternoon draws to a close.
Spend the evening doing a self-guided street food tour
The arrival of the evening means it's time for food, so have a quick freshen up at your hotel then hit the town for a street food tour. We hope you're hungry - there's a lot to squeeze in!
Eating should, without a doubt, be central to any trip to Osaka to honour the city's unofficial slogan 'kuidaore' meaning 'eat until you drop'.
This saying is best associated with the Dotonbori area of the city which runs along the Dotonbori river and is packed full of eateries ranging from Michelin-starred restaurants to street food vendors.
This strip of eateries lights up at night with hundreds of neon billboards and restaurant signs competing to win your attention, and coupled with the incredible smells drifting through the air the area is unmistakable.
You probably don't need our help in where to go as you're likely to get tempted by the look and smell of dishes as you walk through, however we thought we'd offer our favourite suggestions just in case you're having difficulty choosing.
Kick off your tour with some takoyaki
A great dish to begin your tour is takoyaki, balls of batter filled with octopus, bits of crispy tempura and ginger, drizzled with mayonnaise and topped with flakes of salty dried bonito fish.
These little mouthfuls of joy are perfectly balanced in flavour and are usually devoured by locals as an afternoon snack, making them the perfect appetisers for your street food tour.
They're as mesmerising to watch being made as they are delicious to eat, and a great place to pick some up is Takoyaki Dotonbori Kukuru which sells some of the best takoyaki in the area. To find it just look out for the huge octopus sign (you can't miss it).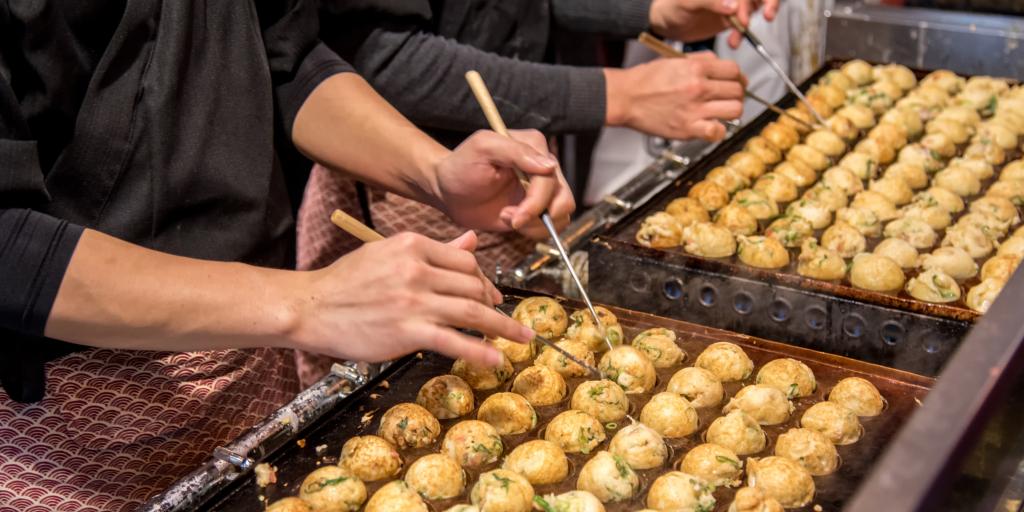 Next up, okonomiyaki
Another absolute staple street food in Osaka is okonomiyaki, a kind of Japanese pancake made from batter mixed with shredded cabbage, which is often topped with pork and a rich, sticky sauce.
Warai is undoubtedly the place to go for great okonomiyaki in Dotonbori. This restaurant has loads of different flavours to choose from (including veggie options), as well as lots of other great Japanese dishes if you fancy some accompaniments.
This is more of a sit down affair than the other foods you'll try during your tour as the okonomiyaki is brought to a large hot plate in the centre of your table for you to finish cooking for yourself, all adding to the experience of eating this tasty dish.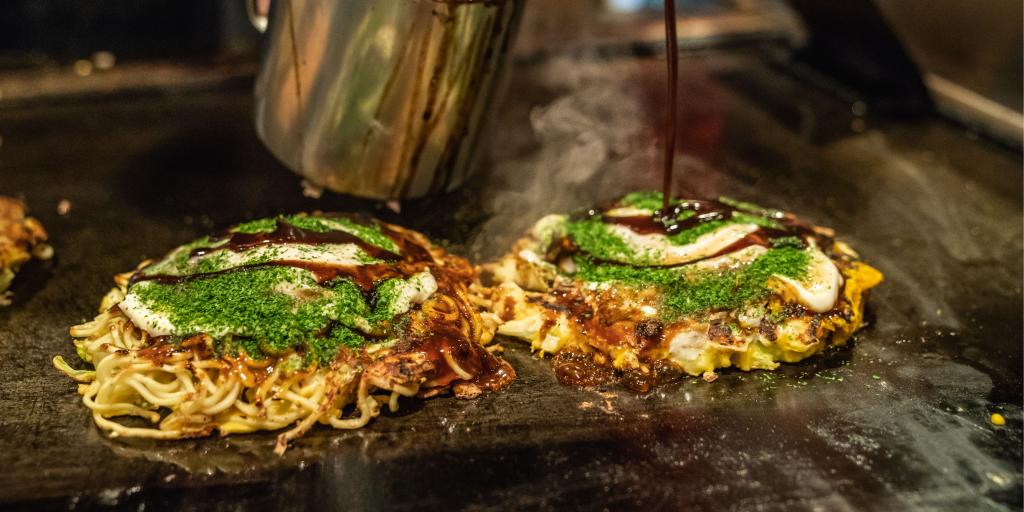 Finish your meal by slurping some ramen
There's always room for ramen, so make one more stop before you call it a day on the food.
This world-famous noodle soup is an absolute classic we couldn't leave out of our food tour, so head to Kinryu - a chain with four restaurants in Dotonbori - for the best.
Go for the tonkatsu (pork bone broth) which is their signature dish, and slurp to your heart's content.
Note: contrary to popular belief you don't have to slurp your noodles to show that you're enjoying them. The way you eat your ramen is totally up to you - silence and slurping are both welcome.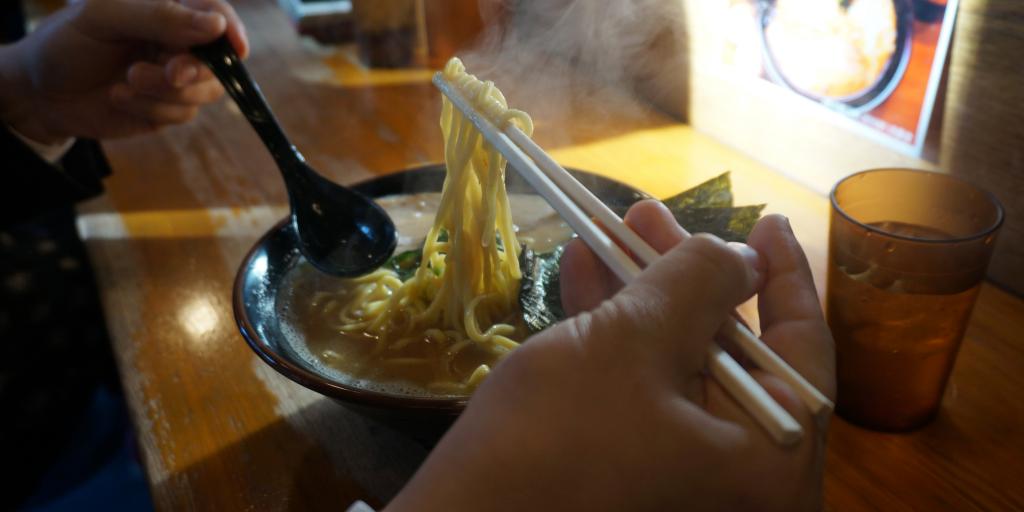 Head to a bar to toast your trip (if you can manage it after all that food), then make your way back to your hotel and relax for your final night in Japan.
Day 8: Osaka - see any last minute sights and fly home
We're leaving your day 8 itinerary up to you to shape around your flight time, so just see any sights you missed out on on day 7, have a final taste of your favourite street food, grab one last cup of green tea, then make your way to the airport.
Sayonara! We hope you've enjoyed your Japan road trip!