Road Trip from Brisbane to Alice Springs
So you want to go on a road trip from Brisbane to Alice Springs? Well you are in for a hell of an adventure! A great way to explore the outback, you can visit the Southern Hemisphere's biggest cattle yard, head deep into a working mine, hear tales of hallowed aboriginal sights and enjoy a cooling dip in a tranquil waterhole.
This epic outback adventure takes over 32 hours of uninterrupted driving time to cover a distance of 2995 km. But stop offs can include Toowoomba, Roma, Charleville, Longreach, Winton, Mount ISA, Tennant Creek and Davenport Range National Park.
These are just a handful of the scores of fabulous places you can check out on this incredible cross-country road trip. So keep on reading until the end to discover where else you could visit!
How far is Brisbane to Alice Springs and how long will the road trip take?
Brisbane, the state capital of Queensland, is a long old way away from Alice Springs, in the Northern Territory.
Although it is a very straightforward drive along some well maintained stretches of highway, a road trip between the two destinations involves travelling a distance of some 2995km.
The actual driving part of this trip takes about 32 hours to complete, which most people tend to spread out over at least 5 days.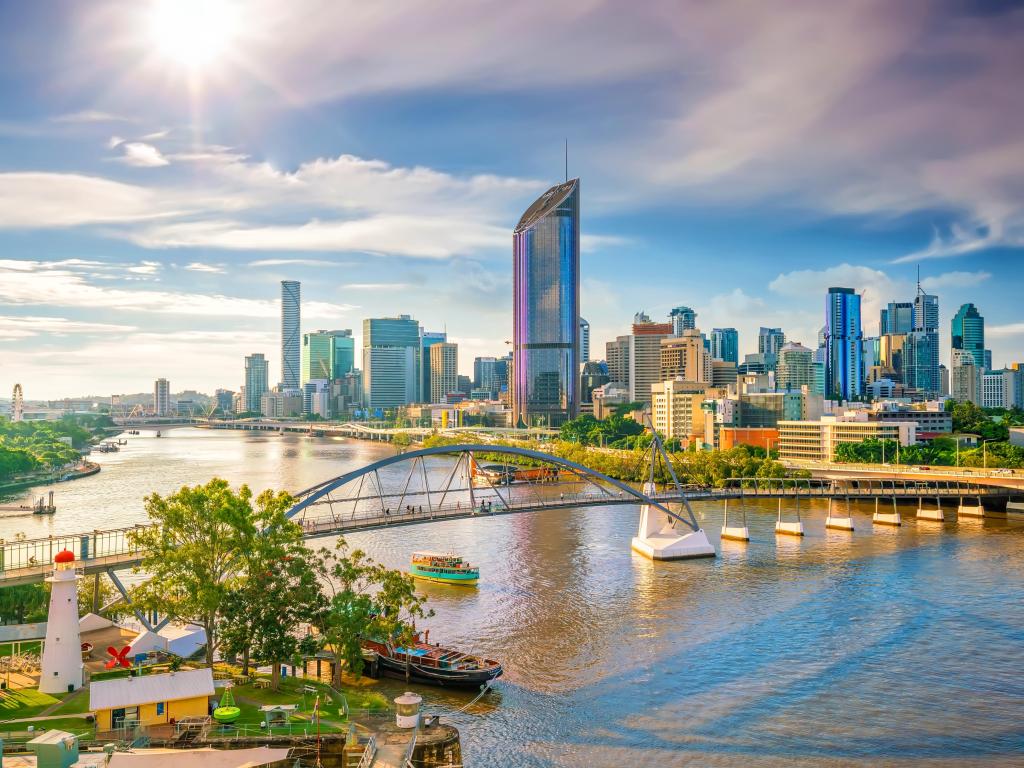 For certain parts of the journey - particularly when you start to venture into the Northern Territory - service and amenities like gas stations, shops and restrooms tend to be separated by distances of more than a couple of hundred kilometres. So it is always worth making the most of these facilities when you do reach them.
Whilst you drive, you should also be being mindful that the Royal Flying Doctor Service often uses parts of the Stuart Highway for the purposes of emergency landing.
This takes place in clearly defined areas, and only when police have closed the road. But it is worth keeping an eye out for this as it could cause a delay to your journey.
Best road trip route from Brisbane to Alice Springs
Leaving Brisbane, you will need to find your way on to the A2 which will take you out towards Toowoomba.
The perfect stop off for those who adore flowers, the 'Garden City' boasts a number of fantastic botanic gardens, parks, green spaces and other floral displays. If your trip coincides with September then you will be able to check out the magnificent 'Carnival of Flowers'.
Leaving Toowoomba, the road will carry on to Dalby, which is a convenient station to explore the spectacular Bunya Mountains National Park. A stunning landscape of cool mountains, raging waterfalls and the largest stand of ancient bunya pines in the world.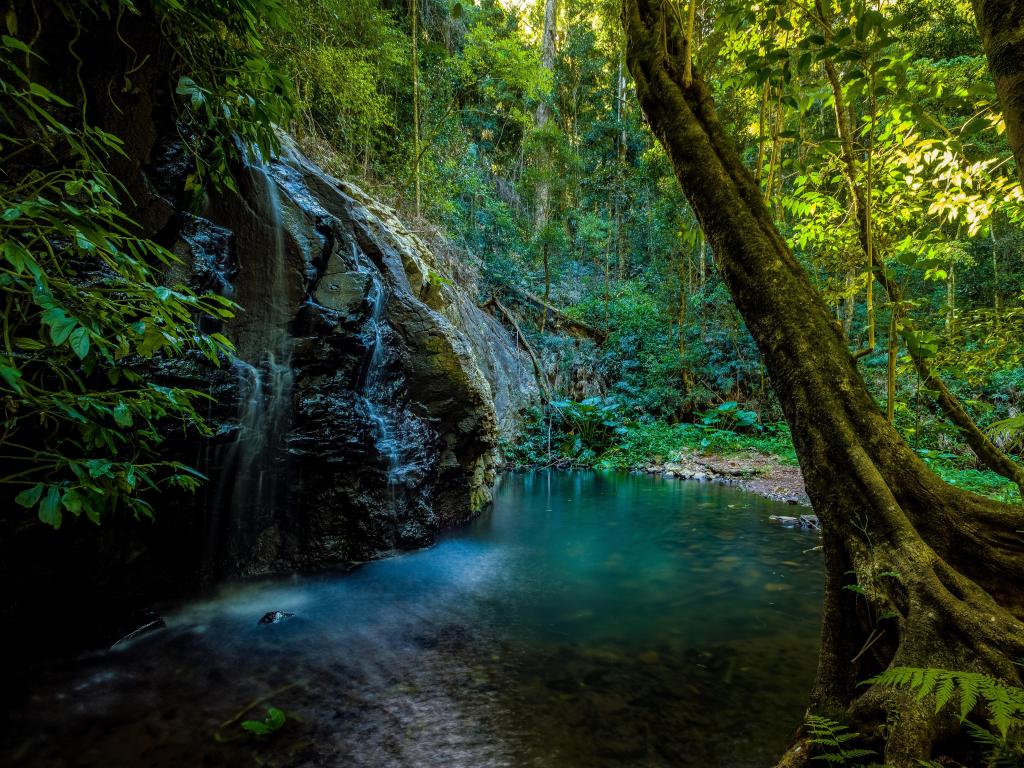 It will then take you on to Roma, which is a town famous for facilitating the largest number of cattle sales in the whole of the Southern Hemisphere. Apparently over 400,000 are sold every year and for those who are interested, there are a number of different tours you can book to check out the workings of a cattle yard.
After departing Roma, the route continues onto the charming town of Charleville, which is noted for its sensational outback night sky. Something which you will be able to view in all its glory at the Charleville Cosmos Centre & Observatory.
Your next port of call should be Longreach, the celebrated home of the Qantas airline. The town serves as an excellent stop-off location after a long day of driving and showcases notable attractions like the Qantas Founders Museum and the famous Stockman's Hall of Fame.
Past Longreach, the road carries on to Winton, which is famous for accommodating the largest collection of Australian dinosaur fossils in the world. It is also renowned as the place where Banjo Patterson in 1895 wrote and performed 'Waltzing Matilda' for the first time.
From Longreach, the road will take you past Mount Isa, where you can choose to descend deep underground on a fascinating tour of a fully operational and working mine. This tends to be most people's last stop off in Queensland before heading in the Northern Territory and onto the Stuart Highway.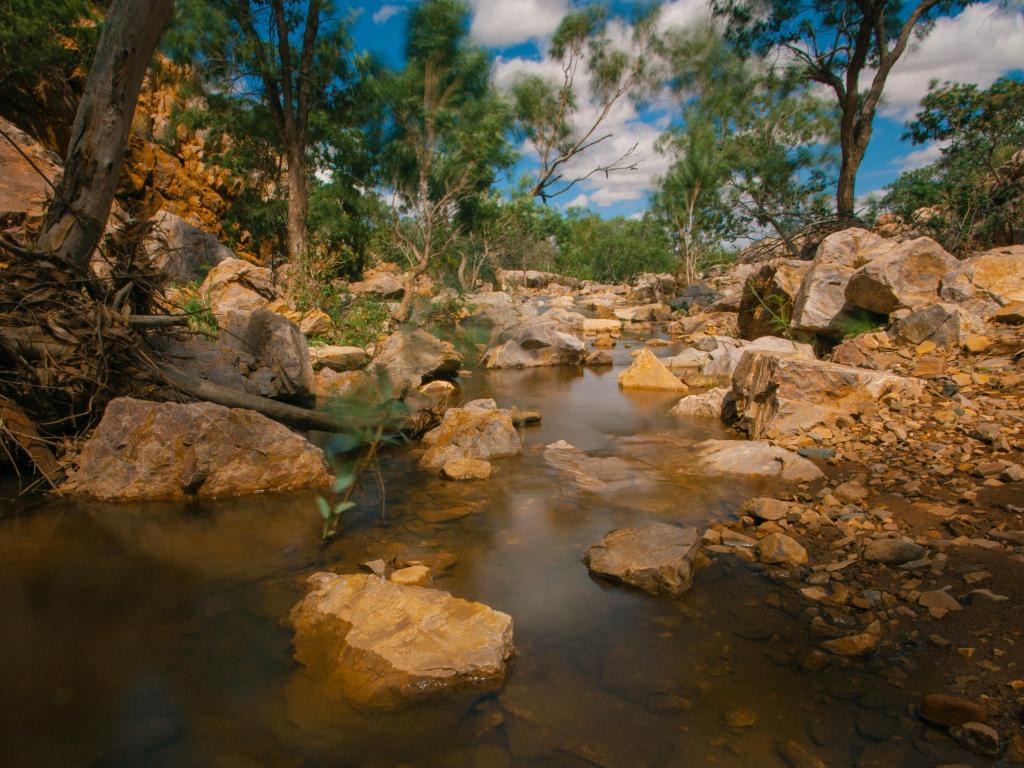 Once in Northern Territory, you'll want to hit up Tenant Creek which is renowned for hosting the wonderful Nyinkka Nyunyu Art & Culture Centre. It presents fabulous exhibits that showcase the history, culture and art of the local Warumungu people.
Getting back onto the highway, which was named in honour of a Scottish explorer called John McDougall Stuart (who was the first European to cross Australia from south to north), the route will eventually bring you to the Davenport Range National Park.
This beautiful and remote national park is a great place to reconnect with nature. You will be able to swim in tranquil waterholes and go hiking during the day and revel in the wonder of the stars at night before continuing your way up to Alice Springs.
Best places to stop between Brisbane and Alice Springs
It's a long drive from Brisbane to Alice Springs, so you will definitely need to stop at a few places for at least one night.
But with so many fantastic options available to you it can be difficult to pinpoint exactly where you should stay. This of course depends very much on what you want to see and do.
Though considering distances, landmarks and your health, these are the destinations we most recommend.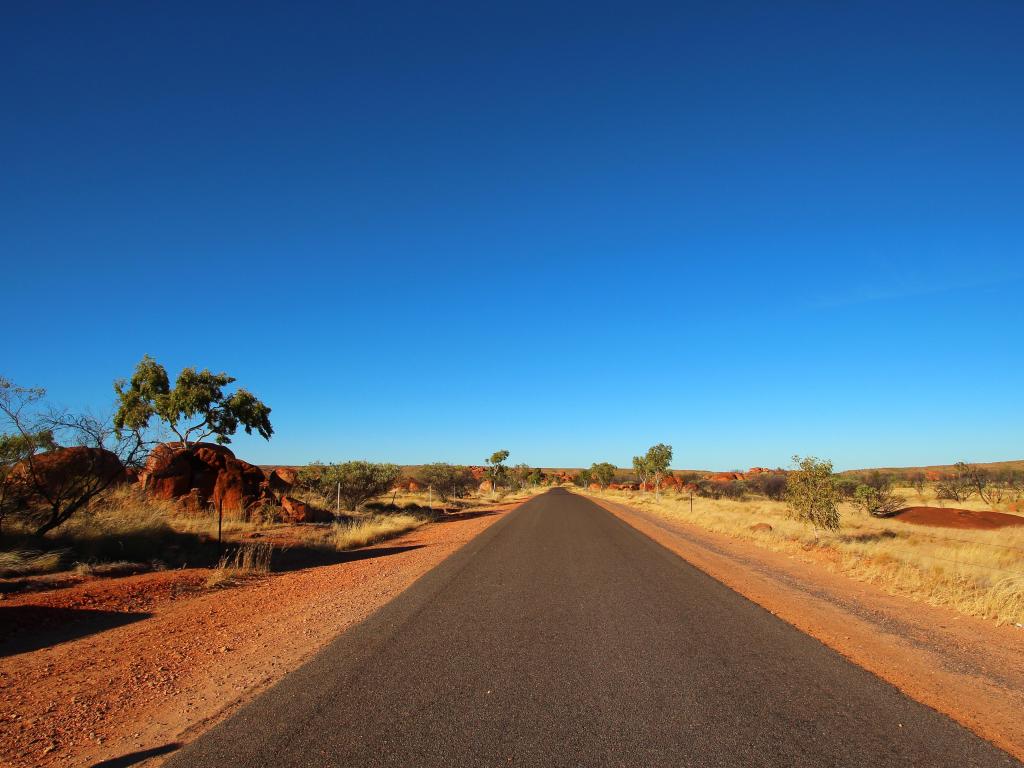 Enjoy the majestic night sky at Charleville
As it is only 8 hours from Brisbane, Charleville is a terrific option for your first overnight stay. The biggest town in southwest Queensland, it is known for having an amazing outback night sky, which is something you will definitely want to see.
Whilst here, consider a stay at the Mulga Country Motor Inn, with a top-rated breakfast worth getting out of bed for the next day! On top of that, the hotel's fabulous outdoor swimming pool is the perfect way to cool off on a scorching day.
Should you wish to explore the town, the hotel is also located close to all the main restaurants, shops and attractions. One of the most popular of which is the Charleville Cosmos Centre & Observatory, which is a great place to see the stars.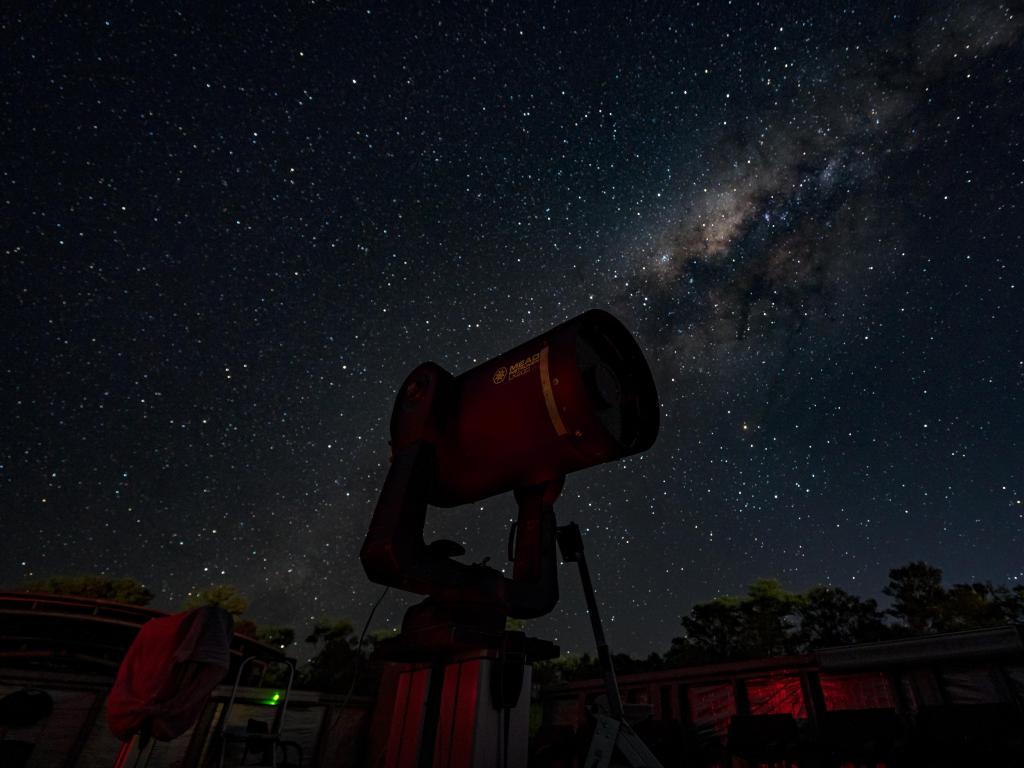 Visit a working mine in Mount Isa
Mount Isa is an historic outback city that is known for having some amazing sunsets and also one of the most successful single mines in history.
Should you want to check them out, the Burke & Wills Mt Isa is a fantastic choice. This hotel is situated right in the heart of Mt Isa, so provides a convenient central location to the main downtown area - where there is an eclectic range of shops to explore, as well as some lovely places to eat.
The modern accommodation is air-conditioned and well appointed. It also has good wi-fi which will enable you to remain well connected to your socials, or Netflix, during your stay.
Check out the delights of Tennant Creek
Tennant Creek, in the heart of the outback, is blessed with bright blue sky, endless horizons, stunning rock formations and ancient indigenous sites. This is an area you should definitely try to explore.
One of the best places to stay here is the Goldfields Hotel Motel. This hotel has an onsite bar and free wi-fi, and provides a good standard of accommodation with well-furnished and spacious rooms. With your own in-room microwave, kettle and toaster, you can easily hole up in your room if this is your preferred way to relax during your pit stop!
If you feel like venturing out, there are a couple of restaurants very close by. The hotel is also located within a couple of miles of the beautiful Lake Mary Ann - a very picturesque spot to visit.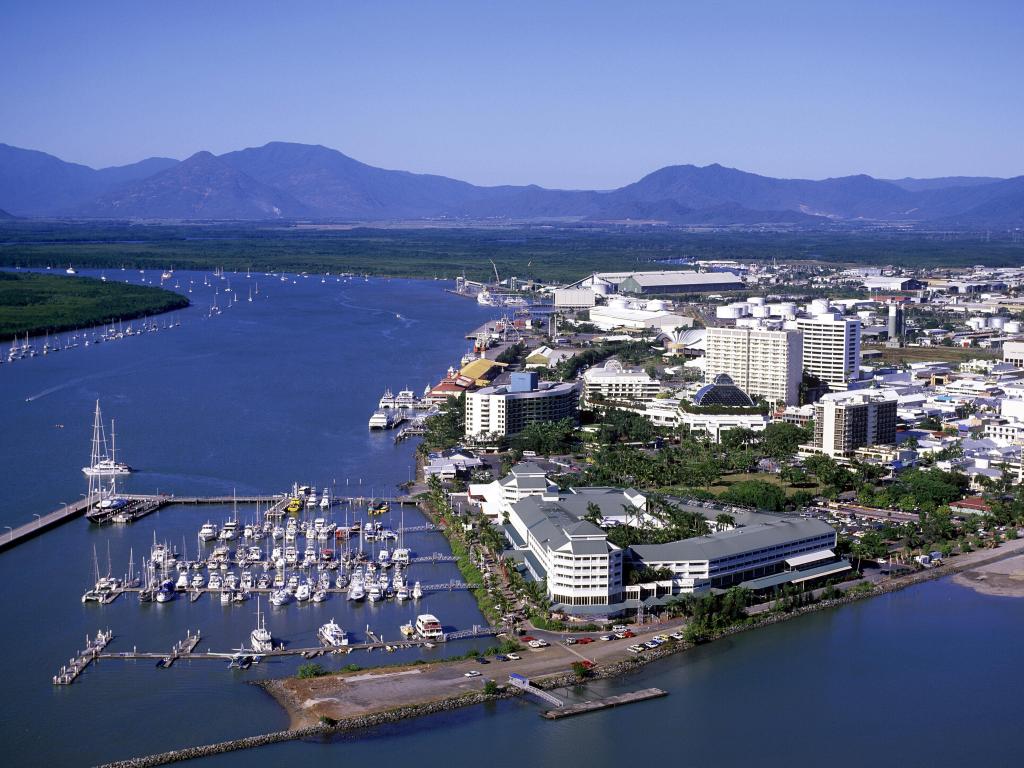 Things to see on a road trip from Brisbane to Alice Springs
There are so interesting landmarks, towns, cities and places to visit on a road trip from Brisbane to Alice Springs, that you really need a good few weeks to check them all.
If you don't have that much time available however, below is a list of some of the stand-out places you really should try and get to:
Toowoomba - Known as the 'Garden City', it is the largest inland city in Queensland. It boasts fantastic parks, floral displays and green spaces, and hosts the annual Carnival of Flowers.
Bunya Mountains National Park - Gorgeous national park which showcases the world's largest stand of ancient bunya pines.
Roma - Tour a working cattle yard in the town that auctions the biggest volume of cattle in Australia.
Charleville - Enjoy the stunning outback sight of the starry night sky at the Charleville Cosmos Centre & Observatory.
Longreach - Visit the awesome Stockman's Hall of Fame and Qantas Founders Museum in the place where the airline, Qantas, was born.
Winton - Iconic town which exhibits the world's biggest collection of Australian dinosaur fossils. Also the place in 1895 where Banjo Patterson wrote and first related 'Waltzing Matilda'.
Mount Isa - Venture deep underground into a fully operational mine to discover what life is like for workers there.
Tenant Creek - Check out the magnificent Nyinkka Nyunyu Art & Culture Centre and discover the history, culture, art and language of the local Warumungu people.
Davenport Range National Park - Camp under the stars, explore the network of bush tracks and swim in tranquil waterholes at this stunning national park.
Barrow Creek Telegraph Station Historical Reserve - one of only 15 telegraph stations forming the communications network from Port Augusta to Port Darwin. Take a self-guided tour around the original sone buildings (constructed in 1872), with help from an information sheet (available from the local pub).
Karlu Karlu / Devils Marbles Conservation Reserve - gaze in awe at the precariously-balanced boulders, piled high across this wide valley. Karlu Karlu is the name of this sacred site in the language of the land's traditional owners, the Warumungu people.
Australian Stockman's Hall of Fame - Interactive museum in a state-of-the-art building with 5 galleries. The exhibits here chart outback heritage, with each gallery dedicated to an important aspect of Australia's pioneering history.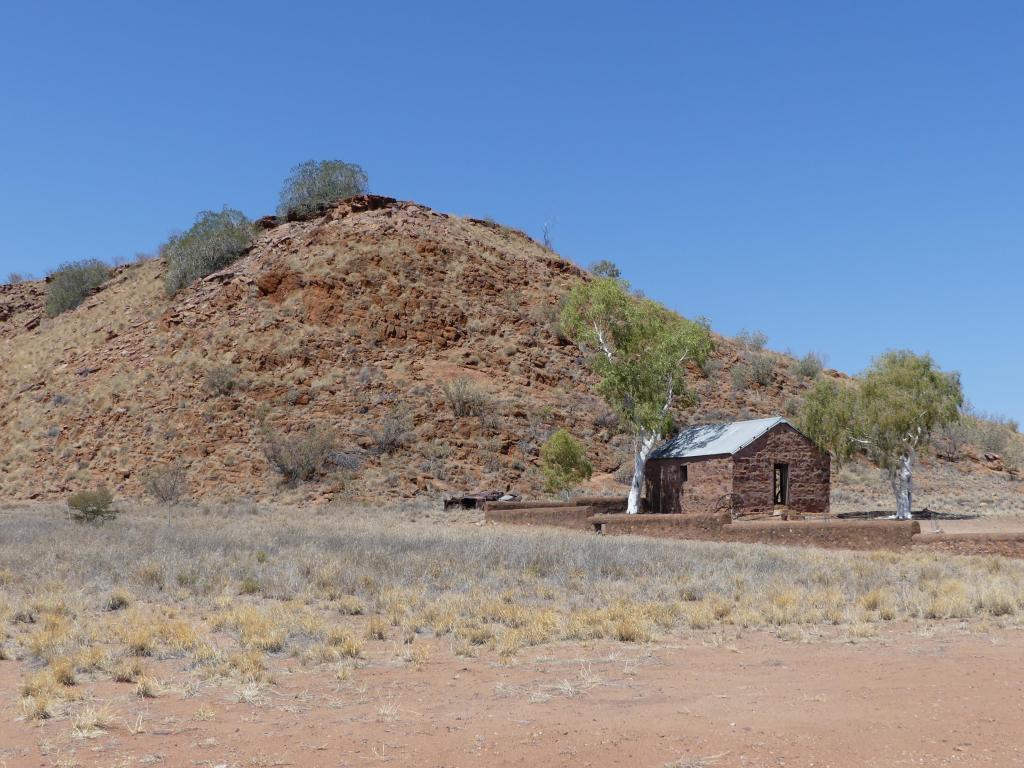 Best time to go on a road trip from Brisbane to Alice Springs
A road trip from Brisbane to Alice Springs is one you can attempt all year round, although the best time to do it is generally considered to be between May and September.
At this time of year it is dry season in the northern parts of Australia, so the weather will be slightly cooler than in the months of summer, when the mercury can often hit above 40°C. Being the dry season there is obviously a lot less chance of rain too, especially storm activity which can get pretty rough at other times of the year.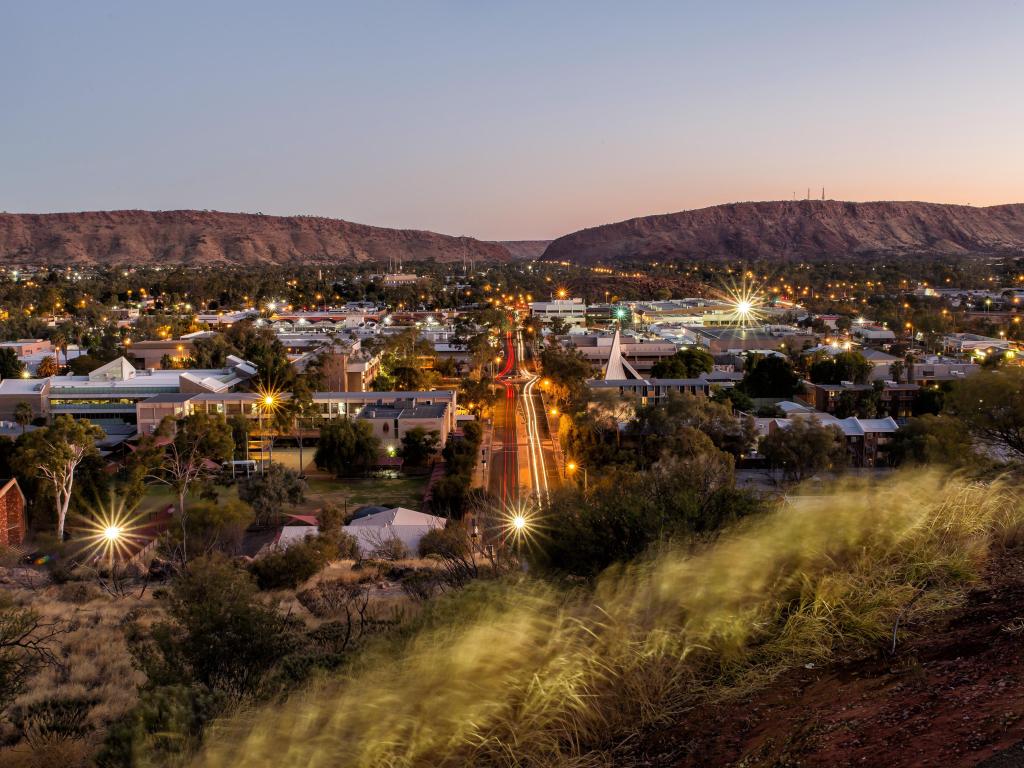 By and large, the roads should be good at this time of year, especially around the more remote areas of national parks. However, stay aware of local conditions, as storms can sometimes render roads inaccessible during the rainy season.
Whenever you decide to head off though, it is advisable to get your vehicle fully checked over a qualified mechanic prior to leaving. This will reduce your risk of the car breaking down at some point during your fantastic adventure.