Road Trip From Brisbane To Airlie Beach
A road trip from Brisbane to Airlie Beach will take you to the gateway of the Whitsunday Islands. One of Australia's most iconic coastal drives, you will pass some of the best beaches in Queensland, as well as world famous tourist attractions and a number of quaint seaside towns that ooze beauty and charm.
The 1,100 km road trip from Brisbane to Airlie Beach will take 12 hours and 30 minutes to drive. The notable stops en route are Australia Zoo, Noosa, Hervey Bay, Rockhampton, Mackay, Fraser Island, Gladstone, Yeppoon and Cape Hillsborough.
These are just a handful of the many different destinations you can check out on this wonderful journey. So you'll want to keep reading until the end to find out more about where you could go.
How far is Airlie Beach from Brisbane, and how long will the road trip take?
The Bruce Highway is the main artery in Queensland that links its capital city, Brisbane, to Cairns in Tropical North Queensland.
Overall, the Bruce Highway stretches for almost 1700km: with the Brisbane to Airlie Beach section making up some 1100km of it.
Whilst you can cover this distance over the course of a (very long) day, with so many places to visit along the way you would be better advised to complete the journey over a two or three day period, at least.
Best road trip route from Brisbane to Airlie Beach
Named after a popular former politician called Harry Bruce, who passed away in 1958, The Bruce Highway is the best way to drive from Brisbane to Airlie Beach.
Starting from just outside Queensland's capital, this is essentially one long straight road. Although direct, the route will still take you about 12 hours and 30 minutes of non-stop driving to complete.
A very straightforward drive that takes place exclusively on bitumen road, the route provides plenty of opportunities for swimming, surfing, hiking, rock climbing and other water based recreational activities to refresh the senses along the way.
There are also numerous chances to refuel your vehicle, grab something to eat, or take a restroom break at any of the many seaside towns and coastal cities you will pass during the drive.
Road trip route from Brisbane to Airlie Beach
After just 45 minutes on the road, your first stop should be Australia Zoo. Made famous by Steve Irwin - better known as the 'Crocodile Hunter' - this fantastic zoo showcases over 1200 species of birds, mammals and reptiles. You can also see crocodile feedings and enjoy various hands-on animal encounters.
Leaving Australia Zoo, you will soon pass the turns off for Mooloolaba Beach and Noosa. Two of the most popular parts of the Sunshine Coast, Mooloolaba is a fantastic coastal town with arguably the best beach in the region.
As well as having a great surf beach, Noosa is also famous for plush Hastings Street, a fantastic strip of boutique shops and trendy restaurants. It also boasts the Noosa Everglades, which is one of only two Everglades systems located around the world.
Towards the end of the Sunshine Coast you should take the opportunity to stop off at Rainbow Beach and Fraser Island – as both are great places for 4-wheel-driving.
As its name suggests, Rainbow Beach boasts the stunning colours of the rainbow across its sand dunes, which line the length of the beach as far as the eye can see.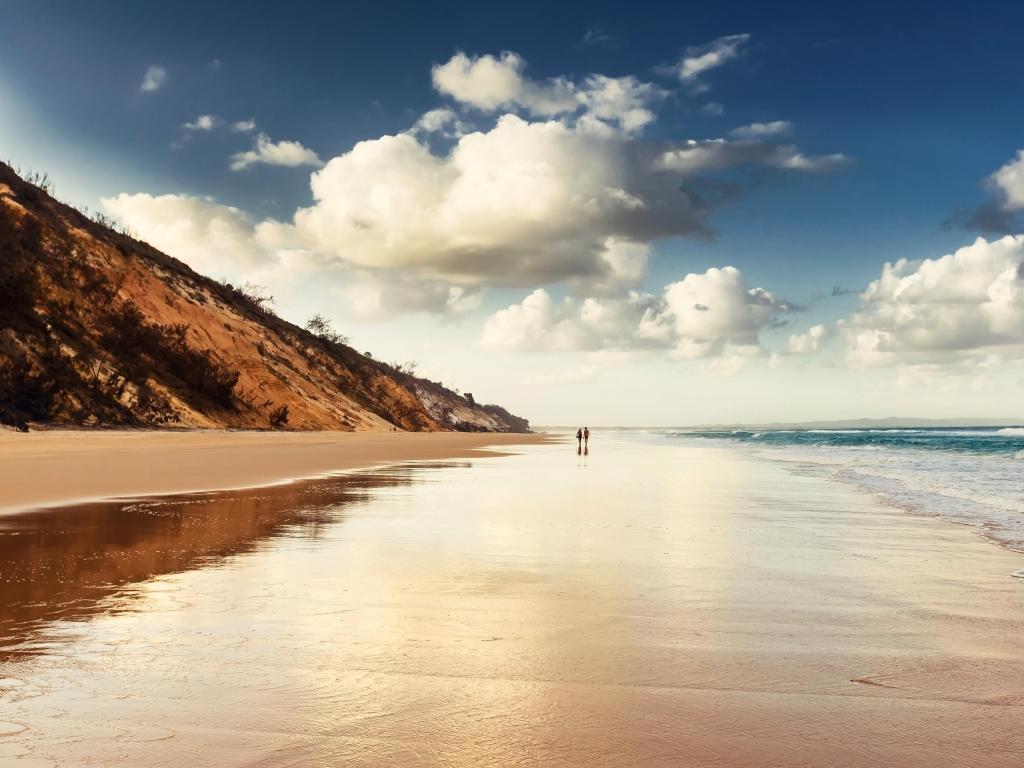 Meanwhile, Fraser Island is a World Heritage listed site that is famous for being the world's largest sand island. Stretching for some 123km in length, it boasts a fantastic landscape of rainforests, sand dunes, mangrove forests, eucalyptus woodland, wallum and peat swamps and coastal heaths.
After leaving the Sunshine Coast you will hit the Fraser Coast, where you will soon pass the charming seaside community of Hervey Bay. A lovely region which is celebrated for being the 'whale watching capital of the world'.
You will also pass the town of 1770, which is reputedly where Lt James Cook first made landfall in Queensland, as well as nearby Agnes Waters. Which offers your last chance of safe and quality surfing for the remainder of your journey.
After passing the charming coastal city of Gladstone, you'll make your way along the Capricorn Coast to Yeppoon which has some wonderful beaches and a terrific man made lagoon. It's also a great base to explore nearby Great Keppel Island, which has some 17 fabulous beaches to check out.
From Yeppoon, you will soon pass the major, and historic, regional cities of Rockhampton and Mackay, which both feature gorgeous architecture. The latter of which also serves as a fantastic base to head to Cape Hillsborough the next morning. Where you will get to witness the wonderful sight of wallabies and kangaroos, playing and eating around the shoreline every day at sunrise.
Best places to stop between Brisbane and Airlie Beach
A road trip from Brisbane to Airlie Beach is a fair drive, so it's worth choosing one or two destinations at least to stop overnight.
There are quite a few options available to you, but here are some of our favourites.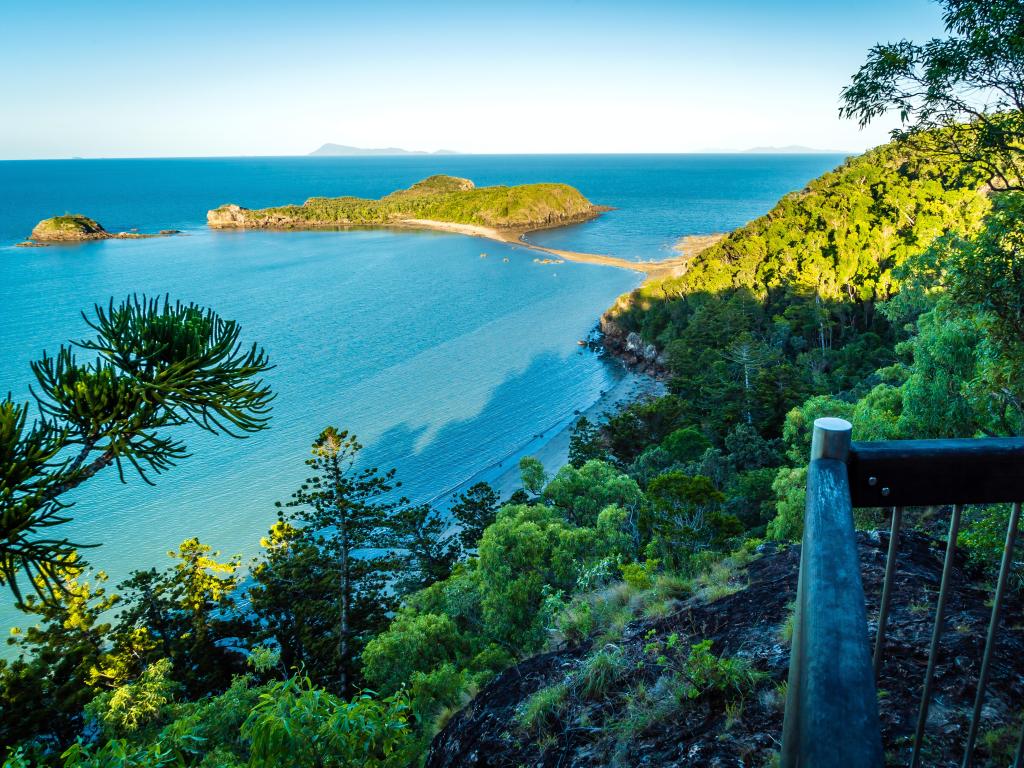 Hit the waves at Agnes Waters
If you love surfing, then you should consider a stopover at Agnes Waters. As Queensland's most northern surf beach, it signifies your last opportunity to ride some decent swell on your road trip.
The Agnes Water Stays (over18s) is a great choice for an overnight stay. This beautiful property is tucked away from the beach, which makes it really private and quiet while the beach is reachable via a short drive. The hotel boasts beautiful mountain views.
There is a beautiful outdoor pool on the premises, and a delicious breakfast is served by it daily; the perfect way to fuel up for your day in style.
There is a shared kitchen and BBQ facilities at the property, so you can enjoy a delicious meal with your family or travel buddies. If you'd like to spend the time in town, you can find several restaurant options close to the beach.
We highly recommend booking a Lady Musgrave Island tour while in Agnes Waters; you won't easily forget the experience or the stunning scenery!
Enjoy the delights of Yeppoon
Just 25 minutes from Rockhampton, Yeppoon is the main town on the Capricorn Coast. It's a lovely region, known for its stunning beaches and proximity to Great Keppel Island, which thus makes it a terrific option for a stopover.
Overlooking the stunning Kemp Beach, the Beaches on Lammermoor Apartments offers stylish self-contained accommodation.
These beautiful or 3 bedroom apartments feature stunning views, as can be expected from the amazing location of the compound. You will be located at the doorstep of Keppel Island Group, and a short ferry ride away from Great Keppel Island and the world-famous Great Barrier Reef.
It is not all about the islands and the Great Barrier Reef (though these are big pluses in our book!) in Yeppoon, though. While visiting this town, Yeppoon Lagoon is a must-visit, especially for families, and is only a short drive away from the property.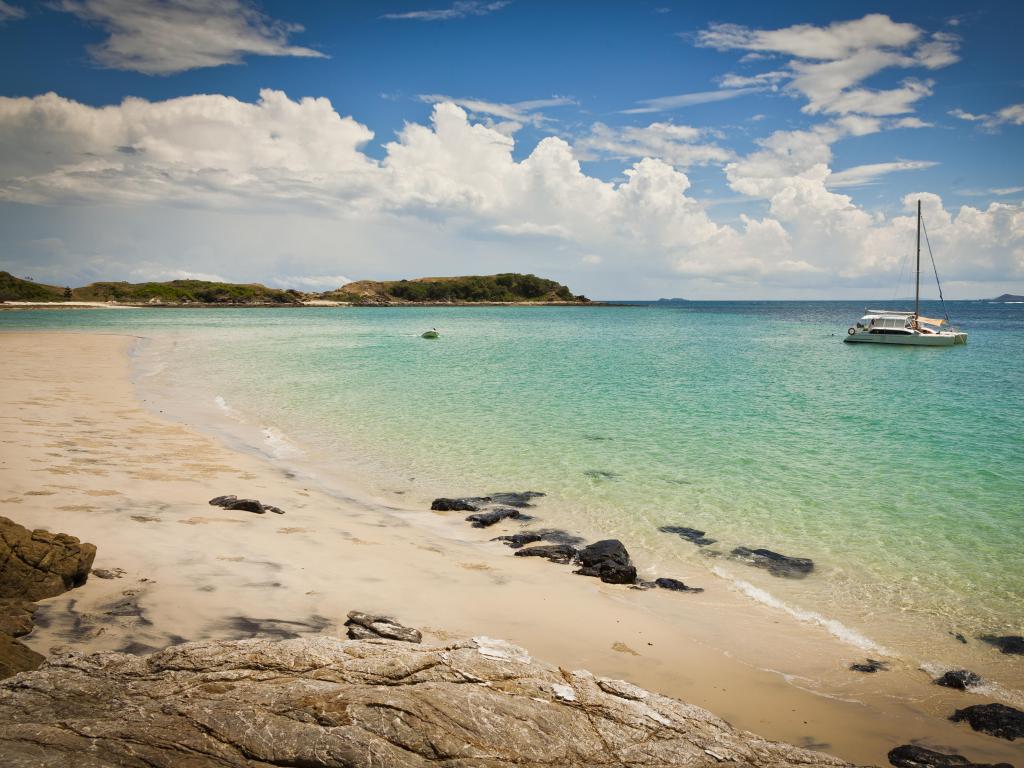 Things to see on a road trip from Brisbane to Airlie Beach
During your drive from Brisbane to Airlie Beach there are plenty of places you can visit.
You won't be able to stop off at them all, but if you can, you should really try and visit some of the following:
Australia Zoo - World class zoo made famous by Steven Irwin, aka the 'Crocodile Hunter'. It features over 1200 species of birds, mammals and reptiles.
Mooloolaba Beach - Lovely coastal town that boasts one of the best beaches on the Sunshine Coast.
Noosa - World renowned surf spot, with excellent beaches. Also features glitzy Hastings Street, Noosa National Park and the magnificent Noosa Everglades.
Rainbow Beach - Check out the incredible sand dunes that line the length of the beach and take on many stunning colours of the rainbow.
Fraser Island - World Heritage listed site famed for being the world's largest sand island. Possesses a sensational landscape of rainforests, sand dunes, mangrove forests and eucalyptus woodland.
Hervey Bay – Search for Humpback whales at the 'whale watching capital of the world'.
Agnes Waters/1770 - Ride the swell at Queensland's most northerly surf beach. Also check out the historic coastal town of 1770, where Lt James Cook, first made landfall in the state.
Gladstone - Charming port city with gorgeous waterside location and a fantastic botanical garden.
Rockhampton - Historic regional city with stunning architecture and the iconic statues of bovines along its wide streets.
Yeppoon - Delightful coastal town with spectacular beaches and a fabulous man-made lagoon pool.
Great Keppel Island - Stunning island just off the coast from Yeppoon which features 17 fantastic beaches.
Mackay - Vibrant town that boasts a spectacular harbor and the stunning Bluewater Lagoon, which is a popular city water park.
Cape Hillsborough - Picturesque national park where kangaroos and wallabies hop around the shoreline every day at sunrise in search of food.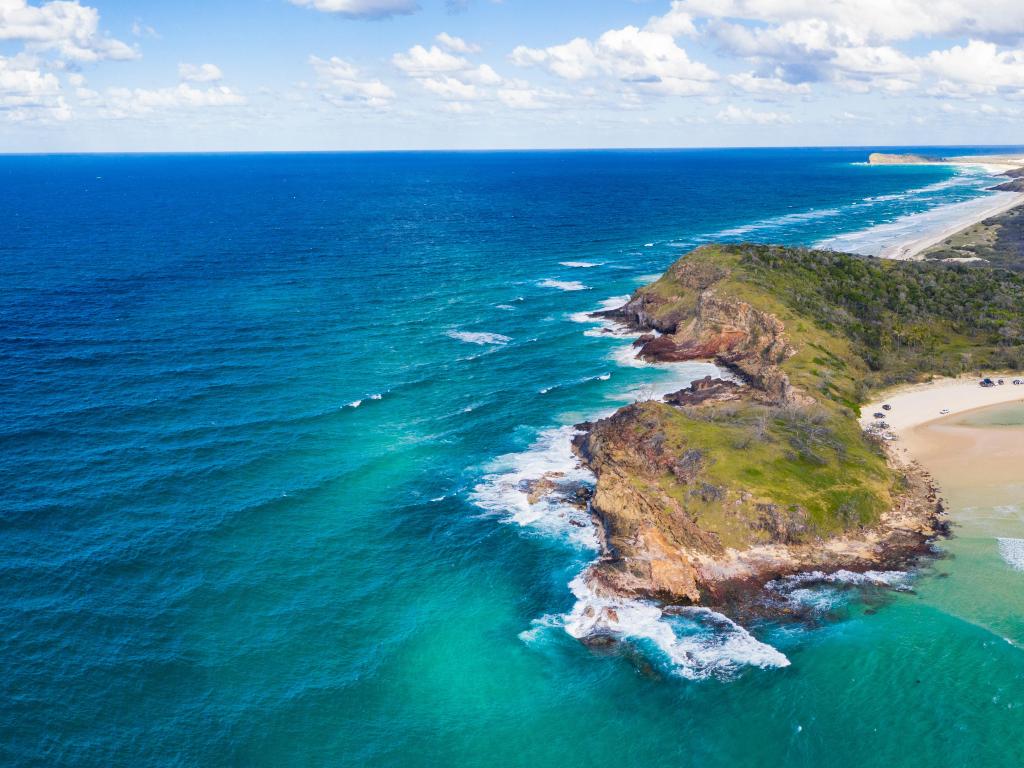 Best time to go on a road trip from Brisbane to Airlie Beach
With average year-round, day-time, temperatures hovering between 23 and 30 degrees Celsius, Airlie Beach is a place you can visit at any time. So there really is no 'best' time to go there as such - just the best time for you!
The period between January and March is the height of the summer months. It's also renowned as the rainy season, and whilst you do get plenty of precipitation, there are usually enough hot and humid days to enjoy your time there.
However, as it coincides with Queensland's main summer school holidays, you will find hotel prices will be at their peak level.
Between April and May is an excellent time of the year to visit. It's the shoulder season where both the humidity and heat of the previous summer months have lessened. As a result the days are usually clear and sunny, with nice temperatures.
June to August is a busy time of year, especially for sailing enthusiasts, as both the Airlie Beach Race Week and the Hamilton Island Race Week take place during these times.
It's also a fantastic time for whale spotting, as humpback whales can be seen migrating through the Whitsundays, en route to birthing their offspring. During this time hotel prices might be at a premium.
Overall the period between September and December is good time to go. The weather is great and kids are still in school for much of the time, so it's not as busy as at other times of the year.
Whenever you choose to go, it's always a good idea to get your car fully serviced and roadworthy before embarking upon your trip.