17 Best Road Trips from New Orleans
Nicknamed the "The Big Easy", New Orleans, Louisiana is well-known for its nightlife, Cajun-influenced food, and fun festivals like Mardi Gras. But did you know there is so much more unique southern culture and charm to experience outside and around the world-famous city
Here are the 17 most amazing road trips you can set off on from New Orleans, taking you to vibrant cities, the history of the antebellum south, the most scenic drives, white sand beaches and crystal-clear lakes as well as some unforgettable sightseeing opportunities.
So if you're ready to get out of New Orleans for a time, we're here for you! Check out some of the interesting road trips we've outlined below.
17 Best Road Trips from New Orleans
Day trips (under 3 hours each way)
The best thing about a day trip is that you don't have to travel far to have fun. You can have plenty of new adventures and be home the same day. Take a look at these six day trips that are all accessible in under a three hours' drive from New Orleans.
1. Covington, Mandeville and Slidell, LA
1 hour from New Orleans (40 miles)
Why you should visit: For the quickest trip on this list, take a drive out to the fun town of Covington, located only an hour away from New Orleans. If you want to add the towns of Mandeville and Slidell to your route, the extra stops will only add around thirty extra minutes of driving time.
Even though New Orleans is brimming with food and drink venues, it is always good to try something different. Spend a day exploring the sights on the north shore of Lake Pontchartrain.
You can try fabulous food in Covington, explore the natural beach landscapes in Mandeville, and enjoy the culture and art in Slidell.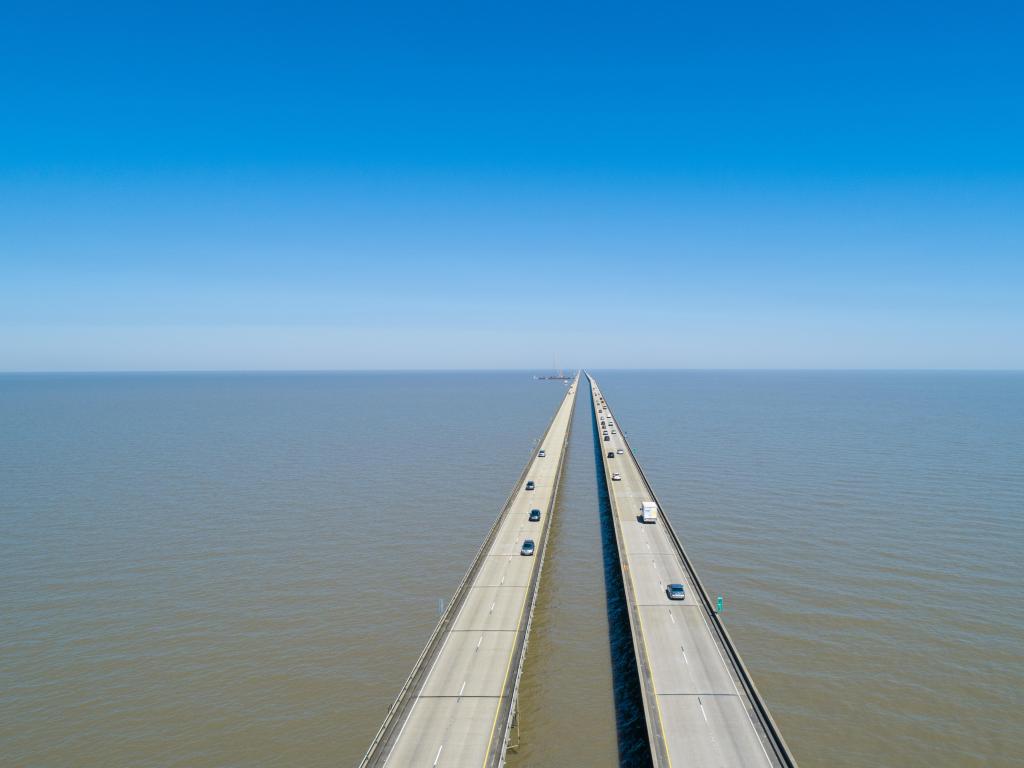 How to get there: The easiest way to get to Covington from New Orleans is to go north on the Lake Pontchartrain Causeway. On your way you will pass by Mandeville, but you can keep going into Covington first and then head back down to Mandeville and Slidell on your way back at the end of the day.
Our highlights: In and around Covington, Mandeville, and Slidell are some really cool sights to see. We have highlighted the best of them here for you.
Being so well-known for its food scene, it makes sense that Covington would have a wonderful farmer's market. It's worth checking out and trying some of the local produce grown in the area.
Farmer's markets are a great way to get a sense of a place since you are able to engage with a lot of people who live and work there, and you can walk around and explore the various food stalls. We have heard that the local honey is a must-try!
While in Covington, you must stop by the H.J. Smith & Sons General Store. The store has been a family-run business since it was started in 1876, and it is now running as a museum. It houses some very interesting items dating back to the 1870s that are worth checking out for anyone who is a history buff.
A 10-minute drive from Covington, the town of Abita Springs has a lot to offer. It is famous for its three springs that contain extremely pure water with magnesium deposits, known for their health benefits.
The picturesque little town is also known for its craft breweries, which you can tour and sample some of the local beer before taking a stroll down the town's charming main street.
Located just outside of Mandeville, Fontainebleau State Park is a great place for those who love outdoor sports, as it offers some great kayaking, hiking, and birdwatching. Offering a beautiful natural landscape, this park used to be the site of a former sugarcane plantation.
Bonus: The brick ruins of the former sugar cane plantation still lie in Fontainebleau and can be toured.
Our travel tips: Make sure to have cash on hand if you're planning to visit any parks or museums as some only accept cash payments.
Another good idea is to make sure the sites you want to see are open and operating since some places have seasonal hours. H.J. Smith & Sons is open Monday to Saturday, so it would be a bummer to have planned your day trip on a Sunday only to find out it is closed.
2. Hattiesburg, MS
Via Pearl River, LA
1 hour 50 minutes from New Orleans (110 miles)
Why you should visit: Hattiesburg is a big city with the charm of a small town. Not a lot of places can offer this unique dynamic, but Hattiesburg more than delivers.
Hattiesburg sits in the center of a couple of major cities which makes it a prime destination for visitors from each of them looking for a break. Coupled with the two major colleges located here, Hattiesburg is a busy and fun city worth visiting and exploring.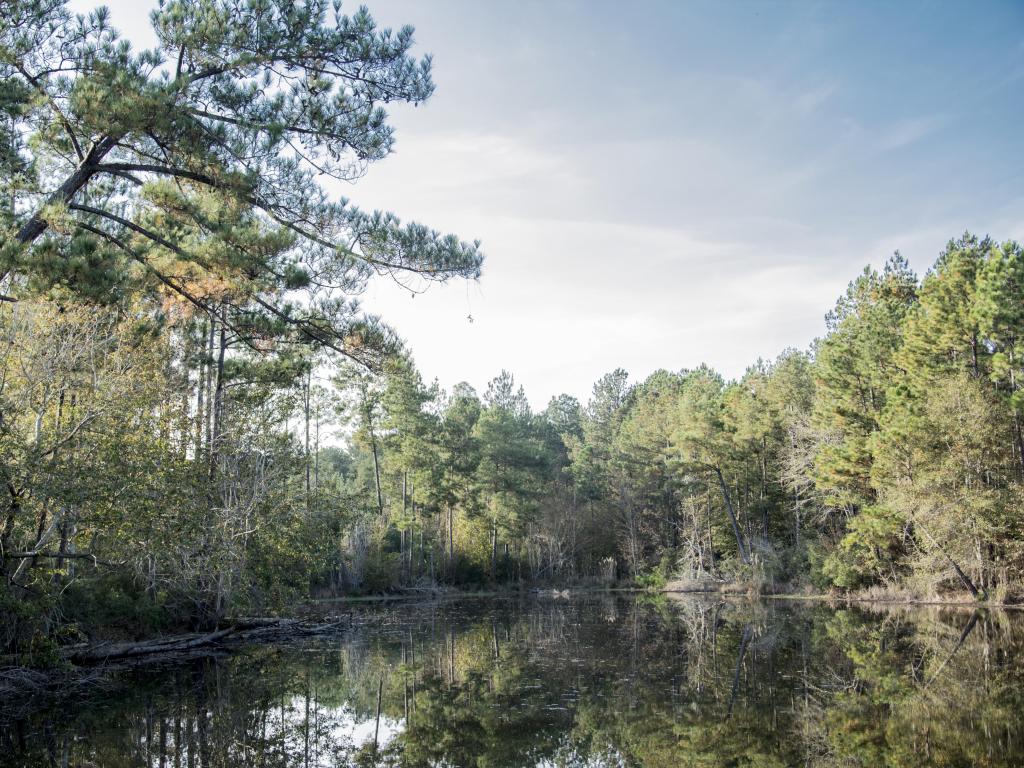 How to get there: Hattiesburg is located north of New Orleans in the state of Mississippi. It is very easy to visit Hattiesburg from New Orleans by taking Interstate 59 North, which takes you into the center of the city.
If you use this route, you will be able to make it to Hattiesburg in under two hours, which makes it the perfect location for a day trip.
Our highlights: This historic city, nicknamed "Hub City" from the days of the railroad, is famous for its large historic district spanning twenty-five city blocks and dotted by a stunning array of Victorian-era houses.
For those of you who want a dose of nature in the heart of the city, take a stroll through the All-American Rose Garden situated at the front entrance of the University of Mississippi. You will find more than 800 variations of rose bushes, making for a beautiful experience for all the senses.
If that is not enough nature for you, stop by the Hattiesburg Zoo, spread across 12 acres and surrounded by thick pine groves, walking trails, and oak trees. The zoo offers kid-friendly activities like a splash pad and carousel ride, and it is home to over 80 different species of animals.
For a bit of history, check out the African American Military History Museum, where you will learn the tales of the city's African American soldiers who bravely served the country in its times of conflict. Exhibits include the American Revolution, the Civil War, and the wars of the twentieth century.
For a more scenic detour, visit the De Soto National Forest located 40 minutes outside Hattiesburg, in Brooklyn, MS. It offers over sixty miles of hiking trails and opportunities for bicycling, camping, and canoeing.
The pretty landscape is known for the clear-water streams meandering through rolling hills and pine tree woods.
Bonus: In the African American Military Museum, you will get to know about Jesse Leroy Brown, the nation's first black aviator. This museum is also the only USO museum that is specifically for African American soldiers.
Our travel tips: Your best chance at exploring Hattiesburg without a lot of rain will be from September till November.
3. Grand Isle, LA
2 hours 20 minutes from New Orleans (110 miles)
Why you should visit: Grand Isle is a coastline town with a relatively unknown but exciting history that gives it a special significance to the state of Louisiana. Historically a fishing village, Grand Isle offers lots to do relating to fishing, bird watching, and visiting the beach.
You can spend an entire day at the Grand Isle state park partaking in various activities, like deep sea salt-water fishing and even crabbing. It would make a great day trip for those who want to wake up early to do some fishing and then enjoy the rest of the day outdoors.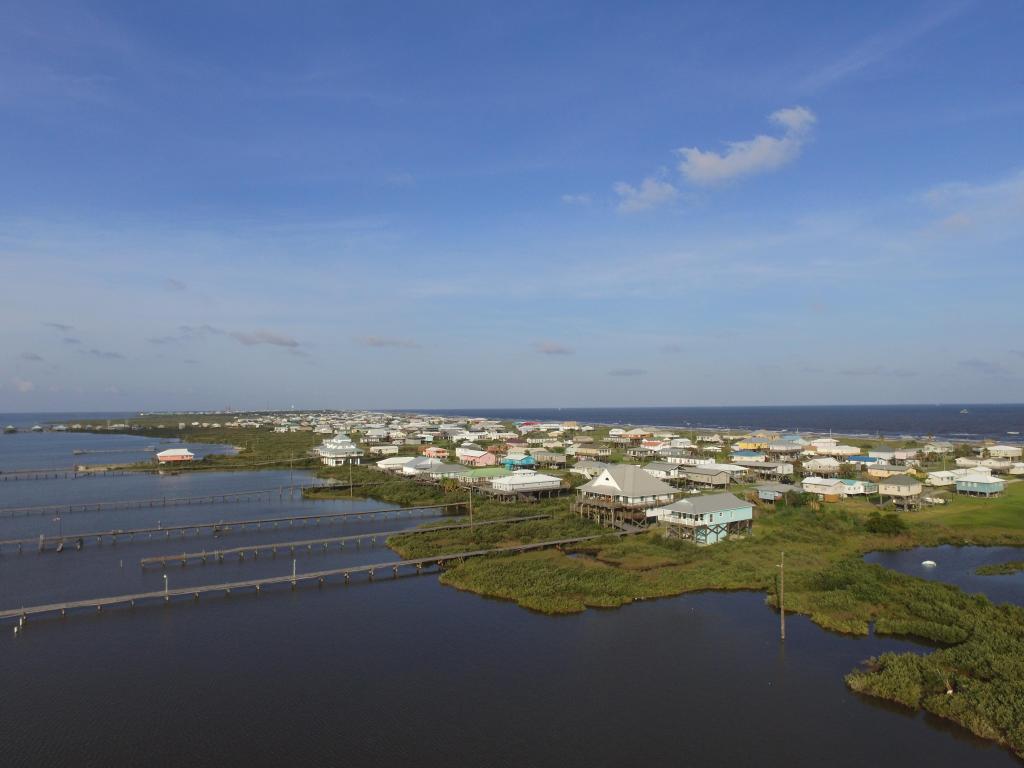 How to get there: Getting to Grand Isle from New Orleans is a matter of making a circle through the Mississippi River tributaries and alluvial plains that make up the bottom portion of Louisiana's geography.
From New Orleans' city center, you should get onto Interstate 310 going southbound until you merge onto route 90 west. This will allow you to get onto the LA-1 highway and take it south all the way to Grand Isle, and allow for a scenic ride from that point on.
Our highlights: Grand Isle is both the name of the town and the barrier island where it is situated. As a barrier island, this entire area has been hit many times throughout the years by devastating hurricanes, but Grand Isle has always been rebuilt and continues to be a much-loved town by locals and tourists alike.
As mentioned, fishing is a huge attraction for Grand Isle, connected closely to its history and inception as a town. Sitting on the coast of the Gulf of Mexico, officials claim there are more than 280 species of fish that can be found off the coast of Grand Isle.
If you love a variety of wildlife, you will want to take the 20-minute drive over the bridge to Elmer's Island. This wildlife refuge includes beaches, coastal dunes, a saltwater marsh, a tidal zone, and more— all of them designed to provide a great place for recreation.
Take a boat ride off Elmer's Island to see the ruins of Fort Livingston. This 19th-century fort is one of Louisiana's biggest historical forts, and although the ruins are not accessible to the public, they can be viewed while passing by on a boat.
One of the prettiest experiences in Grand Isle is to take a stroll along the Back Lanes. Named as such by the locals, this Grand Isles' neighborhood has a distinctly gloomy yet beautiful feel because of the old oak trees proliferating in the area.
Our travel tips: You can visit Grand Isle almost any time of the year, although it may be a good idea to avoid visiting in July and August since that can be a rainy season for the area.
4. Biloxi, MS and Mobile, AL
2 hours 20 minutes from New Orleans (150 miles)
Why you should visit: Biloxi offers a relaxed coastal vibe with lots of maritime influence in the city that is known for its fishing industry. You could stop here for lunch and have some delicious fresh seafood before continuing your day trip to Mobile.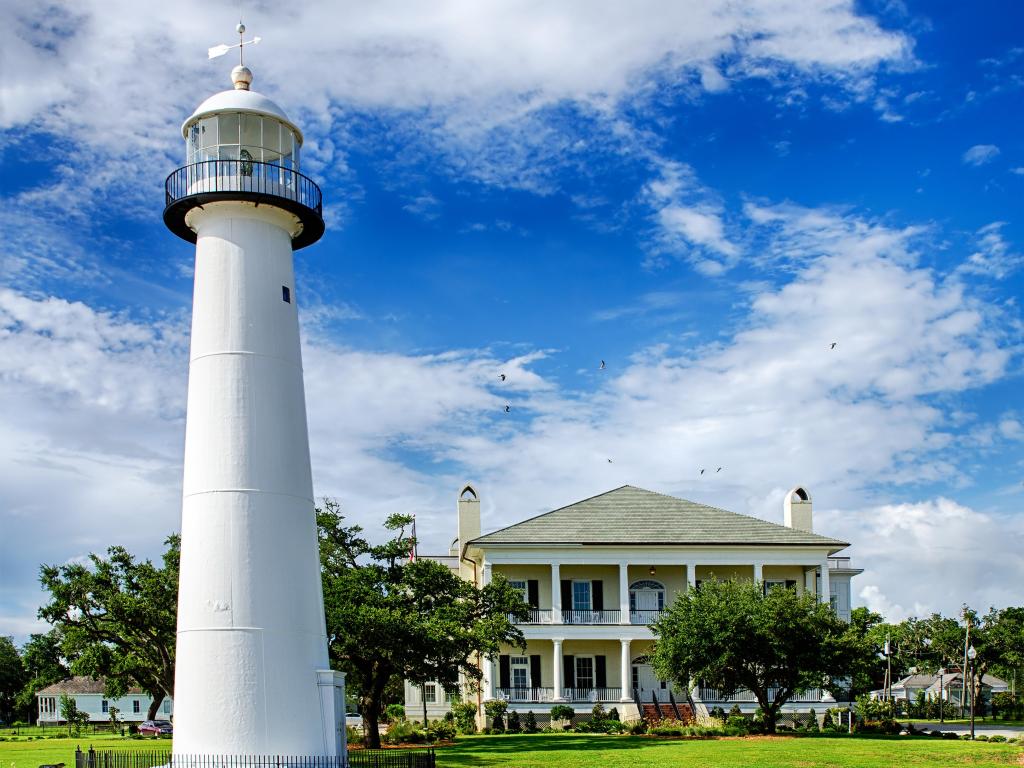 How to get there: It is incredibly easy to travel by car from New Orleans to Biloxi, MS and then on to Mobile, AL. There is essentially only one highway to travel—Interstate 10 going eastbound. The stops are each about an hour apart, and because of the single highway connecting all three cities, this trip is great to complete in a single day.
From New Orleans, you will reach Biloxi first and turn off I-10 to reach the city. When you are ready to continue on toward Mobile, AL, it is just a matter of getting back onto I-10 east for another hour.
Our highlights: Mobile also offers a beautiful cityscape, with ample representation of French architecture. You can take a walk through the beautifully designed Bienville Square, a park in the heart of the city where President Theodore Roosevelt once delivered a speech in 1905.
Surrounding this park are all the beautiful buildings that represent Mobile's French past through their distinct architecture.
As a coastal town, Biloxi has a long maritime and fishing history that you can explore via the Maritime and Seafood Industry Museum. It offers a complete collection documenting Biloxi's maritime past, with a unique focus on oystering, shrimping, and recreational fishing.
You can even set sail on two replicas of real sixty-five foot double-masted Biloxi schooners through group charters that take you for a ride along the coast.
All WWII history buffs should without a doubt visit the USS Alabama Battleship Memorial Park. Just outside Mobile, the park is named after one of the most famous historical battleships of WWII and serves as a museum filled with interesting war machinery and exhibits from the era.
Take a break from military history by touring the Mobile Museum of Art, which houses over 6,400 works from all over the world, intermingling distinctly American pieces with those from Europe, Africa, and Asia.
The museum always puts on special exhibits that rotate throughout the year, and the permanent collection balances artwork, like 19th-century American landscape paintings, with more contemporary wood and ceramic sculptures.
Bonus: For a more coastal drive, you can choose to take the Hwy-90 instead of the I-10E, as this highway winds eastward along the Mississippi coastline and provides for views of the Gulf of Mexico. It will also give you a chance to stop at the quaint town of Bay St. Louis before reaching Biloxi.
Our travel tips: Visit the Mobile Museum of Art's website ahead of time to see which exhibits are on offer during the time of your visit, as they rotate frequently.
5. Lafayette, LA
Via Baton Rouge and Atchafalaya National Wildlife Refuge, LA
2 hours 30 minutes from New Orleans (140 miles)
Why you should visit: What is more famous in Louisiana than the unique Creole and Cajun culture that began in this state? Lafayette is one of the best places to experience it, and this amazing city is so close to New Orleans that you can get there in under three hours.
Once named "America's Happiest City", Lafayette is a city full of fun, food, and true Southern Hospitality. The city knows how to live it up– so much so that its various festivals are renowned around the world.
How to get there: The majority of your drive from New Orleans to Lafayette will take place on one highway, which makes it a relatively easy trip.
You can take I-10 going westward from New Orleans all the way through Baton Rouge and continuing into Lafayette. Since this highway connects all three cities, the drive is pretty straightforward and it's just a matter of enjoying the scenery as you go along your way.
Our highlights: Travel back in time by visiting the LARC Acadian Village and see how the early Cajun settlers of the Bayou lived. Stroll through the village that is made up of a collection of real homes that were populated by people of the time. There is also a Native American Museum on the site.
Political history buffs will have fun touring Louisiana's Old State Capitol. In Baton Rouge, this is a highly informative museum that houses early 20th-century government documents, artifacts, artwork, and more.
While you're in Baton Rouge, make sure you take the time to visit the LSU Museum of Art. It sits on 13,000 sq. ft. and houses 14 galleries of works dating back to the 1600s. Marvel at the 15 ft. high ceilings and one of the biggest art collections in the Southern US.
You can take a further 20-minute detour before Baton Rouge to visit Houmas House and Gardens. This historically significant plantation complex offers tours of the mansion house, and tours through the 38-acre garden housing a multitude of plants and flowers indigenous to Louisiana.
Bonus: The Old State Capitol is also known as the "Castle of Baton Rouge" and "Castle on the River" because of its distinct castle-like architecture.
Our travel tips: The Acadian Village is open for visitors from January until October, every day except Sunday. Plan your trip accordingly so you don't miss it!
6. Natchez, MS
2 hours 50 minutes from New Orleans via Baton Rouge (170 miles)
Why you should visit: With a day trip to Natchez, you get a chance to experience the history of the antebellum south. The city is rich in architecture, old houses, and sites relating to the pre-civil war era. It's the perfect destination to experience a dose of good old Southern Charm.
If you love beautiful homes, how they figured in the history of the nation, and prefer a slightly less popular destination, then Natchez will not disappoint you.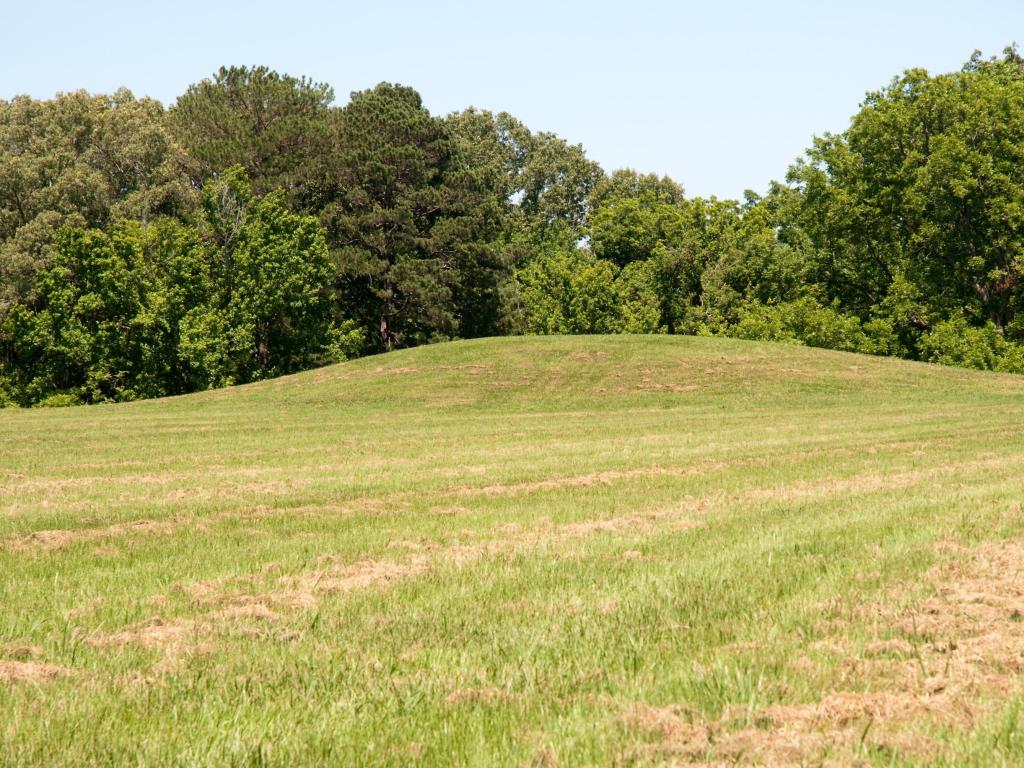 How to get there: Although there are multiple routes to get from New Orleans to Natchez, we suggest taking the route via Baton Rouge, the capital of Louisiana. It falls halfway along your route.
Just take Louisiana Highway 10 East, which will take you through Baton Rouge, at which point you will transfer onto Route 61 North all the way to Natchez.
Our highlights: Getting hungry? Have a bite at Biscuits & Blues, a restored, beautiful historical tavern that is well known for its own local twist to classic dishes. They offer favorites like corn and shrimp fritters, gumbo, and po-boy sandwiches, which got their start in Louisiana.
Immerse yourself in Native American history by visiting the Emerald Mound Site just 20 minutes outside of Natchez. This is an extremely significant archaeological site whose origin lies somewhere between 1250 and 1600 A.D.
Learn even more about the Native American tradition in the area at the Grand Village of the Natchez Indians, home to multiple prehistoric Indian mounds, recreated native homes, and a walking trail.
Keep an eye out for the Natchez Powwow that the park hosts once a year with traditional song and dance performances, crafts of the local historic tribes, and refreshing food and drink.
For a bigger detour into nature, you can opt to continue along the scenic Natchez Trace Parkway to enjoy a time-worn trail filled with historically significant landscapes, embraced by scenic nature views. For that, you just grab Route 61 for about 40 minutes north from Natchez.
If you want to learn more about this stunning drive, check out our ultimate guide on Natchez Trace Parkway.
Bonus: The Emerald Mound is the country's second-largest Pre-Columbian period earthwork. It is amazing to view a site that lasted from the Native peoples populating the area at the time.
Our travel tips: Visiting Natchez is best done in the Spring when the weather is the nicest for being outside. Whether you are walking along the city streets and checking out the antebellum architecture, or you're going to visit the ancient Emerald Mound Indian ground, good outdoor weather is key to an enjoyable trip.
Keep in mind that, depending on which time of day you decide to head out, the total trip could take a little under or a little over three hours. We suggest going on a weekend when traffic will be minimal and setting out early in the day.
Click here to skip back to the top.
Weekend trips (3-5 hours each way)
If you want to spend a whole weekend away, you have two great options to explore outside of New Orleans. These weekend trips take about 2-3 days to complete and make for fun quick getaways!
7. Lake Charles, LA
3 hours 2 minutes from New Orleans (206 miles)
Why you should visit: The city of Lake Charles is one of the American South's best places for blues music, although a lot of people wouldn't necessarily know that! You will be able to try excellent local cuisine while sampling the various blues joints.
There is even a pretty well-known casino scene that draws tourists from surrounding states. You will not struggle to fill your days and evenings with all the entertainment options, such as museums, casinos, art centers, and nature trails.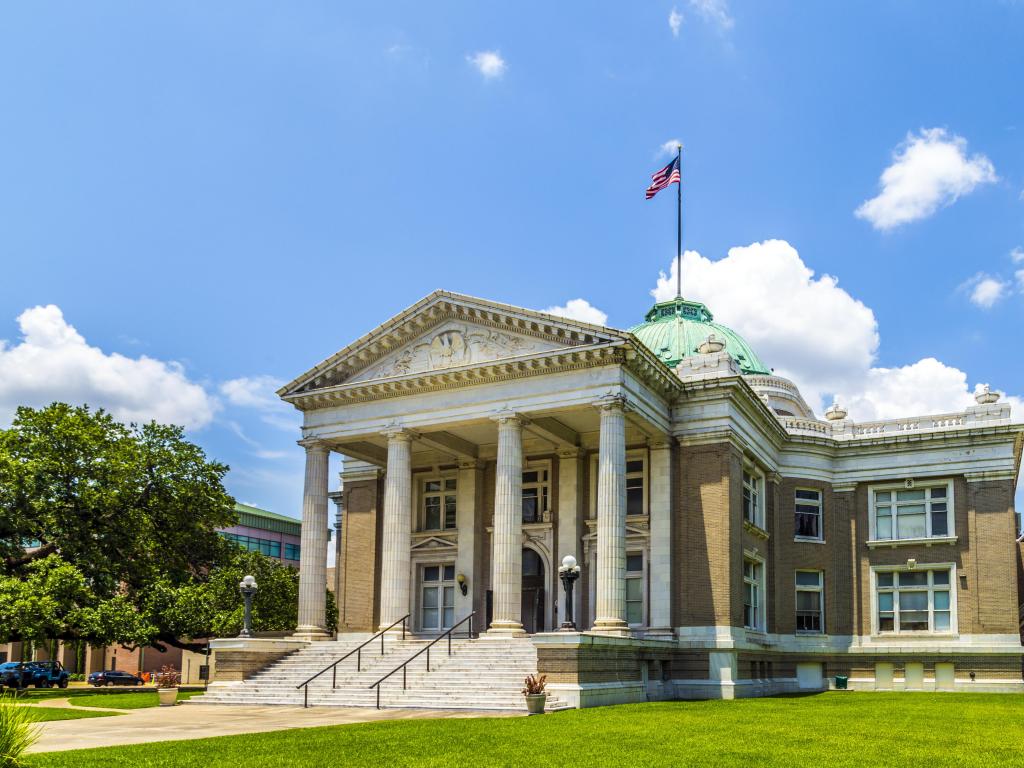 How to get there: One of the best things about a road trip to Lake Charles is how easy the city is to reach from New Orleans. The ride may take a few hours, but it is a straight shot along Interstate 10 West.
Follow I-10 westward from the city of New Orleans, passing through Baton Rouge and outside of Lafayette. Continue for about another hour and you will arrive at Lake Charles.
Our highlights: The namesake lake of Lake Charles offers some splendid recreational activities, so this trip is great for a balanced weekend of outdoors and city fun.
A must-visit for history buffs is the 1911 Historic City Hall. The former city hall has been converted into a cultural center and art museum chronicling Louisiana's history. One perk is that admission is free.
Are you the type to enjoy some quirky fun? You will be delighted to learn that there is such a thing as the Louisiana Pirate Festival. It takes place in May and celebrates Lake Charles' maritime tradition. The city regularly records more than 200,000 attendees!
As we've mentioned, there is a fair bit of high-rolling casino life taking place in Lake Charles. The L'Auberge Casino Resort is the area's most well-known casino. It even houses a golf course, several poker rooms and table games.
You can opt to take an alternative route via Highway 90 and visit Avery Island and New Iberia to get a more scenic drive through the lower Louisiana swamps. These unique and quintessential Louisiana landscapes are worth the effort to see if you have the extra time to spend.
Bonus: Lake Charles has a prominent Mardi Gras scene of its own, and it's one of the best places to experience the world-famous festival in the state of Louisiana outside of New Orleans. There is even a museum in the heart of the city dedicated to it called the Mardi Gras Museum of Imperial Calcasieu.
Our travel tips: The best time to visit Lake Charles is between April and May and from September to October when the weather is less likely to be rainy.
If you want to ensure you're there for the Mardi Gras celebrations, keep an eye on the annual schedule because the festival falls in either February or March depending on the year.
8. Destin, FL
Via Gulf Shores, AL, Orange Beach, AL, and Pensacola, FL
4 hours 10 minutes from New Orleans (250 miles)
Why you should visit: Custom-made for beach lovers, the road from New Orleans to Destin offers some of the best and most sparkling beaches in the entire nation, especially if you choose to stop at the additional beach towns of Gulf Shores, Orange Beach, and Pensacola on your way.
The beaches in Destin are so amazing because the city sits on the Gulf of Mexico. White sands and stunning blue waters make this one of the most well-loved beach spots in Northeast Florida.
But you can do so much more in this town after you're finished taking a dip. Destin offers a host of other attractions like the Harbor Walk, hiking in the State Park, spotting alligators, and browsing interesting museums.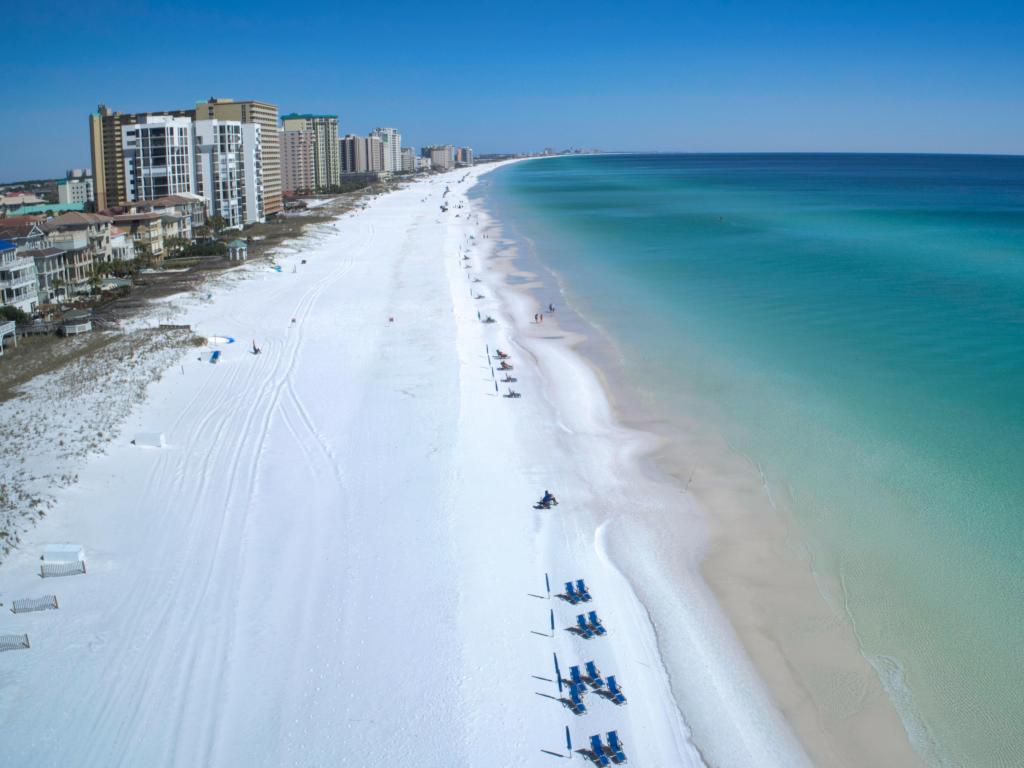 How to get there: The drive directly from New Orleans to Destin takes a little over four hours and follows a scenic route eastward along Alabama's shoreline. Take Interstate 10 East the majority of the way before transferring to Route 98 East outside of Pensacola and keep following that highway into Destin.
If you take the longer route to the additional cities, your first stop along the way will be Gulf Shores, AL. You can get there by taking I-10 East from New Orleans and then following the Baldwin Beach Express and the Foley Beach Express all the way down to Gulf Shores.
Enjoy the views along the shoreline as you follow Route 182 East into Orange Beach. Continue along Perdido Beach Blvd and Highway 292 into Pensacola. Then take the bridge along Route 98 South and follow that into Destin.
Our highlights: There are lots of things to do on this road trip that will keep you outdoors to enjoy the fine weather.
Swim with dolphins and other amazing local marine life at Gulfarium Marine Adventure Park, ten minutes outside of Destin. At this adventure park, you will be able to observe and interact with a fascinating variety of sea creatures.
If you love the beach but you're also a fan of a more rugged experience, you should check out the camping grounds at Henderson Beach State Park. It's more than just another beach, as you will be able to gaze out at the brilliant blue Gulf of Mexico while surrounded by a landscape of 30-ft tall white sand dunes.
For those thrill seekers among us, spend some time at one of Destin's biggest attractions, Big Kahuna's Water & Adveture Park, to cool off among the several dozen waterslides.
In our opinion, it is well worth it to take the detours through Orange Beach, Gulf Shores, and Pensacola. There is plenty to keep you entertained, as Orange Beach is known for being a hub for fun water sports and Gulf Shores Beach is known for its fishing.
At Pensacola, the city offers dozens of museums and historical sites to explore, like the National Naval Aviation Museum, Fort George, and the Historic Pensacola settlement reenactment.
For more detail on a road trip from New Orleans to Destin, check out our full article here.
Bonus: There's possibly real gold in the sand left over from a Spanish Galleon that sank back in the 1500's. There are stories about local people who were lucky enough to have discovered gold coins while sunning on the shores of Destin's beaches.
Our travel tips: If you want to take full advantage of the outdoors and the crystal waters of Destin's beaches, it makes sense to take this road trip in the summer.
Keep your eye out on the weather report and make sure to head out on a weekend that forecasts clear skies, since July through September is Florida's rainy season.
READ MORE - Road Trip from New Orleans to Destin
Click here to skip back to the top.
Long weekend trips (5-8 hours each way)
Lucky enough to have a long weekend to yourself? There's no sense in staying home and doing the same old things you always do! Hit the road for the next few days and go exploring with these 3 fun road trips.
You can complete each of these in 3-4 days' time and all destinations are reachable within 5-8 hours of New Orleans.
9. Houston and Galveston, TX
5 hours 10 mins from New Orleans (350 miles)
Why you should visit: Anyone who has a thirst for knowledge should plan to take this road trip to Houston, where there are plenty of natural history and science-related museums to get lost in.
Houston has a fascinating identity as a space hub, since this is where NASA mission control is located, and there is plenty to keep you occupied in this city in between trips to exhibits.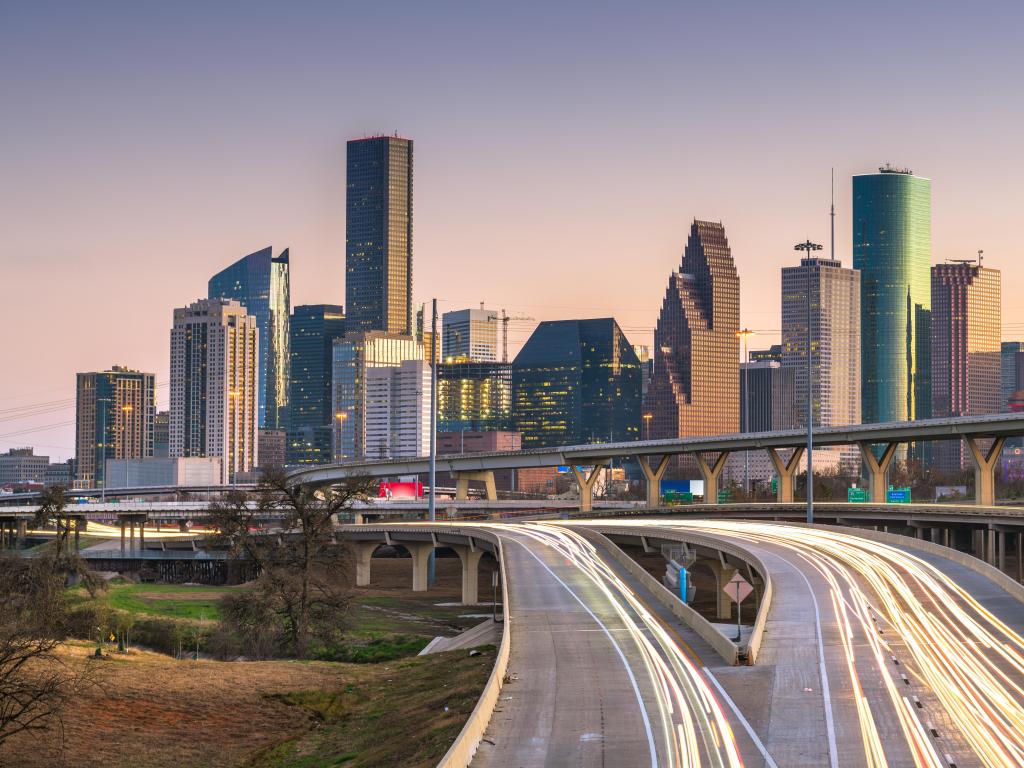 How to get there: Like most road trips from New Orleans, I-10 is the easiest highway to take you to your destination. In fact, it would be super easy to combine this road trip with the Lake Charles itinerary if you have the extra time, as you will be continuing west along the exact same route.
Just take 1-10 West from New Orleans all the way through Lake Charles and through the city of Beaumont until you reach Houston, TX. For more information on this road trip, be sure to visit our article here.
Adding the second stop to the coastal town of Galveston is a simple matter of taking I-45 South from Houston. Galveston is only about an hour away, which to us means it's a worthwhile addition to the trip!
Our highlights: Houston is the premier location for spaceship and satellite launches, which makes for amazing sightseeing. That's why we recommend saving a trip to Houston for a long weekend—there's just so much to do, and you'll want to have time to experience it all!
Make sure you save a full day to explore the Museum of Natural Science. This museum will take you on a journey through history from prehistoric times to the current day and show you how human scientific knowledge progressed.
Collections include dinosaur fossils and space-related content teaching visitors about solar systems light-years away.
You will be in awe of the exhibits at the Space Center. See legendary places such as NASA Mission Control, and gaze upon humanity's finest machinery that lets us travel beyond our planet. The Space Center is truly a fascinating experience, and a must-see while you are visiting Houston.
If you've had your fill of science and are looking to take in some beautiful art, visit the neighborhood of Houston known as Menil Park. This 30-acre area is home to multiple open-air art exhibits and a museum that features works of some of the best artists in the world, from Picasso to Duchamp.
An hour's drive away from Houston lies one of Texas' most charming places, the town of Galveston. Enjoy sandy shores and a dip in the water and immerse yourself in the town's historic 1830s architecture. The relaxed pace of this coastal town makes for a great finale to a long weekend.
Bonus: Houston is the location of Texas' largest shopping mall at the Houston Galleria. Leave some space in your trunk for an empty suitcase to fill with all the shopping you'll bring back home.
Our travel tips: Conveniently for tourists, the Space Center is open every day of the week, with earlier hours on weekends to accommodate the extra influx of visitors. Because they are so accommodating, it is an easy stop to add to your list of sights to see.
READ MORE - Road Trip from New Orleans to Houston
10. Memphis, TN
5 hours 40 mins from New Orleans (400 miles)
Why you should visit: Recognized worldwide as the birthplace of rock 'n roll, Memphis is a bucket list destination for any music lover. So many classic artists have histories here and have recorded music in famous Memphis studios, like Sun Studio, which recorded the first rock 'n roll record in the world.
You can take a look inside Sun Studio, which offers hourly tours through its facility. Memphis offers many such historic sites graced by the likes of Elvis Presley, Johnny Cash, B. B. King, and more.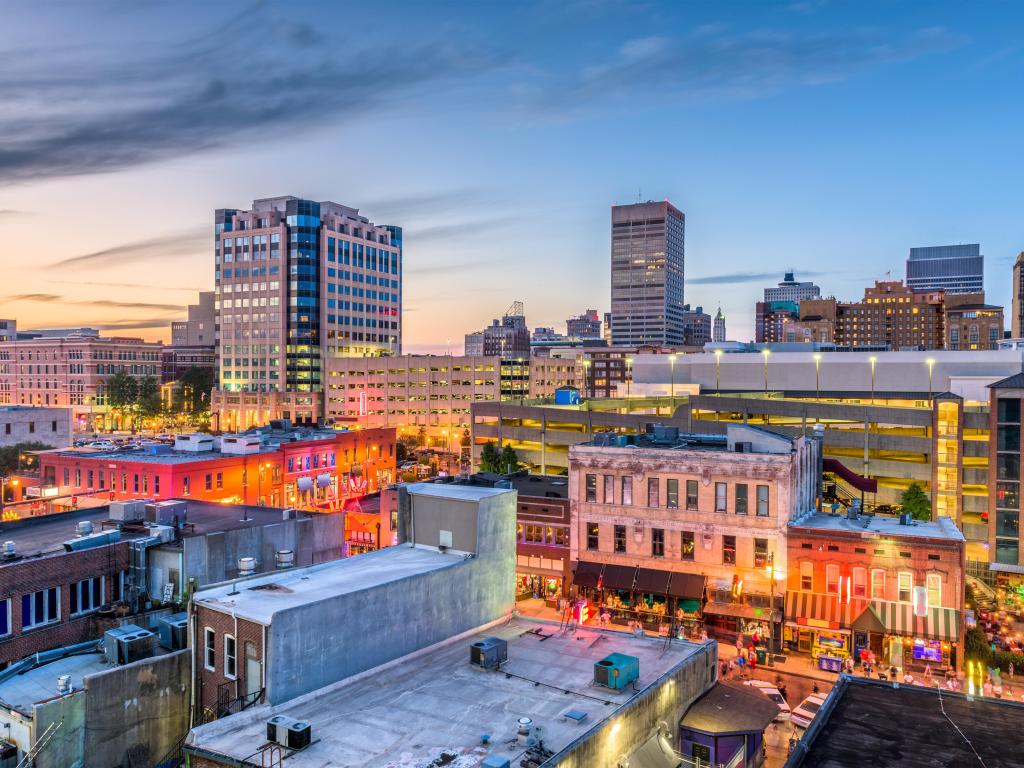 How to get there: From New Orleans, take I-10 West for only about 1.3 miles until you see the turnoff to I-55 North. Follow this highway northward for about 2.5 hours or until you reach Jackson, MS.
Jackson is about halfway along your route and I-55 goes right through the city, so it's a good place to stop if you need to take a driving break. Then it's back on the road northward for another 3 hours, or until you reach Memphis.
If you want a more scenic route, you may want to stick to Highways 10 and 20, as they will take you through Baton Rouge and other parts of Louisiana before entering Tennessee via Jackson.
Our highlights: The most famous attraction in Memphis is, without a doubt, the Graceland Mansion. The former home of rock and roll legend, Elvis Presley, sits on a massive 13.8-acre estate.
The site includes exhibits of Elvis' extensive car and jet collections, plus a large number of personal memorabilia that once belonged to the "King of Rock 'n Roll".
You will definitely want to take a stroll down Beale Street for its historical significance to Memphis. Beginning in 1841, this well-known street became one of the first places where the Blues really took hold. Today, you will find every kind of shop and restaurant nestled among its numerous music halls.
Shelby Farms, however, is the place you want to be if you're in need of some outdoor recreation. Spanning several thousand acres across the Tennessee countryside, this farmland is a popular place for horseback riding, hiking, rowing or simply observing the wildlife.
Bonus: Graceland is such a popular tourist site in the United States that only the White House has more annual visitors. Some years it has been known to boast over 650,000 visitors. Plan a road trip to Memphis and pay homage to The King with our article here.
Our travel tips: Tennessee summers can be oppressively hot, and you will want to spend time walking and touring the city. Plan to visit Memphis during a long weekend in April through May or even October through November to ensure milder weather.
READ MORE - Road Trip from New Orleans to Memphis
11. Nashville, TN
7 hours 30 mins from New Orleans (530 miles)
Why you should visit: Another city famous for its music scene is none other than Nashville. Boasting the nickname "Music City", Tennessee's capital houses some of the country's most iconic and legendary music-related sights and exhibits.
Nashville ranks just as high as Memphis when it comes to its significance in US music history, though instead of rock 'n roll, Nashville is famous for its country music scene.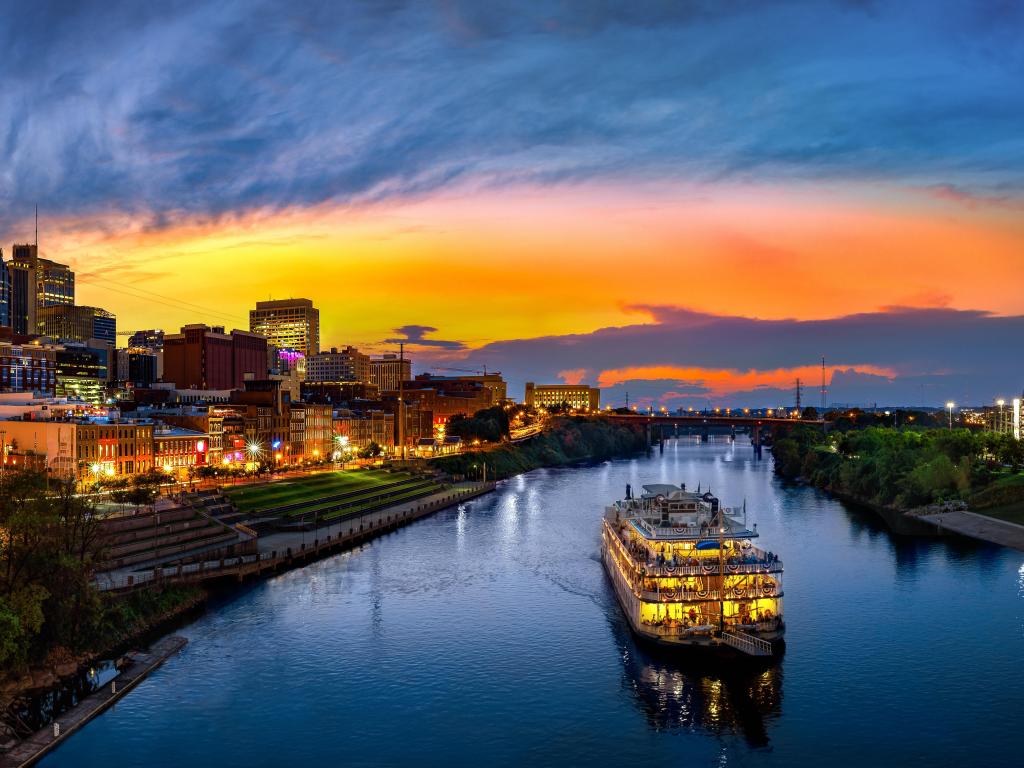 How to get there: To get from New Orleans to Nashville, first take I-10 East until you can hook onto I-59 North. You will pass outside of Hattiesburg, MS and keep going north past Meridian and even further up. Eventually I-59 will turn into I-20 and take you into Birmingham, AL.
Birmingham is a little over halfway through your trip, and once you reach it, you will want to stay on I-65 North for the rest of the way. This interstate highway will take you over the border from Alabama to Tennessee and continue north straight into the city of Nashville.
You can choose to combine Memphis with Nashville for an even longer road trip that combines some of music's most iconic cities and locations. The detour will add about 1 hour and 30 minutes to the drive time and you will need to take I-55N after I-10W.
Our highlights: There is a multitude of cultural landmarks to see and experience in Nashville, and many country music stars have a strong connection to the city. Sheryl Crow got her start in Nashville, and Dolly Parton has performed multiple times at the iconic Ryman Auditorium.
Catch some tunes at the Grand Ole Opry concert. Believed to be the show that put country music on the map, it consistently features the latest and greatest in bluegrass, gospel, folk, and country music. Who knows, you may even catch a performance by the next big country star in the making.
While exploring the city, spend some time in the Broadway district. Located in the city's pulsating heart, Broadway is home to all the action that the city has to offer. Drink, eat, sing, dance, or ride a mechanical bull at one of Nashville's numerous country bars—or as the locals call them, "honky tonks"!
One of the most unique sights in Nashville is the Parthenon, a full-size replica built in 1897 that is completely to scale with the original Parthenon in Athens, Greece. Today the Parthenon is a cultural center and an art museum that's a lot of fun to tour.
Bonus: The reason Nashville is known as "the Athens of the South" is that the city used to have Tennessee's highest number of colleges and universities. You can still feel the reverberations of that reputation, as Nashville retains its youthful, college-town vibe with lots of energy and an active nightlife scene.
Our travel tips: Try to visit the city between April and October, as this is when you will find most events taking place due to the warmer temperatures. It would be a shame to get there and find none of the concerts and exhibits you hope to see taking place.
READ MORE - Road Trip from New Orleans to Nashville
Click here to skip back to the top.
Longer trips (Over 8 hours each way)
Sometimes even a long weekend getaway is not enough to scratch the travel itch. If you're looking to spend even longer on the road, take a look at these 6 road trip itineraries we have hand-selected to show you the best cities and sights at least 8 hours' drive from New Orleans.
12. Orlando, FL
Via Tallahassee and Gainesville, FL
9 hours 10 mins from New Orleans (640 miles)
Why you should visit: There are more than a dozen theme parks in this city of fun and frolic, the most famous being Universal Studios and Walt Disney World.
It is safe to say there is no shortage of things to do in Orlando, which caters to adventure seekers and beachgoers alike. A trip here is sure to please everyone, and it is no surprise it is such a popular place for people to take their annual family vacations.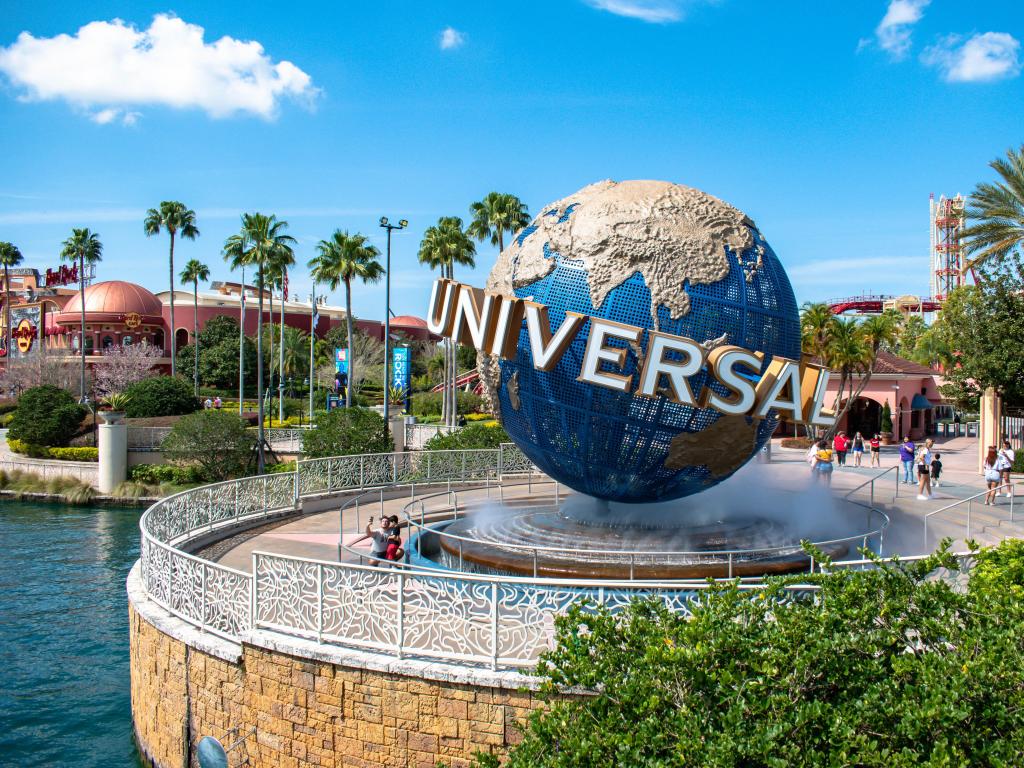 How to get there: This road trip may be a long one, but the drive isn't particularly complicated. Just about seven hours of the drive falls along I-10 East, taking you through the coast of Mississippi and along the panhandle of western Florida. You will pass Tallahassee on your way south.
Just outside Lake City, there will be an exit onto I-75 South that you will follow for about an hour and a half. This will take you past Gainesville where there is an optional detour.
In the area of Sumter County, you will take another exit onto the Florida Turnpike, which you will follow most of the rest of the way. From here the drive is only about another hour into Orlando.
There is an alternative route that lets you view more of Florida's coastal scenery but will add about 2 hours to the drive time. For this, you will have to take Route 98 after reaching Mobile via the I-10E. It will take you through Panama City and the Apalachicola Environmental Area.
Our highlights: One of the main attractions for tourism to Orlando is the Walt Disney World Resort, which actually consists of not one but four theme parks, along with world-class hotels and shows.
Indulge in the nostalgia of Disney characters and movies, both classic and new, while riding world-famous roller coasters and rides.
Take in a show at Dr. Phillips Center For The Performing Arts, Orlando's most famous spot for live performances. You can enjoy a diverse range of live entertainment like Broadway shows—Hamilton was performed here–musical concerts, comedy shows, and even ballet.
Step into nature at the Harry P. Leu Gardens. This 50-acre garden just minutes outside urban Orlando is filled with local flora and fauna and can be entirely traversed by foot.
A meandering path takes you on a magical journey through the beautiful grounds which feature a butterfly garden, an all-tropical plants section, and a White Garden that only displays white-colored blooms. There is also a restored 19th-century home available for touring called the Leu House Museum.
Bonus: Walt Disney World Resort is the world's biggest resort of its kind in the world! You will want to spend multiple days touring the different sections of the resort, each of which has its own theme, rides, and restaurants.
Seven of the twelve theme parks in the city rank among the world's top 10, making it one of the most sought-after destinations for thrill-seeking adventure park enthusiasts.
Our travel tips: Since the most popular attractions in the city are theme parks, be sure to buy tickets well in advance and avoid major holidays. It may also be a good idea to look for VIP passes that allow you to skip long lines at popular rides.
Add another 40 minutes to Tallahassee, Gainesville Falls and minor detours.
READ MORE - Road Trip from New Orleans to Orlando
13. Miami, FL
Via Tampa and Fort Myers, FL
13 hours 20 mins from New Orleans (940 miles)
Why you should visit: Miami is among the world's most well-known vacation spots, with the metropolis catering to tourists both local and international. Not only is there a large beach culture, but there is also a lot of fun to be had in the various neighborhoods of the city, each of which has its own flair and personality.
If you love art and culture, there are very few places that are more exciting or fashion-forward than Miami. On top of that, the Miami nightlife hardly ever stops.
There are fantastic nightclubs, unique bars to have a cocktail, award-winning restaurants, and plenty of shows and entertainment on offer in this bustling cosmopolitan city.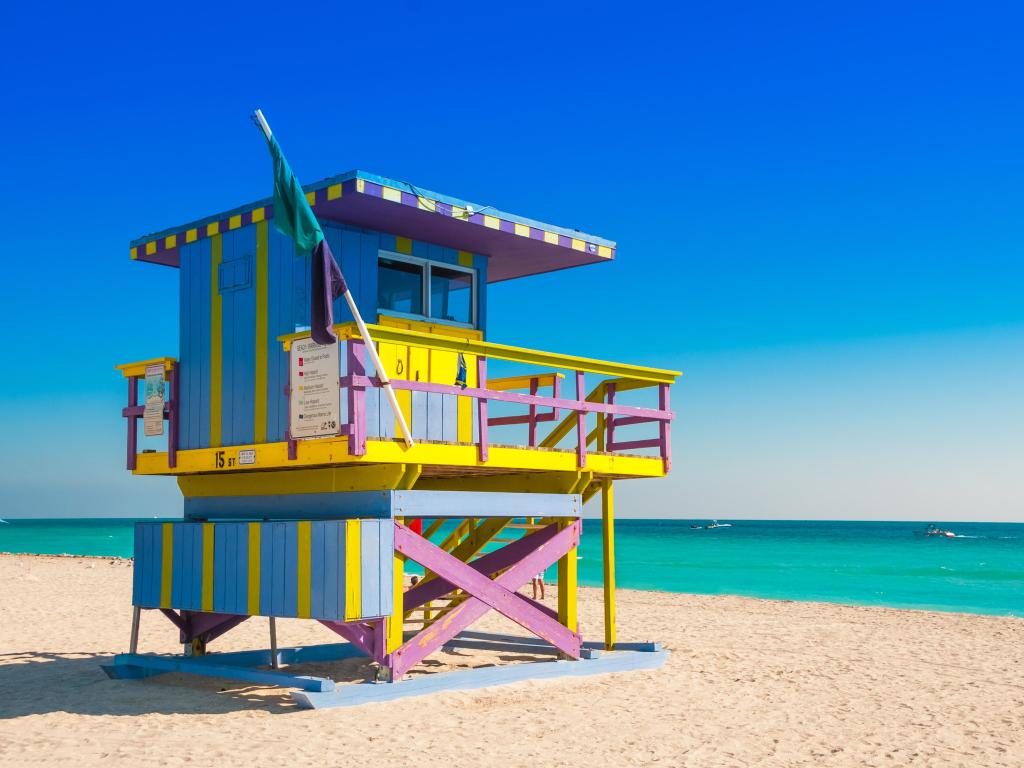 How to get there: This ride from New Orleans to Miami follows the exact same route as the one to Orlando, but instead of turning off into the theme park-filled city, you will want to continue south on the Florida Turnpike all the way into downtown Miami.
The trip takes between 12 and 13 hours to drive, depending on the day and traffic conditions, and since the Florida Turnpike takes you mainly through the center of the state, you will see a lot of Florida countryside on your drive.
If you prefer a more coastal experience, you can take I-75 South instead of the Florida Turnpike and drive along western Florida's shoreline. This way, you will pass outside of Tampa and Fort Myers and the total trip will still take around 13 hours to Miami.
Our highlights: Take a dip at South Beach and imagine you're on the big screen. This is usually the beach that you see depicted in films and tv shows set in Miami.
There is plenty of sandy shoreline to lay out on, and the water is blue and refreshing. It's a very popular beach and a definite bucket list item during a Miami trip.
Once you've had your fill of the sun, take a break from the beach to visit the Philip and Patricia Frost Museum of Science. Take your time exploring two science galleries, a planetarium, and an aquarium all designed to make the most interesting scientific information as enjoyable as possible.
Here's another interesting excursion while in Miami, and this one will keep you outdoors enjoying the nice weather. Housing rare species such as the Petticoat Palm, the Fairchild Tropical Botanical Gardens spread across 83 acres. Relax in the peaceful gardens and check out the plant life and aquatic exhibits.
Bonus: Miami receives approximately 3,200 hours of sunshine annually. So, soak in some Vitamin D and enjoy the warm temperatures—just don't forget your sunscreen!
Our travel tips: Add another 20 minutes to the trip to visit Fort Myers.
READ MORE - Road Trip from New Orleans to Miami
14. Chicago, IL
Via Jackson, Memphis, TN and St. Louis, MO
14 hours 40 mins from New Orleans (980 miles)
Why you should visit: Head north to the "Windy City" on this 14-hour road trip from New Orleans to Chicago. World-renowned architecture, a unique take on classic American dishes like pizza (not to mention some truly astounding Michelin-star restaurants), and friendly locals make Chicago one of the top tourist destinations in the country.
The drive itself is an adventure, taking you through three other major American cities—Jackson and Memphis in Tennessee, and St. Louis, Missouri. Each one is situated about a quarter of the way into the trip, offering great opportunities for driving breaks that double as excuses for more sightseeing.
But the main star on this trip is Chicago, Illinois, spread along the southwestern shore of Lake Michigan. Chicago's true character is in its varied neighborhoods that each offer their own charm and altogether add to the rich culture of the city.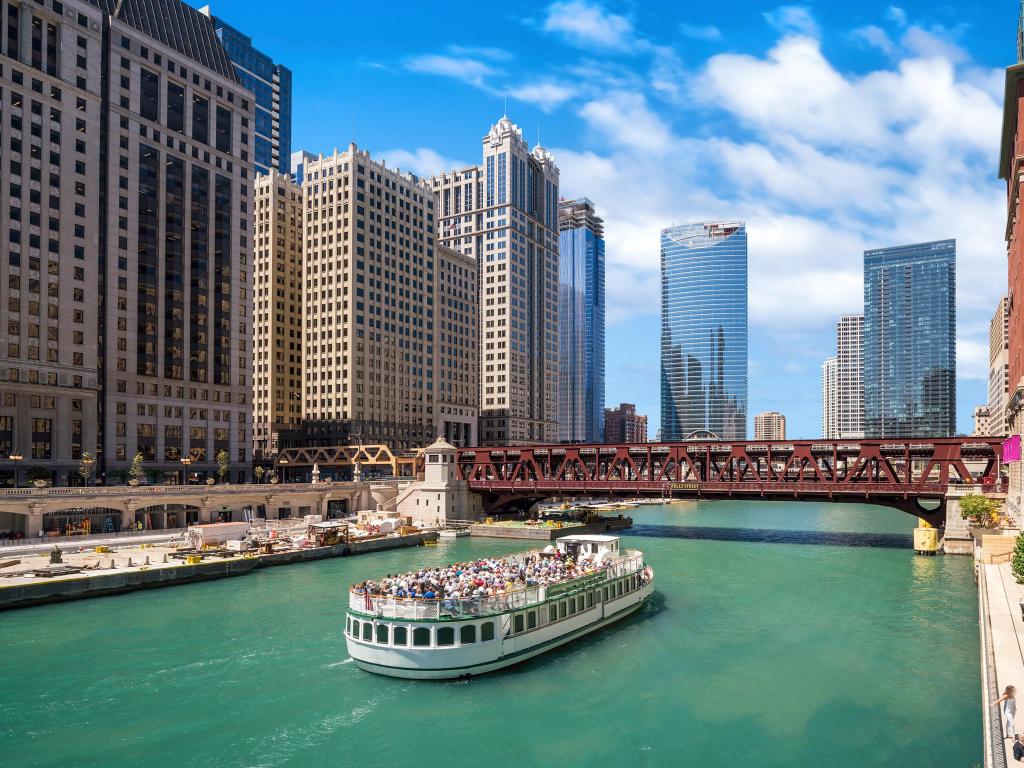 How to get there: The road trip from New Orleans to Chicago will take you north along interstate highway I-55. Following it the whole way makes for a straightforward trip and one that is easy to navigate. Even though the drive is just under 15 hours long, it is not a particularly complicated one.
Without having to worry about changing highways or catching multiple exits, you will be free to enjoy the scenery as you traverse vertically across the United States. It's a unique opportunity to cross multiple terrains and landscapes in the same road trip.
An alternate route exists that will take you through Nashville and De Soto National Park. This is a longer route that will take about an hour more. For this, you will have to take I-20 and I-65 after I-10W to reach Nashville.
Our highlights: There are many museums to choose from in this vibrant city, and one of the most visually captivating is the Art Institute of Chicago. Inside you will find masterpieces from almost every art era, and the museum boasts an enormous collection of more than 300,000 works.
Surround yourself with beautiful greenery in the Garfield Park Conservatory. This enormous structure is made entirely of glass and contains eight separate indoor gardens.
Altogether the conservatory displays over 100,000 plants for a peaceful, fragrant, and pleasant escape into nature in the urban heart of the city.
But the true marvel of Chicago is certainly the magnificent and era-specific architecture. You can see and learn all about it aboard a ship charmingly named Chicago's First Lady.
This one-and-a-half hour cruise will entertain and inform you while navigating along the Chicago River and highlighting some of the most stunning buildings that dot the city.
Bonus: While Chicago is best known as the "Windy City", its second nickname is the "City of Gardens" because you encounter a park or lush greenery at almost every turn, nestled in and among the urban streets. It's not all concrete and bricks in this metropolis.
Our travel tips: Since this is a very busy city and tourist season lasts all year long, make sure to pre-book the attractions you want to see most. Some of them can get packed fairly quickly.
READ MORE - Road Trip from New Orleans to Chicago
15. Washington, DC
Via Atlanta, GE and Asheville, NC
16 hours 30 mins from New Orleans (1,110 miles)
Why you should visit: As the nation's capital, Washington DC is a storehouse of American history and tradition, from its iconic landmarks to its numerous museums.
Not only is it home to the White House, where the president and his family live, but also the Lincoln Memorial, the Washington Monument, and Ford's Theatre, among many others.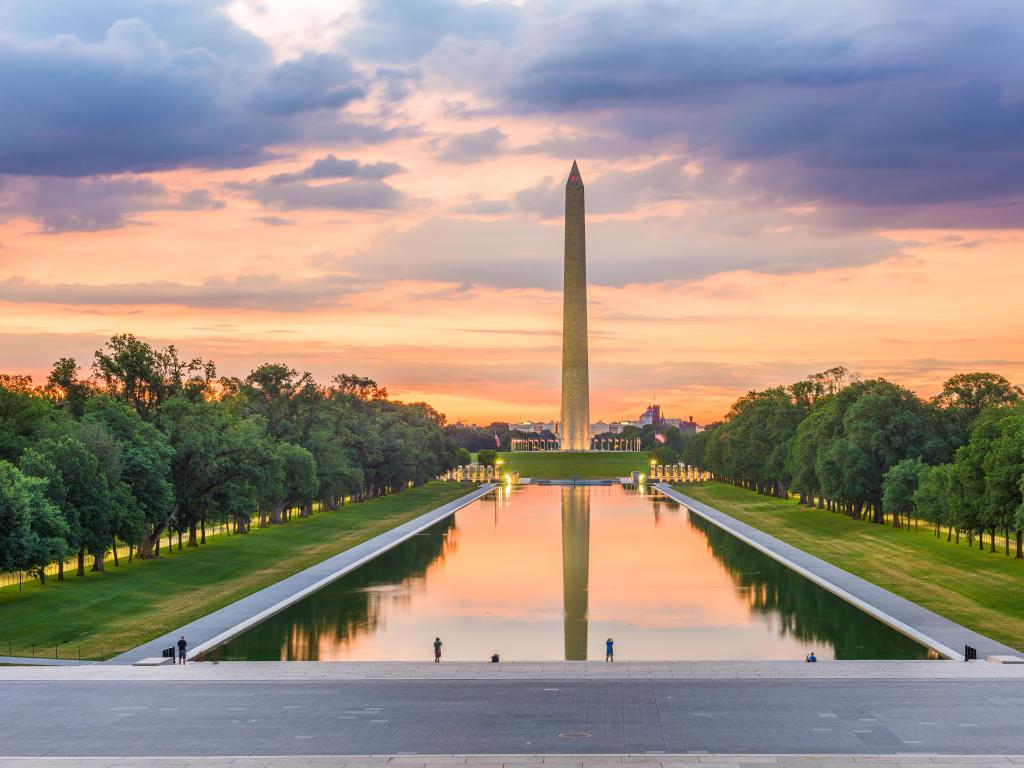 How to get there:Travel over one thousand miles from New Orleans to Washington DC on a drive that will take you through multiple states and past many big US cities.
Begin your trip taking I-10 east until you can turn onto I-65 north. You're going to stay on this highway all the way into Montgomery, where you can catch I-85 north to Atlanta. Stay on the interstate to reach Petersburg, VA, where you can get onto I-95 north going into Washington DC.
Our highlights: Because the city was founded in 1790, you will notice the quintessential charm that characterizes cities established during the colonial era. The Greek Revival architecture, colonial and Georgian home styles, and streets of row houses all harken back to the time of George Washington and the Founding Fathers.
A visit to this beautiful city is educational and fun, as every corner is steeped in history. It is one of the best places in the country to learn about the American Revolution and to see some of the country's proudest monuments.
Visit the National Mall in the center of Washington DC where most of the city's—and the country's—most iconic monuments are located. The roughly two-and-a-half mile walk from one end of the park to the other will take you on a journey through American history.
Make sure you have some time on your hands when you visit the Library of Congress. It would take a lifetime and more to go through all 167 million items in this library's catalog.
But don't worry, we are here to tell you the most notable ones—definitely try to see the Declaration of Independence, the Emancipation Proclamation, and the Gettysburg Address.
One of the city's oldest markets, dating back to the 1800s, the Eastern Market is a collection of vendors and stalls offering everything from local fruit, foodstuffs, jewelry, books, and much more. It is conveniently located on Capitol Hill, roughly between the Library of Congress and Lincoln Park.
Asheville is a great detour because of its beauty—the city is nestled in the Blue Ridge Mountains—and its colorful art scene. The downtown district is busy with restaurants, museums, and galleries. Make some time to check it out if you are able to take this one hour pit stop.
Bonus: At the National Mall, the tallest structure is the Washington Memorial while the largest is the Smithsonian Museum.
You can also spend time outdoors at the park by taking a peaceful stroll around the Constitution Gardens, which is a large lake on one end of the park, and by visiting the pretty botanical garden at the other end.
Our travel tips: Admission to the Library of Congress is free! But as of 2022, they only issue timed tickets so you will still have to reserve your spot in advance. You can make a reservation up to 30 days in advance if you are an early planner.
Keep in mind that the library is closed on Sundays and Mondays, so plan your visit accordingly.
Add another hour to the total travel time if you wish to visit Asheville.
READ MORE - Road Trip from New Orleans to Washington DC
16. New York, NY
Via Washington, DC, Baltimore, MD and Philadelphia, PA
20 hours 40 mins from New Orleans (1,330 miles)
Why you should visit: A place teeming with life, technology, fashion, and remarkable monuments, New York City has been named "the city that never sleeps" because there is always something to do no matter what time of day or night.
New York is known both for its rich past and for being on the pulse of modernity, and this dichotomy will be evident to you once you step onto New York's bustling streets. If landmarks are not your thing, then the bustling daytime and nightlife in the city will give you enough opportunities for entertainment.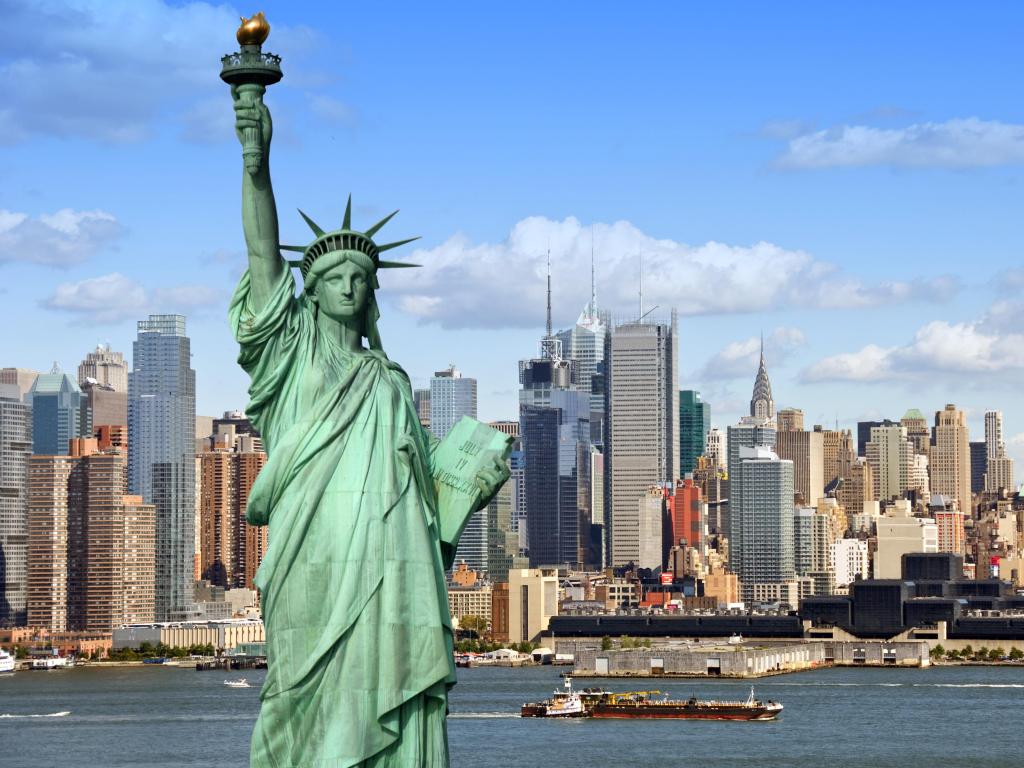 How to get there: The majority of the journey will take place on I-85N until you reach Petersburg, which is just south of Richmond, VA. Here you can hook onto I-95N and stay on this highway the rest of the way.But this is a lengthy road trip, with a huge amount of variety of scenery en route. Learn more about it all here.
Our highlights: The number of landmarks in the city is far too many to count. You can learn about American history at the Empire State Building and the world-famous Statue of Liberty. Or you can peruse the newest trends in artwork at the Metropolitan Museum of Art.
One of the most stunning landmarks in New York is not a museum or a famous building but the outdoor oasis that is Central Park. Entering via 59th Street will take you inside this beautiful park in the center of Manhattan.
It is complete with hillsides, forests, meadows, gardens, and man-made lakes. The park is a welcome respite from the "Concrete Jungle" of the city.
For sports fans, there is no better site to see than Yankee Stadium. As home to the New York Yankees, the stadium hosts not only baseball games but sometimes other sporting events like soccer matches. Occasionally, even concerts take place in this massive venue, so check the schedule and see if there's anything interesting going on during the time you're visiting.
For the cultural experience of a lifetime, be sure to get tickets to the Morgan Library & Museum. This museum is an exhibition of famous multi-millionaire J.P. Morgan's private collection of artifacts, books, and paintings. Some items in the collection date all the way back to 4,000 B.C., which is certainly rare for any museum to be able to boast.
Bonus: New York is the world's most linguistically diverse city. More than 800 languages are spoken there, representing the countless ethnicities and backgrounds of the people who call NYC home. The city contains many immigrants and Americans who have held onto their overseas roots.
One quick tip for visitors is to grab a slice at Lombardi's Pizza, the USA's first ever pizzeria! It is still in operation, which is amazing once you learn that it first opened its doors in 1905.
Our travel tips: There's much more to New York than just Manhattan, so try not to be restricted to that area. Public transportation is by far the best way to get around and it is very easy to use.
So get on the subway and don't be afraid to venture into the four other boroughs, as New York's neighborhoods are called.
READ MORE - Road Trip from New Orleans to New York
17. Los Angeles, CA
Via Houston, San Antonio, El Paso, TX, Tucson and Phoenix, AZ
28 hours from New Orleans (1,890 miles)
Why you should visit: Let us take you in the complete opposite direction for the longest road trip on this list. The drive from New Orleans to Los Angeles will take you along the length of the United States' border with Mexico and through quite a few big cities.
Los Angeles' reputation has made it known as the city of celebrities because it is home to Hollywood, where many of the biggest movies and tv shows are filmed. But there are also gorgeous beaches, great food, and cool performance venues that make this city a fun destination.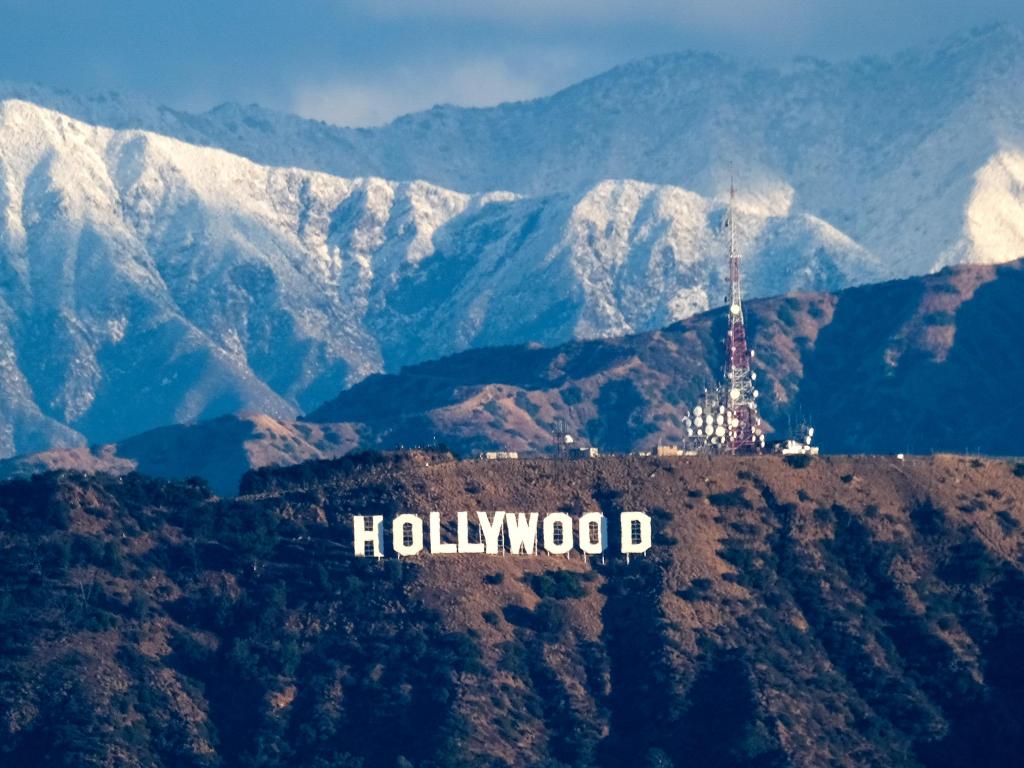 How to get there: The one and only highway you'll need to take is I-10 going east, starting across Texas' southern region. You will hit Houston in about five and a half hours, pass outside of San Antonio, and go straight through El Paso which is right on the Mexican border.
I-10 will take you into Arizona where you will pass through Tucson and Phoenix, the last major American city before reaching LA. The desert vistas of New Mexico and Arizona are some of the most unique landscapes in the country, so enjoy the scenic drive and take lots of pictures!
Our highlights: There is so much to do in LA partly because the city is so massive. Each separate district is like its own city within a city, with a unique flare, restaurants, and hot spots. Much like NYC, there is no way to see everything LA has to offer in a single visit.
One of the most common hobbies for locals in LA is hiking and being outdoors as much as possible. Can you blame them, when it truly is sunny every single day? At the small but popular hiking and camping ground, Lake Hollywood Park, you will get an up close and personal view of the trademark Hollywood sign. It is a great place to be out in nature and snap some pics of the world-famous landmark.
The Broad is a great exhibition to see something very culturally "LA". The museum is made up of over 2,000 pieces of contemporary pop art that were personally collected by philanthropist Edythe Broad, who was a huge supporter of the arts scene in Los Angeles.
You should make a stop at the Bradbury Building, a cultural landmark in downtown LA. Built for Lewis Bradbury, the gold baron, the atrium is an architectural spectacle with marble staircases, open-cage hydraulic elevators, and wrought-iron balconies. The building is a visual curiosity that you won't soon forget.
Bonus: The Bradbury Building is featured in movies like Blade Runner (1982) and 500 Days of Summer (2009). Have you spotted this opulent building on the big screen and not known it?
Our travel tips: An alternate but much longer scenic route exists via the US-287N after I-10W that will take you through Atchafalaya National Forest, Dallas, Angelina National Forest, and Kaibab National Forest. This drive will take about 35 hours in total.
Try to get an LA travel pass, as that will let you enter most of the attractions with less waiting time.
LA is huge and sprawls out in many directions, so expect to get a lot of use from your car even after you reach the city. Driving is the way most locals travel in LA, and it is the best way for visitors to get around as well.
Although there is a subway system, it doesn't necessarily have stops in every neighborhood so it can be a bit limiting.
READ MORE - Road Trip from New Orleans to Los Angeles