21 Best Road Trips from Philadelphia
Philadelphia is the sixth biggest city in the US, known for its rich history, famous monuments, and for being the home of the fictional boxer Rocky. Once the capital of the United States, there is never a shortage of things to see and do in Philly, but the real fun starts once you venture out of it on a road trip.
While there is so much going on in Philadelphia, sometimes distance makes the heart grow fonder. If you fancy getting out of the city, our list of the 21 best road trips from Philadelphia includes sparkling coastlines, big city metropolises, historic drives into the nation's past and an excursion into a completely different lifestyle.
Read on to get inspired by the whole host of trips that you can take from Philadelphia. Whatever you're after, you will find something that will interest you in our top suggestions. Read on to find out the information you need to help plan a road trip adventure.
Best road trips from Philadelphia
Day trips (under 3 hours each way)
If you want to dip your toe, these fabulous day trips are all under three hours from Philadelphia. You could find yourself on the beach, hiking in the great outdoors or even in the Big Apple itself.
1. Jersey Shore, NJ
1 hour 10 minutes from Philadelphia (50 miles)
Why you should visit: Sparkling bays and white sands are the main feature of Jersey Shore, making it perfect for a beach day trip. The most popular destination in the state of New Jersey, this is a sparkling coastline trip bursting with entertainment for all ages.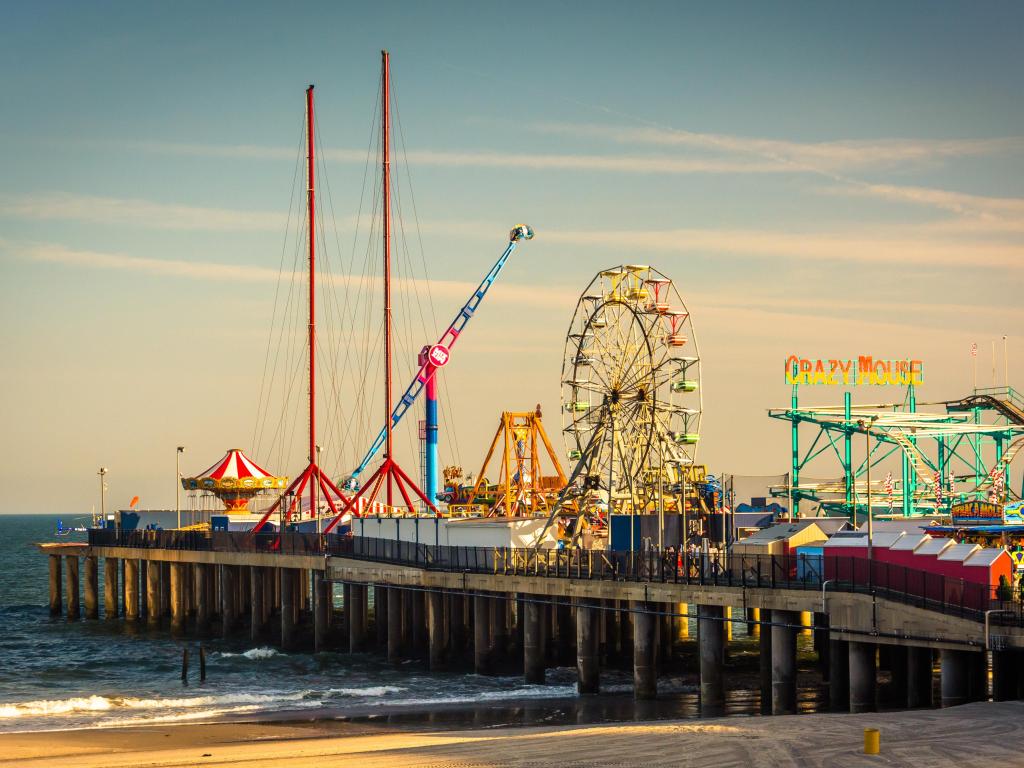 How to get there: Take Interstate 95 (I-95) North, NJ-30 East and NJ-73 South to Mt. Laurel Township, then navigate to Medford via NJ-70 heading east until you reach Manchester Township and follow signs for the beach.
Our highlights: The main draw is the beach, and it's not to be missed if you're in New Jersey. Our recommendation is to head to Point Pleasant to experience the soft, clean sand between your toes.
Hit the world-famous Wildwood Boardwalk once you are here - this attraction spans 38 feet and is home to all kinds of entertainment, from buskers to jugglers! You might want to spare half a day to enjoy all the views and attractions that await you here.
If you love scenic tours and want to admire the area, it is possible to hop on a boat tour and head towards Cape May, where you can witness humpback whales frolicking in their natural habitat if you are visiting from March to December.
Another option is to take a slight detour to drive via Route 55 and Route 47 - you'll add an additional 1 hour and 30 minutes to your journey but it's worth it to enjoy the stunning scenery of the Maurice River and the Belleplain State Forest.
Bonus: Did you know that Cape May has a fabulous vineyard area? Here you can enjoy Chardonnay, Riesling, Syrah and many other varieties of grapes or take a bottle home if you are driving!
Our travel tips: The Memorial Day and Labor Day weekends are usually the most popular time for the region, so avoid these times if you don't like congestion.
It's worth getting familiar with the geography of the coastline since several hours separate the northernmost point (Sandy Hook) and the southernmost point (Cape May).
2. Lancaster and Amish Country Scenic Drive, PA
1 hour 40 minutes from Philadelphia (70 miles)
Why you should visit: This road trip from Philadelphia to Lancaster offers a stunning display of natural beauty with some great outdoor activities, while also offering an insight into unique Amish culture.
You can go hiking, biking and more while exploring some of the oldest Amish communities in the US and learning more about their way of life.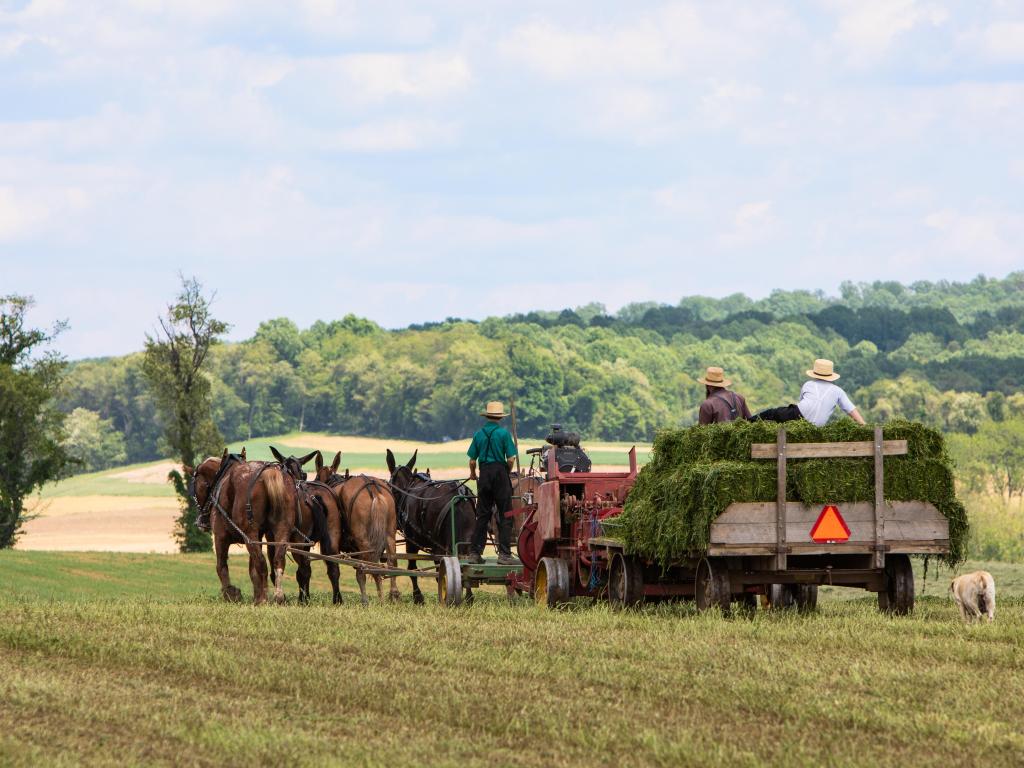 How to get there: Head west on I-76 towards Sadsbury Township. Head toward Reach Ronks and enter Amish Country via PA-340W and US-30W.
Our highlights: Make a stop at Bird-in-Hand, a simple village that offers a window into the past. Enjoy the Amish lifestyle by treating yourself to some authentic dishes such as shoofly pie or stay overnight at an inn from the 1700s.
Visit Columbia, located between Lancaster, York and Harrisburg, for museums (such as the National Watch and Clock Museum) and shopping at one of Lancaster County's most popular locations.
If you're after a more historic experience, The Lancaster Central Market dates back to 1730 and is the oldest farmers market in the US - you can explore over 60 vendors offering everything from cheese to home décor.
Voted as one of the best places to get lost in, the Lancaster Back Roads offer plenty of diversions, such as the Lancaster Museum of Art.
The oldest operating railroad in the entire Western Hemisphere is located in Ronks the Strasburg Rail Road (built in 1832) - you can take a themed tour or train ride.
Bonus: You will find Julius Sturgis Pretzel Bakery in Lititz, which is the oldest of its kind in the US, built in 1861. Visit them and sample their offerings and also learn how to make one!
Our travel tips: It's worth exercising caution while driving around in Lancaster, as the roads are also used by horse-driven buggies.
Be respectful of the Amish lifestyle, since their daily hard work is designed to be far removed from the rapid pace of modern life.
3. New York, NY
1 hour 40 minutes from Philadelphia (70 miles)
Why you should visit: New York needs no introduction - one of the most iconic cities in the world, it has enough attractions to last multiple lifetimes. Not only that but a road trip from Philadelphia to New York packs amazing attractions en route.
Experience the once-in-a-lifetime feeling of walking through the world's most famous metropolis. Just like the movies, you can do some shopping, visit iconic buildings and get a taste of the atmosphere.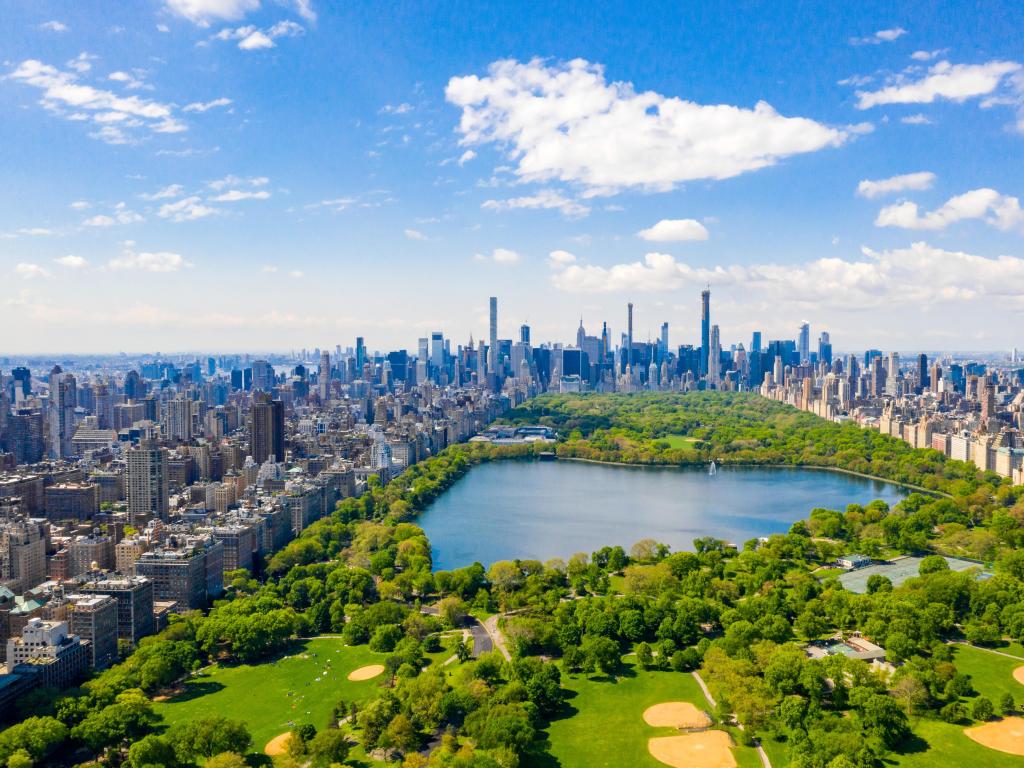 How to get there: Take I-676 and US-30 East, then follow I-95 North and I-78 East to reach Holland tunnel in Manhattan. Drive along Holland Street and then search for parking space in New York Central.
Our highlights: You can't visit New York without taking a stroll in Central Park, a gigantic 693-acre manmade park featuring beautiful hillsides, forest, meadows, and gardens, slap bang in the center of one of the busiest cities in the world. This park is truly a fresh breath of air.
While in New York, it is almost mandatory to watch a Broadway show or experience the hustle and bustle of Times Square - the midtown Manhattan lights are just as dazzling as they are on screen.
If you want a break from the mega-metropolis, Governors Island is a former military base sitting in the middle of New York Harbor, open from May until October.
To combine this city break with a beach day, you can take the I-95 and divert through Piscataway, Princeton, and Trenton to experience a slice of the Jersey Shore.
The last remaining forest in Brooklyn is Prospect Park, which is like a little brother to Central Park both in appearance and features and is well worth a visit.
The only museum in the US that is exclusively dedicated to Middle Ages art and architecture is the Cloisters, including the building itself which is a work of art.
There just so much to see in New York City that you will be spoiled for choice! If you'd like to learn more about some of the amazing attractions you can visit, as well as where to stay nearby, you can find our detailed area-by-area guide here.
Bonus: If you want to experience the bountiful festive spirit that the Big Apple has to offer, visit during the winter holidays and admire the famous Christmas Tree at the Rockefeller Center.
Our travel tips: Even if you drive there, keep in mind that it's easier to get by in the city using public transport due to traffic and limited parking.
Start your day early to bypass the crowds and avoid the holiday season if you want a quieter experience.
4. Gettysburg and Michaux State Forest, PA
2 hours 50 minutes from Philadelphia (150 miles)
Why you should visit: The location of one of the most defining points in American history, Gettysburg remains one of the most visited battlefields in the world. For any history buff, this place is a veritable treasure trove.
Even if its claim to fame is rather filled with military conflicts, the attractions here are designed to be informative and enjoyable for all ages.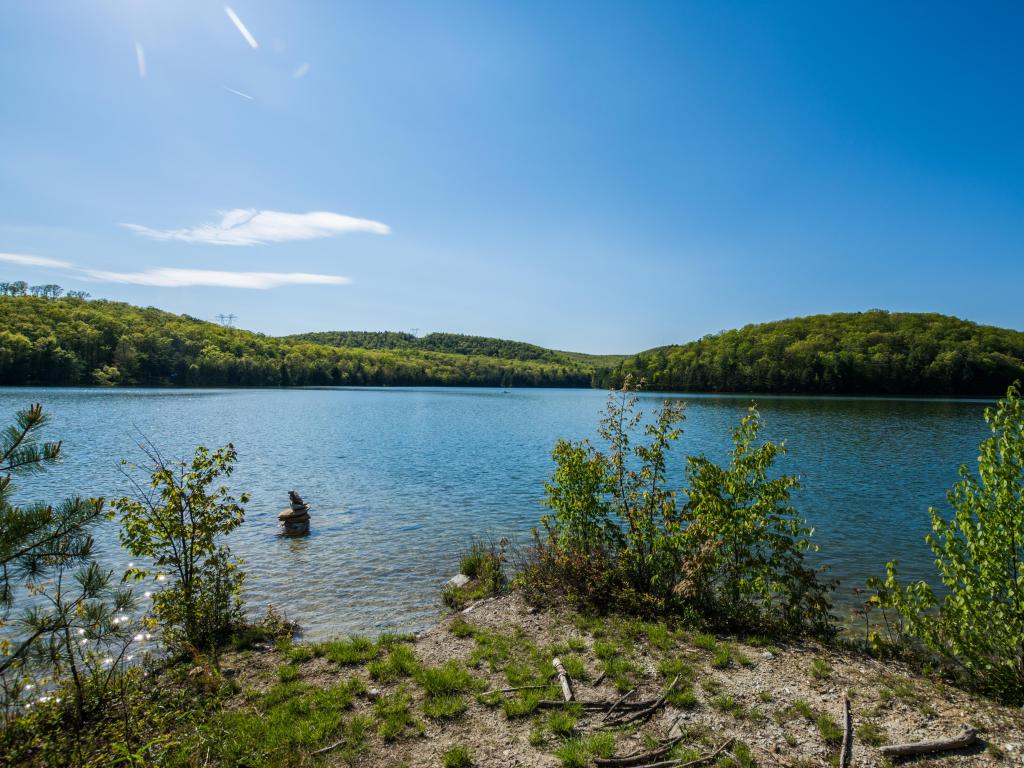 How to get there: Take I-76 westward and get onto US-15 heading south. Arrive in York Street, Gettysburg via US-30 West. From here you can drive along this road to reach Piney Mountain Ridge Road and enter Michaux State Forest.
Our highlights: Over 1400 statues and monuments have been erected at the site of the Gettysburg Battlefield, so you can get a sense of where the units stood and fought.
Make sure you visit the Museum and Visitor Center to clue you in on the context of the Gettysburg Battle and the significance of the Civil War. The only civilian to have lost her life in the Battle of Gettysburg (Jenny Wade) has had her house turned into a museum, which is also well worth a visit.
Little Round Top is a small rocky hill that staged possibly the most decisive fight during the Battle of Gettysburg. It's a fantastic vantage point to see the entire battlefield, and an evocative reminder of the terrain that the soldiers had to capture.
A 20-minute drive from Gettysburg, the Michaux State Forest is nicknamed the state's "cradle of forestry". It houses the first school of forestry – Mont Alto - and has some beautiful hiking trails surrounded by trees.
The famous Gettysburg Address was given here at the dedication ceremony of the Soldiers' National Ceremony. 3,500 union soldiers have their names memorialized at the site.
Bonus: The only home that President Eisenhower and his wife owned personally now exists as the Eisenhower National Historic Site – the furnishings have been kept as they were.
Our travel tips: Every July 1st to 3rd (the anniversary of the Battle of Gettysburg), historical re-enactors put on authentic Union and Confederate Army costumes to re-enact the famous battle as closely as possible, which can be a unique time to visit.
5. Washington DC
Via Baltimore, MD
3 hours from Philadelphia (140 miles)
Why you should visit: The capital of the United States of America is home to some of its most important and culturally significant monuments. The city's many must-see museums and exhibitions are a testament to the long history of one of the most powerful countries in the world.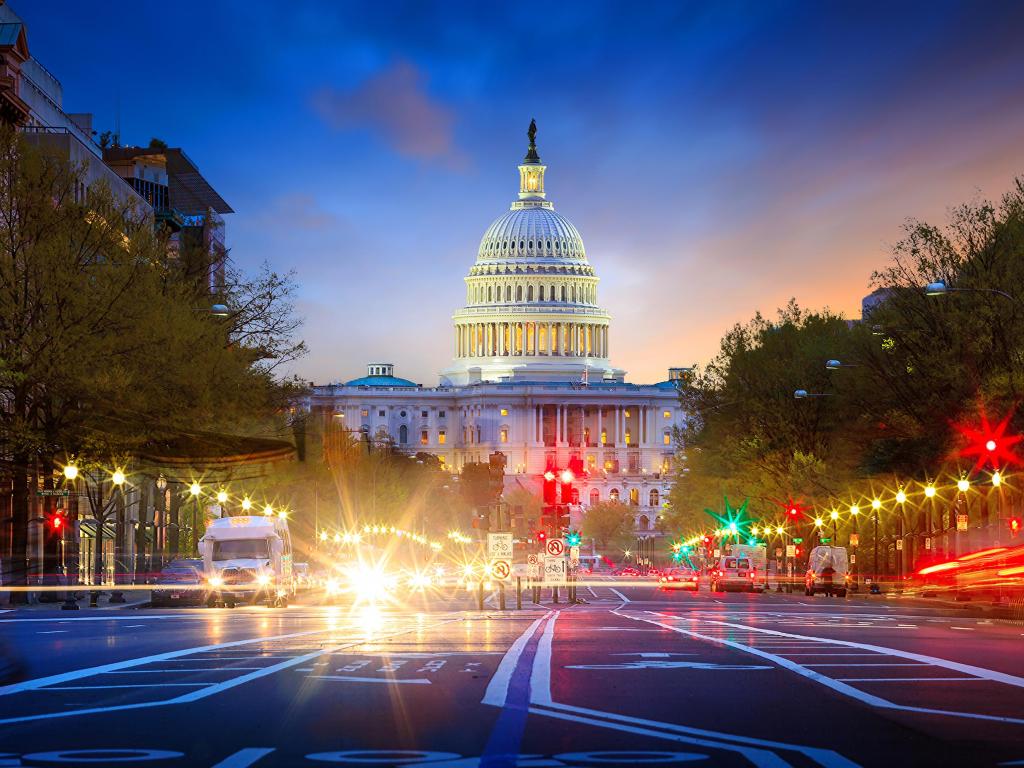 How to get there: Take I-76 and navigate to Exit 62 on the I-95 Express Toll. To reach Baltimore, go via US-40 heading west. From there, follow MD-295 south and take US-50 to arrive in Washington DC.
Our highlights: You can't visit Washington DC and not take some time to stop by one of the Smithsonian Museums. Prime examples include the National Museum of African American History and Culture, or the United States Holocaust Memorial Museum.
The Smithsonian National Zoo has been standing since 1880, and houses 2700 animals, including pandas, orangutans and big cats. The ticket bookings open 30 days in advance for the zoo.
Double the size of Central Park, Rock Creek Park offers a taste of the city's wilder and quieter side, with outdoor activities on offer like horseback riding and cycling.
You can add about half an hour to your trip by visiting Longwood Gardens, which has an outstanding display of horticulture – including light installations on lakes and amazing bonsai trees. Make sure to book tickets in advance online.
The Eastern Market is the only remaining covered market from the 1800s, and it once provided food to the whole DC area. Sitting in Capitol Hill, you can find everything here from fresh produce to jewelry. Timings vary for the indoor and outdoor sections of the Eastern Market, so check before heading here.
Bonus: The Wharf's Fish Market is the US' oldest open-air fish market that has been in constant operation from 1805. Visit it for more than just fish - it also offers live music, and s'more-making.
Click here to skip back to the top.
Weekend trips (3-5 hours each way)
If you have the time to head out a bit further, there are plenty of drives that are worth getting up early for, or even turning into an overnight break.
These trips offer the chance to get off the grid in dense forests, snowy mountains and stunning hiking trails.
6. Callicoon, NY
Via Upper Delaware Scenic and Recreational River, PA
3 hours 20 minutes from Philadelphia (180 miles)
Why you should visit: Tucked away in the foothills of the impressively scenic Catskill Mountains, Callicoon is a small but beautiful town that offers a host of water-related activities on the nearby Delaware Scenic and Recreational River.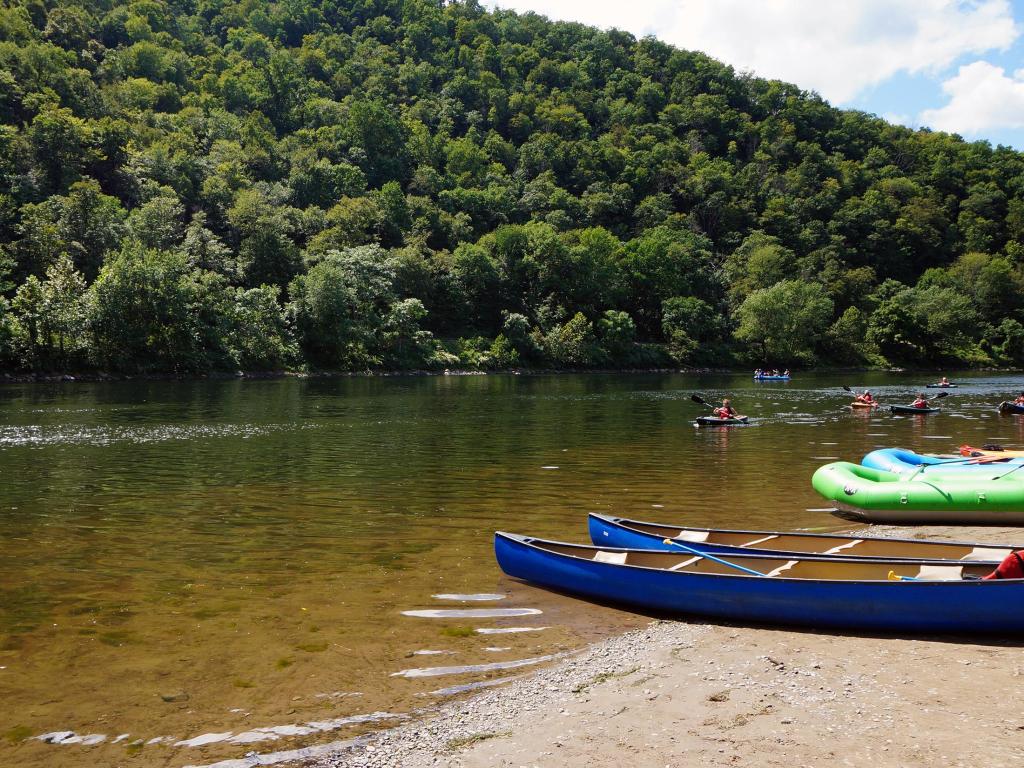 How to get there: Drive westwards on I-76 to reach I-81. Take NY-97 north to Callicoon. Take NY-97 south to enter Pennsylvania and navigate to Callicoon Road to reach the Upper Delaware Scenic and Recreational River.
Our highlights: Callicoon boasts a rich history and riverside culture including tight-knit festivals and galleries. As for the Delaware River, it's the perfect spot for a scenic stroll and great for fishing, swimming and eagle-watching.
While here, make sure to visit the historic Western Hotel. This hotel is one of the oldest and most famous landmarks in Callicoon and you will feel like you have been teleported in time and space during your visit. You can even enjoy a round of billiards or warm up by the fireplace.
Callicoon Farmers Market is a collection of multiple farms that provides some of the freshest produce you can find. Once you've eaten, head to Lee Hartwell Antiques - this shop houses everything from mid-century objects to estate jewelry.
If you fancy a drink stop, Callicoon Wine Merchant is a great place to relax and try different artisan wines alongside local cheeses. You can also visit the Callicoon Brewing Company is beer is more your thing.
Fort Delaware is a stop along the Delaware Scenic Byway which is worth a visit - it housed Confederate prisoners during the Civil War and dates back to 1859.
Our travel tips: Winter should be avoided for this trip, as the low temperatures can mean roads and campgrounds are unattended.
Once at the Delaware Scenic Byway, you can drive 70 miles along the gorgeous Route 97 to see one of the most scenic routes in the state.
7. Luray and Shenandoah National Park, VA
4 hours 20 minutes from Philadelphia (240 miles)
Why you should visit: The thundering waterfalls and granite mountains have long of this forest have long been a retreat for Presidents and people of power because of their proximity to Washington DC.
Disconnect from city life and unwind here, with stunning panoramas of natural beauty. Hiking trails and diverse wildlife offer an opportunity to get active and get some fresh air. You can also hike on the famously scenic Appalachian Trail using Luray as your base.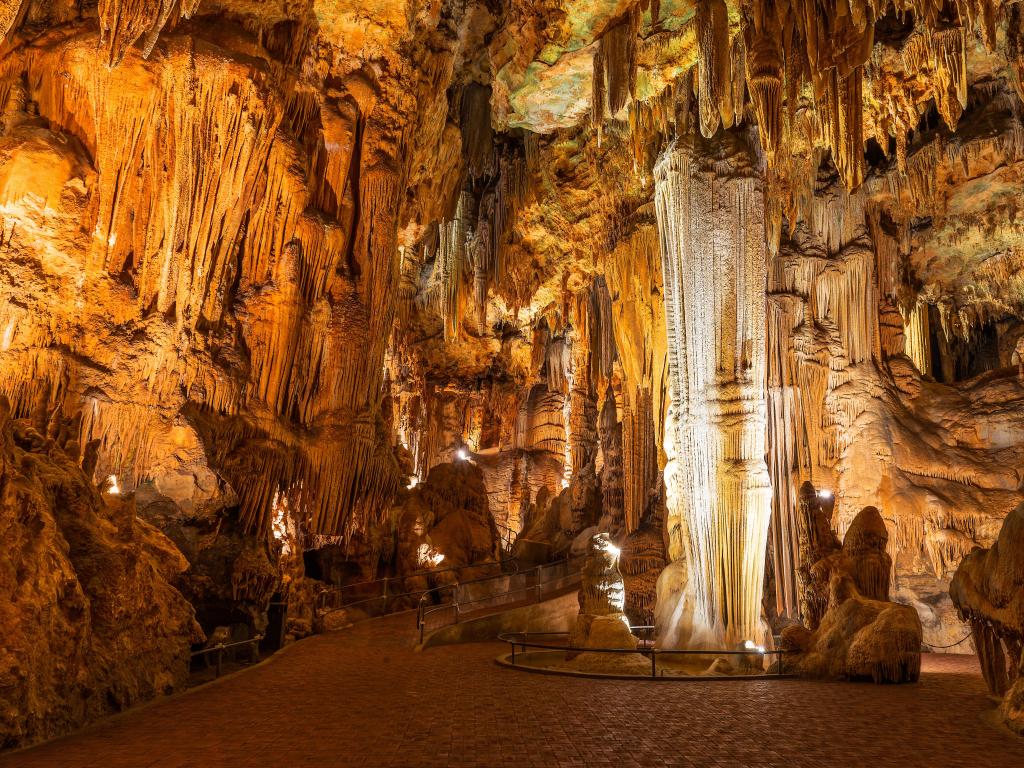 How to get there: Take I-76 and continue onto I-95 heading south. Join I-66 west and take Exit 13 to Warren County. Take VA-55 west and get on US-340 going south. Take the US-211 to arrive at Shenandoah National Park.
Our highlights: Head underground to the Luray Caverns, a network of world-renowned caverns that have been forming for several millennia. Today, its vast chambers exhibit glistening draperies and stone columns, as well as crystal clear pools.
The Appalachian Trail is the longest hiking-only footpath in the world, stretching 544 miles in total. About 100 miles of it run through Shenandoah, parallel to Skyline Drive. It is a must-visit if you are an outdoors enthusiast.
If you want to learn more about the history of vehicles, the Car and Carriage Caravan Museum houses cars, carriages, and all kinds of automobiles dating back to the 18th century. It houses one of the oldest cars in the country, an 1897 Mercedes-Benz car still in working condition.
Once you're in Luray, don't miss The Valley Cork, a bottle shop-cum-restaurant-cum-wine bar. Its inventory is never the same but it will always have something local to offer thirsty travelers.
There is the option to add on a detour via Route 30 to experience Gettysburg, as well as Lancaster Amish Country - this will add about 2 hours to the trip.
Bonus: During the beginning of the Great Depression, President Hoover used to hike and fish at Rapidan Camp in Shenandoah to deal with the stress. Today it is open for all to enjoy.
Our travel tips: If you'd like to do the Old Rag Mountain hike, you might need to make a reservation before visiting. Check the website for more details.
Shenandoah National Park is home to one of the densest black bear populations in the country. If you are camping out in the wilderness, be mindful of food safety and bear awareness rules.
8. Catskill Mountains and Woodstock, NY
4 hours 40 minutes from Philadelphia (240 miles)
Why you should visit: This scenic retreat is a popular nature escape for New York City residents - the mountainous scenery and freshwater streams are straight out of a postcard.
The Catskill Mountains offer a huge range of hiking, biking, and climbing trails, while Woodstock is where the world-famous Woodstock music festival takes place – definitely a pilgrimage for any music lovers!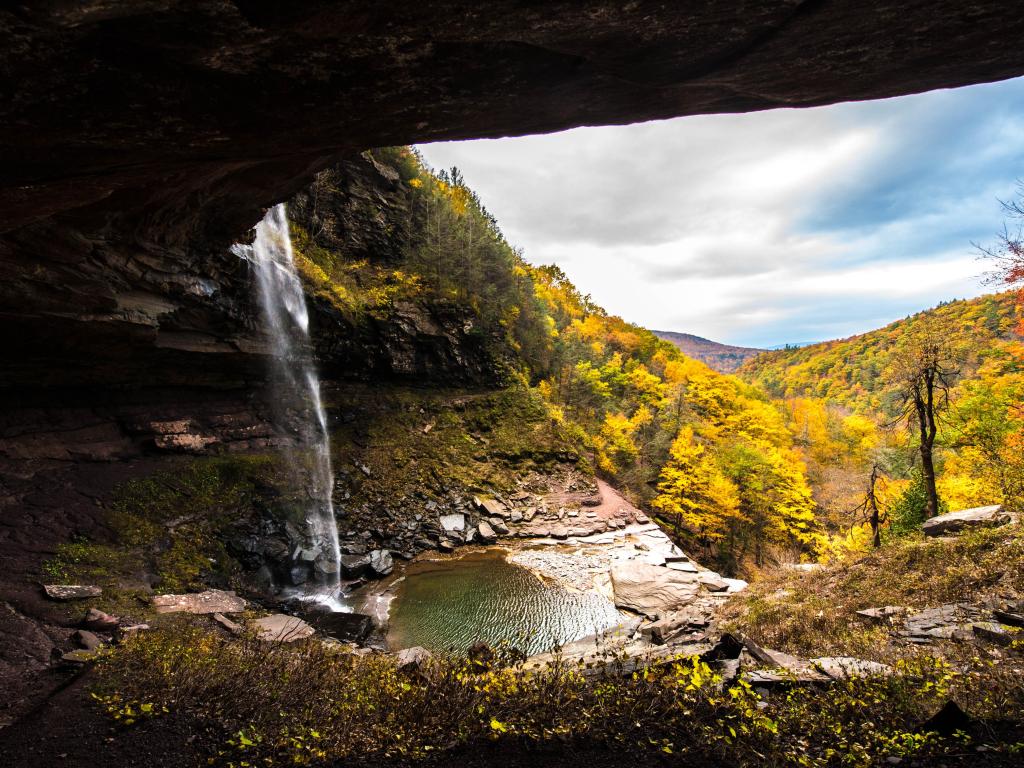 How to get there: Drive eastward on the I-676 until you reach the I-87 going north. Take exit 16 and navigate to Oliverea Road to reach the Catskill Mountains. From there, take NY-28E and NY-212E till you reach Woodstock.
Our highlights: You can ride high above the trees on the Windham Mountain Skyride, which takes you all the way up Windham Mountain Summit to take in as much of the Catskill scenery as possible.
The Kaaterskill Falls Viewing Platform is a beginner-friendly 0.6 miles round hiking trail, taking you past a cascading waterfall. Keep in mind that this is a popular spot and might be crowded if you visit on drier and warmer days.
Take a walk by the river and spot the Hudson-Athens Lighthouse. Built in 1874 it is one of the oldest surviving lighthouses and stands right in the middle of the Hudson. You might even recognize it from photos!
You can drive all the way through the vast Catskill Mountain region on the Catskill Mountains Scenic Byway. This road stretches for 52 miles, reaching 4 towns and many more villages - following primarily along the NY-28.
The Hudson River School of Art originated at the Thomas Cole National Historic Site. Visit to take a peek at the art that was leading the world in the early to mid-1700s.
Bonus: The Hunter Mountain New York Zipline is the longest, fastest, and highest North American zipline canopy tour – one for thrill seekers.
Our travel tips: The mountains are open all through the seasons, and parts of the range turn into a ski resort in the winter. So, if you are looking to hit the slopes, that is the best time to visit.
The Windham Mountain Skyride is only open on certain weekends, so check before planning to go.
Click here to skip back to the top.
Long weekend trips (5-8 hours each way)
If you want to put some serious distance between yourself and Philadelphia, there are adventures to be had by heading a little further out of the city and taking a whole weekend to explore somewhere new.
9. Pittsburgh, PA
Via Hershey, PA
5 hours 30 minutes from Philadelphia (310 miles)
Why you should visit: Pittsburgh is the second biggest city in the state after Philadelphia, known for its industrial past. Visitors of all ages and interests can find something to like in this city.
If you have a sweet tooth, this is where Hershey's chocolate originated, which makes for a sweet stop!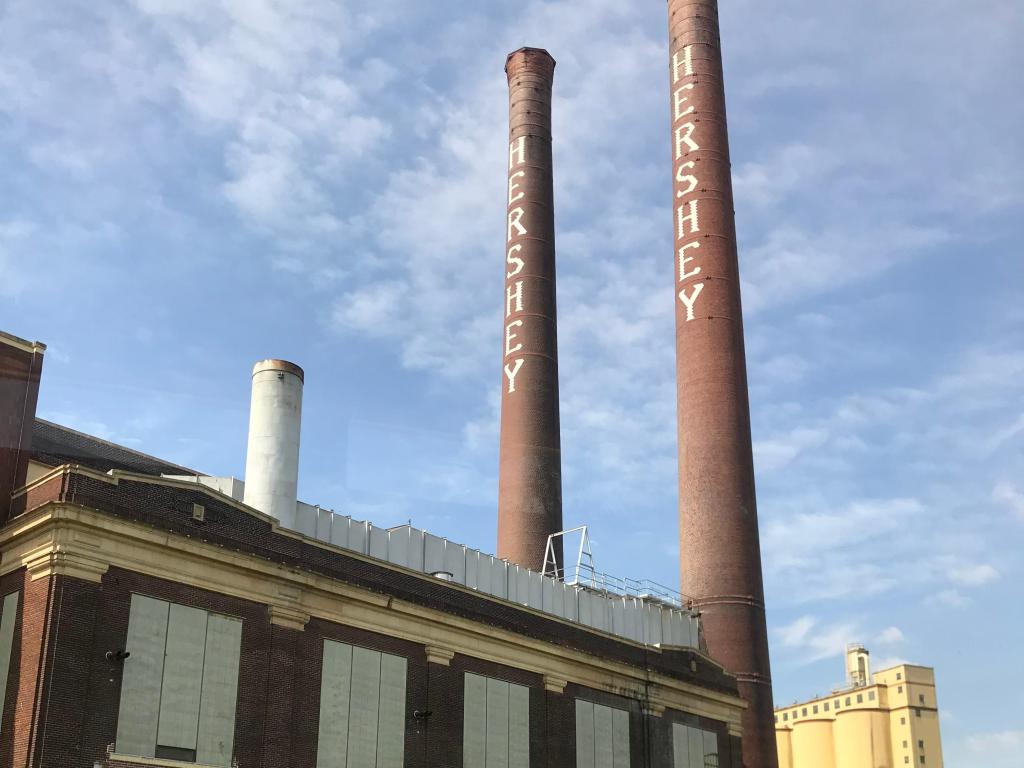 How to get there: Take I-76 west to Rapho Township. Take exit 266 to reach Hershey via PA-72N. Reconnect to I-76W via US-422W and US-322W, which will take you all the way to Pittsburgh.
Our highlights: Among the best museums in the entire state, the Carnegie Museum of Natural History makes for a fascinating tour through human civilizations and prehistoric animals. This museum is open on all days except Tuesday.
The central landmark of Hershey is bound to excite adults and children alike. However, Hershey's Chocolate World is more than just an excuse to stuff your face, you can also learn about the preparation of this world-famous candy. This attraction is free for all.
For a unique experience, stop by Trundle Manor: House of Oddities - this haunted house displays a collection of some of the spookiest and weirdest objects imaginable. Keep in mind that Trundle Manor requires prior booking.
There are some great detours to make en route to Pittsburgh, including the Raystown Lake Region - a great place for lakeside recreation - and the Phipps Conservatory and Botanical Gardens.
Nature lovers rejoice! The ZooAmerica North American Wildlife Park in Hershey houses animals from five different North American regions all in one place. This is a fascinating place to visit if you are a fan of learning about local flora and fauna.
Hershey also boasts a Butterfly Atrium, one of twenty-five such places in the country where you can see a colorful variety of tropical butterflies.
Bonus: Hershey's Chocolate World has a fantastic souvenir shop where you can stock up on everything chocolate-related!
10. Boston, MA
Via New Haven, CT and Providence, RI
6 hours from Philadelphia (330 miles)
Why you should visit: This road trip from Philadelphia to Boston is all about history and culture, taking you through the region's historic past to landmarks central to the development of the nation.
Some of the oldest landmarks in the US are situated in Boston, while New Haven and Providence each have their own unique Puritan identities.
How to get there: Take I-676 and I-95 north to reach College Street in New Haven. Reconnect with I-95 via I-91S to reach Providence. From there, get back on I-95 and take I-93N/US-1S to arrive in Boston.
Our highlights: Boston Common and Boston Public Garden are known as the dual jewels of the Emerald Necklace, Boston's network of parks. These two landscaped gardens are beautiful spots for lounging, promenading, or simply frolicking in the flowers.
If you're feeling smart drop by Yale University in New Haven, one of the world's most prestigious educational institutions. The campus is open to the public for strolling and you can take a look round the art gallery as well.
Providence might be one of the only places in the world where 100 bonfires are set ablaze in the middle of a river. WaterFire is a one-of-a-kind experience where flaming art installations are set on fire, carried by boats that float downtown. It has to be seen to be believed!
WaterFire only happens twice per month on a fixed schedule. Be sure to check beforehand if you want to witness it.
The Boston Public Garden is the first Botanical garden in the US (built in 1837), while the Boston Common is the oldest public park (built in 1634). These gardens also feature swan boats that are seasonally operated.
Bonus: The first-ever Dunkin' Donuts was located near Boston. If you'd like to visit, it is a short drive to Quincy to satisfy your sweet tooth.
Our travel tips: There are quite a few alternate routes you can choose from on your way to Boston, including the New York route we have highlighted above (#3).
READ MORE - Road Trip from Philadelphia to Boston
11. Virginia Beach
Via Richmond and Williamsburg, VA
6 hours 30 minutes from Philadelphia (360 miles)
Why you should visit: Virginia Beach is actually the name of an entire coastal city that is also the most populous city in Virginia. Visitors will discover a suburban-cum-resort town with plenty of attractions to choose from with fantastic beachy vibes.
Virginia Beach is a dream beachside vacation, while Richmond and Williamsburg are steeped in history and culture as the seat of power in Virginia.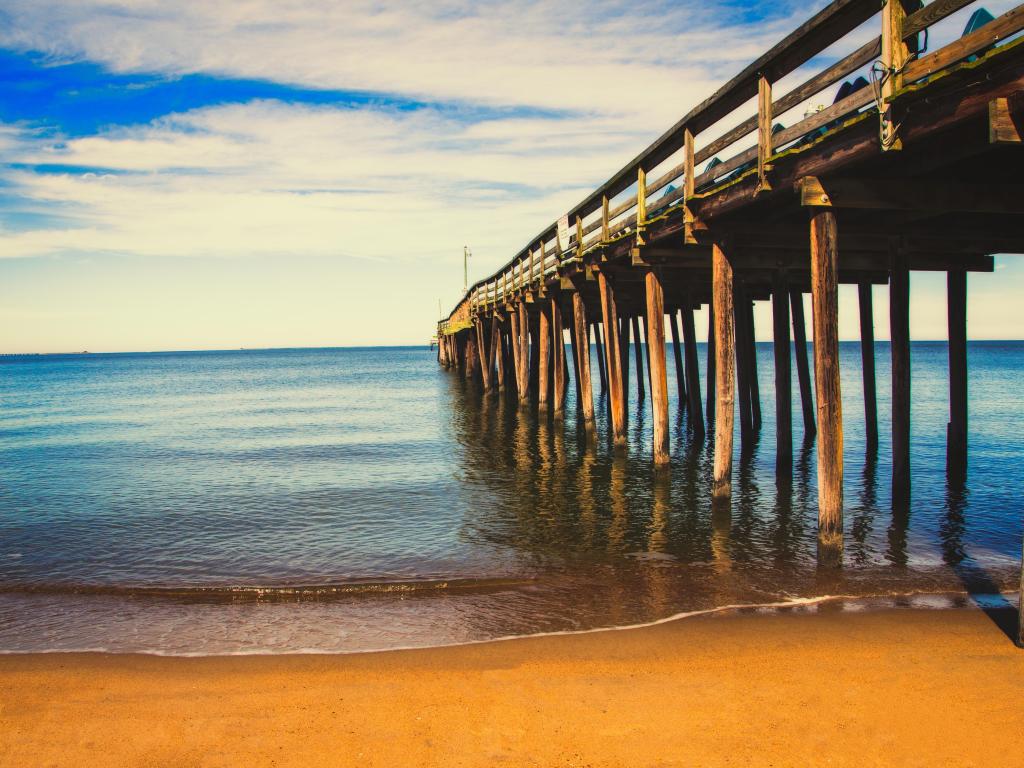 How to get there: Take I-76 to the I-95S and head to Richmond via US-250W/E. From there, take I-64E and VA-132S to reach Williamsburg. From here, drive along I-64E to reach Virginia Beach.
Our highlights: Walk the walk on the world-famous Virginia Beach Boardwalk, flanked by eateries, hotels, and shops. You can also watch people skateboarding and biking on the smooth pavement.
To learn about the history of Richmond in the Civil War, you must visit the American Civil War Museum, especially if you are a history buff. This institution tells the story of the war through objects and theater experience.
Head back into the past at The Governor's Palace, once the house of Thomas Jefferson - today the 1934 substitute paints a picture of how Williamsburg was during the early 1900s.
The original English colonists to the New Land arrived in 1607 at First Landing State Park, Virginia Beach. You can visit it today, where it offers a beautiful haven for natural recreation.
It's possible to skip Richmond and Williamsburg, and instead take an alternate route through the coastline scenery of Chincoteague.
Bonus: The Guinness Book of World Records states that Virginia Beach city is the longest pleasure beach in the world, which is quite a feat!
Our travel tips: The beach is best enjoyed in summer when the weather is pleasant and the boardwalk is at its most lively, so try to plan your trip accordingly.
12. Niagara Falls, NY
6 hours 40 minutes from Philadelphia (420 miles)
Why you should visit: A landmark that is famous across the world, Niagara Falls makes for an excellent bucket-list trip to witness the natural wonder in person.
The Falls are not the only things worth seeing in Niagara - you can enjoy a full weekend itinerary exploring the quaint surrounding town. You can even cross into Canada and visit Niagara-on-the-Lake and sample their unique icewine.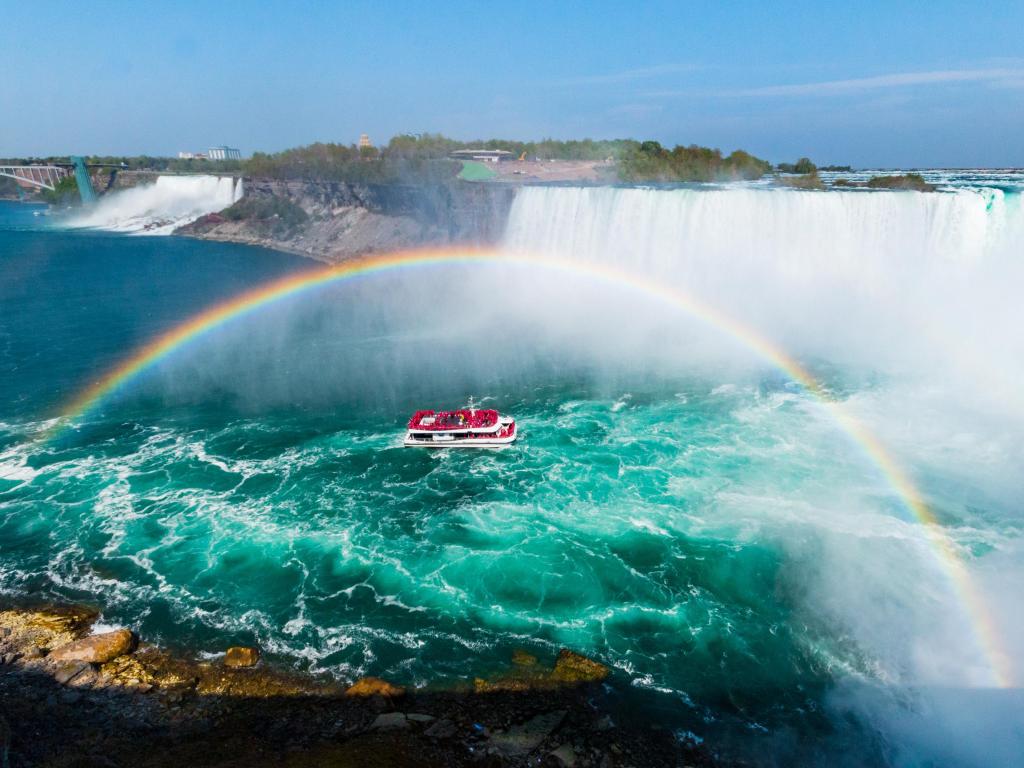 How to get there: Take I-676 west to reach John F Kennedy Boulevard. Drive along I-476N, I-81N, and I-90W, then take exit 22 from I-90. Head north on US-62 to reach Niagara Falls.
Our highlights: The Horseshoe Falls is the highlight waterfall of the entire Niagara Falls - about 90% of the river's water flows through here, making the most spectacular. Not only incredibly scenic, Horseshoe Falls is also North America's largest waterfall.
To get even closer to the action, head out on a boat tour on the Hornblower Catamaran - in operation for over 170 years, it is the best way to get a front-row seat to view the immense Falls. Another boat tour worth doing is the Maid of The Mist, which takes you round the base of the Falls.
If you fancy taking a more scenic route, there is a detour which winds via several small but excellent towns like Bloomberg and New Haven. It adds about one and a half hours to the total drive time.
Bonus: The oldest fort in the US is still in operation - the Old Niagara Fort - and is often open for visitors.
Our travel tips: While visiting Niagara Falls, be sure to only carry things that will not be damaged by water, as the spray of the waterfall can get you wet!
READ MORE - Road Trip from Philadelphia to Niagara Falls
Click here to skip back to the top.
Longer trips (Over 8 hours each way)
If you're feeling ambitious, head out with a full tank of gas and a suitcase to reach one of the following far-flung destinations. Read on to find out our recommendations for trips that will take you longer but will definitely be worth the drive.
13. Burlington and Lake Champlain, VT
8 hours 50 minutes from Philadelphia (460 miles)
Why you should visit: Burlington was built to accommodate the incoming tourism to Lake Champlain. As such, expect picturesque scenery, colorful culture and an enjoyable community vibe.
Burlington and Lake Champlain are perfect for visiting if you want to get back to nature. The city boasts resorts filled with all types of scenery - including parks, beaches and mountains.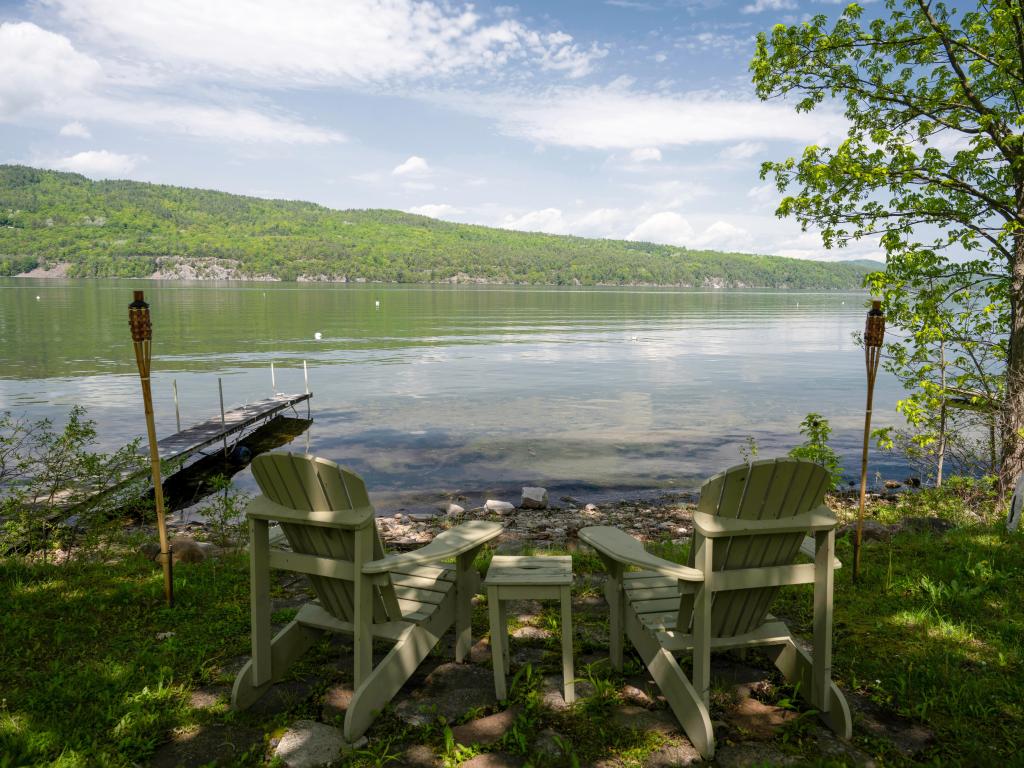 How to get there: From Philadelphia, get on I-87 heading north. Take Exit 20 to reach Burlington. From there, take I-89N to reach Cumberland Head-Grand Isle. Hop on the ferry to reconnect with I-87S and from there, navigate to Adirondack Park Preserve.
Our highlights: For foodies, Church Street Marketplace is on the National Historic Register for its fame as a dining spot. The atmosphere is vibrant and is full of shops to check out whether it's day or night.
Lake Champlain draws tourists from all over the nation for days out and summer vacations. Join the masses and dive into its cool waters or sunbathe at the fringes. Lake Champlain ranks as the 6th biggest freshwater lake in the United States.
For a spot of culture, the Fleming Museum of Art houses almost 30,000 artifacts. While here, make sure to check out one of their rotating exhibits and get up to speed on your art history. You can see majestic works of art by Rockwell, Rembrandt, and Picasso here.
There is a scenic route available that will take you through Albany, Saratoga Springs, as well as Glens Falls, and only adds about 40 minutes to the total journey time.
Our travel tips: Needless to say, Lake Champlain is best visited during summer since you will be able to enjoy the water sports opportunities and outdoor activities the best during the warmer months.
14. Acadia National Park and Bar Harbor, ME
10 hours from Philadelphia (580 miles)
Why you should visit: Acadia National Park also has the moniker "Crown Jewel of the North Atlantic Coast" and offers multiple outdoor adventures, while Bar Harbor city is more leisurely.
The Acadia National Park region is famous for its scenic drives and hiking trails. At Bar Harbor, you can enjoy lobster feasts, shopping, and stroll around the city to take in the atmosphere.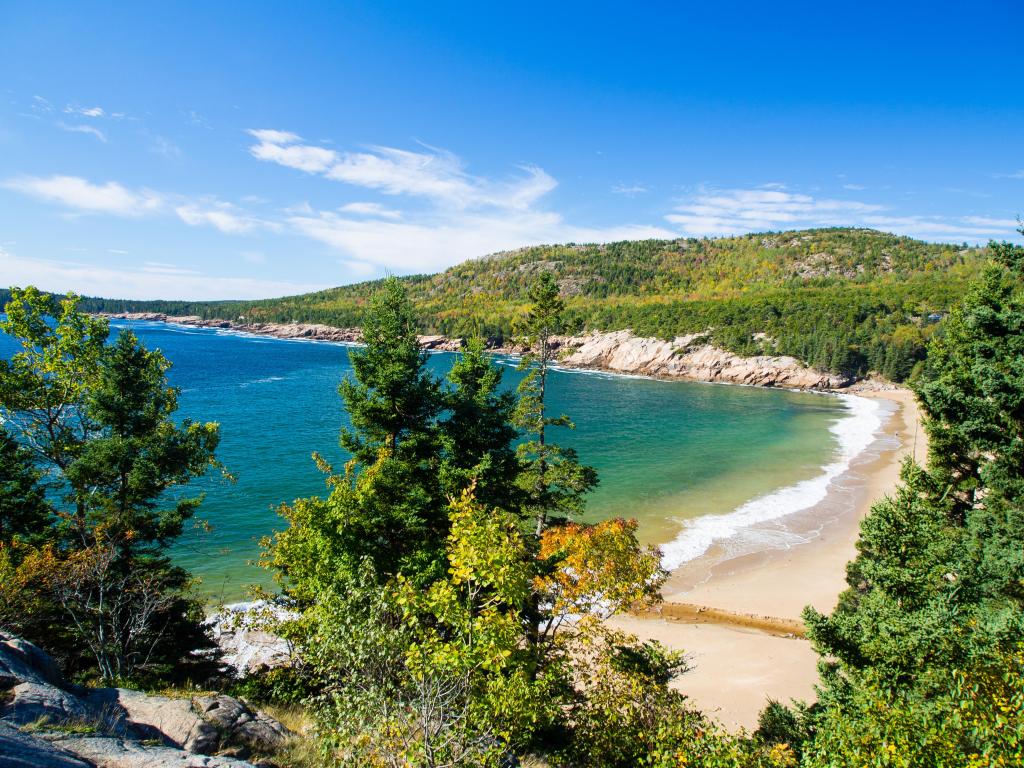 How to get there: Get on I-95 heading north, then turn onto I-87N and take Exit 4. Navigate to exit 6A on I-395 going east, then carry on to US-1A to reach Bar Harbor via ME-3E, ME-198S, and ME-233E.
Our highlights: Bar Harbor is an extremely scenic resort town and is known for its rich history and celebrity residents, which include Martha Steward and Susan Sarandon. Make sure to try some delicious Maine lobster during your stay.
If you'd like to venture out, you can use Bar Harbor your base as you explore the Acadia National Park. If you are looking for an even bigger adventure, why not take a ferry from Bar Harbor to visit Nova Scotia?
Take a drive up Cadillac Mountain, which offers one of the earliest views of the sunrise in the country, as it's the highest peak along the North Atlantic seaboard. You will have to reserve a vehicle beforehand, especially during peak season between May and October.
Another natural phenomenon to visit is Thunder Hole, a tiny inlet where waves crash against the rocks and produce the sound in the name. You might get wet - water can spray as high as 40 feet! Thunder Hole is best viewed 2 hours prior to high tide, so you can best hear the thunderous sound
A much less crowded stop in Mount Desert Island is Echo Lake, where you can take a low-intensity hike or sit and enjoy the beautiful beach.
You can drive along the mesmerizing Atlantic Coastline and through the Connecticut Mountains if you take a detour through Hudson Valley, which adds about 2 hours to the drive time.
Our travel tips: Acadia was the 6th most-visited US national park in 2021, so keep in mind it may be crowded during peak season.
Inside Acadia National Park be sure to follow the seven unwritten golden rules of hiking, known as "Leave No Trace". Also, if you are visiting Acadia National Park and plan to drive on the Cadillac Summit Road, keep in mind that vehicle reservations might be required. Please check the national park's website to avoid any disappointment.
READ MORE - Road Trip from Philadelphia to Acadia National Park
15. Quebec City, Quebec
Via New York, NY and Montreal, Quebec
11 hours from Philadelphia (630 miles)
Why you should visit: One of the oldest cities in the world, Quebec and Montreal offer a unique taste of French-Canadian identity. A road trip from Philadelphia is perfect for any history or culture buff.
Quebec City is a cultural hotspot, and more often than not there are events and festivals taking place amongst the centuries-old buildings, churches, fortifications and monuments.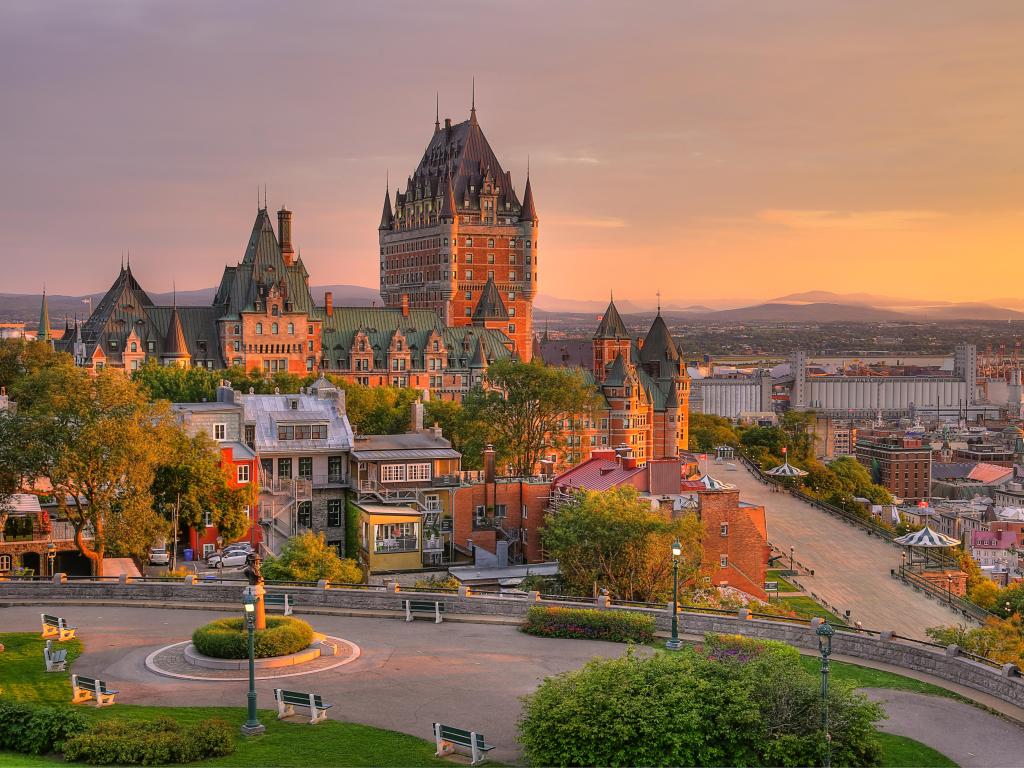 How to get there: Get on I-676, followed by I-95N, and I-78E to reach Manhattan. From there, take NJ-17N, I-87N, and Autoroute 15N to arrive in Montreal. Then take QC-136 and head east on A440 to reach La Cite-Limoilou in Quebec.
Our highlights: Old Quebec is the city's historic heart, and the crenellated walls are home to numerous monuments, museums and the Place Royale – the residence of the first settlers. Samuel de Champlain first settled the town at Place Royale, as far back as 1608.
One of the city's most cherished monuments is the Cathedral-Basilica of Notre-Dame de Quebec. This is Canada's oldest church and stands where it was originally built in 1647.
Fire has ravaged this centuries-old church several times, and today the asymmetrical exterior houses a shimmering interior complete with religious paintings and stained glass.
If you head 15 minutes out of the city you can explore Montmorency Falls Park, home of a majestic waterfall standing at 275 feet. Explore the park via cable car or suspension bridge to get the best view.
An alternate route via Lake Ontario exists, which adds Allentown, Syracuse, and Lake Vincent to the places of interest along your journey. This detour adds about 5 hours to the total drive time.
Bonus: Montmorency Falls are actually taller than Niagara Falls! Who knew?
Our travel tips: The predominant language here is French, so be prepared to translate menus and street signs! It is also good to keep in mind that June 24th and July 1st are national holidays for Canada and Quebec.
READ MORE - Road Trip from Philadelphia to Quebec City
16. Chicago, IL and Lake Michigan
11 hours 50 minutes from Philadelphia (760 miles)
Why you should visit: Historical landmarks, iconic architecture and a rich cultural scene are on offer on this road trip from Philly to the Windy City. There is always something going on, whether it's a blockbuster exhibition or a free event in one of the city's many green spaces.
Chicago is located on the shores of the beautiful Lake Michigan, which features the largest freshwater sand dunes in the world, which are well worth making this road trip alone.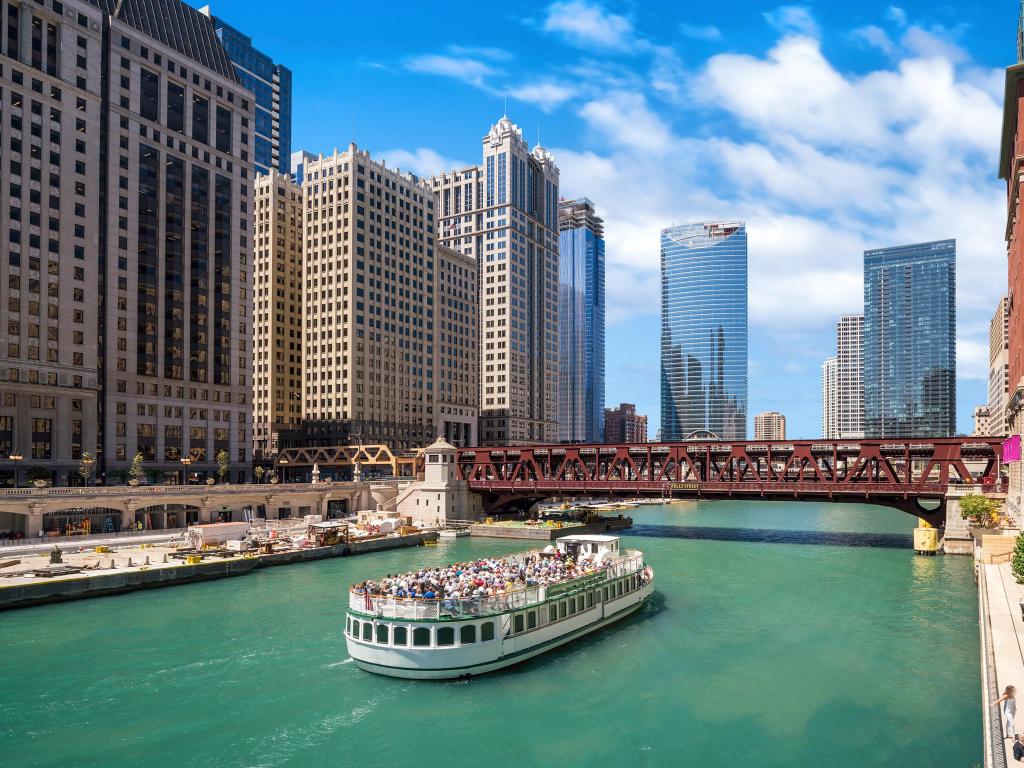 How to get there: Head west on I-76 and continue onto I-80, which will take you straight to Chicago.
Our highlights: Chicago needs no introduction – its museums, restaurants, and vibrant streets make for a world-class city break. Make sure you don't miss The Art Institute of Chicago – it's one of the world's largest museums and houses several thousands of the world's most renowned masterpieces.
For a panoramic view, head up to the Willis Tower Skydeck - formerly known as the Sears Tower, you can step inside a glass box overhanging the building and look over the city from the 103rd floor. The Willis Tower was the world's tallest building from 1975 till 2000.
Stop and take a picture by the Cloud Gate – a giant sculpture in the shape of a bean made by British-Indian artist Anish Kapoor. The name comes from how the clouds are reflected seamlessly by the reflective surface.
Chicago is situated right on Lake Michigan, one of the five Great Lakes of the US. There are plenty of activities accessible from the shore, including boating, fishing or simply enjoying one of the lakeside beaches.
There are several small detours you can take to explore Lancaster Amish Country (#2), Pittsburgh (#9), or Cleveland - these will add about 2 hours to the drive time.
Bonus: Did you know that the Atomic Age started in Chicago? The first atom was split in 1942 at the University of Chicago.
Our travel tips: There can be traffic in the city center, so it's best to try and get around on public transport if you can.
READ MORE - Road Trip from Philadelphia to Chicago
17. Nashville, TN
Via Cincinnati, OH and Louisville, KY
14 hours 20 minutes from Philadelphia (850 miles)
Why you should visit: Nashville aka "Music City" has a rhythm of its own, with its own vibrant energy pulsing through every street, bar and downtown district. The streets of Nashville reflect the city's love for music, which spills out of every concert hall, bar and club.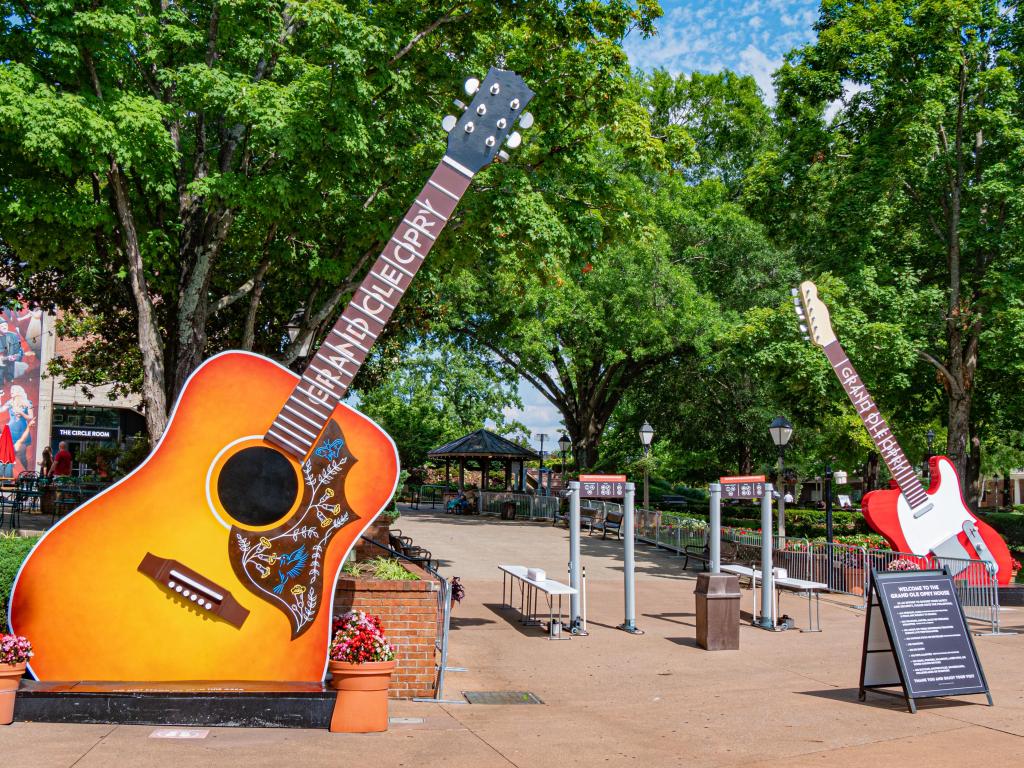 How to get there: Take I-76 going west for join I-71 heading south to reach Cincinnati. From there, rejoin I-71 and I-64W to arrive in Louisville. Take I-65S and I-24E to reach Nashville.
Our highlights: Set off on this epic road trip from Philadelphia and head to the home of country music at the Grand Ole Opry, the concert hall that made the genre famous. It has been running for almost a century and is a must-see for country fans.
It's a long way from Greece, but you can visit a complete replica of the Parthenon in Nashville, erected in 1897 as a monument to education.
Nashville once housed the highest number of educational institutions in the state, earning it the moniker "the Athens of the South". Today the Parthenon of Tennessee houses a collection of classical-era sculptures, statues, texts, and paintings.
As you are driving through Cincinnati, stop by the Cincinnati History Museum to learn about the bygone days of steam engines and the evolution of the city - it stands at what used to be a railroad terminal.
You will also get to visit Louisville on this route, which is well worth stopping over. We suggest that you visit Louisville Slugger Museum & Factory to see how MLB bats are made and the Kentucky Derby Museum to get an insight into the horse racing heritage of Kentucky.
You can add an extra hour to your trip by taking a scenic route, which will allow you to admire the natural beauty of the Great Smoky Mountain National Park.
Bonus: Cincinnati is known as the "Queen of the West" because of the city's prominence in the American Midwest.
READ MORE - Road Trip from Philadelphia to Nashville
18. Atlanta, GA
Via Asheville and Blue Ridge Parkway, NC
15 hours 50 minutes from Philadelphia (910 miles)
Why you should visit: Atlanta is often on the world stage, having hosted the Olympic Games in 1996 - it's also nicknamed "Hotlanta" due to the warm weather and buzzing nightlife.
There is plenty of fun to be had in Atlanta, with its quirky restaurants, street art, niche museums and relaxed vibe. On the way, Asheville is a fun stop for culture, art and beer.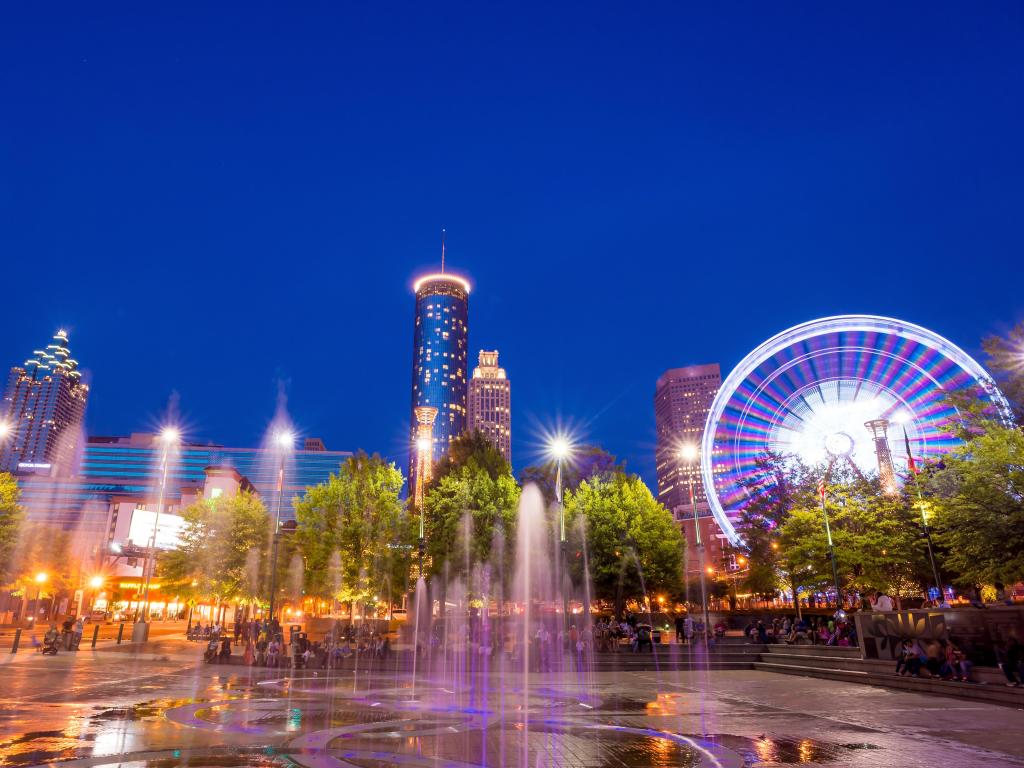 How to get there: Take I-76, US-74W and US-19S to reach the Blue Ridge Parkway. After winding along the mountain road, take US-74E, I-40E, I-240E, and US-25S to reach Asheville. From there, take I-40 going west and join I-85 south. Take exit 248A to arrive in Atlanta.
Our highlights: Take in a slice of world history by visiting Centennial Olympic Park, constructed for the 1996 Olympics. Don't miss taking a splash in the Fountain of the Rings!
Atlanta was an integral location to the Civil Rights Movement, which is commemorated at the Martin Luther King Jr. National Historic Park. Pay your respects at Martin Luther King's tomb, and see marks of his legacy all over the city.
One of Georgia's biggest tourist attractions is the World of Coca Cola, which is a fun stop to go and pay homage to the world-famous fizzy drink.
Part of the drive winds along the Blue Ridge Parkway, a 469-mile stretch of road through the stunning Blue Ridge Mountains. This peaceful road has plenty of places to stop off to stretch your legs or take in the scenery.
Bonus: Coca-Cola was invented in Atlanta by a pharmacist addicted to morphine, who wanted to invent a toxin-free painkiller. The World of Coca-Cola is a tribute to his world-famous invention.
Our travel tips: Spring or fall are the best times to visit this city, as temperatures can get uncomfortably hot during the summer.
19. Miami, FL
Via Charleston, SC and Savannah, GA
20 hours from Philadelphia (1270 miles)
Why you should visit: Miami is the place to be for enjoying sun, sand and nightlife on the shore of one of the best beaches in the world. This road trip from Philadelphia to Miami promises the best of all!
Surfing and strolling are not all there is to this city - Miami is also known for its designer shops, galleries, walking tours and museums - all served in one glimmering sunny package.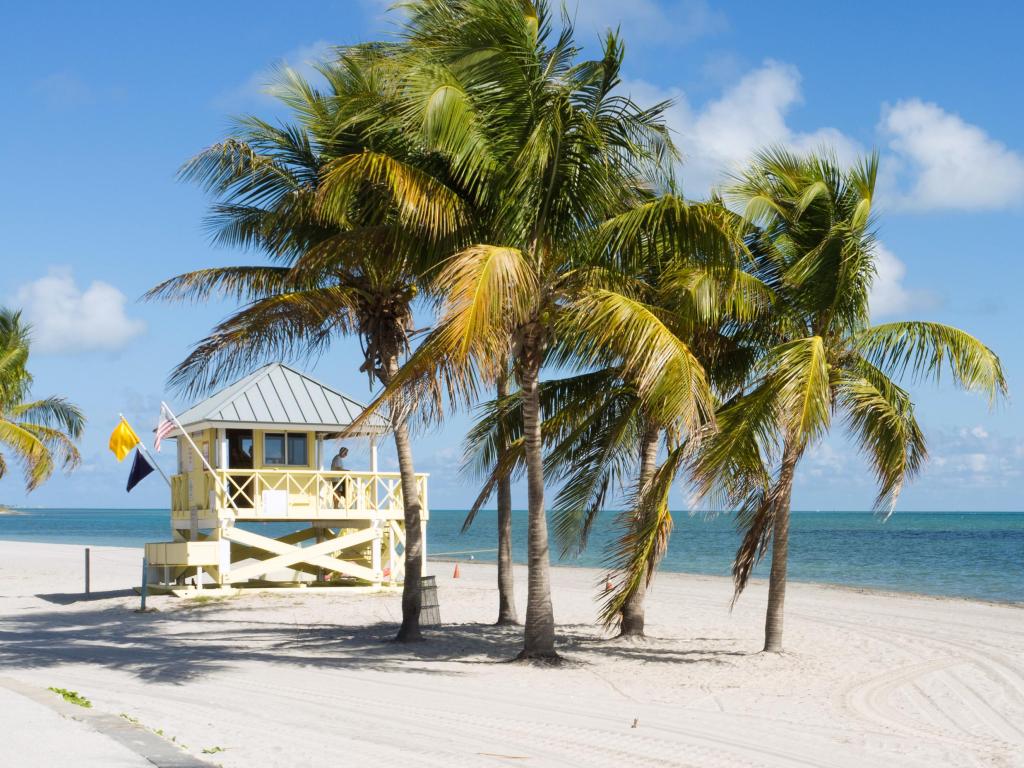 How to get there: Take I-76 and I-26E, then take the exit for Charleston. From there, drive onto Hwy 17 and GA404 heading south, taking Exit 25 to reach Savannah. Get on I-16 west to reach Miami.
Our highlights: Once you've had your fill of the beach, check out Phillip and Patricia Frost Museum of Science, which is a planetarium, an aquarium, and two science museums all rolled into one - there is so much to see it will keep you busy for a whole day.
For a stunning display of flora and fauna, take a walk in the Fairchild Tropical Botanic Garden which stretches across 84 acres - you can admire the many varieties of plants in these meticulously designed flowerbeds.
If you want that award-winning shot, Wynwood Walls is hailed as one of the most photographed places in Miami. This outdoor "gallery" of sorts is a regular haunt of muralists and graffiti artists, providing the perfect backdrop for a great photo.
On the way to Miami, make sure to visit Charleston in South Carolina and stop by the South Carolina Aquarium or marvel at Fort Sumter National Monument.
You will get a chance to check the historic sites of Savannah as well. This city is known for its stunning architecture that has withstood time and was preserved in pristine condition.
By taking a detour via I-95 and Delaware you can add on a stunning coastline drive to the journey, which will add about 2 hours to the trip.
Bonus: Fashion designer Gianni Versace's home still stands today but has a different purpose now. The property houses the Onyx Bar, which you can enjoy a drink and a meal. Be warned though, making a booking is notoriously hard!
Our travel tips: Be sure to take proper precautions against heat stroke if visiting Miami in the summer - including lots of water and sunscreen!
READ MORE - Road Trip from Philadelphia to Miami
20. New Orleans, LA
Via Great Smoky Mountains National Park and Chattanooga, TN
20 hours 20 minutes from Philadelphia (1260 miles)
Why you should visit: A hotchpotch of several different cultures, New Orleans is famous for its nightlife, charming neighborhoods, and showcase of historical landmarks.
On this road trip from Philadelphia to New Orleans, you will also pass through Knoxville, where you can take a day or two to explore the Great Smoky Mountains National Park and scenic Chattanooga.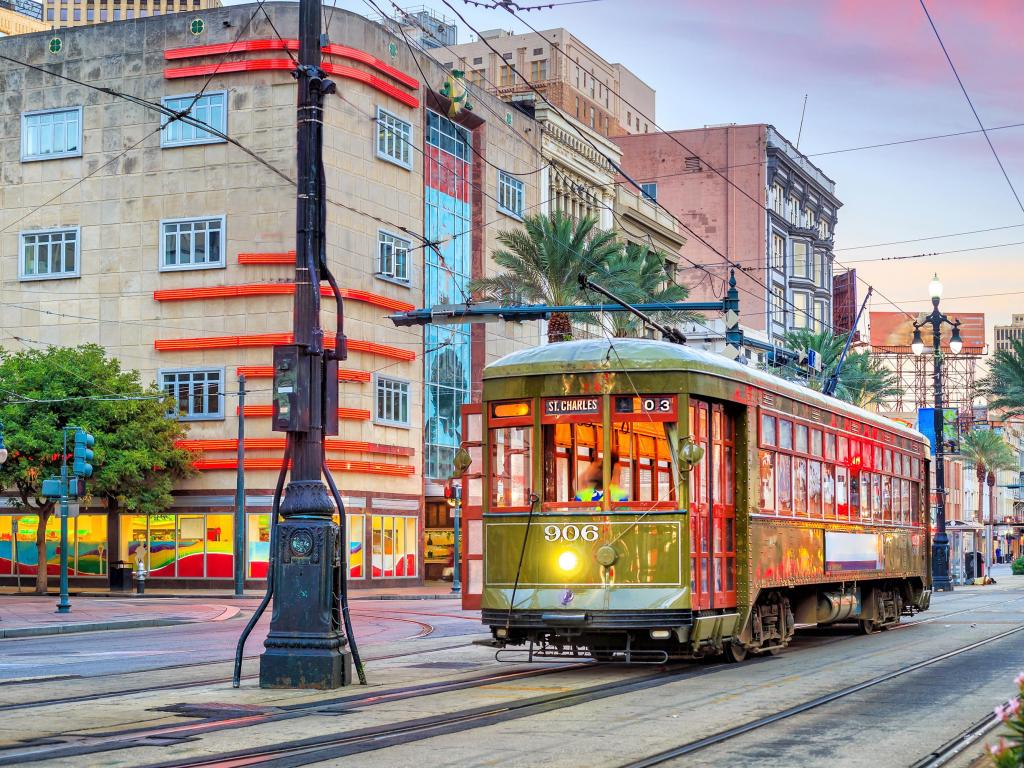 How to get there: Take I-76 to get on TN-158 heading west and take the exit for Knoxville. From there, take I-40 west and turn onto US-129 going south to reach the dramatic landscapes of the Great Smoky Mountains National Park.
Drive along the I-75S to reach Chattanooga, and then take US-27 and US-90 south to arrive in New Orleans.
Our highlights: The Mardi Gras festival that New Orleans is famous for happens in February, but the party mood lasts all year. Whatever your vibe, prepare to be entertained as you go barhopping, take a historical tour or marvel at the unique architecture.
There are so many museums to visit, but one of our favorites is the National WWII Museum, which has award-winning exhibits retelling the heroic stories of wartime personnel and automobiles.
Another great stop is the New Orleans Museum of Art, where you can browse over 40,000 pieces of art including works by Degas, Rodin, Monet, and O'Keefe.
The French Quarter (or Vieux Carre) is a must-visit at any time of day, filled with quaint streets, great fusion food, musical performers and iconic architecture. This is the oldest neighborhood in New Orleans.
Make sure to stop by Knoxville on your way to New Orleans, as this is the perfect gateway to the Great Smoky Mountains National Park. You can also visit Pigeon Forge and its most famous attraction; Dollywood!
Bonus: To add another stretch of scenery to the drive, you can add on a 2-hour detour via the Blue Ridge Parkway.
Our travel tips: A lot of places in New Orleans are cash-only, so be sure to carry notes and coins with you.
READ MORE - Road Trip from Philadelphia to New Orleans
21. Los Angeles, CA
Via Grand Canyon, AZ and Albuquerque, NM
44 hours from Philadelphia (2830 miles)
Why you should visit: This trip is the longest on our list and spans the entire width of the United States, so it is special to say the least. It swings by the natural wonder of the Grand Canyon on the way to sunny Los Angeles.
Los Angeles is famous for its star power, but Hollywood isn't the only thing that sets this sunny metropolis apart. It also serves up incredible cuisine, landmarks, and opportunities to get out into nature.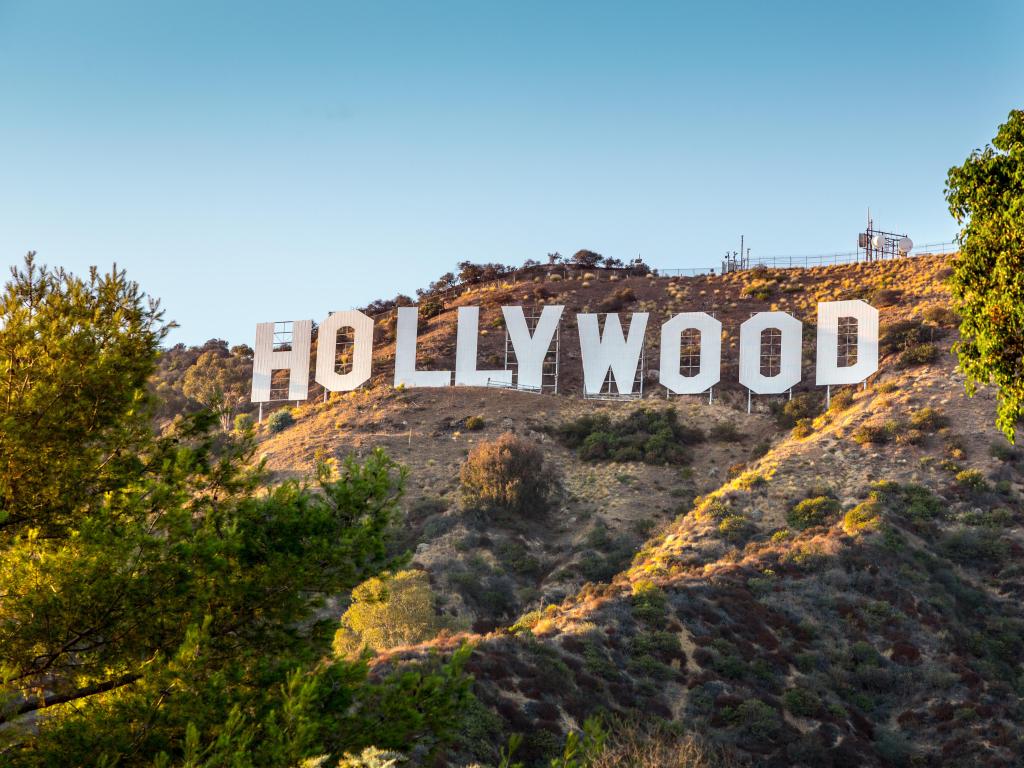 How to get there: Take I-76 and I-70 heading west to reach Columbus. From there, rejoin I-70 and turn onto I-25 going south to get to Albuquerque.
Get on I-40 going west and drive along AZ-64 to get to Grand Canyon Village. Finally, rejoin I-40 and take US-101 going north to arrive in Los Angeles.
Our highlights: For a taste of the movies, visit the Bradbury Building, which has appeared in blockbuster films like Blade Runner (1982). The atrium features open-cage elevators, wrought-iron balconies, and marble staircases. This building was originally constructed by the famous gold baron Lewis Bradbury.
You can hike right up to the famous Hollywood sign in Lake Hollywood Park, to see the iconic white letters up close and pose for a picture.
The Getty Center houses one of the best art collections in Los Angeles, showcasing European paintings, sculpture, drawing and photography. Entry is free, though you have to reserve a timed ticket slot.
While in Los Angeles, a visit to Universal Studios Hollywood is a must! This world-famous theme part hosts the much-beloved Wizarding World of Harry Potter. Why not grab your wand and see if you have the gift of magic in one of the several interactive "magical" corners?
On the way to LA, you can stop at the Grand Canyon to experience the magnificence of this natural wonder first-hand. You can hike around several different viewpoints to see it from all sides, or even take a helicopter ride over the top.
Bonus: The only reason that Los Angeles is now studded with stars and celebrity houses is that the movie industry fled here to avoid Thomas Edison's patent fees!
Our travel tips: Los Angeles is a pretty big area, so you'll need a good amount of time once you arrive to make the most of your visit.
If you're looking to hit several big sites in one day, it might be worth getting a travel pass that will give you access to most of the attractions in the city.
READ MORE - Road Trip from Philadelphia to Los Angeles