Road trip to Amish Country
Ready to step back in time and embrace a slower pace of life? This road trip to the Amish Country of Pennsylvania offers an unforgettable journey into a unique culture defined by tradition, craftsmanship, and a deep connection with the land, with the scenic countryside as the backdrop.
The 145-mile road trip to Amish Country will take a total of 4 hours to drive. The unique stops en route are Salisbury Township, Blue Ball, Ephrata, Lititz, Manheim, Elizabethtown, Lancaster, Bird-in-Hand, Ronks, Strasburg, Paradise and Intercourse.
Continue reading to discover the ideal route, the most captivating stops, and the sights that will leave you in awe. We've also got the lowdown on the perfect time of year to undertake this remarkable journey.
History of Amish Country in Philadelphia
The Amish community, a sect of the Anabaptist movement, originated in the Swiss-German border region in the late 17th century. Fleeing religious persecution in Europe, many Amish groups migrated to the United States in the 18th century, particularly drawn to Pennsylvania due to William Penn's policy of religious tolerance.
Lancaster County, Pennsylvania, became a significant settlement for the early Amish immigrants. The Amish lifestyle, guided by a set of rules called the Ordnung, promotes humility, obedience, and simplicity and includes restrictions on technology, formal education, and interaction with the non-Amish world.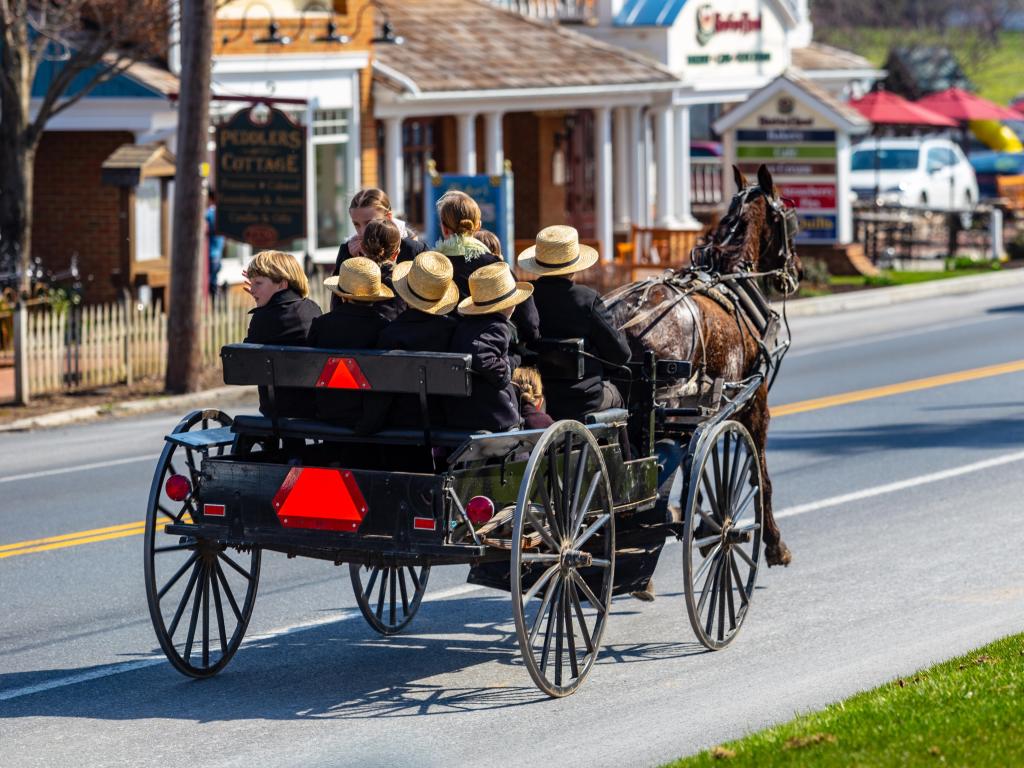 Despite evolving into various subgroups and expanding into different US states over time, the community has maintained its traditional way of life.
Lancaster County remains one of the largest and oldest Amish settlements in the US today, known for its unique blend of tourism and traditional Amish lifestyle.
The community continues to live out their faith through traditional practices such as farming and using horse-drawn buggies, making them a distinct part of America's cultural heritage.
Where is Amish Country?
The Amish Country in Pennsylvania is nestled in the southeastern part of the state, mainly encompassing Lancaster County and parts of Chester County. The closest major city to Amish Country is Philadelphia to its east, followed by Baltimore to its south.
It's renowned for its picturesque rolling hills, sprawling farmland, and timeless traditions, making it an idyllic retreat from the hustle and bustle of urban life.
While Ohio also does have a significant Amish population and is similarly titled 'Amish Country,' it's crucial not to conflate the two. Ohio's Amish Country, primarily located in Holmes County and neighboring areas, offers its own distinct charm and set of experiences.
How far is Amish Country from Philadelphia, and how long will the road trip take?
Travel time and distance to Amish Country

| Route | Distance | Driving Time |
| --- | --- | --- |
| Philadelphia to Salisbury Township | 55 miles | 1 hour |
| Amish Country Loop | 90 miles | 3 hours |
The road trip from Philadelphia to Salisbury Township in Amish Country will take 1 hour to drive, and span 55 miles without any stops or detours you might want to make.
The journey in the Amish Country will then take about 3 hours to drive, covering 90 miles in the beautiful Lancaster County's countryside.
There is so much to see, do and learn about on this unique road trip, so we recommend putting aside at least 4 days to enjoy everything Pennsylvania's Amish Country has to offer.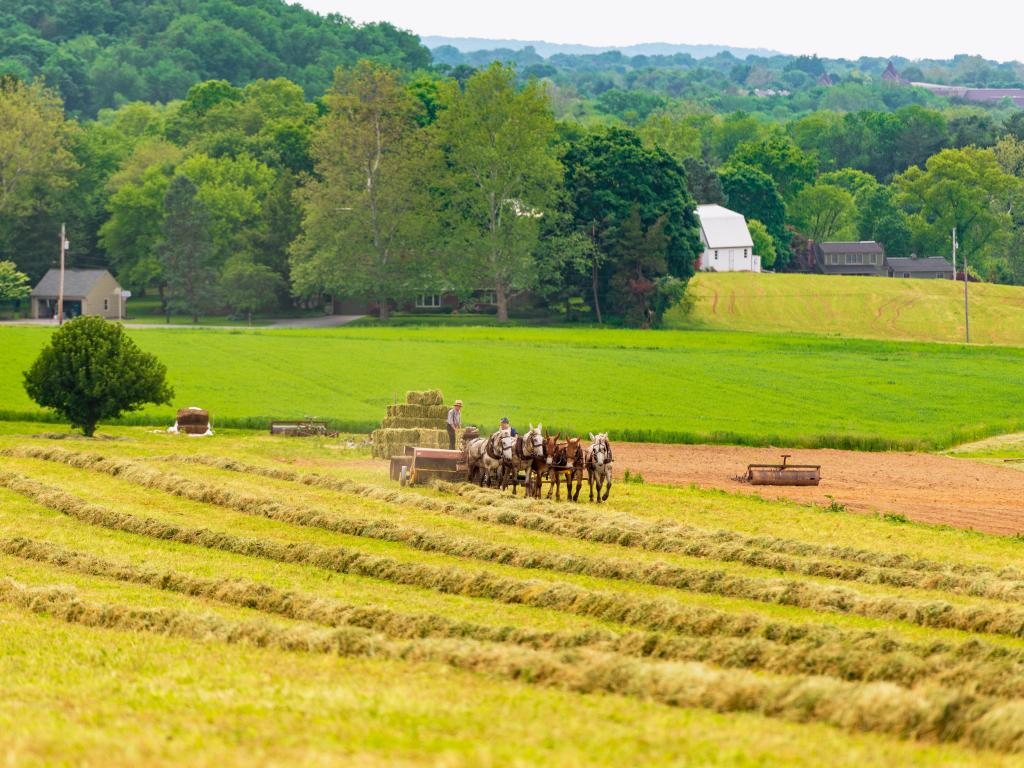 Best road trip route from Philadelphia to Amish Country
This road trip to the Amish Country of Pennsylvania caters to all tastes and preferences, whether you crave the simplicity and tradition of the old-world lifestyle or are looking for an unforgettable journey marked by unique attractions of the local Amish communities and delicious culinary experiences.
This drive from Philadelphia to Amish Country meanders through the heart of Amish Country, offering encounters with the timeless traditions of the Amish community and a chance to relish the tranquillity of rural life.
The first stop in the Amish Country on this road trip is Salisbury Township, inviting you into the serene countryside and the enchanting world of the Amish.
The route then meanders through the charming Blue Ball, Lititz, and Lancaster, where you can witness centuries-old craftsmanship, learn about the Amish culture, and explore the vibrant local markets.
Further ahead, towns like Bird-in-Hand, Ronks, Strasburg, Paradise, and Intercourse, all featuring unique and whimsical names, will help you gain a new understanding and appreciation of the tranquil Amish lifestyle.
How to drive to Amish Country
The map above shows our suggestions for the best road trip routes between Philadelphia and Amish Country. Keep reading for detailed descriptions of both routes, where to stay on either, and the best things to do on the way.
Road trip route from Philadelphia to Amish Country
Leave Philadelphia on Interstate 76 (I-76) and drive northwest towards Valley Forge National Historical Park. Afterwards, drive west on US-202 and US-30 to reach Salisbury Township.
From here, start the loop in Amish Country by driving to Blue Ball to the north and then to Ephrata. Your next stop will be the town of Lititz, which earned the title "America's coolest small town" in 2013.
You will then drive through Manheim, heading west before you reach Elizabethtown. After visiting these charming small towns and learning more about the Amish communities that call them home, you will reach Lancaster.
Make sure to visit the Lancaster Central Market here. As the oldest continuously operated farmers' market in the US, you'll find a variety of local produce and goods.
Once you've had your fill, make your way to Bird-in-Hand. Known for its farmers market and artisan shops, it's a haven for those interested in handmade crafts and fresh, home-cooked meals.
Continue your journey by driving to Ronks. Don't miss out on attractions such as Cherry Crest Adventure Farm and the Railroad Museum of Pennsylvania, which offer unique experiences for the whole family.
Next, head southwest to reach the Amish Village. Immerse yourself in the Amish way of life by exploring an authentic Amish property and schoolhouse, and learn more about their culture.
Afterwards, you will arrive in the small borough of Strasburg, home to the historic Strasburg Rail Road and a charming town center.
Your next stop is the picturesque village of Paradise. Take a moment to appreciate the beautiful countryside and traditional Amish farmlands that make this area so peaceful and beloved.
Finally, head to the town of Intercourse. Known for its vibrant community and locally made goods, it's the perfect place to wrap up your journey with some shopping and sightseeing before concluding your adventure in Pennsylvania's Amish Country.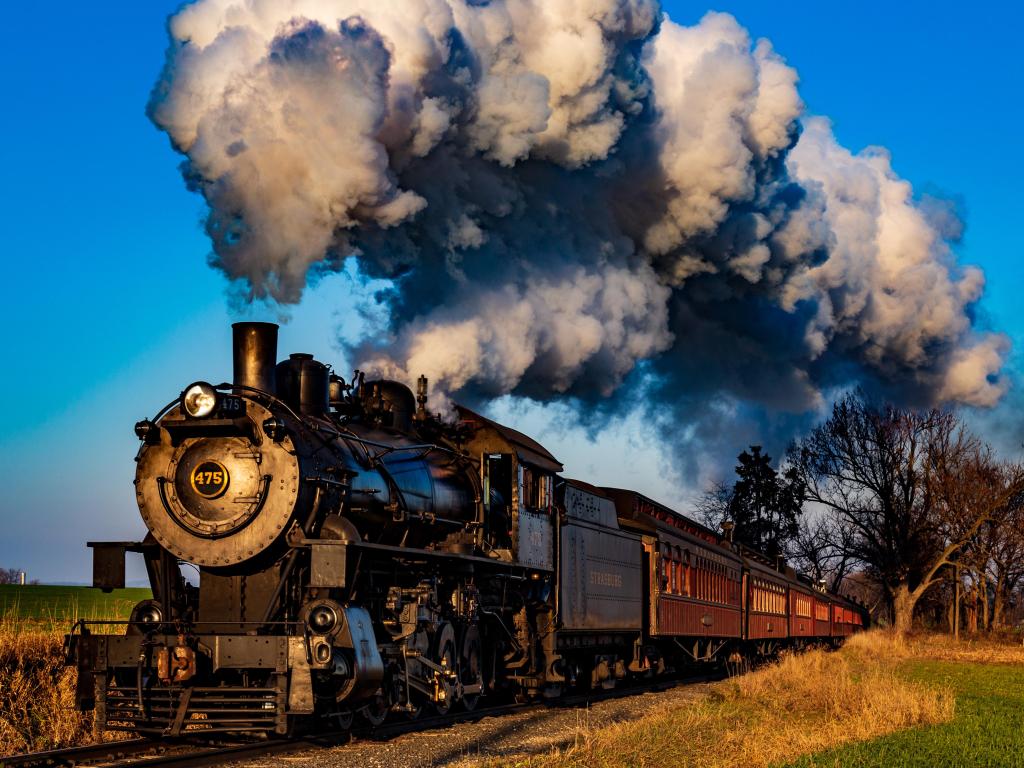 Best places to stop between Philadelphia and Amish Country
To elevate your scenic expedition from Philadelphia to Intercourse through Amish Country, we've handpicked our top suggestions for stopovers, harmoniously blending comfort, history, and the serenity of the Pennsylvania countryside.
A historical stay in Ephrata
Steeped in rich history and authentic Pennsylvania Dutch charm, Ephrata makes for a great first stopover on your journey through the Amish Country. This charming town, located 1 hour and 30 minutes from Philadelphia, beautifully encapsulates the simplicity and tranquillity that defines the region.
Ephrata is perhaps best known for its historic Ephrata Cloister, one of America's earliest religious communities. Here, the imposing and well-preserved architecture and mystical stories of the 18th-century monastic community are bound to fascinate any history enthusiast.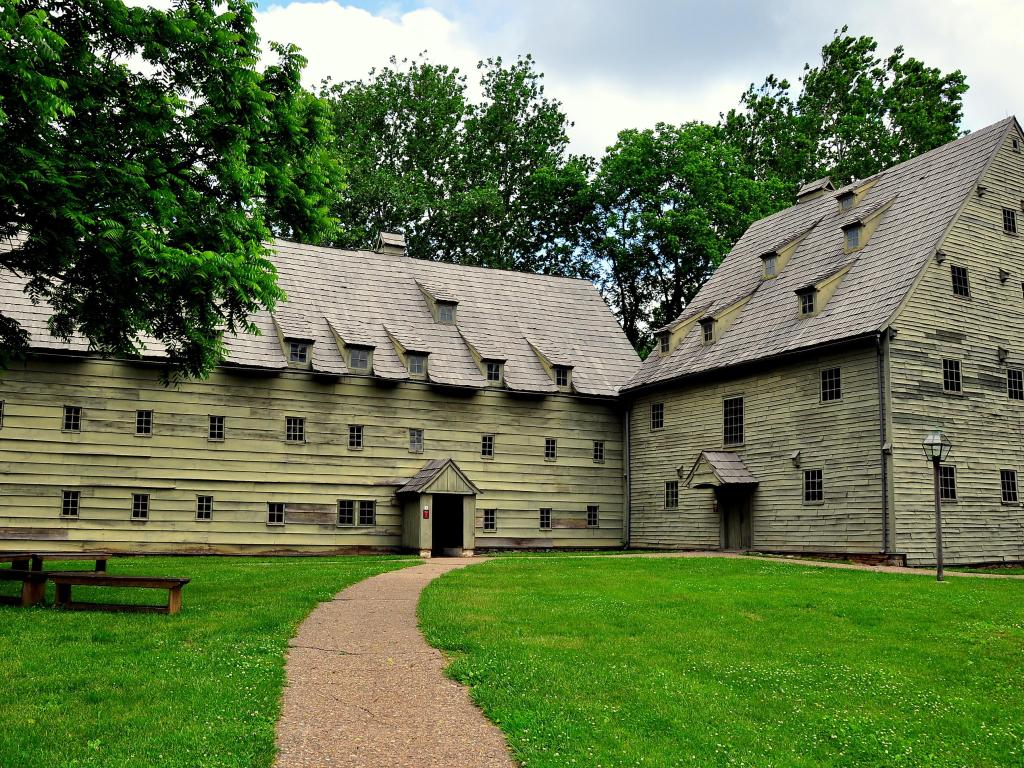 The town also proudly hosts the Green Dragon Farmer's Market, a local gem. Every Friday, local Amish and Mennonite farmers gather to sell fresh produce, baked goods, and handcrafted items. This vibrant marketplace presents a unique opportunity to sample local flavors and engage with the friendly Amish community.
In the heart of Ephrata, head to the Thomas P. Grater Community Park if you want to spend some time outdoors, and don't forget to pack a picnic with you.
When you are done exploring this beautiful town, head to Twin Pine Manor for a well-deserved rest. This stunning bed and breakfast features stylish rooms, some with its own terrace or balcony so that you can enjoy the peaceful scenery that surround the property.
The bed and breakfast is located a short drive from Landis Valley Museum. Make sure to sample the local specialties and delicious fresh pastries that are available for breakfast daily before setting off on the next leg of your trip.
Learn about the Amish traditions in Lancaster
A true gem in the heart of Pennsylvania's Amish Country, Lancaster is known for its beautifully preserved 18th-century buildings and bustling local markets. Located about 3 hours into the road trip, Lancaster is an unmissable stop on your Amish Country adventure.
Lancaster's most famed attraction is the Lancaster Central Market, the oldest continuously operating farmer's market in the United States. Housed in a striking 1889 Romanesque Revival building, it serves as a vibrant hub of the local community.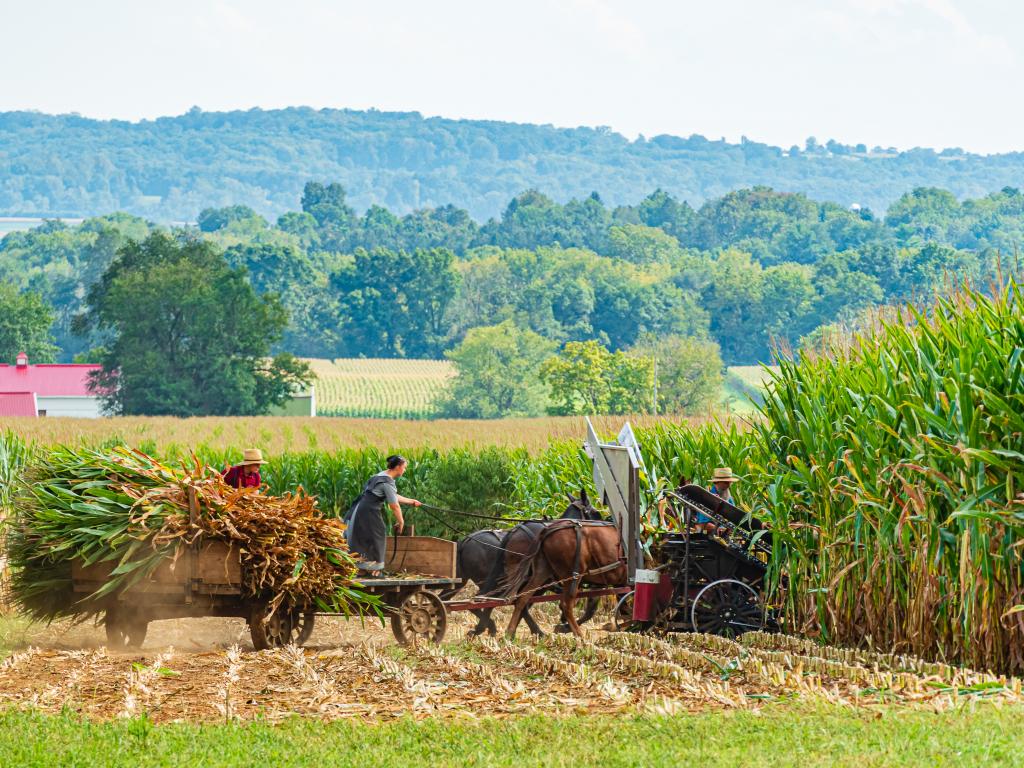 With an array of Amish, Mennonite, and Pennsylvania Dutch vendors, the market offers fresh farm produce, handmade crafts, and a chance to sample traditional Pennsylvania Dutch delicacies like shoofly pie and scrapple.
For a deep dive into the area's Amish history, don't miss a visit to the Amish Farm and House. This immersive experience takes you on a journey through time, showcasing the simple lifestyle of the Amish with guided tours, traditional house displays, and sprawling farmlands.
In addition to its rich Amish heritage, Lancaster is also recognized for its vibrant arts scene. The Fulton Theatre, a National Historic Landmark, stages a variety of Broadway-caliber productions year-round.
When visiting Lancaster, we highly recommend staying at The Lancaster Bed and Breakfast. This lovely inn features homey rooms with beautiful garden views. It also has a picnic area so that you can enjoy the tranquil views with a bite to eat.
Fuel up on the delicious breakfast options before heading out to discover Lancaster and its famous Central Market, which is located a short walk from the property.
A pastoral lifestyle in Ronks
Situated amidst the picturesque landscape of Amish Country, Ronks is a great third pitstop. Famed for its traditional Amish farms, antique shops, and unique railroad heritage, Ronks will allow you to get a glimpse of a bygone era and get away from the modern city hustle.
A visit to Ronks would be incomplete without exploring its mesmerizing countryside. Take a leisurely buggy ride around the scenic roads, a quintessential Amish Country experience accompanied by the clip-clop of horse hooves.
Witness the simple lifestyle of the Amish community, their picturesque farms, one-room schoolhouses, and the distinctive clothesline posts dotting the landscape.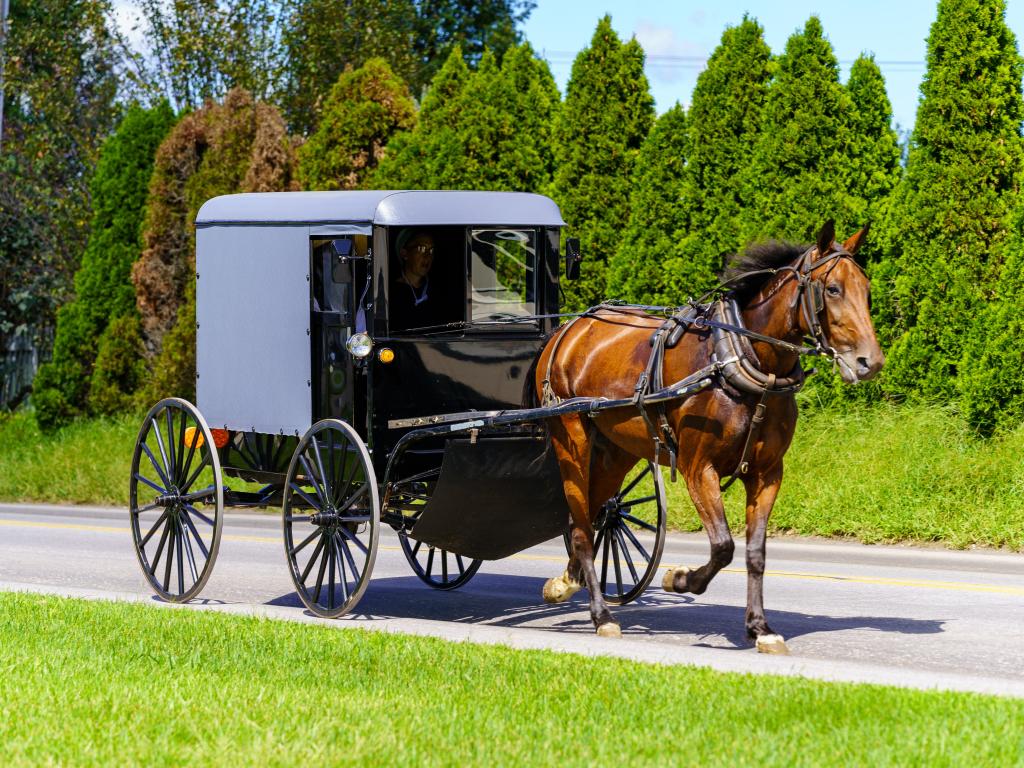 Visit the many local shops selling handcrafted Amish goods such as quilts, furniture, and baked goods. Witness firsthand the remarkable detail and quality that goes into each item, reflecting the community's deep respect for hard work and artistry.
If you are a train enthusiast or traveling with children, the Choo Choo Barn in the nearby Strasburg should top your list of attractions. This 1,700 square-foot model train layout showcases over 150 hand-built animated figures and vehicles and 22 operating trains, sure to delight both young and old.
You are in luck if you love trains, as Red Caboose Motel & Restaurant will be the perfect place to stay for you. This motel consists of caboose cars (some of them were even once part of the Pennsylvania Railroad!) that are repurposed for a unique and fun overnight stay.
If you are looking for rooms with a little more room and amenities After Eight Bed and Breakfast is hard to beat. This bed and breakfast boasts classic country decor and antique furnishings that echo the Amish Country's atmosphere.
Lancaster Balloonport is a short drive from the hotel, and we highly recommend going on a hot-air balloon ride and admiring the aerial views of the beautiful countryside to immortalize your trip in your memory.
Things to see on a road trip from Philadelphia to Amish Country
This road trip is a unique journey that takes you deep into the Amish Country, a tranquil and timeless landscape where simplicity reigns, and the charm of yesteryears still prevails.
This meticulously curated list brings you the cream of the crop, from quaint marketplaces to hallowed heritage sites, there's something to stir the curiosity in every type of traveler. Here are our top picks of unique and intriguing attractions along this trail, each with its own story to tell.
Ephrata Cloister, Ephrata - One of America's earliest religious communities, now a historic site. Visitors can tour the preserved buildings and beautiful grounds.
Wilbur Chocolate Store, Lititz - The iconic Wilbur Chocolate Store offers a variety of sweet treats and a peek into the history of chocolate making. Don't miss the chance to try the famous Wilbur Buds.
Julius Sturgis Pretzel Bakery, Lititz - Visit the first commercial pretzel bakery in the U.S, learn about the history of pretzel making, and even try your hand at twisting a pretzel.
Mount Hope Estate & Winery, Manheim - A beautiful winery that offers a variety of wines for tasting and purchasing. It also hosts the Pennsylvania Renaissance Faire.
American Music Theare, Lancaster - An entertainment venue that offers a variety of shows from concerts and Broadway tours to original musical revues. Great spot for a night of entertainment.
Lancaster Central Market, Lancaster - The oldest farmers' market in the U.S, offering fresh dairy, produce, baked goods, and more. A wonderful place to sample local produce and interact with the locals.
The Amish Farm and House, Lancaster - Take a guided farm tour and learn about Amish history and lifestyle. The location also offers a bus tour that takes visitors around Amish neighborhoods.
Aaron and Jessica's Buggy Rides, Bird-in-Hand - Offers a variety of horse-drawn buggy rides through Amish country. It's a great way to see the countryside and learn about Amish culture.
Bird-in-Hand Farmers Market, Bird-in-Hand - A local market known for its delicious homemade Pennsylvania Dutch delicacies, handcrafted goods, and fresh produce. A perfect place for foodies and souvenir hunters.
Amish Village, Ronks - A 12-acre property offering an authentic look at today's Amish lifestyle. Explore an Amish farmhouse, schoolhouse, barn, and more.
Cherry Crest Adventure Farm, Ronks - A delightful family spot with a wide range of activities including a corn maze, petting zoo, and wagon rides. Experience farming activities firsthand.
Strasburg Scooter Tours, Strasburg - Guided by local experts, visitors have the opportunity to ride scooters, scoot coupes, or e-bikes through the picturesque Amish countryside, taking in the sights, smells, and sounds in a way that's not possible with conventional car travel.
Strasburg Rail Road, Strasburg - A great opportunity to ride a historic steam train through the scenic Pennsylvania countryside. The railroad also offers themed rides and dining on board.
Railroad Museum of Pennsylvania, Strasburg - A comprehensive museum dedicated to the history of railroading in Pennsylvania. Over 100 historic locomotives and railroad cars are on display.
Kitchen Kettle Village, Intercourse - A charming village filled with locally-owned shops selling everything from homemade jams to hand-quilted items. A perfect representation of Lancaster County's food, creativity, and tradition.
Stoltzfus Meats & Deli, Intercourse - An authentic local butcher shop offering Amish recipes and high-quality meats. Great for tasting local flavors and purchasing picnic supplies.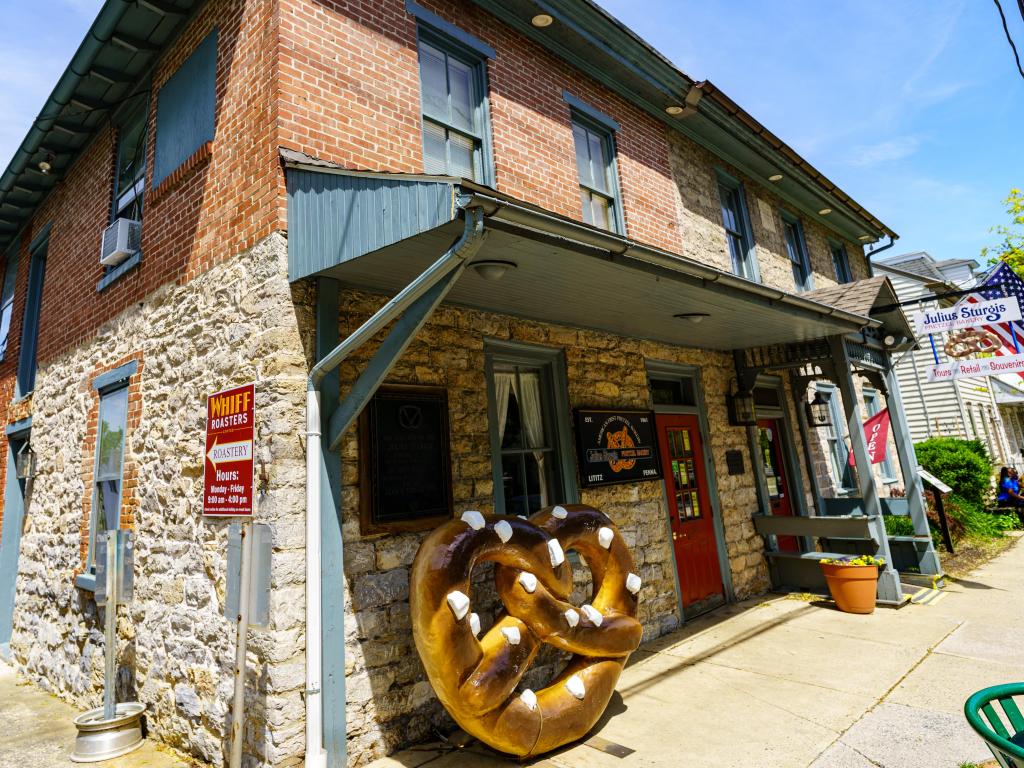 Best time to go on a road trip from Philadelphia to Amish Country
While the beauty of Pennsylvania's Amish Country can be appreciated year-round, the best time to embark on this road trip largely depends on what you wish to experience.
Spring and fall are particularly enchanting, with temperatures typically ranging between 50 and 70 degrees Fahrenheit. These seasons offer mild weather that's perfect for enjoying outdoor activities such as touring Amish farms, taking scenic carriage rides, and visiting open-air markets.
In spring, the countryside bursts into bloom, and the landscape is covered with emerald-green fields and blossoming flowers. Spring is also when planting begins, so you'll get to see the Amish people using horse-drawn plows in their fields.
Fall, on the other hand, presents an inspiring display of colors as leaves change from green to vibrant hues of orange, red, and yellow. Additionally, the fall harvest season brings a unique opportunity to witness the Amish community's hard work and dedication to their land.
If visiting in May, you can participate in and sample delicious goodies at the Rhubarb Festival in the Kitchen Kettle Village of Intercourse, or Whoopie Pie Festival in September in Ronks.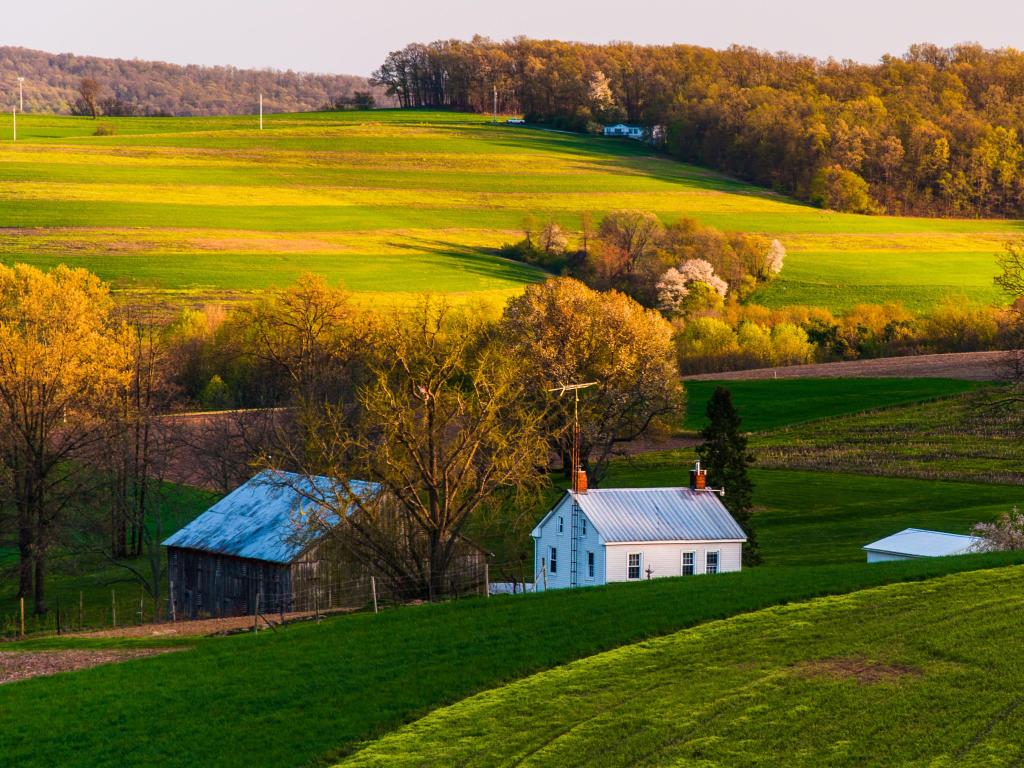 The summer, with temperatures typically hovering between 70 and 85 degrees Fahrenheit, presents opportunities for attending various local festivals. However, it's also the peak tourist season, so expect larger crowds at popular sites.
Winter, from December to February, showcases a different side of Amish Country, with temperatures that can range from a low of 20 to a high of 40 degrees.
During the winter, the landscape transforms into a peaceful, snow-covered haven. The tranquility of the season paints a serene portrait of the Amish life that's as stark as it is beautiful.
If you are visiting in late winter to early spring, you might be able to witness or even participate in a "mud sale". These events are a great opportunity to experience Amish culture and purchase everything from livestock to handmade quilts, furniture, and crafts.
While the colder weather does mean some outdoor activities might be limited, you'll still find indoor attractions like Amish quilt shops and eateries, providing warm and cozy refuges from the chill. Plus, the snowy landscape offers a uniquely serene view of Amish Country.
In summary, your experience can vary greatly depending on the season, but rest assured; there's always something to see or do in the Amish Country of Pennsylvania.