26 Best Road Trips from Salt Lake City
Utah's capital Salt Lake City is a hub for urban amenities and year-round outdoor adventures in a laid-back mountain-lined setting. It is also surrounded by amazing places to explore for a day trip, weekend escape or you can even chart a course out west if you're up for a longer trip.
We have listed the 26 best trips from Salt Lake City whether your idea of a perfect getaway is hitting the glistening slopes, climbing red rock landscape, bathing in crystal clear waters high in the mountains, or soaking up the laid-back urban vibes.
Read on to get inspired for your next day trip, weekend retreat, or full-on road trip vacation.
Best road trips from Salt Lake City: a quick overview
Day trips from Salt Lake City (under 3 hours each way)
If you are looking for a short getaway from the city, these amazing road trips can all be completed in under three hours and will take you to amazing parks, lakes and mountains.
1. Park City and Deer Valley Resort, Utah
40 minutes from Salt Lake City (30 miles)
Why you should visit: This drive may be the shortest trip on this list, but the upscale mountain town of Park City feels a world away from the big city life of Salt Lake.
It's also packed with adventure and home to the largest ski resort in North America so it's a perfect place to hit the slopes. Park City usually has snow from mid-November through mid-April so this extended ski season gives you extra time to enjoy.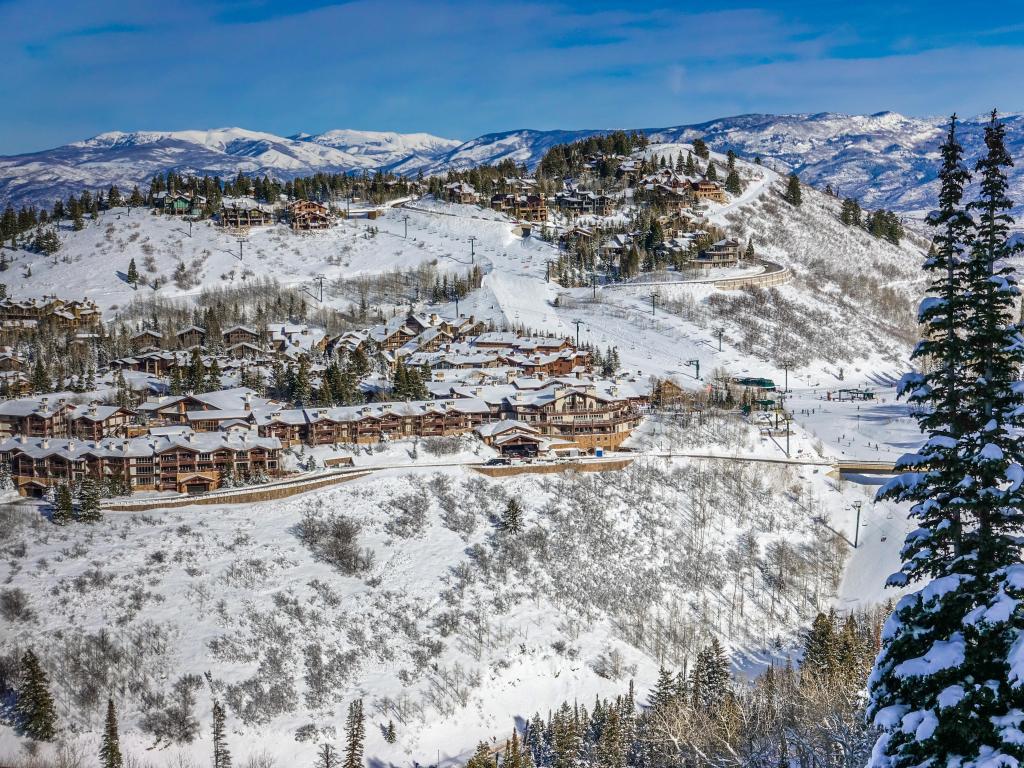 How to get there: Head south out of Salt Lake City and pick up Interstate 80 (I-80) East to drive through magnificent mountain peaks before dropping south at Kimball Junction, which will take you straight into Park City.
Our highlights: Ski or snowboard on one of the town's 426 downhill trails. Both Park City Mountain Resort and Canyons Village at Park City have world-class slopes.
If skiing isn't your thing or you're visiting in warmer seasons, test your limits on Utah's longest Alpine Coaster, which is over a mile long, and experience the mountains on horseback at Boulder Mountain Ranch at Deer Valley.
If you want to experience some of the finest resort amenities around, check out Deer Valley Resort. Located less than five minutes from Park City, this resort offers luxury accommodation options that will please even the pickiest traveler and has world-class fine dining as well as aprés ski alternatives.
You'll love Park City's diverse selection of amazing restaurants. Start your day with breakfast at one of the local legends on the Main Street or kick back for dinner after a long day on the slopes.
Park City is also beautifully dotted with centuries-old buildings along its historic main street, offering a glimpse into the town's previous life as a silver mining town.
Bonus: World famous for skiing, it's easy to see why Park City is the home base to the US Ski Team. But did you know it is also home to the Sundance Film Festival and has a vibrant and innovative arts scene?
Our travel tips: The Sundance Film Festival takes place in late January each year and Park City swells with attendees, so if you are planning to travel in mid-winter be sure to book well in advance.
Likewise, Deer Valley Resort limits the number of skiers on the mountain each day to ensure guests have an intimate and unique experience, so you'll need to get tickets before you go.
2. Antelope Island State Park, Utah
50 minutes from Salt Lake City (40 miles)
Why you should visit: You'll be surprised to discover white sand beaches on the largest of the Great Salt Lake islands. And the park's opportunities for animal encounters will also amaze you. Where else can you roam the beach alongside bison?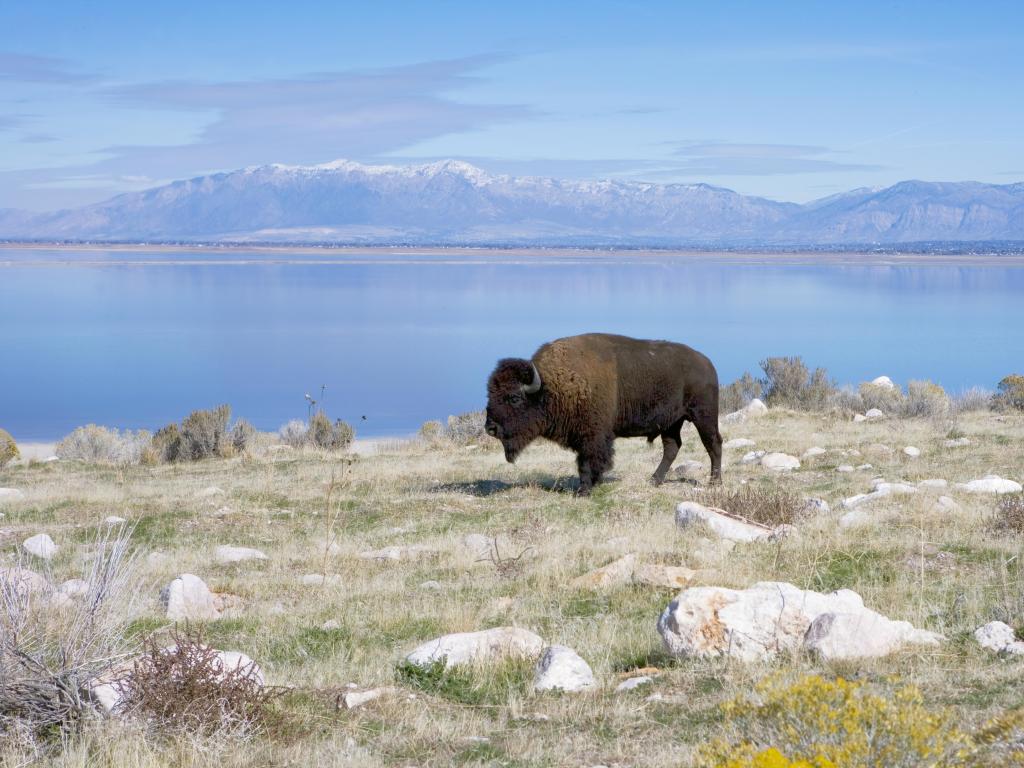 How to get there: Drive north on I-15 before turning left on UT-108 across the bridge to the park.
Our highlights: The Lake Loop features fantastic views of the water so lace up your shoes and check it out! If you're looking for another hike during your visit, you'll love the variety of vantage points along the Buffalo Point Trail.
The waterfront landscape of Antelope Island State Park contrasts with the red rock scenery of Utah. You will find plenty of hiking and biking trails where you can take the sights in.
For some non-beach fun, you can test out your lasso skills at Fielding Garr Ranch, which features historic buildings and rooms set up as they were in the 1800s. There's so much to do here, why not make a weekend of it and camp at the park's Bridger Bay Campground?
This pristine state park has a huge variety of native plants and animals to delight visitors on its mix of beach, mountain, and grassland landscapes. The fascinating creatures you can spot here in addition to the bison include mule deer, bighorn sheep and antelope.
Bonus: You'll feel weightless and super buoyant floating in the Great Salt Lake due to the high salinity (12 per cent!) of the water. That is why this lake is known as "America's Dead Sea".
Our travel tips: The lake has been very low in the last 15-20 years so expect to walk half a mile or more to get to the waterline. But once you do make it out to the water and back, there is an outdoor shower to rinse the salt off.
You'll want to bring bug spray (mosquitoes can be intense!), food and drinks (there's only a small concession area inside the park), and your own shade to rest or picnic under since there aren't many trees.
3. Provo, Utah
Via Utah Lake
1 hour from Salt Lake City (50 miles)
Why you should visit: Provo is Utah's third largest city, which is a bustling lake-side university town with tons of opportunities for outdoor adventure.
It's easy to see why people are flocking to Provo, which has been named one of the best cities to live in the United States. Whether you're into art, culture, cuisine, rafting, hiking, or fishing, Provo has something for everyone.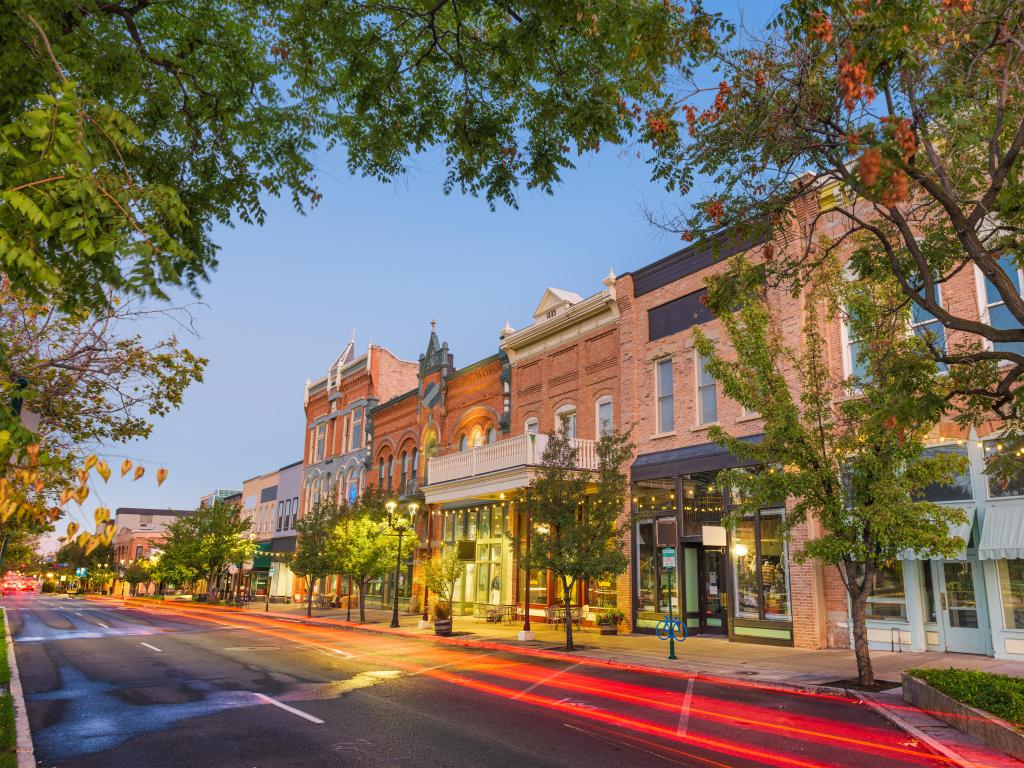 How to get there: Take I-15 South straight into Provo. To reach Utah Lake State Park from Provo, head west and turn left on West Center Street until you see signs for Utah Lake State Park.
Our highlights: While in Provo, check out Brigham Young University, including the recently redone Monte L. Bean Life Science Museum, BYU Museum of Art, and BYU Museum of Paleontology, which features life-size dinosaur models.
If you are itching for an adventure outdoors, Utah Lake State Park will provide fantastic opportunities to swim, camp, boat, jet ski, and fish, all the while being surrounded by majestic views of the mountains.
Explore Provo Canyon, including flyfishing on the Provo River and admiring Bridal Veil Falls, which is named for the way the water looks as it sprays down from the falls. If hiking's not your thing, drive the Alpine Loop for amazing views.
If the weather outside is less than ideal for outdoor exploration, head indoors to the 50,000 square foot Provo Beach, which features indoor surfing, bowling, laser tag, and an indoor ropes course.
Bonus: While hiking Provo Canyon, you might be able to spot Timp Haven, the house that Robert Redford built and turned into Sundance Mountain Resort at the base of Utah's second-highest peak, Mount Timpanogos.
Though the festival now takes place in Park City, Utah, this is where the famous Sundance Film Festival was born.
Our travel tips: About halfway between Salt Lake City and Provo, stop to check out the hidden rock formations at Timpanogos Cave National Monument.
4. Vernal, Utah
3 hours from Salt Lake City (170 miles)
Why you should visit: Known as "Utah's Dinosaur Land," Vernal is full of hands-on opportunities to see how dinosaurs once lived.
You know you're in dinosaur country when Dinah the giant pink dinosaur greets you as you enter Vernal. But there's much more to Vernal than just dinosaurs so buckle up to see amazing rock formations and landscapes and enjoy tons of outdoor activities.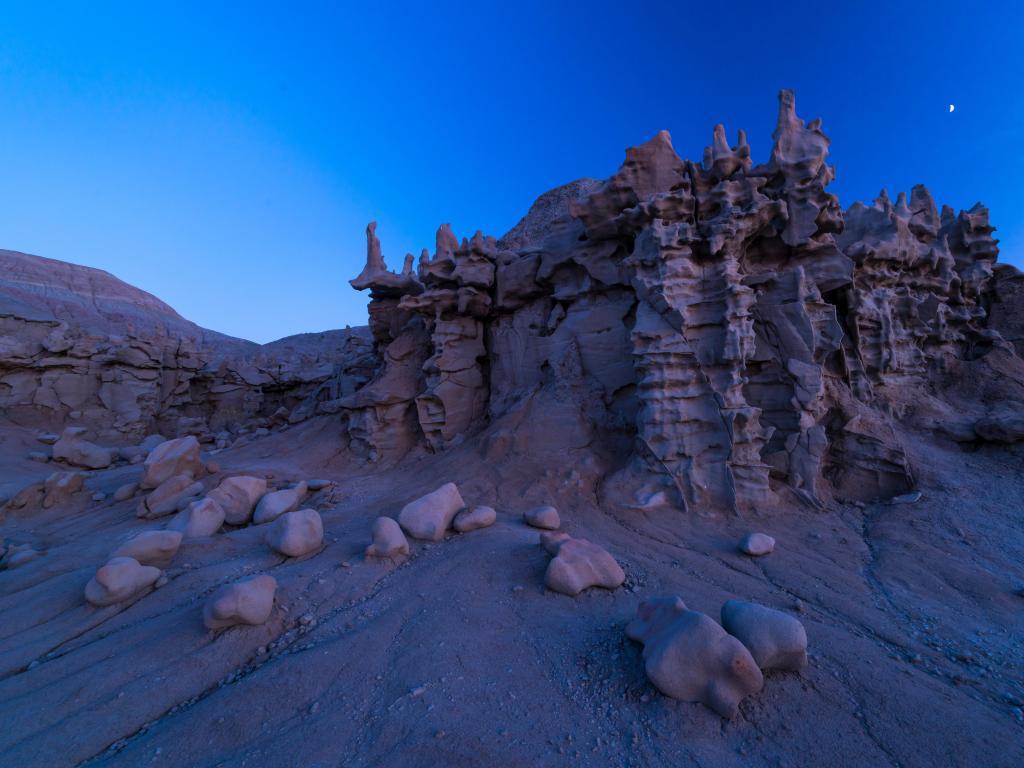 How to get there: Take I-80 East to I-40 East and follow it straight into Vernal.
Our highlights: Located right in downtown Vernal, the Utah Field House of Natural History State Park Museum has amazing opportunities for budding palaeontologists and dinosaur lovers of all ages to dig for fossils and see life-size dinosaur skeletons up close.
Try a locally brewed beer or homemade soda at Vernal Brewing Company, which is just across the street from the Utah Field House.
Venture beyond downtown to enjoy a day on the water at the beautiful sandstone lake at Red Fleet State Park or hike, ride horses, camp, fish, or ATV in Ashley National Forest, which encompasses 1.3 million acres in the Uinta Mountains.
Just 40 minutes away, Dinosaur National Monument makes a great day trip from Vernal. There you can learn all about the dinosaurs that once roamed the landscape, see dinosaur fossils still embedded in the rocks, and try to decipher ancient petroglyphs left by early inhabitants.
For some added adventure, book an overnight white water rafting or tubing trip along the Yampa or Green River in the park.
Bonus: The Uinta Mountains that surround Vernal are some of the few mountain ranges in North America that run east to west rather than north to south.
Our travel tips: If you're traveling in early July, don't miss Vernal's Dinosaur Roundup Rodeo. No, you won't see actual dinosaurs getting lassoed, but you will see some very cool wild west-style stunts with horses, bulls and more.
Click here to skip back to the top.
Weekend trips from Salt Lake City (3-5 hours each way)
If you've got more time, pack up your car for a weekend adventure in one of these locations, which are all between 3-5 hours away from Salt Lake City.
5. Capitol Reef National Park, Utah
3 hours 20 minutes from Salt Lake City (210 miles)
Why you should visit: Capitol Reef is an undiscovered treasure of America's National Park system, meaning you'll have the trails and breathtaking landscapes largely to yourself.
Located in the Heart of Utah's red rock canyon country, Capitol Reef National Park is immense and majestic. The landscape is full of cliffs, canyons, domes, and bridges and offers a range of exploration opportunities, from challenging hikes to easy strolls and scenic drives.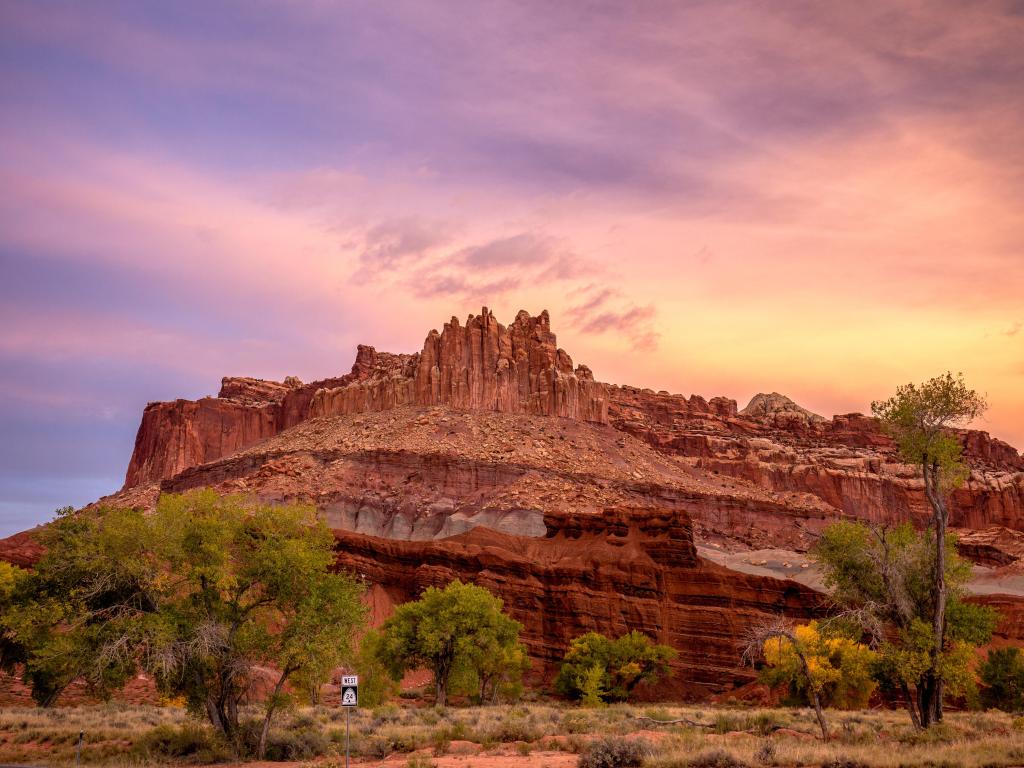 How to get there: Take I-15 South through Provo and on to I-24 East to Capiral Reef National Park.
Our highlights: Follow the Scenic Drive to experience the vast and varied landscape of the park, where you can hike the Cassidy Arch and Hickman Bridge and trek through Capitol and Freemont Gorges, with their narrow, honeycombed sandstone walls.
If you are looking for more outdoors adventures, hike through Cathedral Valley with its church-like structures soaring high into the sky.
Amidst the mountain range you'll find Fruita, an oasis of green valleys and farmlands in the Freemont River Valley. Established by Mormon settlers, the National Park Service has run this preserved historic village since the last residents left in 1960.
In Fruita, visit the old homestead, pioneer school, pick fruit in the orchards, and head to the Gifford House to buy a pie and some sweets. Any fruit you eat while strolling the orchards is free, but you'll pay a small fee if you want to bag your harvest and take it with you.
Fruita also has an excellent campground and is a great base from which to explore the park.
Bonus: The park's name comes from its rounded mountain tops, which were thought to resemble the US Capitol Building, and how the range acts as a barrier to pioneers much as a reef does to boats in the ocean.
Our travel tips: Cell service is sparse in the park so be sure to download or screenshot any info you need in advance. Download the GyPSy Guide before you visit to fully take advantage of all the hidden gems inside the park. Bring binoculars to look for ancient petroglyphs.
6. Goblin Valley State Park, Utah
3 hours 30 minutes from Salt Lake City (220 miles)
Why you should visit: Goblin Valley is a departure from the normal state park experience. Here it's less about rigorous hikes and more about exploring the desert floor and taking selfies with its many hoodoos, which is the technical term for the park's protruding rock formations.
If you've got kids in your group, this is a perfect stop for them (hide and go seek amongst the hoodoos anyone?).
How to get there: Shoot south on I-15 to I-6 East, which becomes I-191 as you pass Price Canyon Recreation Area. Head west on I-70 when you reach Green River and then pick up I-24 West and follow the signs for Goblin Valley State Park.
Our highlights: The dramatically carved landscape of Goblin Valley State Park is a unique example of the power of geologic erosion.
Roam free amidst the enchanted-shaped hoodoos. Unlike most parks that want you to stay on the trail, here you are free to explore at will.
That said, there are some excellent, easy hiking trails around and above the goblins. More adventurous types will enjoy mountain biking along the trails or climbing the rock faces.
Forget the hotel and camp on the desert floor. For RVers, there are no hook-ups, but it's bound to be a boondocking experience to remember.
Bonus: Before being named Goblin Valley, the area was known as Mushroom Valley thanks to the shape of the hoodoos that populate it.
Our travel tips: It can get pretty hot on the desert floor during the summer so bring a hat and plenty of water. Bring sunglasses or goggles to protect your eyes from the sand if the wind picks up.
Goblin Valley State Park makes a great detour or stopover if you're headed to Capitol Reef National Park from Salt Lake City.
7. Moab, Utah
3 hours 40 minutes from Salt Lake City (230 miles)
Why you should visit: With stunning scenery and some of the best hiking, biking, and rock climbing in the world, Moab is an outdoor adventure hub.
From Moab, you can easily reach the famed red rock terrains of Arches and Canyonlands National Parks or one of the many other outdoor attractions in the area and return to Moab in the evening to enjoy the town's shopping and dining.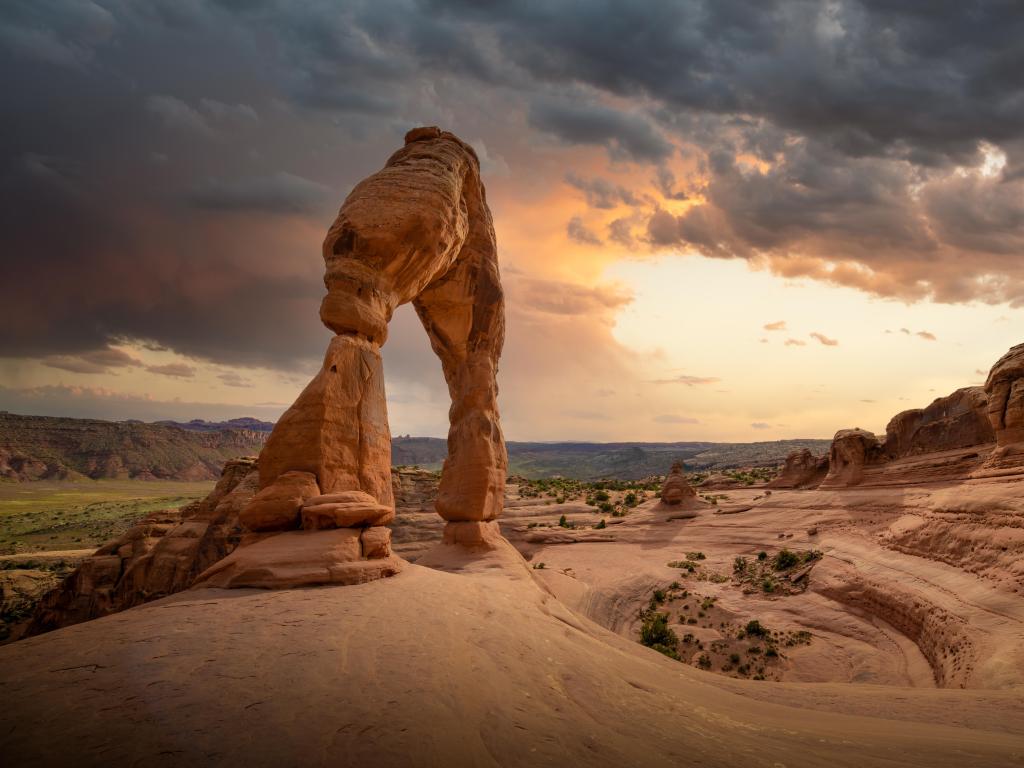 How to get there: Take I-15 South through Provo to pick up I-6 East. Turn left onto I-70 East at Green River and drop south on US-191 past Arches National Park.
Our highlights: If you're looking to maximize your experience at Arches National Park, try a guided tour to really appreciate its spectacular geological formations.
Any thrill seekers out there? Don't miss ATVing along Hell's Revenge trail, a huge plain of slickrock domes, bowls and fins. Its steep inclines are sure to get your blood pumping.
Still looking for more adventure? Hike up to admire the view from Grand View Point Outlook and check out Mesa Arch and Upheaval Dome at Canyonlands National Park.
For a little more of a tranquil activity, drive to the Island in the Sky district of the park for mesmerizing views of the huge canyons that ripple the landscape.
Round out your time in Moab with a visit to picture-perfect Dead Horse State Park where you will stand in awe at the striking red, vertical rock faces carved by ice and water.
Bonus: There are several wineries nestled in the valleys outside Moab. If you need a break from hiking, definitely put Castle Creek Winery and Spanish Valley Vineyards and Winery on your itinerary.
Our travel tips: You might need to make a reservation for a timed-entry permit while visiting Arches National Park. Please check the national park's website for up-to-date information.
Unless you have a timed entry ticket, get to Arches National Park early (around 8am) or late (after 3pm). It closes when it gets full, and you don't want to miss out! If you plan to hike the arches, bring trekking poles to steady yourself.
Download the GyPSy Guide before you visit the parks to get the full experience in all five of Utah's National Parks.
8. Zion National Park, Utah
4 hours 40 minutes from Salt Lake City (310 miles)
Why you should visit:A road trip to Zion National Park features unparalleled scenery and opportunities for outdoor adventure. Spectacular rivers cut through towering, red rock sandstone canyons make the perfect backdrop for hiking, biking, and rafting in Zion National Park.
Just an hour away and chock full of amenities, Cedar City is a great base for exploring Zion National Park. A bustling university town known as "Festival City," there's always something fun happening in Cedar City.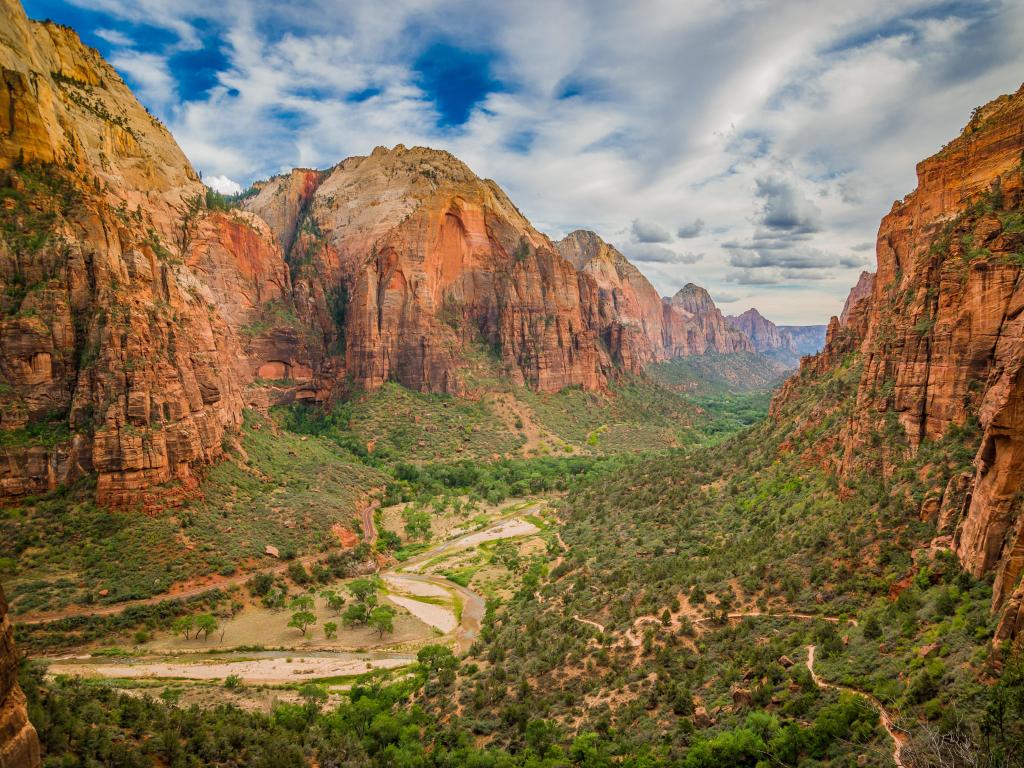 How to get there: Drive south on I-15 to Cedar City and then continue on the interstate until you reach I-9 East, which will take you to Zion National Park.
Our highlights: No visit to Zion National Park would be complete without a trek along the river on the canyon floor in The Narrows, where you will be dwarfed by the immense canyon walls that shoot straight up into the sky.
For sweeping views of the canyon at Zion National Park, hike the West Rim Trail to Angels Landing. The trail can be strenuous though, so plan accordingly.
While you're in Cedar City, go back in time and imagine yourself as a pioneer in Cedar City at the Frontier Homestead State Park Museum or walk the rim of Cedar Breaks National Monument, a 2,500-foot-deep basin full of limestone rock formations.
On the way to Zion National Park, stop off to fish, hike, bike, or camp in Dixie National Forest's two million acres full of red rock canyons, rock formations, mountains and lakes.
Bonus: Zion National Park is named after the ancient Hebrew word for sanctuary or refuge. But did you know that before it was called Zion, it was called Mukuntuweap National Monument in honor of the Southern Paiute tribe?
President Woodrow Wilson changed the park's name to Zion in 1919 following pressure from people living in the area who thought the original name was neither fitting nor popular.
Our travel tips: If you'd like to hike up to Angels Landing, you will need a permit and will need to make a reservation. Check the Zion National Park's website for more details.
Sign up at the visitors center for the free Zion shuttle tour through the park. Plan ahead if you're headed to Angel's Landing since a permit is required to go out onto it.
For The Narrows, bring water shoes since the last section requires walking through water. You can rent water shoes on-site if needed!
If you're in Cedar City over the summer, check out the four-month-long Utah Shakespeare Festival held June through October on the campus of Southern Utah University.
READ MORE - Road Trip from Salt Lake City to Zion National Park
Click here to skip back to the top.
Long weekend trips (5-8 hours each way)
Are you wondering what to do over the long weekend? Look no further than the below list for awesome adventures that are all 5-8 hours away from Salt Lake City.
9. Ketchum & Sun Valley, Idaho
5 hours from Salt Lake City (330 miles)
Why you should visit: If rugged exploration by day and pampering by night is your thing, look no further than Ketchum and Sun Valley. Nestled in the Rocky Mountains, both towns offer a host of scenic outdoor activities for any season.
Ketchum is a resort town with easy access to spectacular skiing and additional amenities in nearby Sun Valley. Here you can visit amazing craters, swim in alpine lakes, ski your heart out, and relax in incredible spas.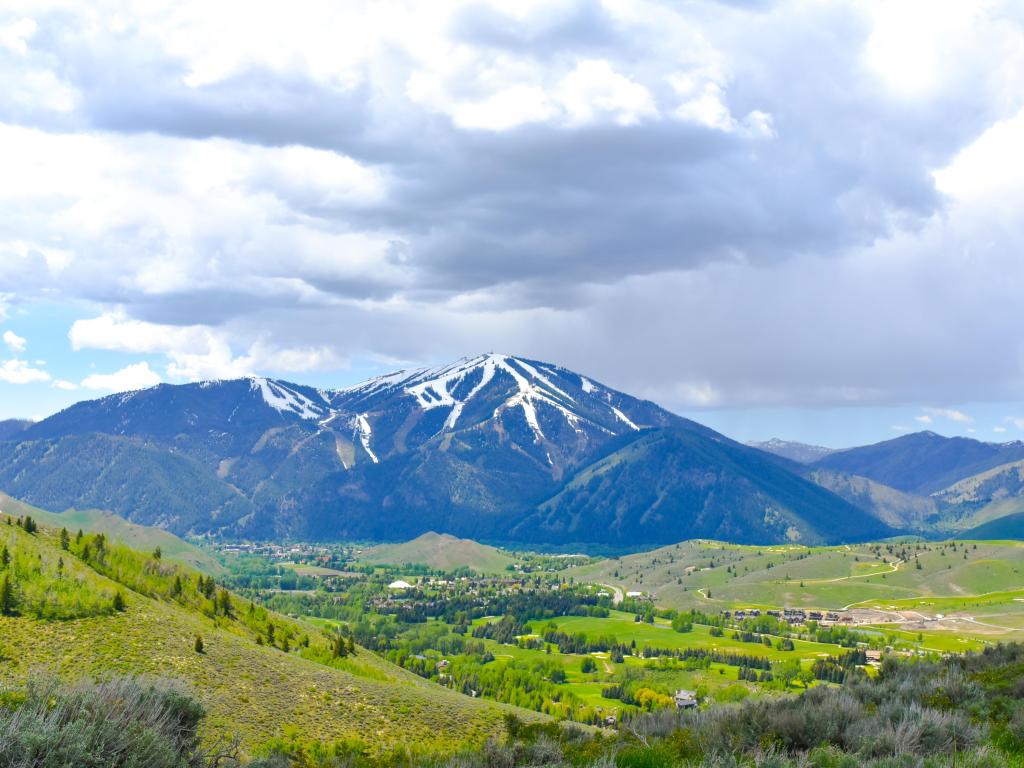 How to get there: Follow I-15 North to Blackfoot to pick up I-26 West and then follow the signs for Craters of the Moon National Monument and Preserve.
Leaving the Craters, retrace your steps back to I-26 West and pick up I-75 North into Idaho and past Bald Mountain until you reach Ketchum. Sun Valley Road then takes you to Sun Valley, which is just six minutes outside Ketchum.
Our highlights: Think you need to join NASA to go to the moon? At Craters of the Moon National Monument, you'll be transported to outer space amid the rocky, black lava terrain. You'll be amazed at the assortment of lava tubes, tunnels, and caves.
After visiting the moon, come back down to earth to dip your toes in one of the 300 alpine lakes as you hike in the remote and pristine Sawtooth National Recreation Area, which is just a 12 minute drive north of Ketchum.
If you loved playing Oregon Trail as a kid, you'll nerd out seeing actual covered wagons at Wood River Valley Ore Wagon Museum and learning about Ketchum's ore mining history.
After exploring the great outdoors, relax and recharge at the immense, 50,000 square foot full-service Zenergy Health Club & Spa in Sun Valley.
Visiting in the winter? Shred powder at on the slopes of Bald Mountain, ride horses, ice skate year-round, or enjoy a round of golf at Sun Valley Resort.
Bonus: Ernest Hemingway fell in love with the Ketchum area and actually wrote much of "For Whom The Bell Tolls" in room 206 at the Sun Valley Lodge. After he was abruptly forced to leave Cuba in 1959, he bought a house at 400 Canyon Run Boulevard in Ketchum.
Today, the house is owned by the Ketchum Community Library and used as a residency program for writers and artists. Hemingway is buried in the Ketchum Cemetery, and you can often find his grave adorned with cigars and bottles of bourbon.
Our travel tips: Bring a headlamp to explore the caves at Craters of the Moon National Monument. Check access to the caves on the National Park Service's website before heading out since some close periodically to protect the bat population.
If you're in Ketchum over Labor Day, don't miss the dancing horses and performances by local tribes at the annual Wagon Days Parade held on main street.
10. Idaho Falls, Idaho
5 hours 10 minutes from Salt Lake City (310 miles)
Why you should visit: Idaho Falls and Grand Teton National Park showcase some of the best and most rugged wilderness areas in the United States.
With its beautiful river-laced downtown and solid arts and foodie scene, Idaho Falls is a hot spot for visitors to Grand Teton National Park, which offers jaw-dropping vistas of dramatic snow-capped mountain peaks that jut out over the Snake River.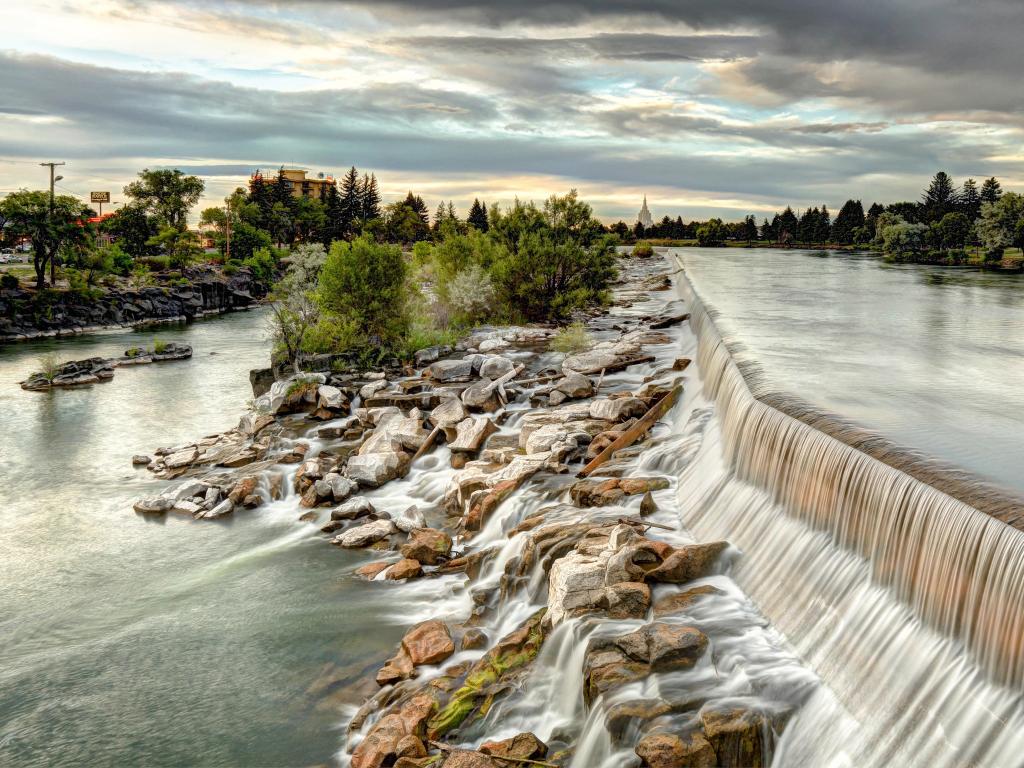 How to get there: Drive north on I-15 to reach Pocatello and continue on to Idaho Falls. From Idaho Falls, take I-26 East to the border with Wyoming to pick up I-22 East and follow it into Great Teton National Park.
Our highlights: On your way to Idaho Falls, stop off in Pocatello to stretch your legs in the pristine wilderness surrounding this small city, which is encircled on three sides by stunning snow-capped mountains.
While in Idaho Falls, trace the Snake River as it winds through downtown along the Idaho Falls River Walk, a beautiful pedestrian path that offers sweeping views of the river and the falls created by its hydroelectric dam.
If you're an animal lover, don't miss the Idaho Falls Zoo, which has been dubbed the "best little zoo in the west."
After exploring Idaho Falls, spend a few days exploring Grand Teton National Park, which has ample opportunities for hiking, climbing, biking, camping throughout the park, floating the Snake River, and boating and windsurfing on one of the park's pristine lakes.
There are eleven active glaciers in Grand Teton National Park, which feed its lakes and are vital to its ecosystem. Some of these glaciers are even visible from the roads in the national park!
Our travel tips: For an iconic shot of Wyoming's past juxtaposed with the jutting peaks of the Grand Tetons, channel your inner Ansel Adams and head to Mormon Row Historic District to see the old wooden barns that dot the landscape at the base of the mountain range.
If you're traveling over the Fourth of July, plan to see the fireworks along the Idaho Falls River Walk.
11. Glenwood Springs, Colorado
5 hours 30 minutes from Salt Lake City (340 miles)
Why you should visit: Considered the best destination in Colorado for hot springs, a restorative stop in Glenwood Springs will have you ready to take on a myriad of outdoor adventures.
This mountain town offers a plethora of outdoor activities, including hiking, biking, skiing, and fishing.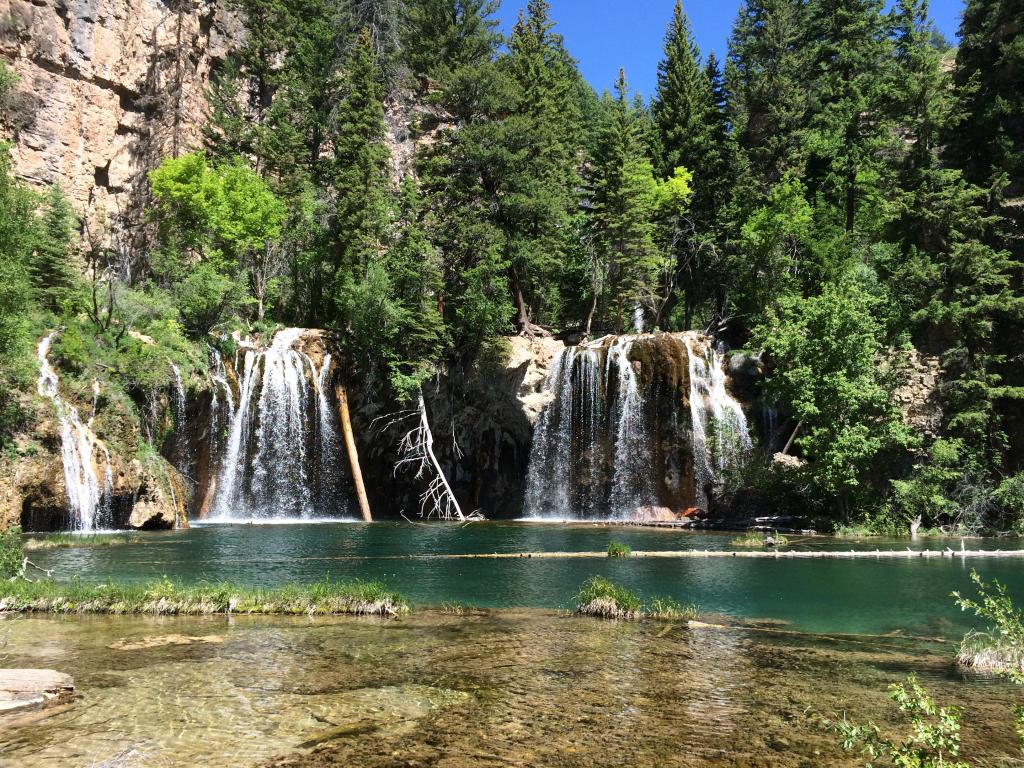 How to get there: Take I-15 South past Provo and onto US-6 East to Green River. Pick up I-70 East and wind your way past Arches National Park and McInnis Canyons National Conservation Area to Glenwood Springs.
Our highlights: Populated by gamblers, gunslingers, and brothels, back in 1880 Glenwood Springs was originally named Defiance.
Five years later, the wife of the town's founder convinced the town to change the name to something a little more welcoming, choosing Glenwood Springs after her hometown of Glenwood, Iowa.
While in Glenwood Springs, don't miss taking a dip in the world's largest mineral hot springs pool at Glenwood Hot Springs Resort which has been attracting visitors since 1888.
There's also a seasonal splash zone with river rides and waterfalls which is sure to please the younger set. For more thrills, hit the rides and explore the caverns at Glenwood Caverns Adventure Park.
Just outside Glenwood Springs, hike to see the incredible Hanging Lake with its many waterfalls and lush greenery and continue on to see the waterfall at Spouting Rock.
If you're visiting in the winter, experience some of Colorado's best skiing at the largely undiscovered Sunlight Mountain Resort in Glenwood Springs.
Our travel tips: You need a reservation to hike Hanging Lake, so book in advance.
12. Grand Canyon National Park, Arizona
6 hours 10 minutes from Salt Lake City (380 miles)
Why you should visit: The beauty and sheer magnitude of the world-famous Grand Canyon will take your breath away, no matter which season you choose to visit.
Beyond stunning scenery, there are tons of adventures to be had at Grand Canyon National Park. Whether it's hiking, biking, fishing, or rafting, this park offers something or everyone.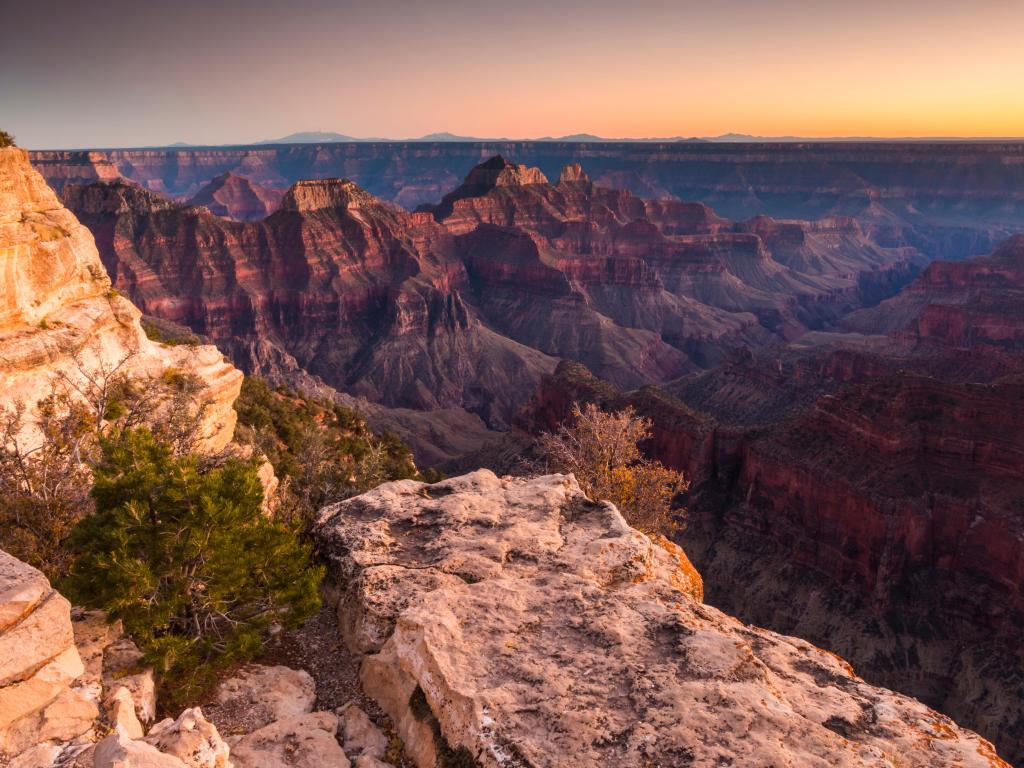 How to get there: Head south on I-15 until you reach the intersection with UT-20 East and then drop south on US-89. From US-89 South, merge onto US-89A South and then onto AZ-67 South to reach Grand Canyon National Park.
Our highlights: One of the seven natural wonders of the world, the Grand Canyon is staggeringly 277 miles long!
There are so many ways to enjoy the Grand Canyon. If heights don't bother you, teeter over the canyon on the horseshoe-shaped Grand Canyon Skywalk.
If you're a thrill seeker, go white water rafting down the Colorado River and gaze up at the sheer rock faces lining the canyon.
A short path from the Visitor Center of the South Rim will take you to Mather Point Overlook, which is one of the most popular viewpoints in the national park. Easily accessible, this overlook boasts stunning panoramic views of the canyon.
If you like your feet planted firmly on the ground, hike the Bright Angel or South Kaibab Trails for amazing views out over the canyon or watch the sun rise over the less touristed North Rim.
For an educational hike, hike to the Geological Museum, perched in a location chosen by expert geologists due to the wide range of unique formations that can be viewed from there. This area presents views that are the most representative of the Grand Canyon.
Bonus: Known mostly for its rocky facade and soaring temperatures in summer, did you know that it snows in the Grand Canyon? If you visit in winter, you can see the Grand Canyon under a glistening layer of snow.
Our travel tips: Bring plenty of water if you're hiking in the canyon in the summer and moderate your pace to avoid overexertion. Remember, if you go down you must ultimately go back up!
The North Rim is closed from the 1st of December to the 15th of May. If you are planning a visit during the colder months, head to the South Rim, which stays open year-round.
13. Yellowstone National Park
6 hours 30 minutes from Salt Lake City (360 miles)
Why you should visit: In Yellowstone National Park, you will be dazzled by roaming bison, erupting geysers, and bubbling hot springs. Yellowstone has something for all levels of visitors and can be explored and enjoyed by meandering motorists, wandering walkers, and hardcore hikers alike.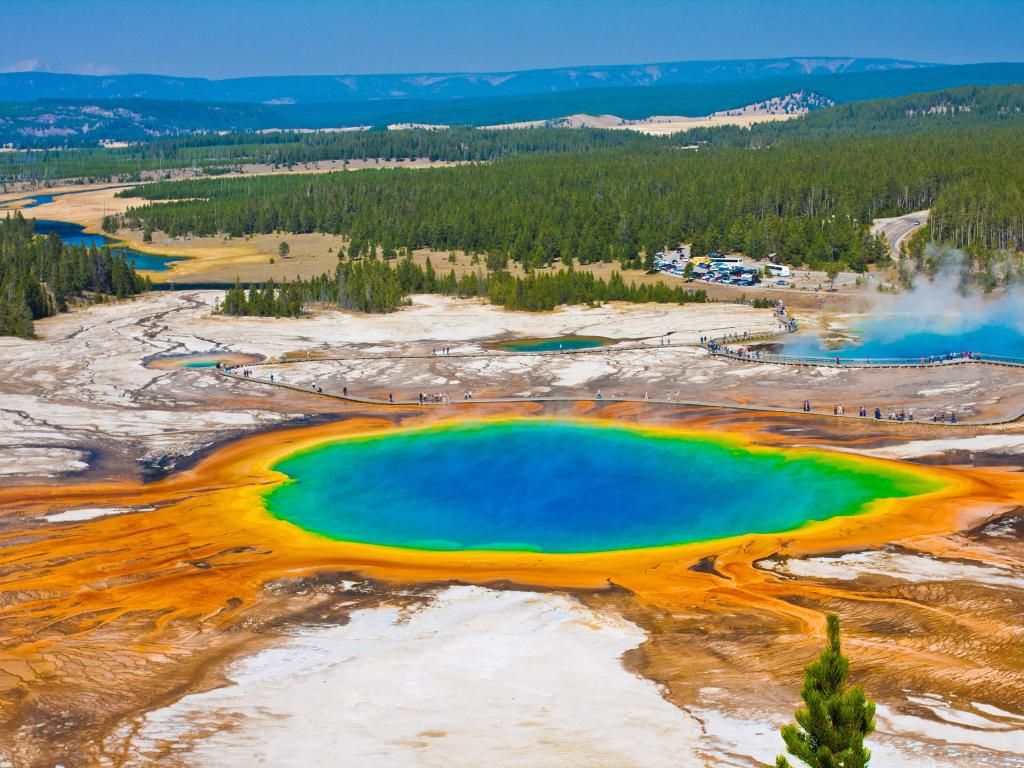 How to get there: Take I-15 North to ID-34 East and then pick up US-89 North in Etna, which will take you to Jackson. From Jackson, you'll see signs along US-191 North for Grand Teton National Park, so you could also add that to this trip if you wanted.
Otherwise, keep going on US-191 North and take US-20 East, which will take you straight to Yellowstone National Park.
Our highlights: Yellowstone is massive. Established in 1872, it is America's first national park and sprawls across three states – Wyoming, Montana, and Idaho – and has five separate entrances.
Old Faithful is perhaps Yellowstone's most iconic attraction, but there are also loads of other amazing geysers and thermal ponds to see in the parks' Upper Geyser Basin. Check the schedule before you visit so you'll get to see Old Faithful erupt.
You won't want to miss walking the trail to the Grand Prismatic Spring, which is the United States' largest hot spring and is swirled with a rainbow of brilliant colors thanks to the myriad of bacteria that live in the water. These vibrant colors are all Mother Nature's doing!
For another surreal experience, hang out with Elk and other wildlife next to the incredible landscape sculpted by the mineral deposits left by Mammoth Hot Springs.
If you want to feel the vastness of the valley, hike the Grand Canyon of Yellowstone and take in the magnificent and richly colored Yellowstone Falls.
On the way to Yellowstone from Salt Lake City, stop to soak in the ritzy, rustic vibe in Jackson, which is a mecca for skiers and outdoor enthusiasts. Don't miss taking a selfie under the massive arch made of antlers in Jackson's Town Square (bonus, your friends can watch you take it on the live web cam!).
If you're visiting in the fall or winter, visit the National Elk Refuge just north of Jackson, where the town's elk herd migrates for the winter. If you're going in summer, saddle up for the Jackson Hole Rodeo, which runs all summer long from Memorial to Labor Day.
Bonus: Iconic cartoon character Yogi Bear became the face of Yellowstone National Park after Yellowstone's Superintendent Garrison wrote the bear at his Hanna-Barbera studio, inviting him to think of the park as his second home given the obvious similarities to his fictional home of Jellystone National Park.
This led to Hanna-Barbera producing bear education materials for the park and cutouts of Yogi Bear greeting park visitors throughout the 1960s.
Our travel tips: Plan to spend several days at Yellowstone. There is easily 3-4 days' worth of things to see and do. Download the National Park Service app and follow its walking tours to learn about the park's unique geothermal and wildlife features.
For the best wildlife spotting, you'll want to set out early, just after sunrise. Don't be surprised by roadblocks due to passing bison or other wildlife.
Bring your own food because there is not much available for purchase inside the park. Dress in layers because the weather can change quickly.
READ MORE - Road Trip from Salt Lake City to Yellowstone National Park
14. Page, Arizona
7 hours 40 minutes from Salt Lake City (460 miles)
Why you should visit: Antelope and Water Holes' Canyons' almost intertwined rock faces are positively otherworldly, and Lake Powell's stunning scenery offers a premier boating experience.
Page is the perfect hub for visiting all the natural wonders that surround it. Fuel up at the plethora of Mexican restaurants in town to recharge after a day of exploring.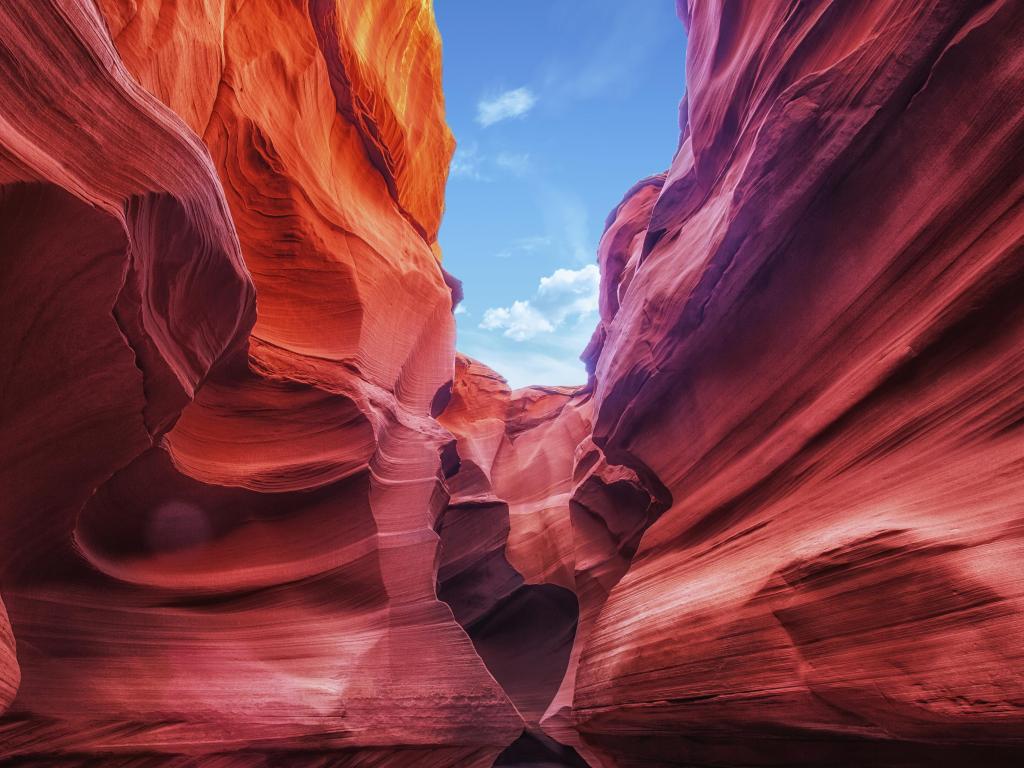 How to get there: Follow I-15 South past Provo before splitting off onto UT-20 East to US-89 South to reach Bryce Canyon. Leaving Bryce Canyon, go east on UT-12 to pick up US-89 South. Cross the border into Arizona and follow signs for the Vermilion Cliffs National Monument. From there, take US-89 North to reach Page.
Our highlights: The power of nature to shape and sculpt is on full display at Antelope Canyon, whose dramatic formations and soft, vibrant colors will amaze you as you walk through its narrow passageways, called "slot canyons".
Words simply cannot describe the spectacular scenery you'll find at Water Holes Canyon. The smooth rock faces here almost look like ribbons winding past each other and the experience of walking through them is incredible.
You'll continue to be amazed when you see Glen Canyon's Horseshoe Bend, aptly named for the shape the river has carved through the canyon.
Done with dry land and ready to hit the water? Boating, kayaking, or water skiing on the flat waters of Lake Powell and float through narrow channels and amazing rock formations will give you an amazing perspective of the surrounding Glen Canyon National Recreational Area.
While you're out on the water, go see some of the area's stand-out attractions: Horseshoe Bend, Rainbow Bridge, Padre Canyon, and Labyrinth Canyon.
On the way to Page, stop at Bryce Canyon National Park to experience dramatic pink and red sandstone rockfaces and creative hoodoo formations. If you haven't had enough of red rock scenery yet, make another pit stop to drive through the impressive red rock faces at Vermilion Cliffs National Monument.
Our travel tips: The Navajo people considered Antelope and Water Holes Canyons to be sacred, and they can only be accessed through guided tours conducted by Navajo-licensed tour operators.
To really soak in all that Lake Powell has to offer, stay on a houseboat for a few days. If you don't have access to a boat on Lake Powell, hike "The Chains" and take the turn for the Hanging Gardens trailhead east of the dam down to the water's edge where you can swim, snorkel, and fish and watch the boats go by.
Click here to skip back to the top.
Longer trips from Salt Lake City (over 8 hours each way)
If you're looking for a longer road trip from Salt Lake City, you're in luck! We've listed some amazing options for you below. These drives are over eight hours each way, so you'll want to take a week or more to really soak it all in.
15. Lake Tahoe
8 hours 10 minutes from Salt Lake City (550 miles)
Why you should visit: The brilliant blue water of Lake Tahoe contrasts perfectly with the lush green forests surrounding it and the area has some of the best boating and hiking opportunities in the country.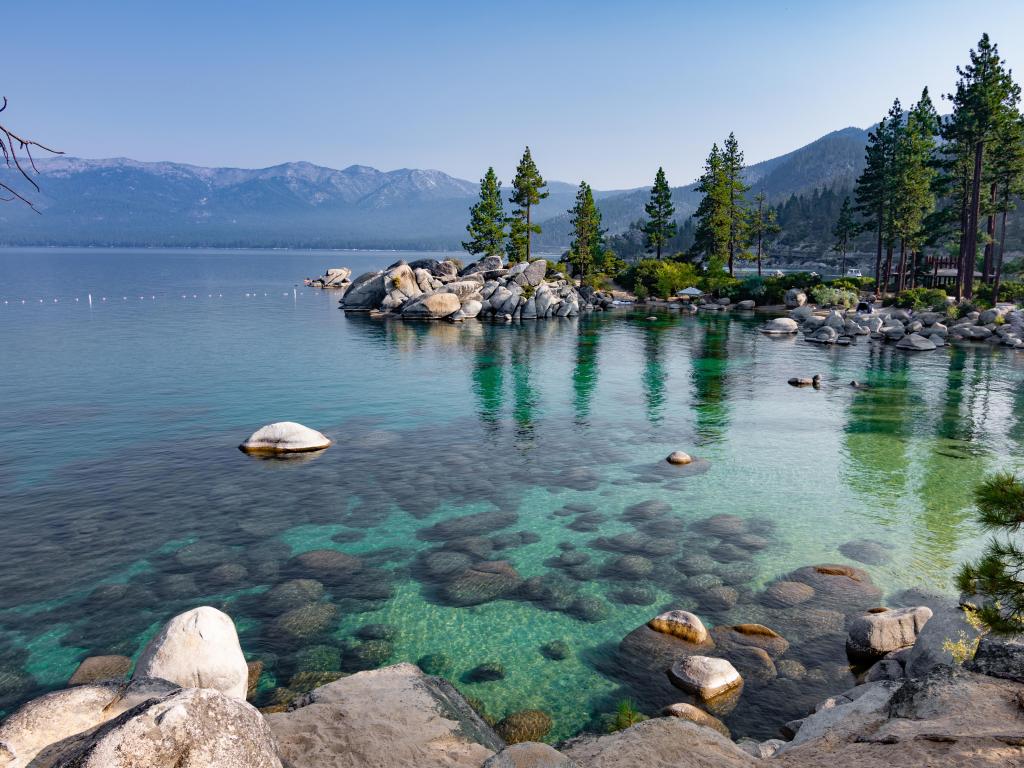 How to get there: I-80 East will take you through Bonneville Salt Flats and across Nevada to Lake Tahoe.
Our highlights: Lake Tahoe has a split personality. The California side has a plethora of family-friendly opportunities to commune with nature in pristine settings while the Nevada side doubles down on this and adds to it a definite Vegas vibe with its casinos and resorts.
Perched 6,225 feet above sea level, Lake Tahoe's crystal-clear waters are perfect for swimming, kayaking, canoeing, or boating. On the Nevada side, bask in the serenity of the blue waters at Sand Harbor and enjoy the wide sandy beach dotted with pine trees at Nevada Beach.
On the California side, head to Emerald Bay to take in spectacular lakeside vistas, hike the trail to the beach, or tour the Vikingsholm house – a striking example of Scandinavian architecture.
If you're on the California side during the winter, you'll get a super unique ski experience overlooking the waters of Lake Tahoe at Heavenly Mountain Resort.
All done with the great outdoors? Enjoy it from indoors and gamble with a lake view at Harvey's Casino on the Nevada side.
On your way to Lake Tahoe, check out the Bonneville Salt Flats, which is just a magical experience. The white salt covering them gives the impression of year-round snow, and the flat, expansive landscape makes it easy to see why the place is known for car racing.
Our travel tips: There are almost no food options going across the Bonneville Salt Flats to pack snacks and meals to avoid mutiny in your car.
Wash (or even scrub!) your car right away after visiting the Bonneville Salt Flats so the salt doesn't stick to, and then eat away at, the metal. Most rental companies won't allow you to drive their cars onto the Bonneville Salt Flats, so check your contract before doing so.
The water at Lake Tahoe can be chilly year-round so consider a wet suit if you plan to swim for an extended time. The lake can also be very rocky so bring water shoes.
16. Aspen and Breckenridge, Colorado
9 hours from Salt Lake City (550 miles)
Why you should visit: Aspen and Breckenridge are synonymous with luxury skiing, but there's pampering and adventure to be had here year-round.
Both towns have world class skiing, miles of scenic hiking trails, lively downtowns with excellent dining options, and expansive spa options to relax and recharge.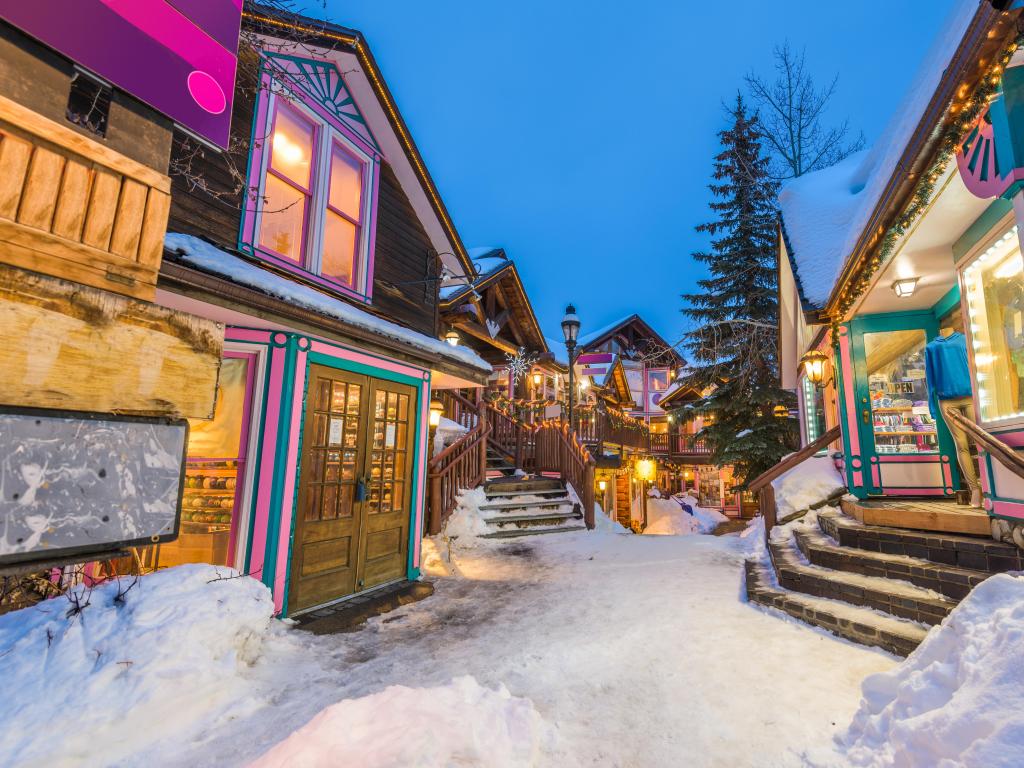 How to get there: Go south on I-15 past Provo and then follow US-6 East to I-70 East and on to CO-82 East into Aspen. Continue on I-70 East to CO-9 South into Breckenridge.
Our highlights: Nothing screams "ski" like Aspen! If you're looking to hit the slopes, try Aspen Mountain, Buttermilk Mountains, and the Aspen Highlands.
If you're visiting outside ski season, there is still a ton to do! Just outside Aspen, you can walk through incredible rock formations and cascades along Grottos Trail and hike through the wilderness to marvel at the Maroon Bells, the purple bell-shaped peaks in the Elk Mountains.
After Aspen, head over to explore Breckenridge's historic downtown and learn about its roots as a mining town. Want more amazing scenery? Take a drive on Boreas Pass Road from downtown Breckenridge through to the spectacular continental divide at Independence Pass.
Bonus: The "purple mountain majesties" lyrics in the famous song "America the Beautiful" refer to the purple hue of peaks like the Maroon Bells outside Aspen.
Our travel tips: Don't try driving Boreas Pass Road to the continental divide in the winter since winter weather makes the route dangerous.
17. Boulder, Colorado
8 hours 30 mins from Salt Lake City (540 miles)
Why you should visit: Boulder is an upscale mountain town nestled in the Rocky Mountains, whose vast wilderness offers tons to do in any season.
In Boulder, you can ski, hike, or bike in ridiculously impressive locations by day and hit Pearl Street downtown for shopping and amazing dining by night.
How to get there: Take I-15 South past Provo and onto US-6 East to Green River. Pick up I-70 East and wind your way past Arches National Park, McInnis Canyons National Conservation Area, and Glenwood Springs through the White River National Forest and across the Rocky Mountains.
Head north on CO-93 on the outskirts of Denver and follow CO-93 past Golden Gate State Park until you reach Boulder.
Our highlights: Sure, there's tons of outdoor fun to be had, but don't miss the Colorado-cool collection of shops along Pearl Street in downtown Boulder.
Ready to get back to nature? The Flatirons near downtown Boulder offer views of green fields peppered with dramatic pine tree-covered rugged rock formations.
If you're looking for a more challenging walk, try hiking the Royal Arch trail in the Chautauqua Park area near Boulder, which will take you through some amazing overhead rock formations.
Colorado is just teeming with ski options, and Boulder is no exception! Try skiing the 700 acres of powder at Eldora Mountain Resort, which is perfect for a day trip since it's just 40 minutes from Boulder.
Bonus: The rocks in the Flatirons are estimated to be almost 300 million years old!
Our travel tips: If you're a climber, bring your gear to scale the rock faces in the Flatirons.
Bring a headlamp if you're planning to exit Chautauqua at or after dusk – it gets quite dark when the sun sets, and you don't want to get stuck on the trails.
18. Denver, Colorado
10 hours 10 minutes from Salt Lake City (600 miles)
Why you should visit: Relaxed urban sophistication meets outdoor adventures in Denver. This city is a superb jumping off point for exploring Colorado's plethora of natural wonders, including world-class skiing, and offers plenty of cultural and entertainment options to satisfy the most discerning visitor.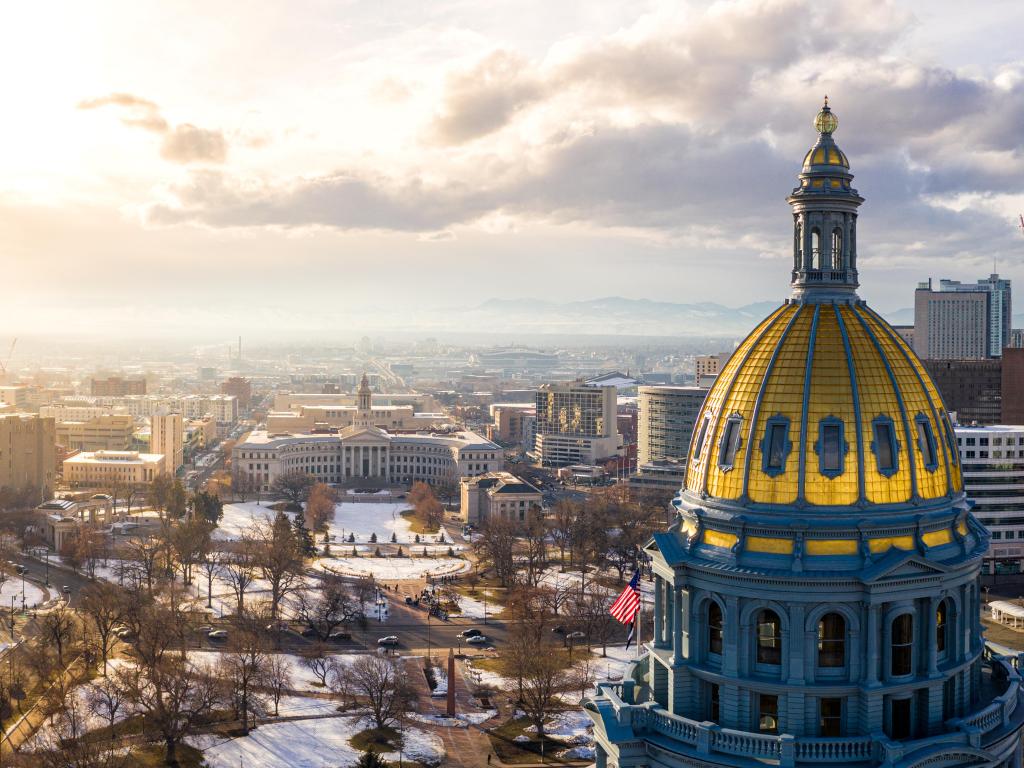 How to get there: Take I-15 North and pick up I-80 East, which will take you to Elk Mountain and then Fort Collins. From there, take US-34 West to Rocky Mountain National Park and then US-36 East past Boulder to Denver.
Our highlights: You'll love the architecture, fine dining, and shopping at Denver's historic Union Station.
Why not live like the locals and watch the Rockies play ball at Coors Field, one of the National League's first dedicated baseball stadiums? If music is more your thing, see a concert at Denver's iconic Red Rock's amphitheater.
If you're up for a day trip from Denver, drive up the switchback roads of Mount Evans, where you'll get rewarded with scenic vistas at every turn.
If it's winter, definitely do a little skiing on your way to Denver and stay at Snowbasin Resort, which is top rated by Ski Magazine, one of the oldest continually operating ski resorts in the country, and an easy 45-minute drive from Salt Lake City.
If you've got time, stay over at Fort Collins along the way to Denver and sample local brews at New Belgium Brewing and Odell Brewing Company in Fort Collins.
If you're not into the brew scene and want to soak in more nature instead, try a pit stop to experience exceptional scenery at Rocky Mountain National Park, which – with peaks over 14,000 feet - is one of the highest in the country.
Bonus: The first Chipotle opened in Denver in 1993 near the University of Denver's campus. Even though the original store was closed once, the company remodeled and reopened it, so you can enjoy a burrito (almost) at the very store it was born in!
Our travel tips: If you are visiting Rocky Mountain National Park, keep in mind that the national park uses a timed entry permit system. Please check the national park's website to see if you need to make a reservation before your visit.
Wear layers if you're driving up Mount Evans since it has been known to hail at the summit in July.
19. Mount Rushmore, South Dakota
9 hours 50 minutes from Salt Lake City (630 miles)
Why you should visit: The larger-than-life carvings of four of America's greatest Presidents high atop the mountain are one of a kind.
See the faces of George Washington, Thomas Jefferson, Theodore Roosevelt and Abraham Lincoln nestled in granite in South Dakota's Black Hills and learn about the history and development of the area.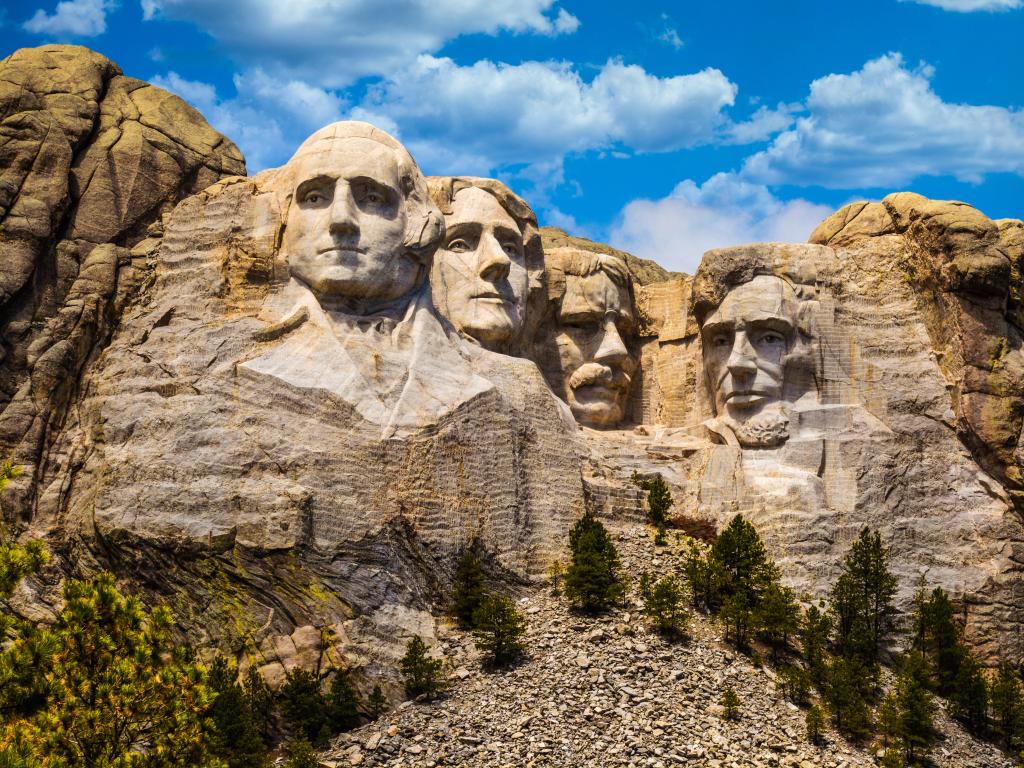 How to get there: Follow I-80 East out of Salt Lake City into Wyoming to Rawlings, where you'll pick up I-25 North and then WY-259 North and WY-387 East.
When you reach Wright, you'll head east on WY-450 before picking up US-16 East outside Newcastle. Cross the border into South Dakota and hop on US-385 East and then SD-244 East to reach Mount Rushmore.
Our highlights: The four were chosen to symbolize major developments in the first 150 years of the United States and each head is 60 feet tall. American sculptor John Gutzon Borglum spent 14 years carving the colossal statues, completing the work in 1941, the same year he died.
Walking the Presidential Trail is a great way to get different views of the mountain. For a completely different perspective, watch the statues light up during the night-time ceremony.
Much like Rome wasn't built in a day, it took many years – and many hands! – to sculpt these gigantic busts. The Lincoln Borglum Visitor Center has tons of information on how the statues were selected and carved that you won't want to miss.
Bonus: After he died, Borglum's son Lincoln finished the final details of the sculptures on Mount Rushmore.
Our travel tips: The Avenue of Flags – one from each state – approaching Mount Rushmore makes an excellent photo opportunity.
20. Albuquerque and Santa Fe, New Mexico
10 hours 50 minutes from Salt Lake City (660 miles)
Why you should visit: History and culture come to life in Albuquerque and Santa Fe and the surrounding rugged desert landscape offers plenty of opportunities for adventure.
Santa Fe and Albuquerque's art scenes, colonial charm, and top-notch cuisine set them apart from other cities in the region. Stop off at Bisti/De-Na-Zin Wilderness Area to appreciate the vastness of the desert landscape and the power of wind and water to shape rocks over millions of years.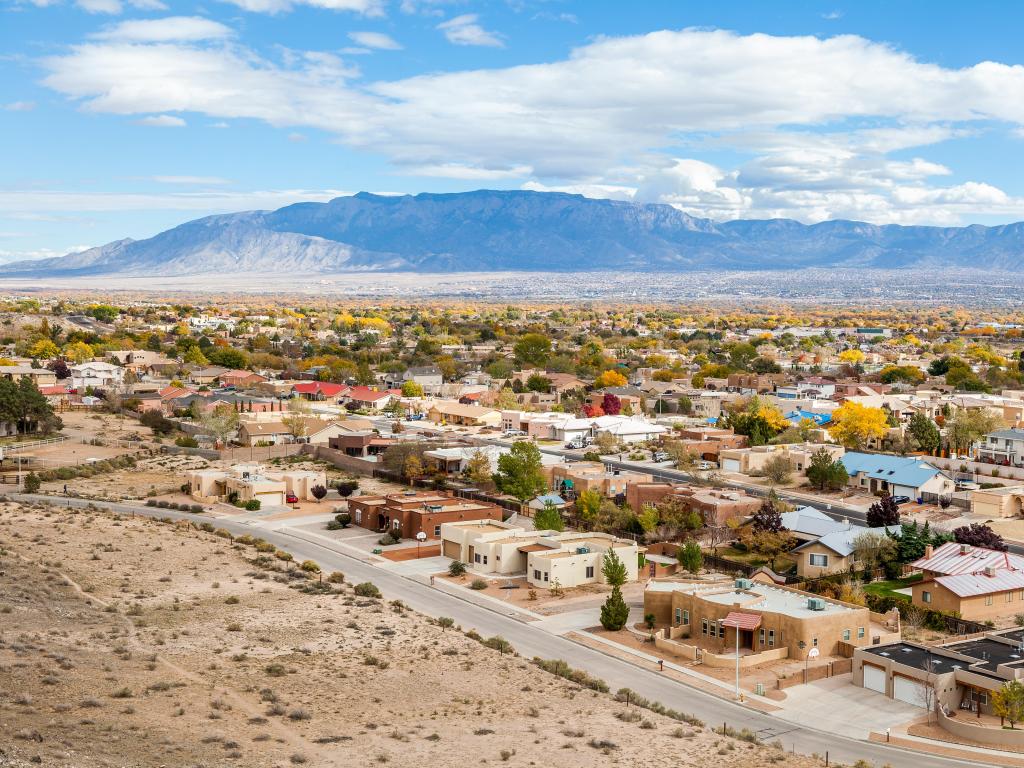 How to get there: Head south on I-15 past Provo and onto US-6 East and US-191 South past Arches National Park. Pick up US-491 South in Monticello cut across Colorado's southwest corner and into New Mexico.
Take US-64 East in Shiprock before hopping on US-550 South into Albuquerque. To reach Santa Fe, take I-25 North from Albuquerque straight into the city.
Our highlights: The Sandia Peak Aerial Tramway will give you a great aerial view of Albuquerque and its striking surroundings.
When it comes to clothing and art, there's a special Southwest flair that's unique to New Mexico and the boutiques and galleries in Albuquerque's Old Town will show you just what the region is known for.
The art style was influenced heavily by the people – past and present – who inhabited the area, and you can learn all about them at Albuquerque's Indian Pueblo Cultural Center.
While in Santa Fe, continue on your quest for art and style and admire folk art from around the world and get a taste for local designs at the Museum of International Folk Art in Santa Fe.
Renowned artist Georgia O'Keefe lived in Santa Fe and you can see how the desert landscape inspired her art at the Georgia O'Keefe Museum in Santa Fe, which includes a tour of her home and studio.
On your way to Albuquerque and Santa Fe, traverse the Bisti/De-Na-Zin Wilderness Area on horseback to admire its incredible, vertically stacked rock formations.
Bonus: Bill Gates started Microsoft in Albuquerque and the company was located in the city from 1975 to 1979.
Our travel tips: The Bisti/De-Na-Zin Wilderness Area is especially beautiful at dusk when the sky tales on pink and purple hues, making the formations look like something from outer space.
21. Phoenix, Arizona
11 hours from Salt Lake City (670 miles)
Why you should visit: Surrounded by sweeping desert landscapes, Phoenix's excellent dining and cultural attractions are a literal oasis in the desert.
Phoenix is a destination in and of itself but doubles as a great jumping-off point for tons of outdoor fun in the surrounding areas, including hiking, rock climbing, golf, and hot-air ballooning.
Stopovers at Flagstaff and Coconino National Forest along the way offer a taste of the breathtaking landscapes and cultural richness the region has to offer.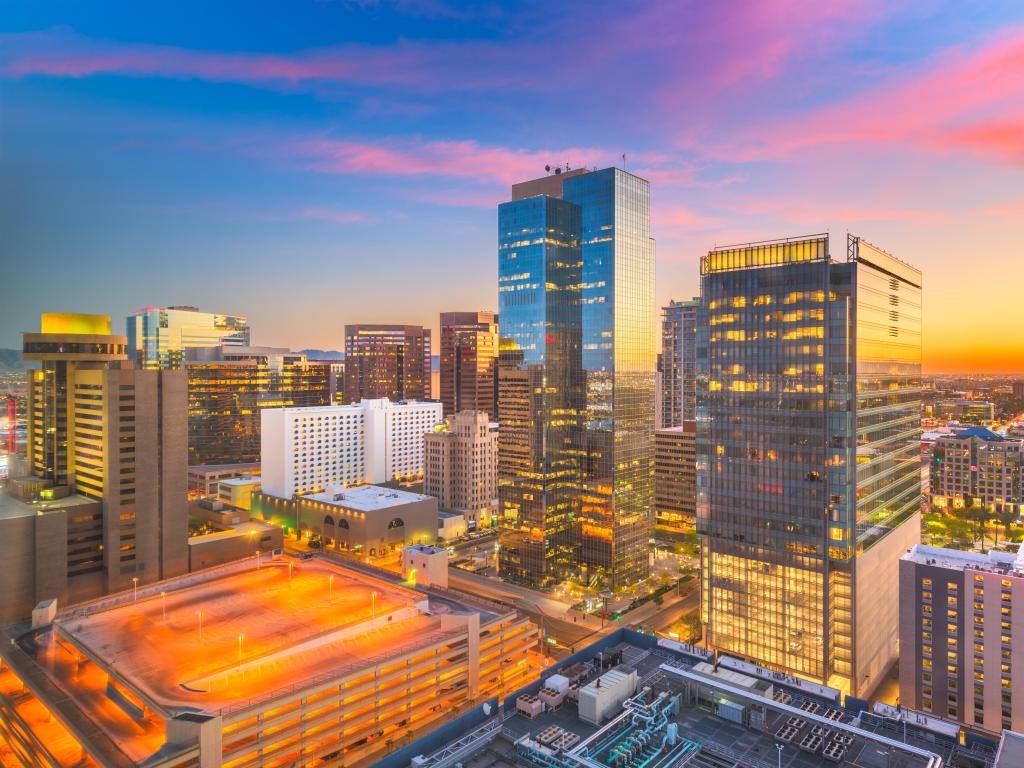 How to get there: Take I-15 South past Provo and pick up US-89 South to take you over the border with Arizona and then into Flagstaff. Leaving Flagstaff, I-17 South connects you to Forest Service Road 700, which takes you into Coconino National Forest. From there, take I-17 South to reach Phoenix.
Our highlights: Phoenix is renowned for its golf courses, and you can play on some of the highest-rated courses in the country here, including at the Astoria Biltmore and JW Marriott Desert Ridge Resort & Spa.
If you're into history and music, learn about Native American Tribes in the Southwest at the Heard Museum and listen to instruments from around the world at the Musical Instrument Museum
For a unique perspective on the city, hike and climb Camelback Mountain to peer out over Phoenix. Nature lovers will enjoy the vast array of colorful flowers and plants that live in the desert at Desert Botanical Garden.
On the way to Phoenix, stop off to explore Flagstaff's historic downtown, go back in time in the Pioneer Museum, and visit an ancient pueblo Wupatki National Monuments, which once housed members of two tribes.
If you've got time for another detour, see lush green forests contrasting with red rock formations in Coconino National Forest, which is just 30 minutes from downtown Flagstaff.
Bonus: The opening scene of Alfred Hitchcock's 1960 film Psycho was filmed in downtown Phoenix.
Our travel tips: Camelback Mountain can be quite a challenging hike, so do some research before you set out.
22. Las Vegas, Nevada
10 hours 50 minutes from Salt Lake City (570 miles)
Why you should visit: Known world-wide for its casinos and world-class shows, Las Vegas is sure to impress visitors of all ages.
Where else can you mingle with high rollers, play the slots, relax at the spa, party at the pool, take a selfie with Elvis, immerse yourself in fine dining options, and take in a Broadway-style show, musical act, or comedy show all in one day?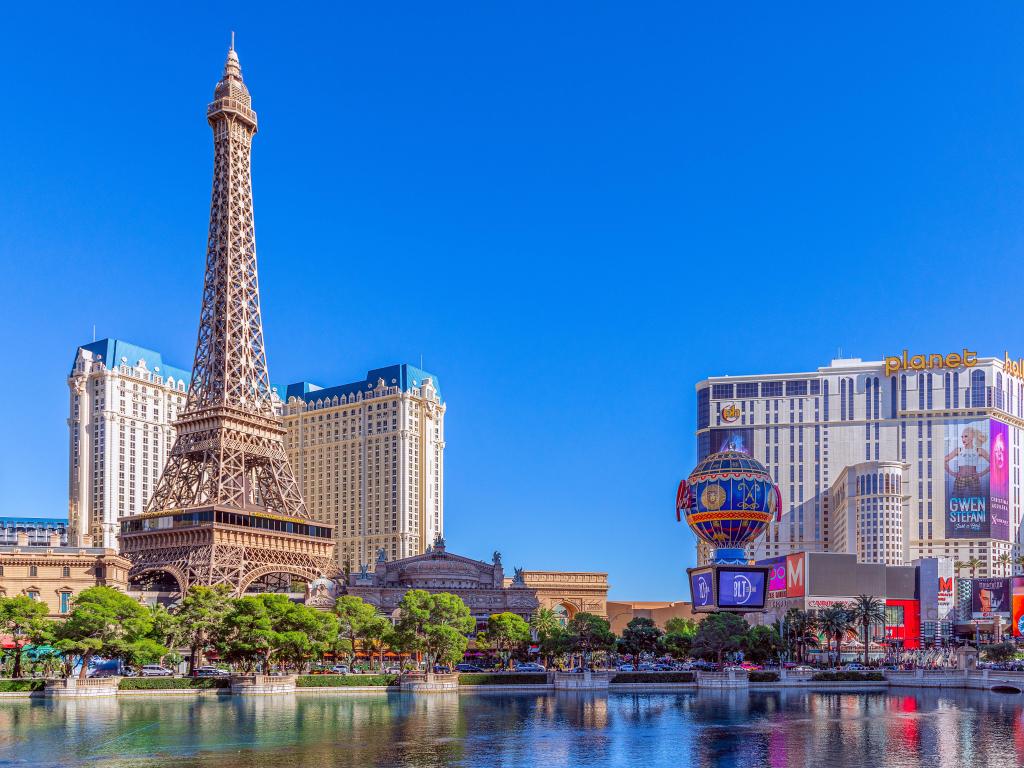 How to get there: Head south on I-15 to 50 West and then head towards Dixie National Forest. Take I-12 West out of Dixie National Forest past Capitol Reef (which is also an excellent stop - see our recommendations above) and on to Escalante.
Get back on I-12 West past Bryce Canyon National Park and then take US-89 West and follow the signs for Zion National Park. Leaving Zion, continue on I-9 West to I-15 South. You'll know you're entering Las Vegas when you see the lights and iconic buildings appear along the otherwise flat and deserted desert landscape.
Our highlights: You'll be amazed at how giant and imaginative the buildings on the Strip really are. Walking the Strip is truly an activity in itself with all the people watching you can do here! While you're wandering around, stop to watch the water dance to music at the fountains of the renowned Bellagio Hotel.
Now that you've seen it from the ground, go gaze out over the lights of Las Vegas from the viewing deck of the half-size copy of the Eiffel Tower at Paris Las Vegas.
It's not cheap, but if you're looking for a memorable day trip, take a helicopter tour of the Grand Canyon from Las Vegas. You can be there and back in half a day and experience unparalleled aerial views of the natural wonder.
On the way to Las Vegas, immerse yourself in astounding red rock formations with a stop-off at Dixie National Forest, wiggle through Spooky Gulch and Zebra Slot Canyon in Escalante, and get your fill of canyons, rivers, and waterfalls at Zion National Park.
Bonus: Las Vegas is the fifth most popular vacation destination in the world and its airport is the eighth busiest in the world!
Our travel tips: Sort of like a desert mirage, hotels and casinos on the strip are deceptively far apart so check walking times on Google Maps before you set out. To easily hop from casino to casino, get a pass for the Monorail, which runs from Sahara Las Vegas to the MGM Grand.
Temperatures drop in the desert at night so bring a jacket or sweater.
23. Seattle and Tacoma, Washington
13 hours 10 minutes from Salt Lake City (880 miles)
Why you should visit: Seattle and Tacoma share twin passions for innovation, culture, and outdoor fun. Known for its coffee culture and as the birthplace of Starbucks, Seattle is also a big tech hub and is home to Amazon and Microsoft.
World-renowned for its glass art, Tacoma has tons of artsy flair and opportunities for outdoor fun, all without leaving the city.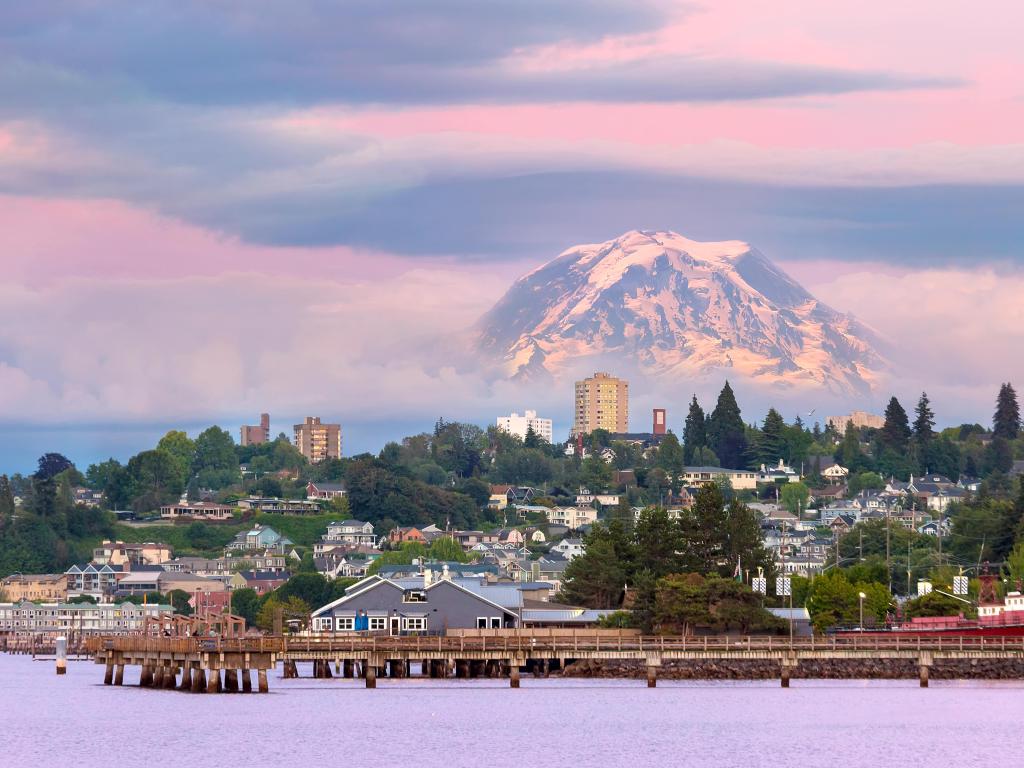 How to get there: Drive north on I-15 and take I-84 West into and across Idaho. Cross into Oregon and continue on the interstate until you pick up I-82 West and continue into Tacoma on I-90. From Tacoma, head north on I-5 straight into Seattle.
Our highlights:A road trip from Salt Lake City to Seattle and Tacoma will take you through amazing cultural attractions. When you're in a city known for its glass art, you can't pass up a visit to the Museum of Glass, which demonstrates how glass is blown and crafted.
Tacoma also has loads of outdoor activities, including walking woodland and waterfront trails and visiting the zoo and aquarium at Tacoma's Point Defiance Park, which offers excellent views of Mount Rainer.
In Seattle, visit Pike Place Market, the oldest continuously operating farmers market in the country. If you're a music lover, you will want to see how music and culture have morphed – and look for Seattle's influence - at the Museum of Pop Culture.
Just five miles northwest of downtown Seattle, you can peek out at the Olympic Mountains across the Puget Sound, walk the beach and dunes, and hike forests and meadows at Discovery Park.
Bonus: The gum wall in Post Alley behind Pike Place Market has thousands of pieces of gum stuck there by people waiting to get into shows and tourists alike since 1990. Ew! But strangely cool?
Our travel tips: Layer up and bring rain gear since drizzle and light rain can be quite common in both cities. Most people don't use umbrellas so blend in by bringing a raincoat.
READ MORE - Road Trip from Salt Lake City to Seattle
24. Portland, Oregon and Boise, Idaho
13 hours 20 minutes from Salt Lake City (830 miles)
Why you should visit: Portland is weird. And it wants to stay that way! This funky city on the border with Canada is home to bike-loving nature enthusiasts that really appreciate good coffee, wine, microbrews, and food and hosts a vibrant art and music scene.
With their focus on nature and culture, Boise and Bend are the perfect warm-ups for your arrival in Portland.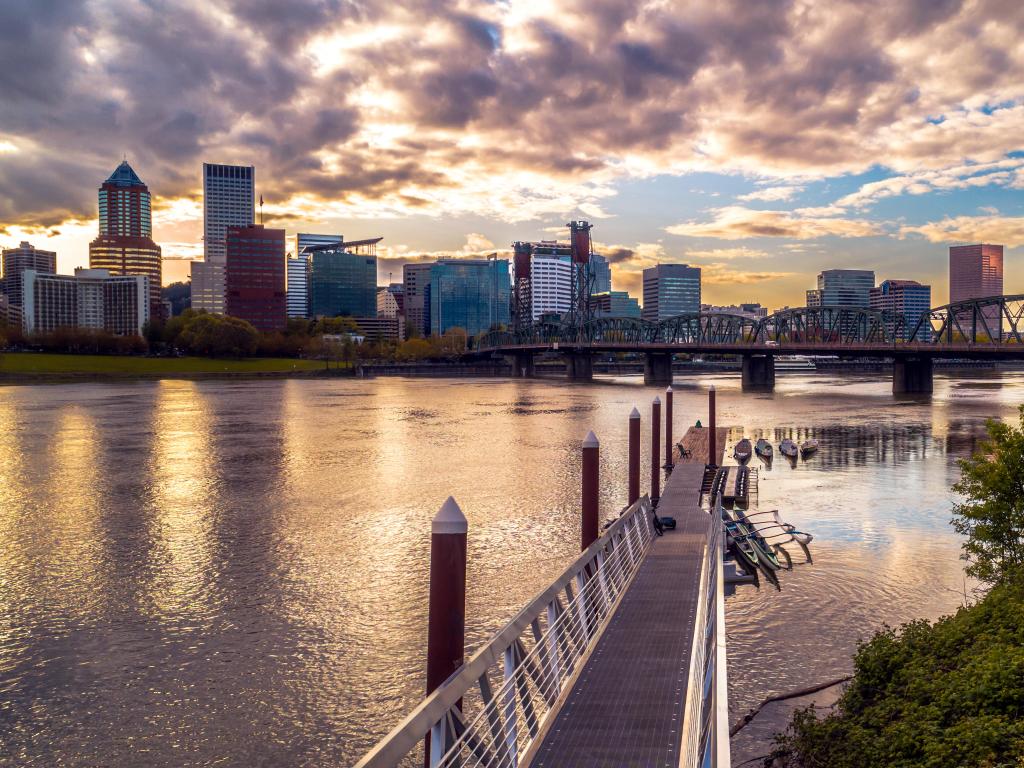 How to get there: Head north on I-15 to I-84 North and cross the border into Idaho, driving across Curlew National Grassland and slithering past the Snake River to reach Boise. From Boise, cross into Oregon as you wind around Ontario.
Keep following I-20 West across the mountains until you get to Bend. Get back on 20 West and follow it through Santiam State Forest and on to 5 North, which will take you straight into Portland.
Our highlights: If you love donuts, try Portland's famed Voodoo Doughnuts, which specializes in unique flavor combinations like the bacon maple bar, which has been named America's Greatest Donut. And what goes better with donuts than coffee? Get into the city's coffee culture with a visit to Stumptown Coffee Roasters.
Don't worry, you can burn of those donut calories hiking the 70 miles of trails in Forest Park, America's largest urban park, wandering 410 acres of gardens in Washington Park, which includes the International Rose Test Garden and a serene Japanese Garden.
For a more adventurous exploration outdoors, head to Mount Hood National Forest to glimpse the volcanic mountain for which the forest is named.
If you're into wine, go wine tasting in the Willamette Valley and sample the region's famous Pinot Noir. It's big and bold but light and perfect for sipping while looking out over Oregon's beautiful landscape.
Feeling like exploring further? Cross the border into Canada to take a day trip to Vancouver, replete with city forests, cobblestone streets, an amazing theatre and music scene, and world-class food.
On the way to Portland, learn about Idaho's history and outdoor offerings in Boise, which is nestled amidst the Rocky Mountains, and sample award-winning cuisine and local beers after hiking, biking, and fishing in Bend.
Bonus: Portland's name was chosen with a coin toss. If the coin had flipped the other way, it would have been called Boston.
Our travel tips: If you drive into Vancouver, remember to bring your passport to enter Canada and re-enter the United States.
For a hyperlocal experience in Portland, check out the summer-long celebration of Portland's love of biking, which includes the World Naked Bike Ride. Yes, that's right, naked bikers roaming the city. Hard to imagine that happening anywhere else!
25. San Francisco, California
13 hours 30 minutes from Salt Lake City (790 miles)
Why you should visit: San Francisco is packed with activities, amazing food at every price point, and incredible views. Along the way, Yosemite is the perfect spot to soak in California's nature-loving vibe and appreciate the richness of California's landscape.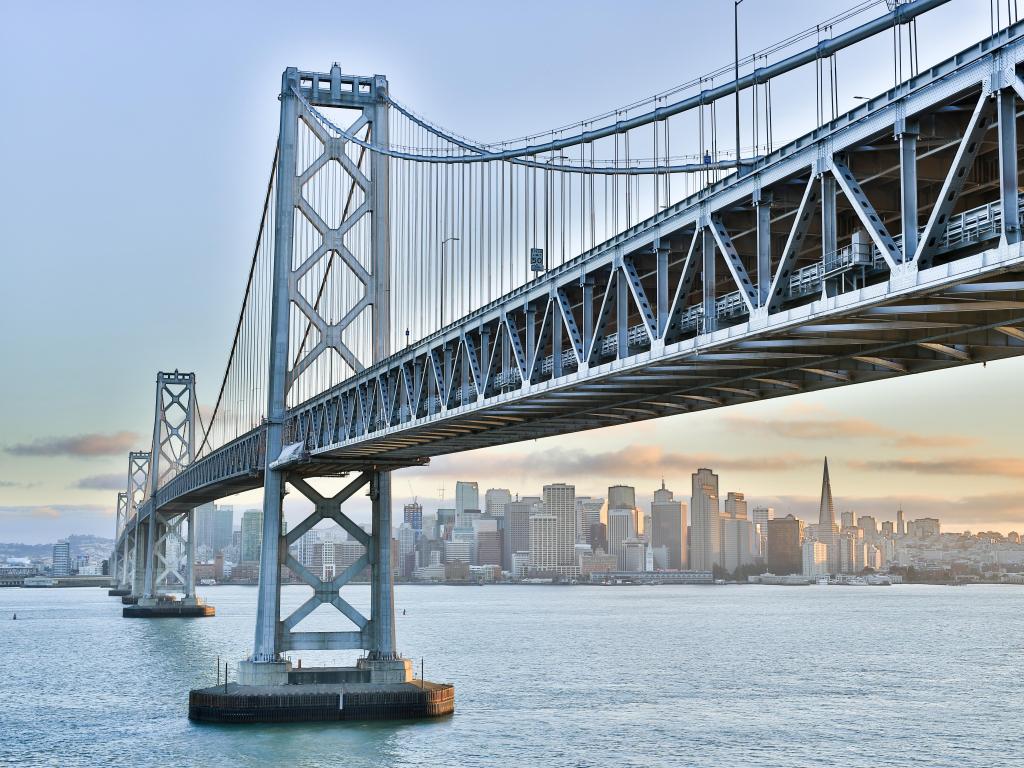 How to get there: Follow I-80 West out of Salt Lake City to the border with Nevada and follow the highways to drive across into California. Get on US-395 North and follow signs for Yosemite National Park.
Leaving the park, take CA-120 West through Manteca and continue into Oakland and then take I-80 West across the bay into San Francisco.
Our highlights: San Francisco is a city you should taste as well as see. Foodies will be in heaven in the Mission District, which is perhaps most famed for its Mission-style burritos but is absolutely crawling with dining options.
For pockets of upscale dining, check out Nob Hill, which is also home to Lombard Street, a San Francisco icon known as "the World's Crookedest Street." This hilly neighborhood is known for its cable cars, which diligently climb the city's steep inclines.
While you're in Nob Hill, learn more about 'Frisco's famed mode of transport at the San Francisco Cable Car Museum. From Nob Hill, head over to Fisherman's Wharf to sample sourdough bread bowls and Ghirardelli chocolates while taking in street performers and frolicking sea lions along the pier.
Walk of those fabulous eats with a stroll through Golden Gate Park, which is an oasis of green in the middle of the city. Where else can you paddleboat around a lake and visit a Japanese Tea Garden, all while seeing peacocks and bison wandering around?
Whether you're traveling with kids or not, set aside an afternoon to explore the six indoor and outdoor galleries at the interactive Exploratorium, which connects science, art, and human perception for visitors of all ages.
No trip to San Francisco would be complete without thanking your lucky stars you never got sentenced to time on "the Rock." Take a ferry out to the island-bound former prison at Alcatraz to learn about its riveting history and famous inmates on a tour with National Park Ranger.
On the way to San Francisco from Salt Lake City, snap pics of Yosemite's infamous Half Dome and El Capitan peaks as you hike around Yosemite Valley and get dwarfed by nature in the Mariposa Grove of Giant Sequoias.
Bonus: San Francisco's Golden Gate Park (1017 acres) is even bigger than New York's Central Park (778 acres)... by 20%!
Our travel tips: Many of Yosemite's most popular hikes require a permit so plan ahead.
READ MORE - Road Trip from Salt Lake City to San Francisco
26. Los Angeles, California
14 hours 30 minutes from Salt Lake City (840 miles)
Why you should visit: With a beautiful coastline, amazing weather, and palm trees for days, it's easy to see why people flock to Los Angeles. Opportunities for fun in the sun are endless and the dining options are incredible.
Prime yourself for the City of Angels with relaxing, nature-filled jaunts in Dixie National Forest and Zion National Park and a fun-filled visit to the veritable playground that is in Las Vegas.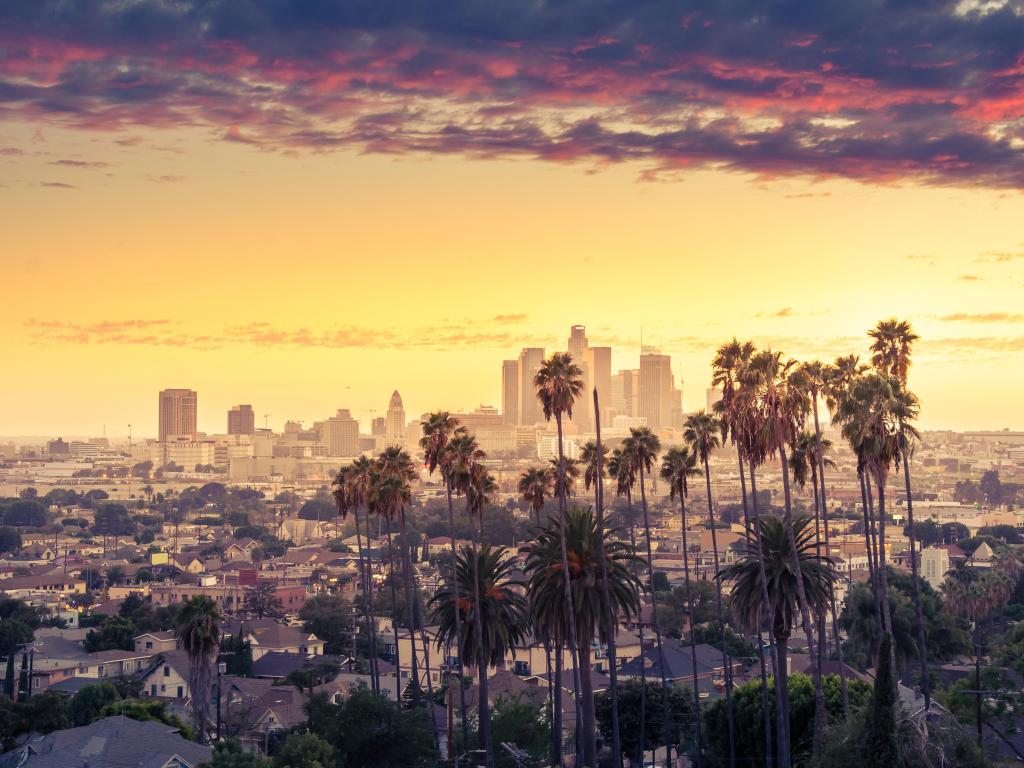 How to get there: Head south on I-15 and head towards Dixie National Forest. After your visit, drive past Bryce Canyon National Park and then take US-89 West to UT-9 West until you see signs for Zion National Park.
Follow the interstate across into California and past the Mojave Desert to pick up US-210 West in San Bernadino. Get on US-605 South and connect to I-10 West, which will take you straight into Was Vegas.
Our highlights: Enjoy people-watching at the always eclectic palm tree-lined Venice Boardwalk. Do as the locals and eat amazing food and get your thrills on the rides at the Santa Monica Pier, all while enjoying amazing views of the bay and mountains.
Once you've seen the other side of Los Angeles, give in to your inner fan girl/guy and visit the famous stars and handprints of the Hollywood Walk of Fame outside the iconic TCL Chinese Theater (formerly Grauman's Chinese Theatre).
Get a selfie with the Hollywood sign, which has been a landmark since it went up in 1923 to attract buyers for a new development. Go ahead and meet somebody rich and famous as you window shop on Rodeo Drive.
Set aside a day for Universal Studios Hollywood, where you can actually peek behind the scenes at real production sites and also hit some world-class thrill rides. If you've got time, make time for the Magic Kingdom and take a day trip to Disneyland.
On the way to Los Angeles, get your nature fix by hiking through canyons and admiring the red rock scenery at Zion National Park and Dixie National Forest. If you've got time, hit the Strip in Las Vegas for unparalleled entertainment, dining, and casinos.
Bonus: When the Hollywood sign was first put up, it read "Hollywoodland," which was the name of the housing development it was there to advertise. The sign fell into disrepair and by the 1930s, the H had fallen off entirely.
It was restored to its current glory in the late 1940s when the Hollywood Chamber of Commerce decided it was a city icon and removed the "land" letters from the sign and replaced the H.
Our travel tips: Buy your tickets for Universal Studios Hollywood in advance online. California residents get a discount.
Be sure to check the weather for your trip. It's not always sunny as you might think. Winters are rainy and the marine layer blocks the sun for most of June, producing what locals call "June gloom."
Best road trips from Salt Lake City: a quick overview
An overview of the best road trips from Salt Lake City
Trip type
Time from Salt Lake City
Our favorite road trips
Single day trips

Under 3 hours each way

1. Park City and Deer Valley Resort, UT

2. Antelope Island State Park, UT

3. Provo, UT and Utah Lake

4. Vernal, UT

Weekend trips
3-5 hours each way

5. Capitol Reef National Park, UT

6. Goblin Valley State Park, UT

7. Moab, UT

8. Zion National Park, UT

Long-weekend trips
5-8 hours each way

9. Ketchum & Sun Valley, ID

10. Idaho Falls, ID

11. Glenwood Springs, CO

12. Grand Canyon National Park, AZ

13. Yellowstone National Park

14. Page, AZ

Longer trips
8+ hours each way

15. Lake Tahoe

16. Aspen and Breckenridge, CO

17. Boulder, CO

18. Denver, CO

19. Mount Rushmore, SD

20. Albuquerque and Santa Fe, NM

21. Phoenix, AZ

22. Las Vegas, NV

23. Seattle and Tacoma, WA

24. Portland and Boise, OR

25. San Francisco, CA

26. Los Angeles, CA