Road trip from Salt Lake City to Denver
Denver is an outdoor lover's paradise, surrounded by stunning Rocky Mountains, state parks and national forests. So, if you have been hearing the mountains calling your name, and want an adventure that combines hip urban culture with staying active, the road trip from Salt Lake City to Denver is the perfect journey.
The 610-mile road trip from Salt Lake City to Denver will take 9 hours and 40 minutes to cover. On the way, you can visit Moab, Breckenridge, Vail, Vernal, Dinosaur, Steamboat Springs, as well as Arches, Canyonlands and Rocky Mountain National Parks.
This amazing drive from Salt Lake City to Denver will take you through the best of the Rocky Mountains. Read on below to learn more about our exciting routes, top highlights, best places to stop, and the best seasons to make the drive.
How far is Denver from Salt Lake City, and how long will the road trip take?
Comparison of road trip routes between Salt Lake City and Denver

| Route | Distance | Driving Time |
| --- | --- | --- |
| Rocky Mountain National Park Route | 590 miles | 11 hours and 15 minutes |
| Moab Route | 610 miles | 9 hours and 40 minutes |
The Moab Route from Salt Lake City to Denver winds through a variety of landscapes, covering 610 miles and taking approximately 9 hours and 40 minutes of drive time.
Alternatively, the Rocky Mountain National Park Route, though not significantly different in length at 590 miles, takes longer due to following smaller roads, about 11 hours and 15 minutes.
While both routes can be completed a couple of days, they are so rich in scenic beauty and attractions that we recommend taking 4-5 days for the journey.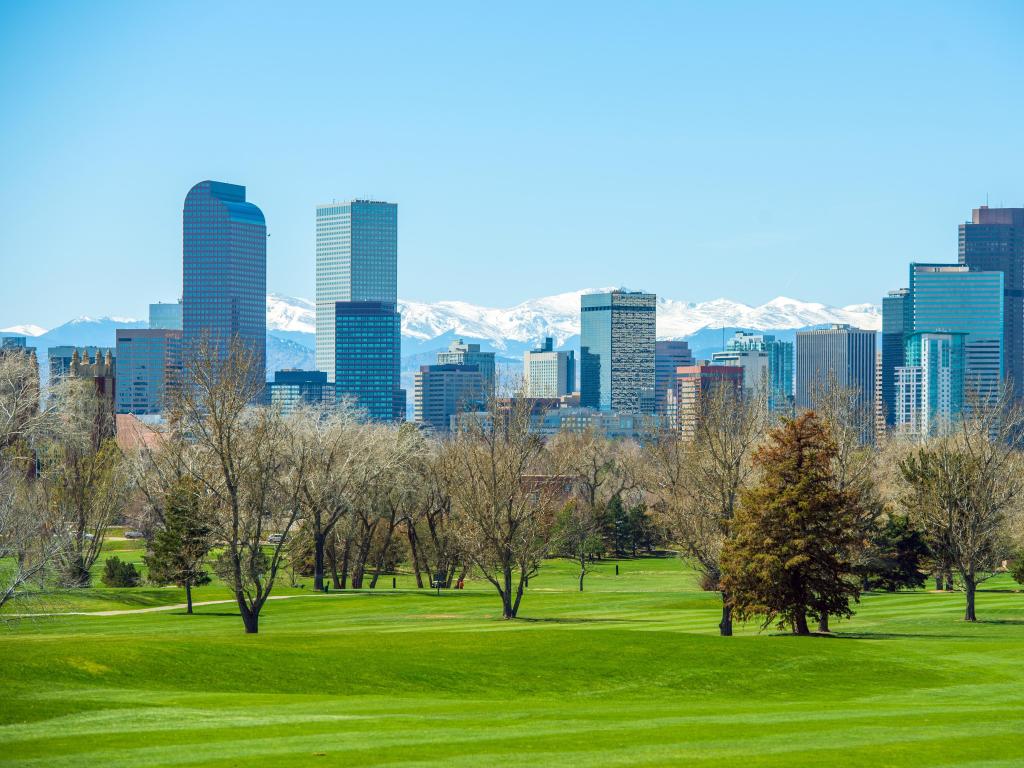 Best road trip route from Salt Lake City to Denver
While both the Moab Route and the Rocky Mountain National Park Route from Salt Lake City to Denver offer breathtaking natural scenery, each journey is distinctly different.
The Moab Route is a dream if you're looking for desert landscapes and surreal canyons. Along this route, you'll have the opportunity to explore the stunning Arches and Canyonlands National Parks.
The route gives you a chance to visit the world's largest hot springs pool at Glenwood Springs. It's also perfect for outdoor adventures with access to renowned ski resorts like Breckenridge and Vail.
On the other hand, if you're captivated by towering mountain ranges and diverse climates, the Rocky Mountain National Park Route is your go-to. This journey takes you through the inspiring Rockies and quirky attractions in Vernal and Dinosaur National Monument.
The route also leads to the stunning Rocky Mountain National Park. Keep in mind that, if you'd like to visit Rocky Mountain National Park, you might need to make a reservation ahead of your visit. So, please check before you visit to avoid any disappointment.
Additionally, Estes Park offers amazing skiing opportunities, making this route a paradise for skiers and winter sports enthusiasts.
How to drive from Salt Lake City to Denver
The map above shows our suggestions for the best road trip routes between Salt Lake City and Denver. Keep reading for detailed descriptions of both routes, where to stay on either, and the best things to do on the way.
Moab Route
Starting in Salt Lake City, take Interstate 15 (I-15) south, past Utah Lake to Provo. From here, merge onto US-6 south to Green River, keeping the sights of Spanish Fork Peak and Strawberry Peak to your left.
After Green River, merge onto I-70, and just before you reach Thompson Springs, take a dip south to reach Moab. Here you can visit the beautiful Arches and Canyonlands National Parks before continuing en route.
Drive east on I-70 into Colorado and through the towering Rocky Mountains. From here, continue on route and take a slight detour to Breckenridge.
When you are done with your exploration in Breckenridge, hop back on the interstate and head east to reach Denver past Lakewood.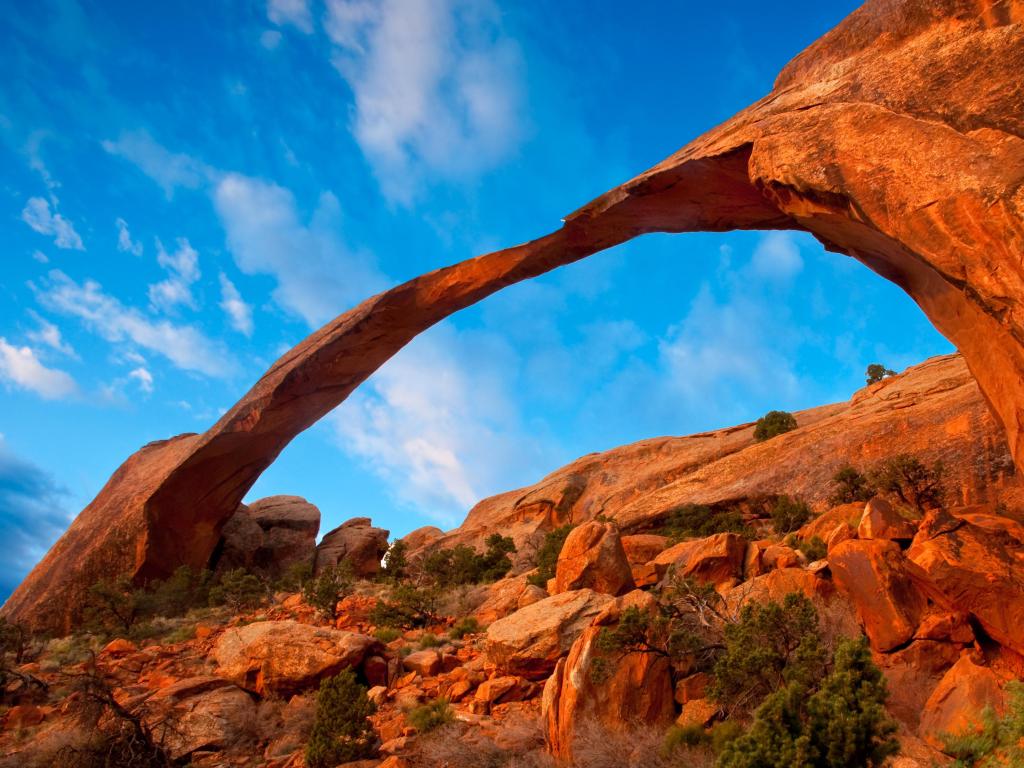 Rocky Mountain National Park Route
From Salt Lake City, take I-80 east. Merge onto US-189 south and drive past Park City. Continue on southeast and merge onto US-40. Drive east through the rugged mountains and open spaces to the town of Vernal.
From here, head to the town of Dinosaur in Colorado. Take a slight detour north to experience Dinosaur National Monument.
After your visit, keep heading east and drive through Steamboat Springs, where you can take a break. Once your visit is done, drive past Walden and Arapaho & Roosevelt National Forests to reach Estes Park.
Your next stop will be Rocky Mountain National Park before reaching Boulder and then eventually your destination in Denver.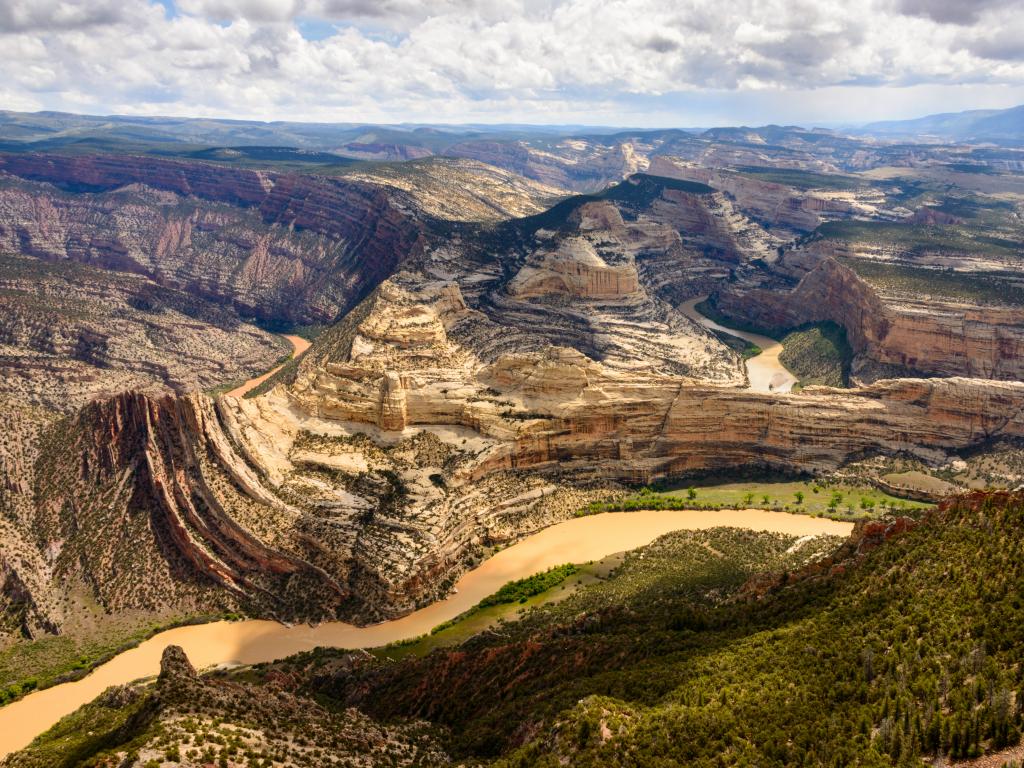 Best places to stop between Salt Lake City and Denver
There are an almost infinite amount of wonderful views, hikes, and historic landmarks to check out on the way. We highly recommend staying at one of the incredible destinations below so you can get the most out of this wonderful journey.
Admire the national parks near Moab
Moab, located approximately 3 hours and 40 minutes into the Moab Route, is a great choice for an overnight stop. This town will be the perfect base for exploring the nearby natural wonders. Its convenient location makes it the perfect spot to pause and immerse yourself in the scenic beauty of the area.
Here, the majestic landscapes of Arches National Park, known for its natural sandstone arches, and Canyonlands National Park, with its dramatic desert vistas, await exploration.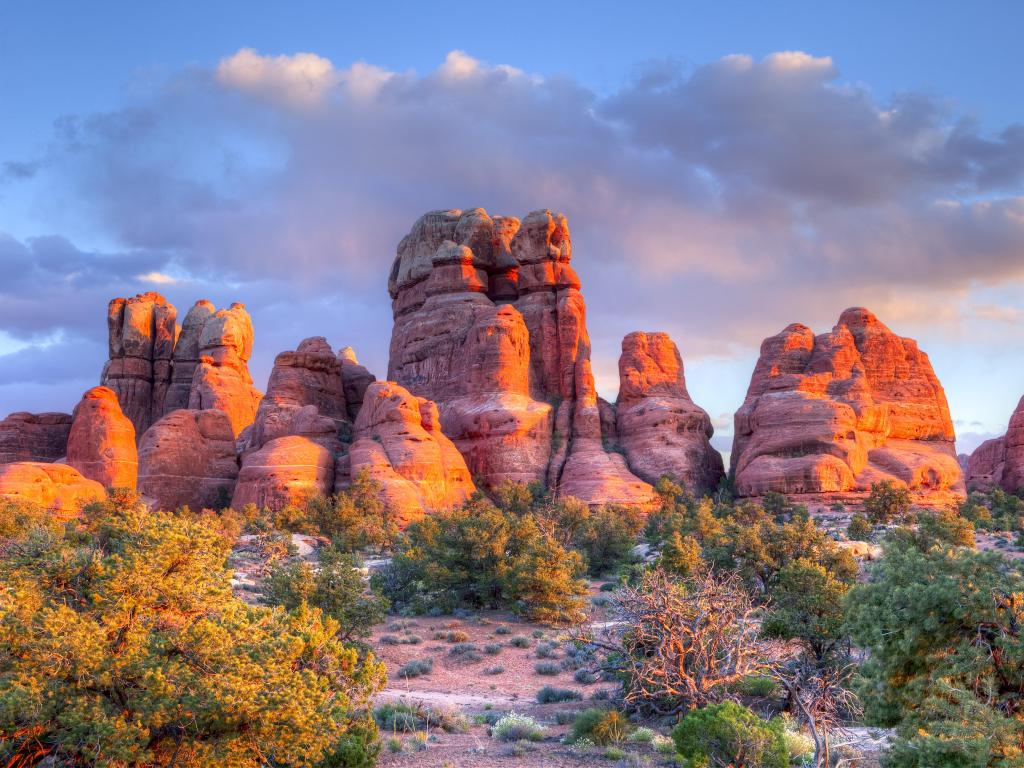 The town itself is buzzing with activity. The downtown area of Moab is a vibrant hub with a variety of shops, restaurants, galleries, and boutiques. It's a great place to experience the local culture, find unique souvenirs, and enjoy a range of dining options.
For your stay in Moab, we recommend the Gravity Haus Moab. This hotel is a haven for nature lovers, featuring an outdoor swimming pool perfect for unwinding after a day of hiking.
Each room comes equipped with a cooler, ideal for taking on your treks, and the onsite GearHead shop ensures you're well-prepared for any adventures.
The hotel also boasts stunning views of the red rocks, while still being within walking distance to a variety of restaurants and shops. There's an outdoor swimming pool and popular restaurant on site as well.
Located just a 15-minute drive from Gravity Haus Moab is the awe-inspiring Arches National Park. Additionally, a 15-minute walk will take you to the Moab Museum, where you can explore the rich cultural and natural history of the area.
A relaxing soak in Steamboat Springs
Steamboat Springs, situated approximately 5 hours and 40 minutes into the Rocky Mountain National Park Route, is an ideal stopover location.
Known as Ski Town, USA, this destination offers a wealth of activities throughout the year, from soaking in hot springs to exploring the nearby trails and nature hikes. Its convenient halfway point location makes it a perfect place to recharge and enjoy the outdoors.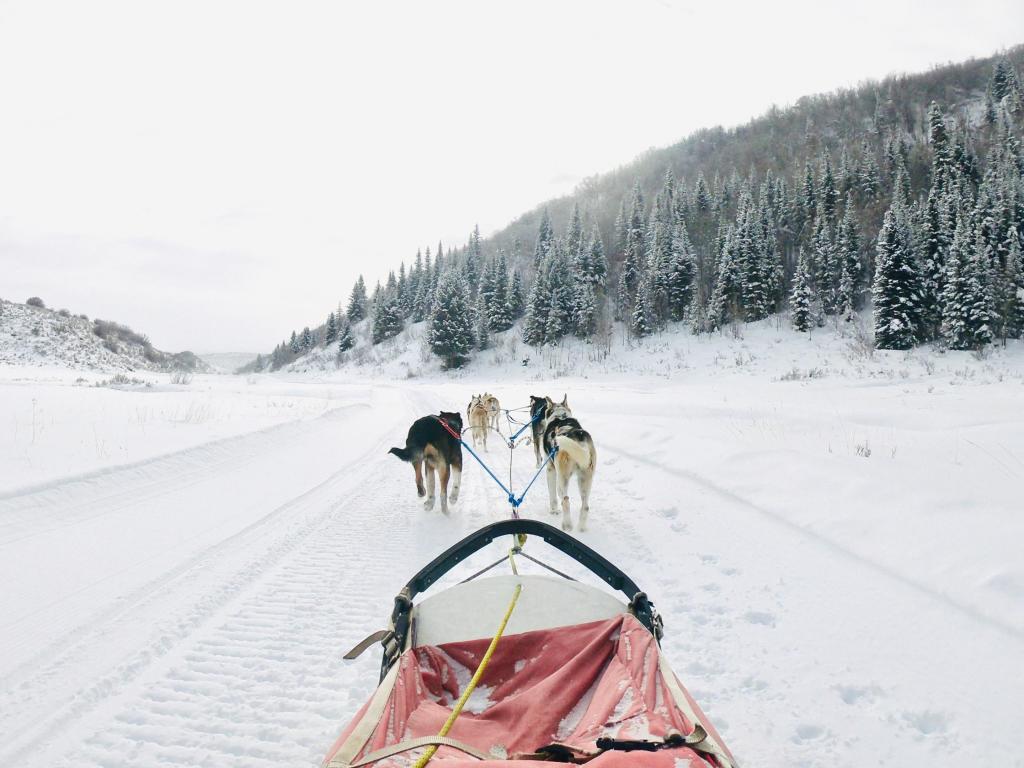 Steamboat Springs is not only a premier ski resort and recreational hub but is also surrounded by stunning landscapes. We highly recommend marveling at the natural beauty of Fish Creek Falls after unwinding at the Strawberry Park Hot Springs.
A quirky aspect of Steamboat Springs is its name, derived from a local spring that emits a chugging sound similar to a classic steamboat.
For your stay, we suggest the modern Residence Inn by Marriott Steamboat Springs. This hotel offers outdoor pools, a hot tub, and a firepit, ensuring relaxation at any time. Moreover, its creekside location provides easy access to all downtown amenities, like restaurants, shops, and bars.
Nearby attractions include the Yampa River Botanic Park, just a 15-minute walk away. Additionally, a short 5-minute drive will take you to The Tread of Pioneers Museum, where you can delve into the local history and culture.
Just make sure to take advantage of the delicious breakfast on offer at the hotel before you set off on the day's adventures!
Where to stay when you reach Denver
Denver, also known as The Mile High City, uniquely blends art, culture, music, sports, and outdoor adventure, all set against a backdrop of stunning natural beauty.
If you love sports, Coors Field offers an exciting baseball experience, while Mount Evans provides breathtaking views and outdoor activities for nature lovers.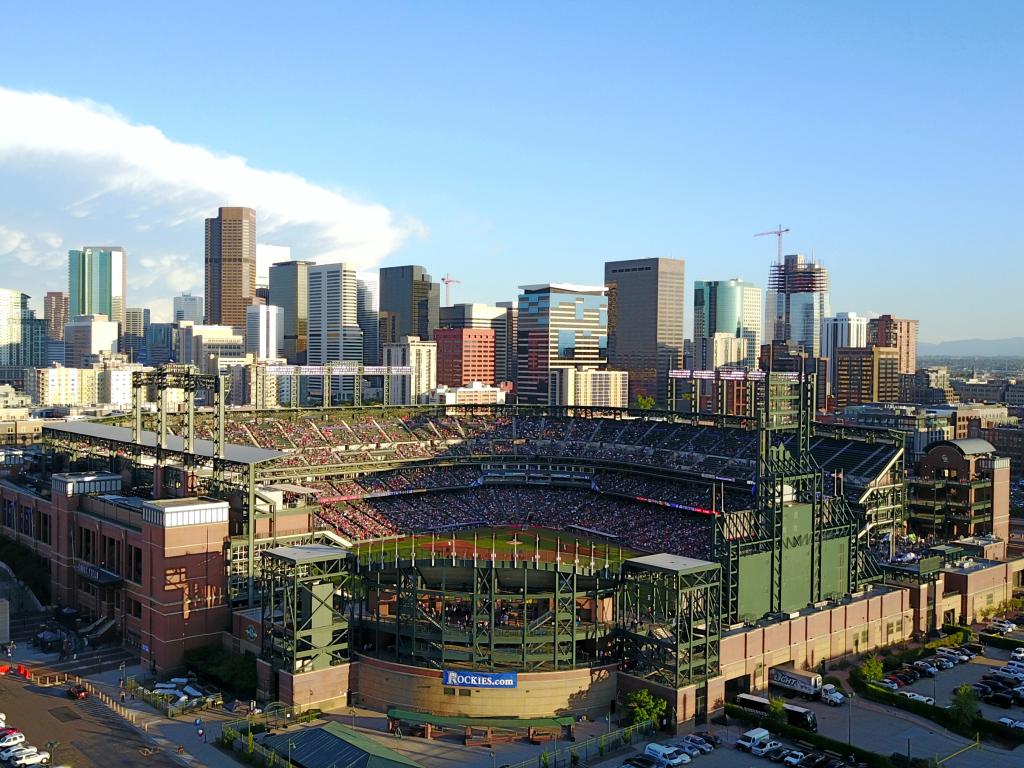 In the heart of this amazing city, the Limelight Hotel Denver is the perfect accommodation choice. It has a terrace that offers stunning views of the Rocky Mountains, perfect for soaking in Denver's natural splendor.
The hotel's prime location, being adjacent to Union Station, gives you easy access to local restaurants, popular sights, and transport links.
When you are ready to head out, you can explore the city in style during your stay, thanks to the complimentary bicycles and car service offered by the hotel.
Things to see on a road trip from Salt Lake City to Denver
With so much natural beauty and historical highlights, both routes are full of things to see and do. To help you plan easier, we've listed our top highlights below.
Moab Route
Utah Lake - Utah Lake, located near Provo, is a large freshwater lake known for its abundant fishing opportunities and picturesque views, making it a popular spot for boating, birdwatching, and lakeside picnics.
Provo Pioneer Village - This historical village in Provo offers a fascinating glimpse into 19th-century pioneer life, featuring original buildings, artifacts, and interactive exhibits that bring Utah's early history to life.
USU Eastern Prehistoric Museum - Located in Price, this museum showcases an extensive collection of dinosaur fossils and ancient artifacts, offering a deep dive into the prehistoric world of Eastern Utah.
Colorado River Scenic Byway - This scenic route runs alongside the Colorado River, offering breathtaking views of red rock formations and access to numerous outdoor recreational activities, including rafting and hiking.
Moab Giants Dinosaur Park - An outdoor museum near Moab, this park features life-size dinosaur replicas set in natural landscapes, interactive exhibits, and a unique 3D cinema, providing an engaging experience for all ages.
Arches National Park - Known for its over 2,000 natural sandstone arches, this iconic national park near Moab offers extraordinary landscapes, hiking trails, and the famous Delicate Arch.
Canyonlands National Park - This expansive park near Moab is characterized by dramatic desert landscapes, including mesas, canyons, and the confluence of the Colorado and Green rivers, ideal for hiking and photography.
Colorado National Monument - Near Grand Junction, this monument boasts magnificent canyons, towering monoliths, and scenic drives, offering visitors a spectacular display of the region's natural beauty.
Hot Springs Pool, Glenwood Springs - The world's largest hot springs pool in Glenwood Springs provides a relaxing and therapeutic experience, complemented by spa services and a family-friendly atmosphere.
Glenwood Caverns Adventure Park - This unique mountain-top theme park in Glenwood Springs offers cave tours, thrill rides, and panoramic views of the surrounding Rockies.
Hanging Lake Trail - Located near Glenwood Springs, this trail leads to the stunning Hanging Lake, a crystal-clear, turquoise lake perched atop a cliff, surrounded by lush greenery and waterfalls.
Top of the Rockies Scenic Byway - This breathtaking byway traverses through the heart of the Colorado Rockies, offering stunning mountain views, historic sites, and access to popular towns like Leadville and Aspen.
Colorado Snowsports Museum and Hall of Fame - Situated in Vail, this museum chronicles the history of skiing and snowboarding in Colorado, featuring artifacts, photographs, and interactive exhibits.
Vail - A world-renowned ski resort town in Colorado, Vail is famous for its vast ski slopes, upscale amenities, and vibrant cultural scene, offering year-round outdoor activities.
Phoenix Gold Mine, Idaho Springs - This historic gold mine in Idaho Springs offers guided tours, showcasing the mining history of Colorado and the chance to pan for gold in a real mine setting.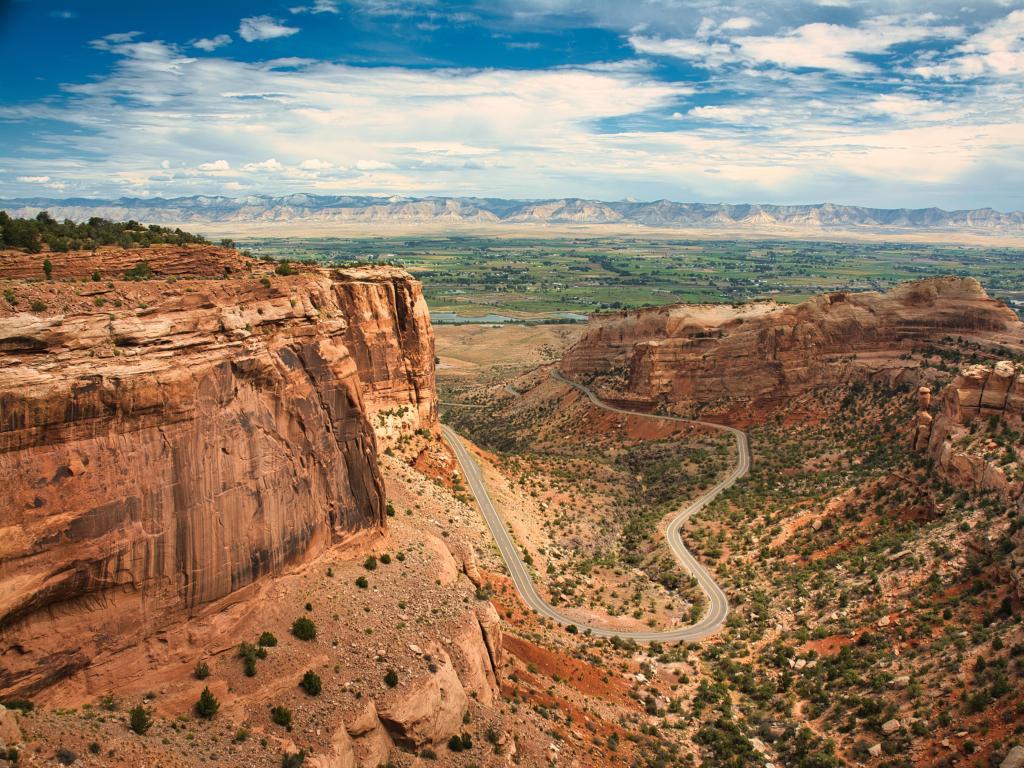 Rocky Mountain National Park Route
Jordanelle State Park - Nestled near Heber City, Jordanelle State Park is known for its beautiful reservoir, offering boating, fishing, camping, and hiking, with stunning mountain views.
Homestead Crater, Midway - This unique geothermal spring located in a natural limestone crater in Midway offers a rare opportunity for swimming, snorkeling, and scuba diving in warm, mineral-rich waters.
Heber Valley Railroad - A heritage railroad in Heber City, this attraction provides scenic train rides through the Heber Valley and along the shores of Deer Creek Lake, offering themed events and spectacular views.
Vernal - A charming town in Utah, Vernal is known as the gateway to Dinosaur National Monument and offers a variety of outdoor activities, museums, and dinosaur-themed attractions.
Dinosaur National Monument - Straddling the Utah-Colorado border, this monument is famous for its preserved dinosaur fossils, petroglyphs, and dramatic river canyons, providing a unique window into the prehistoric past.
Museum of Northwest Colorado - Located in Craig, this museum showcases the history and heritage of the American West, featuring exhibits on cowboys, pioneers, and the region's rich mining history.
Strawberry Park Hot Springs - Tucked away near Steamboat Springs, these natural hot springs offer a rustic, relaxing experience in a picturesque mountain setting, ideal for rejuvenation after outdoor adventures.
Rocky Mountain National Park - This iconic national park in Colorado is renowned for its majestic mountain landscapes, diverse wildlife, and numerous hiking trails, including the famous Trail Ridge Road.
Estes Park - A picturesque town located at the entrance of Rocky Mountain National Park, Estes Park is known for its stunning natural beauty, outdoor recreation, and charming downtown area.
Moraine Park Discovery Center - Situated in Rocky Mountain National Park, this center provides educational exhibits about the park's ecosystems and wildlife, along with ranger-led programs and nature trails.
Boulder, Colorado - A vibrant city at the foothills of the Rockies, Boulder is famous for its outdoor activities, cultural attractions, and the iconic pedestrian-friendly Pearl Street Mall.
Flatirons, Boulder - The Flatirons are a striking set of slanting rock formations near Boulder, offering a backdrop for hiking, climbing, and photography, and symbolizing the city's connection to nature.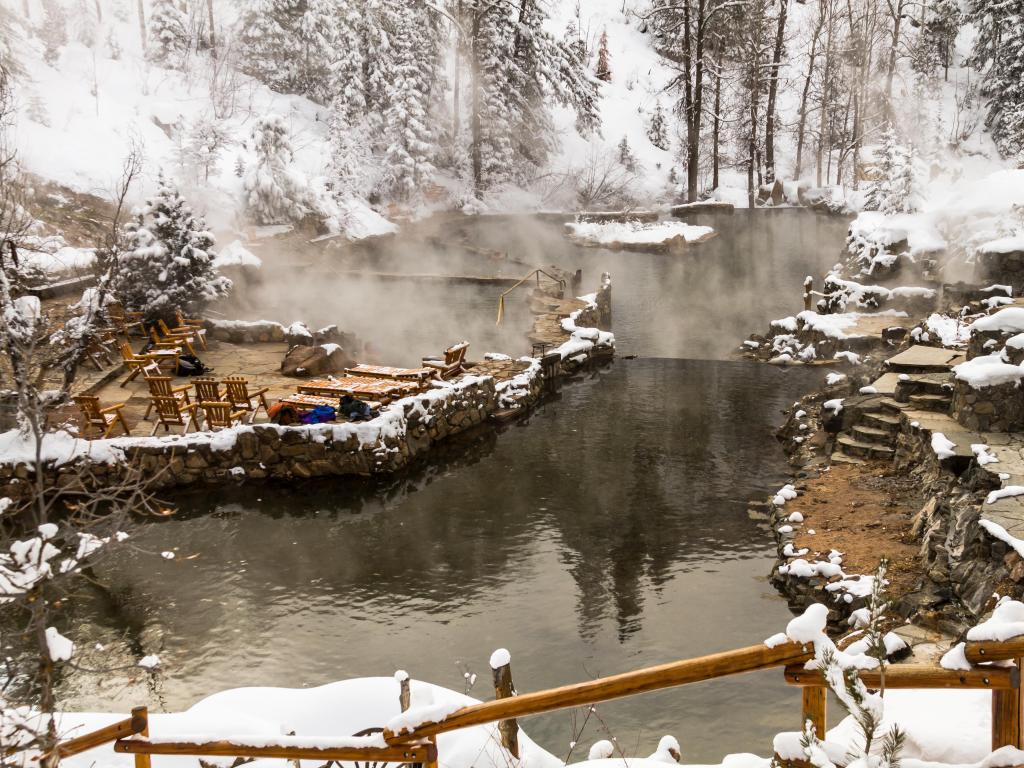 Best time to go on a road trip from Salt Lake City to Denver
A road trip from Salt Lake City to Denver is beautiful year-round and the journey itself, whether via the Moab Route or the Rocky Mountain National Park Route, offers different experiences and weather depending on the season.
Traveling along the Moab Route, you'll find the interstate can be congested in winter, because it's the main route to many ski resorts. However, winter also gives you a unique opportunity to experience the incredible winter sports in this region.
Winter is also the perfect time to check out Denver's New Year's celebrations. There's also the Breckenridge International Snow Sculpture Championships in January and the Utah Arts Festival in February.
Spring is a beautiful season, with mountain wildflowers, temperatures between 30 and 60 degrees Fahrenheit, and plenty of fun events.
Summer can be very hot but is also full of fun events and hiking opportunities. However, the canyons and parks are more comfortable to explore outside the summer's heat.
En route, you can enjoy events like the Moab Music Festival in late summer. You can also see the Hot Air Balloon Rodeo in July. Denver hosts events like the FAN EXPO in July and the Denver Chalk Art Festival in September.
Fall, like Spring, is another wonderful time to visit with pleasant temperatures and the chance to see fall colors in the mountains. Fall is also the best time to hike as there is little snow and you don't have to deal with the high heat of summer.