Road trip from Salt Lake City to Glacier National Park
By
Pat Dorri
| Published on 12 September 2023
Salt Lake City is known for its beautiful architecture and its close proximity to some of the most epic landscapes in the nation. Wondering where to go next? This road trip from Salt Lake City to Glacier National Park is an outdoor lover's dream with so many iconic sights of the American West rolled into one amazing adventure.
The 830-mile road trip from Salt Lake City to Glacier National Park will take under 15 hours to drive. Highlights en route are Zion National Park, Boise National Forest, Spokane, Sandpoint, Jackson, Grand Teton National Park and Yellowstone National Park.
Get ready to make one of the most beautiful and memorable drives in the USA. Keep reading below to learn more about our recommended routes, the best places to stop, top highlights, and the best seasons to travel.
How far is Glacier National Park from Salt Lake City, and how long will the road trip take?
Comparison of road trip routes between Salt Lake City and Glacier National Park

| Route | Distance | Driving Time |
| --- | --- | --- |
| The Yellowstone Route | 830 miles | 14 hours 40 minutes |
| The Spokane Route | 995 miles | 17 hours |
The Yellowstone Route instead offers a slightly shorter but equally scenic drive covering around 830 miles with an estimated driving time of 14 hours and 40 minutes.
If you choose to travel on the Spokane Route, this journey will span approximately 995 miles and take around 17 hours of driving with no detours.
Though it is possible to complete in a couple of days, there are so many sights and experiences to explore on both routes that we recommend a more leisurely pace of 5-6 days for the trip.
Best road trip route from Salt Lake City to Glacier National Park
Both routes from Salt Lake City to Glacier National Park provide awe-inspiring natural attractions, though they offer distinctly different vibes that cater to various preferences.
The Spokane Route has tons of natural sites and landmarks to soak in, making it a haven for those seeking adventure, history, culture, and natural wonders.
This route takes you through vibrant cities like Boise, which offers stunning mountain views and a bustling downtown area, and Spokane, known for its historic buildings and bountiful outdoor recreation opportunities.
Beyond the cityscapes, prepare to be amazed by the natural wonders such as the Emerald Pools, Shoshone Falls, Boise National Forest, and the picturesque landscapes around the Kootenai River.
If you're keen on delving into history, places like Nez Perce National Historic Park and the Northwest Museum of Arts and Culture in Spokane will be incredibly inspiring.
This route might not cater to those looking to immerse themselves entirely in iconic national parks, as it offers a more varied range of experiences.
On the other hand, the Yellowstone Route is a national park lover's paradise. You'll have the opportunity to explore the iconic Grand Teton and Yellowstone National Parks, both home to some of the most iconic landscapes and fascinating wildlife in the entire US.
From enjoying the hot springs and geysers nestled in the beautiful mountain landscapes to visiting natural attractions such as the Lewis and Clark Caverns, Jackson Lake, and the expansive Flathead National Forest, this route will be an immersive adventure through nature.
The Yellowstone Route is dense with monumental national parks but might be slightly less diverse regarding city and history experiences.
How to drive from Salt Lake City to Glacier National Park
The map above shows our suggestions for the best road trip routes between Salt Lake City and Glacier National Park. Keep reading for detailed descriptions of both routes, where to stay on either, and the best things to do on the way.
The Yellowstone Route
Head north from Salt Lake City on I-15 into the state of Idaho. Continue on Wyoming.
You'll soon come to Jackson. After exploring the exciting city, head north into Grand Teton National Park.
From here, you'll drive just a bit further into Yellowstone National Park. After experiencing the beautiful national park in all its glory, head back on route. Drive north on I-90 into the city of Missoula. Drive north through the Lolo National Forest and into Flathead National Forest into Whitefish.
From here, you're just a short drive away from your destination of Glacier National Park.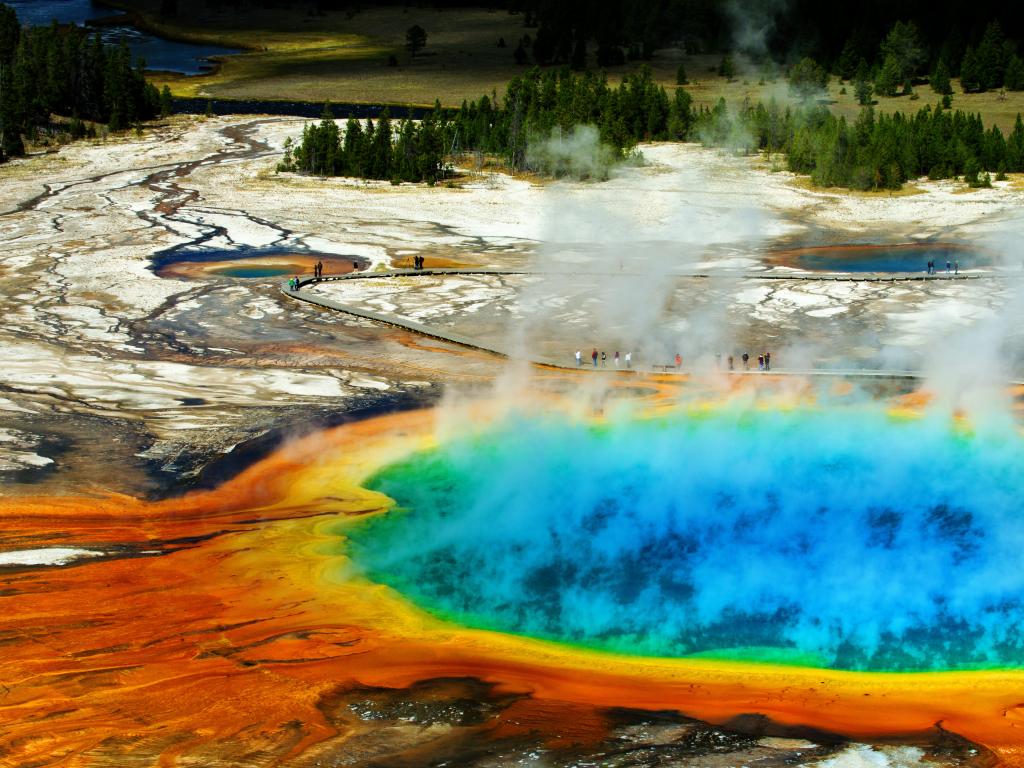 The Spokane Route
From Salt Lake City, head north on I-84. Continue on into Idaho and drive into the city of Boise. Continue en route through Boise National Forest and marvel at the beautiful landscape. Drive north on Highway 95 to the Nez Perce Reservation.
Head north into the beautiful city of Spokane. From here, turn east and drive into the Idaho Panhandle National Forest.
Continue on into the fun communities of Sandpoint and Bonners Ferry. Continue past Kootenai National Forest on east into the town of Whitefish and to your destination of Glacier National Park.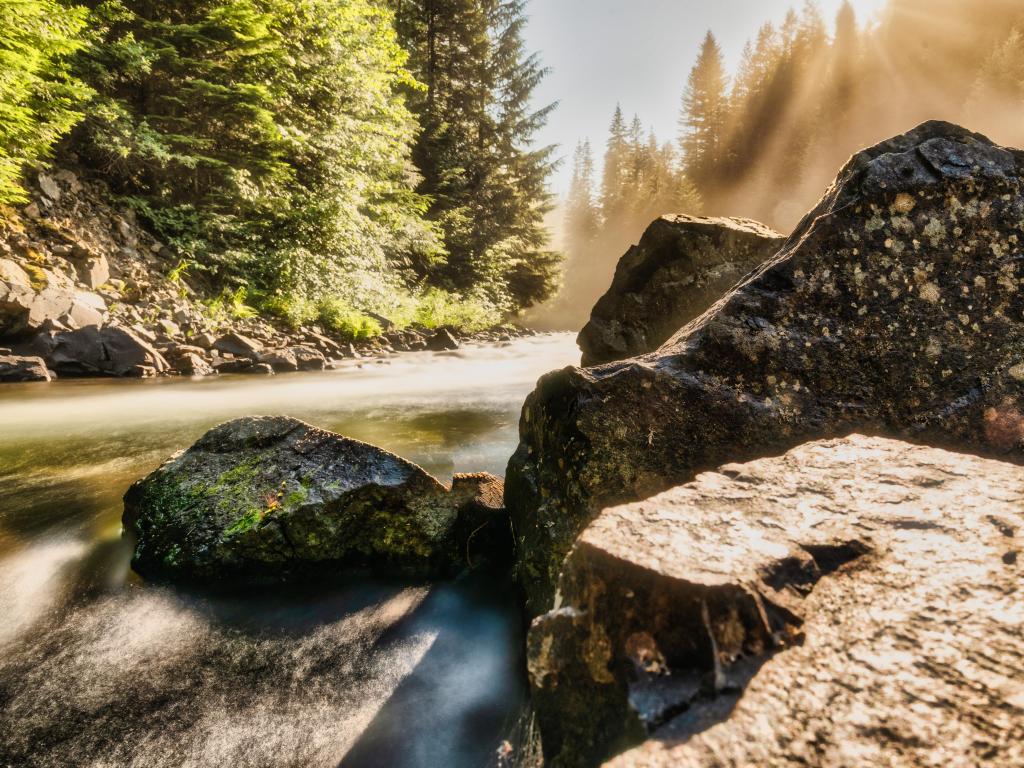 Best places to stop between Salt Lake City and Glacier National Park
With so much to see and do, you'll want to break the trip up and stay in one of the exciting destinations below. This way, you'll be well-rested and ready to take on your drive.
Take in the views of the rugged mountains in Jackson
About a third of the way into your Yellowstone Route drive, roughly taking 4 hours and 40 minutes, you'll find the alluring town of Jackson, a community full of Old West charm and a gateway to outdoor adventures.
To immerse yourself in the grandeur of the nearby national parks, there's no better place to start than the Grand Teton National Park, renowned for its mountainous landscape, pristine lakes, and alpine terrain.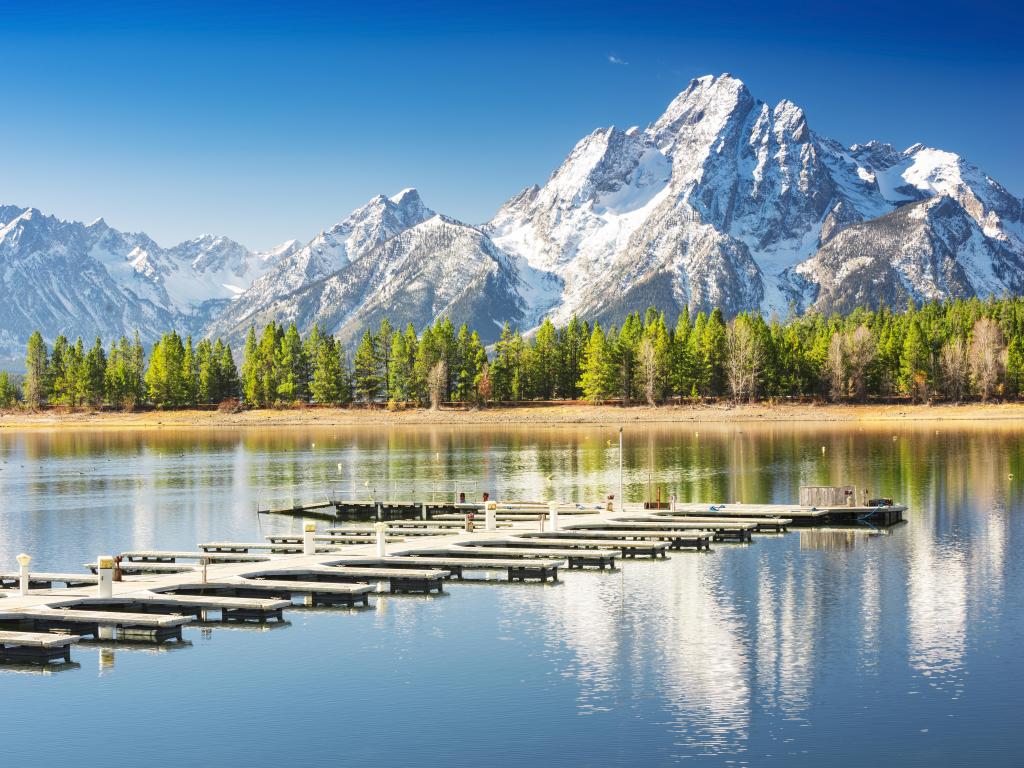 Next, head to the Yellowstone National Park, a place of geothermal wonders, with its gushing geysers, hot springs, and rich wildlife offering an experience that's nothing short of magical. To visit these national parks and do them justice, you might want to consider staying in Jackson for an extra day or two.
After a day filled with natural wonder, retreat to the warm embrace of the highly-rated Inn on the Creek. Many rooms at the inn offer a mesmerizing view of the passing creek, setting a serene backdrop for your relaxation.
The rooms stand as a haven of comfort, equipped with wonderful jacuzzis to soak away the tiredness of the day's explorations. Start your day on a delightful note with the inn's homemade breakfast, an affair that leaves guests coming back for more.
Proximity to local attractions is another feather in the inn's cap. Just 300 yards away, the Jackson Town Square waits to engulf you in the local nightlife and culture.
A short walk of about 200 yards leads you to the National Elk Refuge & Greater Yellowstone Visitor Center, with information about the park and the starting point for your exploration in the region.
Enjoy a relaxing stay in tranquil Spokane
Spokane is a picturesque city by the Spokane River and is surrounded by mountains and forests. It serves as the perfect stopover to unwind and rejuvenate roughly two-thirds into your journey along the Spokane Route.
A must-visit attraction is the Northwest Museum of Arts and Culture, where a rich tapestry of regional history is displayed through immersive exhibits, allowing you to delve deep into the narratives of the indigenous peoples of the Columbia Plateau.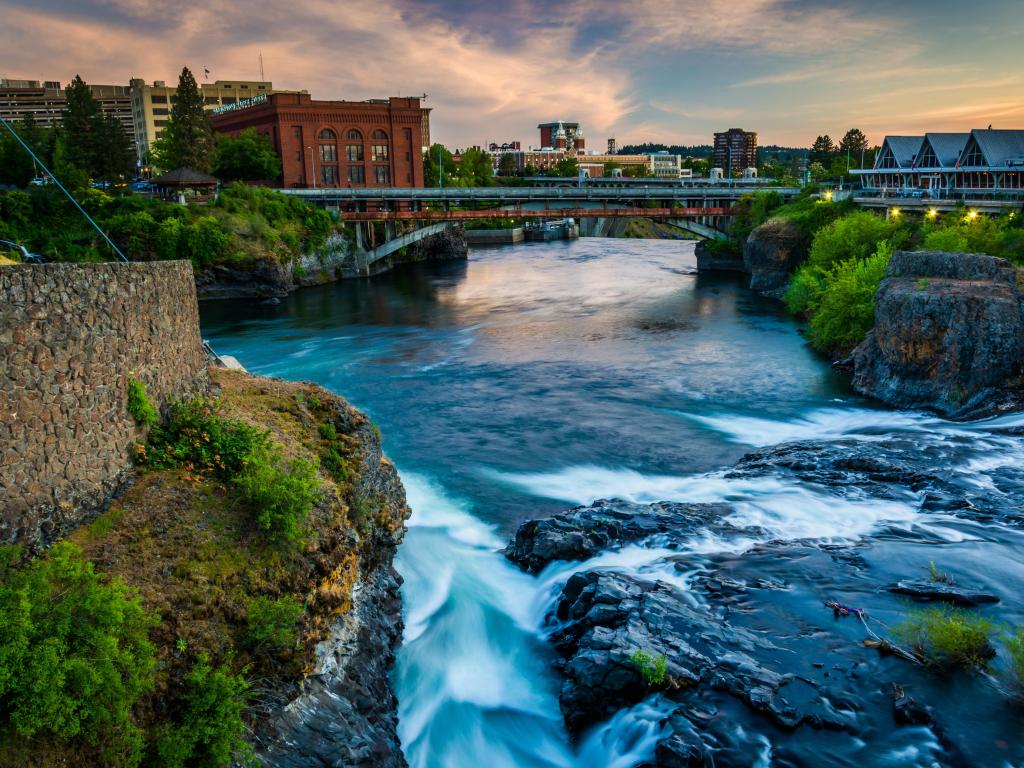 Another significant highlight is Spokane Falls, one of the largest urban waterfalls in the US, offering breathtaking views right in the city center. The mesmerizing sound of the cascading water and the surrounding scenic beauty make it a refreshing and tranquil spot to visit.
For your overnight stay, we recommend booking a room at the modern and elegant Davenport Grand, Autograph Collection. This beautiful hotel stands tall as an embodiment of luxury and comfort, offering spacious rooms adorned with stylish, modern interior decorations.
As you settle in, you can enjoy the warm ambiance of the outdoor terrace, equipped with inviting fireplaces to add to your cozy and delightful experience. Another notable feature of the hotel is the town car service, available to guests for traversing within a 3-mile radius.
Just a short walk away, you'll find the vibrant Riverfront Park. Additionally, a mere mile's walk leads you to the Bing Crosby House, allowing you to immerse yourself in the remarkable life and career of the artist through a rich collection of memorabilia housed in his childhood home.
Where to stay when you reach Glacier National Park
Since 1910, Glacier National Park has become one of the top natural getaways in the USA. Here, you'll see endless mountains, glaciers, lakes, and diverse plant and animal life.
Make sure to head up the famous Going-to-the-Run road and experience the incredible views along the way. You may also be able to spot some of the animals that call the park home, like grizzly bears and mountain goats.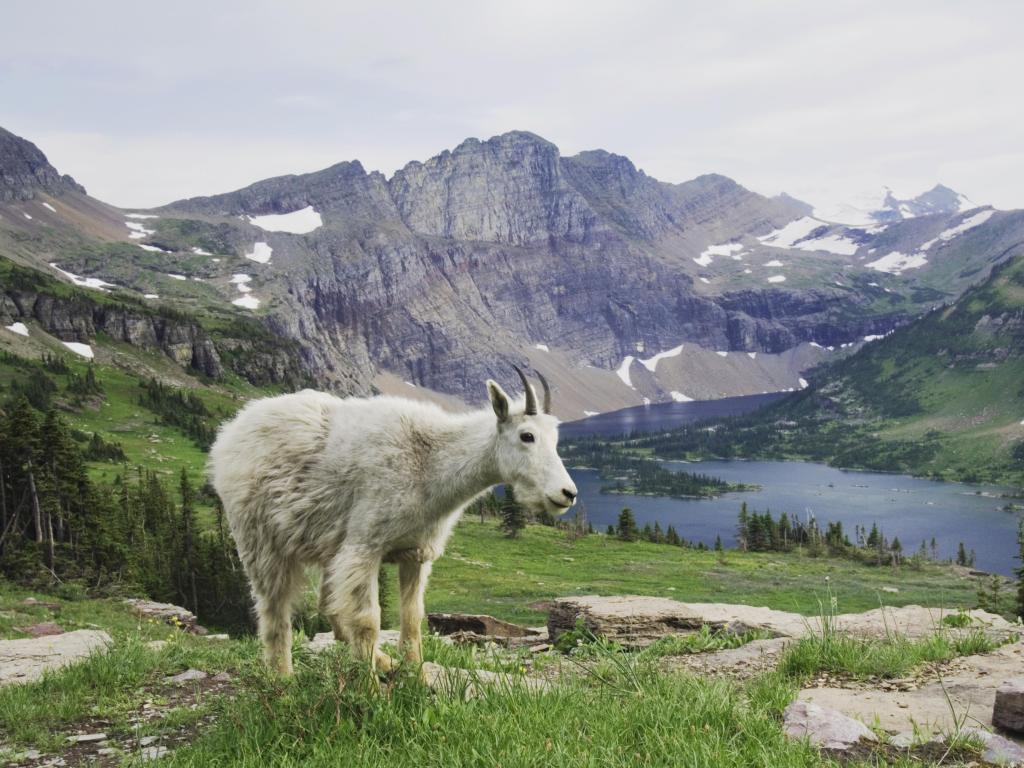 Once you reach Glacier National Park, we recommend staying at the luxurious and highly-rated Cedar Creek Lodge & Conference Center. Located at Columbia Falls, the gateway to Glacier National Park, this lodge is a mix of modern comforts and mountain lodge style.
The lodge features a rustic yet modern and stylish interior design, with friendly service and plenty of amenities like a fitness center, and 24-hour front desk service.
There's a year-round indoor pool and hot tub, so you can relax after exploring the beautiful area. You'll also enjoy the lovely hot breakfast buffet to start your day.
Things to see on a road trip from Salt Lake City to Glacier National Park
With so much history, culture, and natural beauty, you'll have an almost endless amount of highlights to experience. Below, we've listed our top highlights to help you plan your ultimate western adventure.
Spokane Route
Emerald Pools - A series of pristine, naturally occurring pools located in Zion National Park, offering hikers a refreshing oasis amidst the captivating rugged landscapes.
Crystal Hot Springs - Situated in Honeyville, Utah, these hot springs are known for their high mineral content and therapeutic properties, offering visitors a rejuvenating experience.
Craters of the Moon National Monument and Preserve - A vast and rugged landscape in Idaho that showcases unique volcanic formations and lava fields, giving visitors a glimpse into the region's dynamic geological history.
Shoshone Falls, Twin Falls - Often termed the "Niagara of the West," this iconic waterfall located in Idaho is renowned for its breathtaking views and recreational opportunities.
Boise National Forest - A vibrant forested area in Idaho, showcasing diverse ecosystems and providing ample hiking, camping, and wildlife viewing opportunities.
Nez Perce National Historical Park - A park preserving the rich history and culture of the Nez Perce Native American tribe, with 38 scattered sites across the Pacific Northwest.
The Northwest Museum of Arts and Culture, Spokane - Located in Spokane, Washington, offers an exploration of regional history, art, and Indigenous culture through a wide range of exhibits and programs.
Lake Coeur d'Alene - A stunning alpine lake in northern Idaho, known for its clear waters, recreational opportunities, and the picturesque landscapes surrounding it.
Idaho Panhandle National Forests - Spanning across the northern handle of Idaho, this national forest area offers a rich biodiversity and many recreational opportunities in its lush, expansive surroundings.
Sandpoint City Beach Park - Located on the magnificent shores of Lake Pend Oreille in Sandpoint, Idaho, this park offers beautiful beaches and recreational facilities for a delightful day out.
Kaniksu National Forest, Clark Fork - Part of the Idaho Panhandle National Forests, this area is known for its lush forested landscapes, abundant wildlife, and recreational opportunities.
The Kootenai River - A vital waterway traversing parts of British Columbia, Montana, and Idaho, known for its breathtaking scenery and opportunities for fishing and rafting.
Kootenai National Forest - This national forest in Montana provides pristine wilderness areas, offering a haven for outdoor enthusiasts with its vast hiking trails and picturesque landscapes.
Hockaday Museum of Art - Located in Kalispell, Montana, this museum is a hub for visual arts, presenting a range of exhibits that showcase regional art and culture.
Hungry Horse Reservoir - A large reservoir in Montana, offering beautiful views and recreational activities such as fishing, boating, and camping amidst a serene natural setting.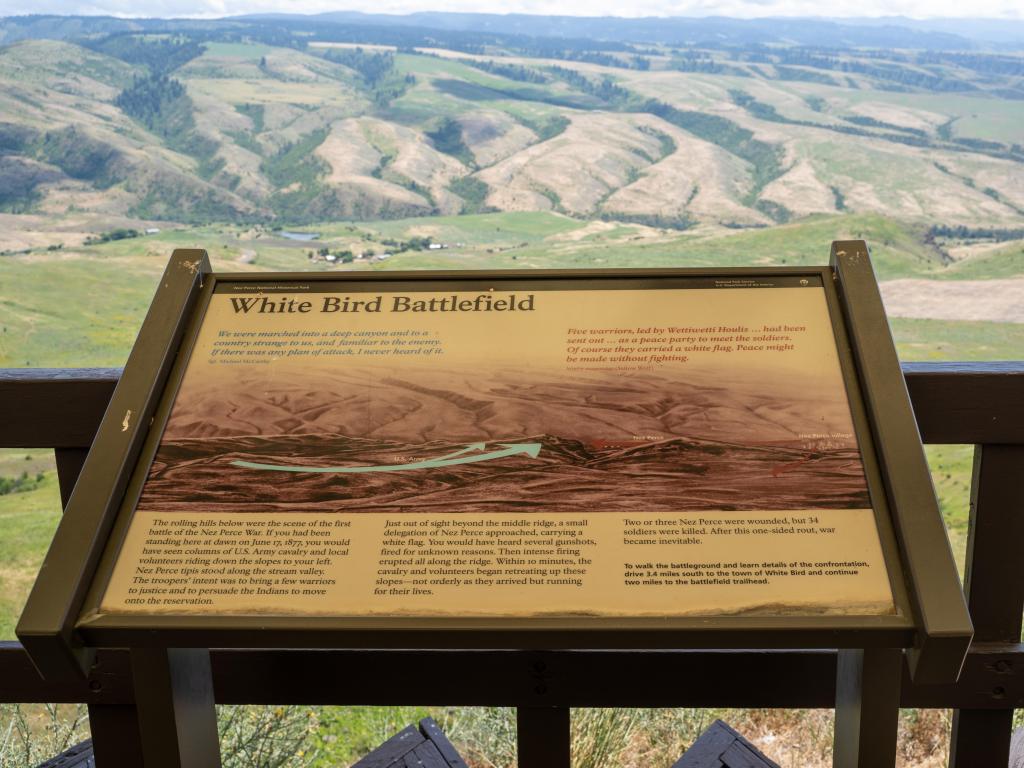 Yellowstone Route
Lava Hot Springs - A popular resort destination in southeastern Idaho, known for its hot pools fueled by natural underground springs, ideal for relaxation and hydrotherapy.
Geyser Park - A family-friendly park in Montana, offering mini-golf, a bumper boat pond, and other amusement activities, making it a fun stop for people of all ages.
National Museum of Wildlife Art, Jackson - Nestled on a cliff in Jackson, Wyoming, this museum showcases a remarkable collection of art inspired by wildlife, blending art with the majestic natural surroundings.
Teton Village - A resort town at the base of the Teton mountain range in Wyoming, known for its ski resorts, upscale accommodations, and vibrant nightlife.
Grand Teton National Park - A national park in Wyoming boasting jaw-dropping mountain landscapes, pristine lakes, and a rich array of wildlife, offering a nature lover's paradise.
Bridger-Teton National Forest - Adjacent to Grand Teton and Yellowstone National Parks in Wyoming, this national forest offers sprawling wildlands, featuring vibrant ecosystems and numerous recreational opportunities.
Jackson Lake Overlook - A popular viewpoint in Wyoming providing stunning panoramic views of the grandeur of Jackson Lake and the surrounding mountain ranges.
Yellowstone National Park - America's first national park, located primarily in Wyoming, is a geothermal wonderland home to vibrant ecosystems, and an array of wildlife including bison, elk, and grizzly bears.
Beehive Basin Trail - Located in Montana, this trail offers a moderate hike with mesmerizing views of alpine meadows, wildflowers, and a stunning lake at the basin.
Lewis and Clark Caverns State Park, Montana - Montana's first state park, home to one of the largest limestone caverns in the Northwest, offering guided tours through its fascinating subterranean chambers.
Our Lady of the Rockies - A 90-foot statue situated on the Continental Divide overlooking Butte, Montana, it serves as a monument of peace and a tribute to women.
Museum of the Rockies, Montana - A Smithsonian-affiliated museum located in Bozeman, Montana, showcasing extensive collections of dinosaur fossils and exhibits on regional history and Native American culture.
Rattlesnake National Recreation Area and Wilderness - Situated near Missoula, Montana, this area offers a pristine wilderness setting for hiking, biking, and wildlife viewing, featuring an array of trails catering to all skill levels.
Garden of One Thousand Buddhas - Nestled in a peaceful valley in Montana, this garden aims to provide visitors with a space of tranquility and reflection, adorned with beautiful statues and lush landscapes.
Flathead National Forest - Located in Montana, this national forest offers a rich blend of natural resources, including pristine waters, abundant wildlife, and a vast network of trails for hiking and exploration.
Best time to go on a road trip from Salt Lake City to Glacier National Park
Glacier National Park, the crown jewel of the Montana Rockies, is the mesmerizing endpoint to your road trip that guarantees a picturesque and adventure-packed journey. Depending on the time of the year you choose to travel, there are a few considerations to remember.
Winter excursions come with plenty of challenges. Heavy snowfall and ice is a common occurrence, potentially impacting your drive.
Higher elevations in Glacier National Park, including parts of the illustrious Going-to-the-Sun Road, remain closed during the winter, restricting access to some of the park's most breathtaking viewpoints.
Similarly, the Yellowstone Route experiences road closures from December to March because of snowfall, limiting access to popular sites to snowmobiles or skiing during these months.
Summer is a vibrant, warm canvas of blossoms and blue skies, with temperatures in Glacier National Park oscillating between 60 to 70 degrees Fahrenheit. However, be prepared for tourist crowds, especially while crossing the iconic Yellowstone and Grand Teton National Parks.
Despite this, summer has the most awe-inspiring parts of the park, with roads open to the higher elevations, allowing you to fully immerse yourself in the park's majestic vistas and rich biodiversity.
Summer also features plenty of festivals and events like the Boise Music Festival in June and the Montana Folk Festival in July.
Consider traveling during the spring or fall for a road trip with more moderate weather and relatively fewer tourists. Spring, in particular, offers a picturesque drive through Spokane, with the Lilac Festival in May being a significant highlight.
Fall gives you the opportunity to enjoy the peak festival season at your destination, with events such as the Great Northwest Oktoberfest in Whitefish. On top of this, you'll be able to see the mountains' fall colors along your drive.