Road Trip from Salt Lake City to Yellowstone National Park
If you feel like visiting one of the true miracles of this world, consider taking a road trip from Salt Lake City to Yellowstone National Park. This drive is seemingly short, yet on closer inspection it is jam-packed full of opportunities to get off the beaten path and into some simply stunning nature.
The 320-mile road trip from Salt Lake City to Yellowstone National Park takes 4 hours and 30 minutes to drive. Popular sites include, Uinta-Wasatch-Cache, Caribou-Targhee and Bridger-Teton National Forests as well as Antelope Island and Willard Bay State Parks.
With so much to see, make sure you read on to plan an ideal itinerary. Our guide to your road trip from Salt Lake City to Yellowstone National Park includes the best route available, where to stay, the best things to do along the way, and the perfect time to visit.
How far is Yellowstone National Park from Salt Lake City and how long will the road trip take?
Taking the quickest route, the road trip from Salt Lake City to Yellowstone National Park covers 320 miles and takes around 4 hours and 30 minutes to drive.
Regardless of the season, the trip is best enjoyed over the span of at least three or four days. The trip is packed with magnificent vistas, rich forests, plenty of memorable attractions and last but not least, the dramatic – Yellowstone National Park.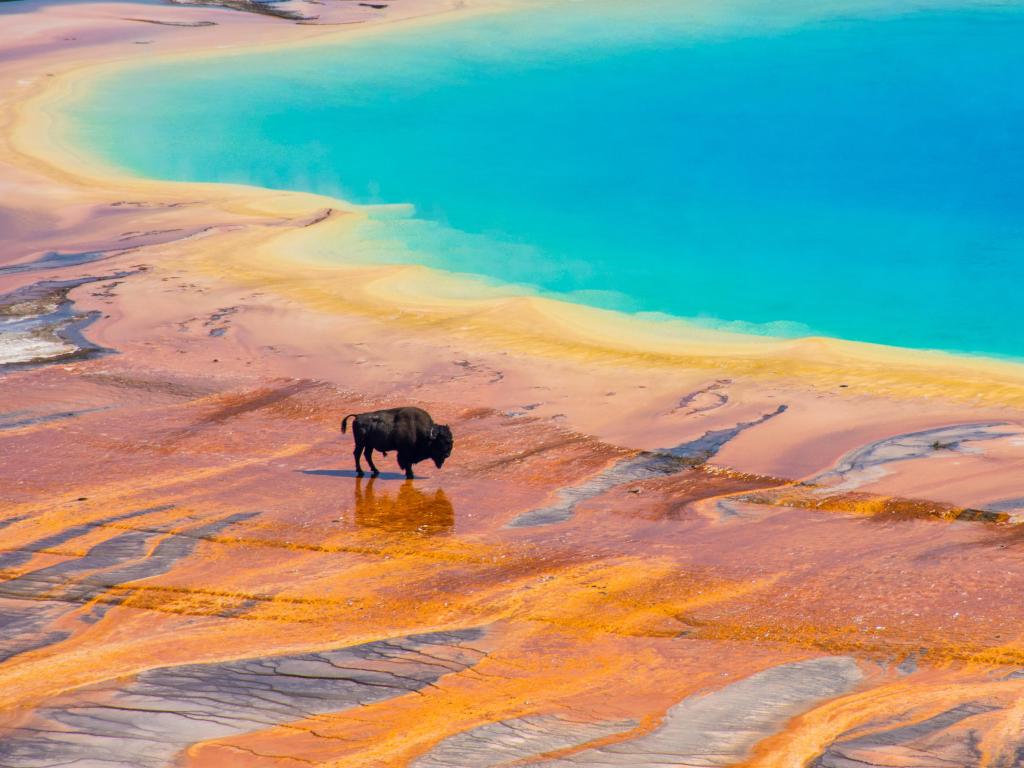 Embarking on this journey is absolutely worth it, solely because of the naturalistic wonder awaiting at the end of it. The drive is fairly straightforward and runs mainly through non-urban areas, so you shouldn't have to worry about any major congestions along the way.
However, it is vital that you plan in advance and update yourself frequently on the weather forecast in order to avoid seasonal road closures. Considering the length of the drive, feel free to make as many stops along the way in order to savor the beauty of the American West.
Whether you are fan of winter sports or summer walks in the sun, this trip is bound to surprise you in the most pleasant of ways.
Best road trip route from Salt Lake City to Yellowstone National Park
The road trip from Salt Lake City to Yellowstone National Park is exciting and action packed so consider making as many detours along the way as possible. While exiting Salt Lake City, you could either take I-80 then turn north through Bear River and Laketown for a quick detour to Uinta-Wasatch-Cache National Forest, or follow the main route northward on I-15.
Stick to the Interstate until you reach Clearfield, where you have the option to stop off at Antelope Island State Park for a hike up Frary Peak and stunning panoramic views of the Great Salt Lake. Be warned, though: the ascent is challenging!
Otherwise, drive northward until you enter Ogden. Follow I-15 around Willard Bay Reservoir and consider making a stop at Willard Bay State Park before reaching Brigham City. Once you arrive, you can divert west to either Golden Spike National Historic Park - with its working steam trains - or head east to Uinta-Wasatch-Cache National Forest.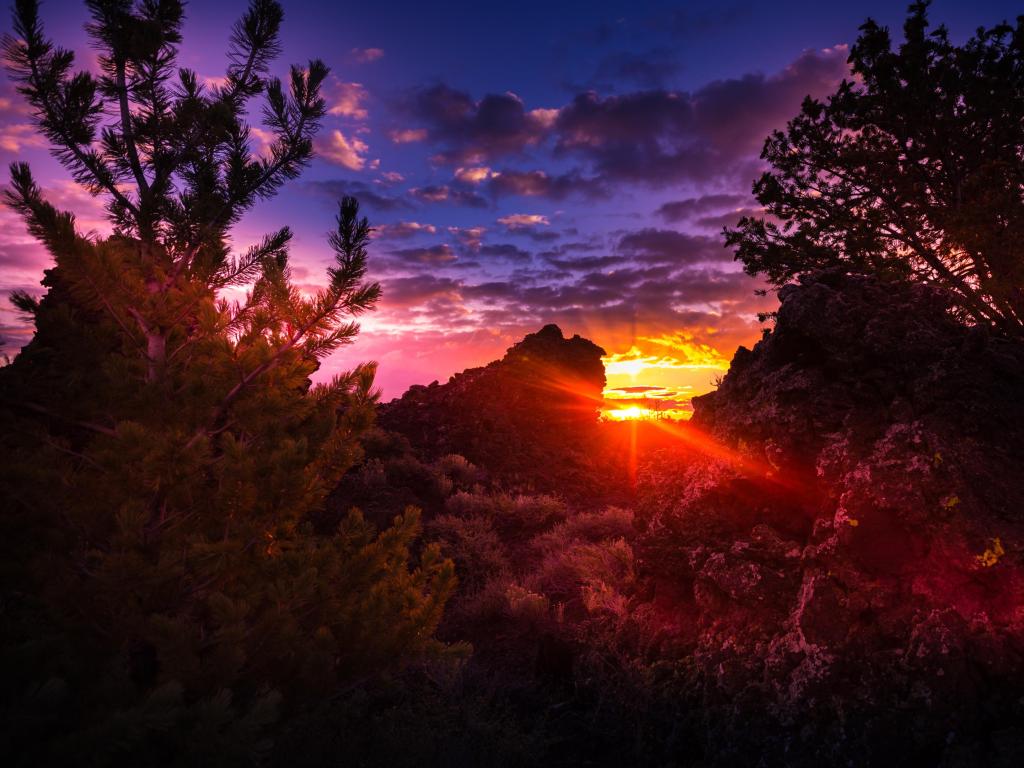 Continue on the Interstate, through Malad City, through Inkom around Pocatello and into Blackfoot. Here, you can take some time to detour to Craters of the Moon National Monument & Preserve.
Stick to I-15 until you drive into Idaho Falls, where you should hop on to US-20. Continue until you enter Sugar City, where you should make the time to see both Grand Teton National Park and Bridger-Teton National Forest if you possibly can. Otherwise, continue north around Caribou-Targhee National Forest.
Soon after you will be arriving at the Western entrance to the Yellowstone National Park. Be sure not to miss out on the famous "Old Faithful" geyser.
Best places to stop between Salt Lake City and Yellowstone National Park
The long and exciting road trip from Salt Lake City to Yellowstone National Park is packed with amazing places to visit. To avoid exhaustion and to extend the memorable journey, you should prolong the trip over a few more days and rest up at one of these hotels:
Take in the beauty of Yellowstone National Park
Helpfully located at the gateway to Yellowstone National Park - West Yellowstone - the Kelly Inn is a great choice of hotel if you are looking for a comfortable and convenient stay. This hotel is just three minutes away from the park's official entrance.
After a long day outdoors, you can let go of any leftover tension and relax at one of the many spa facilities on-site or you could hop in the hot tub with a cold beverage by your side, before joining everyone else for an evening meal.
The resort offers an outdoor fireplace as well as barbeque, helping you effortlessly tap into that back-to-nature feeling - which is what this trip is all about. There is also a picnic area that you can take advantage of, if the weather allows for it.
Extend your trip with a stop in Idaho Falls
With so much to see in the area, it makes good sense to take a few days longer to explore, if your schedule allows.
One of our top recommendations in this part of the United States is the Craters of the Moon National Monument and Preserve. Its unique igneous landscape and rock formations is simply out of this world!
Idaho Falls is a helpful base for exploring this area to the west of our main route, as the Craters of the Moon National Monument is situated a comfortable 1 hour 45 minutes' drive away.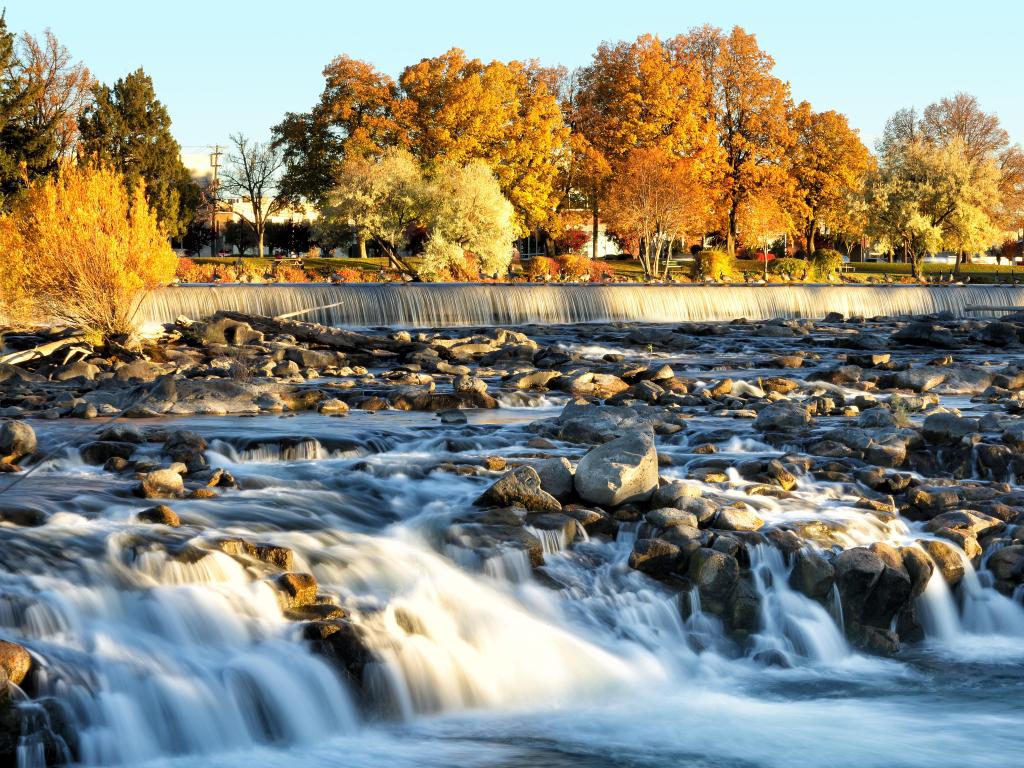 In the opposite direction (via US-26), you can easily reach Jackson, Wyoming for a totally different experience with a similar drive time. World famous Jackson Hole Mountain Resort is home to three ski areas and a host of stunning wildlife, including the breathtaking National Elk Refuge.
For an upmarket hotel experience with first-rate service, look no further than the Residence Inn by Marriott Idaho Falls. Situated just off I-15, this hotel's location is almost as helpful as its wonderful staff!
Things to see on a road trip from Salt Lake City to Yellowstone National Park
Uinta-Wasatch-Cache National Forest – Regardless of the season you wish to visit this scenic forest, it will offer unlimited recreational opportunities. Because of the large urban population in the surrounding area and the high visitation rates, you will definitely find something up your alley
Antelope Island State Park – At Antelope Island State Park you will have the opportunity to hike along stunning trails, while observing majestic bison herds. Take a short half a mile hike towards "Buffalo Peak" where at sunset you will have the chance to capture a photo of unforgettable views
Snowbasin Resort – Snowbasin Resort offers a ton of recreational activities all year round. In the summer you can expect festivals, concerts as well as a multitude of sightseeing opportunities. On the other hand, during the winter months the resort offers a long and exciting bucket-list of recreational activities for every skier
Golden Spike National Historical Park – Learn about one of the greatest technological achievements of the 19th century – the completion of the first transcontinental railroad across the United States. Don't forget to check out the picture perfect replicas of the Victorian era locomotives
Craters of the Moon National Monument & Preserve – Enjoy awe-inspiring views at Craters of the Moon National Monument & Preserve while exploring dynamic underground lava tubes
Caribou-Targhee National Forest – You will find plenty of family activities such as camping, hiking, fishing and even riding off-highway vehicles, for those who enjoy the adrenalin rush
Grand Teton National Park – Grand Teton National Park offers cross-country ski and snowshoe trails, guides, and all the essentials for a fun and memorable day
Bridger-Teton National Forest – Make sure to stop by at Bridger-Teton National Forest and appreciate the impressive mountainous landscapes as well as the clear sparkling waters of the surrounding lakes
Lagoon Amusement Park – The Lagoon Amusement Park will send chills up your spine with the help of its exciting rides, named accordingly. The "Colossus", "Cannibal" and the "Rattlesnake Rapids" are prime example of the thrilling rides, you could come across at the amusement park
SeaQuest Utah – A visit to SeaQuest opens up an amazing opportunity for guests to interact with a whole bunch of different exotic animals and feed them treats
Boondocks Foot & Fun: Kaysville – Plan a thrilling and joyous day at this wonderful playground for yourself and especially for the young one's in your company. Attractions include, laser tag arena, bowling, arcade, miniature golf course and much more
Hill Aerospace Museum – Founded in 1982 as part of the United States Air Force Heritage, the Hill Aerospace Museum exhibits more than 90 military aircrafts, aerospace vehicles and a giant assortment of military supplies and historical artefacts
Ogden's George S. Eccles Dinosaur Park – Check out a collection of a 100 full-sized, realistic sculptures of prehistoric herbivores and carnivores, based on actual fossils skeletons at Ogden's George S. Eccles Dinosaur Park
Willard Bay State Park – Willard Bay State Park is a gorgeous camping site with excellent nature trails and an easy beach access where you can kayak, swim or simply relax on an inflatable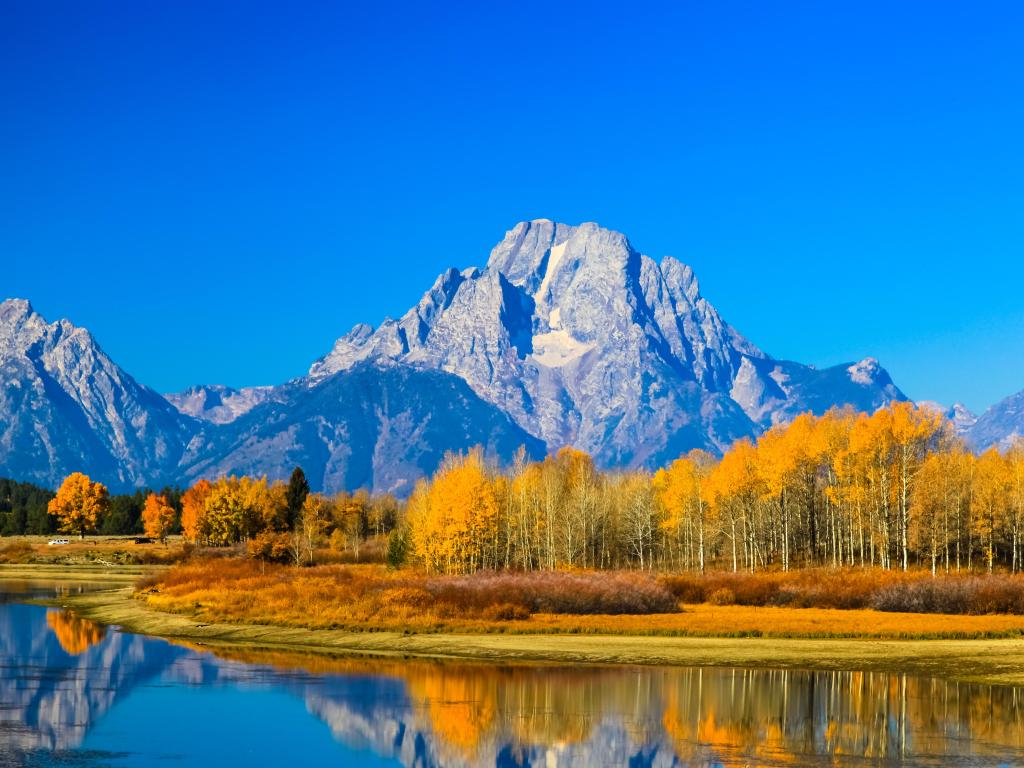 Best time to go on a road trip from Salt Lake City to Yellowstone National Park
The best periods for a road trip from Salt Lake City to Yellowstone National Park are during Spring and Fall. Fewer crowds, mild weather and plenty of wildlife-watching opportunities will make your visit extremely pleasant.
Truth be told, this magnificent naturalistic monument could be enjoyed during every day of the year. Spring can sometimes be unpredictable when it comes to the weather, yet if you prepare well and pack multiple layers of clothes, you'll do just fine. During this season you will have the opportunity to watch the park bloom, without running into too many crowds.
Most roads open toward the end of April and during May, so plan your visit accordingly in order to avoid such hassles. Average temperatures during Fall range from the mid-30s to low 60s during daytime, while temperatures at night hover just below zero.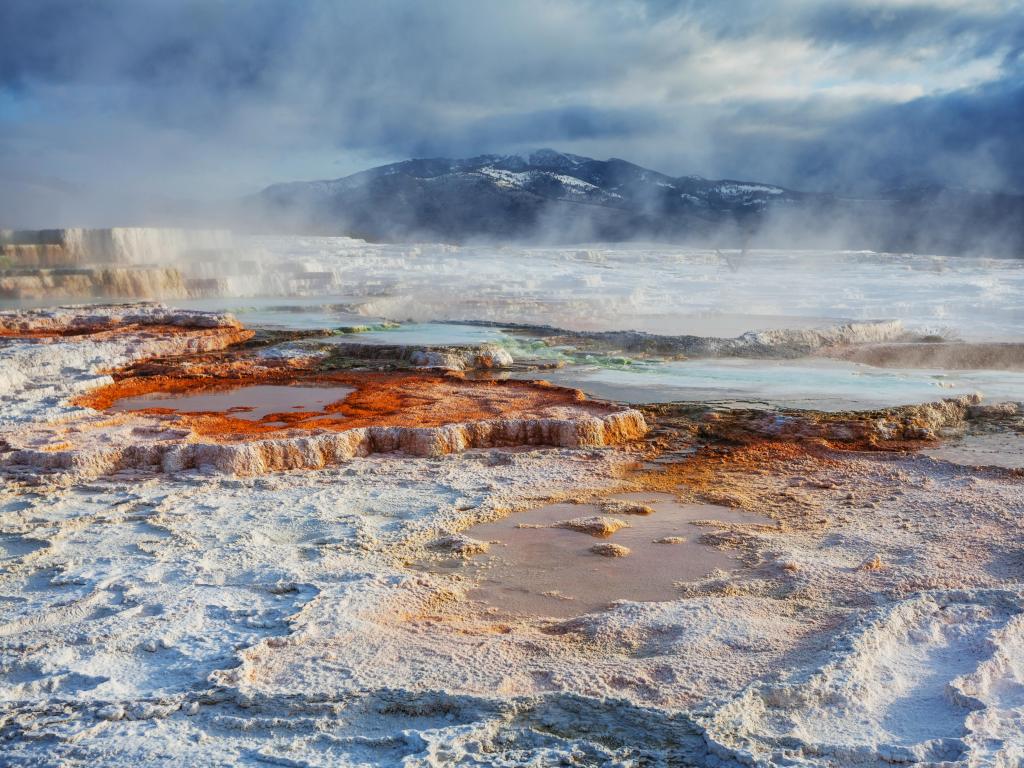 Nonetheless, a trip to Yellowstone National Park from September through October is very pleasant and tranquil. Mid-Fall, most crowds disperse and prices on accommodations become reasonable, regrettably quite a few of the facilities like stores and visitor centers close down in the end of September. What is more, seasonal road closures start come October.
During the warmer months, temperatures hover in the 70s and 80s, thus a trip to the park during June, July and August may be quite pleasant. Besides the warm temperatures and the summer break, there are a multitude of events and festivals that attract millions of tourists around that time. That being said, in case you are in search of solitude, you might want to avoid summer all together.