Road trip from Salt Lake City to Las Vegas
By
Pat Dorri
| Published on 14 September 2023
This scenic and exciting road trip from Salt Lake City to Las Vegas will take you from an alpine and urban setting, through the red rock canyons and arid deserts of southern Utah and Nevada, to the bright neon lights and city sights of Sin City, where the party never stops!
Take the 700-mile road trip from Salt Lake City to Las Vegas via Zion National Park, Gunnison, Salina, Capitol Reef National Park and Dixie National Forest, or travel to Arches and Canyonlands National Parks, Moab, Bluff and Oljato-Monument Valley.
Head on this amazing journey from Salt Lake City to Las Vegas and you get the chance to visit some of the most impressive parks and forests and historical sites, that are sure to leave a lasting impression. Keep reading to see all the places we suggest stopping off at along the way.
How far is Las Vegas from Salt Lake City, and how long will the road trip take?
Comparison of road trip routes between Salt Lake City and Las Vegas

| Route | Distance | Driving Time |
| --- | --- | --- |
| The Zion National Park Route | 570 miles | 9 hours |
| The Arches National Park Route | 830 miles | 13 hours and 35 minutes |
This road trip from Salt Lake City to Las Vegas is an exciting journey brimming with natural wonders and interesting stop offs even before arriving at Sin City. Head along the Zion National Park Route and you can expect to cover a distance of 570 miles, taking roughly 9 hours to drive.
Take the alternative Arches National Park Route. and the road trip stretches over 830 miles and offers an extended journey of around 13 hours and 35 minutes. You can also look to tag on a detour to the Grand Canyon National Park, which would be an unforgettable extra.
Although it is just about possible to cover this journey in a single day, to truly appreciate the beauty and exciting stops along this route, it would be ideal to plan a journey of 3-4 days.
Best road trip route from Salt Lake City to Las Vegas
Both routes from Salt Lake City offer a range of stunning natural landscapes and unforgettable experiences, culminating in the bright lights of Las Vegas.
The Zion National Park Route is a quintessential American Southwest journey, jam-packed with panoramic views, winding roads, and breathtaking rock formations.
You can expect a scenic excursion as you make your way through Gunnison and Salina, before arriving in the lush setting of Dixie National Forest and iconic red-rock canyons in Zion National Park.
Along the route, a detour through Capitol Reef National Park is a must, particularly with Sunset Point Overlook offering stunning views over Waterpocket Fold.
However, if you are looking to travel through a dramatic desert wonderland, the Arches National Park Route may be the road trip for you, with a journey peppered with red rock vistas and iconic stone arches.
The beautiful views of Canyonlands' dramatic canyons with La Sal Mountains as a backdrop are the perfect stop for a spot of photography.
One of the route's highlights is the drive towards Oljato-Monument Valley, a stretch that greets you with towering buttes and desert lands - you'll feel like you are stepping into a classic Western film.
How to drive from Salt Lake City to Las Vegas
The map above shows our suggestions for the best road trip routes between Salt Lake City and Las Vegas. Keep reading for detailed descriptions of both routes, where to stay on either, and the best things to do on the way.
The Zion National Park Route
From Salt Lake City, head along Interstate-15 (I-15) south, passing the intriguing Museum of Natural Curiosity and then the city of Provo. Here the Provo Pioneer Village gives a glimpse into the lives of the early settlers in Utah, and Provo Canyon is a haven for nature enthusiasts.
As you leave Provo, follow the interstate and then pick up UT-28 towards Gunnison, where the Gunnison Reservoir is a great spot for fishing. From here, head to Salina for a fun photo op at the Giant Soda Cans.
UT-24 then will lead you to the scenic sites of Red Canyon National Preserve, before arriving at Capitol Reef National Park to visit landmarks such as Hickman Natural Bridge. Spend the night in Torrey, a gateway to the park, and you can enjoy unreal views during sunset and sunrise.
You will soon arrive at Bryce Canyon National Park, with stunning viewpoints and rock formations, before I-15 takes you past Cedar City and towards the lush woodlands of Dixie National Forest. Afterwards, you can also detour to Kanarraville Falls, a hiking spot known for its waterfalls and picturesque trails.
From Dixie National Forest, continue along I-15 to Zion National Park, where the towering cliffs and red-rock canyons promise an awe-inspiring experience.
Afterwards, cool off at the Little Jamaica Natural Swimming Hole, a hidden gem offering a refreshing dip, before continuing towards the destination, Las Vegas, where a whirlwind of entertainment awaits.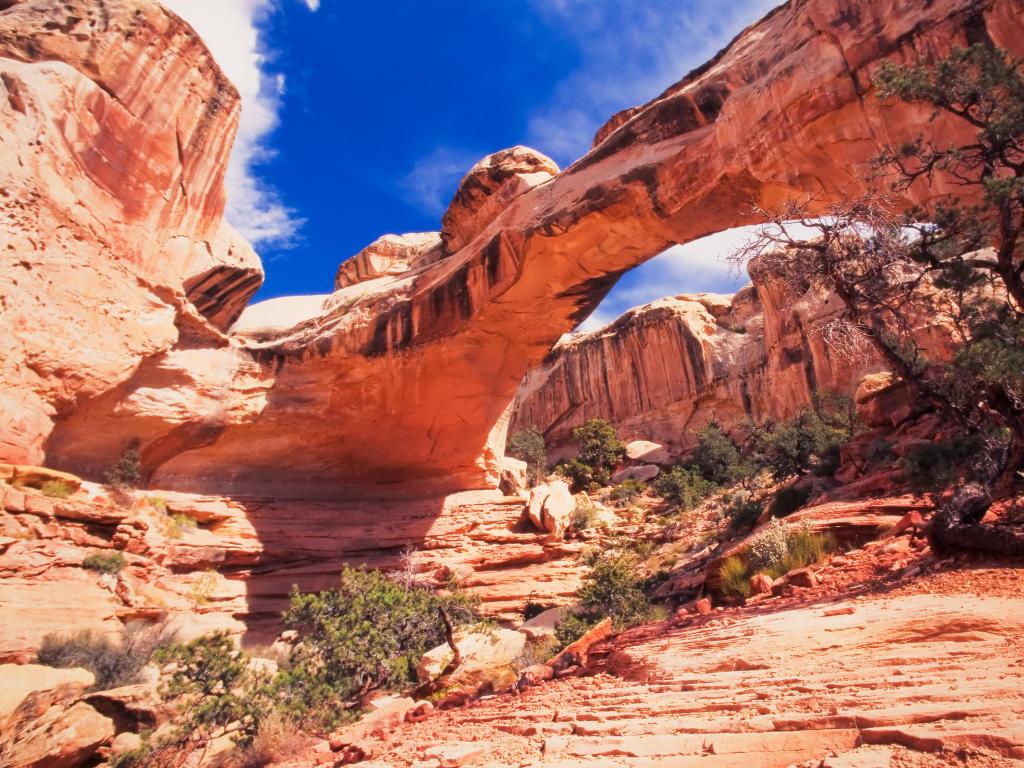 The Arches National Park Route
You will follow the same directions as the above route until you leave Provo. From Provo take US-6, then I-70 and US-191 towards the phenomenal Arches National Park. Known for its expansive views and unique natural arches, it is a wonderland of red-rock formations.
You can also make a small detour to Castle Valley, and area celebrated for its towering sandstone cliffs and Western film shootings.
The deep canyons and stunning vistas of Canyonlands National Park then await you, a less crowded yet equally mesmerizing alternative to Arches, before US-191 leads to Moab. In the day, visit the Moab Giants Dinosaur Park, before spending a delightful evening at the Moab Backyard Theater.
Onwards US-191 brings you to the Canyon Country Discovery Center in Monticello, offering insight into the region's geology and history before continuing to the historical Bluff and Bluff Fort.
Pick up US-163, where you sweep through the awe-inspiring landscapes of Oljato-Monument Valley, packed with iconic towering buttes. Spend a night or two here to really appreciate all the area has to offer.
You also have the opportunity to visit the world-renowned Grand Canyon, by heading south from Oljato-Monument Valley along US-160, where the iconic red rocks and canyons await.
If you are not detouring, take AZ-98 and US-89 past the breathtaking Glen Canyon Dam Overlook and the mystical formations at Toadstool Hoodoos in Utah. The final stretch of your journey passes the St. George Dinosaur Discovery Site before reaching the vibrant city of Las Vegas.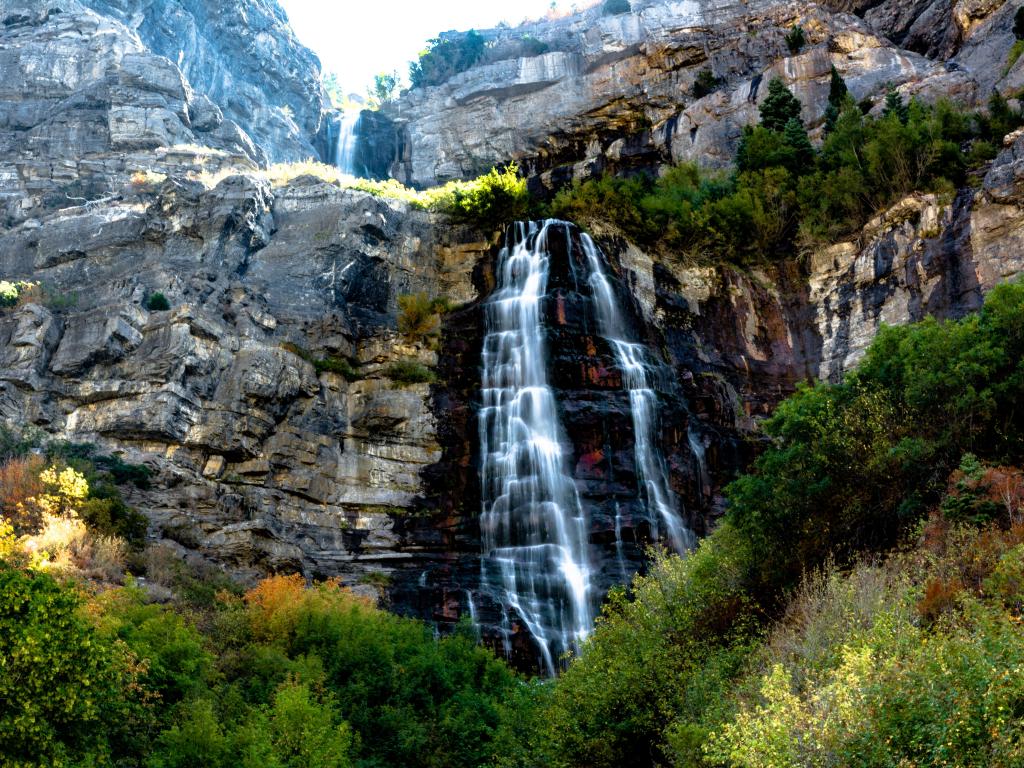 Best places to stop between Salt Lake City and Las Vegas
This journey from Salt Lake City to Las Vegas promises one full of adventure and excitement. Make sure to keep reading to see where the best places are to stay a little longer as you make this memorable journey.
Scenic sites and starry skies on the doorstep in Torrey
Torrey is the ideal place to pause on your Zion National Park Route journey, found around 220 miles into your adventure, just shy of the halfway mark. The town is rich with culture and the gateway to Capitol Reef National Park.
Capitol Reef National Park is a designated Dark Sky Community, offering rare, pristine views of the night sky, including the Milky Way, views less common due to growing light pollution.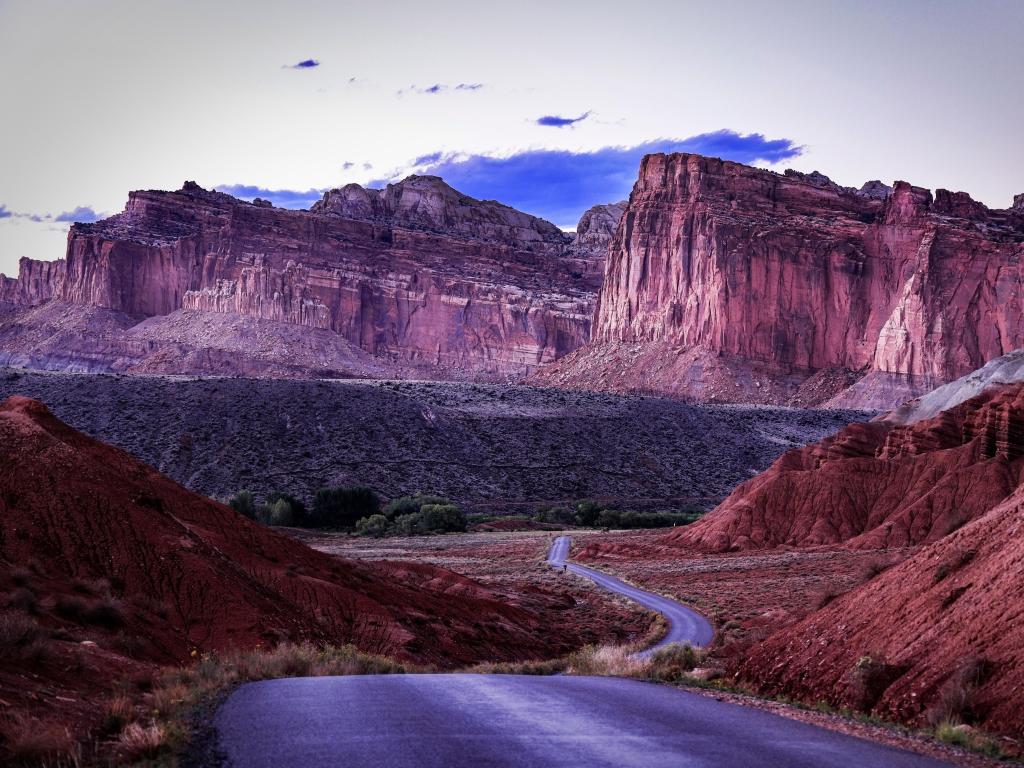 The park also showcases Waterpocket Fold, a 100-mile-long stretch filled with majestic cliffs and canyons and awe-inspiring domes and bridges. It really is spectacular.
Just a stone's throw away from Torrey, Chimney Rock is a tall and distinctive rock formation offering panoramic views of Waterpocket Fold and is a haven for photography and nature lovers alike.
To make the most of your stopover in Torrey, we highly recommend staying at the outstanding Skyview Hotel. It couldn't be closer to the Capitol Reef National Park, and the modern hotel rooms or luxury family tents offer panoramic mountain views.
You can unwind here with complimentary coffee, snacks, and drinks while soaking in the awe-inspiring views. Or if you venture out then there is plenty close by, including the local Town Park, a mere 1.1-mile drive, ideal for a short stroll and picnic lunch and enjoy views of picturesque Torrey.
Marvel at picturesque Oljato-Monument Valley
Oljato-Monument Valley is famous for its mesmerizing red mesas and towering buttes and an ideal halfway stop along the Arches National Park Route to explore and recharge.
A popular place to head here is Valley Drive, a 17-mile self-guided dirt road that invites you to explore iconic landmarks like the East and West Mitten Buttes, Merrick Butte, and John Ford's Point.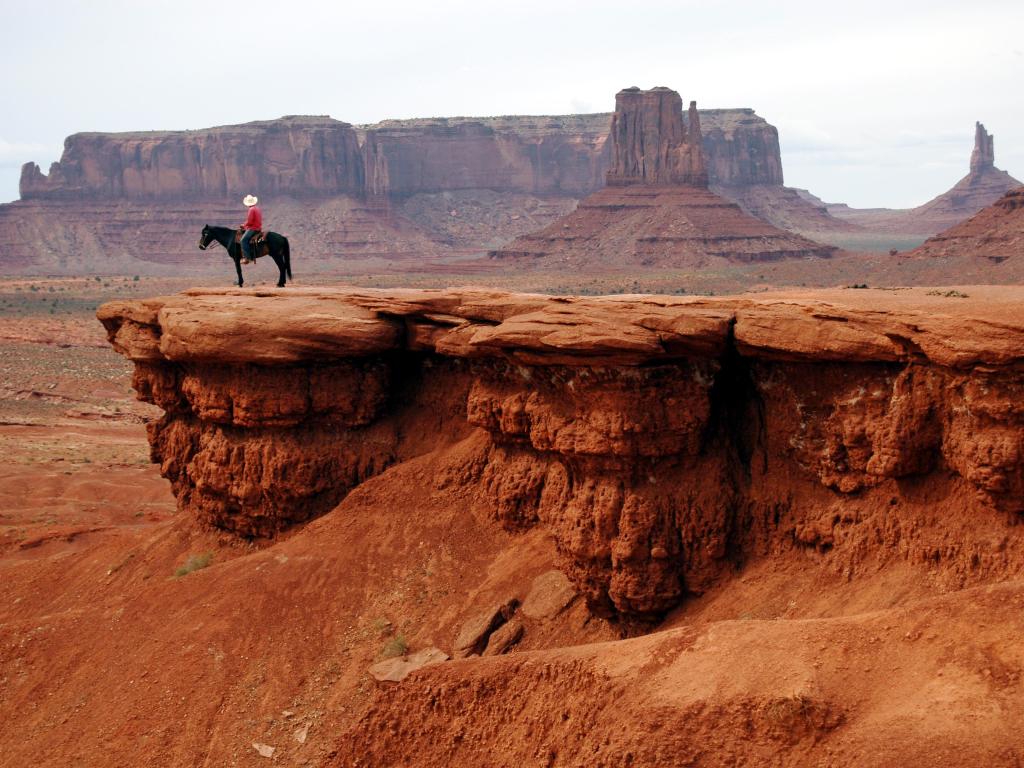 Another geographical wonder is the rock formation, fondly known as "John Wayne's Boot." The name pays homage to the legendary actor featured in many Westerns filmed on the Oljato-Monument Valley landscape.
As night falls, only a short 4-mile drive from the magnificent Oljato-Monument Valley is Goulding's Lodge, our recommended place to stay. This superb hotel enjoys unrivaled mountain views and is a peaceful setting to unwind.
Start your mornings watching the stunning sunrise from your private balcony before heading to the relaxing indoor pool for an early swim. After a day of discovery, head to the on-site Stagecoach Dining Room. The restaurant enjoys beautiful views and is the ideal setting for dinner and drinks.
Just 5 miles away from the hotel, you can also make a stop off at the 'Welcome to Utah' sign, marking another milestone in your picturesque road trip.
Where to stay when you reach Las Vegas
Las Vegas, often referred to as 'Sin City', is a dazzling city buzzing, where the lights never dim, and the fun never stops.
No visit would be complete without heading to the Las Vegas Strip, an electrifying stretch of Las Vegas Boulevard that houses the most renowned casinos, hotels, and entertainment venues. It's a place where every night is a carnival.
For a sprinkle of Venetian magic in the desert, The Venetian's Grand Canal Shoppes and Gondola Rides invite you to drift in a gondola through indoor canals and around the remarkable replica of St. Mark's Square. It needs to be seen to be believed!
In a city that celebrates opulence, The Four Seasons Hotel Las Vegas makes for a super luxurious stay. Standing tall, the floor-to-ceiling windows at this complex invite you to soak in the breathtaking mountain views as well as the luminous Las Vegas Strip.
Every detail at this hotel is indulgent, from the modern and stylish design to the luxurious lounges. You will find a sprawling private outdoor pool that not only offers a refreshing dip but also hosts eight private cabanas.
Make sure also to have a pamper at the stunning on-site full-service spa, before you head out for a night to remember.
Things to see on a road trip from Salt Lake City to Las Vegas
Take this road trip from Salt Lake City to Las Vegas and you can expect to be greeted by stunning landscapes, unusual landmarks, parklands, canyons, and vistas. There is so much to discover along the way; keep reading to see some of our favorites.
Zion National Park Route
Museum of Natural Curiosity - Located in Lehi, this museum offers interactive exhibits encouraging imaginative and innovative thinking, making it a great visit for families with children.
Provo Pioneer Village, Provo - This historical site offers a glimpse into the life of Utah's early settlers through preserved structures and artifacts.
Provo Canyon - Renowned for its scenic beauty, it offers picturesque spots like Bridal Veil Falls and opportunities for hiking and outdoor recreation.
Gunnison Reservoir - A popular spot for boating and fishing, this reservoir offers tranquil surroundings and scenic views.
Casino Star Theatre - A historic theatre in Gunnison that showcases films and live performances, retaining its classic architectural charm.
Giant Soda Cans, Salina - This roadside attraction in Salina features oversized soda can sculptures, adding a whimsical touch to the town.
Red Canyon National Preserve - Noted for its striking red rock formations and tunnels, it offers hiking trails and camping sites for nature enthusiasts.
Capitol Reef National Park - Home to the Waterpocket Fold, a geologic monocline extending almost 100 miles, it features cliffs, canyons, domes, and bridges in the older, harder rocks.
Bryce Canyon National Park - This park stands out with its larger-than-life hoodoos, high elevation and amphitheaters filled with red, orange, and white rock formations.
Dixie National Forest - Spanning almost two million acres, this national forest offers a variety of landscapes from red sandstone rocks to wooded areas, perfect for hiking and camping.
Hickman Natural Bridge - Located in Capitol Reef National Park, it is a natural bridge formation that's a highlight of a moderate hiking trail in the park.
Cedar City - Known as the gateway to Utah's national parks, it also hosts the Utah Shakespeare Festival attracting visitors globally.
Kanarraville Falls - This popular hiking destination features a slot canyon with waterfalls, streams, and a ladder to assist visitors climbing up the falls.
Zion National Park - A spectacular destination with steep red cliffs, it offers challenging hikes and stunning vistas, a haven for adventure seekers.
Little Jamaica Natural Swimming Hole - A hidden gem near Littlefield, offering a natural pool with clear water, surrounded by rocky landscape and a refreshing stopover.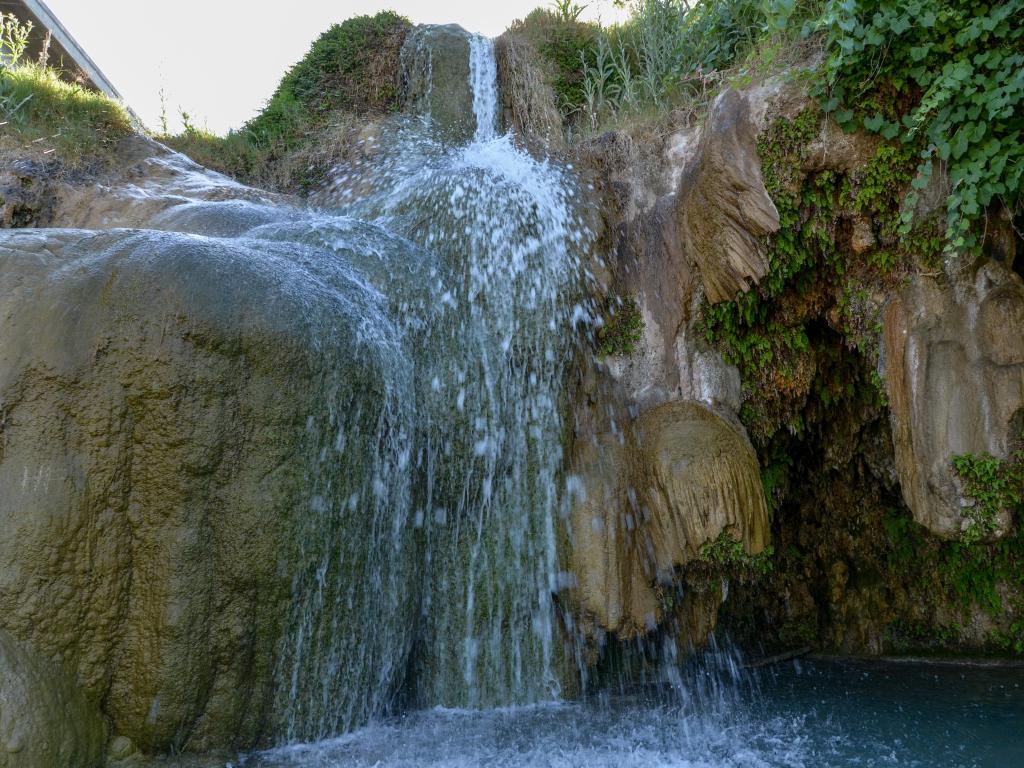 Arches National Park Route
John Wesley Powell River History Museum - Located in Green River, it details the explorations of the Colorado River and its tributaries, offering rich insights into the region's history.
Moab Giants Dinosaur Park - A fascinating park in Moab where you can find dinosaur tracks and other prehistoric exhibits, great for families and dinosaur enthusiasts.
Moab Backyard Theater - An outdoor venue offering live entertainment, including music performances, nestled in the scenic backdrop of Moab.
Arches National Park - Home to over 2,000 natural stone arches, this park in Moab offers breathtaking landscapes and unique geological formations.
Castle Valley - A valley that stands amidst red rock formations, offering incredible photography opportunities and hiking trails.
Canyonlands National Park - A vast park divided into four districts with dramatic desert landscapes, deep canyons, and powerful rivers.
Canyon Country Discovery Center - This center in Monticello offers interactive exhibits about the natural and cultural history of the Colorado Plateau.
Bluff Fort - A historic site depicting early pioneer life with restored cabins, old wagons, and informative displays on the history of the Bluff area.
Oljato-Monument Valley, Arizona - Situated on the Arizona-Utah state line, it's famous for its towering sandstone buttes and appearances in numerous films.
Grand Canyon National Park - An iconic national park known globally for its immense size and intricate and colorful landscape. It offers some of the most stunning vistas in the world.
Glen Canyon Dam Overlook - A viewpoint offering a panoramic view of the Glen Canyon Dam and the surrounding vibrant, rugged landscape.
Toadstool Hoodoos, Utah - This area is known for its unique mushroom-shaped rock formations, offering a surreal and picturesque hiking experience.
St. George Dinosaur Discovery Site - A site preserving prehistoric tracks in St. George, offering educational exhibits on the region's Jurassic period inhabitants.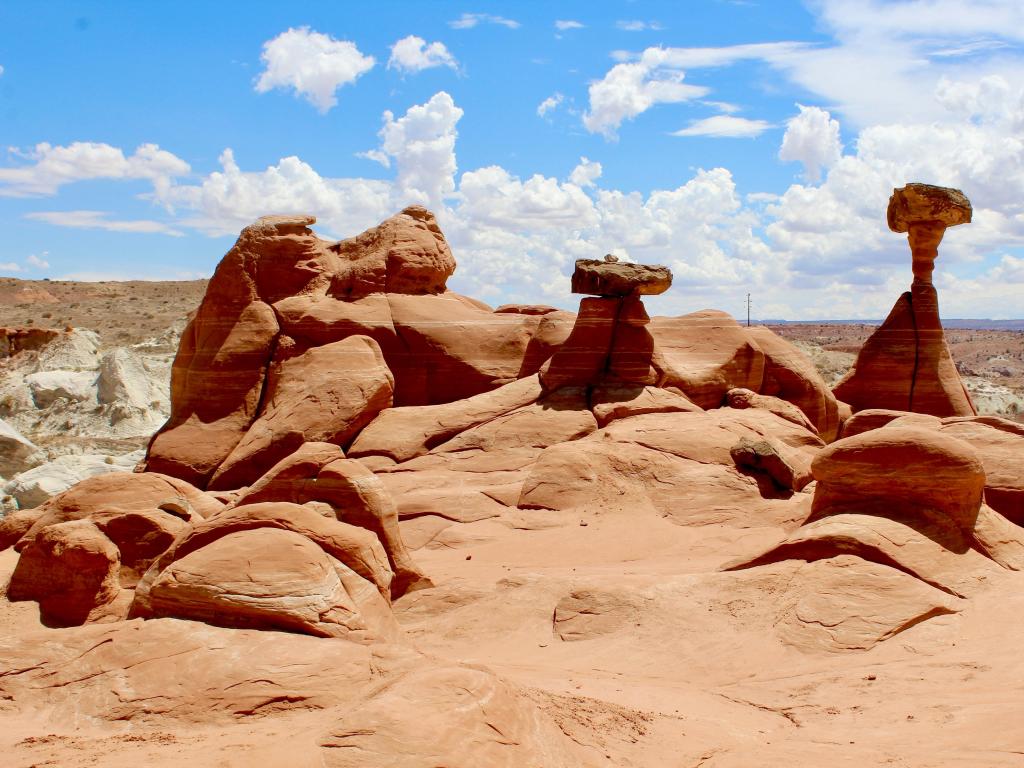 Best time to go on a road trip from Salt Lake City to Las Vegas
Las Vegas is a destination that promises world-class entertainment year-round, and your journey there can be equally exciting depending on when you travel.
Head along the Zion National Park Route in the spring and although you can expect mild weather, you may see heavy rain in parts. If the weather remains nice, though make sure to visit the Clark County Fair and Rodeo held each April.
In spring, the alternative Arches National Park Route is also a great time to visit, with moderate temperatures perfect for off-roading, hiking, and mountain biking in places such as Moab. You can expect the temperatures to range between 60-80 degrees Fahrenheit.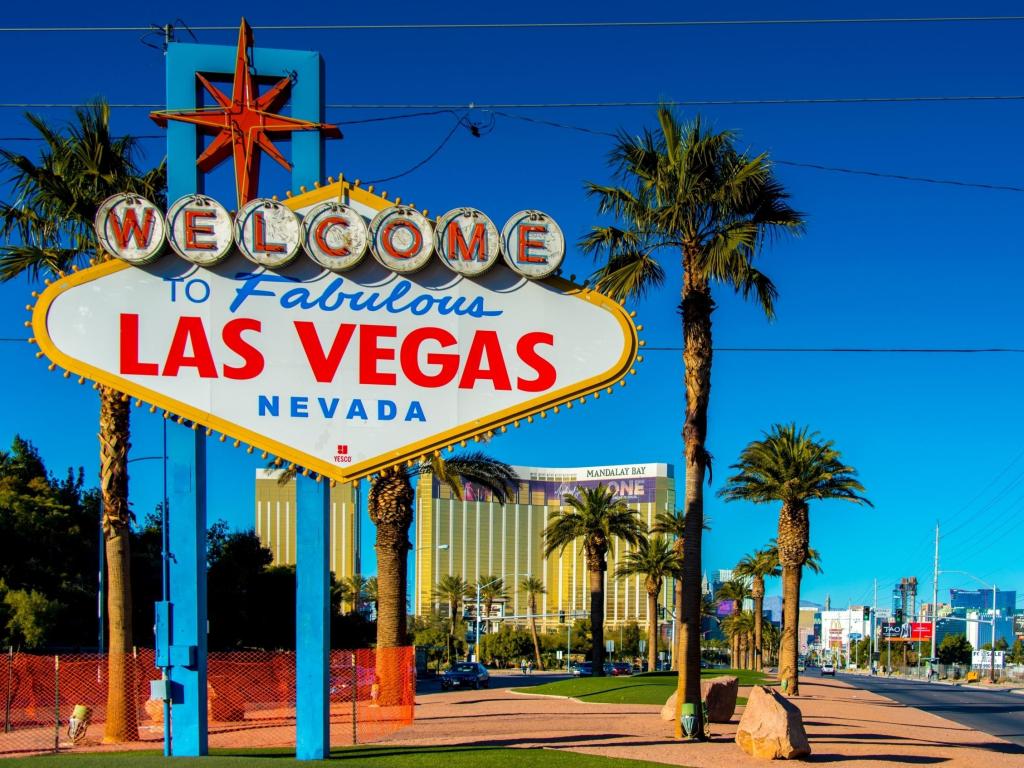 Delay the trip until summer and you can expect more intense heat, often soaring above 100 degrees Fahrenheit.
If you're a fan of cooler temperatures, then wait until the fall, when you can enjoy beautiful fall landscapes as you make your journey and mild temperatures. You can also take advantage of festivals such as the Zion Canyon Music Festival in September and October.
Or a winter trip might suit you, but be prepared for icy trails and potential road closures. The Jubilee of Trees in November or The Bluff International Balloon Festival in January can also be enjoyed if you travel during this season.
When you reach Las Vegas, the weather will be the last thing on your mind (if you are curious though, the winter temperatures range between 50-75 degrees here), however, there are extra events throughout the year to add to your stay.
In April, the city hosts the Las Vegas Helldorado Days, an event filled with vibrant parades and rodeo performances, while the Life is Beautiful Festival in September promises a grand celebration of music, art, and food.