Road Trip from Salt Lake City to Seattle
You could fly from Salt Lake City to Seattle, but it's much more adventurous to drive. You might be surprised at how much there is to see on this trip: from cascading waterfalls to bustling cities - plus lush forests, river gorges and towering mountains. There is something for everyone on this trip.
The 950-mile road trip from Salt Lake City to Seattle will take you 14 hours and 20 minutes to drive. Highlights on the way include Portland, Boise, Twin Falls, Craters of the Moon, and Columbia River Gorge, as well as Umatilla and Wallowa-Whitman National Forests.
On this epic journey, you will see some of America's most beautiful scenery. If the idea of this fantastic road trip interests you, keep reading for more details about the route, where to stay, and what to see along the way.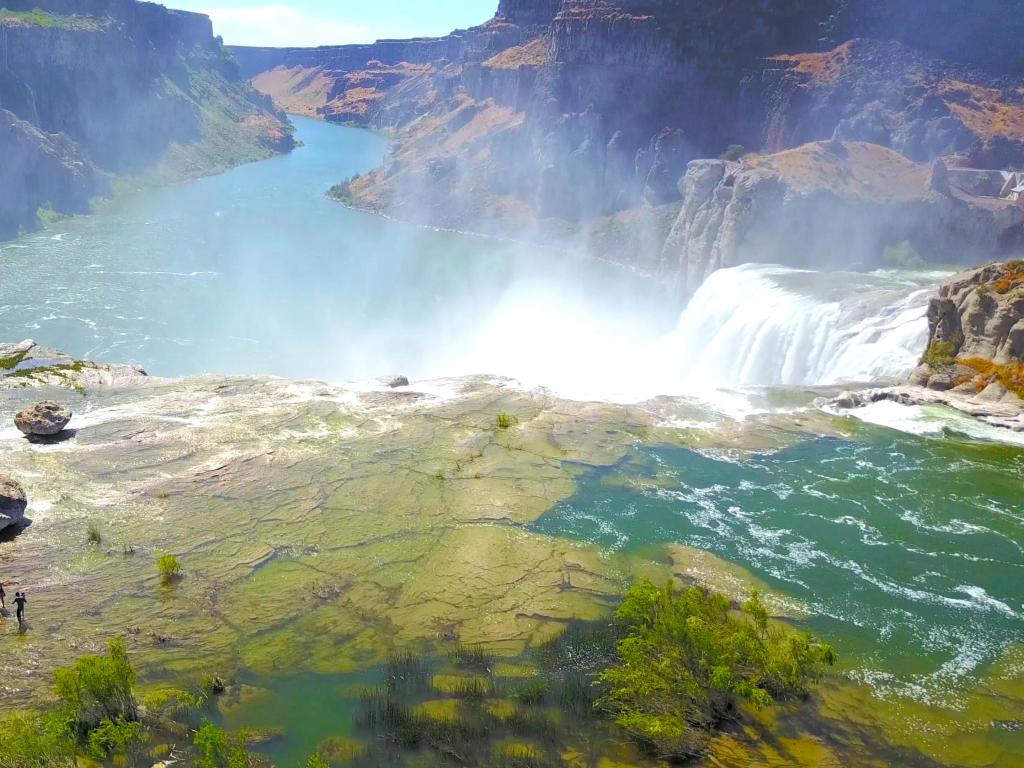 How far is Seattle from Salt Lake City and how long will the road trip take?
The road trip from Seattle to Salt Lake City will cover 948 miles and take you about 14 hours and 20 minutes to drive without any stops or detours. However, it's always best not to rush, as you won't have time to enjoy everything on offer along the way.
Instead, we advise taking at least four days, if not more, for this road trip. This route will lead you on an adventure past otherworldly parks, impressive canyons, and bustling cities.
The driving takes place almost entirely on interstates, which makes it a quick and easy route. There are a couple of short detours you can take if you want to get away from the interstate and visit some attractions. These detours are mostly on highways.
Boise and Portland are the only major cities along the way, where traffic could be an issue, particularly in Portland. The best advice we can give is to try and time your trip to avoid these areas at rush hour.
If you wish, you could extend your trip and take a detour into the cosmopolitan city of Vancouver for a few days if you aren't pressed for time.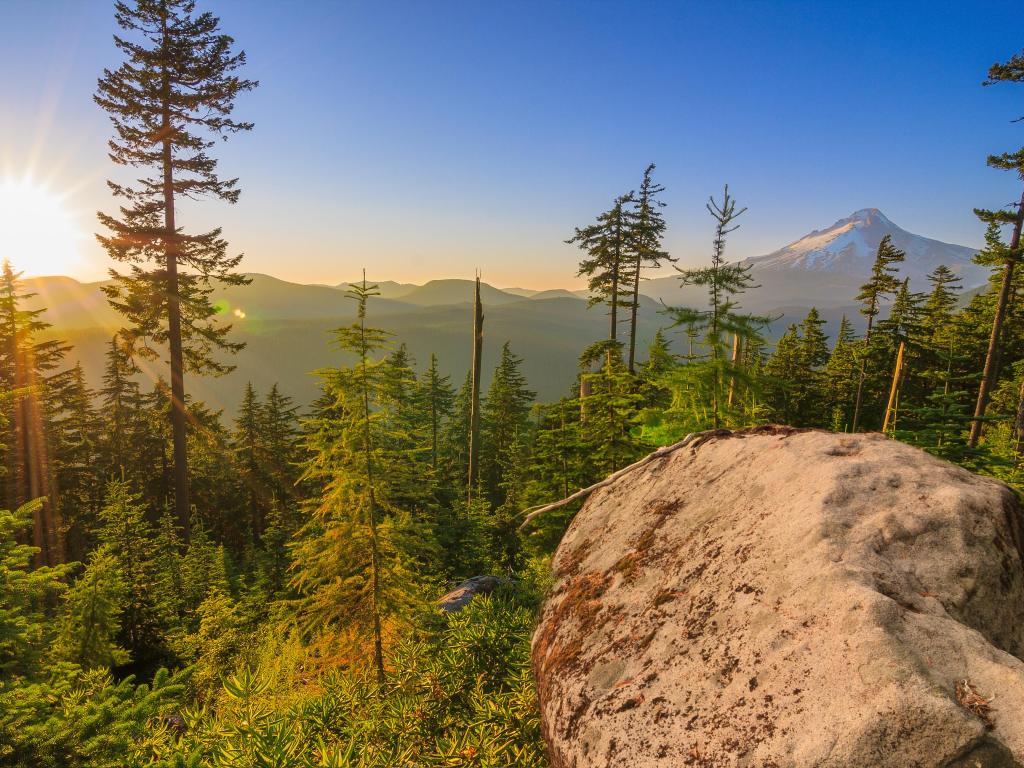 Best road trip route from Salt Lake City to Seattle
The best road trip route from Salt Lake City to Seattle will take you through some beautiful scenery in Idaho, Oregon, and Washington before you arrive in Seattle. You will pass through rivers, mountains, and many breathtaking national forests on the way.
Read on for the exact details of the route, and how you can follow it.
Road Trip Route from Salt Lake City to Seattle
Take Interstate 15 (I-15) north out of Salt Lake City, heading for Ogden. Just past Brigham City you will leave I-15 and join Interstate 84 (I-84). Follow this over the state border and into Idaho.
Twin Falls is your next landmark on I-84, and then it's the city of Boise. Just after Twin Falls, you could detour to the Craters of the Moon National Monument. Take Exit 173 and turn right onto US-93, then take another right onto US-26 East to reach the landmark.
If not making the detour, remain on I-84 as it leads you alongside the Snake River. It will take you past Umatilla and Wallowa-Whitman National Forests, and to the start of the Columbia River Gorge.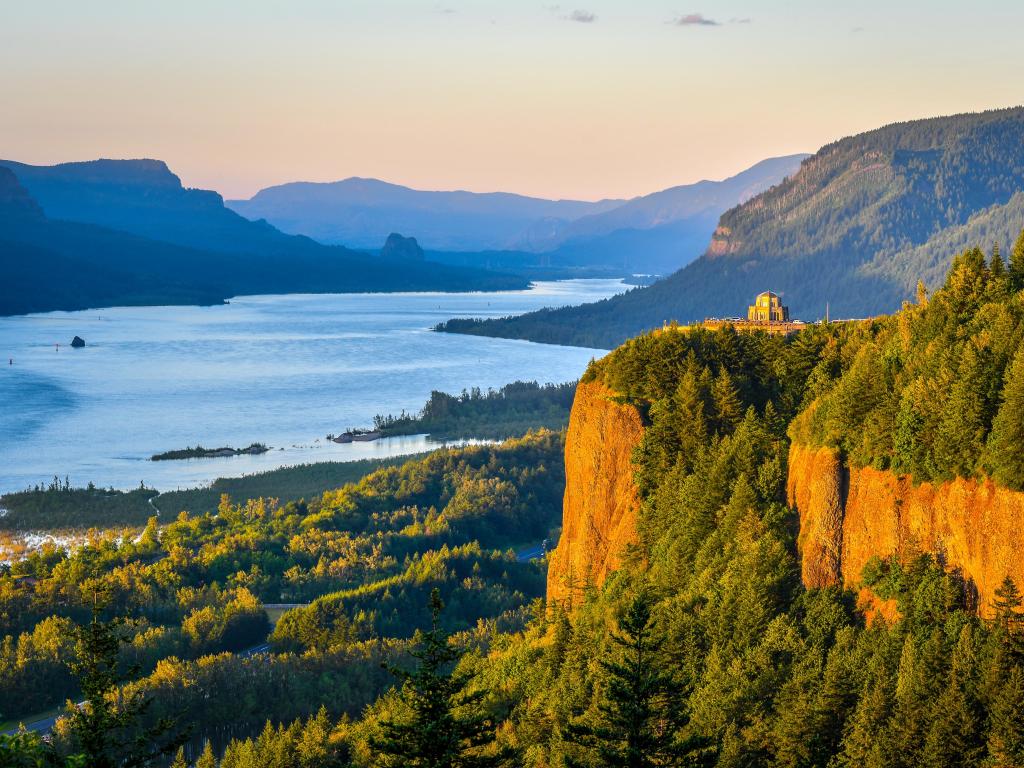 Detour down the gorge on I-84, as this is a particularly scenic stretch of road. This will take you to the outskirts of Portland, which is a fantastic city worth spending a few days in.
To leave Portland, take Exit 28A-B-C for Interstate 205 and then merge onto I-5, heading north. From there, it is a short drive to Seattle, where your journey ends.
Best places to stop between Salt Lake City and Seattle
Your road trip from Salt Lake City to Seattle will have to be split over a number of days. It can be daunting trying to figure out where you should stay, so to make it easy for you we have recommended a few fantastic places below.
Enjoy Boise - the "City of Trees"
Located on the border of a stunning national forest, Boise is around 5 hours away from Salt Lake City. Situated halfway on your road trip, this tranquil city is an obvious place to spend a night.
A whopping 2,5 million acres of imposing conifer trees and emerald grassland, Boise National Forest surrounds the namesake city and is a perfect spot for thrill-seekers and hikers alike. You will be surrounded by beautiful hiking trails and crystal-clear lakes during your visit.
Have a tranquil picnic by the Blue Lake or try rafting on the wild waters of Payette and Boise Rivers if you are feeling adventurous. The Grove Hotel in downtown Boise is a fabulous option for your night's stay when you head back to town.
Situated right in the center of the city, you will be able to explore everything in Boise. The hotel is only a few minutes from the Boise Art Museum, Old Idaho Penitentiary Site and Zoo Boise, so you will be spoiled for choice on your day out.
While in the town center, you can check out the local bars and eateries or head back to enjoy the hotel's fabulous indoor swimming pool, sauna or hot tub before heading to the chic Trillium Restaurant for a delicious meal or to enjoy a cocktail in its stylish bar.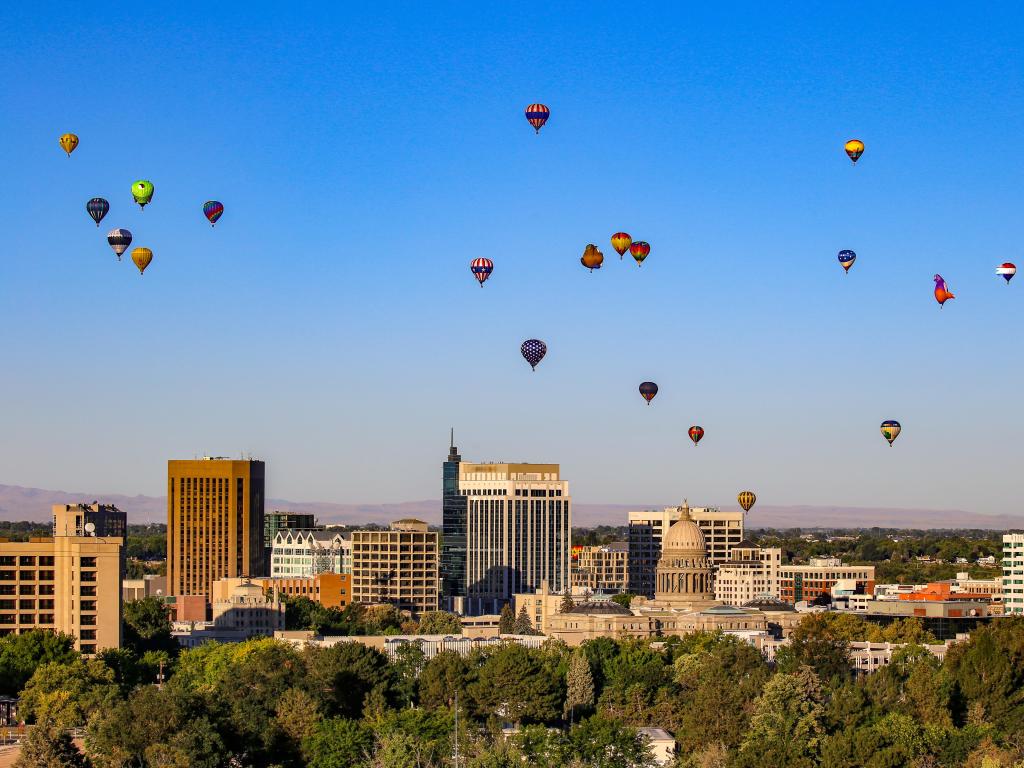 Stop and smell the roses in Portland
Portland is located about three hours away from Seattle, making this vibrant city the perfect stop before arriving at your final destination, Seattle. Known for its beautiful scenery and artistic culture, this city is sure to dazzle everyone.
If you are looking for another overnight stop on your trip, the luxurious Duniway in Portland will not disappoint. Gorgeous from every angle, The Duniway boasts chic and modern décor with beautiful boutique-style rooms.
Located in the heart of downtown Portland, the hotel is a few blocks away from the Portland Art Museum, which houses American, Asian, and Native American art, and the Oregon Historical Society.
Known as "The Rose City", Portland is known for its perfect climate to grow roses. Visit the International Rose Test Garden in the fabulous Washington Park nearby, which also is home to a stunning Japanese Garden and the Oregon Zoo.
After an exhilarating day of sightseeing, you can relax in the hotel's exclusive outdoor rooftop patio, Abigail's Hideaway after a dip in the heated wave-less lap pool. Alternatively, you can head to the upscale restaurant located onsite.
Where to stay once you reach Seattle
Few skylines in the world are as iconic as Seattle's, but the views across Elliott Bay to the Olympic Mountains are just as stunning. With its unobstructed views of the bay, The Four Seasons Hotel Seattle is one of the top choices for fabulous accommodation in the city.
This luxury hotel is known for its exceptional service and concierge and for its fabulous rooms. With such gorgeous views out of your own window, you might not want to step out, but if you do, the iconic Seattle Great Wheel is located minutes away on the waterfront.
From there, you can take a stroll by the ocean and visit the Seattle Aquarium, Olympic Sculpture Park and the quintessential landmark of the city, The Sky Needle.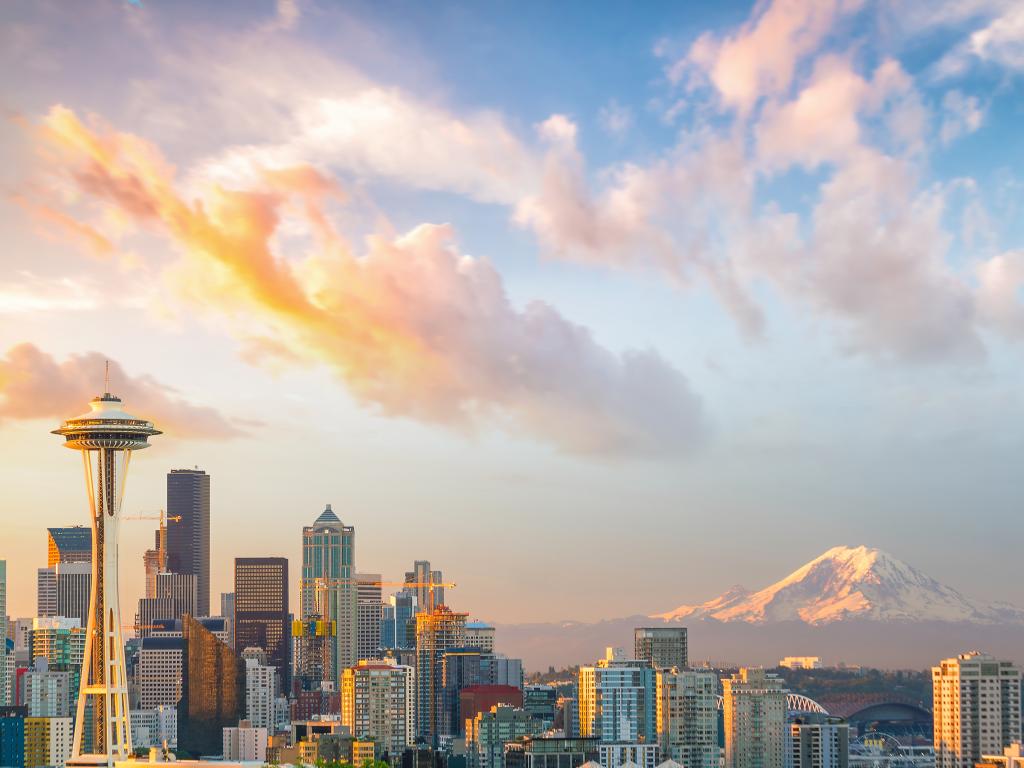 If you are feeling low on energy or not up for walking, The Seattle Art Museum is a great way to spend the day. Located minutes away from the hotel, this museum is a world-class center for visual arts and houses collections of old and new art by artists from around the globe.
On your way back, you can stop by the famous Pike Place Market to grab a bite or head back to the hotel for a decadent dining experience at the Goldfinch Tavern. Make sure to try a relaxing massage treatment at the spa after a long day.
Things to see on a road trip from Salt Lake City to Seattle
On a long trip, like your road trip from Salt Lake City to Seattle, it can be difficult to figure out all the best attractions along the way. Luckily for you we have put together this handy list of some of the best things to see on the way.
We also encourage you to give yourself time to do your own exploring, who knows what hidden gems you might come across during your road trip.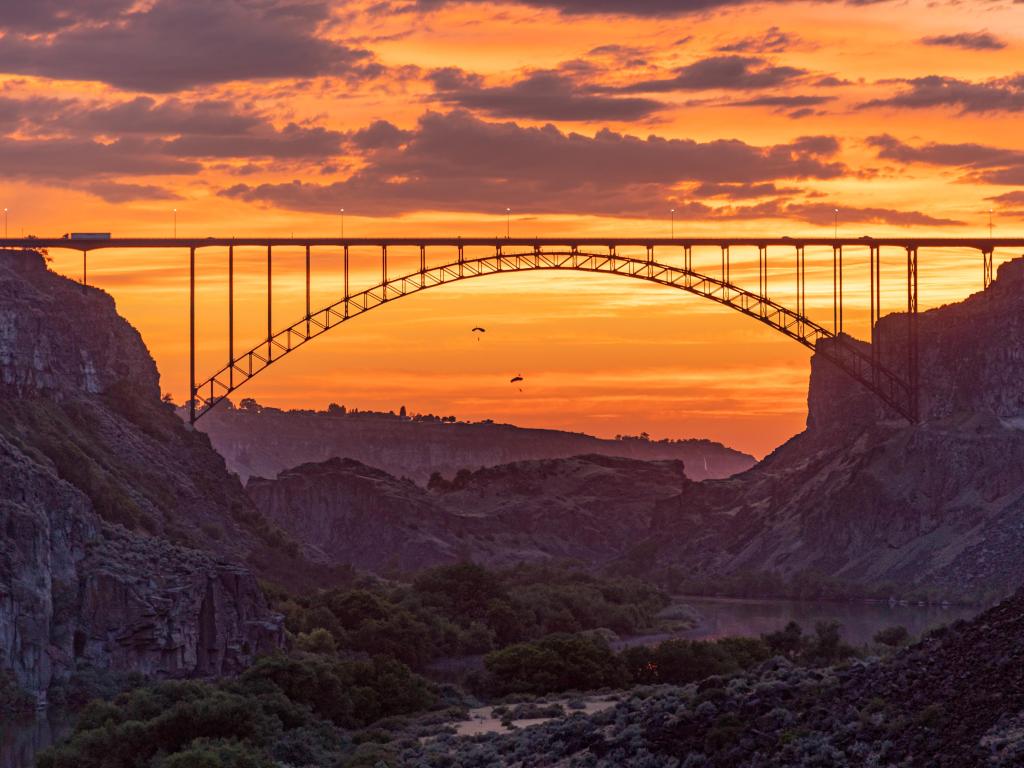 Snake River Canyon, Twin Falls - A great chance to go for a walk and enjoy the beautiful views along the Snake River, this striking canyon can be viewed at an overlook just south of the bridge or at Shoshone Falls.
Shoshone Falls, Twin Falls - This impressive waterfall is one of the biggest in the United States, sitting right on your route on the mighty Snake River.
Craters of the Moon National Monument & Preserve, Idaho - A vast ocean of lava flows, explore this otherworldly landscape only a short detour from your main route.
Boise River Greenbelt, Boise - Giving you another opportunity to stretch your legs, the Boise River Greenbelt runs right through the city and features stunning scenery.
Boise National Forest, Boise - A breathtaking forest that spans over 2,5 million acres of diverse forest and grassland, you can raft, kayak, sail, hunt, fish or simply have a relaxing picnic here.
Boise Art Museum, Boise - This educational museum features a growing permanent collection of contemporary realism as well as modern and contemporary ceramics.
Zoo Boise, Boise - The home to more than 300 animals, this zoo is home to red pandas, snow leopards, lions and zebras among many others.
Old Idaho Penitentiary, Boise - If you enjoy history then stepping back in time with a tour of this prison, one of the only four territorial prisons open to the public, should be on your list of things to do.
Columbia River Gorge, Hood River - This stretch of scenery is spectacular, so make sure you give yourself time to stop along the way and enjoy everything on offer, including scenic viewpoints and beautiful waterfalls.
Washington Park, Portland - This spectacular park in the city center houses the International Rose Test Garden as well as a gorgeous Japanese Garden with cherry blossom trees and the Oregon Zoo.
Portland Art Museum, Portland - This largest museum in Oregon features collections of Native American, Northwest, contemporary and modern art collections.
Portland Saturday Market, Portland - If you happen to be heading through here on a Saturday, you can visit the popular open-air market, which combines the vibes of an art show, a live street concert and a bazaar.
Multnomah Falls, Oregon - This iconic waterfall in Oregon is het most visited natural recreation site in the Pacific Northwest and a must-see while travelling down the Columbia River Gorge.
Oneonta Gorge, Oregon - If you like getting active, plan on taking a quick trip down Oneonta Gorge, but be warned your feet will get wet and it is a very popular attraction.
Mt. Hood National Forest, Sandy - Take in the imposing views of Mt. Hood in this forest, which extends across more than a million acres of forested mountains, lakes and streams.
Space Needle, Seattle - Take in the stunning panoramic views of Seattle on the top floor of this observation tower, which has become a symbol of the city.
Pike Place Market, Seattle - Seattle's original farmers market, this complex now houses restaurants, bars, speciality food shops, crafts, and fresh produce markets.
Seattle Art Museum, Seattle - Visit this world-class museum that is a center for visual arts and houses collections of art by artists around the globe.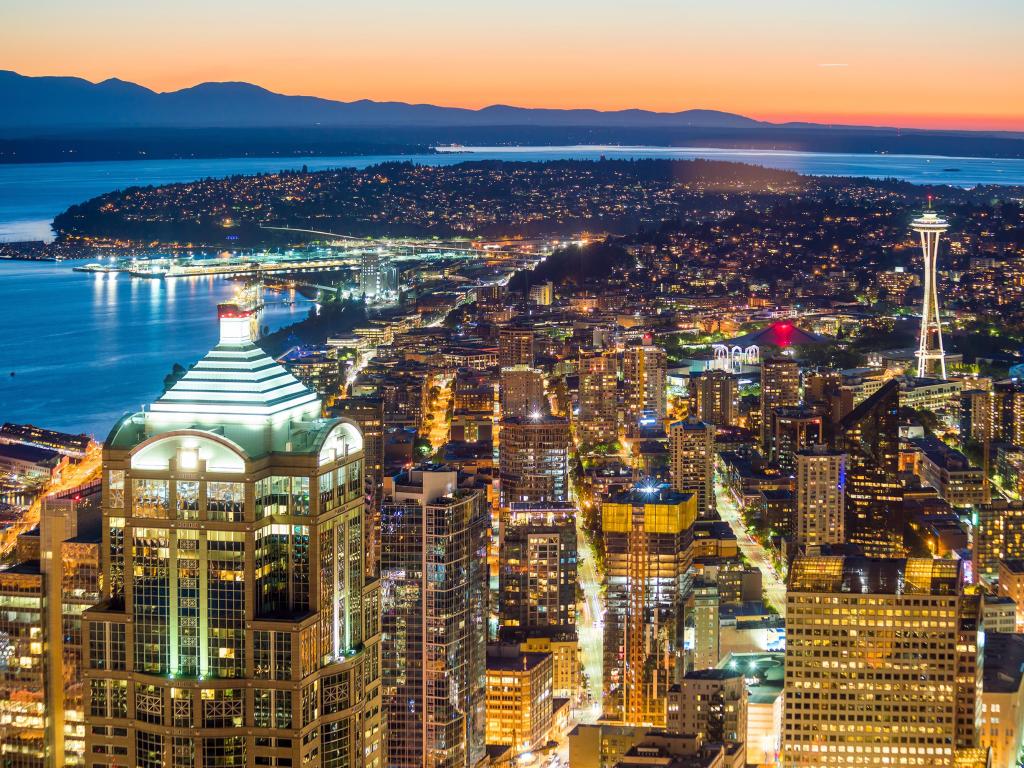 Best time to go on a road trip from Salt Lake City to Seattle
The good news is that you can go on a road trip from Salt Lake City to Seattle at almost any time of year. Each season brings different advantages and disadvantages, so it comes down to personal preference.
The route utilizes main roads, mostly interstates, and stays off smaller roads meaning you shouldn't have to deal with road closures in winter. That being said it can get cold in many places along the way with an average low of 25 degrees Fahrenheit, so be prepared for that.
Some of the destinations along this route can get quite cold in winter. Places like Boise can get snow and be overcast. Some of the parks, like Craters of the Moon National Monument & Preserve, may be less appealing in winter as well.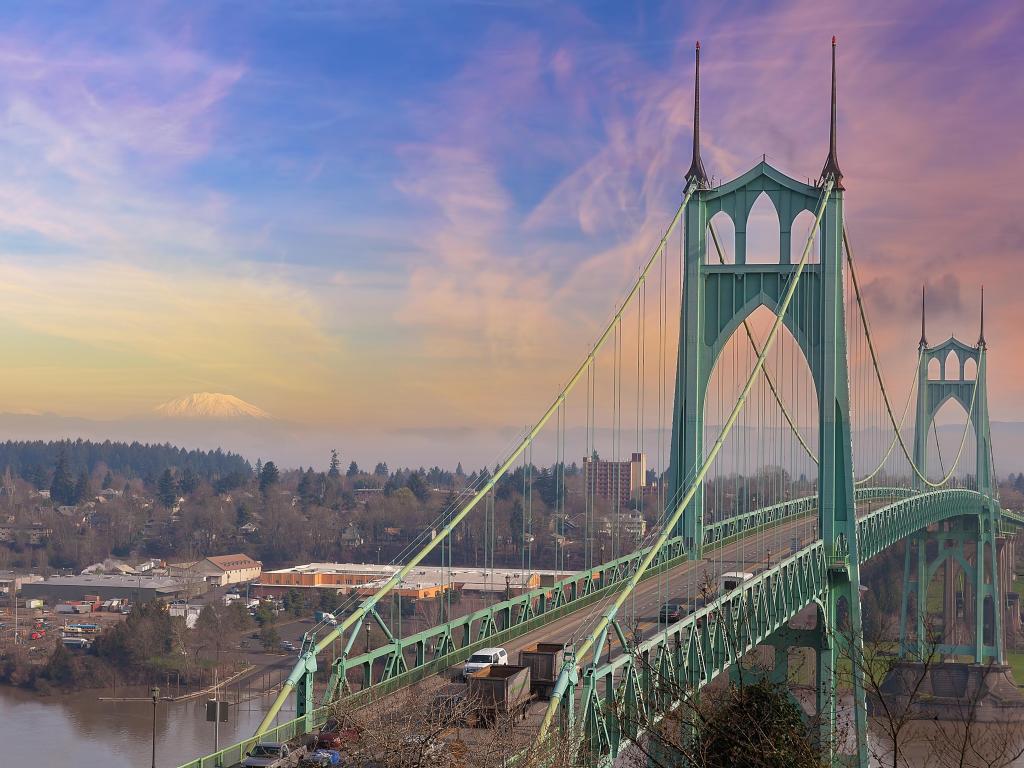 However, winter does bring some advantages. Fewer tourists mean attractions and cities will be quieter, and hotel prices might also be lower. The route takes place mostly on Interstates, meaning they won't close during winter.
If winter is too cold for you, but you want to avoid the peak season, consider traveling in spring or fall. The shoulder seasons might bring warmer weather with temperatures fluctuating between 55 and 70 degrees Fahrenheit while avoiding peak tourist numbers.
If you like the idea of getting out hiking and exploring, then summer is the best time for you to go. The weather will be warm and sunny in most places along the way with the average temperatures above 70 degrees Fahrenheit - perfect sightseeing weather.