Road trip from Salt Lake City to Grand Canyon National Park
Ready to tick off a major destination from your bucket list? The road trip from Salt Lake City to Grand Canyon will not only take you to one of the most-visited places in the nation but also give you the opportunity to visit Utah's Mighty 5 in one go!
The 530-mile road trip from Salt Lake City to Grand Canyon will take 9 hours to drive. Amazing highlights include Bryce Canyon, Zion, Arches and Canyonlands National Parks as well as Dixie National Forest, Moab, Bluff, Panguitch and Monument Valley.
This unforgettable drive from Salt Lake City to Grand Canyon through some of the nation's most beloved and well-known sights will surely be a highlight for years to come. Read on below to learn more about our recommended routes, top highlights, places to stay, and the best season to travel.
How far is the Grand Canyon from Salt Lake City, and how long will the road trip take?
Comparison of road trip routes between Salt Lake City and Grand Canyon National Park

| Route | Distance | Driving Time |
| --- | --- | --- |
| The Western Route | 530 miles | 9 hours |
| The Eastern Route | 550 miles | 9 hours 30 minutes |
The Western Route is around 530 miles and approximately 9 hours of driving with no detours. This will take you past incredible destinations like Zion and Bryce Canyon National Parks.
On the other hand, the Eastern Route spans about 550 miles and takes close to 9 hours and 30 minutes of driving time. This route brings you to places like Arches and Canyonlands National Parks.
Although it's possible to complete either trip in a day or two, there's a vast expanse of beauty and wonder to appreciate along the way. We recommend enjoying the experience over 3-4 days to get the most out of this wonderful region.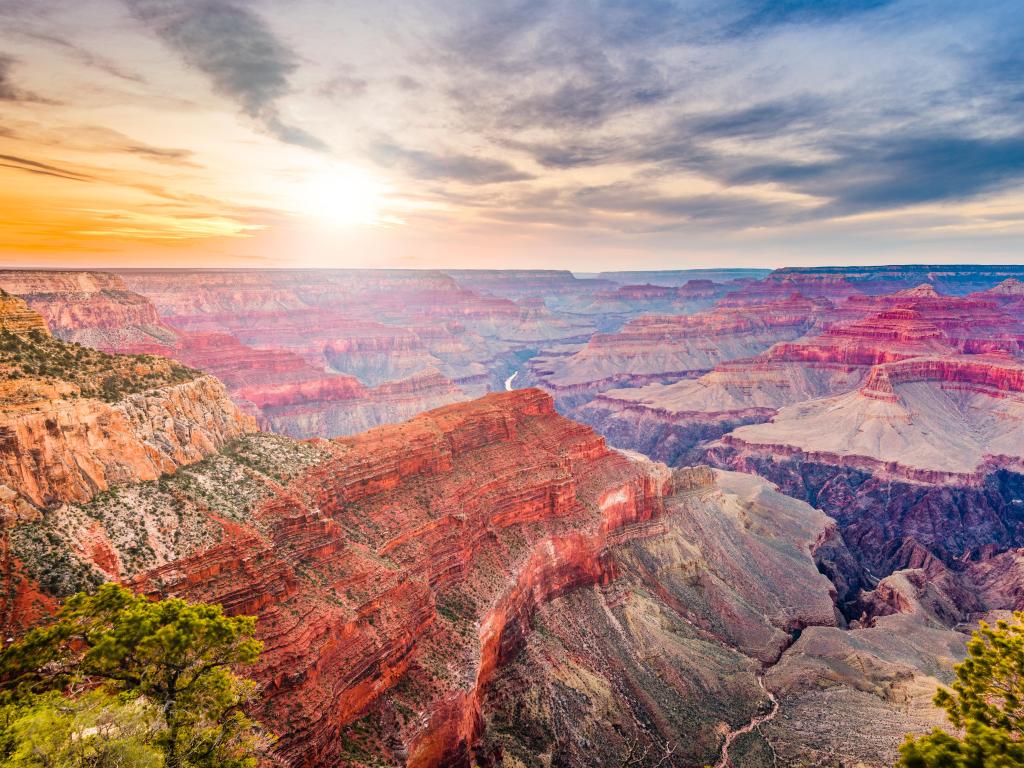 Best road trip route from Salt Lake City to Grand Canyon
While both the Western and Eastern routes boast an abundance of natural attractions, the experiences and sights they offer vary significantly. Your choice between the two will depend on what you want to see the most.
The Western Route will take you through breathtaking natural landscapes characterized by picturesque vistas, rolling hills, and scenic highways.
Along the way, you can detour to renowned attractions such as Bryce Canyon National Park, Zion National Park, and Dixie National Forest.
One of the distinctive advantages of this route is the tranquility it offers. Many stretches of the Western Route are relatively quiet and uncrowded.
If you're in the mood for a slightly longer journey through dazzling deserts and iconic landmarks, the Eastern Route might be more up your alley. Starting from Salt Lake City, this route enters the colorful terrains of Moab and the deserts of Utah and Arizona.
Among the must-visit attractions on this route are the iconic Arches National Park and Canyonlands National Park. Afterwards, a detour to Monument Valley is a must.
Keep in mind that you might need a reservation to visit Arches National Park, so please check the official website before your visit to avoid any disappointment.
Just like the Western Route, remain vigilant about the region's weather—given the extremes of searing summer heat and chilly winter frost.
How to drive from Salt Lake City to Grand Canyon
The map above shows our suggestions for the best road trip routes between Salt Lake City and Grand Canyon. Keep reading for detailed descriptions of both routes, where to stay on either, and the best things to do on the way.
The Western Route
Setting out from Salt Lake City, head southbound on Interstate 15 (I-15) through the heart of Utah. Continuing on the interstate, you'll reach Timpanogos Cave National Monument—a spectacular underground marvel. A short drive away is the Bridal Veil Falls, a stunning waterfall.
The journey then leads to Yuba State Park. As a wonderful waypoint, stop by Scipio, close to the Territorial Statehouse State Park Museum. Next, just south of Scipio, visit the Meadow Hot Springs for a relaxing dip before continuing on your drive.
Further south, you'll reach the majestic Bryce Canyon National Park, followed by the expansive Dixie National Forest. Your route will then lead you to the world-famous Zion National Park, a must-visit for its majestic cliffs and unique landscapes.
The charming town of Kanab is the perfect place to rest up some more. Finally, you will approach the end of your trip, the majestic Grand Canyon National Park.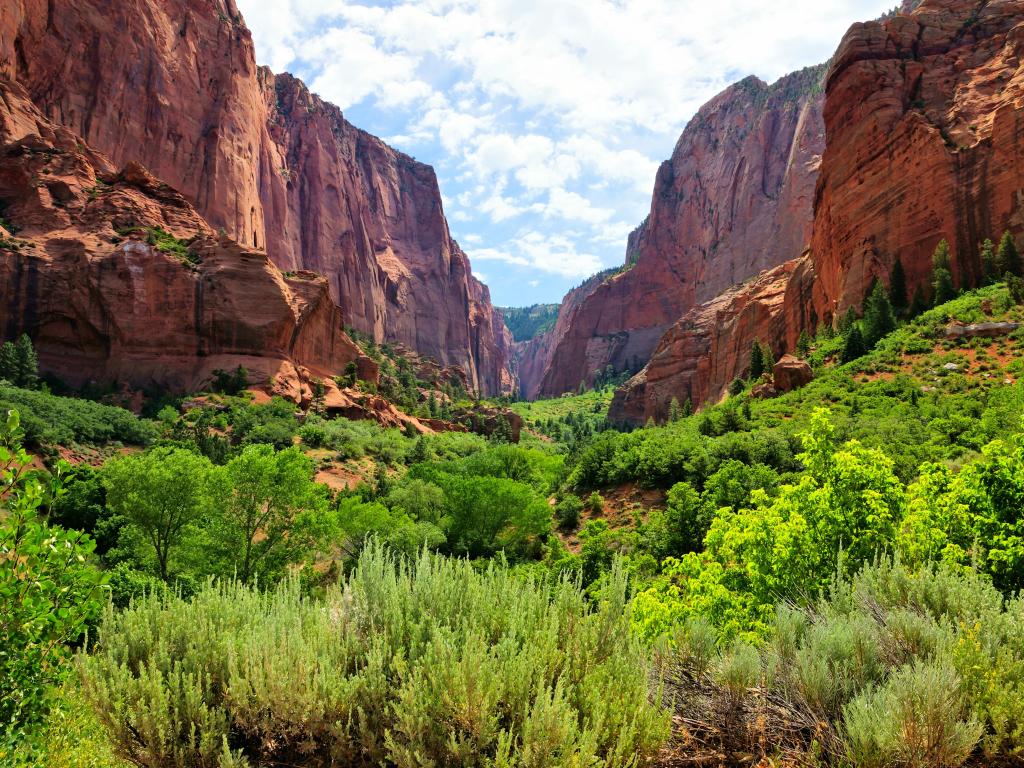 The Eastern Route
Starting from Salt Lake City, head southeast on I-15 and then to US-6. As you continue on the highway, you'll get to the ultimate rest areas on the Green River and Swasey's Beach.
In Green River, don't miss the John Wesley Powell River History Museum. From here, take a southward turn on US-191, which will lead you into the heart of Moab. This town, known for its dramatic landscapes, is home to the Moab Giants Dinosaur Park.
Continuing on US-191, the iconic Arches National Park approaches with its incredible red-rock formations. Just a bit further is the expansive Canyonlands National Park—a sprawling playground of canyons, mesas, and buttes.
Your route then takes a slight detour southeast through Bluff and onto US-163 where the unique rock formation of Mexican Hat stands. Further ahead, you'll see the dramatic and world-famous landscapes of Monument Valley.
Coming into Arizona, you'll visit the Navajo National Monument. As you near the end of your journey, stop at Cameron Trading Post to experience the rich Navajo culture and crafts.
Before reaching the Grand Canyon, it is a good place to stop for sweeping vistas of the surrounding landscapes.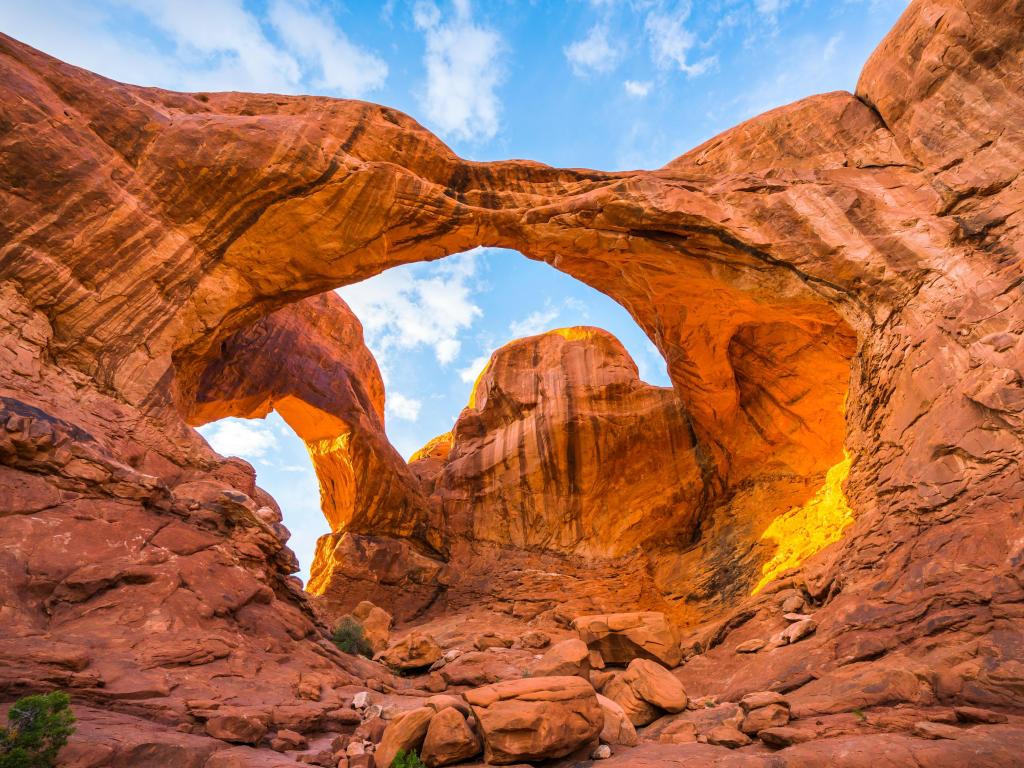 Best places to stop between Salt Lake City and Grand Canyon
There is so much to see and do that you'll want to break the trip up and stay at one of the iconic destinations below. Read on to learn more about what makes them special.
An outdoors adventure in Panguitch
Panguitch is the ideal location to pause The Western Route, roughly 3 hours and 40 minutes into the drive. Surrounded by national parks and serene landscapes, it truly is a nature-lover's paradise.
Panguitch is the perfect gateway to Bryce Canyon National Park. This mesmerizing park features red rock spires, hoodoos, and vast vistas, often called the "Red Rock Wonderland of Utah." You can also easily reach Zion National Park and Dixie National Forest from here.
Another notable attraction is the Cedar Breaks National Monument, famous for its breathtaking amphitheater with stone spires, columns, and arches. Here, you can trek along the trails, or perhaps sit and watch the sunset.
During your visit in Panguitch, we recommend staying at the exquisite Bryce Sunset Inn. This cottage-style hotel boasts spectacular views of Bryce Canyon or other nearby natural wonders. The hotel also has a popular and highly-rated American breakfast to prepare you for the day.
For those eager to explore the surroundings, Panguitch Lake is just a quick 15-minute drive from the hotel. The lake, with its rich aquatic life and beautiful water, is perfect for anyone wanting to relax or fish.
Admire the arches and canyons near Moab
Moab is an incredible stopover on The Eastern Route, situated approximately 230 miles into the journey. The undeniable highlight of Moab is its proximity to top-rated natural attractions, with Arches National Park and Canyonlands National Park at the city's doorstep.
Often regarded as the "Adventure Capital of Utah," in Moab, thrill-seekers can do mountain biking, off-roading, or even simple nature walks.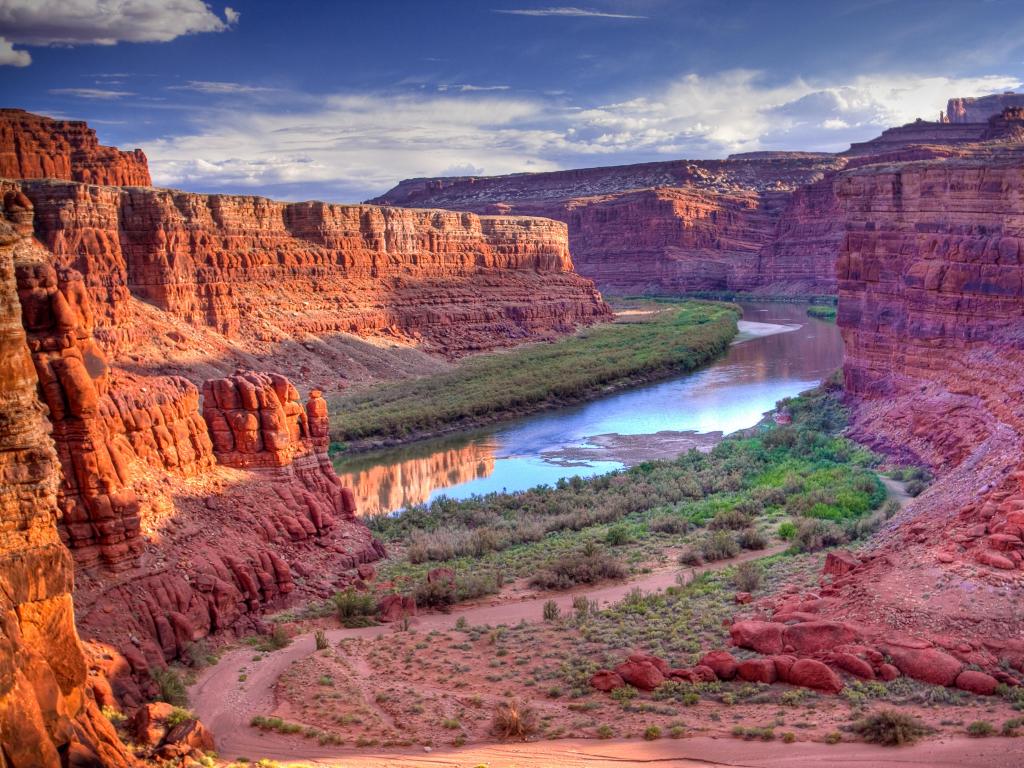 Another spectacle you can't miss is the Courthouse Towers Viewing Point, offering panoramic vistas of stone monoliths rising from the desert floor.
During your stay in Moab, the luxurious Hoodoo Moab, Curio Collection comes highly recommended. This hotel is a perfect blend of comfort and style.
The Hoodoo Moab not only has a refreshing pool and a cutting-edge fitness center but also elegantly adorned rooms. With spacious lounges, a chic bar, and a gourmet restaurant, it's an oasis of luxury in the beautiful and rugged Utah desert.
If you're looking to delve deeper into Moab's highlights, the Arches National Park, located just 2 miles from the hotel, is an unmissable gem. The park, with its unique arch formations, is like nowhere else on earth.
Where to stay when you reach the Grand Canyon
The Grand Canyon National Park is one of North America's most iconic natural spaces, if not the world. It has some of the most awe-inspiring canyon views on the planet and a rich history.
As you set foot in this monumental landscape, the Desert View Watchtower, with its panoramic vistas of the canyon's expanse, is an unmissable first stop. Similarly, Mather Point offers a dramatic vantage point, giving you incredible canyon views.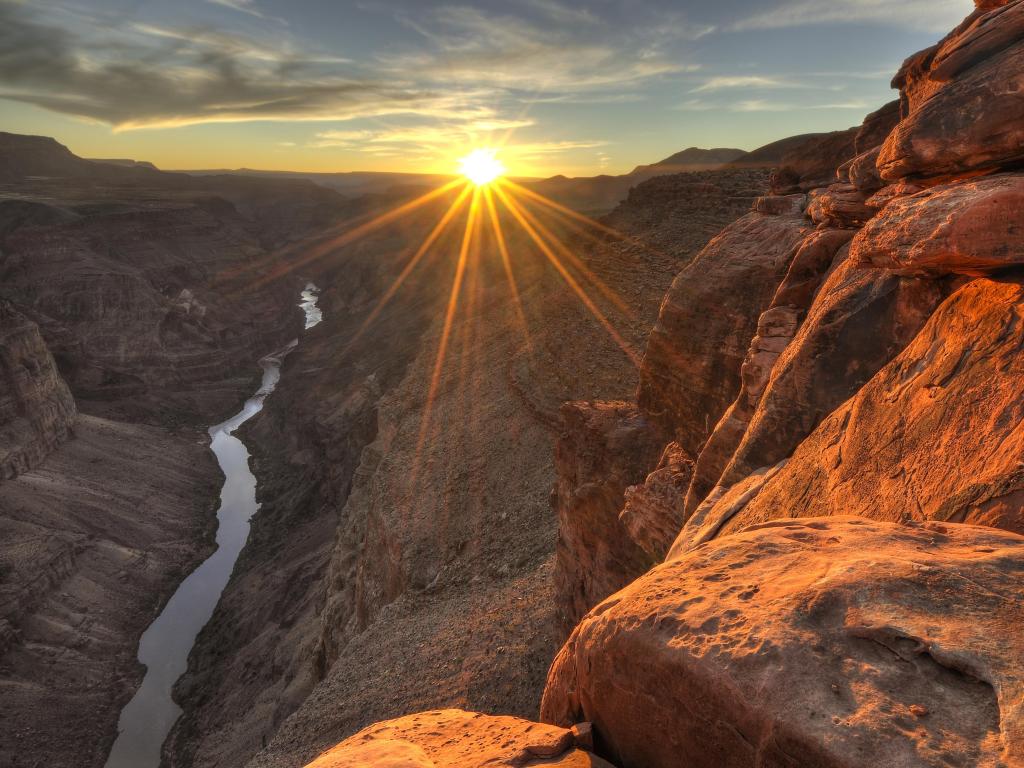 After a day of marveling at these natural wonders, the Little America Hotel Flagstaff will offer you an unbeatable luxurious retreat. Nestled amid the Ponderosa Pine Forest, the hotel is full of comfort and charm. After your drive, you can relax in its outdoor pool, surrounded by woodlands.
The hotel's chalet-style lounge and restaurant, adorned with vintage décor, offer a cozy space to unwind. Once you're ready to explore, the hotel is just a short drive from the beautiful Grand Canyon.
Things to see on a road trip from Salt Lake City to Grand Canyon
You're going to love all the highlights to experience along the way. To help make your planning easier, we've included a few of our favorites below.
Western Route
Museum of Natural Curiosity - An interactive museum designed to spark curiosity, it features diverse exhibits ranging from a jungle exploration to a whimsical town square.
Timpanogos Cave National Monument - This awe-inspiring monument boasts a series of stunning caves filled with unique formations, accessible via a scenic hike.
Bridal Veil Falls - A cascading waterfall in Provo Canyon, its misty veils resemble a bride's veil, offering a picturesque view both up close and from afar. The surrounding park area has picnic spots and trails.
BYU Museum of Paleontology - Built around a working paleontology lab, this museum showcases fascinating dinosaur fossils and other ancient specimens. Interactive displays and educational exhibits make it a treat for history and dinosaur enthusiasts.
Provo Pioneer Village - This village offers a step back in time, showcasing the life and culture of Utah's early settlers. Authentic buildings and live demonstrations bring the 19th-century pioneer experience to life.
Young Living Mona Lavender Farm & Distillery - This aromatic farm grows acres of lavender and offers guided tours showcasing the distillation process of essential oils.
Yuba State Park - A recreation haven, the park is centered around Yuba Lake, known for boating, fishing, and beach activities. Campgrounds and ATV trails further enhance its appeal for outdoor enthusiasts.
Territorial Statehouse State Park Museum - Utah's first statehouse, this museum preserves the state's early history through artifacts, exhibits, events, and historical buildings.
Meadow Hot Springs - Natural thermal pools located near the town of Meadow, offering a serene and warm bathing experience surrounded by open fields. The clear blue waters and idyllic setting make it a popular relaxation spot.
Bryce Canyon National Park - Known around the world for its otherworldly hoodoo formations, the park offers breathtaking viewpoints, trails, and stargazing opportunities.
Dixie National Forest - Spanning across southern Utah, this forest is a mosaic of woodlands, meadows, and unique red rock formations. Hiking, camping, and horseback riding are popular activities.
Zion National Park - Characterized by dramatic cliffs, narrow canyons, and diverse wildlife, Zion invites adventurers to explore its trails, climb its rocks, and witness its natural wonders.
Kanab Creek Bakery - A delightful bakery in Kanab, known for its freshly baked breads, pastries, and gourmet breakfasts. Its cozy ambiance and delicious offerings make it a must-visit for food lovers.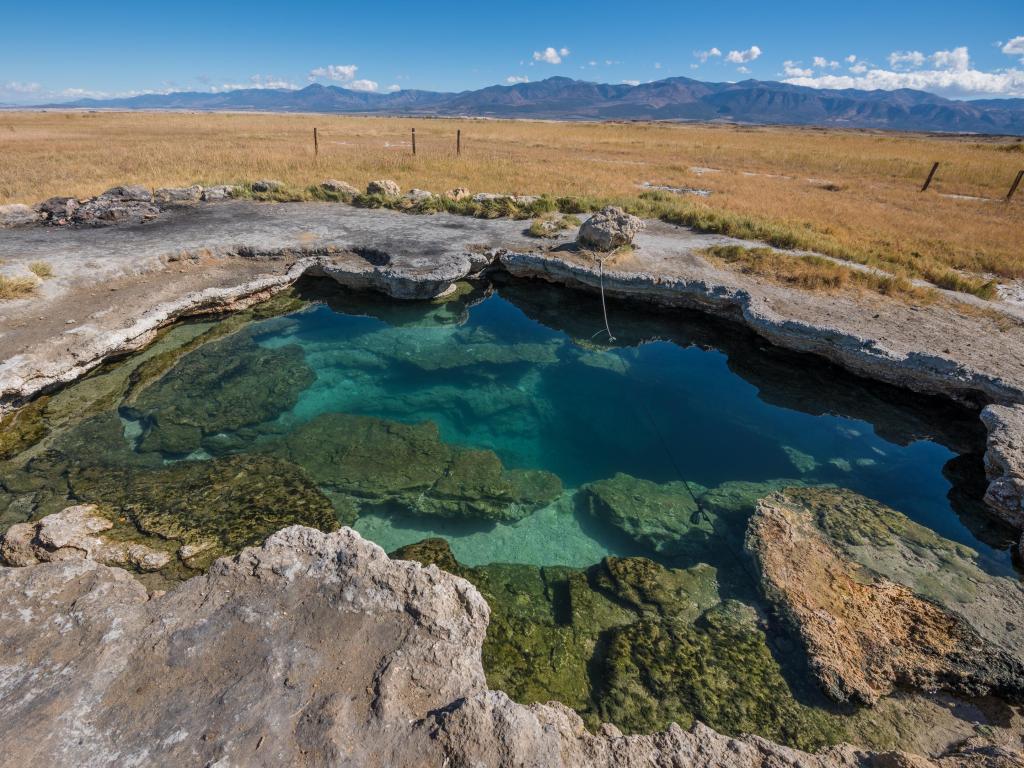 Eastern Route
USU Eastern Prehistoric Museum - Located in Price, Utah, this museum offers a journey through the region's prehistoric past, from dinosaurs to ancient Native American cultures.
Swasey's Beach - A sandy beach along the Green River, it's a popular spot for camping, picnicking, and enjoying the serene river views. The adjacent canyon walls add a touch of drama to this relaxing locale.
John Wesley Powell River History Museum - Dedicated to the famous explorer, this museum in Green River showcases the history and significance of the region's rivers. Exhibits cover exploration, river running, and the cultural impact of these waterways.
Moab Giants Dinosaur Park - A family-friendly attraction in Moab, this park features life-sized dinosaur replicas, a 3D cinema, and a paleoaquarium. Interactive trails and exhibits make it a fun learning experience.
Moab Jeep Safari - An exhilarating off-road adventure in Moab, participants can explore rugged terrains, canyons, and mesas in jeeps. Guided tours offer insights into the region's geology and history.
Arches National Park - Home to over 2,000 natural stone arches, this park near Moab is a testament to nature's artistic prowess. Delicate Arch, Landscape Arch, and Balanced Rock are among its iconic landmarks. You might need a reservation to visit.
Canyonlands National Park - A vast park showcasing a colorful landscape carved by the Colorado River, featuring mesas, buttes, and deep canyons. Island in the Sky and The Needles are popular districts for exploration.
Bluff, Utah - A historic town nestled between cliffs and the San Juan River, Bluff offers a gateway to nearby attractions and ancient Native American sites. Its rich history and scenic beauty make it a charming stopover.
Mexican Hat - Named after a unique, sombrero-shaped rock formation, this small village serves as a base for exploring Monument Valley and the San Juan River. Its iconic rock, visible from miles away, stands as a testament to nature's whimsy.
Monument Valley - Renowned for its iconic red mesas and vast sandstone buttes, this valley on the Arizona-Utah border has been immortalized in countless films and photographs. Guided tours, often led by Navajo guides, offer deeper insights into its cultural and geological significance.
Navajo National Monument - Preserving ancient Puebloan cliff dwellings, this monument showcases the history and architecture of the Ancestral Puebloans. Guided tours and trails offer visitors a glimpse into ancient civilizations.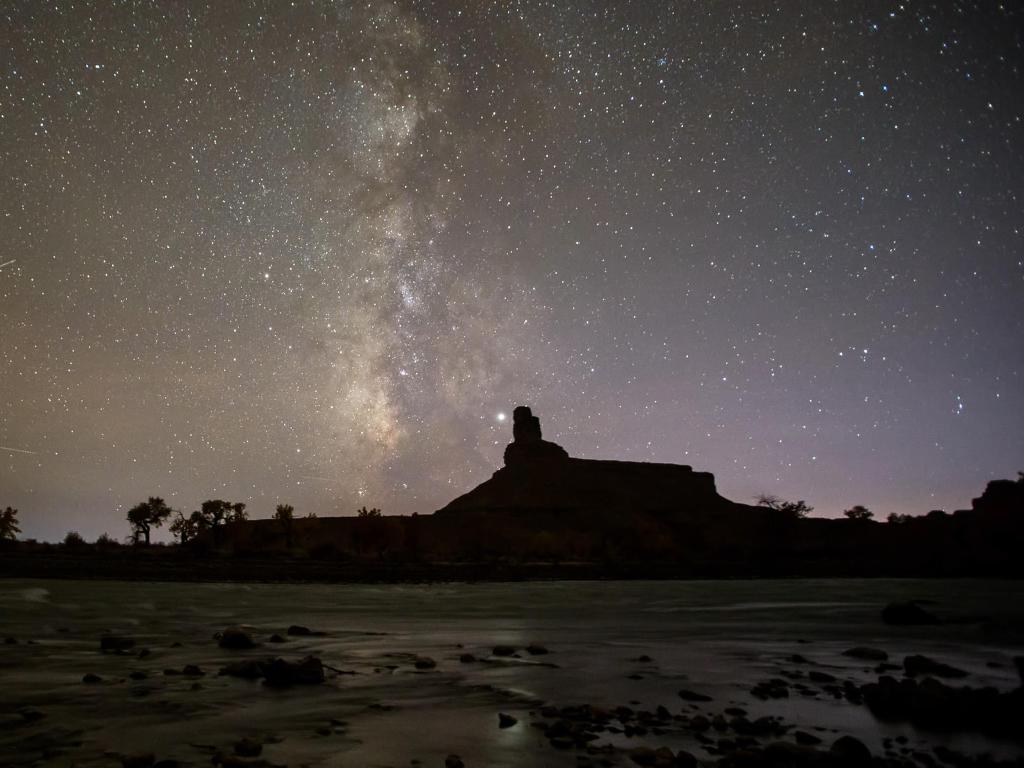 Both routes
Horseshoe Bend - A renowned section of the Colorado River, its U-shaped turn offers a dramatic and iconic view. Easily accessible, this natural wonder is a favorite among photographers and tourists.
Moran Point - Offering panoramic views of the Grand Canyon, Moran Point is a popular overlook showcasing layers of geological history. Its vast expanse and play of colors mesmerize visitors during sunrises and sunsets.
Kaibab National Forest - Surrounding both the north and south rims of the Grand Canyon, this forest is a haven for wildlife and offers diverse recreational opportunities. Its landscapes range from sagebrush flats to ponderosa pine forests, offering a rich mosaic for exploration.
Cameron Trading Post - Located near the Grand Canyon, this historic trading post offers Native American crafts, Southwestern foods, and a glimpse into the region's cultural heritage.
Desert View Watchtower - An iconic structure within the Grand Canyon National Park, this watchtower offers panoramic views and houses Native American arts. Its design, inspired by ancient Puebloan architecture, adds to its significance.
Best time to go on a road trip from Salt Lake City to Grand Canyon
Driving through the vast and diverse landscapes between Salt Lake City and Grand Canyon National Park is possible year-long. Each season brings with it unique experiences, challenges, and rewards.
If you're venturing during the warmer months of summer and early fall, be prepared for temperatures at the South Rim of the Grand Canyon, averaging 85-105 degrees Fahrenheit in summer, while the cooler North Rim averages 75-85 degrees.
On the Western Route, the Panguitch Valley Balloon Rally in June and the Western Legends Heritage & Music Festival in August are well worth seeing.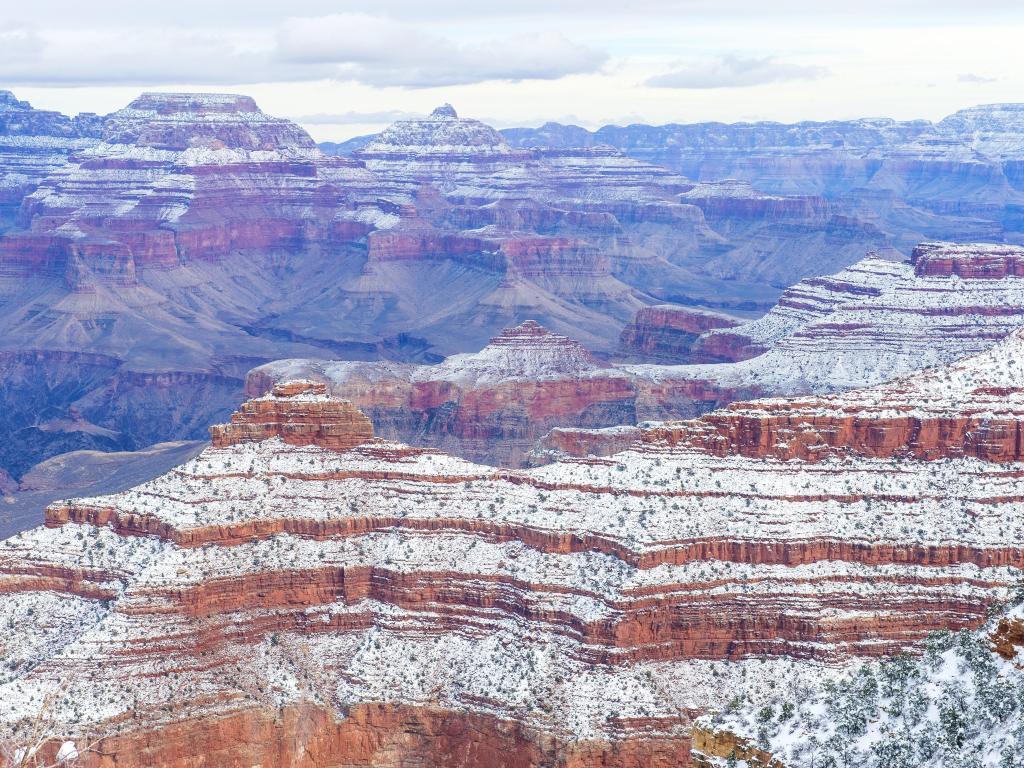 If you're traveling on the Eastern Route, the Melon Days Festival in September is the perfect stop. Once you get to your destination, make your way to the Grand Canyon Star Party in June or the Grand Canyon Music Festival in September.
In contrast to the sometimes hot summer weather, winter chills can plummet the South Rim temperatures to 20-45 degrees Fahrenheit and the North Rim to a frigid 0-25 degrees Fahrenheit. Also, keep in mind that the North Rim is closed during these months.
On the Eastern Route, don't miss the Bluff International Balloon Festival if you're traveling in January.
Spring and fall offer milder climates, with the South Rim experiencing 45-70 degrees and 55-75 degrees respectively, while the North Rim temperatures range between 35-60 degrees in spring and 40-65 degrees in fall.
Either route you choose, given the popularity of the Grand Canyon, make sure to get your accommodations well in advance. This especially applies to school holidays and general holiday periods, when the park tends to be incredibly busy.