Road trip from Salt Lake City to Los Angeles
If you can hear the shores of the beautiful Pacific Ocean, some of the world's most well-known beaches and amazing theme parks call your name, then this jam-packed road trip from Salt Lake City to Los Angeles is the adventure you are looking for.
The 800-mile road trip from Salt Lake City to Los Angeles will take about 13 hours to drive. The highlights are Provo, Bryce Canyon National Park, Zion National Park, Lake Mead, Hoover Dam, Las Vegas, Yosemite National Park and Mammoth Lakes.
Few drives will be as full of adventure, natural wonder, and excitement. Read on below to learn more about our recommended routes, places to stay, top highlights, and best seasons to make the drive.
How far is Los Angeles from Salt Lake City, and how long will the road trip take?
Comparison of road trip routes between Salt Lake City and Los Angeles

| Route | Distance | Driving Time |
| --- | --- | --- |
| The Las Vegas Route | 800 miles | 13 hours |
| The Yosemite National Park Route | 910 miles | 14 hours 30 minutes |
The Las Vegas Route brings you through a diverse set of landscapes and charming towns, covering a total distance of around 800 miles, which you can complete in about 13 hours with no detours.
The alternative Yosemite National Park Route brings you into the great outdoors, spanning 910 miles and taking roughly 14 hours and 30 minutes.
While you can do the drive in a day or two, we recommend taking at least 4-5 days to appreciate the sights and experiences along the way fully.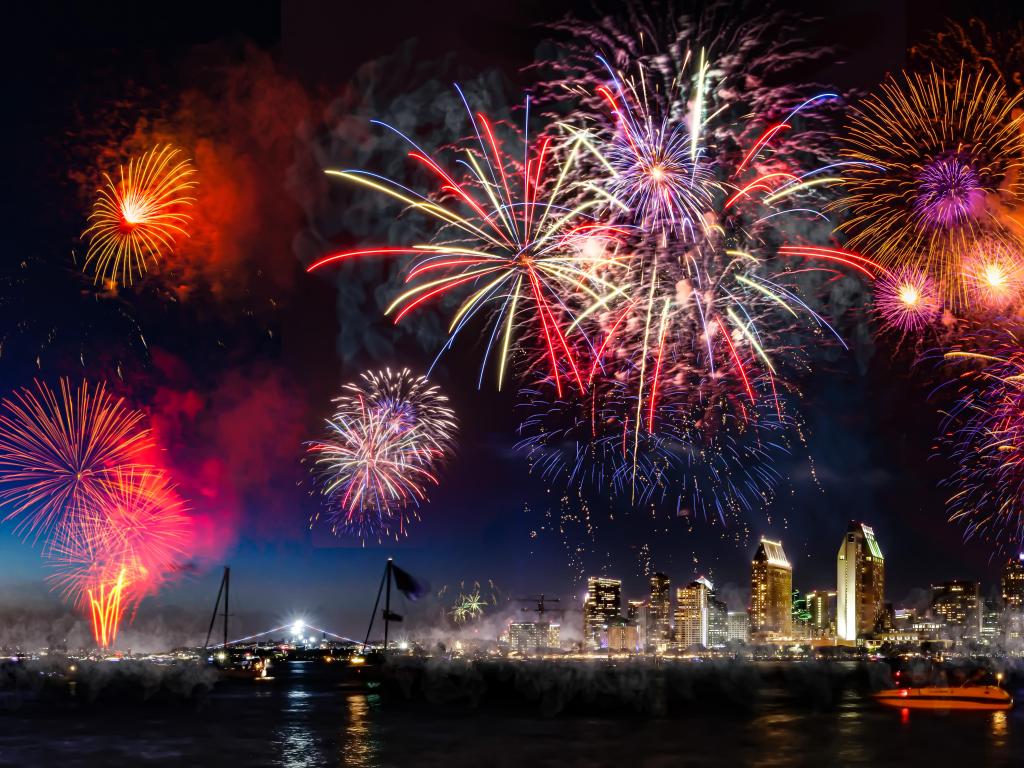 Best road trip route from Salt Lake City to Los Angeles
While both routes from Salt Lake City to Los Angeles feature natural wonders and urban fun, their overall scenery and experiences will be quite different.
The Las Vegas Route showcases the brilliant colors of Utah's iconic landscapes at Bryce Canyon National Park, Zion National Park, and the Dixie National Forest.
On top of this, you'll also get to see Las Vegas, the "entertainment capital of the world." This iconic city has an eclectic mix of culture, architecture, and, of course, the world-renowned casinos.
On the way from Las Vegas, you'll get to stop in the historic Provo Pioneer Village and the St. George Dinosaur Discovery Site. From here, get ready to experience the open desert highway.
The alternative Yosemite National Park Route is a journey through a panorama of diverse landscapes, ranging from the Bonneville Salt Flats to the breathtaking views of the Inyo National Forest.
A highlight of this route is the remarkable Yosemite National Park, where you can see waterfalls, imposing cliff formations, and an array of wildlife. You'll also experience historic highlights like Ely Renaissance Village and the Central Nevada Museum in Tonopah.
While this route doesn't have an equivalent to the vibrant nightlife of Las Vegas, it trades it for limitless natural wonders and outdoor activities.
How to drive from Salt Lake City to Los Angeles
The map above shows our suggestions for the best road trip routes between Salt Lake City and Los Angeles. Keep reading for detailed descriptions of both routes, where to stay on either, and the best things to do on the way.
The Las Vegas Route
From Salt Lake City, head south on Interstate 15 (I-15) along Utah Lake to Provo. Continue south through the beautiful Utah desert landscapes.
Soon, you'll reach the striking town of Salina. From here, get back on route and drive to Panguitch, a gateway to Dixie National Forest and Bryce Canyon National Park. After enjoying the natural wonders, continue on route and head to Zion National Park.
From here, drive southwest into Arizona and then into California. Continue to Moapa Valley and to Lake Mead, where you can visit the engineering marvel that is the Hoover Dam. After your visit, the neon lights of Las Vegas await you.
From here, hop back on I-15. Continue past Mojave National Preserve and through the San Bernardino Mountains and into beautiful Los Angeles.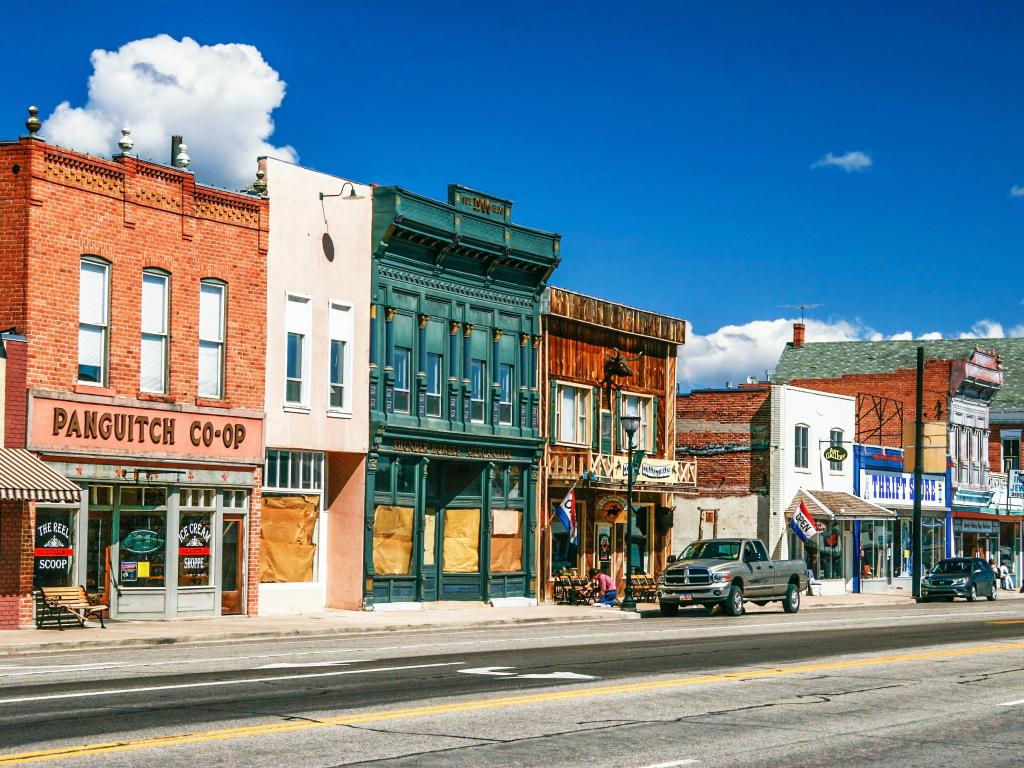 The Yosemite National Park Route
Begin your journey from Salt Lake City by heading west on I-80. Continue traveling through the desert into Nevada. Drive further, dipping southwest into the historic town of Ely. From here, make your way southwest into the town of Tonopah.
Head west towards the Sierra Nevada Mountains. Soon, you'll arrive at the incredible Yosemite National Park. From here, you can drive south through the Inyo National Forest to Mammoth Lakes. After soaking in the natural surroundings, head back on route and drive south.
Soon you'll reach the town of Lone Pine, the gateway to Mt. Whitney, the tallest mountain in the Lower 48. Continue south on the route to the city of Mojave. Here, you'll be surrounded by the famous Mojave Desert.
After soaking in the desert vibes, continue on route to the historic city of Santa Clarita. From here, continue south to the world-famous city of Los Angeles.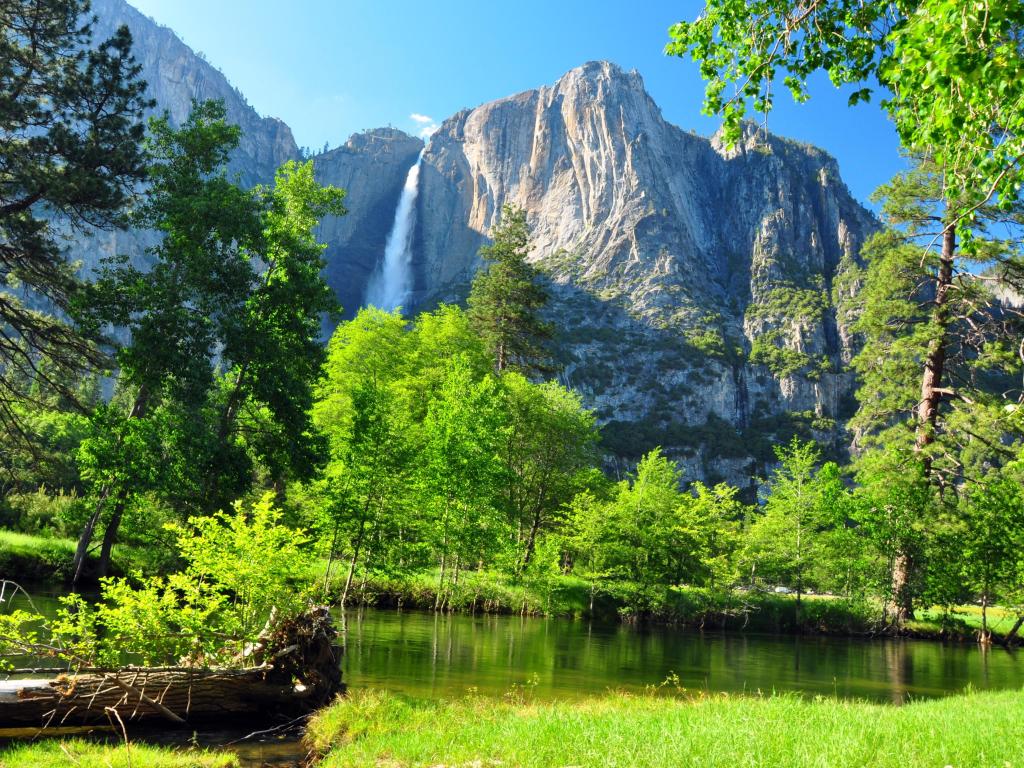 Best places to stop between Salt Lake City and Los Angeles
On your way from Salt Lake City to Los Angeles, you'll experience an almost endless amount of gorgeous highlights and exciting stopovers. Below, we've chosen our favorite places to stop, so you can take in everything this beautiful road trip offers.
Admire some of Utah's most beloved sights in Virgin
Virgin is a picturesque stop to reenergize on the Las Vegas Route, found approximately 5 hours and 20 minutes into your journey. This serene location serves as a spectacular gateway to Dixie National Forest, Zion National Park, and Red Cliffs National Conservation Area.
The major attraction of this route is the awe-inspiring Zion National Park, easily accessible from Virgin. The Red Cliffs National Conservation Area is also a short distance away from Virgin, renowned for its beautiful landscape nestled amongst majestic red cliffs.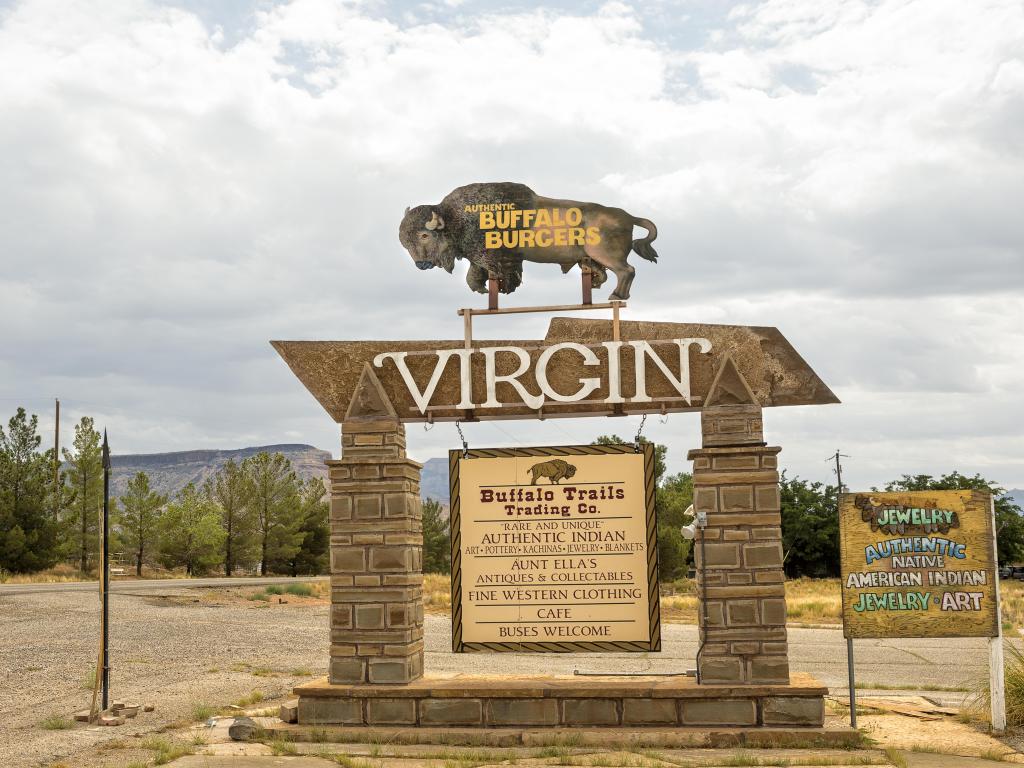 You are spoilt for scenery during your stay here, because the Dixie National Forest is another nearby natural wonder you can visit. It's a paradise for explorers, offering a rich playground to reconnect with nature through a network of trails for hiking, biking, and horseback riding.
To top off your experience in Virgin, we suggest booking your stay at the wonderful Under Canvas Zion, true to the theme of outdoor living. This unique stay blends perfectly with the natural surroundings, surrounded by the famous red rocks of the Zion landscape.
The camp has direct access to the wonders of Zion National Park, with access to adventures like canyoning, hiking, and even hot air ballooning. The site also offers yoga sessions and a choice of American or vegetarian breakfast to start your day.
Other amenities include comfortable bedding, free parking, and beautiful lounge areas where you can watch the stars and the desert landscape in total comfort.
Take in the unforgettable scenery of Mammoth Lakes
Mammoth Lakes is the perfect stopover for the Yosemite National Park Route, after your journey of 9 hours and 20 minutes by car. This lively town provides a perfect base to explore Yosemite National Park and the pristine wilderness of Inyo National Forest.
One of the major highlights is the Devils Postpile National Monument, a unique geological formation of columnar basalt. A bit farther, you'll find the stunning Rainbow Falls, a site that lives up to its name, painting the sky with vibrant hues as the water cascades down.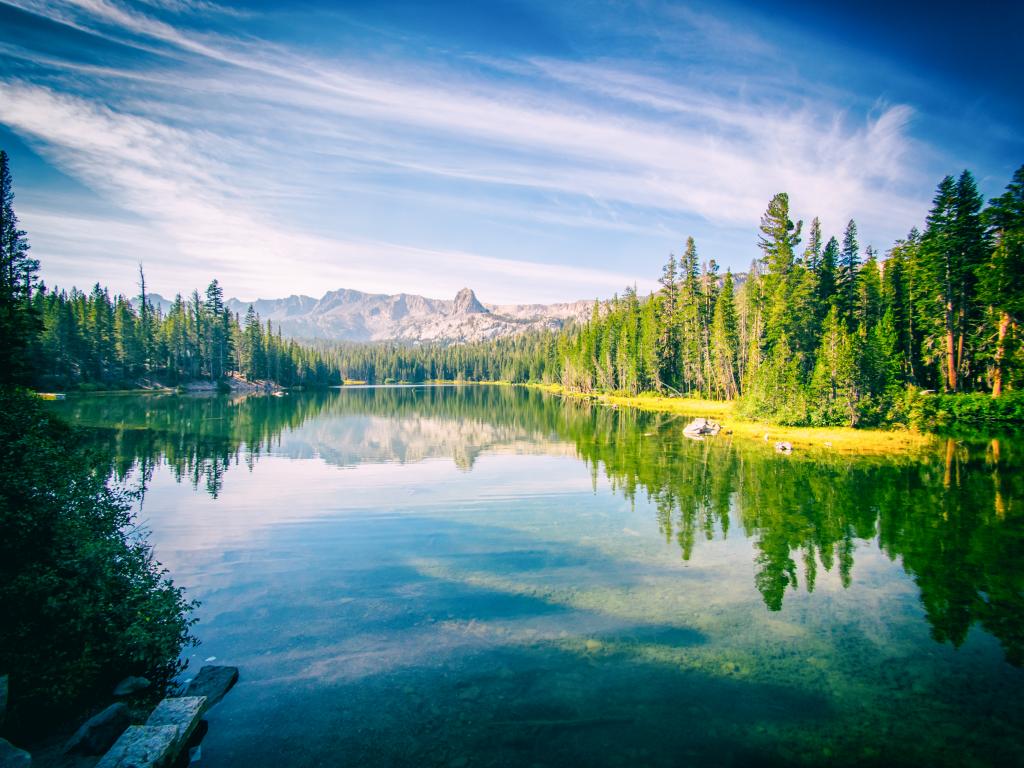 When in Mammoth Lakes, we recommend pampering yourself with a luxurious stay at The Westin Monache Resort. Located close to the ski lifts, this stylish resort features modern rooms with beautiful views.
Its central location is a massive hit with guests, offering the perfect start to both short and long hikes. Here, amenities like a gourmet restaurant, a fireplace to warm up to, and an outdoor heated pool coupled with hot tubs will give you plenty of relaxation.
Make sure to carve out time for a trip to the Mammoth Museum at the Hayden Cabin, merely two miles from the hotel, offering a deep dive into the rich history of the region.
If skiing is on your agenda, the Mammoth Mountain ski area awaits you just a few hundred yards from the hotel. For an exhilarating start to your skiing adventure, hop onto the Village Gondola, the start of which is conveniently located just 100 yards away from the hotel.
Where to stay when you reach Los Angeles
Los Angeles is renowned globally as the epicenter of the entertainment industry, home to Hollywood and celebrities. Yet, it is also a haven of arts and culture, with stunning galleries and cultural centers that sit alongside picturesque beaches.
The iconic Hollywood Sign stands as a sentinel in this city, a beacon of dreams and opportunities while Griffith Park offers an oasis of nature, a green space where you can enjoy open spaces and star-gazing at the famous observatory.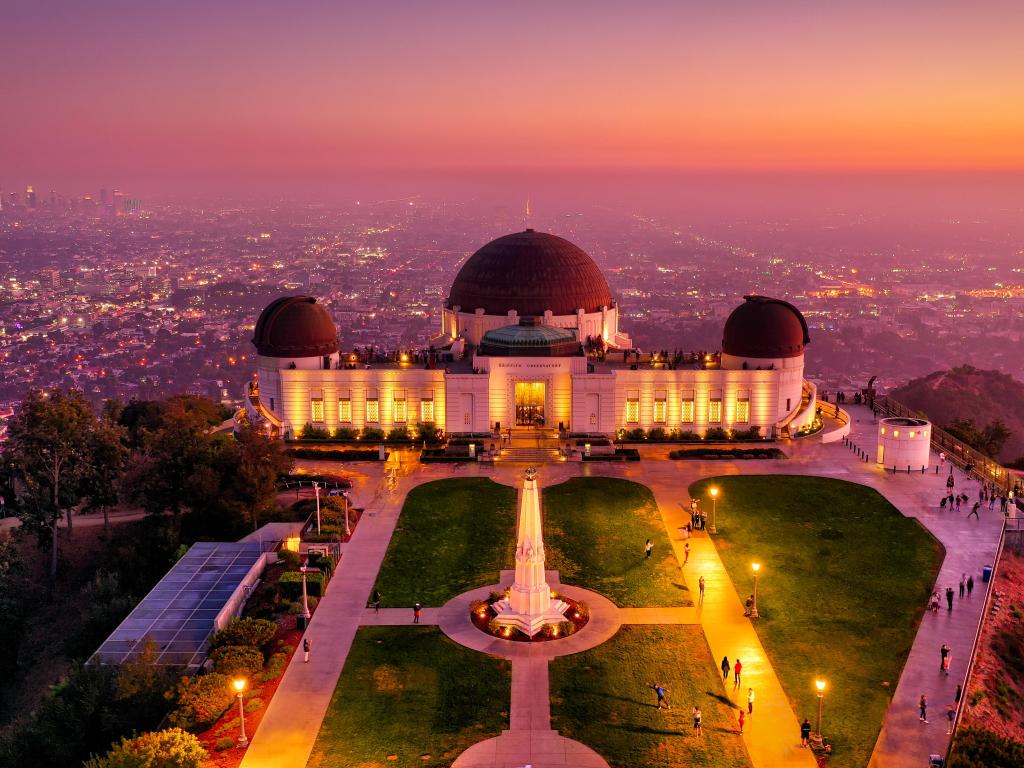 Once you reach LA, we recommend staying at the beautiful and highly rated Hotel Per La, Autograph Collection. Located in a historic building in the city's heart, it's now a modern, chic hotel that keeps its classic charm, offering a blend of history and contemporary elegance.
The rooms are a haven of comfort, impressively designed to welcome a flood of natural light while showcasing the hotel's architecture and style. There is a lovely café and an upscale restaurant on-site that serves delicious meals.
The crown jewel of the hotel is its rooftop pool and bar, a place where you can immerse yourself in the fabulous panoramas over the city. As day turns into a star-studded night, you'll get to experience LA in complete luxury.
Things to see on a road trip from Salt Lake City to Los Angeles
There's so much to see and experience on your epic drive from Salt Lake City to Los Angeles. To help make your planning easier, we've included our top highlights below.
Las Vegas Route
Provo Pioneer Village - This living history museum in Provo, Utah, transports visitors back to the earliest days of Mormon settlement, showcasing pioneer buildings and artifacts that detail the lifestyle and craftsmanship of the 19th century.
Mystic Hot Springs, Monroe - A unique haven nestled in Monroe, Utah, offering geothermal hot springs with rustic soaking tubs and hippy vibes, surrounded by a rugged yet beautiful landscape that promotes relaxation and healing.
Bryce Canyon National Park - Located in Utah, this national park is renowned for its crimson-colored spire-shaped rock formations, offering breathtaking views and excellent hiking opportunities through its otherworldly landscapes.
Dixie National Forest - Spanning almost two million acres in Utah, this national forest offers a diverse landscape with red sandstone cliffs, canyons, and a rich variety of plant and animal life.
Cedar Breaks National Monument - This national monument showcases a naturally formed amphitheater, home to a wealth of unique geological formations, vibrant wildflowers, and clear starry nights.
Zion National Park - Also in Utah, this iconic park offers dramatic landscapes with towering cliffs, narrow canyons, and a rich diversity of plants and wildlife, creating a paradise for hikers and nature lovers.
Red Cliffs National Conservation Area, Utah - A protective habitat located in southern Utah, preserving a remarkable range of ecosystems and offering miles of hiking trails through striking red cliffs and archaeological sites.
St. George Dinosaur Discovery Site - An incredible site in Utah where you can view well-preserved dinosaur tracks and fossils, unveiling a prehistoric world within a contemporary indoor setting.
Lost City Museum, Nevada - Situated in Overton, Nevada, this museum showcases artifacts and recreations of Ancestral Puebloan structures, offering insights into the life and culture of ancient Native American societies that once thrived in the region.
Valley of Fire State Park - Nevada's oldest and largest state park, famed for its vibrant red sandstone formations created from shifting sand dunes 150 million years ago, offering visitors hiking, picnicking, and camping opportunities amidst a fiery landscape.
Lake Mead, Nevada - America's first national recreation area, surrounding the largest reservoir in the US, and offering a range of water-based recreational activities alongside picturesque canyons and rugged mountains.
Hoover Dam - An engineering marvel straddling the Arizona-Nevada state line, the Hoover Dam offers guided tours that delve into the history and operations of this iconic dam that tamed the Colorado River.
Las Vegas Strip - An exciting stretch lined with luxury hotels, casinos, and entertainment venues; a hub of nightlife and entertainment showcasing dazzling neon lights and a high-energy atmosphere.
Calico Ghost Town - Located in the Mojave Desert region of Southern California, Calico is a historic silver mining town that has been restored as a county park, offering tours and reenactments that bring the Wild West era to life.
California Route 66 Museum - Situated in Victorville, this museum celebrates the historical significance and cultural impact of the iconic Route 66, housing a collection of memorabilia and artifacts from the road's golden days.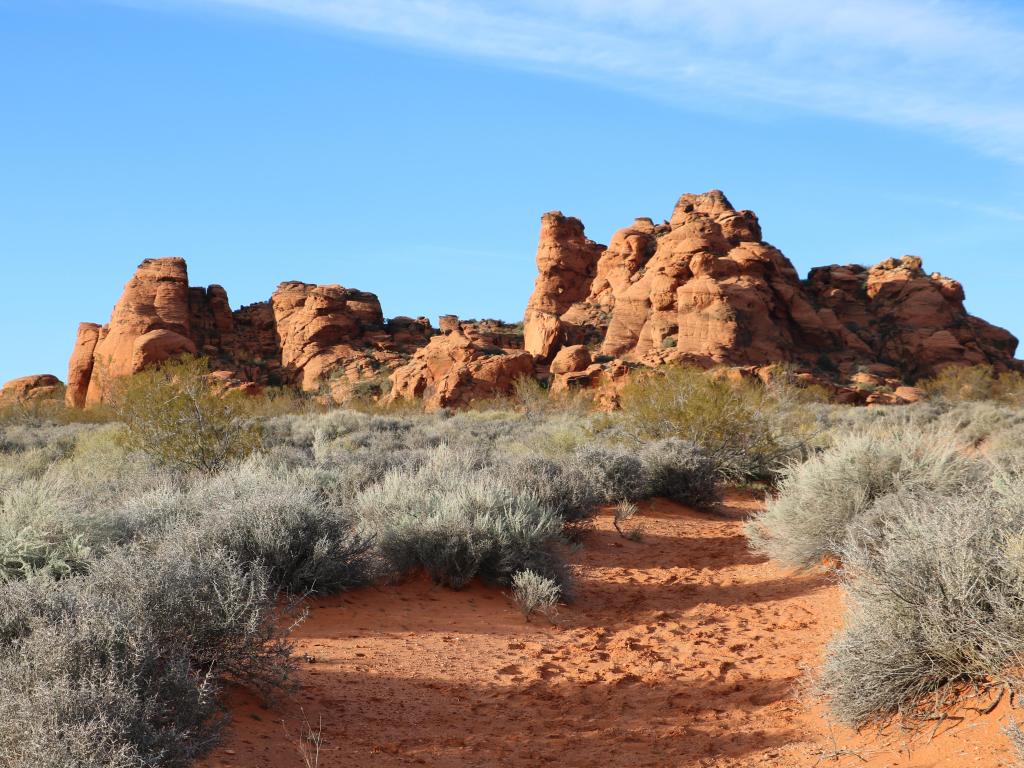 Yosemite National Park Route
Tree of Utah - An 87-foot-tall sculpture standing in the desolate Bonneville Salt Flats, created by Swedish artist Karl Momen as a tribute to the endurance and beauty of life in the stark Utah desert landscape.
Bonneville Salt Flats - A stunningly vast expanse of hard, white salt crust located in northwestern Utah, known for land speed racing and its ethereal, moon-like landscape that offers incredible photographic opportunities.
Ely Renaissance Village - Situated in Ely, Nevada, it is a collection of historic houses turned into a village of artisan shops, galleries, and studios, reflecting the area's rich mining history.
Central Nevada Museum, Tonopah - Nestled in Tonopah, this museum documents the rich mining and cultural history of central Nevada through a range of indoor exhibits and an impressive outdoor display of historical machinery.
Yosemite National Park - A famed national park in California known for its stunning granite cliffs, waterfalls, clear streams, giant sequoias, and abundant wildlife, offering unparalleled hiking and outdoor exploration opportunities.
Inyo National Forest - Spanning parts of California and Nevada, this national forest is home to Mount Whitney, the highest peak in the contiguous US, and offers spectacular landscapes including mountains, forests, and lakes.
Mammoth Mountain Ski Area - A prominent ski area in California offering an array of winter sports opportunities, from skiing to snowboarding amidst stunning alpine scenery.
Convict Lake - A picturesque lake in California surrounded by mountains and trails offering fishing, hiking, and opportunities for photography, named after an incident involving escaped convicts in 1871.
Manzanar National Historic Site - This site serves as a reminder of the Japanese American internment during World War II, featuring a museum showcasing the internees' hardships and daily life.
Museum of Western Film History, Lone Pine - Located in Lone Pine, California, this museum celebrates the rich history of western movies, housing an extensive collection of memorabilia and offering insights into the production of many iconic films.
Trona Pinnacles - An eerie and otherworldly collection of more than 500 tufa spires, rising from the Searles Lake basin in California, a popular filming location and a haven for photography enthusiasts.
Red Rock Canyon State Park - Situated in California, this park is known for its vivid red rock formations and cliffs, providing hiking trails that lead visitors through dramatic landscapes populated with Joshua trees.
Vasquez Rocks Natural Area Park - This park features striking rock formations created from rapid erosion, a hotspot for hiking, and has served as a picturesque backdrop for many movies and TV shows.
Angeles National Forest - Nestled in Southern California, this national forest offers rugged mountains, rolling hills, and ample recreational opportunities, acting as a green oasis for the densely populated region.
Mission San Fernando Rey de España - A historic Spanish mission founded in 1797 in California, showcasing beautiful Spanish colonial architecture and a museum that explores the rich history of California's mission era.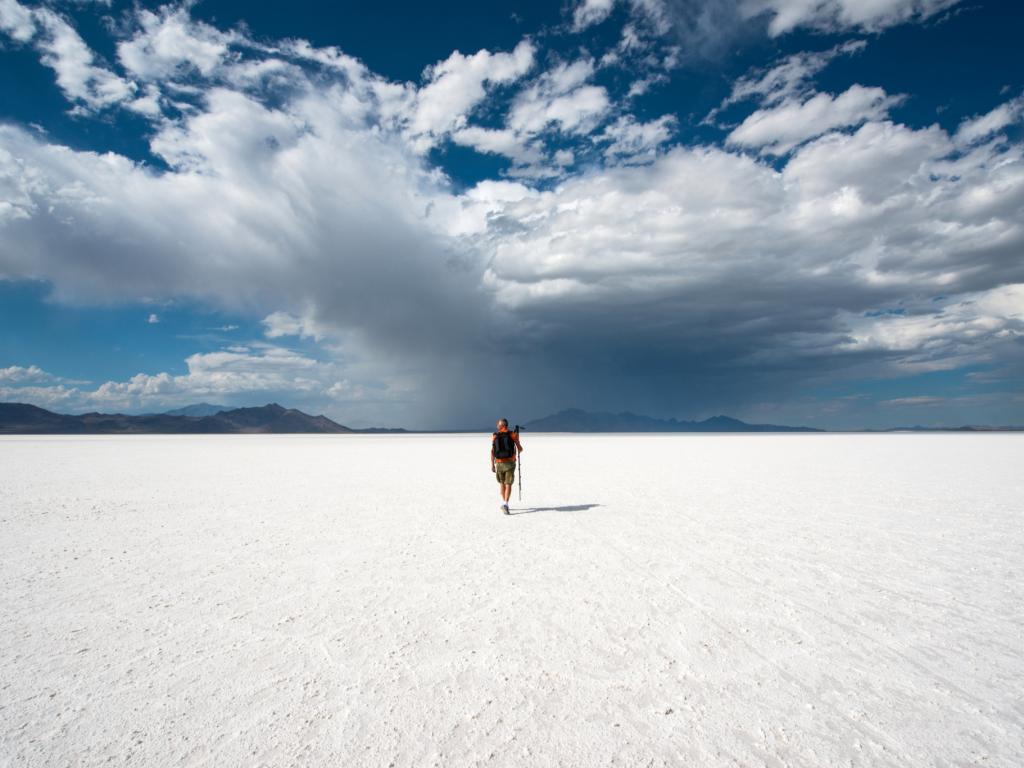 Best time to go on a road trip from Salt Lake City to Los Angeles
Los Angeles is a delightful destination year-round, boasting so many things to do regardless of the season.
If you opt for the Las Vegas Route, the stunning backdrops of Zion National Park, Bryce Canyon National Park, Dixie National Forest, and Red Cliffs National Conservation Area are open year-round.
However, to avoid the summer rush at Zion, consider planning your road trip in a different season. In contrast, the Yosemite National Park Route through the Tioga Pass usually closes from November to May due to snow, so summer through early fall would be ideal.
Los Angeles welcomes you with temperatures fluctuating around 80 degrees Fahrenheit in summer, providing a perfect backdrop for the LA Pride in June or the NoHo Theater and Arts Festival in May.
In fall, temperatures mellow out and nights become cool and pleasant. During this time, you can enjoy the Life is Beautiful Festival in September or the California Dark Sky Festival in October if you travel on the Yosemite National Park Route.
Winter, although cooler with highs hovering around 68 degrees Fahrenheit, rarely sees freezing temperatures. Wintertime is perfect for experiencing the Jubilee of Trees in St George in November or the famous New Year celebrations of Las Vegas and Los Angeles.
Regardless of the season you choose, Los Angeles is the ultimate destination for nature and big-city excitement. On the way, you'll experience an almost endless amount of fun that will make this one of the best road trips you can do.