Road Trip from Salt Lake City to Bryce Canyon
If you're looking for adventure, the road trip from Salt Lake City to Bryce Canyon National Park is the one for you! If you love rugged terrains and have been waiting to visit Utah's legendary national parks, this journey will check all the boxes on your list.
The 730-mile road trip from Salt Lake City to Bryce Canyon will take you 13 hours to complete. Notable stops are Moab, Arches National Park, Canyonlands National Park, Oljato-Monument Valley, Moqui Cave, Zion National Park and Dixie National Forest.
We have outlined many attractions and places to stay along the way, so that whichever route you choose, your trip to Bryce Canyon National Park will be one to remember. Take a look at our suggestions to start planning your trip.
How far is Bryce Canyon from Salt Lake City, and how long will the road trip take?
Comparison of road trip routes between Salt Lake City and Bryce Canyon

| Route | Distance | Driving Time |
| --- | --- | --- |
| Direct Route | 340 miles | 6 hours 30 minutes |
| Scenic Route | 730 miles | 13 hours |
The Direct Route is a distance of 340 miles and takes roughly 6 hours and 30 minutes of driving time without accounting for any stops or detours you might want to make.
The Scenic Route is more than double the distance, stretching 730 miles and taking an estimated 13 hours to complete.
No matter what route you choose, you will want to explore the beautiful landscape Utah has to offer on this road trip. We suggest sparing at least 3 days for this trip, especially if you are following our Scenic Route suggestion.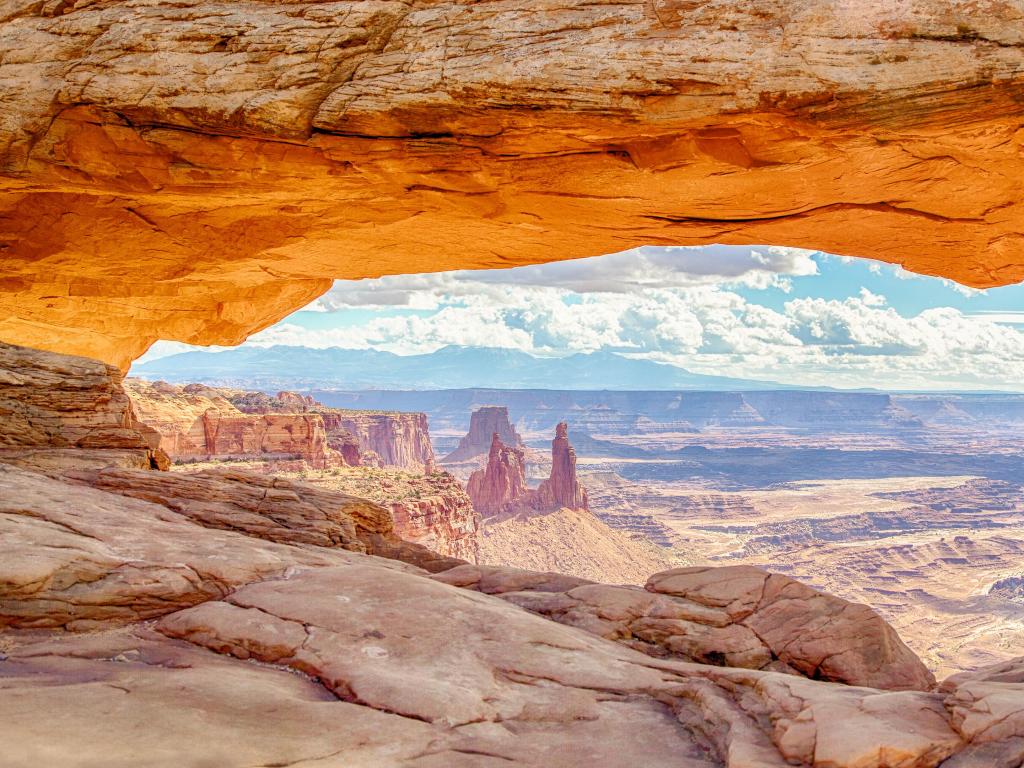 Best road trip route from Salt Lake City to Bryce Canyon
Both of our recommended routes will present you with views of the rugged Utah landscape, which is known as one of the most beautiful terrains in the world. So, the best route will depend on how much time you have and what you'd like to see.
On the Direct Route, you will be going due south for most of the trip, passing by Mount Pleasant. It will take you to the charming city of Boulder before you reach Bryce Canyon.
The Scenic Route will take you towards Moab and through three of the legendary "The Mighty 5" national parks of Utah, namely, Arches, Canyonlands and Zion, before you reach Bryce Canyon National Park, which also belongs to this list.
A perk to the long bursts of driving are amazing views of the landscape. You will pass through many of the United States' protected green and red spaces and the Oljate-Monument Valley on this route.
Both trips will immerse you in the beautiful Utah terrain, but the choice is yours depending on how much time you have and which sites you prefer to see.
The Direct Route
You'll be following US-89 South for most of the trip until you reach Sabina. Then you'll get onto UT-24 East and follow that all the way to Torrey. Here you can make a detour to visit Capitol Reef National Park if you have the time.
Otherwise, head towards Boulder on UT-12. The final leg of this journey is to head south until you reach the town of Bryce, outside Bryce Canyon.
The Scenic Route
Follow Interstate 15 (I-15) from Salt Lake City to Provo. A little bit further down, you'll veer onto US-89 first and then onto US-6, which you will follow south all the way into Moab.
From Moab, you can easily make detours to visit the famous Arches and Canyonlands National Parks. After you visit, head south and cross the border into Arizona on your way to Oljate-Monument Valley.
Continue on US-163 until a little after the town of Kayenta, when you will want to turn west onto US-160 and exit onto UT-98 northbound. Cross back into Utah after it turns into US-89. Follow this highway northbound until you reach Bryce Canyon.
Best places to stop between Salt Lake City and Bryce Canyon
The scenic route will take you through various smaller cities along the way, so there are more places to stop and explore. The direct route allows you to drive most of the way to your destination before a possible detour at Capitol Reef National Park.
Wonder at the Red Landscapes of Capitol Reef
On the Direct Route, you can stop off at the charming town of Torrey, best known for being the best gateway to Capitol Reef National Park. It's located a little after the halfway mark on the way from Salt Lake City to Bryce Canyon, so you will have put most of your driving behind you.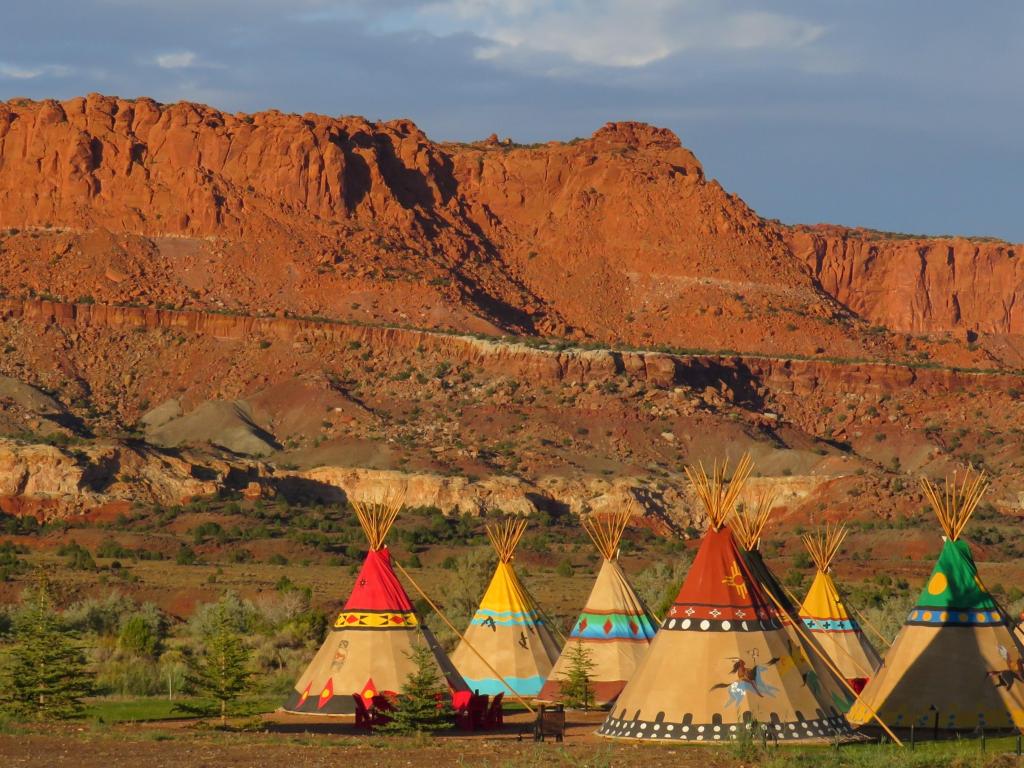 A great place to stay overnight in Torrey is the luxurious Capitol Reef Resort. In addition to chic rooms with views of the beautiful national park, you will also find unique accommodation options such as teepees and Conestoga wagons in this beautiful resort.
To relax after your drive, you can have a dip in the scenic outdoor pool or unwind at the hot tub. Alternatively, if you worked up an appetite on the road, you can head to the barbecue facilities to have a homey meal.
The best part about the lodge is that it's located at the entrance of Capitol Reef National Park, where you can walk along the Hickman Natural Bridge.
The property is also a short distance from the famous Prehistoric Petroglyph, meaning that you will have all the attractions that bring thousands of people in this area annually at your doorstep.
Small Town Charm with Big-Impressive Views
After driving for about 6 hours on the Scenic Route, you will find yourself halfway along this trip in Moab. Stopping here overnight is a great idea for some rest, and it will give you a chance not only to explore the interesting town of Moab but to see the natural sights nearby.
Moab sits right on the Colorado River where there are lots of exciting water sports to try if you feel adventurous. It is also located close by to two stunning national parks of Utah, Arches National Park and Canyonlands National Park.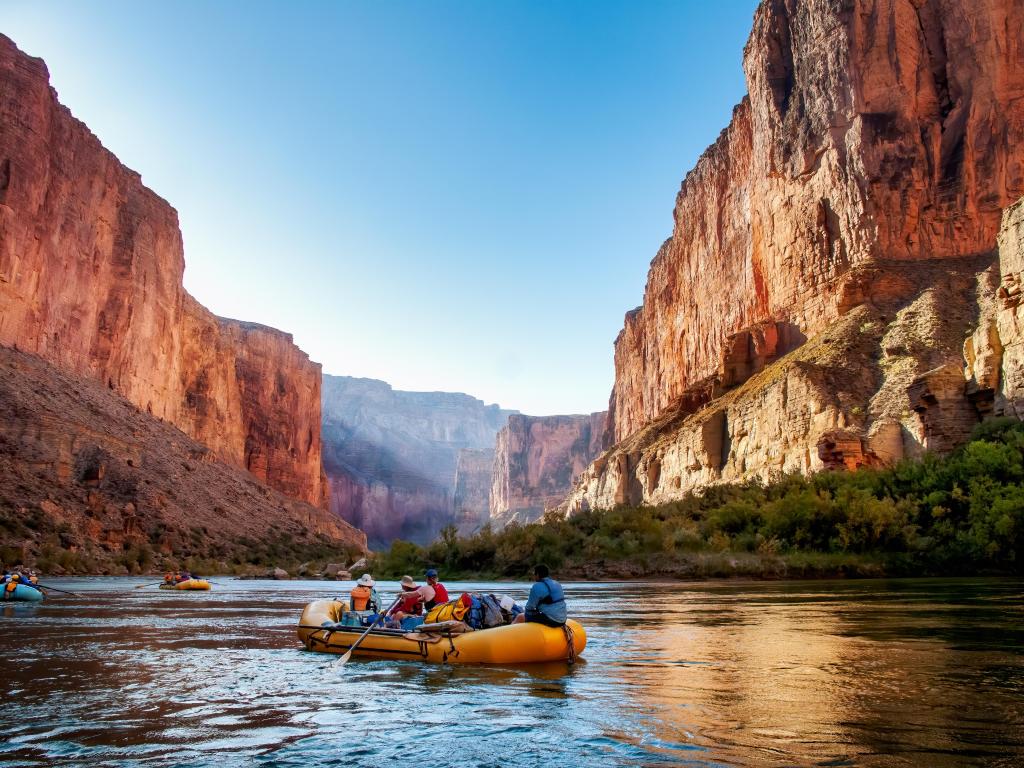 You might want to stay in town, try a few restaurants, and see the culture it has to offer. One great activity in town is to head to the Moab Museum and learn about the history of geology, paleontology, and mining in the area.
After you're tuckered out by all the excursions, you can rest your head at Hoodoo Moab, Curio Collection by Hilton. This chic hotel has stunning exteriors and interior decoration, and it's centrally located just one block from Moab's main street.
Treat yourself to the full-service spa or relax in the outdoor swimming pool before heading back on the road the next day.
Where to stay when you reach Bryce Canyon
Once you finally reach Bryce Canyon National Park, we recommend staying at the Best Western PLUS Bryce Canyon Hotel. It's situated right among the red rock cliffs.
This lodging is affordable and includes many amenities, such as a free hot breakfast and an outdoor swimming pool.
Did you know that Bryce Canyon is actually not one, but many canyons lined up along the rocky red cliffs of the plateau? The best part about this hotel option is that it's located just a 4-minute drive from this majestic natural landscape.
Things to see on a road trip from Salt Lake City to Bryce Canyon
There are plenty of fun things to see on the way to Bryce Canyon, whether you journey on the short route or the longer and scenic one.
We have compiled a list of route-specific attractions to aid your sightseeing along the way. You'll find a great mountain range and some hot springs on the short route, whereas you'll get a chance to check out a beach and a cave on the long route!
The Direct Route
Fairview Museum of History - Discover this small town's fascinating past as well as the works of local contemporary artists at the Fairview Museum of History.
Black Mountains - Two hours north of Bryce Canyon, this stunning mountain range is known for its dark façade and offers several hiking trails.
Giant Soda Cans - A quirky roadside attraction outside Salina, UT, featuring massive tanks painted to resemble famous and much-loved sodas.
Mystic Hot Springs - Dive into the hot mineral water springs at this spa in Monroe, UT, originally developed over 100 years ago in 1905.
Hickman Natural Bridge - During your stay in Torrey, stretch your legs on a short hiking trail that leads you to and under this 133-foot bridge, right in Capitol Reef National Park.
Anasazi State Park Museum - This fascinating museum is right along your route in Boulder, UT, housing archaeological finds from an 11th and 12th-century Puebloan village.
Escalante Petrified Forest State Park - Just 45 minutes from Boulder, UT, this unique and arresting natural reserve showcases petrified wood and dinosaur fossils in outdoor exhibitions.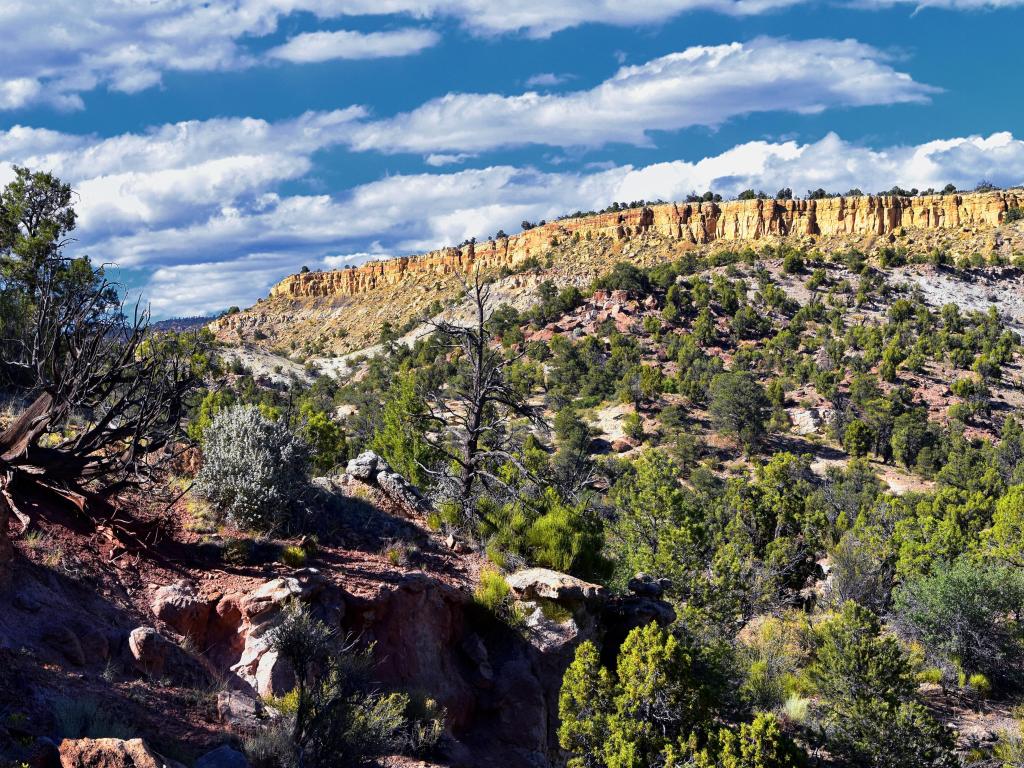 The Scenic Route
Pioneer Town - Dive back in time at this historic museum in Cedaredge, CO, boasting five acres and twenty-four buildings dedicated to recreating life from the late 1800s through to the early and mid-1900s. This attraction adds about two hours of driving to your route.
Hovenweep National Monument - Discover this preserve, home to over 2,500 people and comprised of six prehistoric villages built between 1200 and 1300 AD.
Double Arch - This natural sandstone formation is a popular photo spot, featuring two large arches that spring from the same side foundation.
Hole-in-the-Rock - A historic 5,000 square foot home carved into a sandstone boulder, boasting a fireplace, 14 rooms and a gift shop.
Lone Rock Beach - About an hour off-route, this popular sandy beach sits surrounded by desert plains and is an ideal spot to catch the sunset.
Moqui Cave - Once used as a speakeasy and now converted into a natural history museum, Moqui Cave boasts an incredible rock collection and gift shop.
Temple of Sinawava - This natural amphitheater located in Zion National Park contains a paved trail along the Virgin River and is complete with waterfalls and flower gardens.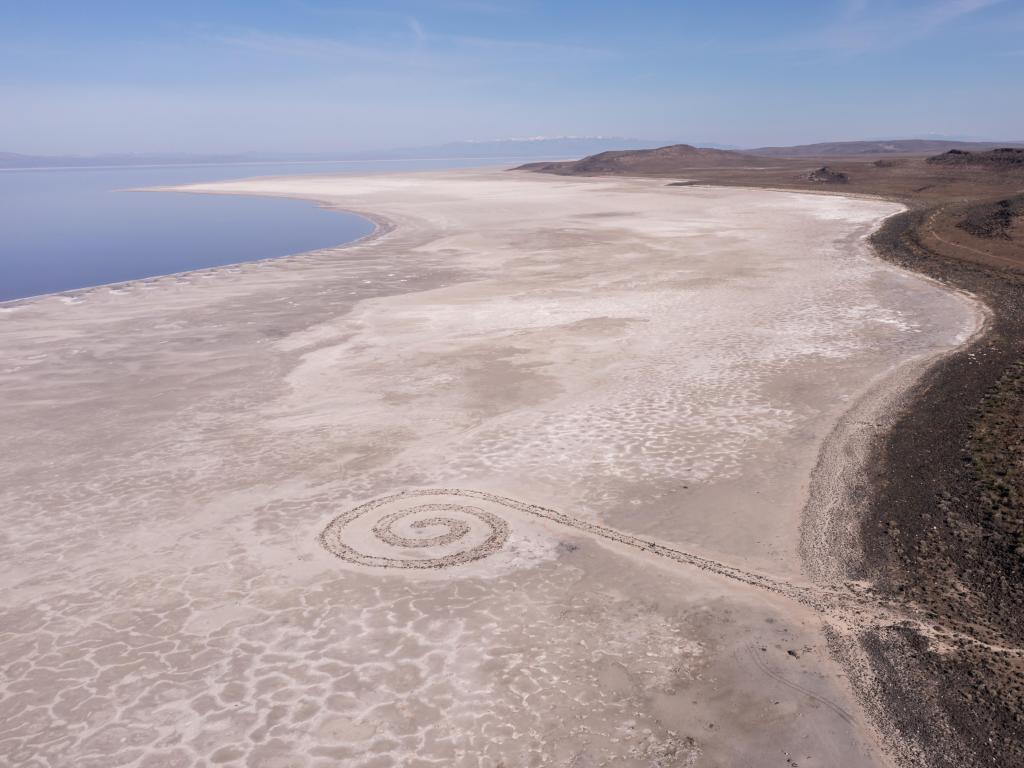 Both Routes
The Spiral Jetty - Created by American artist Robert Smithson in 1970, the Spiral Jetty is a sculpture winding into the Great Salt Lake that is most visible during low water levels.
BYU Museum of Paleontology - Located within the first hour of your trip, before you reach Provo, this dinosaur-centric museum belonging to Brigham Young University exhibits dozens of rocks and fossils from prehistory.
Best time to go on a road trip from Salt Lake City to Bryce Canyon
Due to the extreme cold at Bryce Canyon during the winter, a result of its very high elevation, the most popular time to visit is between May and October.
This is when the weather is the warmest, and the natural landscapes are greenest. Temperatures in the Spring are mild, sitting between 50 and 70 degrees Fahrenheit during the daytime.
Summer is Bryce Canyon National Park's peak season, meaning that you should book your stays in advance due to limited accommodation options.
Temperatures during this season typically range between 35 and 80 degrees Fahrenheit, with the occasional showers during the months of July and August.
If you do want to visit in the fall or winter, expect much cooler temperatures. While fall is particularly beautiful due to the transformation of the Canyon's foliage, temperatures range between 18 and 71 degrees Fahrenheit, and this is typically the most precipitous season of the year in this park.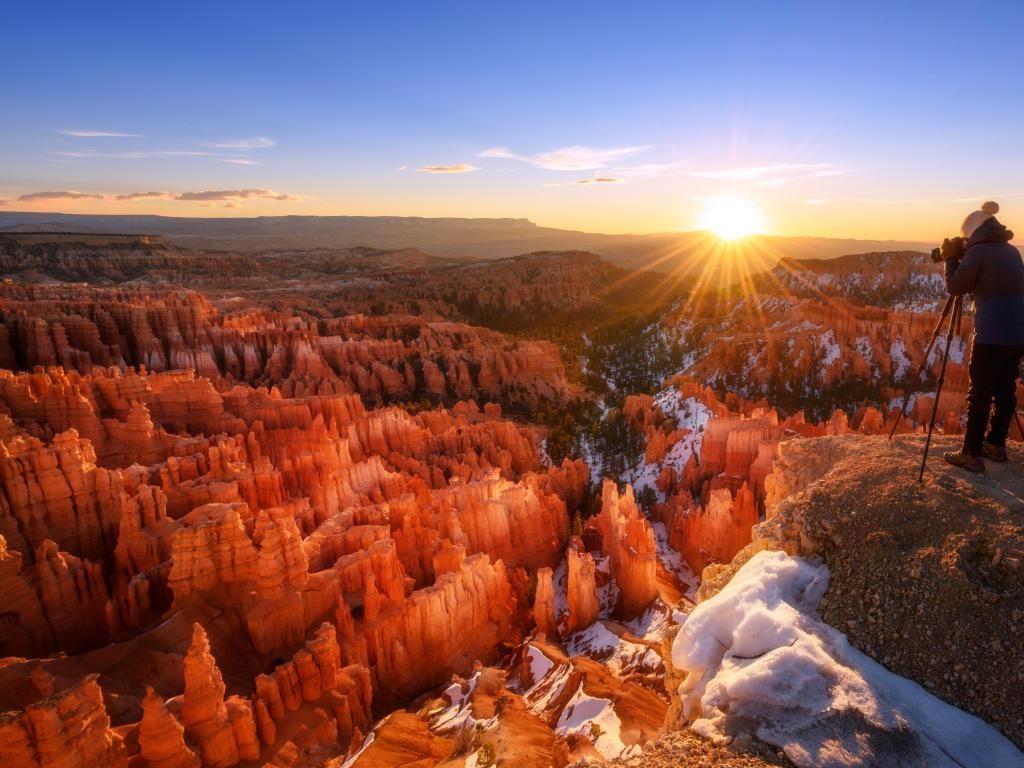 During the winter months, the canyon sees under 100 inches of snow and the temperature can drop to -27 degrees Fahrenheit. Be sure to bundle up during this season and avoid staying out past sundown when it can be the coldest.
Bryce Canyon National Park is host to many festivals and events throughout the year, with most of them falling during the peak season. If you visit during June, make sure to check out the Bryce Canyon Astronomy Festival or the Bryce Canyon Geology Festival.